Airplane First Birthday Party – Decorations, favors, treats, cake and so many more airplane party ideas for a first birthday or any year!
I designed this airplane party for my son's 1st birthday. The possibilities were endless when it came to an airplane theme!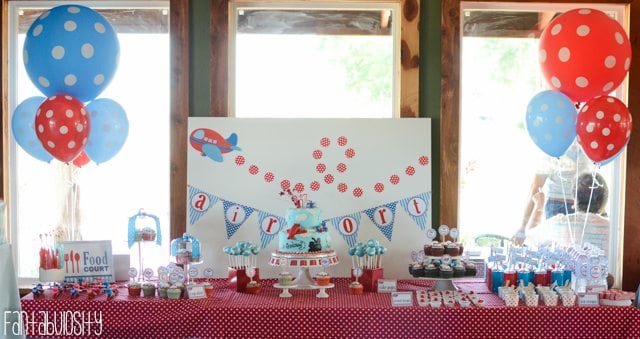 Airplane Birthday Party Ideas
With printables and some of our favorite treats, this birthday party was FULL of fun and definitely one to remember.
Airplane Party Favor Ideas
All of the kiddos were sent home with favor boxes, with age appropriate goodies!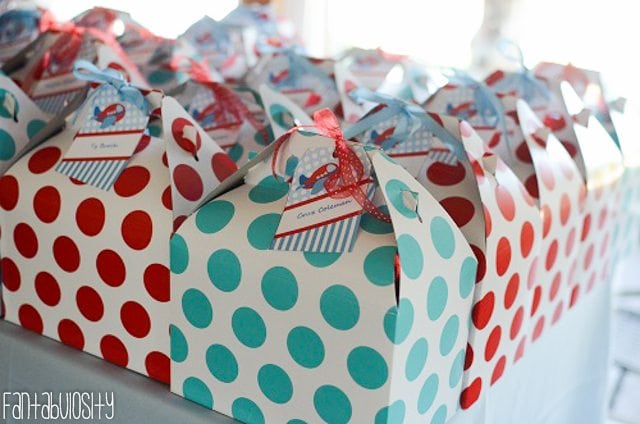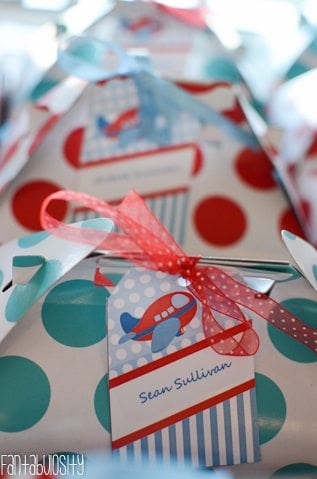 I incorporated an airplane detail by using the "Baggage Claim" sign.
Airplane Dessert and Treat Ideas
I had the rock candy sitting in sugar for an added sugar rush!
The cupcake toppers gave the party a little more personalization.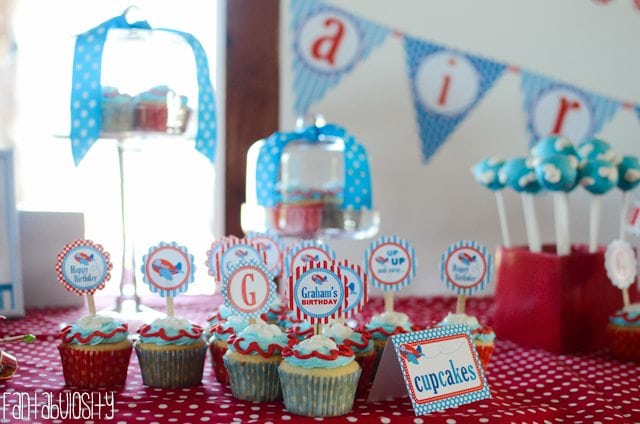 Adding ribbon to your already cutesy wutesy cake stands are another way to incorporate your color scheme.
Airplane Cake Ideas
After finding the cake idea on Pinterest, I went to my "go to" cake decorator, and she made it happen!
Dessert Table Tip
You always want to add height and different levels to your dessert table. Stacking your cupcakes is an easy way to add height.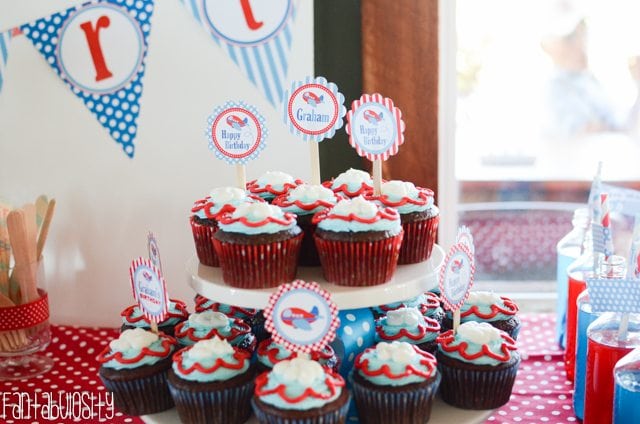 For the ice cream, I used baking cups and punched a hole in each one, to tie the wooden spoons to the cups so our guests would have easy access to utensils!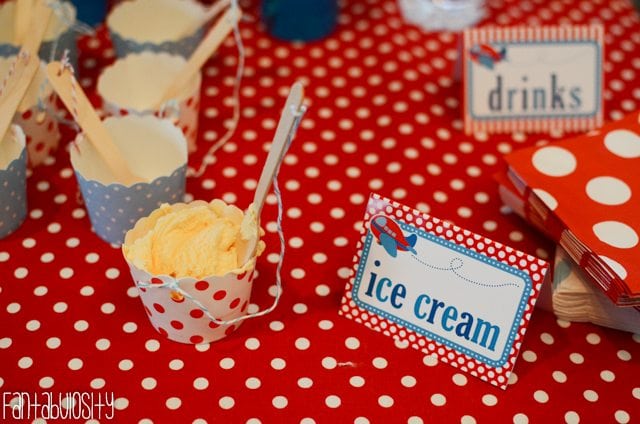 I arranged rice krispy treats into the cutest little suit case.
The rice krispy packaging was the exact colors for the party, so I thought it would be a nice touch!
Airplane Birthday Party Invitation
The invitation was a boarding pass that had clever sayings on it with details for the party.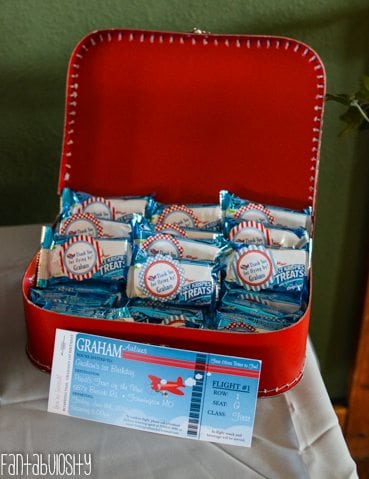 Time Capsule Birthday Idea
My husband and I decided that it would be a good idea to create a time capsule for our son. So instead of the tradition "Guest Book," we decided to have everyone write a message to Graham with advice and/or a prediction of what they thought he would be when he grew up.
We have locked the messages into one of the suit cases, and he will read them on his 20th birthday!
Oh boy did I have fun making these candy airplanes. I found the idea on Pinterest, and I immediately went and bought all of the candy needed to make these. They were a hit at the party!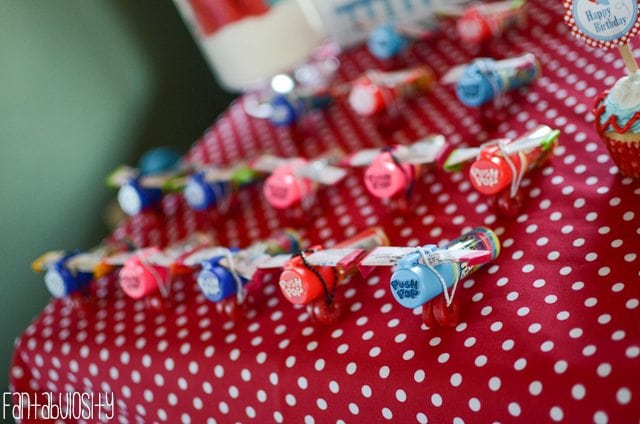 Since the color scheme was red and blue, I filled plastic milk bottles with red and blue Hawaiian Punch and topped them off with paper straws and printables.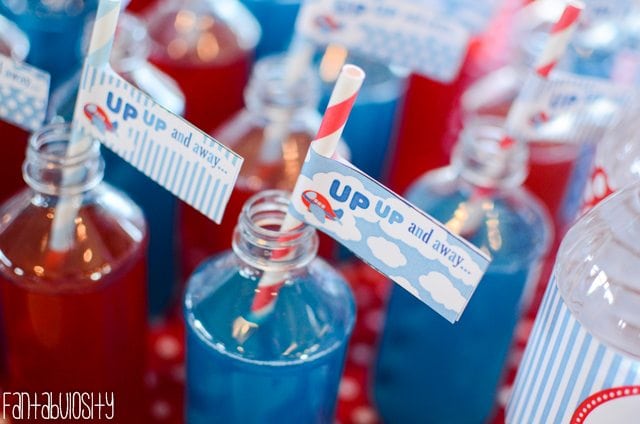 Cherry Sours and Blue Sixlets were a hit, due to the individual serving size and accessibility.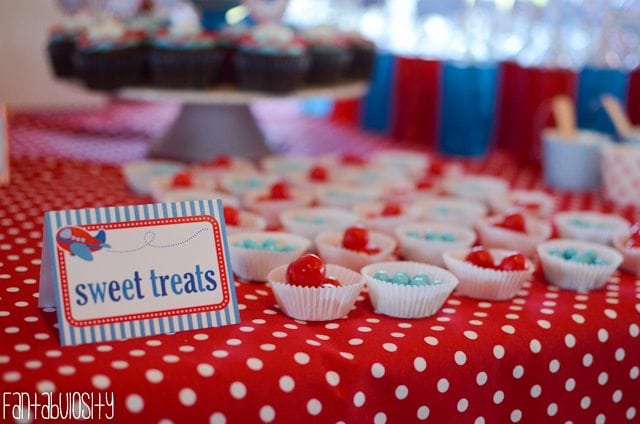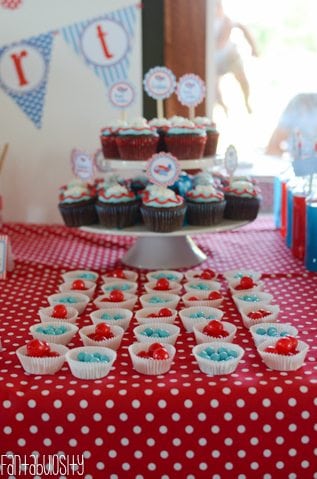 Ahhhh the cake pops! These were delicious and adorable! Sweet. Sassy Pops made these exactly as I requested, and they were to die for!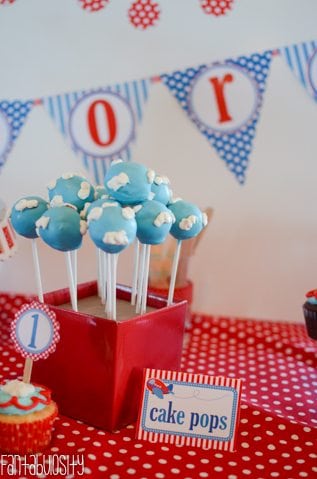 Before I knew it, it was cake time. My son had never had sugar of any kind until this moment…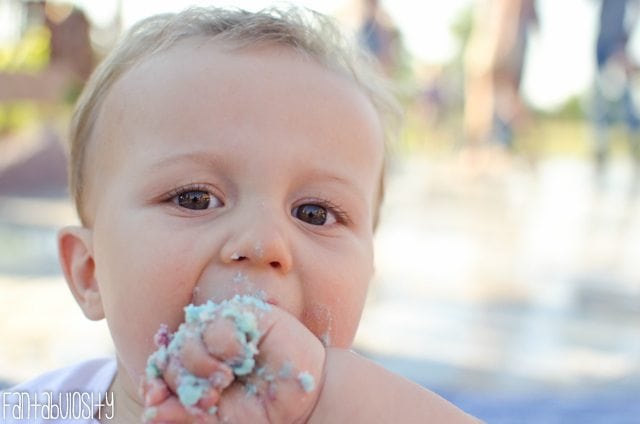 Needless to say… We were up all night. 😉
HILARIOUS Party-Fail…
Out of the blue, while my son was digging in to his birthday cake,  a stray dog came and totally took over his birthday cake! Most hilarious party detail of the day.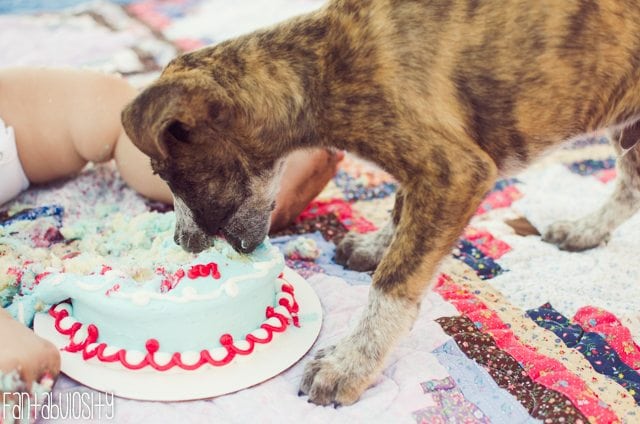 More Party Themes
Thank you so much for coming by and browsing my party ideas! I've had so much fun over the years styling parties for my kiddos, friends, and family.
Head over to see all of the party ideas to see if you can find a theme you like!
Party Credits:
Party Design: Jessica with Fantabulosity
Photography: AG Photography
Printables: Vens Paperie
Invitation: 505 Design & Paperie
Candy: Nuts.com
Party Supplies (Spoons, balloons, milk bottles, etc.): Shop Sweet Lulu
Cake and Cupcakes: Diane's Cakery
Cake Pops: Sweet. Sassy. Pops