Baking Birthday Party Ideas: Baking party ideas for kids, or a great activity for a day full of fun! Sprinkles, frosting, cupcakes, aprons, chef hats and so much more!
I was lucky enough to help plan and style my niece's 7th birthday party. I'll never forget sitting down and scouring Pinterest for some inspiration for her party. When she saw a cupcake party, she knew a baking party HAD to be it!
Since "baking," was the theme, I made sure to LOAD the table with sweets and treats. Sorry Moms!
Baking Birthday Party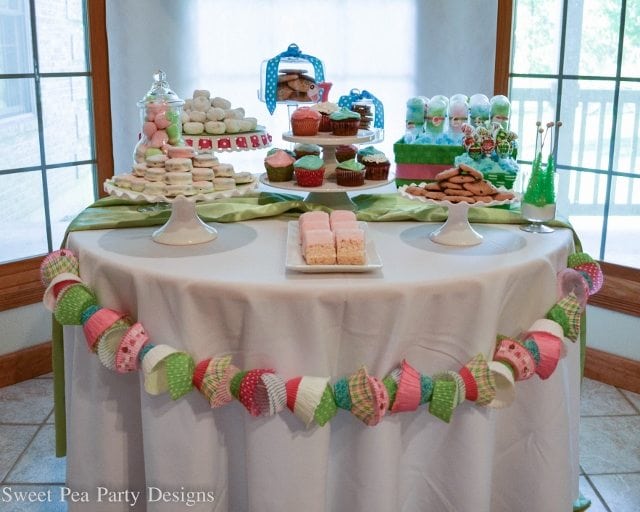 For a little table decor, I found a cupcake garland tutorial on Pinterest. Using a mixture of color-coordinating liners, and yarn to string it all together, it was super easy!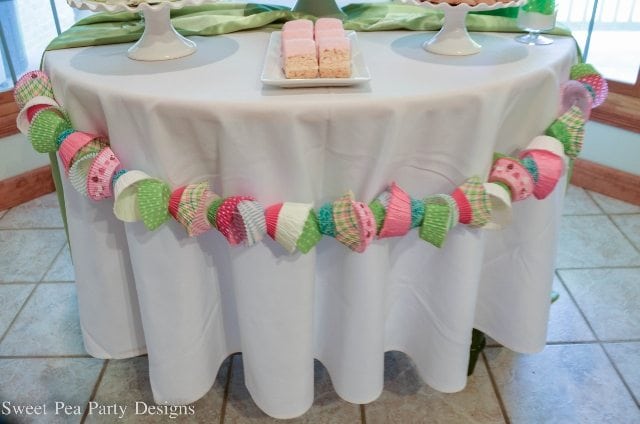 Chocolate Covered Oreo's + White Powdered Donuts
Since Oreos are a cookie favorite, I simply covered the Oreos in white chocolate and decorated them with party colors! You can put food coloring in the white chocolate instead, to match the color scheme if you like!
And who doesn't love powdered donuts? I'm a sucker for using white powdered donuts on a ton of my party tables. Guests love them, and they match just about every party theme there is!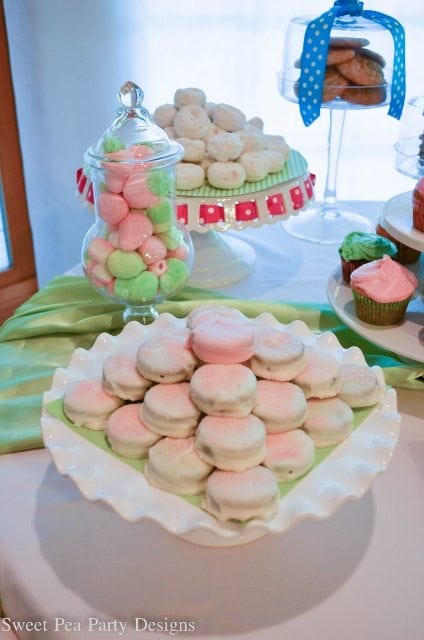 Party Drinks
I filled the plastic milk bottles up with blue, pink, and green juice… and just a heads up… I didn't buy enough blue. The girls LOVED the blue.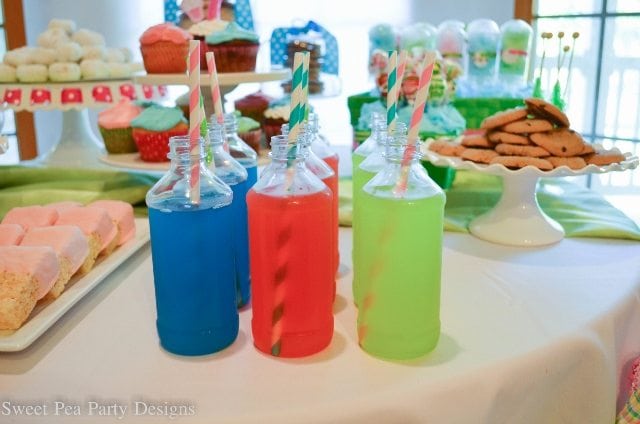 Chocolate Dipped Rice Krispy Treats
One of my party favorites: cover half of a rice krispy treat with colored white chocolate. Very elegant, and super easy! Buy the store-bought rice krispy treats to make it even easier, and that way their "harder," than homemade tend to be, and are uniform in shape.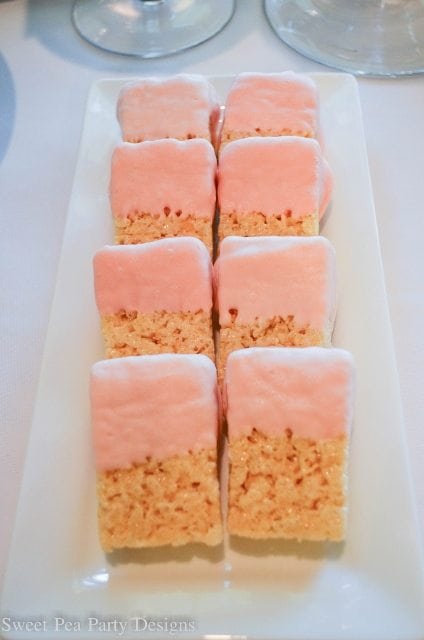 Push Pop Cotton Candy
Push Pop Containers are very popular right now, and I decided to fill them with cotton candy for a little extra sugar.
I used a Styrofoam block in the green basket to hold the containers, and simply covered the ugly Styrofoam with cotton candy to hide it!
TIP: Don't do this too far in advance of the cotton candy make break down "melt."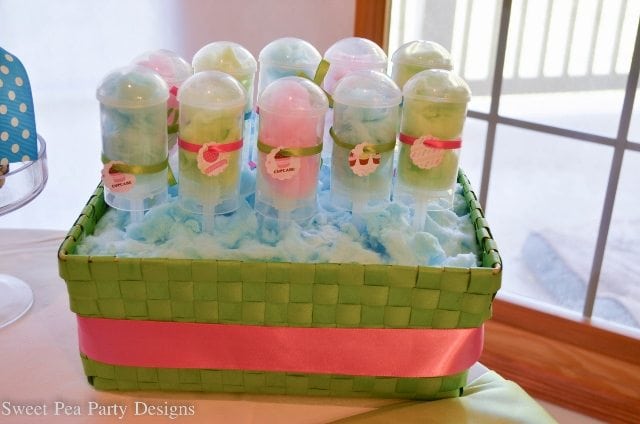 Rock Candy
I had rock candy, left over from a previous party, so since it matched, I found a place for it in a glass full of sugar! How fun and sweet, right?!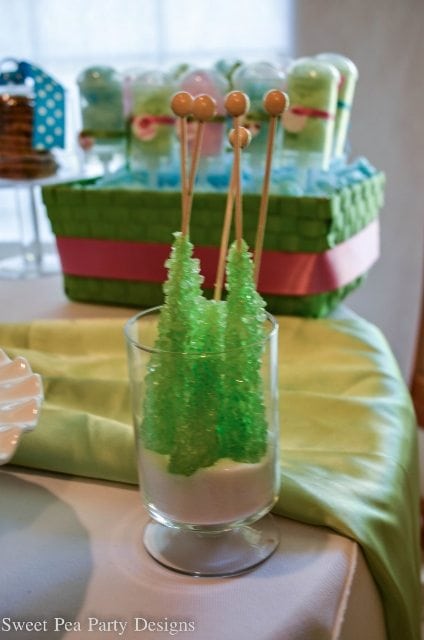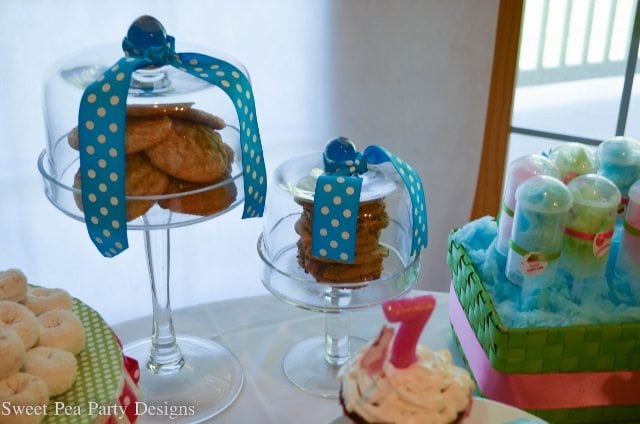 Blow Pops
Oh why not? Blow pops matched our color scheme too. Same thing as the push pop containers; cover the styrofoam with cotton candy!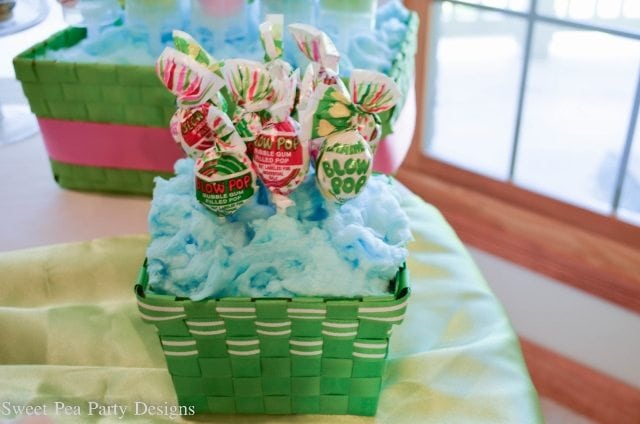 While browsing Pinterest one day, I found this image, and it was PERFECT! I wish I could remember where I found it so I could link to it for you, so if you know, I'd LOVE to hear!
I use the IKEA white frame stands for every party I do, to hold menu's, clever sayings, etc. They are adorable!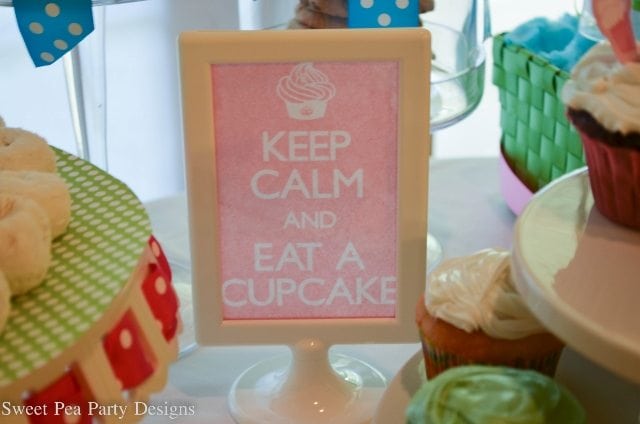 Marshmallow Pops
Another simple treat are the marshmallow pops. I used red food coloring to create a pink color in white chocolate, and covered half of the marshmallows, and put 'em on a stick!
I also had blue sixlets left over from a previous party, and they matched perfectly!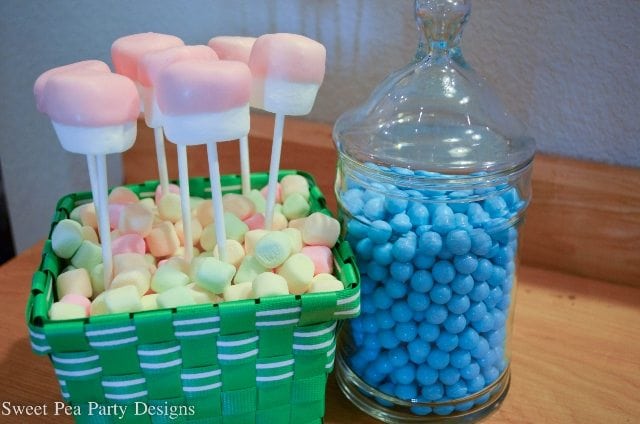 Baker Hats
Before the party, the baker hats were personalized with each of the guests names by using letter stickers. I also purchased flower embellishments to stick on the hats, and I'm so glad I did. Totally made the hats, I think! The flowers that we used had adhesive on the back, but I'd recommend having an adult use a hot glue gun to secure the flowers to the hats for the kiddos.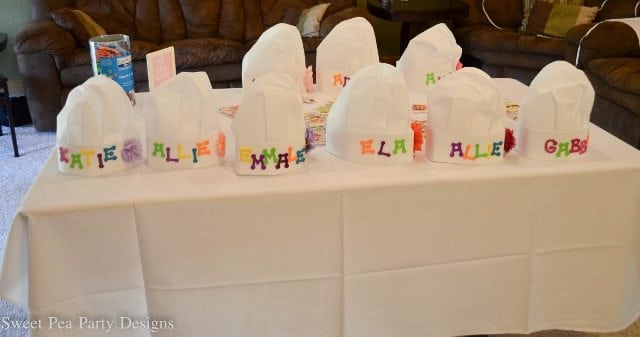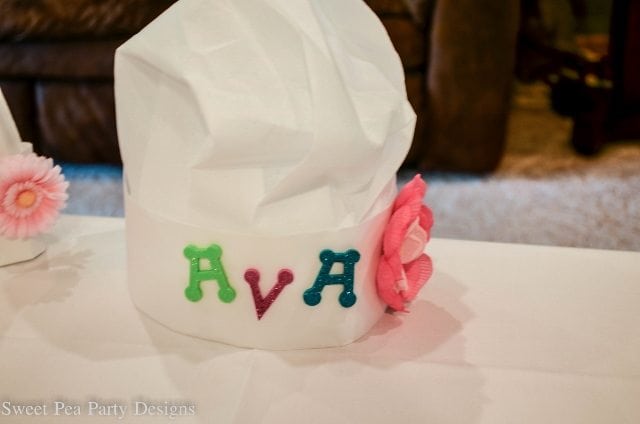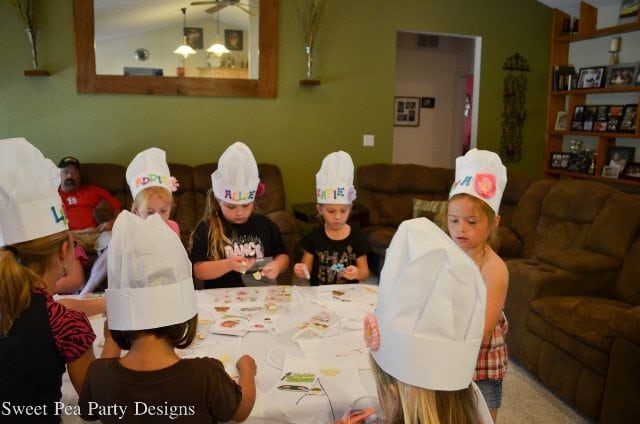 Apron Decorating
We decided to add an activity to the party, by adding an apron decorating station. I was very lucky, and found tons of "baking," themed embellishments. They didn't stick to the aprons the best… but the girls sure did have fun making a custom apron. I would suggest finding a plan B for attaching items to a fabric apron if you go this route.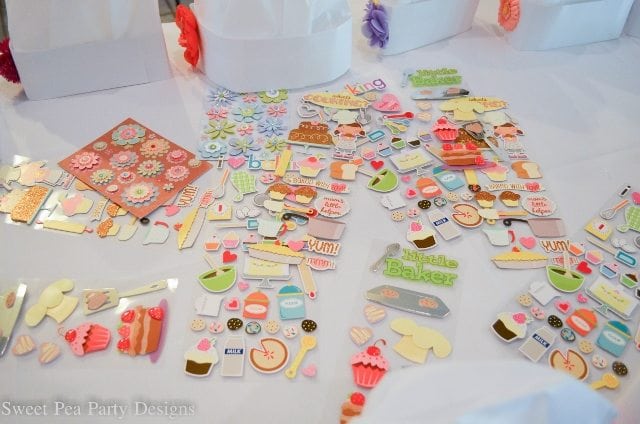 Cupcake and Cookie Decorating
After decorating the aprons, it was time to decorate cupcakes and cookies! Each girl received a bowl of white frosting, with a plastic knife for spreading.
We made cupcakes and sugar cookies (get the best sugar cookie recipe here) that acted as "blank slates," for their decorating to begin!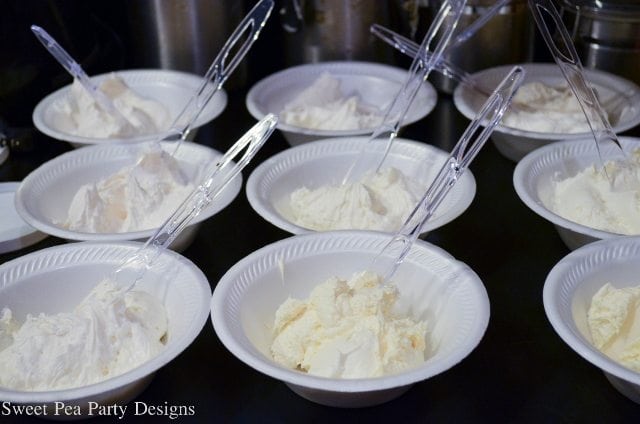 Move it Outside
It was a beautiful September day, so having the cupcake and cookie decorating station outside was a must! We were able to find filtration paper (But can use a paper roll like this one here) to use as the runner, and used matching duck tape to hold it to the porch. I also ran across place mats that were the perfect colors, and decided to use to give each guest a designated place setting.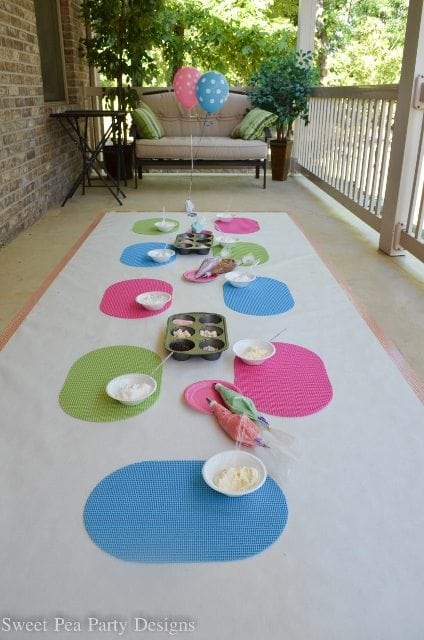 Muffin Tins for Toppings
We used muffin tins to hold the decorating goods, such as: sprinkles, marshmallows, chocolate chips, etc.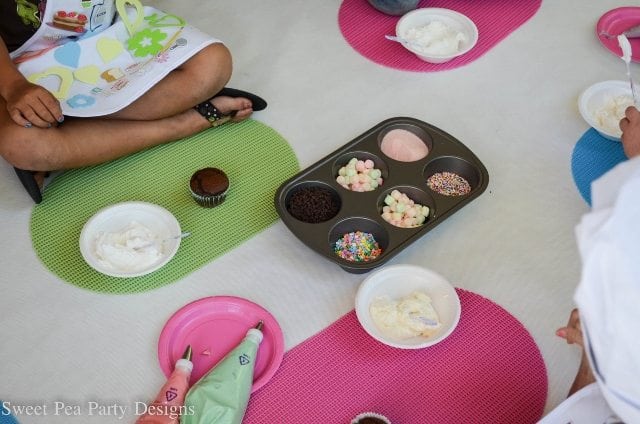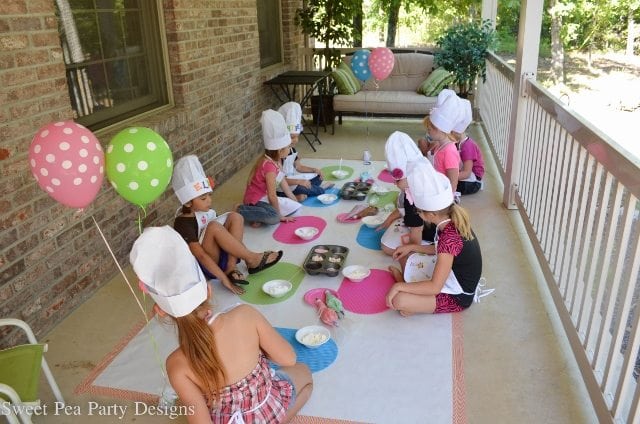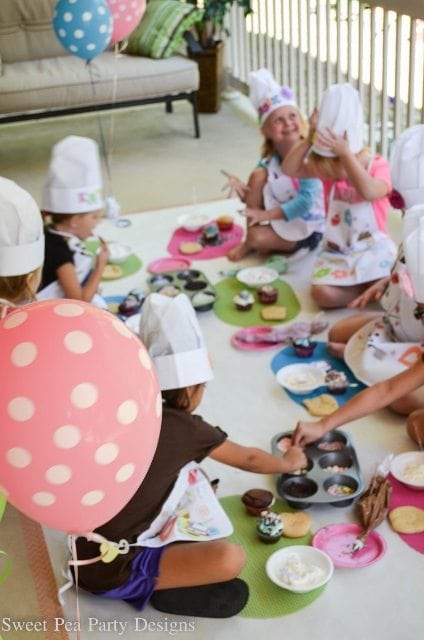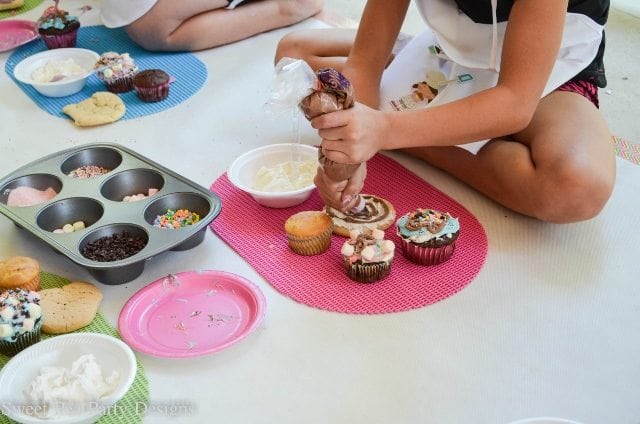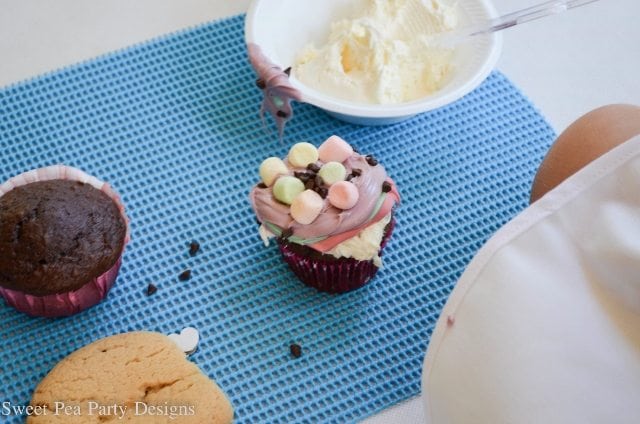 Cupcake Packages & To Go Boxes
We sent each guest home with a cupcake box to hold their cupcakes, and a small box to hold their cookies. I buy some of my favorite food packaging from Shop Sweet Lulu. If you're looking for something fun to put treats in, I really suggest you check to see what they have HERE.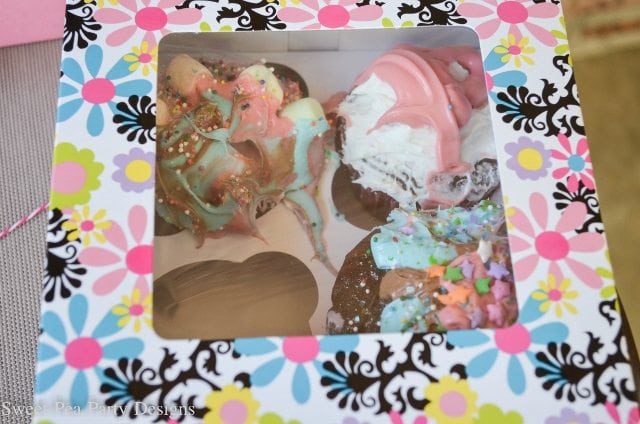 Baking Birthday Party Invitations:
I decided to do something a little creative for an invitation, rather than a typical postcard invite. After seeing the rolling pin invitations that JacolynMurphy made, I purchased mini rolling pins, and printed off my own birthday invitation on Canva, printed on to scrapbook paper, and rolled the invite around the rolling pin.
The birthday girl then hand delivered each invitation! I have to say… each guest that was invited, came to the party. That's a first!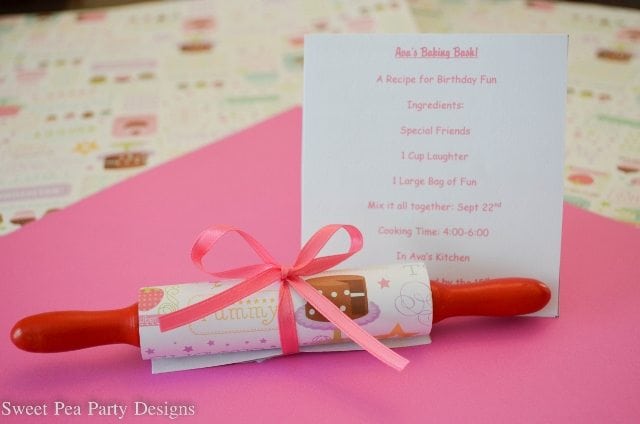 The guests were welcomed to the birthday party with a cupcake flag to set the mood!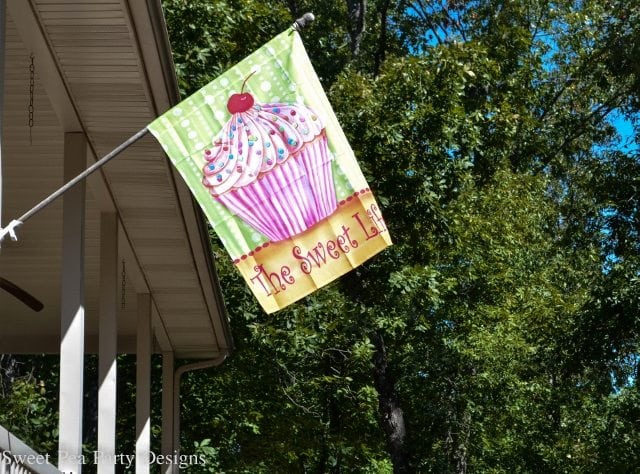 The birthday girl was VERY happy, and that my friends… is ALL that matters!

Party Details
Party Design: Jessica with Fantabulosity (Formally Sweet Pea Party Designs)
Milk Bottles, Cupcake Liners, Cookie Boxes: Shop Sweet LuLu
Lanterns and Tablecloths: Party Plus
Push Pop containers, Aprons, Hats: Amazon