Hi there! My name is Jessica Burgess. I'm an early "30-something" gal from Missouri who loves cooking, organization, decorating my home, throwing parties, and anything else that makes me feel like "Supermom." (Or a "helicopter mom" most times.)
I'm so very fortunate to stay at home with my two little boys, while my husband works incredibly hard in his career in real estate development. A few years ago, when I had my first bundle of joy, I decided I needed something else of my own to have on the side, so I could take my mind off of diapers and feedings.
One day during nap time, I sat down at the computer with a cup of coffee, and before I knew it… I was blogging.
Fantabulosity
Now, Fantabulosity has become a place where moms and all kinds of gals (and some men too) come to see what kind of roller coaster my crazy life is on, and see where my creative side is hanging out, (which usually hangs out around things like, decorating my house over and over again, trying on new fashion finds, & product reviews so you know what's good and what's just awful. But that doesn't mean you won't find a recipe thrown in every once in a while, or anything else that may tickle my fancy.)
My family takes up the biggest chunk of my heart and are a big reason why I turned this amazing hobby into a full-time job that I absolutely love! They keep me centered and grounded and are a continual reminder of the importance of relationships.
And, compromise… yes… that's an elk on my wall. Marriage is all about finding a happy medium, right? 😉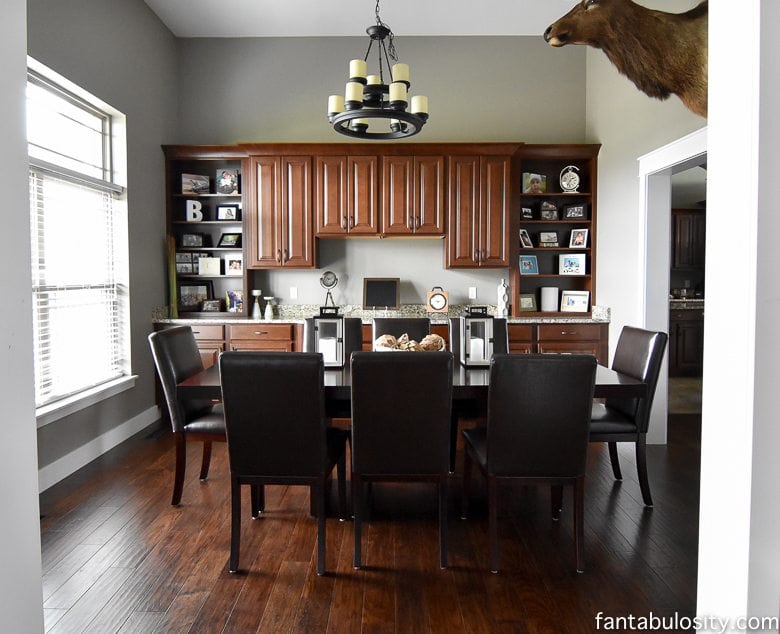 So, grab a cup of cinnamon flavored coffee (don't forget the mint flavored creamer… my fave), sit back… put your feet up, and let's chill out. (OMG, do people still say "chill out," or did I show my age? Scary.)
Oh yeah… I LOVE really good food too…

10 Random Facts about Me
A quick 5-minute video of 10 random facts that you may not know about me. Because well, I had a few minutes and I thought it would be a fun video to do. Maybe you and I have something in common?

Thank you SO much for stopping by, and please let me know that you did! You can contact me at any time by email: Jessica(at)fantabulosity(dot)com or visit my Contact Me page!
I'm a bit addicted to Pinterest! Follow me here: JBFantabulosity's Pinterest
I "live" on Facebook. Follow me there: Fantabulosity Facebook Page
You can also find some of my featured content on these amazing sites: 
You want a Freebie Right Now?
Are you signed up for the Fantabulosity Newsletter?   
Whaaat, you're not? Don't miss it.  It's where I send out only the goodies that you DON'T want to miss out on.


Contact Me!