How to Cook Steak in the Oven: A melt in your mouth recipe that makes even a new cook feel like a gourmet chef with this quick and EASY tutorial!
Cooking a steak with butter, salt and pepper makes this one of the easiest and BEST steak recipes EVER!
So many people ask me for the recipe and think that I spent hours preparing this for them!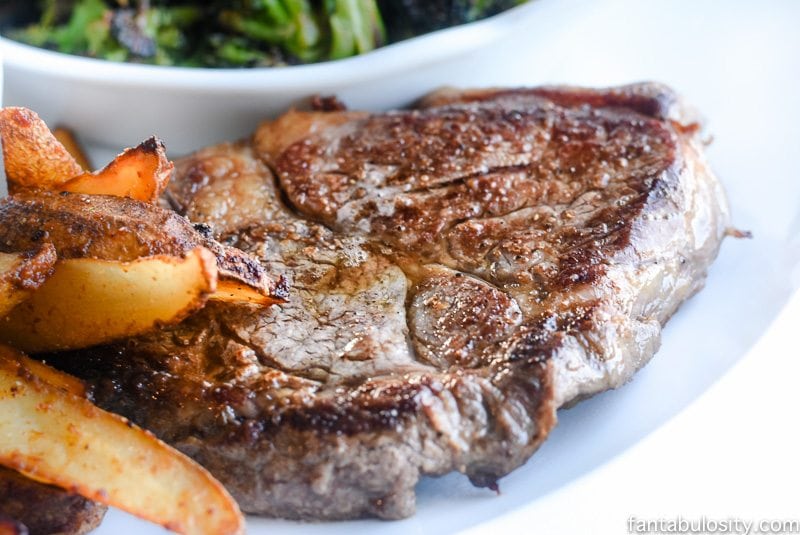 After growing up on a cattle farm, it may be a little odd that I don't eat a TON of steak. Perhaps I take a little after my cattle-farmin' grandpa, who RARELY ate any beef. (I guess he was around it all day, so he didn't want to look at it when he got inside the house.)
More Easy Steak Recipes:
If you love cooking steaks or feel intimidated by it, then you're going to love the other steak recipes here on the blog because they're super easy and super flavorful!
But for me, it has NOTHING to do with the fact that I was raised on a cattle farm. I just have to be in the "mood," for a nice juicy steak.
So this usually leaves me with saving the steak dinners for eating out for a special occasion. But when it's my husband's birthday… it's time to get my "steak," on, in the house.
Restaurant Steak at Home
I had paid very close attention in the past to what my husband said multiple times when we had been eating at a nice restaurant. He would mention something along the lines of,
Well the secret to a perfectly cooked steak is to finish it off in the oven.
What the whaa? I had never even thought about that the first time he mentioned it, but now that I know better… I completely agree with what he said.
So I knew that for his birthday, this steak was going to be making an appearance in the oven, and I needed to figure out how to do it.
Come to find out, searing it in browned butter in a cast iron pan before slipping it into a hot oven… is my jam and now I'm showing you how to make your own oven steak recipe!
Look how to prepare steaks in this quick video and then we'll get into the fine details so you can make your own too:
How to Cook Steak in the Oven
It's no secret that I'm a major fan of cast iron. For goodness sake, I even styled a party centered around "cast irons," last month! See a peek at it below, and click HERE to see all of the party photos!
So although a cast-iron is NOT required to make this recipe, I can't stress enough how much I love using it to make these.
I was once intimated by cooking with cast iron, but I decided to toughin' up when I saw my mom start to use them more and more. Now… I can't IMAGINE cooking so many things without one. (I won't even go into how many I own at this point.)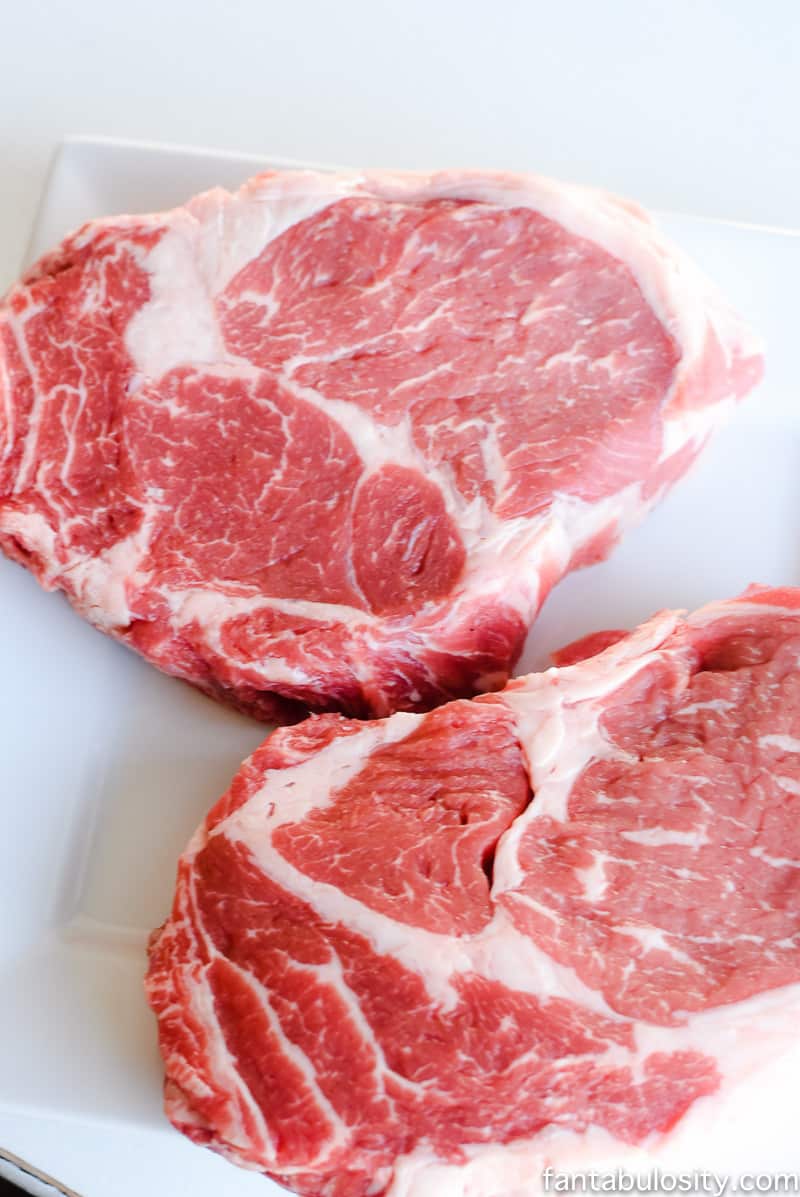 Types of Steak to Cook at Home
For this oven steak recipe, I used two thick-cut ribeye steaks. (Almost an inch thick, although you don't HAVE to have steaks this same thickness.) You don't have to use ribeye's for this steak recipe though.
Feel free to use sirloin, NY strips, t-bone, porterhouse, any cut you like!
Then, for sides to serve with steaks, browse our super easy side dish recipes HERE!
Seasonings for Steak:
When I say "salt and pepper," in any of my recipes, you can go ahead and count on that I mean kosher salt and this cracked peppercorn medley.
It is the most DELICIOUS combo of seasonings on a steak.
(Now don't get me wrong. I love a good garlic pepper, lemon pepper, or any other seasoning for that matter… but it's hard to beat a steak covered in kosher salt and peppercorn. Combine that with browned butter, and it's game over with my taste buds. It's the BEST.)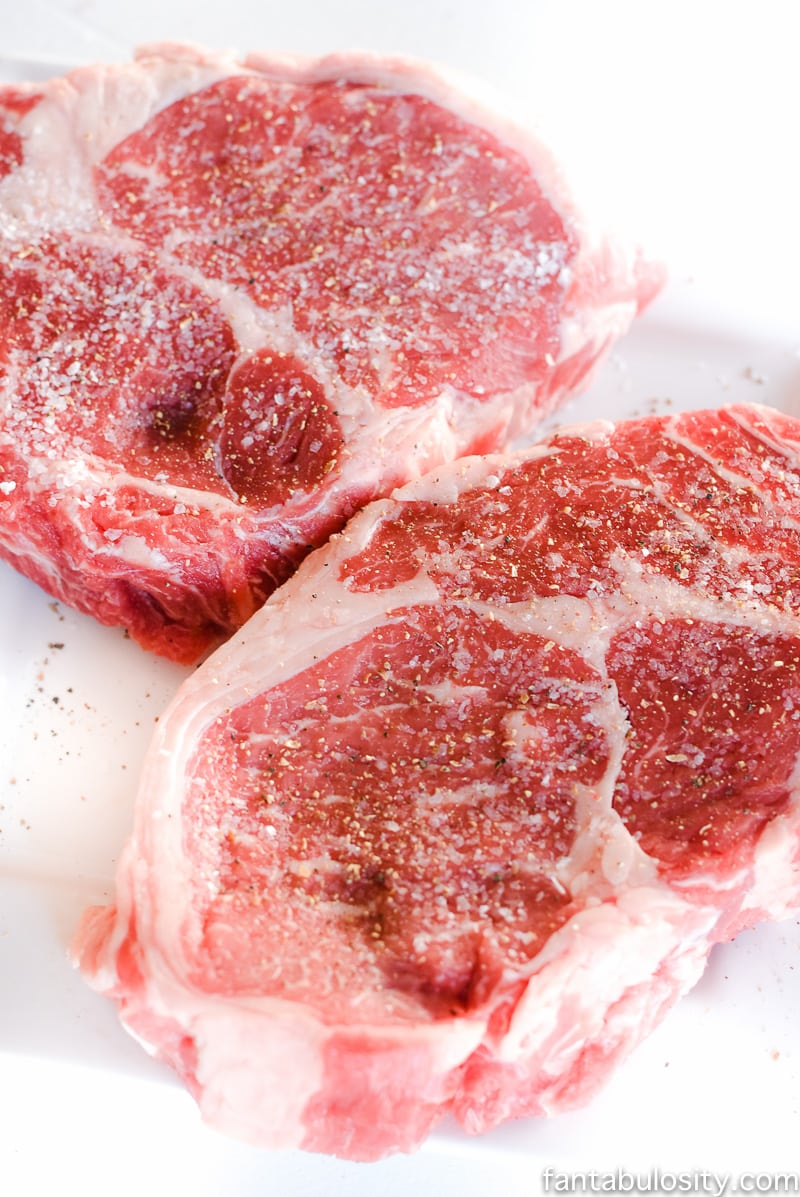 You can salt and pepper your steaks, according to your taste. For these two, I used a total of about a tablespoon of kosher salt and a teaspoon of peppercorn to season both.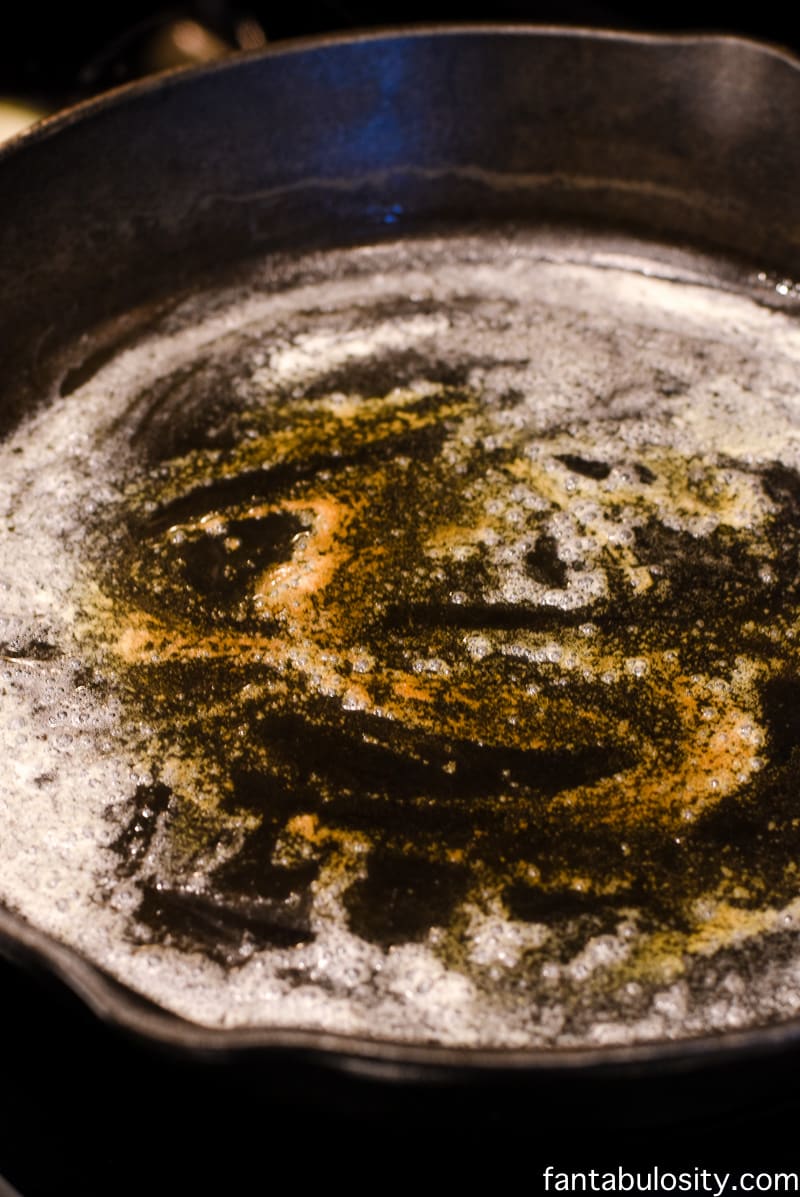 Cooking Steak in Browned Butter
My second favorite smell in the entire world? Butter browning in a cast-iron skillet.
My first?? Carrots, celery, and onions sautéing in butter, in a cast-iron skillet. (I know, totally random. But if you're in to "random," things… I shared a video the other day, of 10 random things you may not know about me on my About Me page, just for fun. You know, if you have 5 minutes to waste and all.)
Sear the Steaks
It only takes a couple of minutes for these babies to sear in the cast iron, and then they're off to the oven to bake for a few more minutes. Sear them for one minute on each side and then…
How Long to Cook Steak in Oven
The steak will only need 3 minutes in the oven after searing, and it will come out sizzling and smelling like you're in a delicious steakhouse! If using your cast iron, go ahead and slip the whole pan in the oven.
Just soak in that sizzle sound and heavenly smell during this process, would ya?
Get the full recipe and step by step process in the recipe card below!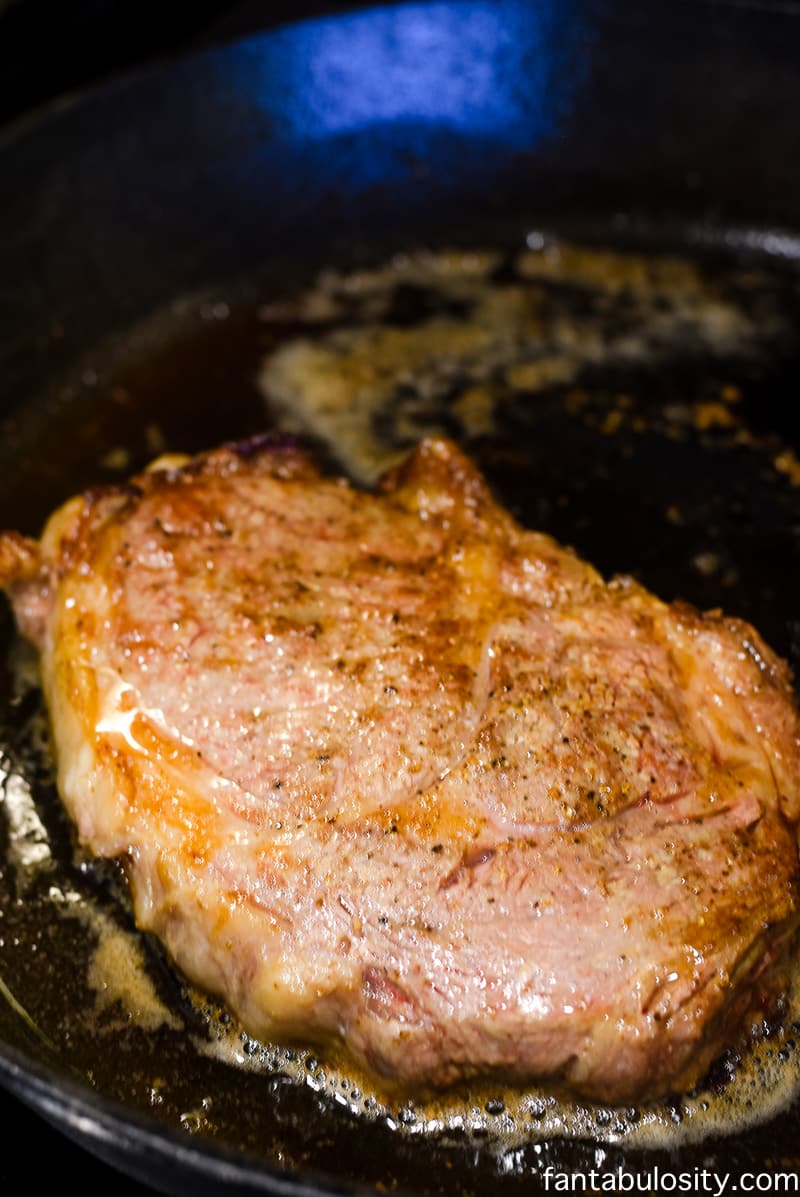 Within minutes, you have a steak that's ready to devour, and if this is your first time cooking a steak… congratulations!!! Wasn't that easy!?
Popular Steak Questions:
How do you cook the perfect steak?
The secret is to keep it simple, use butter, simple spices, sear and broil it in the oven for a few minutes! It turns out to be the perfect steak every time!
How do you make steak flavorful?
Browned butter adds more flavor than you think it would. The combination of browned butter with kosher salt and peppercorn medley creates a steakhouse flavor that does NOT require steak sauce!
Is it better to cook steak on the stove or in the oven?
Both! You wouldn't think it would make that big of a difference, but it really does. The pan-searing on the stove gives the browned flavor you love and the really hot oven helps cook the steak through!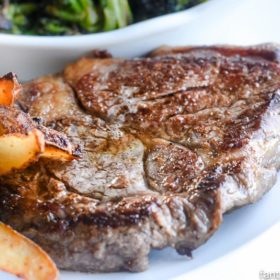 The BEST! How to Cook Steak in the Oven + Pan
Pan Seared & In the Oven: Cooking with browned butter in a cast iron skillet, baked for only minutes, and coated in cracked peppercorn and kosher salt, is ALL this ribeye needed!
Instructions
For a "Medium" Steak – Preheat 475 degrees before you even start to season your steaks.

Coat your steaks with salt and pepper, on both sides.

When the butter is melted and has turned a golden brown, place the steaks into the skillet. Let them sear for about 1 minute (less if you prefer more of a rarer steak, and if thinner than 1-in. thickness.)

Flip and let sear on other side for the same amount of time.

Place skillet in the oven for about 3 minutes and then serve immediately or steak will continue to cook.
Nutrition
Serving:
1
steak
Calories:
570
kcal
Protein:
45
g
Fat:
43
g
Saturated Fat:
21
g
Cholesterol:
167
mg
Sodium:
217
mg
Potassium:
605
mg
Vitamin A:
385
IU
Calcium:
16
mg
Iron:
3.9
mg
Steak Recipes
If you LOVE steak recipes as much as we do, then I must share with you other favorites you'll love:
Steak Dinner Ideas
No steak is complete without amazing side dishes to go with it, right? When cooking a steak, a good way to "round out" the dinner is to serve a vegetable and a potato with it.
Ladies… you're gonna win your man's heart over if you do the "steak and potata"… but honestly, most men could probably do without the veggies. But that pop of color on the plate always makes me happy, so I always include it!
Sides for Steak
Now, of course, there are many options for steak sides, but there is an absolute favorite.
Thu side salad for steak is the best on the planet. (Seriously, it has almost 500 reviews).
But on his birthday I chose to make my all-time favorite healthy side dish recipes: roasted garlic broccoli, and fiesta potato wedges with a buffalo blue cheese bacon dip, to complete his dinner plate this year.
Dessert for a Steak Dinner?
Then, to follow up… a no-bake Brownie Peanut Butter Cup Cheesecake Trifle for dessert, or browse our dessert recipes for the perfect idea for your steak dinner! Browse my easy dessert recipes!
We Love Easy Recipes!
Thank you for stopping by! If this is your first time here, please know that anything cooked in my kitchen is easy, and only made of ingredients that you typically have on hand, or that you can find just about anywhere! Heck with that complicated stuff.
Check out more of my favorite easy recipes!