Experience the melt-in-your-mouth goodness of Crock Pot Cube Steak, a dish that promises to be a showstopper at your dining table. This recipe combines the simpleness of a slow cooker recipe with the rich, hearty flavors of cube steak and traditional seasonings.
Much like our oven-baked steak, or even our slow cooker pork steaks, the result of this recipe is succulently tender, delightfully flavorful, and wonderfully comforting—making it an exceptional choice for both weeknight dinners and special occasions the whole family will love.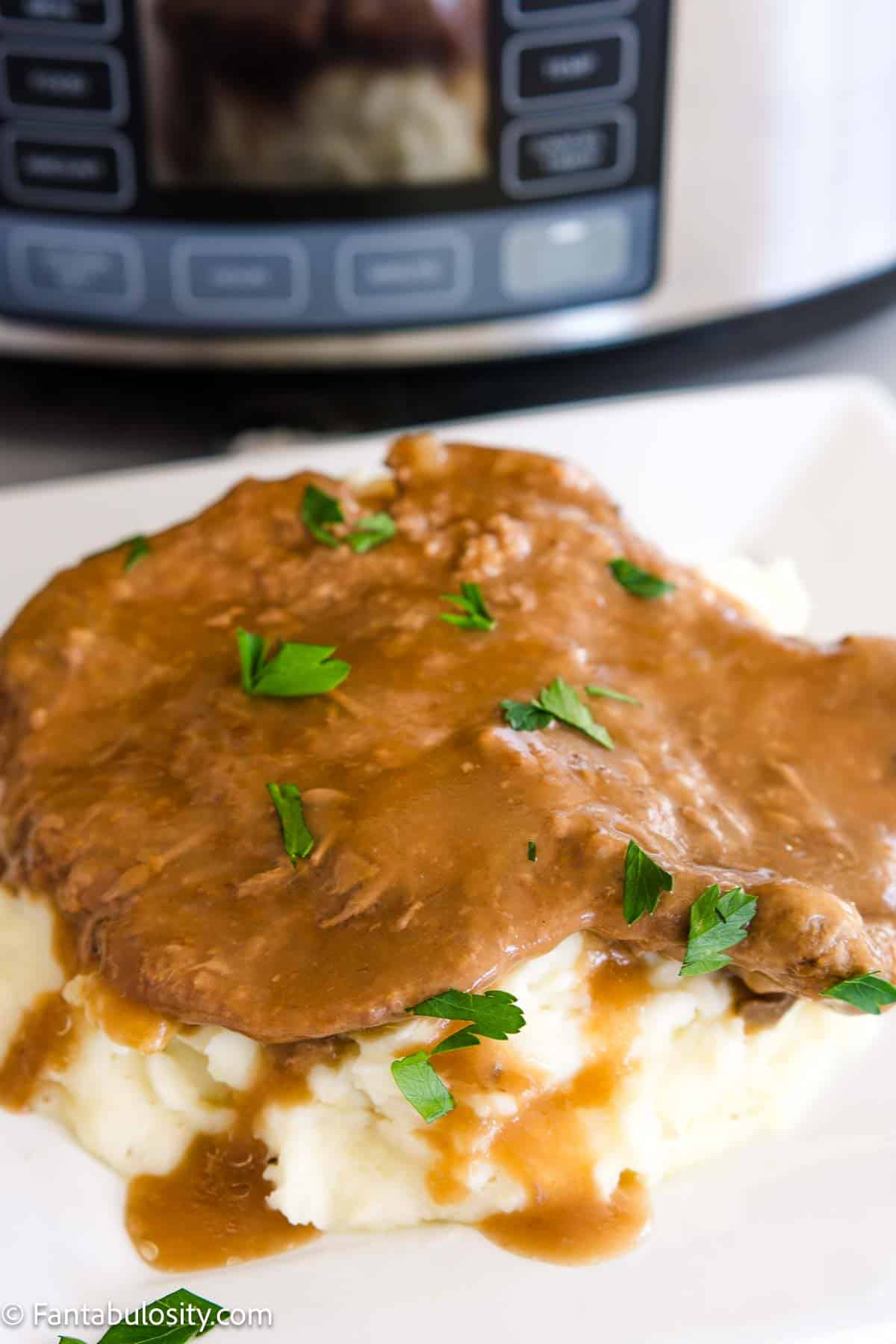 Inspired to try more crock pot recipes? Crock Pot Chicken Enchiladas are always a popular option in our house and are simple to make for even the fussiest eater. Or if you want a delicious, cheesy recipe to go with a meat dish, try some Crock Pot Cheesy Hashbrowns.
Jump to:
❤️ Why You'll Love This Recipe
It uses a few ingredients: With only 4 ingredients, this recipe uses items that you may even have on hand.
Very simple recipe: Using pre-mixed soup, this is a simple recipe that doesn't need a lot of ingredients or cooking experience.
Slow cooker comfort food: You can set this up in your slow cooker for a great comfort food option with little hands-on work needed.
What is Cube Steak?
Cube steak, also known as minute steak due to its quick cooking time, is a cut of beef that has been tenderized, typically using an electric meat tenderizer or a manual meat mallet. The process of tenderization leaves distinctive cube-shaped indentations on the meat, hence the name "cube steak".
This cut is usually lean and somewhat tough, making it a perfect candidate for slow cooking methods like braising or slow cooking in a crock pot, which allow the meat to become tender and flavorful over time, much like when we make chuck roast in the slow cooker for these shredded beef tacos.
🧾 Ingredients Needed
I've highlighted a couple of ingredients below with some relevant notes. Aside from this, the ingredients needed are pretty basic.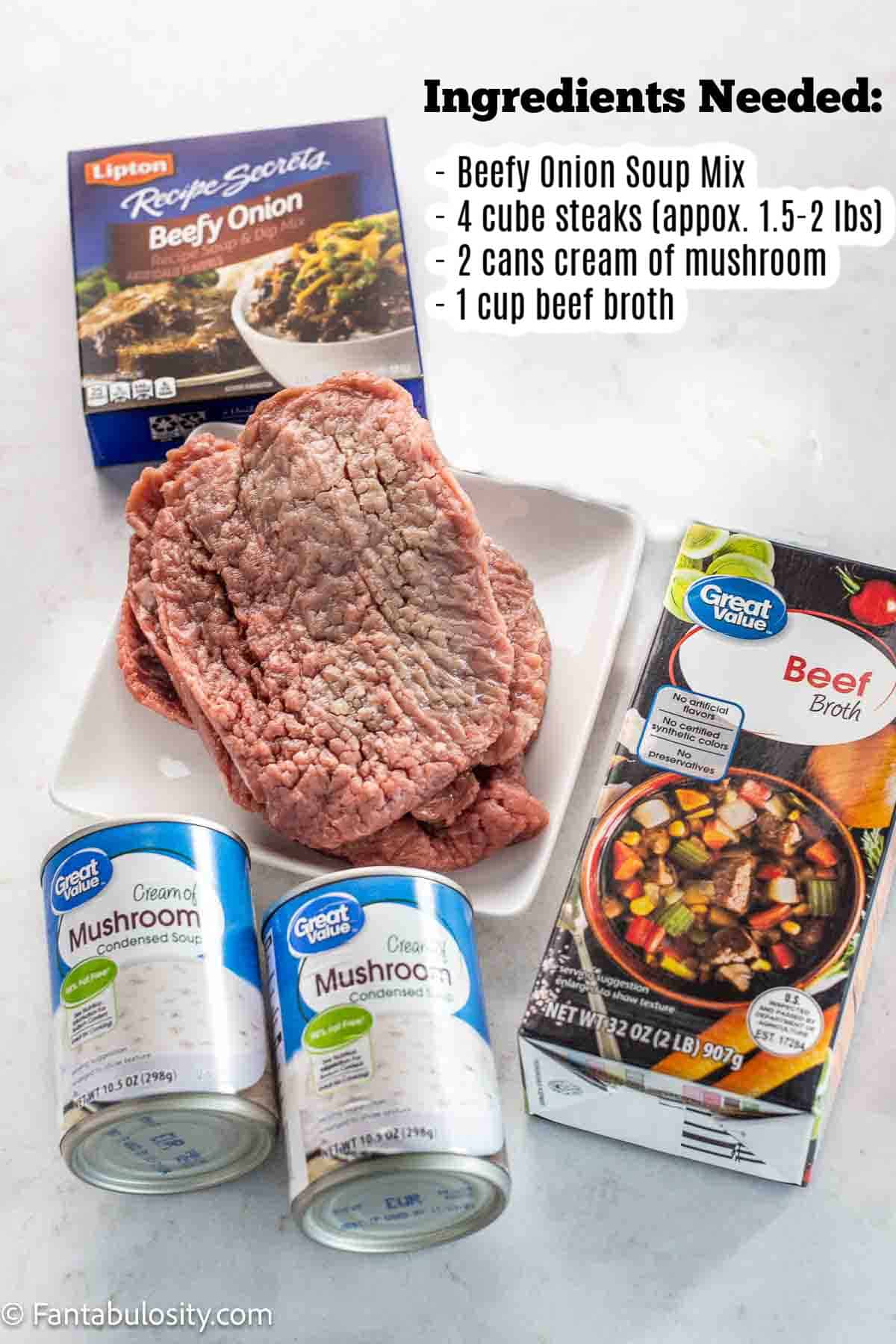 Steak – You'll need around 1.5 to 2 pounds of cube steak for this recipe.
Soup mix – I find a Beefy Onion soup mix is the perfect one to give the steak flavor.
Mushroom soup – Get the creaminess needed for the dish from two cans of cream of mushroom soup.
📖 Substitutions
Sometimes substitutions are necessary because of ingredients that are unavailable or needed for dietary restrictions. Here are some suggestions that can help:
Beefy Onion Soup Mix: You can make your own mix at home using dried onion flakes, beef bouillon granules, onion powder, parsley, celery seed, paprika, and black pepper. Another option is to use a combination of vegetable broth and onion powder or minced onions for a similar flavor.
Cream of Mushroom Soup: You can substitute with cream of celery soup or cream of chicken soup if you're looking for a similar texture. If you'd like to avoid canned soup, you can make a homemade white sauce with butter, flour, and milk, then add sautéed mushrooms.
Beef Broth: You can swap it with vegetable or chicken broth. You could also use a broth made from a beef bouillon cube or granules if you still want the beef flavor but don't have the broth on hand.
📖 Variations
Here are some variations you might want to try for your crock pot cube steak recipe:
Italian Style: Use a packet of Italian dressing mix instead of the Beefy Onion soup mix, and substitute the cream of mushroom soup with marinara sauce. Add in some bell peppers and onions for extra flavor.
Creamy Garlic and Herb: Substitute the Beefy Onion soup mix with a blend of dried herbs like rosemary, thyme, and oregano. Use a can of cream of garlic soup instead of cream of mushroom, and consider adding some chopped fresh herbs near the end of cooking.
Spicy Mexican: Swap the Beefy Onion soup mix for a packet of taco seasoning, and use enchilada sauce or salsa instead of the cream of mushroom soup. You could also add some canned green chilies or jalapenos for an extra kick.
Sweet and Tangy BBQ: Instead of the Beefy Onion soup mix, use your favorite barbecue spice rub. Substitute the cream of mushroom soup with your favorite barbecue sauce, and consider adding a touch of apple cider vinegar for tanginess.
👩🏻‍🍳 How to Make Crock Pot Cube Steak
This cube steak recipe is broken into 2 components:
Prepare the ingredients
Cook the recipe
*Be sure to see the recipe card below for the full ingredients list & instructions!*
STEP 1: Mix the ingredients. Combine the soup, broth, and Onion Soup Mix until well blended. (Image 1)
STEP 2: Add the steak to the crock pot. Place the cubed steak in the slow cooker, being mindful not to overlap them excessively. (Image 2)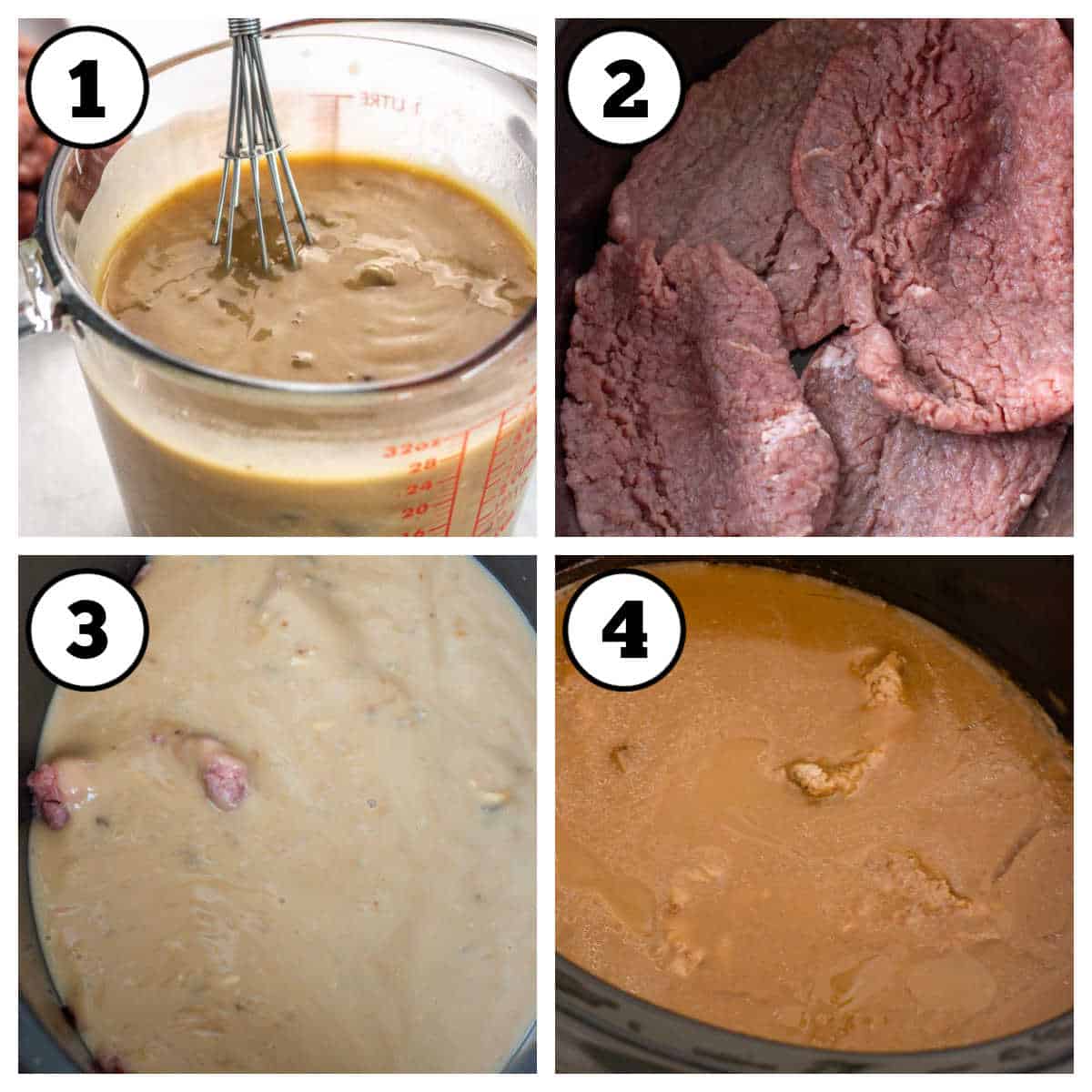 STEP 3: Add the sauce mixture. Pour the soup mixture evenly over the cube steak. (Image 3)
STEP 4: Cook the recipe. Place the lid on and cook on high for a duration of 3 hours. (Image 4)
💭 Recipe Pro Tips
Cube Steak: For a delectable meal, ensure your cube steak is thoroughly dried before adding it to the crock pot to prevent excess moisture.
Seasoning: Don't skimp on seasoning; season your steak generously before cooking cube steak to enhance the flavor.
Layering: When layering your cube steaks in the crock pot, try not to overlap them too much. This ensures even cooking.
Cooking Time: Remember, slow and steady wins the race. For the most tender cube steak, opt for a longer cooking time on a lower setting.
Resting Time: Let the steak rest for a few minutes after cooking. This allows the juices to redistribute, resulting in a moist and flavorful steak.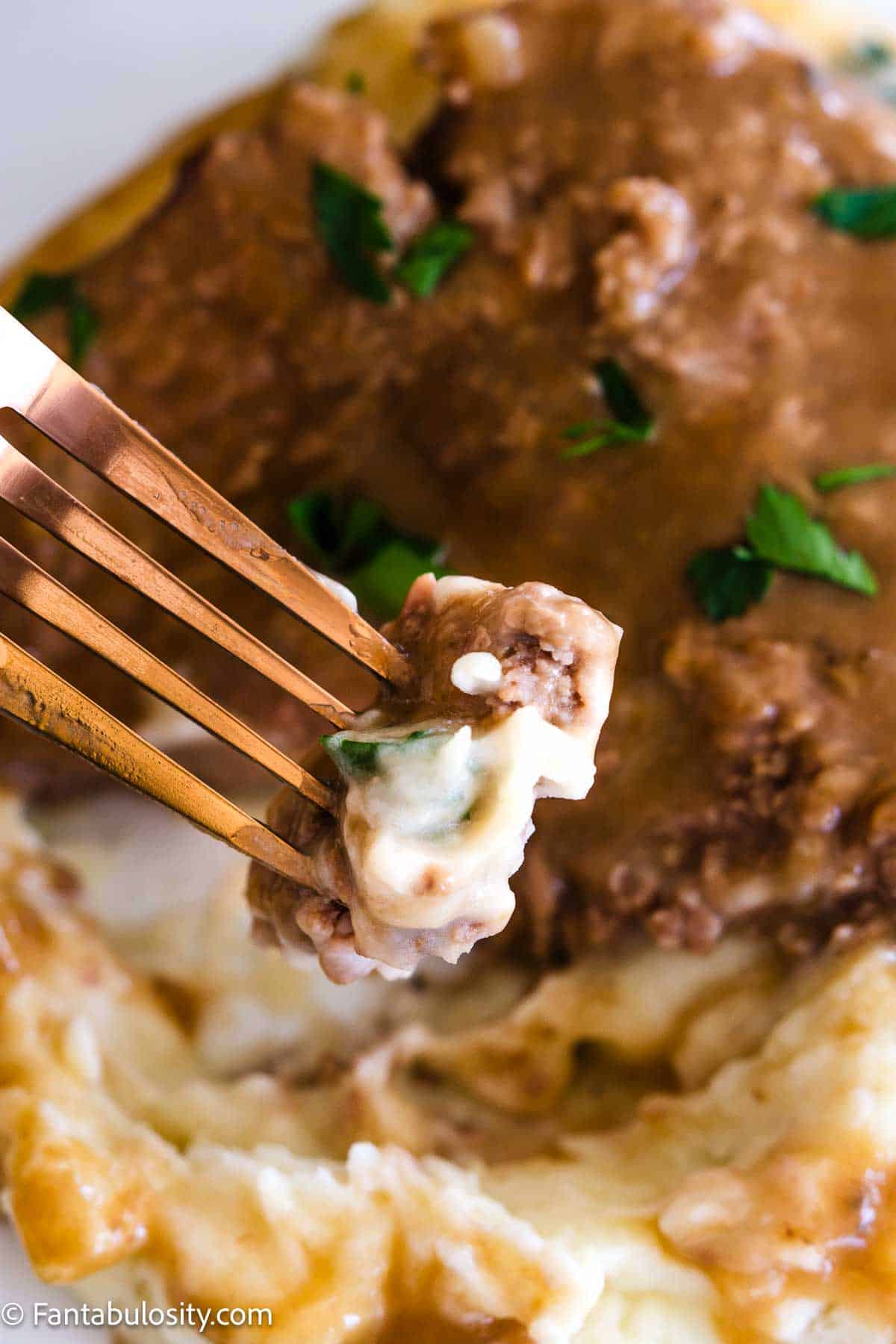 📋 Recipe FAQs
Can I use a different type of steak for this recipe?
Yes, you can substitute the cube steak with other tender cuts of beef, such as a ribeye or top sirloin. However, keep in mind that the texture and flavor may differ slightly due to the differences in fat content and marbling.
Can I add vegetables directly into the crock pot?
Absolutely! Vegetables like carrots, potatoes, or bell peppers can be added directly into the crock pot. Just ensure they are cut into larger pieces to prevent them from overcooking.
Can I make this recipe in an Instant Pot instead?
Yes, this recipe can be adapted for an Instant Pot. However, the cooking time will need to be adjusted accordingly as the Instant Pot cooks much faster than a traditional slow cooker.
Can I cook the cube steak on a stovetop instead?
Yes, this recipe can be prepared on a stovetop. Fry the cube steaks in a pan over medium heat until browned on both sides, then add the soup mixture and simmer until the steak is tender and the sauce has thickened.
Can you cook raw steak in a crock pot?
Absolutely! You can definitely cook raw steak in a crock pot. Slow cookers are designed to cook food over a long period of time, which makes them ideal for tenderizing tougher cuts of meat like steak. The low and slow cooking process allows the steak to become wonderfully tender while absorbing the flavors of the sauce and seasonings. Just remember, always cook the steak on low for an extended period to ensure that it is both safe to eat and deliciously tender.
🍽 What to Serve with Crock Pot Cube Steak
The beauty of Crock Pot Cube Steak is that it pairs well with a variety of side dishes. Here are some suggestions:
Mashed Potatoes: The classic comfort food side, mashed potatoes pair perfectly with the hearty cube steak. Their creaminess complements the steak and savory gravy.
Steamed Vegetables: A simple side of steamed vegetables such as broccoli, carrots, or green beans can provide a much-needed fresh counterpart to the rich cube steak.
Rice: Whether it's brown, wild or white rice, this versatile grain is excellent at soaking up the delicious gravy of the cube steak.
Bread Rolls: A warm, crusty bread roll would be excellent for sopping up any leftover gravy on your plate.
Salad: A light garden salad with a tangy vinaigrette can help cut through the richness of the cube steak dish and add a refreshing element to your meal.
❄️ Storage
Allow the steak and gravy to cool completely before storing. This prevents condensation from forming in the storage container, which can lead to a diluted gravy. Transfer the cooled steak and gravy to an airtight container. Refrigerate for up to 3-4 days.
When you're ready to enjoy the leftover cube steak, warm them up in a saucepan over medium heat or in the microwave until heated through.
Freezing leftovers is also possible. After the steak and gravy have completely cooled, portion them into freezer-safe container or resealable plastic bags in the serving sizes you prefer. To eat, thaw the steak and gravy in the refrigerator overnight before reheating in a saucepan or microwave.
🥩 More Steak Recipes You'll Love
If making this slow cooker cube steak and gravy will have you wanting to try other types of steak, why not try learning how to cook steak in the oven with this simple process? Or enjoy the best Steak Bites with this tasty and easy recipe.
Did you make this? I'd be so grateful if you left a "star" rating below to let me know what you thought! Then, the next time you need a quick and easy recipe, come back to Fantabulosity to browse all of my easy recipes!
📖 Recipe
Crock Pot Cube Steak
Using only 4 ingredients, this dump-and-go recipe is a great dinner idea that's flavorful, so tender, easy and hearty for the family.
Ingredients
1

pack

cube steaks

probably 1.5-2 pounds – about 3-4 steaks

1

package

Beefy Onion Soup Mix

2

cans

cream of mushroom soup

1

cup

beef broth
Instructions
Mix soup, broth and Onion Soup Mix together until evenly mixed together.

Arrange cube steaks on bottom of slow cooker, trying not to overlap too much.

Pour soup mixture over cube steak.

Cover with lid and cook on high for 3 hours.

Serve over mashed potatoes or egg noodles.
Nutrition
Serving:
1
steak
|
Calories:
143
kcal
|
Carbohydrates:
17
g
|
Protein:
10
g
|
Fat:
4
g
|
Saturated Fat:
2
g
|
Polyunsaturated Fat:
0.2
g
|
Monounsaturated Fat:
2
g
|
Cholesterol:
8
mg
|
Sodium:
2248
mg
|
Potassium:
296
mg
|
Fiber:
1
g
|
Sugar:
1
g
|
Vitamin A:
2
IU
|
Vitamin C:
0.5
mg
|
Calcium:
27
mg
|
Iron:
1
mg
Nutritional information is based on third-party calculations and should be considered estimates. Actual nutritional content will vary with brands used, measuring methods, portion sizes and more.