Deer Steak Recipe – Skillet: There are many deer steak recipes, but this quick & flawless recipe using browned butter, salt & pepper in a skillet, is great!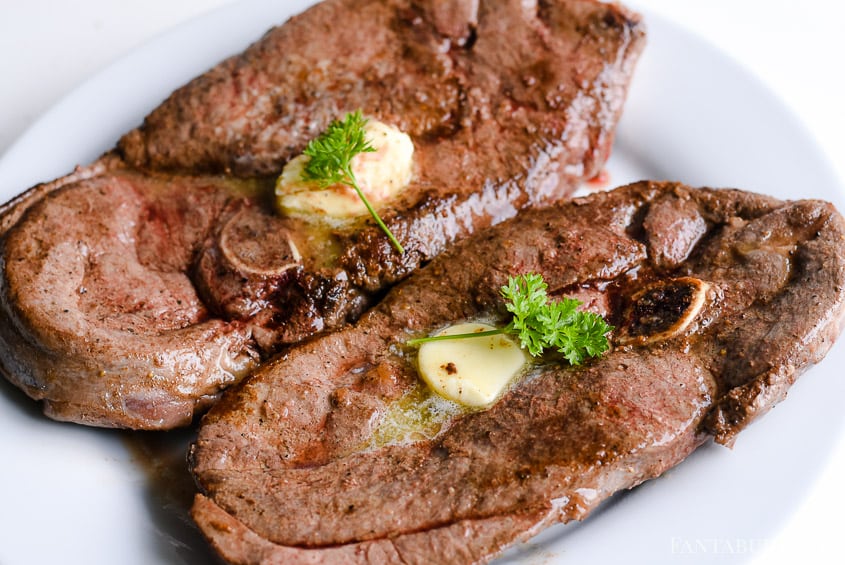 Deer Steak Recipe – On the Stovetop
The other night, I decided that I wanted deer meat for dinner. I had been looking at it in the freezer for a little while, and I knew it was time.
Now if you saw my first deer meat recipe…my Fried Deer Meat as seen below…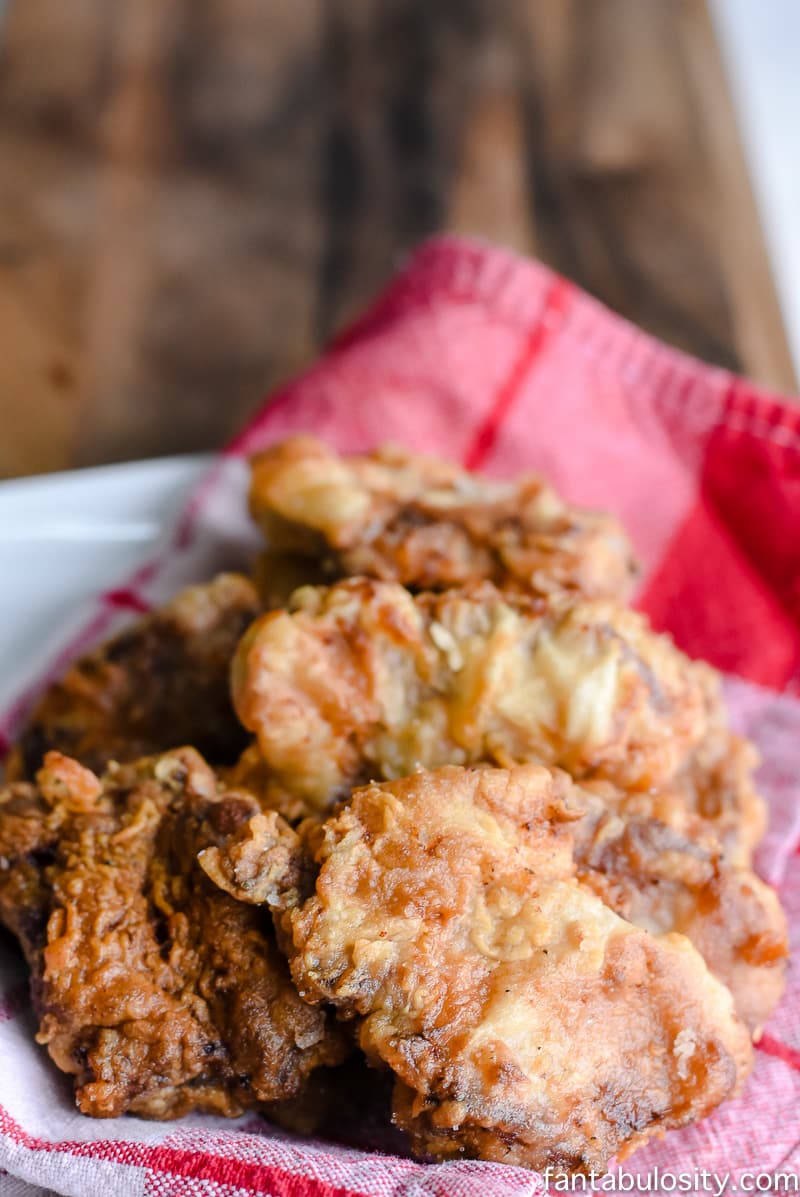 …then you know it's my ALL TIME favorite thing to eat, and favorite way to eat deer meat.
So when I love something as much as that recipe, it's hard from me to steer in a different direction of cooking deer meat.
Grill Deer Meat or Fry it in a Pan?
But for some reason, I didn't have the heart to cut up these perfectly cut steaks into small pieces and decided to give searing them (like I did with my beef steak recipe) a try. I'm so glad that I did, because it turned out pretty tasty, and my family thought so too.
Should I Marinate Deer?
Well honestly, that's totally up to you. I actually had 4 deer steaks in the package that I was using, so I decided to cook the deer steak, TWO different ways, in case you prefer one or the other.
If you have some time to allot to cooking your deer steak, and you prefer to have a marinade flavor, instead of the deer flavor… then I'd say go with this recipe below…
Note: I grilled the steaks in the deer steak marinade recipe below, but you can easily marinate them and fry them in a pan too!)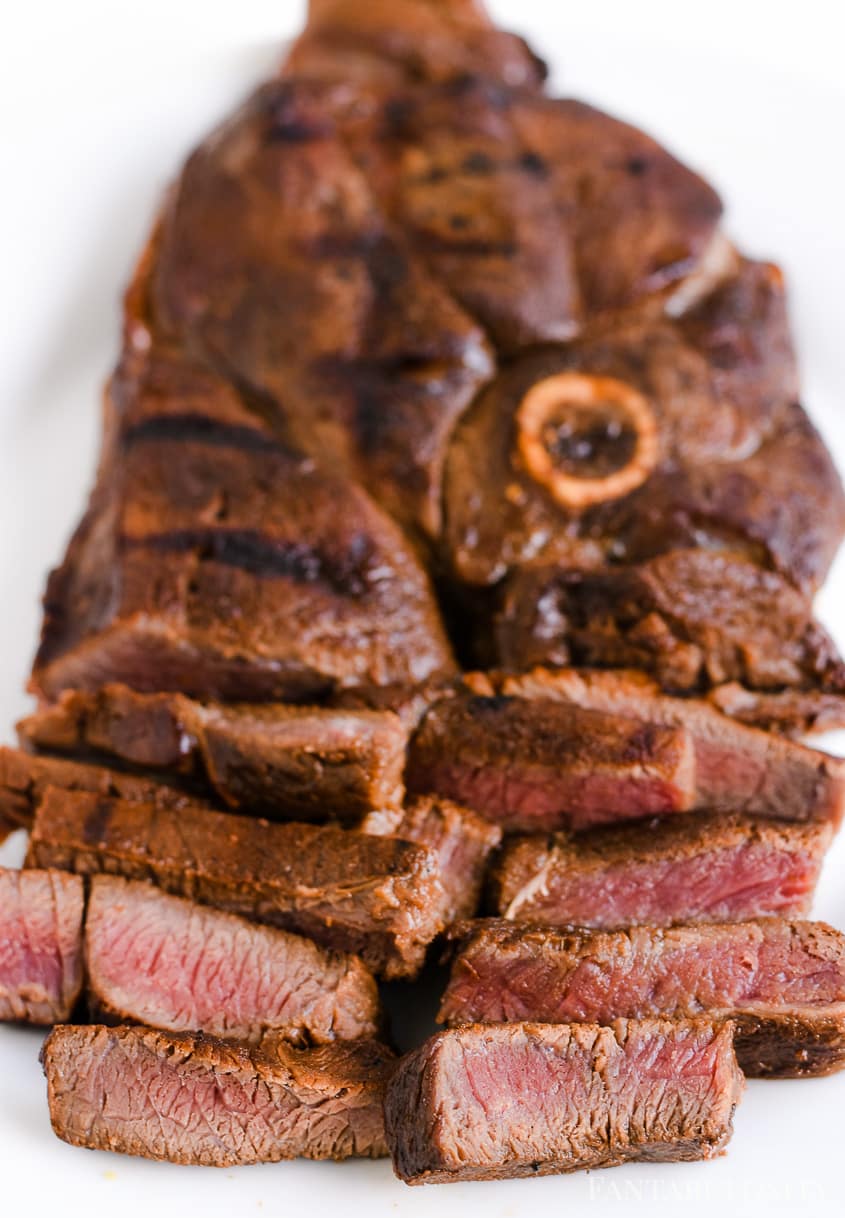 Not Much Time? Want to Capture the Flavor of Venison?
Then this is a recipe you'll love. It only uses butter, salt and pepper and is ready in minutes.
There's something about the flavor of browned butter, salt and peppercorn medley on a cut of meat.
So if you're ready to cook your deer steak, let's get to it! (My mouth is watering just thinking about it!)
How to Cook Deer Steak
As with all of the recipes here on the blog, I'll give tidbits of how to make the dish, throughout the photos in case you're a visual person, but feel free to scroll to the bottom of this post for a straight-and-to-the-point, recipe card where it lists the ingredients and instructions.
Earlier I mentioned that I had 4 deer steaks thawed out, but that I split them up so I could do two in the pan and two on the grill for a future recipe. But I'm so glad that I did for this recipe too because these two deer steaks were big, and PLENTY for the three of us that were eating it.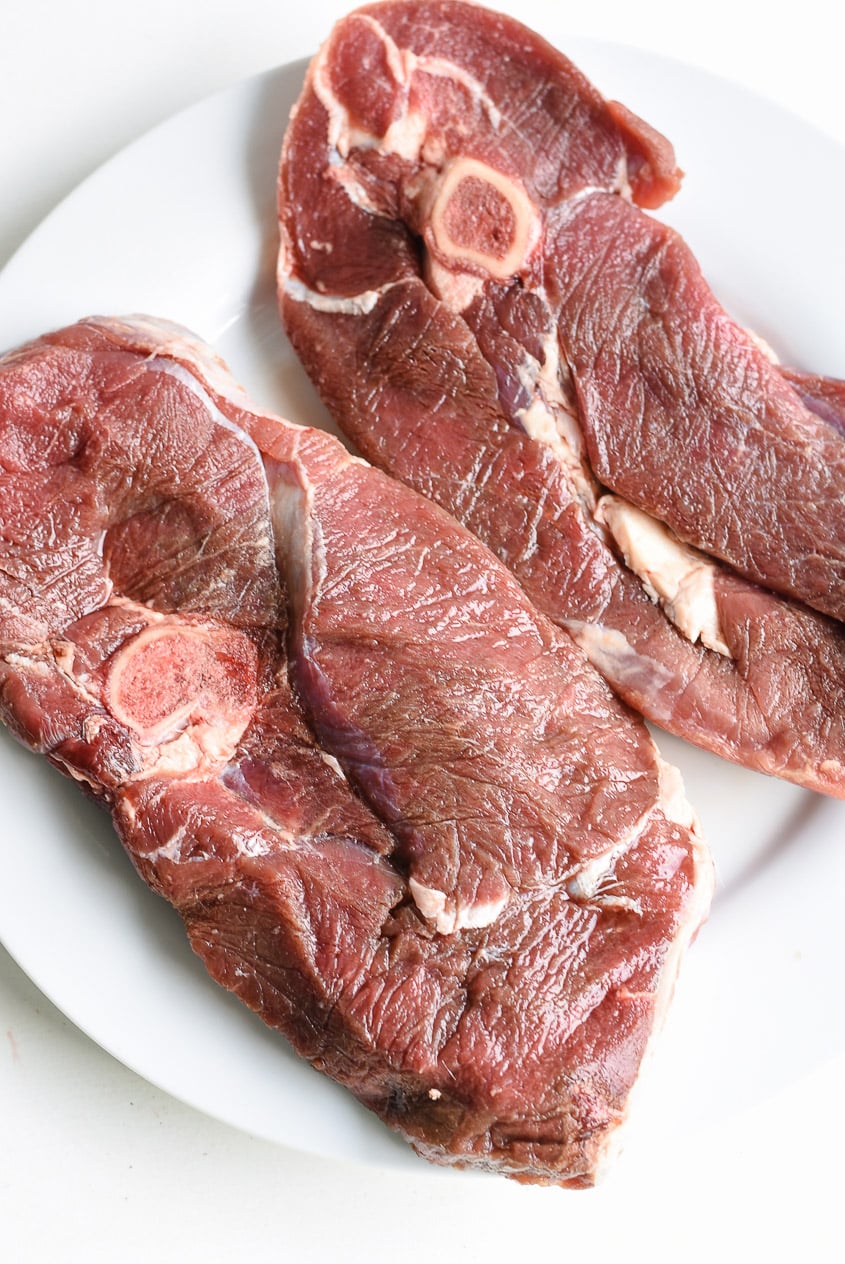 Room Temperature Deer Steaks
You'll want your deer steaks at room temperature, before cooking them. But if you roll like I typically do, you'll find yourself ready to cook them when you get home, and there is no way your family is going to wait for the steaks to come to room temp before it's time to cook and eat them. I get it. So it's not a BIG deal at all.
What Happens if the Venison Steak's NOT Room Temperature?
It's not the end of the world. You may just need to tweak your cook time a little bit to reach the desired "doneness" that you prefer.
So just keep that in mind if you will.
It's Not Just Salt + Pepper
Alright, listen up… when it comes to my meat, I SWEAR by kosher salt, peppercorn medley, and salted butter. I do this with my favorite steak recipe, my cheeseburger recipe… and now this deer steak recipe.
Do you HAVE to have kosher salt and peppercorn medley? Well no, but if you see it at the store next time, grab it. Or buy it on Amazon now, so you don't forget —-> Buy the kosher salt and the peppercorn medley.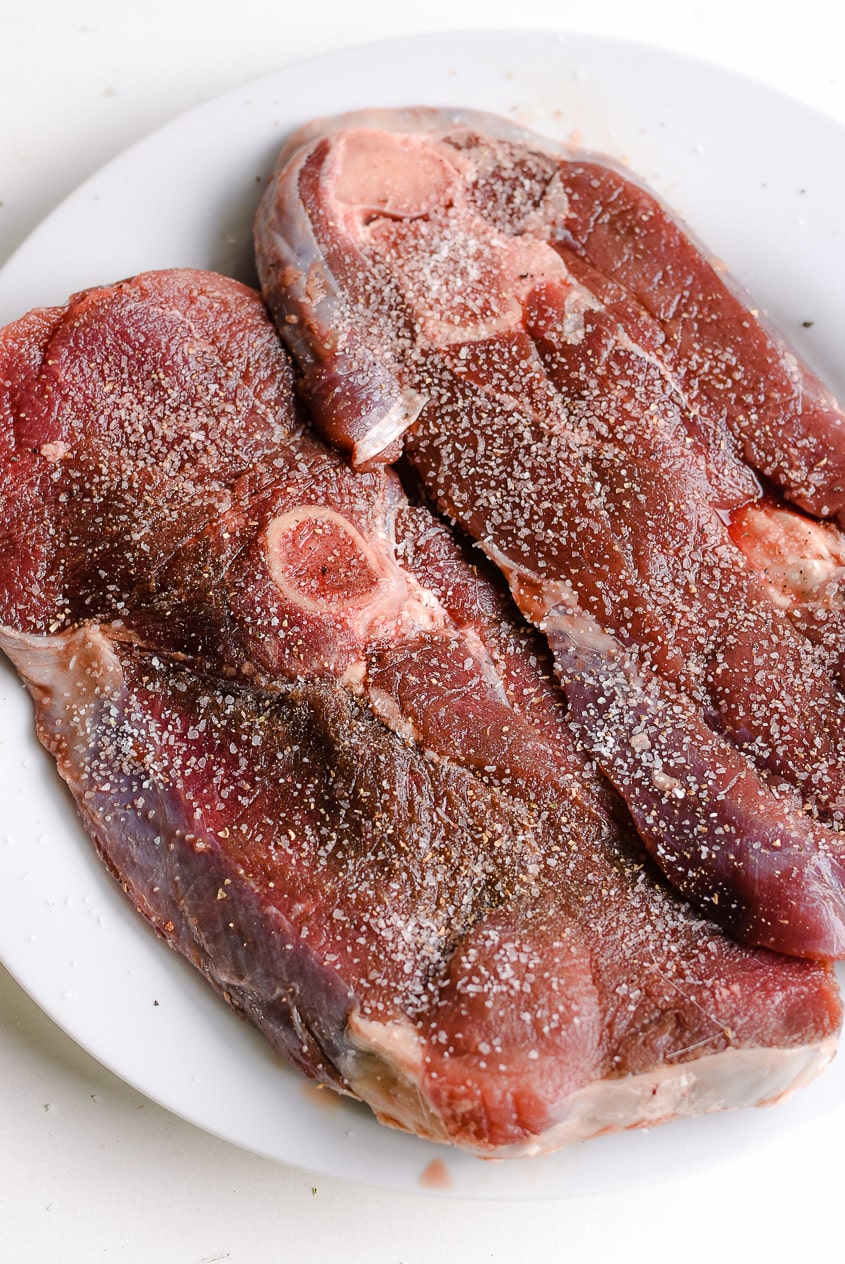 Butter is Love
Yeah, I know. I always say butter is my friend. But when it comes to cooking deer in a skillet or on the grill, butter is important for the "dryness" that can tend to take over with this lean meat.
Deer is more lean than beef (usually), so the fatty juices may not be in abundance with your deer steaks. So cooking in butter, and even brushing with butter (like I'll show you in my grilled deer meat recipe coming soon), can help with keeping the steak from drying out.
Brown the Butter…
You'll want to brown your butter before placing your deer steaks in the skillet. To me, there's a BIG difference in the taste of melted butter and butter that has browned a little bit. Like, a heavenly difference.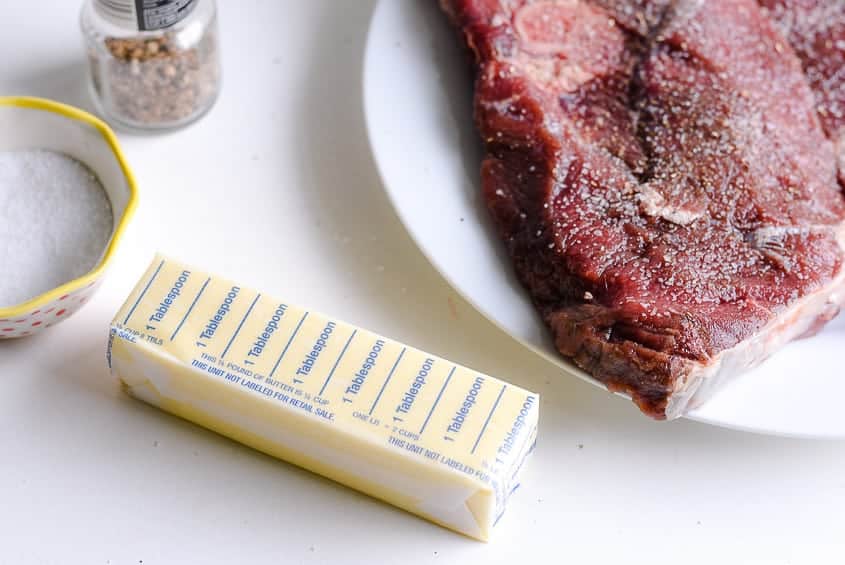 Quick Tidbit about Steak Thickness
For this recipe, I used deer steaks that were about 1/2 inch thick.
Keep this in mind when you're cooking yours, and following my times and cooking temps. Your steaks may be thinner or even thicker.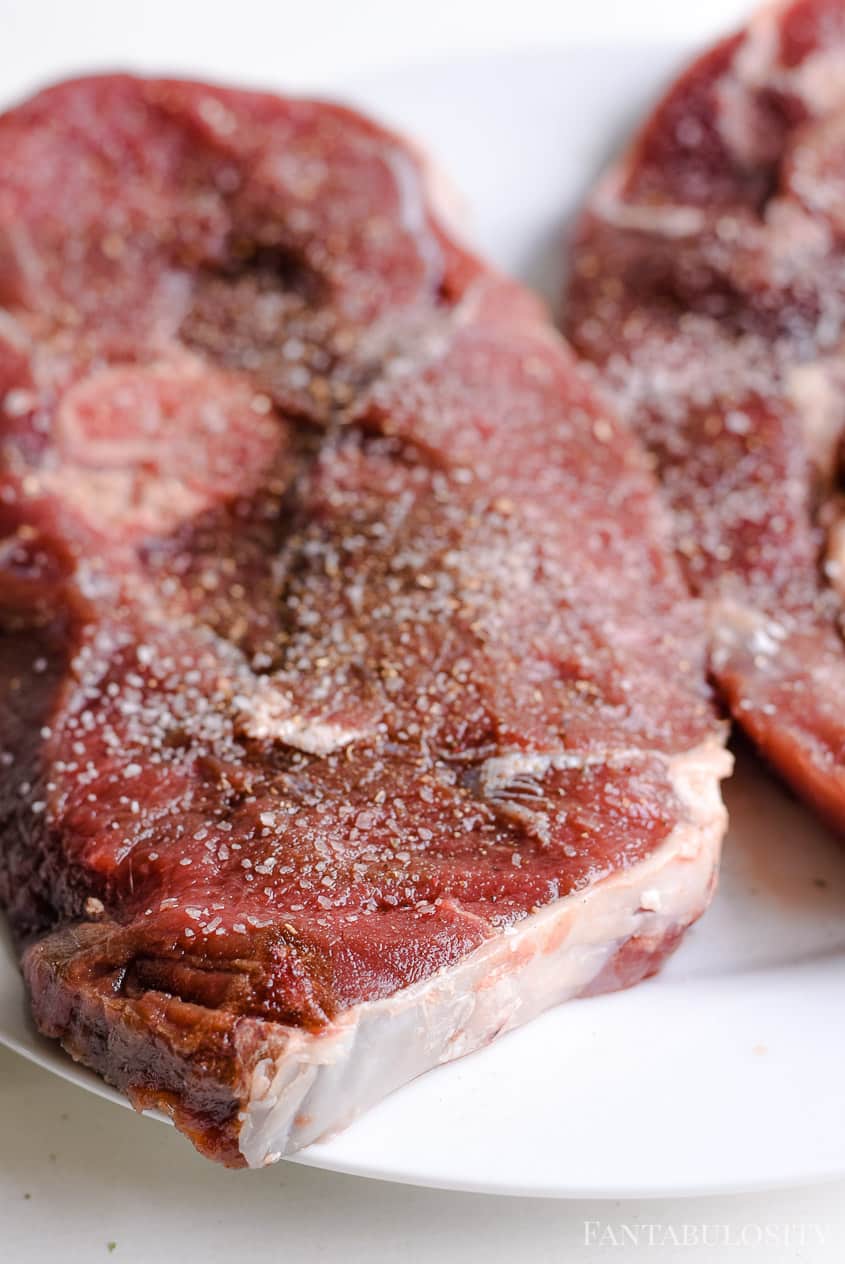 Cooking the Deer Steaks
Once my butter has browned, and the skillet is at medium-high heat, I place my seasoned steaks right in it. (Make sure that skillet hisses at you when you put that steak in, so you know it's hot enough, ok?)
Cook the steaks for about 3-4 minutes on each side. Here's where you want to watch it, depending on how you really want your steaks.
If you want them well-done, then you'll want to cook them longer than the 3-4 minutes on each side.
We wanted ours about medium, so we stuck with 3-4.
Longer = Tougher
*** Just remember that the steaks keep cooking after you remove them from the skillet, and when you let it rest. I say this because if you're wanting your steaks a specific temperature, deer meat will begin to get "tougher" the more it cooks.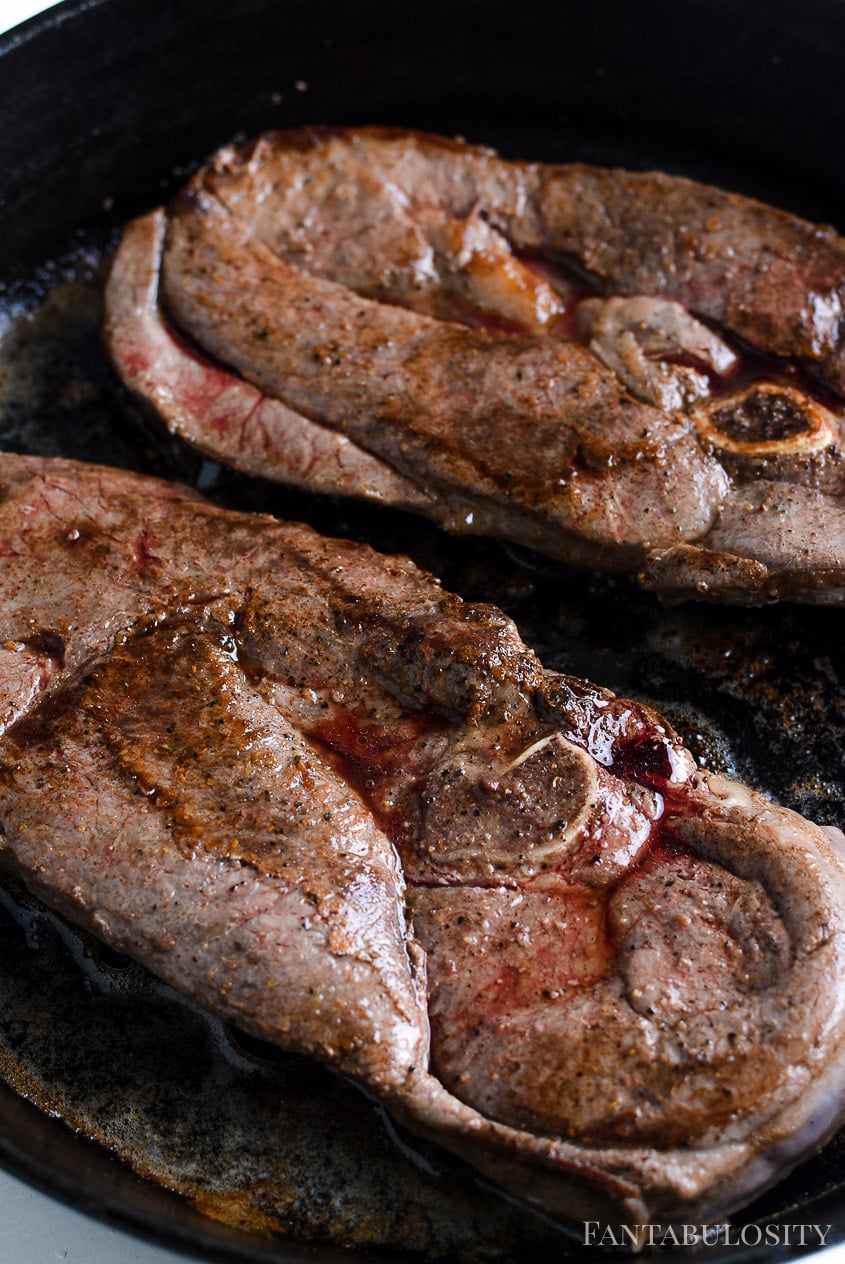 Rest + Butter
Once the steaks were done, I pulled them off of the cast iron, so they could rest (well, and so I could snag these photos), and I added another tablespoon of butter for good measure. (Not necessary. Well, unless you're having me over for dinner of course, cause… I like butter.)
Oh that green stuff? Not necessary. I just threw it on for a Pinterest-friendly image, and because it was the only little sprig left of my fresh herb garden. I scorched the rest of the herb plants this summer already. (SMH)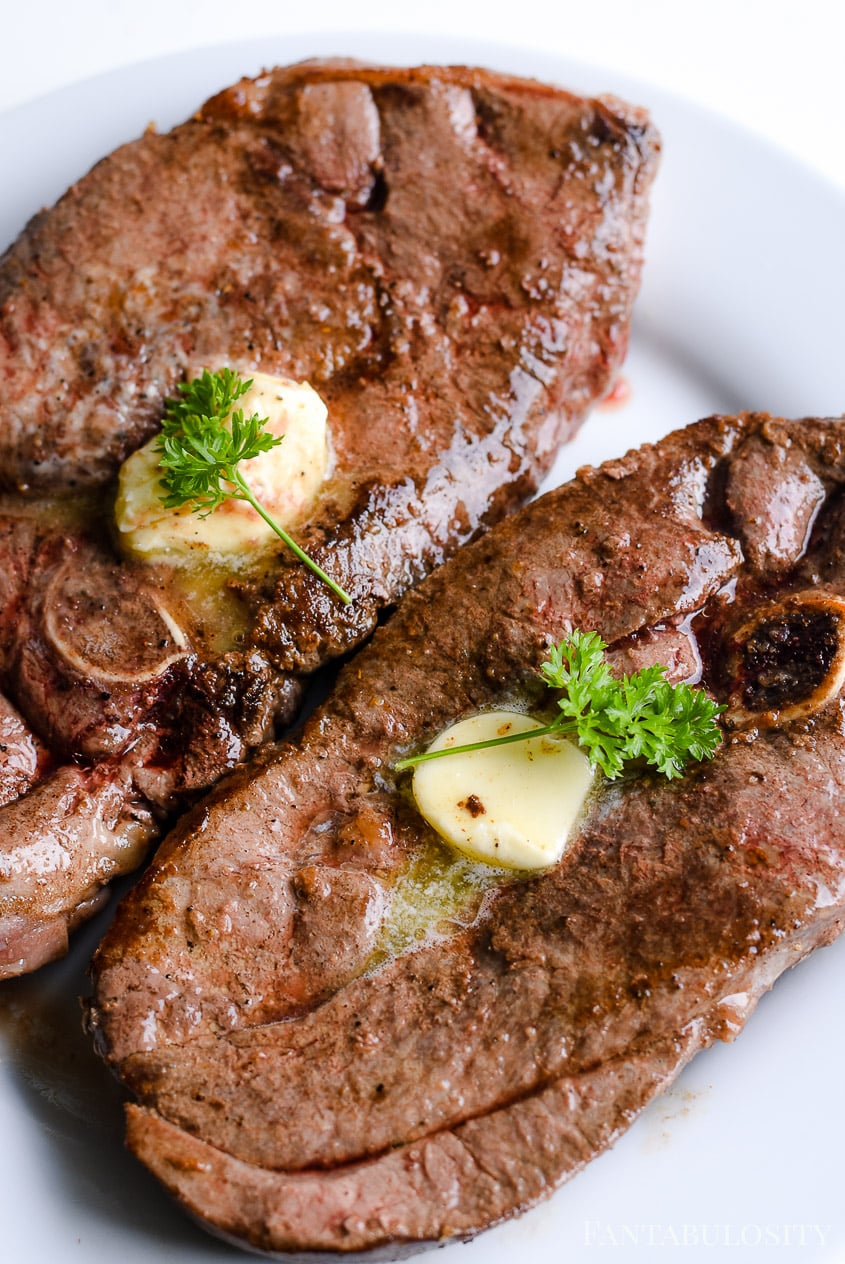 Now that's a good deer steak…
More Steak Recipes
If you're a steak lover like those in our house, then you'll definitely want to check out the ever so popular steak recipe here on the blog where I show you how to cook a steak in the oven!
Slow Cooker BBQ Pork Steak Recipe:
This is possibly the easiest recipe on the entire blog! Toss your pork steaks in the slow cooker with some bbq sauce and a little salt & pepper and follow these steps for slow cooker pork steaks!
So, tell me… what is YOUR favorite way to cook deer meat? I think frying the backstrap in flour is still my favorite, but when I have deer steaks handy, this recipe is definitely a good choice.
Deer Steak Recipe – In a Skillet
Deer Steak Recipe – Skillet: There are many deer steak recipes, but this quick & flawless recipe using browned butter, salt & pepper in a skillet, is great!

Ingredients
2

1/2 inch-thick

deer steaks

1/2

teaspoon

kosher salt

or to taste

1/2

teaspoon

peppercorn medley

or to taste

3

Tablespoon

salted butter
Instructions
Allow steaks to come to room temperature. (Approx. 20-30 minutes.)

Coat deer steaks with salt and pepper.

Over medium-high heat, add butter to skillet, and let melt and brown.

When butter is melted and brown, gently place steaks in the skillet, making sure they don't overlap one another.

If the skillet doesn't sizzle at you, remove steak and wait until skillet is hotter.

Cook steaks for 3-4 minutes on each side.

Remove steaks from skillet and place on a plate to rest for 3-4 minutes. During this time, you can coat with more butter if you prefer, to help maintain a juicy deer steak.
Nutrition
Serving:
1
steak
|
Calories:
156
kcal
|
Fat:
17
g
|
Saturated Fat:
10
g
|
Cholesterol:
46
mg
|
Sodium:
734
mg
|
Vitamin A:
530
IU
|
Calcium:
5
mg
|
Iron:
0.1
mg
Nutritional information is based on third-party calculations and should be considered estimates. Actual nutritional content will vary with brands used, measuring methods, portion sizes and more.