The BEST Cheeseburger Recipe + Video Tutorial: This recipe makes the hamburgers so juicy and they're quick and easy! Just a couple of steps to make them so good!
Straight out of my husband's mouth
Jessica, this is such a GOOD burger.  So good."
My husband doesn't just tell me what I want to hear when it comes to my cooking and/or recipes.  So when he goes on and on about how good something is, you better believe I'm going to call it the BEST.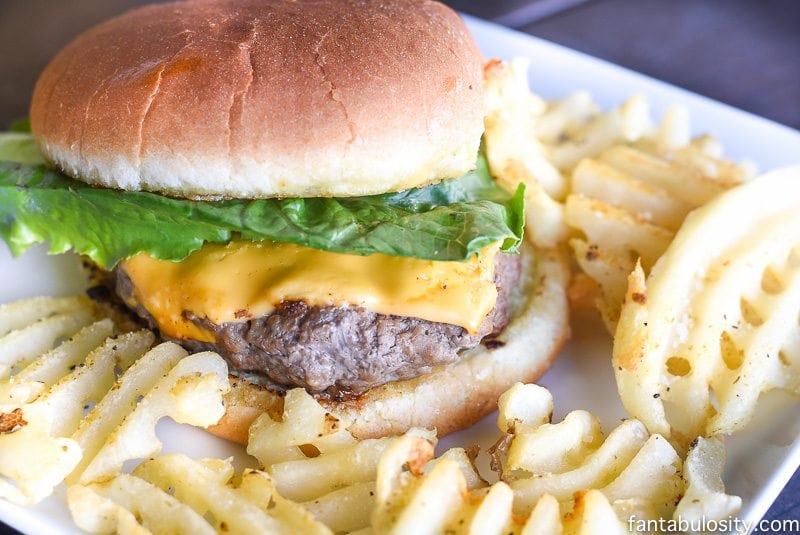 Best Cheeseburger Recipe
Right along with Fantabulosity recipe tradition, we're gonna keep things easy.  I'm not gourmet chef, and sometimes simple is better. So you can count on this recipe only using ingredients that you more than likely have on hand, and can be whipped up in just a short time.
For YEARS, I made a not-so-appetizing cheeseburger.  No lie. They were dry, unflavorful (is that a word), and just "edible."  Now, we have them once a week, and look forward to "cheeseburger day."  I can't WAIT for you guys to see how I make our cheeseburgers now.  I've created a photo tutorial AND a video tutorial if you're more of a movie-lover.
Best Cheeseburger Recipe Video Tutorial

Shop my FAVORITE kitchen tools like the ones I mentioned in the video here:
If you aren't in a place to watch the video, no worries! I snapped some photos during "Cheeseburger Day," a week before this video was created. So you can see the process in the photos!
Best Cheeseburger Recipe Photo Tutorial
Don't let all of the photos scare you. There aren't may steps to these! I just wanted to be extra thorough for you! For the full recipe with measurements, you can see that towards the end of the post!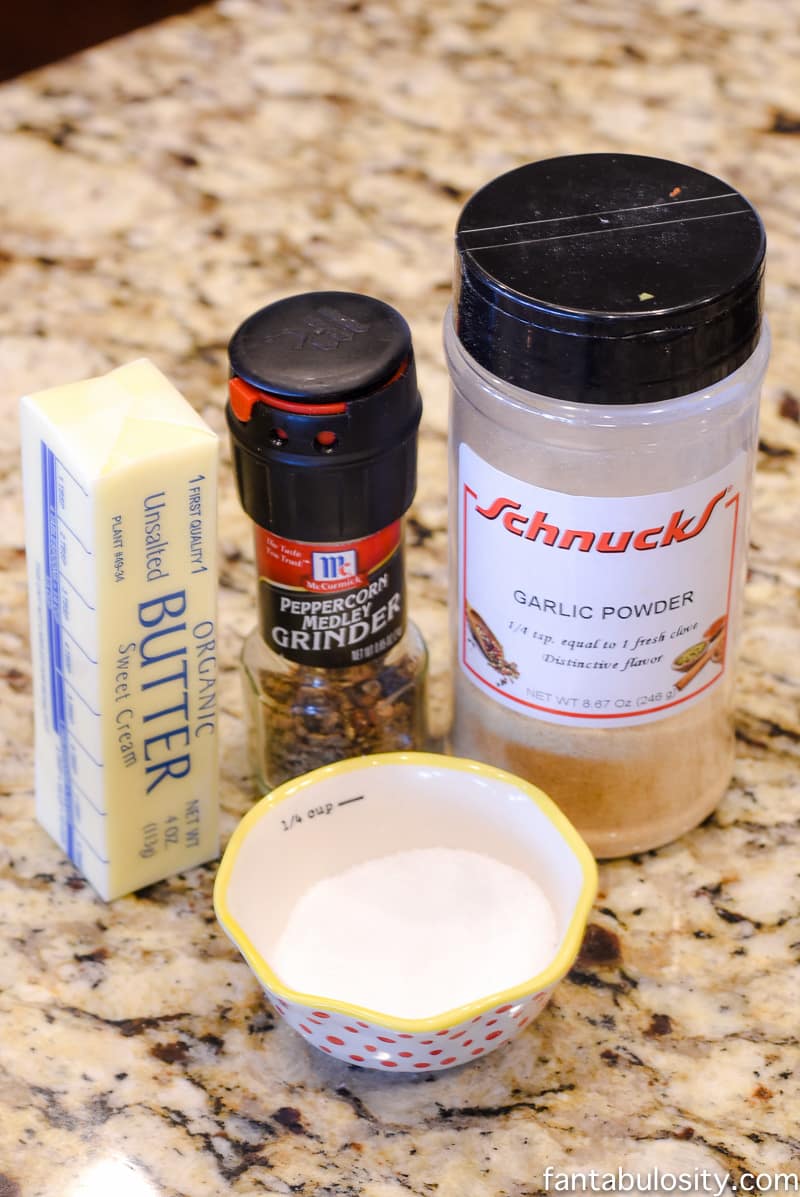 Get the Skillet Ready
Butter (REAL butter… not that fake stuff), Peppercorn, Garlic Powder and Kosher Salt. Ahh… a heavenly mix, wouldn't you say?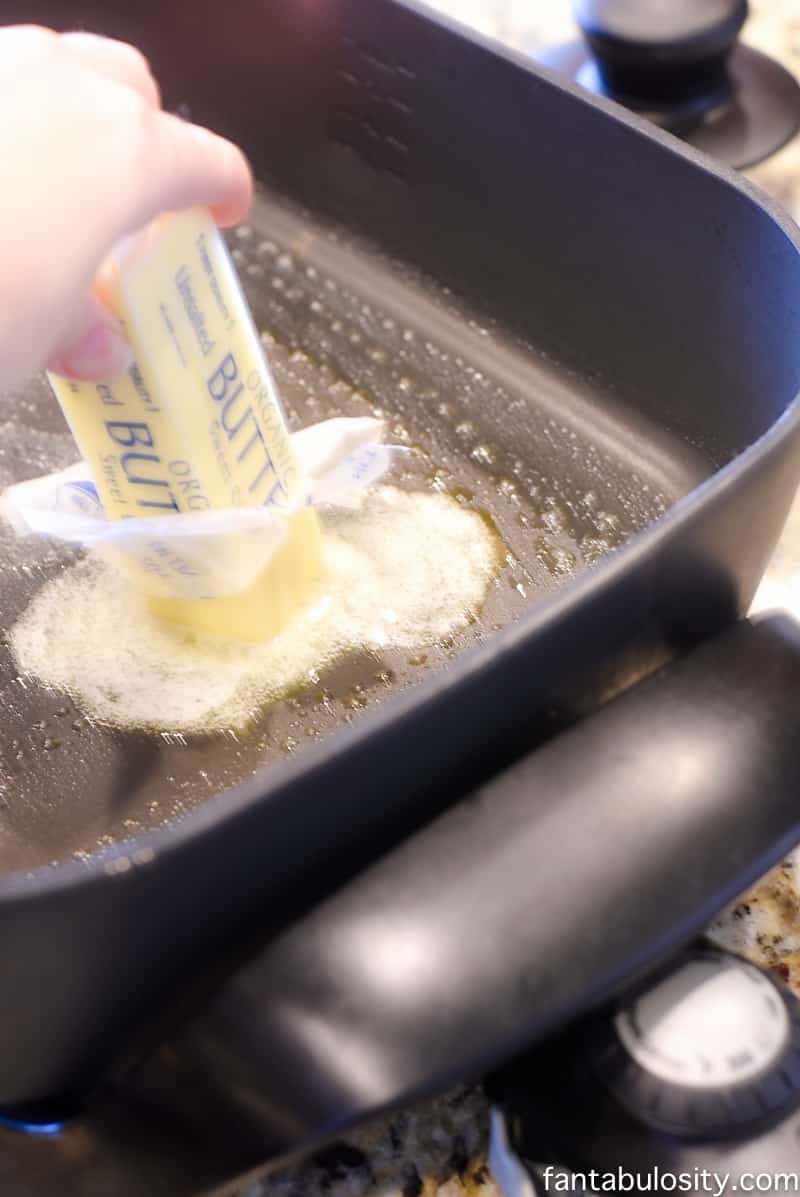 Using an electric skillet, heat it to 350 degrees, and then coat the skillet with about 2-3 Tablespoons of butter.  (You can also cut a chunk of butter and toss it in.  I just secretly love sliding the butter back and forth, and enjoying the moment.)
While your butter is browning (this is KEY… BROWN THAT BUTTER), patty out the burgers.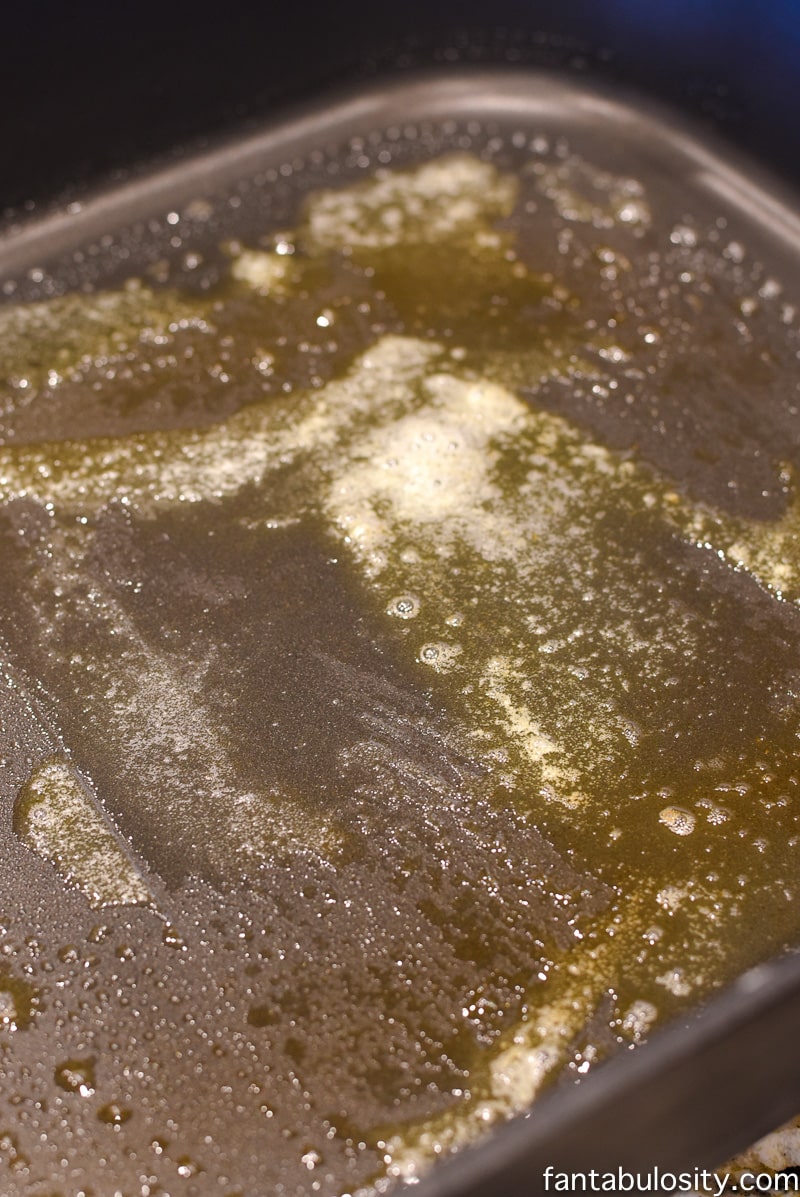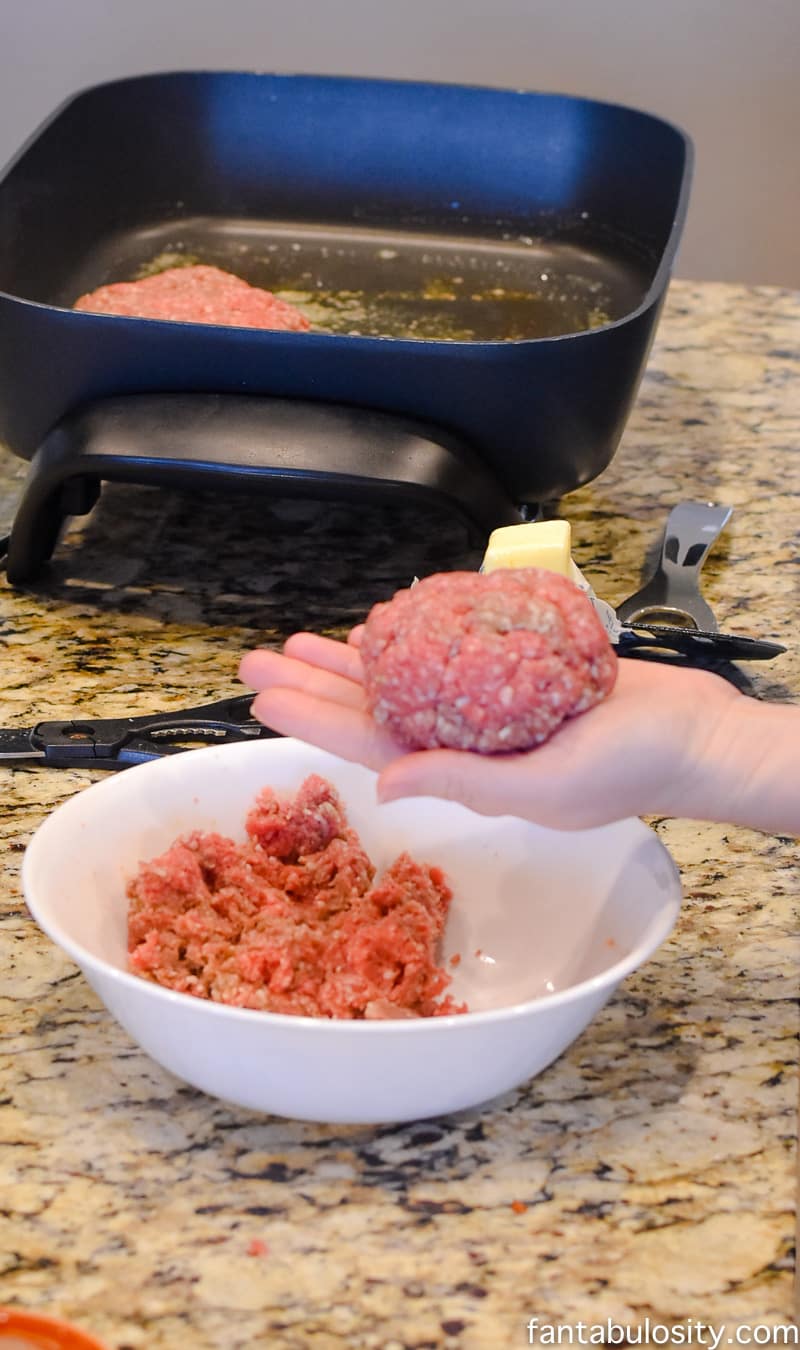 Prep the burgers
1 lb of ground beef usually makes three burgers for us. (We like them thick.)
Roll a third of the ground beef in to a ball, and then mash down in to a patty using both hands.  Using your thumbs and fingers… smooth out the edges the best that you can, making sure there are little or NO cracks. This will help hold the juices in, and keep it from falling apart.
I also push down a bit in the center of each hamburger patty, to allow the juices to flow towards the middle while cooking, rather than running off of the sides and in to the skillet.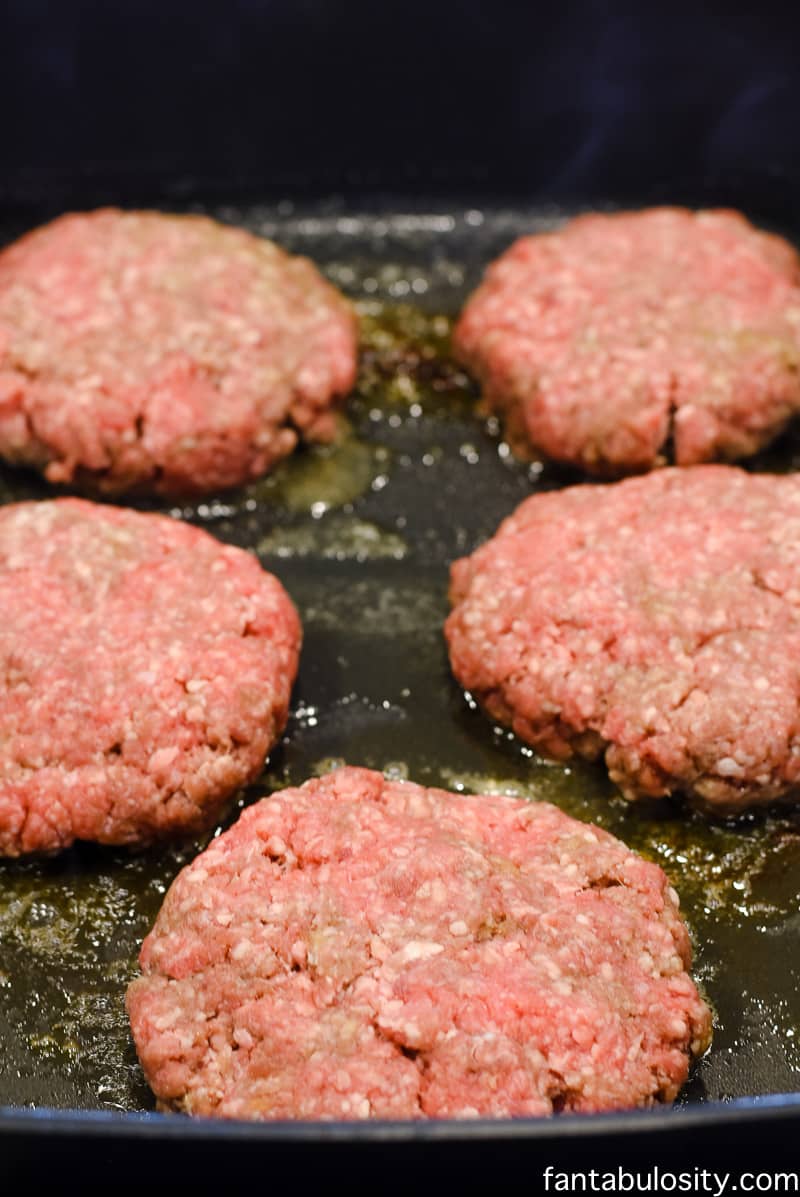 Put the lid on the electric skillet, and let the burgers cook over 350 for a couple of minutes, or until the tops start turning a grayish/light brown, and the bottoms have a BEAUTIFUL brown color to them.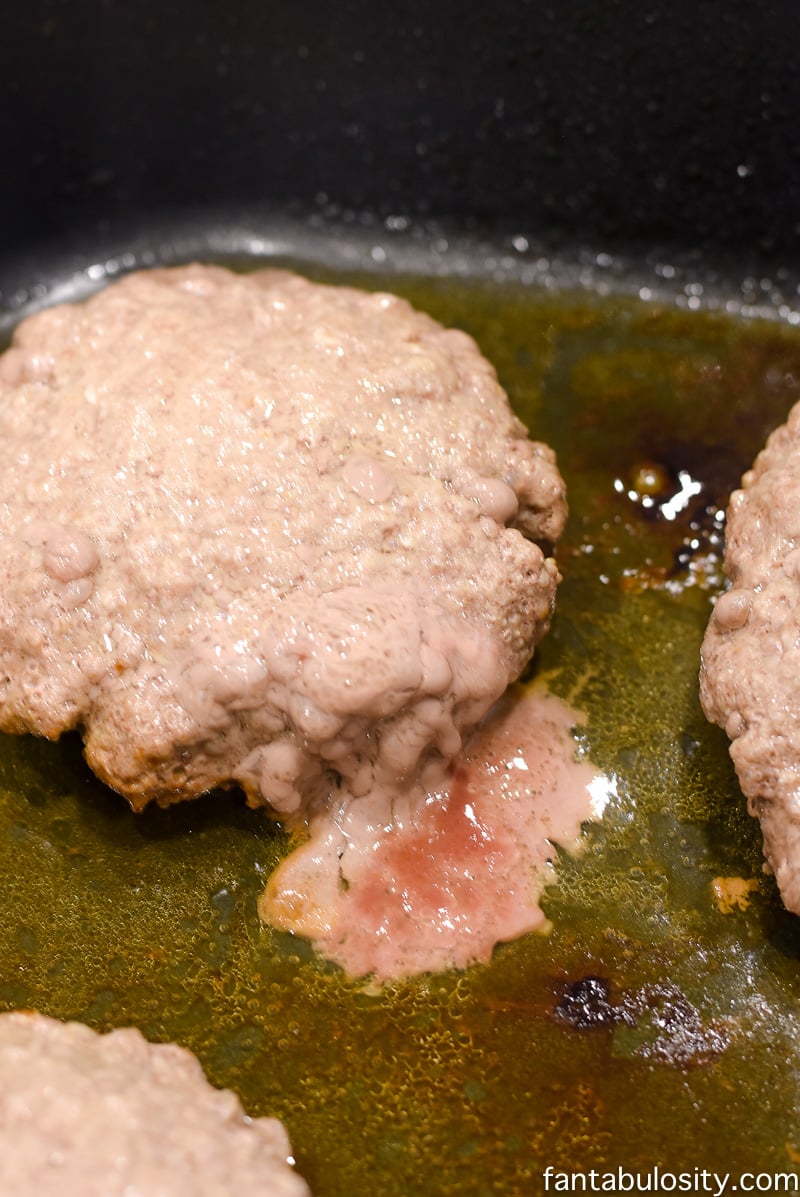 Put the lid back on, and let them cook a few minutes more.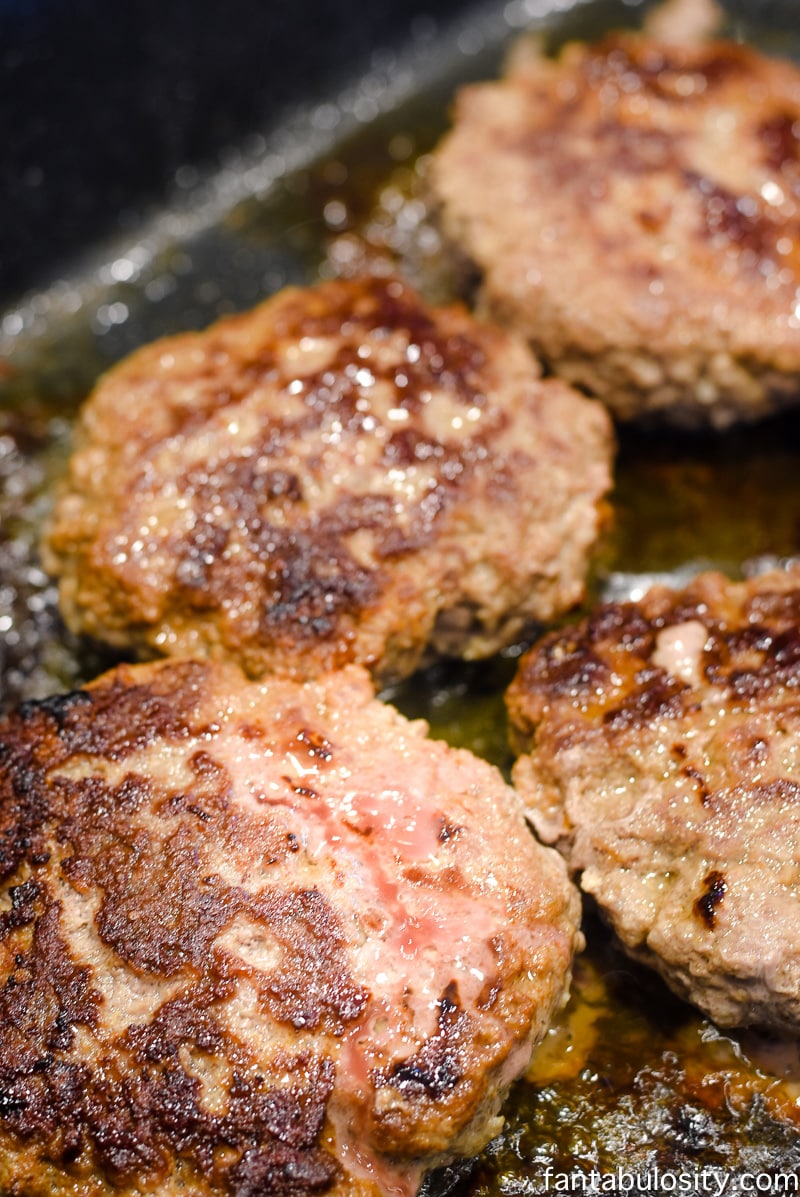 The photo above, shows an example of how their NOT done.  The juices coming out of the top are still pink/red.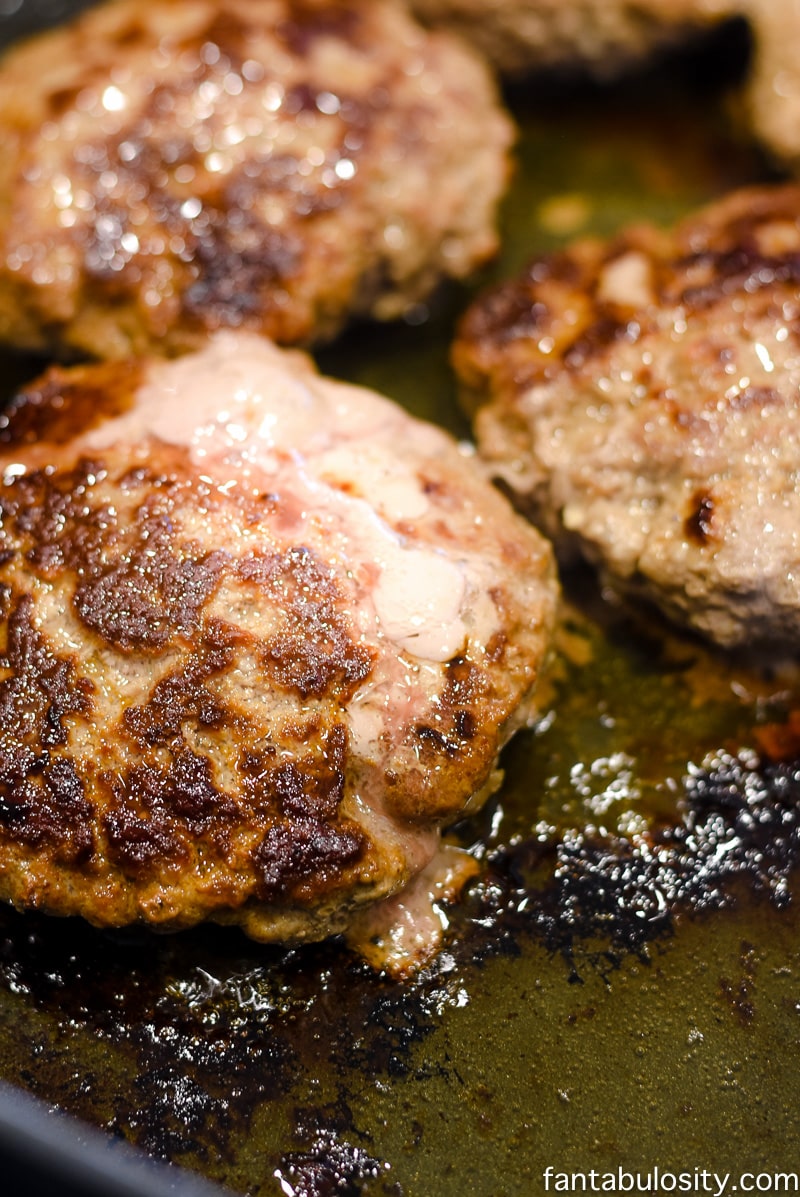 Now THIS is how you know they're done. The juices coming out of the top have changed colors to the grayish/tan.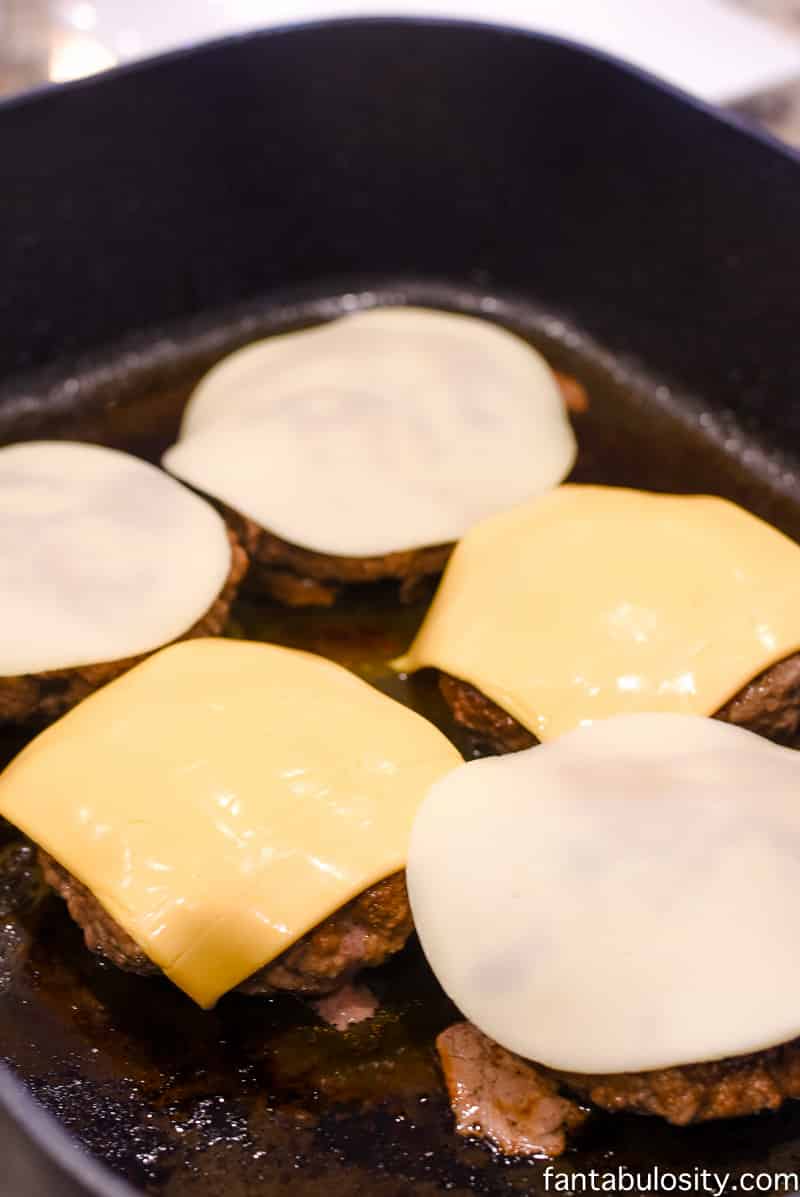 Top it off
Turn the electric skillet on simmer, and place a slice of cheese over each burger (Here, I used provolone and american, just because we had the extra cheese on hand and I wanted to test how it would taste. It was good, but I'm still a fan of american cheese on a burger.)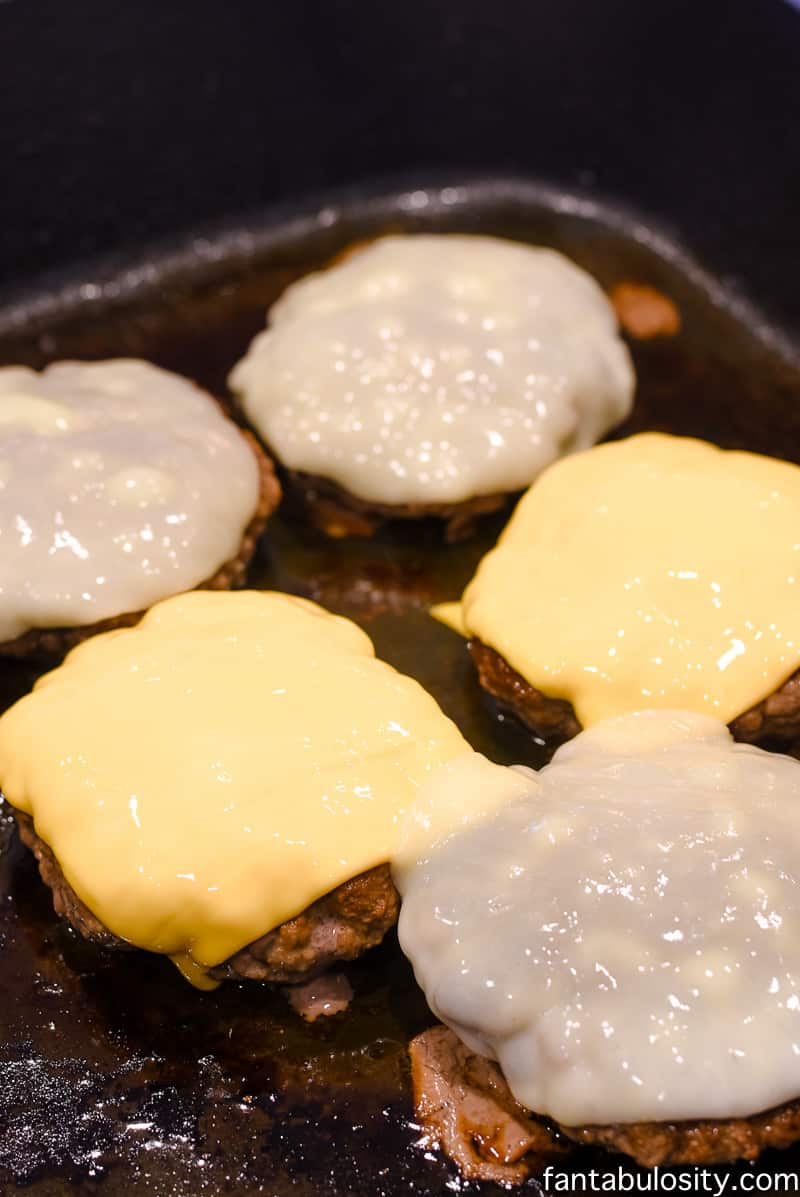 Place the lid back on, and let the cheese slowly melt on to each burger.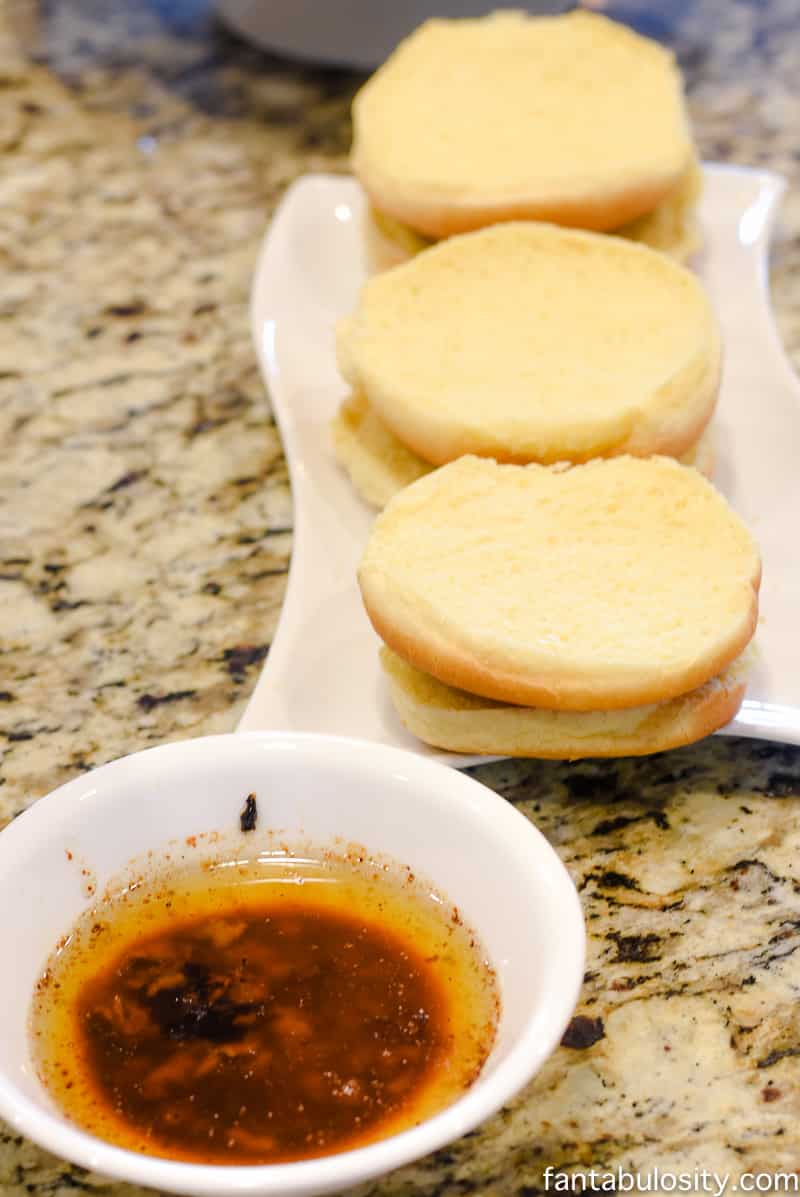 Ok, I know it looks nasty.  But pouring out the grease/butter in to a bowl from the electric skillet is what needs to be done, to get it ready for the buns. Pour most of it out, but it's a-ok if you leave behind some of the seasoning/grease/hamburger pieces. This just adds more flavor to your buns.)
Coat the skillet again with butter (turning the skillet up to about 300 degrees) and place each half of the buns on the skillet.)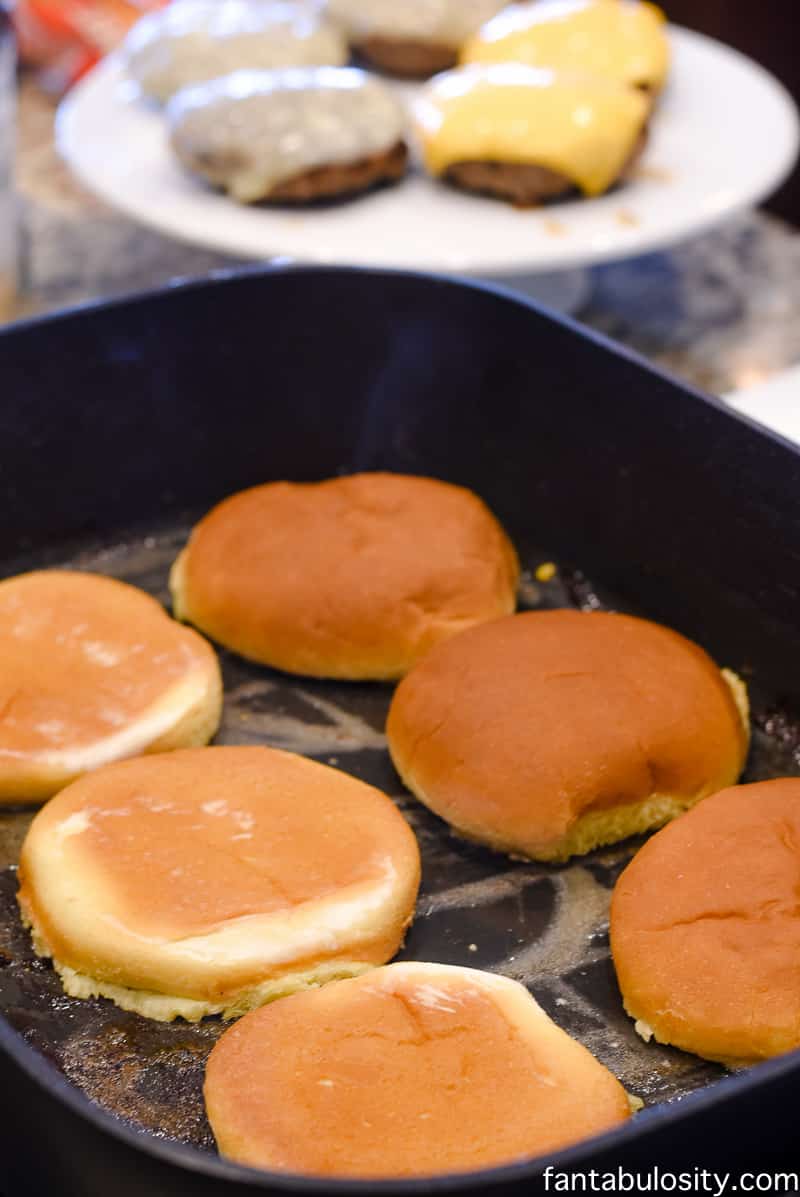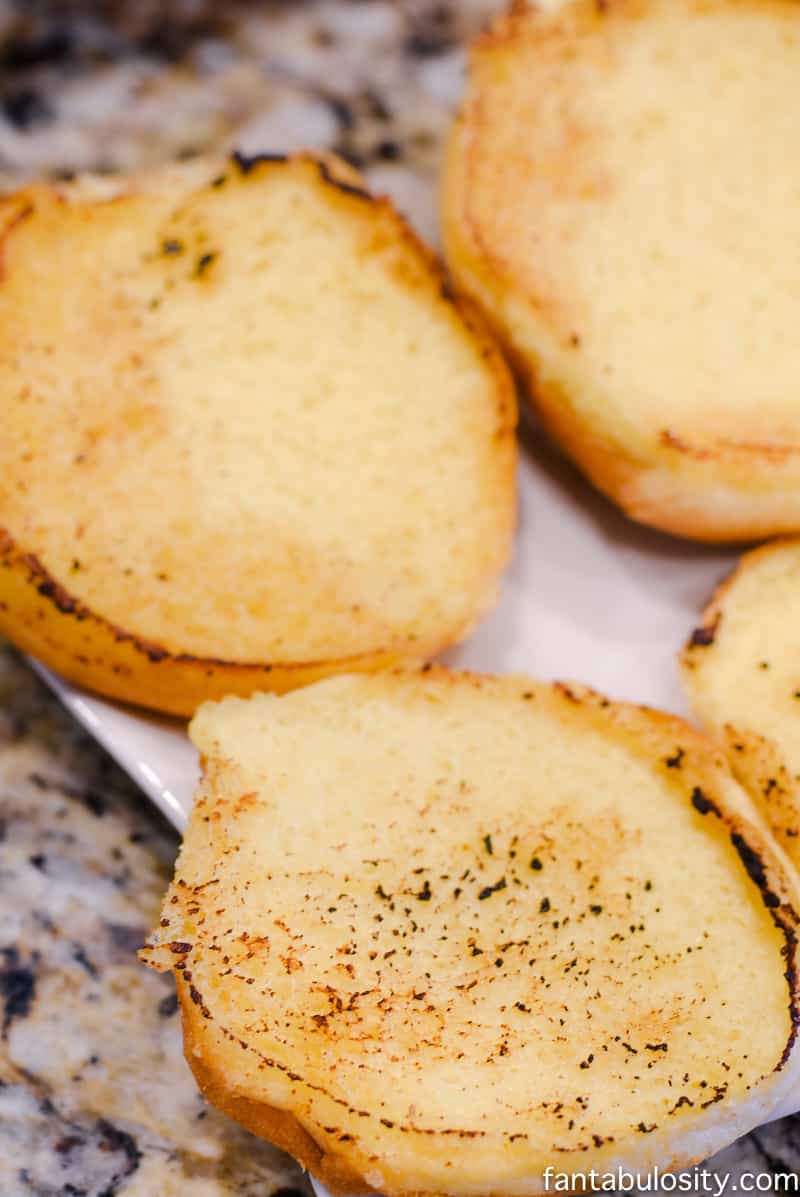 The buns should toast in about 30 seconds, and they'll have this glorious brownish/black look.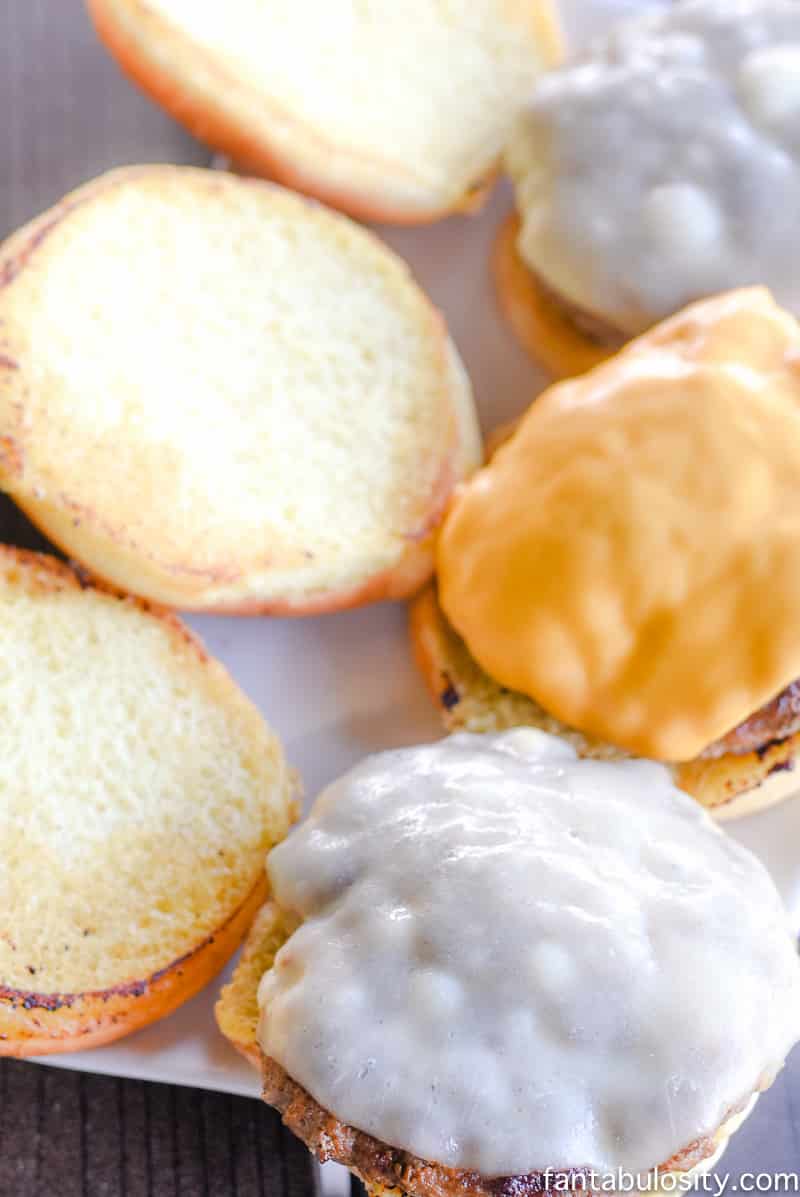 Your burgers are ready for assembly!
Top them with normal things like tomatoes, red onions, lettuce, mustard, ketchup, and pickles. OR… get crazy and add things like avocado, spicy ranch, crispy onions, or whatever your little heart desires.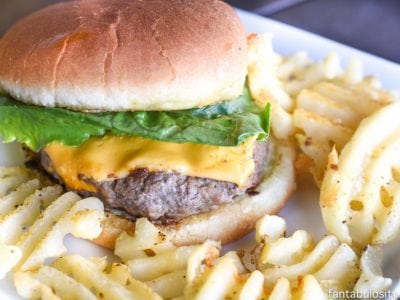 The BEST Cheeseburger Recipe + Video Tutorial
Ingredients
1

lb.

ground beef

Pinch

of kosher salt

approx. 1 1/2 teaspoon

Ground Peppercorn - to taste

1

Tbsp

garlic powder

Stick butter

The REAL unsalted butter is my fave.

3

slices

of American cheese
Instructions
Turn skillet on to 350 degrees.

Mix together ground beef, salt, pepper, and garlic powder.

Coat the electric skillet with the butter. (Approximately 3 Tablespoons.)

Patty out the burgers, and place in the skillet, covered, cooking for a couple of minutes, until the tops of the burgers turn tan and the bottoms are a gorgeous brown.

Flip the burgers and cook for a couple of minutes, or until the juices forming out the top run clear and are no longer pink/red.

DO NOT mash down the burgers while cooking. This will release the juices that you want to stay in.

Turn skillet down to a simmer, and place a slice of cheese on each burger.

Remove cheeseburgers from skillet and place on a dish close to one another to trap in heat.

Dump the grease out of the skillet in to a heatproof bowl.

Increase the heat to 300, and coat the skillet with butter.

Place each bun half on the skillet and toast the buns for about 30 seconds.

Once the buns are toasted, you're ready to assemble the cheeseburgers!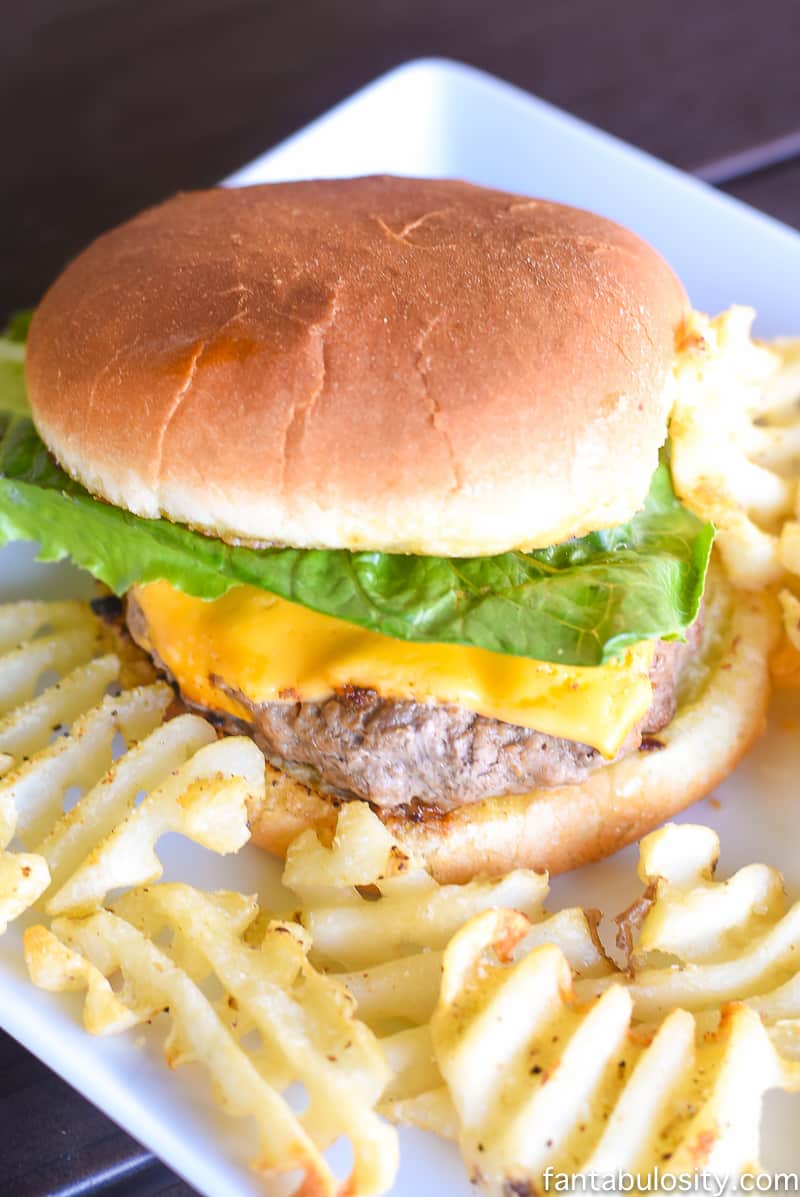 I hope you enjoy them as much as my husband and my boys! Another quick and easy recipe that's a house favorite… in the books! Thanks for stopping by and don't forget to check out my other "BEST'S" recipes like my