Beef Tenderloin Recipe: This easy recipe causes our guests to come running when they hear what's on the grill. Using an incredible "rub," this beef tenderloin will be the hero of your table!
Not only do I have to thank my husband for letting me share the rub recipe with you all, I need to thank the creator… the man the myth the legend… of the rub recipe. Mr. Braxton. With no doubt, this is the BEST Meat rub recipe AND Beef Tenderloin Recipe, we have ever used.
I really can't take credit for the deliciousness that you're about to see. Well… I guess I can take credit for the photos, but that's about it.
Husband: Cooks the Beef Tenderloin
I: Take photos & eat beef tenderloin. That's about it. 😉
The Best Meat Rub Recipe
You see, Mr. Braxton is the father of my husband's childhood best friend. Somehow… my husband must have sweet-talked him out of the secret rub recipe, and our Sunday dinners have NEVER been the same. You all… you've never had a piece of meat until you've had meat that was smothered in The Braxton Rub.
We use and put this rub on evah-ree-thang.
Grilling… Baking… Smoking…
Beef Tenderloin… Pork Butt… Burgers…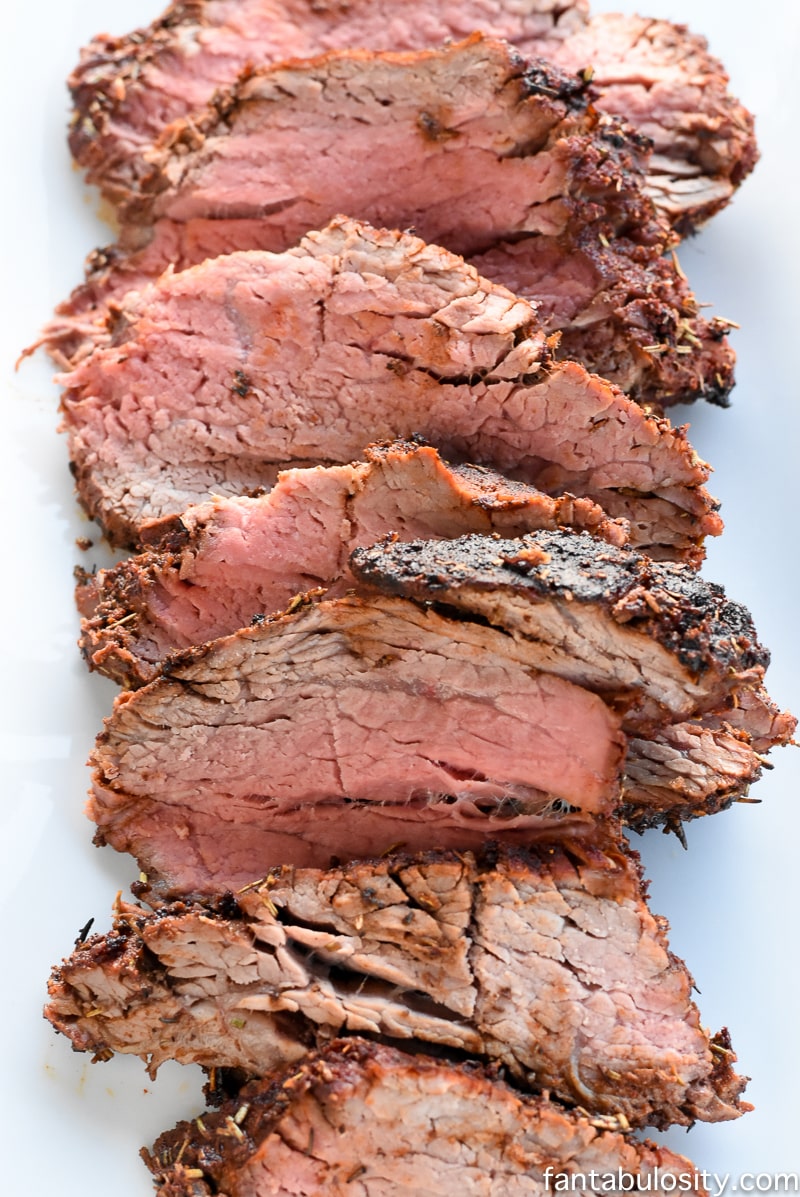 Let me assure you… this "rub," is NOT difficult. My husband and I only like to create dishes together, that are EASY… but delish. You simply mix up the spices and rub it on.
Beef Tenderloin Recipe: The Braxton Rub
Now… if you REALLY want to impress the heck out of your guests, you gotta use this rub on a beef tenderloin (like seen in the photos here.)
When we send out the group text on a Sunday morning, to all of our friends:
Grillin' a beef tenderloin today. Better come over.
99.9% of the time, we get a response from everyone of:
On our way
There's just no comparison, and we are COMPLETELY spoiled with this beef tenderloin and meat rub recipe. Find both recipes BELOW…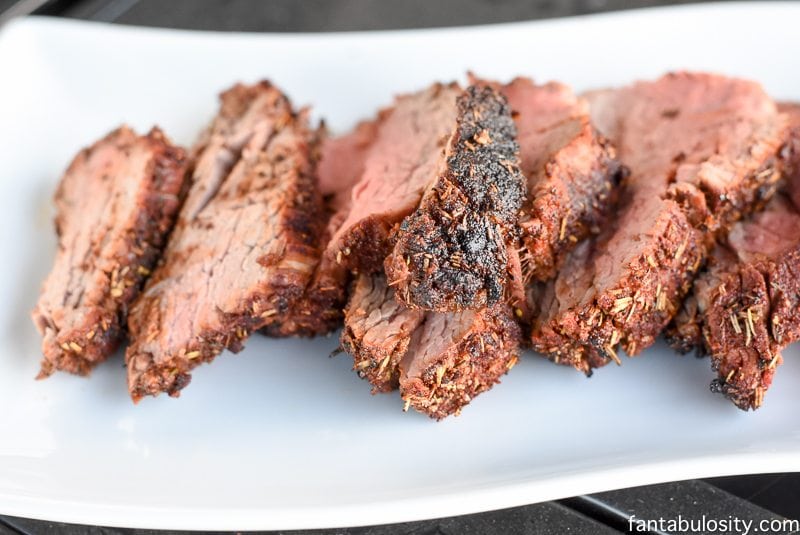 Meat Rub Recipe: "The Braxton"
The following amount covers a 4-5 lb tenderloin.
1/4 cup dried Th

yme 

3 Tablespoons Paprika 

1/4 cup dried Rosemary

1/2 Tbsp Salt 

1 tsp Peppe

r
(Easily reduce, double, triple, quadruple, the batch as needed)
The BEST Beef Tenderloin
Beef Tenderloin Recipe: This easy recipe causes our guests to come running when they hear what's on the grill. Using an incredible "rub," this beef tenderloin will be the hero of your table!
Ingredients
4-5

pound

beef tenderloin

with the silver cut off
The Braxton Rub Spice Blend:
1/4

cup

dried thyme

3

Tablespoons

paprika

1/4

cup

dried rosemary

1/2

Tablespoon

salt

1

teaspoon

pepper
Instructions
Preheat grill to 450 degrees

Rub all sides of the beef tenderloin with the Braxton Rub Spice Blend

Sear the tenderloin over direct heat on the grill for 15 minutes

Lower grill temp to 325-350, (we shut two burners off, and leave the other two on, placing the tenderloin on the side of the grill with no direct heat) and grill for another 45 minutes

Pull the tenderloin off of the grill when the internal temperature reaches between 120 and 125 degrees fahrenheit.

Remove from grill and let sit, wrapped in aluminum foil for 10-15 minutes, and serve.

This will result in a "medium-rare" cooked beef tenderloin

This cooking time and process gives us thick middle parts that are medium rare, and the outside edges, a medium.
Nutrition
Serving:
1
serving (about 1/2 pound of meat)
Calories:
631
kcal
Carbohydrates:
2
g
Protein:
41
g
Fat:
49
g
Saturated Fat:
20
g
Cholesterol:
158
mg
Sodium:
549
mg
Potassium:
756
mg
Fiber:
1
g
Vitamin A:
1315
IU
Vitamin C:
0.5
mg
Calcium:
31
mg
Iron:
6.1
mg
I so hope you enjoy this recipe. When you snag a big piece of meat like a beef tenderloin, you want to make sure you treat it right, right? It's not the cheapest.
So when we say that this rub is one of the best, please know that we truly think it is one of the best, and we hope you enjoy it too.
What to Serve with Beef Tenderloin
If you're cooking for a crowd, make sure you check out my other crowd-pleasing recipes when I'm in the kitchen.
I may only take the photos for this post, but you can usually find me in charge of the other recipe creations here on the blog, and that means EASY recipe creations.
So no fear… easy crowd-pleasing recipes are near:
or
Pin it to Remember it:
It's easy to lose track of your favorite recipes, so make sure you pint this to your favorite Pinterest board so you have it for later!