This is the BEST side salad recipe you'll ever have! It's the requested side dish at family gatherings and not your ordinary run-of-the-mill side salad. There's a SECRET! How to cut the lettuce and add these two common spices that change your salad-making life.
Post originally written in February 2014.
Of all of the salad recipes we've ever had, this is by far the favorite and perfect side salad to serve alongside your favorite dinner recipes, whether it's steak, chicken, fish, or whatever the main dish is!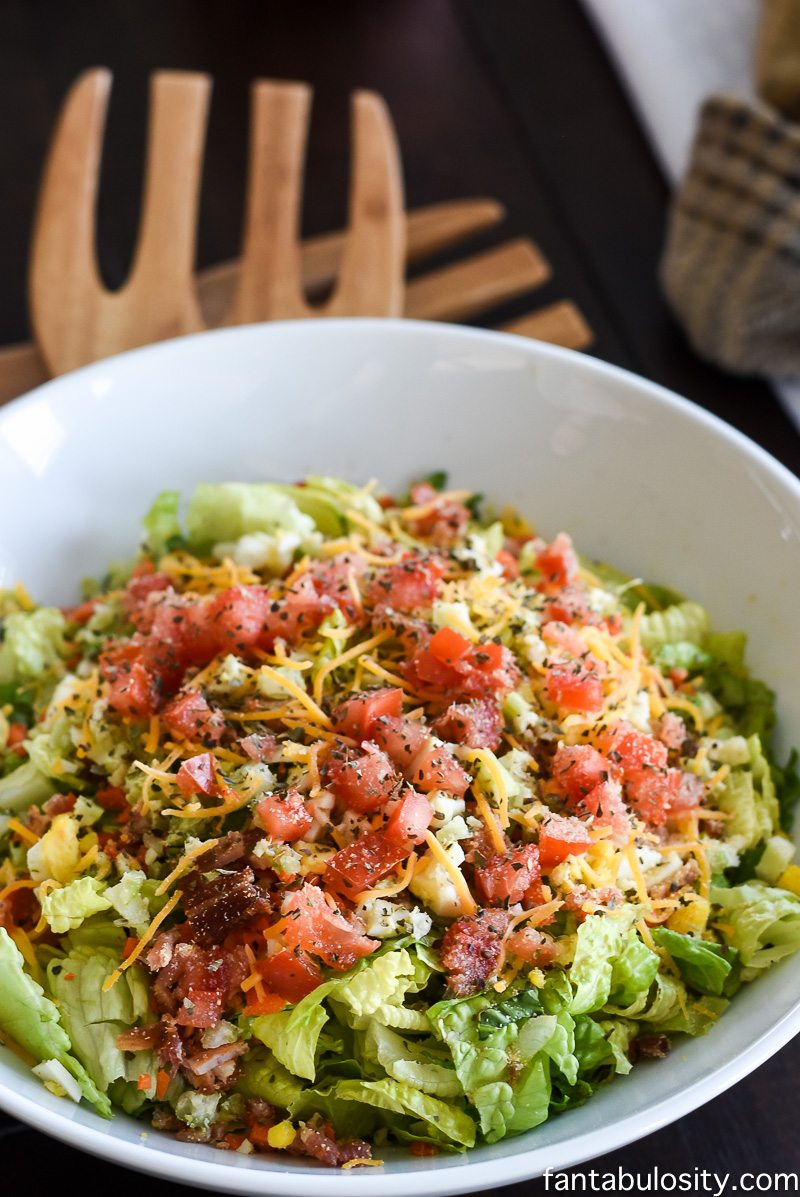 Jump to:
There are a few things that make it the BEST. Here they are:
I have to thank my mother-in-law for teaching me how to make the BEST of the best when it comes to side salad recipes. The woman has some serious salad skills and I couldn't wait to share her secret with you. Don't worry, I asked for her permission!
For this side salad, there are two ingredients and a certain way to cut the lettuce.
I bet you even have the two ingredients in your pantry!
More Lettuce Salad Recipes You'll Love:
Tips for Making the Best Salad
So there are a few secrets to the best side salad recipe that has literally left people saying,
I don't know what it is, but it's SO good! Why is it so good!?
Well my friends, it's a couple of things.
1. The Lettuce and How You Cut It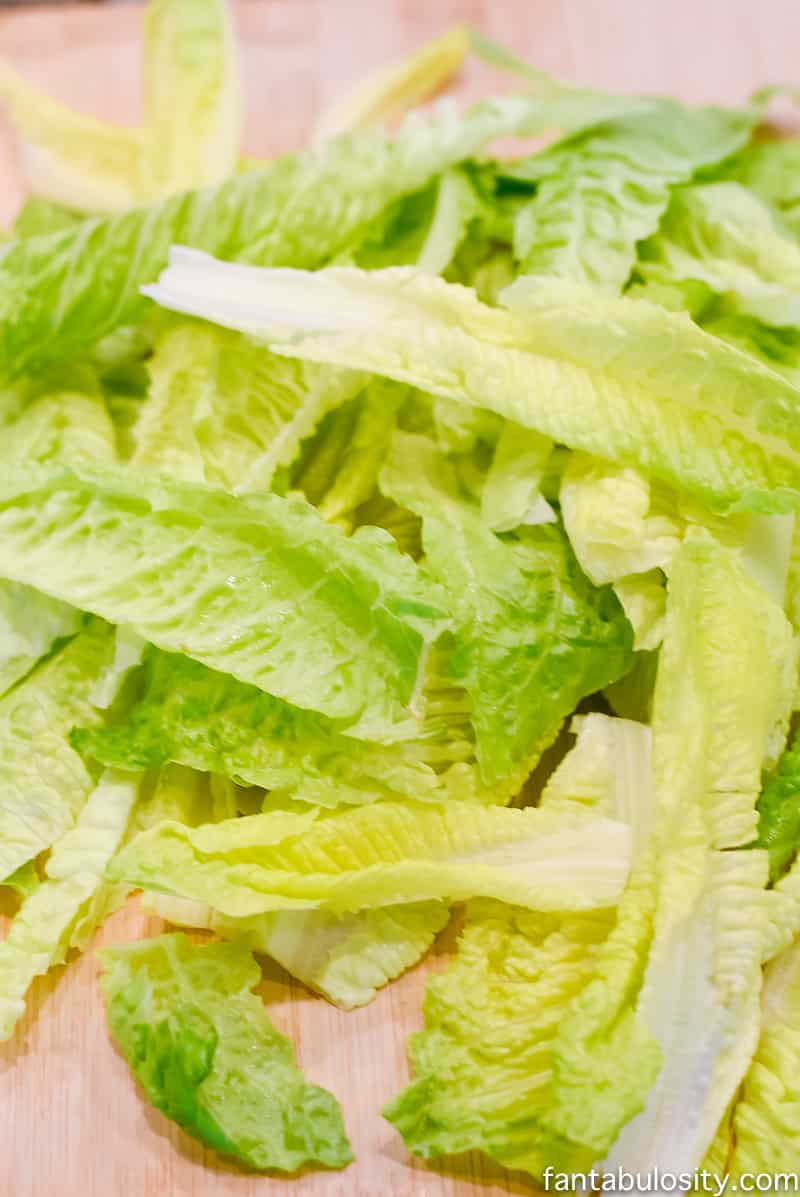 Type of Lettuce for Salad Recipes:
The kind of lettuce to use is romaine, BUT… the key is chopping the lettuce into small pieces and removing the white part (the stem) because it can overpower and cause your salad to taste bitter.
Have you ever eaten a "chopped salad" at a restaurant and found the texture and flavor to be so much more amazing than a head-lettuce or romaine salad with all of the white crunchy pieces like you typically find on a salad bar?
This is why it's so good. The lettuce is easier to eat, less bitter and so much more enjoyable.
Best Knife for Chopping Lettuce
To chop, I'm OBSESSED with my favorite Wusthof Santoku knife. Not just for salad, but for everything when chopping or cutting. Pricier? Yes. But soooo worth it. My uncle convinced me to get one, one day, and he's now my favorite uncle.
Some recommend to cut lettuce with a plastic knife because other, regular knives, cause the lettuce to age faster. But honestly, I don't like the plastic knives and we've never had a problem with the lettuce going bad quickly. (Possibly because we eat all so fast.)
The 2 Spices That Make it the BEST Salad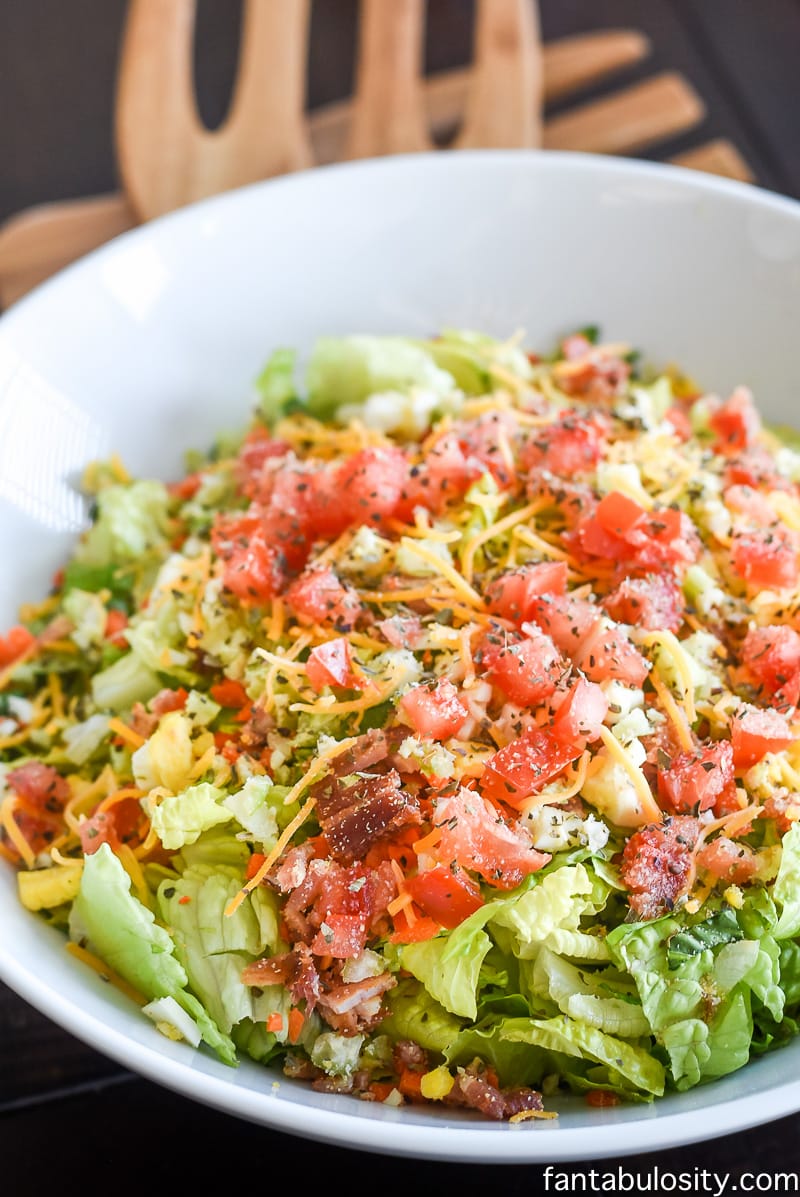 So what are they?
Basil & Garlic Powder.
Dead serious. Isn't that EASY?
This combination on a salad is dynamite. I'm talking dried basil and garlic powder that you probably already have in your pantry. Sprinkle on your desired taste preference, and toss.
By FAR one of my favorite touches to this side salad. It's easy, and it makes HUGE difference for your salad…. making it the BEST salad recipes of all time. At least in our house! 🙂
Making Salad Ahead of Time
We have this salad at least a couple of times a week at home. It gets in our veggies, and it takes a lot of guesswork out of what we are going to have alongside our main dish because it goes with almost everything!
I've never been a huge fan of making a large salad in bulk because I've been told that cut lettuce won't "keep" as long in the refrigerator.
But I AM a fan of pre-chopping the ingredients and putting them in containers ahead of time, so my side dishes get easier and easier throughout the week.
See more make ahead salads that we love!
Toppings for a Side Salad
Keep in mind that I mix and match toppings all of the time, but I try to stick to my favorites:
Carrots
Celery
Hard-Boiled Eggs
Shredded Cheese
Bacon
Tomato
Other toppings to consider: red onion, sunflower seeds, and croutons!
Or turn your side salad in to a main dish by adding proteins like:
grilled chicken
baked chicken
buffalo chicken
steak
salmon
shrimp
crab
pork
leftover meats (bbq pork, smoked brisket, etc.)
lunchmeat (ham, turkey)
Toppings Tip: Cutting the lettuce in to small bite-size pieces is important. But if you chop all of your toppings too, it makes it even better!
What Kind of Dressing is Best for Salad?
Feel free to top it with the dressing of your choice, but we are HUGE fans of making the Hidden Valley Ranch Buttermilk Dressing, with the seasoning packet that you can make with mayo and buttermilk!
What is a side salad?
A small greens salad to serve along side a main dish recipe, that usually includes a house dressing or favorite salad dressing like ranch, blue cheese, or oil & vinegar!
More Salad Recipes
We're BIG fans of salad around here, whether that's pasta salad, cabbage salad, or dessert salads. If you love them too, here are a few that I think you'll love:
More Healthy Side Dishes
I've compiled all of our healthy side dishes for you, that way you can take a gander at what you'd like to serve along with dinner this week!
The BEST Side Salad Recipe with a Trick!
The BEST Side Salad Recipe: A requested side dish at family gatherings. It's not your ordinary run of the mill side salad. There's a SECRET, and it tops all salad recipes we've tried!

Ingredients
3

heads

romaine lettuce

1

Tablespoon

dried basil

2

teaspoons

garlic powder

1/2

cup

shredded cheddar cheese

1

roma tomato

chopped

3-4

Slices

cooked bacon

chopped

2

boiled eggs

chopped

1/4

cup

celery

chopped

1/4

cup

carrots

chopped
Instructions
Slice romaine leaves off of white stems, (discard white stems) and chop lettuce into small pieces and pour in large serving bowl.

Next layer on to the lettuce, the tomato, bacon, eggs, celery, carrots, and cheddar cheese.

Sprinkle on top the garlic powder and the dried basil.

Serve with choice of dressing. (Our favorite is to make the Hidden Valley Buttermilk Ranch dressing, with the

seasoning packet

, buttermilk, and mayo.)
Notes
TIPS to make this the best side salad:
Use romaine
Cut the romaine lettuce in to small, bite-size pieces, and cut out the white stem
Chop the toppings in to small pieces as well
We love using Hidden Valley Buttermilk Ranch for dressing (The packet that you make with mayo and buttermilk.)
If you want to make this ahead of time, chop up the toppings and store them separate so the toppings don't make the lettuce soggy.
Nutrition
Serving:
1
salad (1/5 recipe; without dressing)
Calories:
206
kcal
Carbohydrates:
15
g
Protein:
12
g
Fat:
12
g
Saturated Fat:
4
g
Cholesterol:
95
mg
Sodium:
222
mg
Potassium:
1088
mg
Fiber:
8
g
Sugar:
5
g
Vitamin A:
34125
IU
Vitamin C:
17.1
mg
Calcium:
237
mg
Iron:
4.8
mg