The BEST Side Salad Recipe: A requested side dish at every family gathering. It's not your ordinary run of the mill side salad.  There's a SECRET!
Welcome Pinterest peeps!! Before we get to the BEST Side Salad Recipe, I want to give you a free thank you for coming over!  When you sign up for the Fantabulosity newsletter, you get a FREE grocery shopping (editable) list AND a FREE party planning checklist to make your life a LOT easier.
Get the FREE Grocery Shopping List HERE!
Now on to the BEST Side Salad Recipe…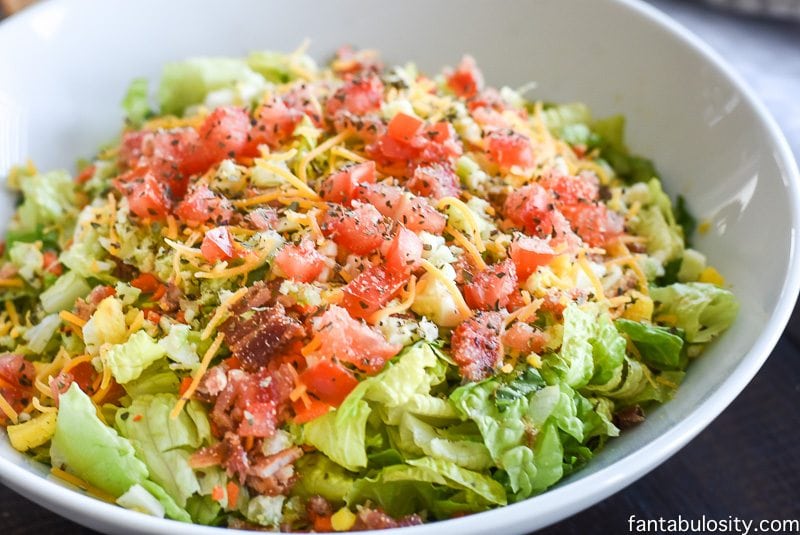 I have to thank my mother-in-law for teaching me how to make the BEST side salad recipe.  The woman has some serious salad skillzzzz, and I couldn't wait to share her secret with you.  Don't worry, I asked for her permission!
There are two ingredients to her side salad recipe that will forever change the way you make yours. I promise.  (Ok, well maybe I don't promise because not everyone likes what I like… but I have a feeling 90% of you will feel the way I do.)  I bet you even have these two ingredients in your cupboards.
The BEST Side Salad Recipe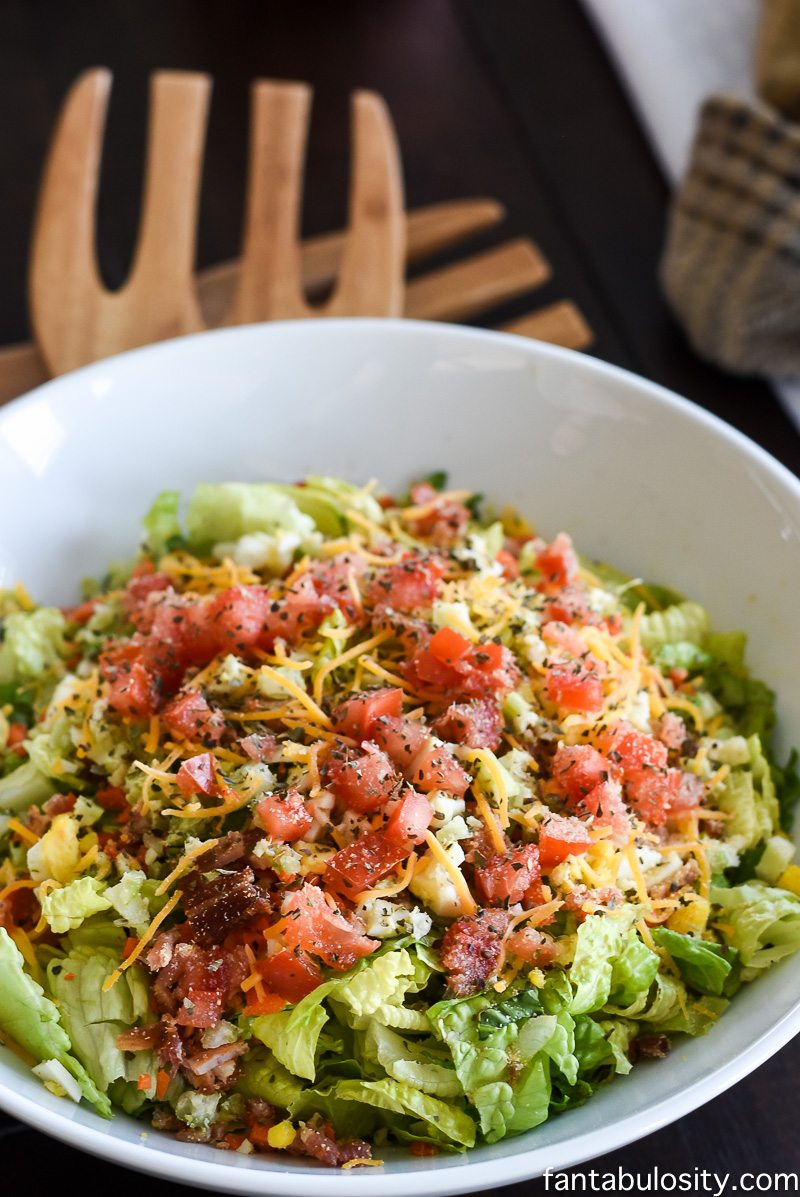 The Secret(s)
So there are a few secrets to the best side salad recipe that has literally left people saying,
I don't know what it is, but it's SO good! Why is it so good!?
Well my friends, it's a couple of things.
1. The lettuce.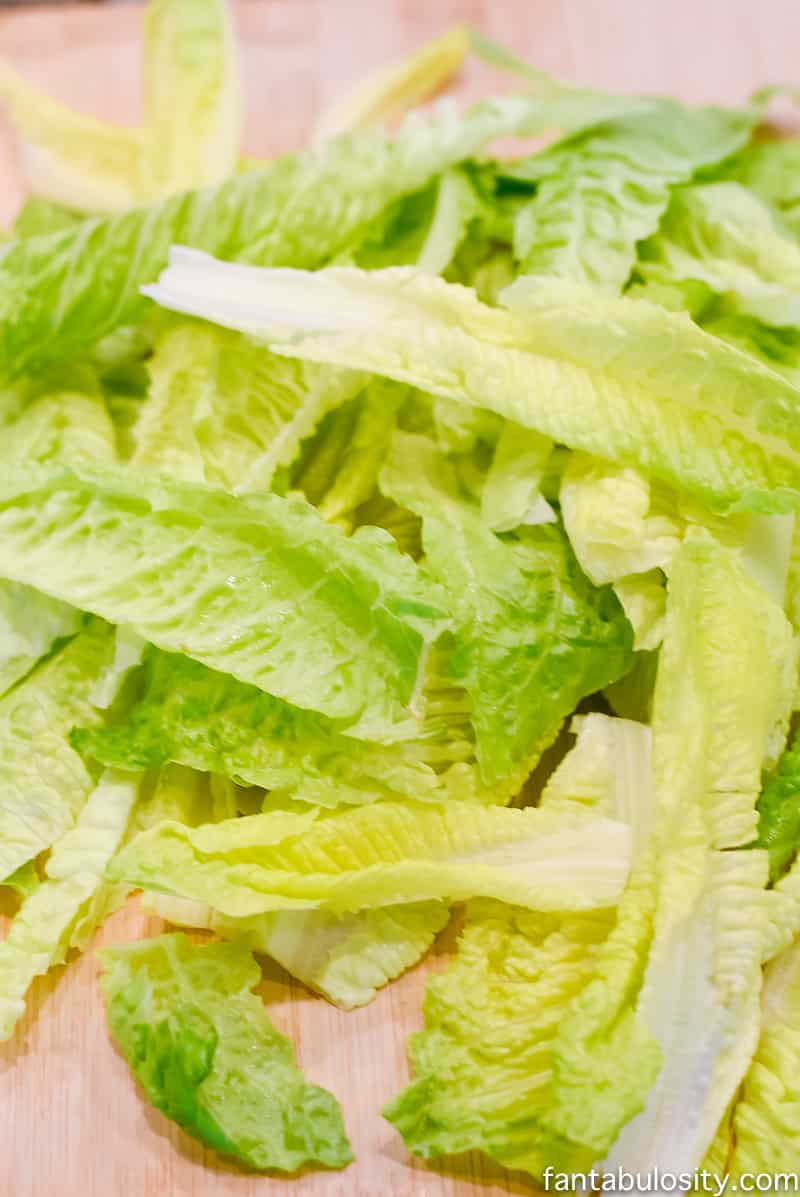 Type:
It's simple leaf romaine, BUT… the key is chopping the lettuce in to small pieces.  Have you ever had a chopped salad at a restaurant, and realized how much easier it is to eat, than a regular salad? I cannot STAND it when I have to practically murder my salad with a steak knife, just to eat it.
For the love of eating… can a restaurant PLEASE take an extra step in cutting the lettuce smaller so I don't look like a total fool when trying to shove a giant piece of iceberg in to my mouth.  No one likes to watch a poor soul struggle with opening their mouth for a dental check-up, just to take a bite.
Cut it with a fork and knife you say?  Sure, that's fine when I'm on date night with my hubby.  But when I'm trying to cut up chicken nuggets, put ketchup on french fries, and tending to my kids needs at dinner while out… the last thing that I want to do is have to cut up my salad when I'm the last one left to eat anyway.
Sorry, rant over.  I think I went over all of this in my Facebook Live one day too. Apparently I really need to work on frustration with this. (P.S. In the video I talked about using leaf lettuce.  I've since learned that leaf has more of a bitter taste than romaine. My mother-in-law filled me in on that secret just days after filming! I wonder what else she's hiding… that little turkey.)
The cut:
I love to take it an extra step further, and remove the white-stalk from each lettuce leaf.  At times the stalk can have a bitter taste, and if I can remove that from the flavor of the salad, I'm going to.  To chop, I'm OBSESSED with my favorite Wusthof Santuko knife.  Not just for salad, but for everything when chopping or cutting.  Pricier? Yes. But soooo worth it. My uncle convinced me to get one, one day, and he's now my favorite uncle.
Side note:
She also chops all of her toppings, in to small bite sizes.  Again, doing the work in the kitchen, rather than your dinner plate… is the key to enjoying the salad a bit more.
2. The Seasoning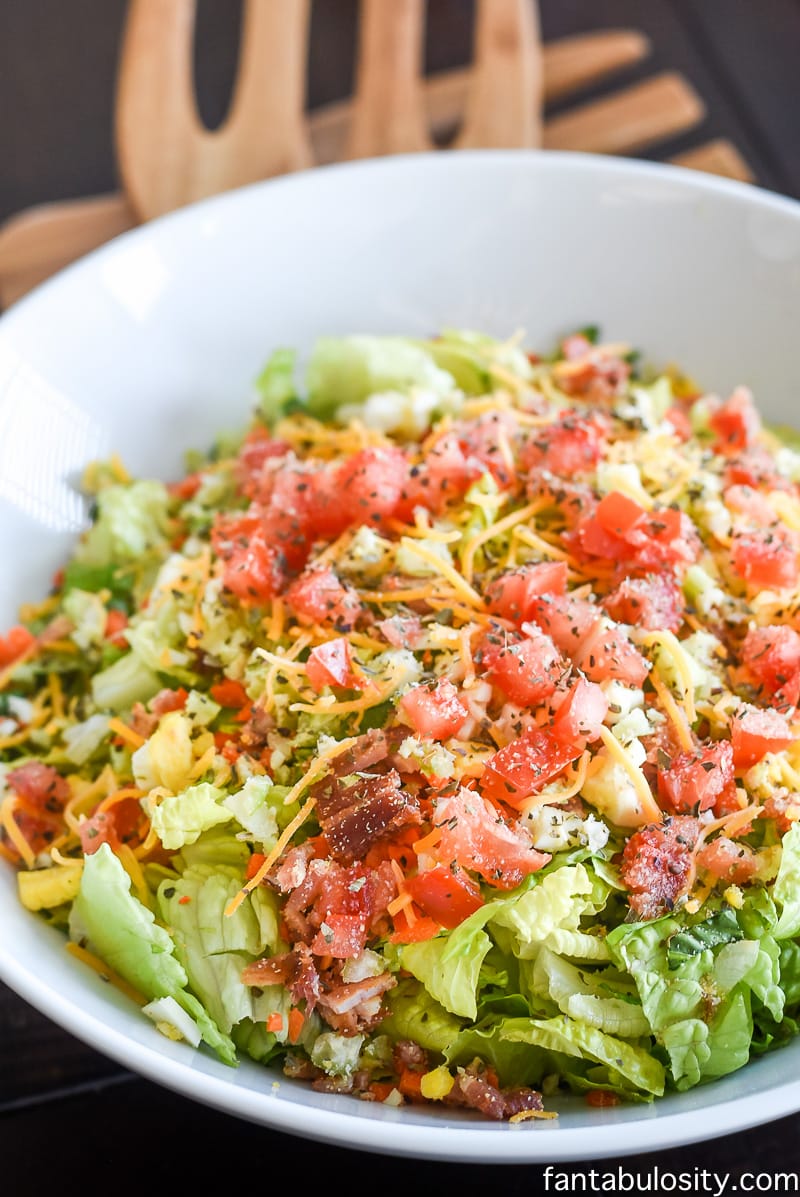 Basil & Garlic Powder.  Dead serious.  This combination on a salad is dynamite.  I'm talking dried basil and garlic powder that you probably already have in your pantry. Sprinkle on your desired taste preference, and toss.  By FAR one of my favorite touches to this side salad. it's easy, and it makes HUGE difference.
Making it even easier
We have this salad at least a couple of times a week at home.  It gets in our veggies, and it takes a lot of guesswork out of what we are going to have along side our main dish, because it goes with almost everything!
I've never been a huge fan of making a large salad in bulk, because I've been told that cut lettuce won't "keep" as long in the refrigerator.  But I AM a fan of pre-chopping the ingredients that don't matter, ahead of time, so my side dishes get easier and easier throughout the week.
Toppings for a Side Salad
Keep in mind that I mix and match toppings all of the time, but I try to stick to my favorites:
• Carrots
• Celery
• Boiled Egg
• Shredded Cheese
• Bacon
• Tomato
Other toppings to consider: red onion, sunflower seeds, and croutons!
I hope you enjoy this side salad recipe! Of course top it with the dressing of your choice, but we are HUGE fans of making the Hidden Valley Ranch Buttermilk Dressing, with the seasoning packet with mayo and buttermilk!
If you're looking to REALLY add to your recipe box, check out my Summer Side Salad Recipe, that DOESN'T have to be only eaten in the Summer.  It's one of our faves too: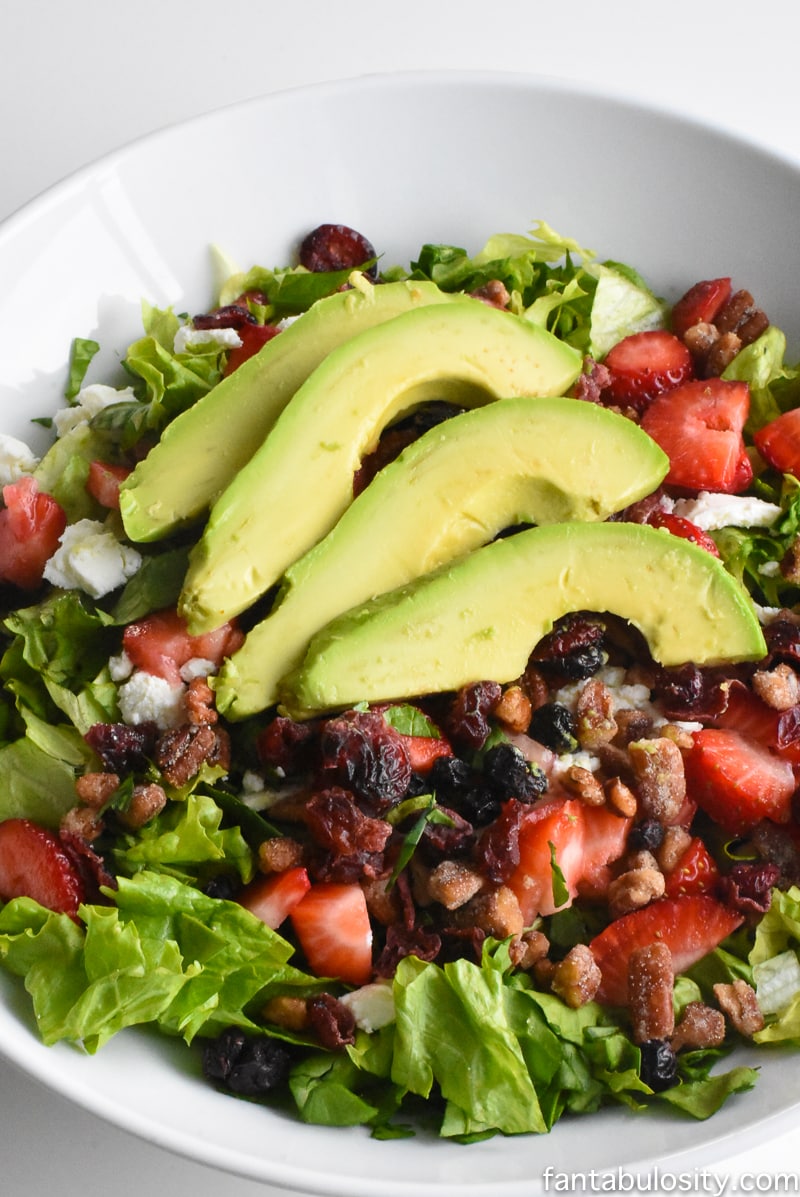 Or Check Out Other Reader Favorites:
Enjoy!