Grilled Shrimp Marinade: This grilled shrimp recipe using a shrimp marinade that's made with everyday ingredients like mustard, Worcestershire sauce, vinegar, and garlic makes things easy!
Hey my Fantabulosity friends! It's Meg popping in again with a delicious and ridiculously simple recipe for you to try this month.
Today I'm sharing a delicious shrimp marinade that couldn't get any easier to prepare.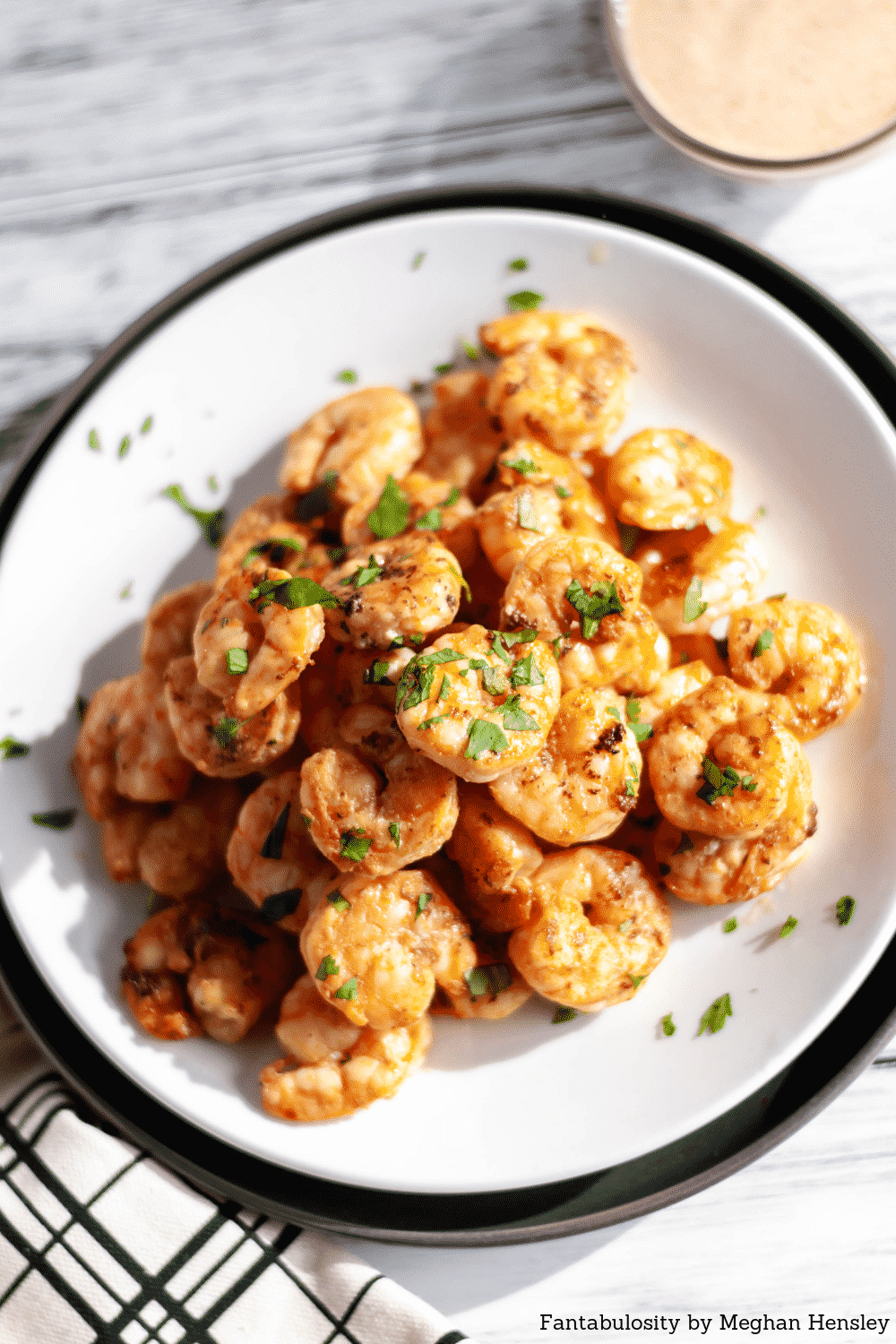 Shrimp Marinade
I wanted to create a shrimp marinade using ingredients that you would already have right in your pantry and refrigerator. My philosophy has always been finding ways to use our common, everyday ingredients in ways that will wow your family and friends.
So, there's nothing crazy or obscure in this recipe but I promise it brings all the depth and flavor.
Shrimp Marinade Ingredients
Let's talk about what goes into this shrimp marinade. Like a lot of marinades, olive oil and vinegar are the base ingredients that keep things saucy. Another oil could be used here in place of the olive oil if you wish.
Worcestershire brings lots of deep, rich flavor and standard yellow mustard adds a delicious tang to the marinade. Because everything is better with garlic, a clove is mixed in to punch up the flavor even more.
How Long to Marinate Shrimp
Shrimp, and any seafood, in general, do not need much time in a marinade to soak up the flavors.
In fact, if it sits in the marinade too long the acidic vinegar can start to essentially cook the shrimp which will mess with the texture in all the wrong ways. That's something we want to actively avoid.
Lucky for us, that means this shrimp only needs to marinate for an hour. You could even get away with just 30 minutes too if you're in a hurry.
Quick Appetizer or Dinner Idea
Because you only need up to an hour to marinate this recipe is a perfect option for a weeknight meal or even as an easy party appetizer. Especially considering that once the marinating time is up, you'll only need 4 minutes, YES JUST 4, to cook the shrimp and have it on the table.
Grilled Shrimp on Skewers
If you plan to grill the shrimp on an outdoor grill, it may be best to put the shrimp on skewers. (If using wooden skewers, don't forget to soak them before grilling!)
Or, you can use a grill basket or tray like this one to make things even easier!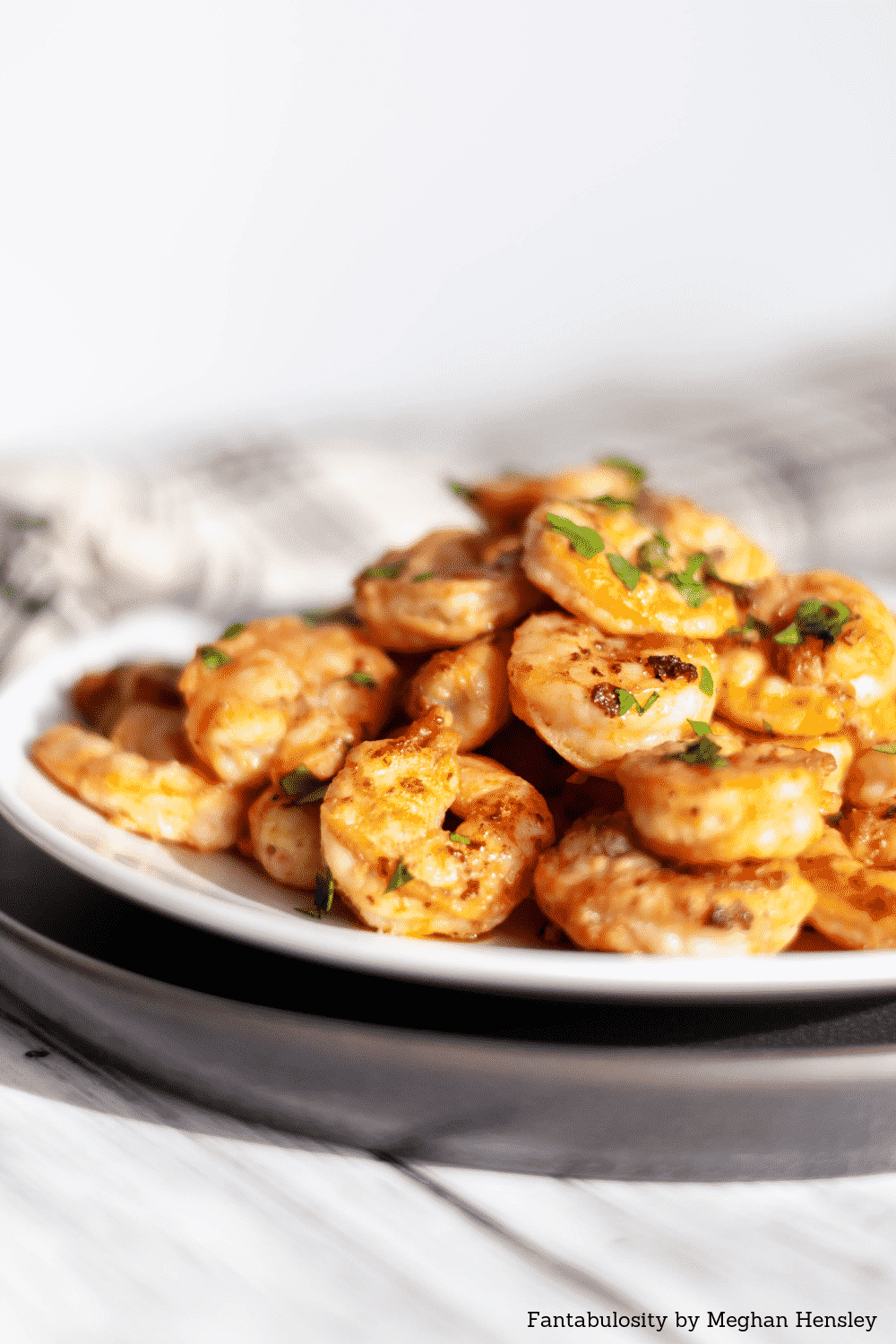 That means while the shrimp is soaking up this delicious marinade you can whip up some rice and roast some vegetables for a super simple yet delicious meal.
Healthy Shrimp Recipe
And did I mention this shrimp recipe is healthy too?! With the new year sliding in like a flash, I know we'll all be on the hunt for new, healthy recipes that have some flavor and interest. This grilled marinated shrimp is one to bookmark for just that.
It would be a perfect option for meal prepping for lunches throughout the week if that's your thing. I'm trying my hardest to make it my thing but it's hard to keep on it consistently. If you're a rock star meal prepper, tell us all your secrets in the comments please and thanks.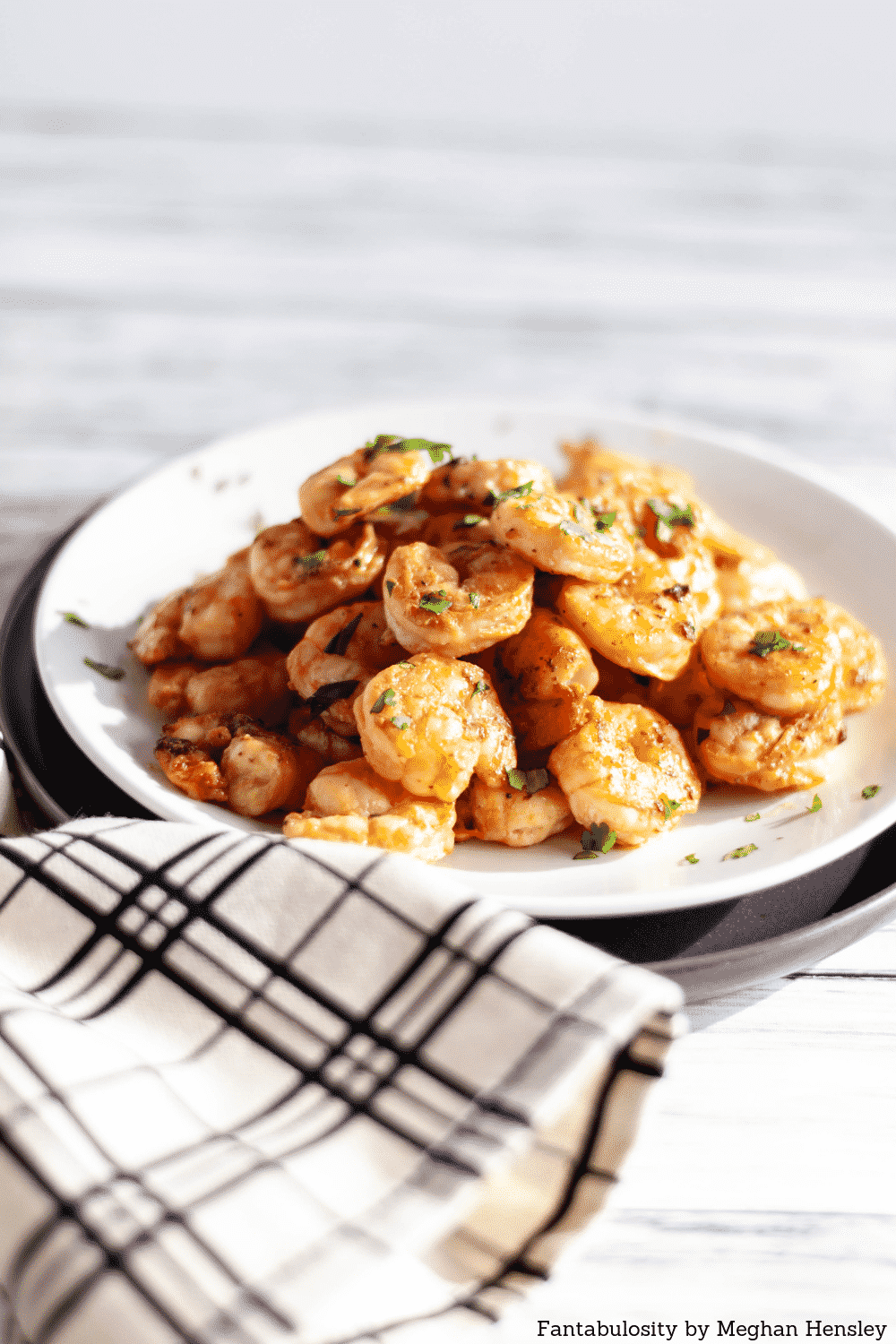 Versatile Shrimp Marinade
Although this marinade is the bomb on shrimp, it would be just as delicious on pork, chicken and other seafood. I'm betting it would be great as a simple salad dressing too (just make sure you use it solely on a salad for that batch, nobody wants a foodborne illness).
Whether you're looking for something healthy, something simple for weeknights or a main dish the whole family will adore, I've got you covered with this Grilled Marinated Shrimp recipe.
Grilled Shrimp Marinade
Grilled Shrimp Marinade: This grilled shrimp recipe using a shrimp marinade that's made with everyday ingredients like mustard, Worcestershire sauce, vinegar, and garlic makes things easy!

Ingredients
2/3

cup

olive oil

1/4

cup

vinegar (white, red wine, apple cider)

1 1/2

Tbsp.

Worcestershire sauce

1

Tbsp.

yellow mustard

1/2

tsp.

kosher salt

1/4

tsp.

black pepper

1

clove

garlic, finely minced

1

lb.

41/50 shrimp, raw, peeled and deveined
Instructions
In a bowl, whisk together the olive oil, vinegar, Worcestershire sauce, mustard, salt, pepper and garlic. Pour into a zip top bag. Add shrimp, seal and shake around to ensure the shrimp is coated. Marinate in the refrigerator for an hour.

Preheat a grill or grill pan over medium heat. Grill shrimp for 2 minutes per side. Note: If you are using an outdoor grill, it would be helpful if you put the shrimp on skewers to keep them from falling down the grates.
Nutrition
Calories:
443
kcal
Carbohydrates:
1
g
Protein:
23
g
Fat:
37
g
Saturated Fat:
5
g
Cholesterol:
285
mg
Sodium:
1217
mg
Potassium:
135
mg
Vitamin C:
5.6
mg
Calcium:
170
mg
Iron:
3
mg