The BEST Egg Salad: Easy Recipe: This classic, no-frills recipe uses everyday ingredients for how to make egg salad and is a great way to add a new sandwich to your rotation!
We are REALLY into salad recipes around here, and can't get enough of them. But all salads don't have to be "lettuce" salads, right? Here's one of my favorites…
Egg Salad
To be honest, I have NO idea how my mom got me to eat an egg salad sandwich when I was younger, but I'm so glad that she did.
It's a sandwich that I remember from early in my childhood, and one that I'll never forget.
Now, Mom kept her recipe pretty basic, and when it comes to whipping up a simple egg salad recipe for lunches or quick dinners, I keep it the same way.
Pesto Egg Salad Sandwich
But occasionally I love to add a little flair to my egg salad sandwiches like I did with my pesto egg salad.
This is only ONE of the fun and easy recipes in the Slightly Homemade Dinners Cookbook that is NOW available in my shop!
How Do You Make Egg Salad?
I've always found everyone else's opinions of how you make egg salad super interesting.
Me? Well, I use Mom's recipe, where I boil the eggs, dice them up and just add mayo, relish and a bit of salt and pepper.
My husband? Well he cooks his eggs, scrambled style, and then adds mayo and mustard. Ick! (Sorry, I just can't do that.)
Now, for deviled eggs… I can totally do mustard and mayo together. But not when I'm eating it on bread. Can you? Is this how you make it? Let me know in the comments below, would ya?
Egg Salad Recipe
If you've never made egg salad, or have never had an egg salad sandwich… well then heavens, it's time.
I'd love for you to try this recipe first since it's a basic, easy recipe that you can customize and experiment with later if you like!
You can find the full egg salad sandwich recipe below, but here's a quick visual walk-through, with added tips to make it even easier for you!
1. Boil 6 Eggs
If you have an Instant Pot, then making this egg salad just got a WHOLE lot easier. (Not to mention if you like making deviled eggs.)
Head over to my post "How to Make Hard Boiled Eggs in the Instant Pot", to watch the video and get the tutorial that will make the shells fall RIGHT off of your eggs. No crazy peeling, ripping your eggs apart, etc. Definitely a cooking game changer in my house.
FAB TIP:
If you're making hard boiled eggs for this egg salad recipe, then you might as well go ahead and make extra hard-boiled eggs to use for other recipes, such as:
Tuna Salad Recipe
Extra hard boiled eggs for snacking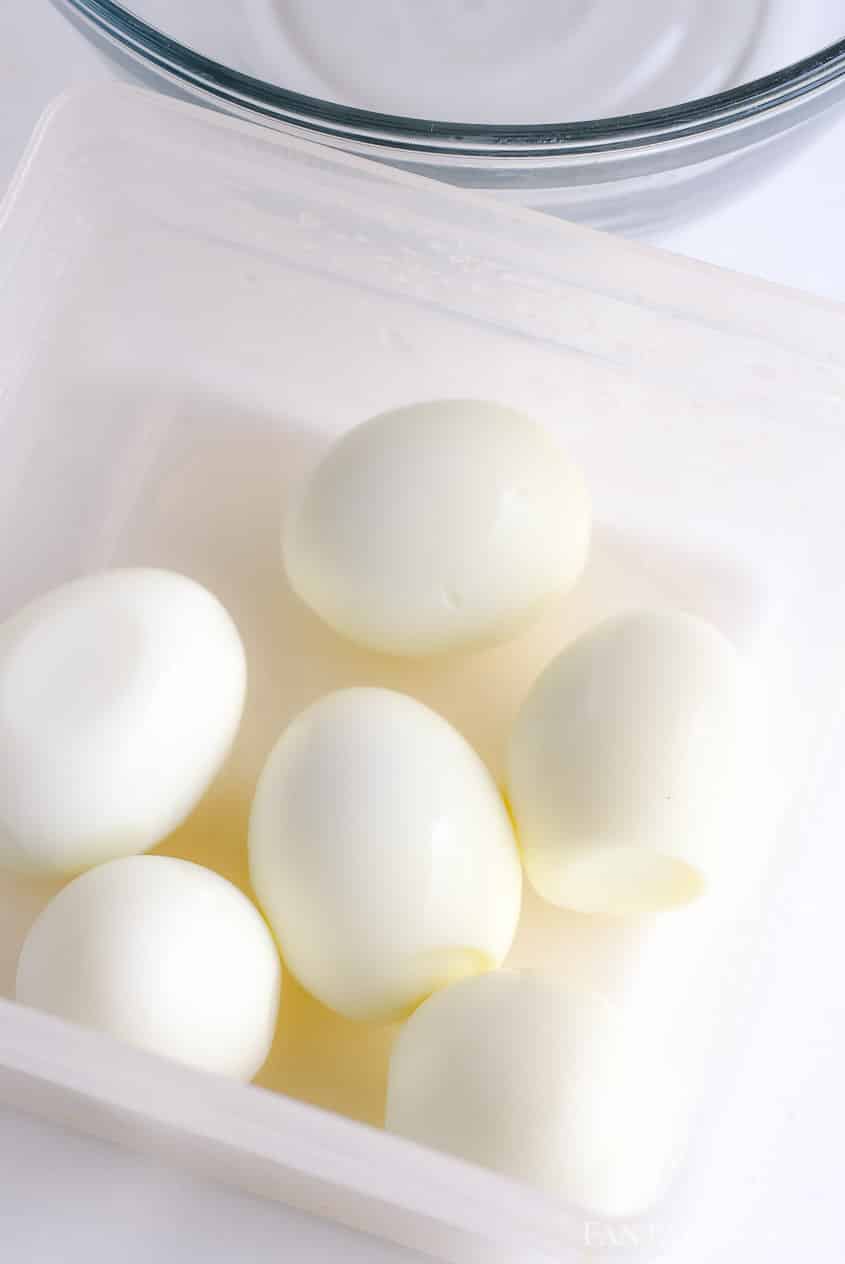 2. Chop/Dice Eggs
Next, you'll want to peel your eggs and chop them up into small pieces. I prefer to use a cheese grater when I make mine to give more of a shredded texture!
Egg Salad Ingredients
Next, is when I add in the mayo, relish, salt, and pepper! Stir and serve. Really, it's that easy!
What Kind of Bread for Egg Salad Sandwich?
That's up to you of course, but my favorite for a quick, at-home egg salad sandwich is using regular ole sliced bread, but lightly toasted.
• If you have croissants, those are to DIE FOR with egg salad (like I used on the Pesto Egg Salad Sandwich in my cookbook).
•Other bread like rye, wheat, pita is insanely good!
• Do you have crackers in the pantry? Mmm, a garden-herb cracker would add a delicious zing to this egg salad!
• Looking for low carb? Try using celery to dip in the egg salad for a quick snack! Mmm, I think I'll go have that right now!
Additional Ingredient Suggestions
Want to kick your egg salad up a notch? You're such rebel. I already love that about you!
Here are some ideas to get you started with a fun egg salad…
avocado
hot sauce
pesto
onions
pickles
cilantro
basil
candied pecans
celery
mustard
cumin
Egg Salad
The BEST Egg Salad: Easy Recipe: This classic, no-frills recipe uses everyday ingredients for how to make egg salad and is a great way to add a new sandwich to your rotation!

Ingredients
6

hard boiled eggs

1/2

cup

mayo

1/4

cup

relish

dill or sweet

salt and pepper

as desired – I used 1 teaspoon salt, pinch of pepper
Instructions
Peel the hard-boiled eggs and chop/dice into a hard-boiled bowl.

Add mayo, relish, salt and pepper into the eggs, stir until combined!

Serve about 1/4 cup of egg salad on toasted bread!
Notes
Please keep in mind that the nutritional information provided below is just a rough estimate and variations can occur depending on the specific ingredients used. 
Nutrition
Serving:
1
serving (egg salad only)
|
Calories:
320
kcal
|
Carbohydrates:
4
g
|
Protein:
9
g
|
Fat:
28
g
|
Saturated Fat:
5
g
|
Cholesterol:
291
mg
|
Sodium:
437
mg
|
Potassium:
106
mg
|
Sugar:
1
g
|
Vitamin A:
435
IU
|
Calcium:
38
mg
|
Iron:
1.1
mg
Nutritional information is based on third-party calculations and should be considered estimates. Actual nutritional content will vary with brands used, measuring methods, portion sizes and more.
More Salad Recipes?
If you love quick and easy salad recipes like this one, then you'll LOVE seeing the other salad recipes we have here on the blog.
Click here to go browse all the tasty recipes available for you!