Chicken Bites – These little morsels are so easy and use everyday ingredients like butter, salt and pepper… but FULL of flavor!
Chicken is so versatile and we love rotating this recipe for an easy dinner recipe, with these baked chicken drumsticks in the oven and these air fryer buffalo chicken tenders!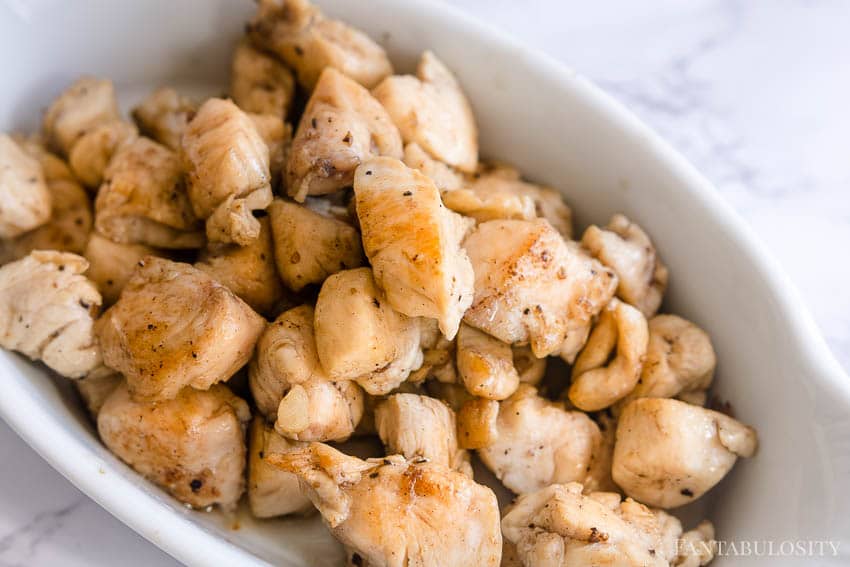 Salt & Pepper Chicken Bites
I know, it looks like plain ole cooked chicken, doesn't it?
But it's not. When I first experimented with cooking meat in browned butter for the BEST steak recipe on the planet… my meat cooking changed forever.
The browned butter creates a flavor that I'll never be able to "untaste" again… thankfully.
More Chicken Recipes You'll LOVE: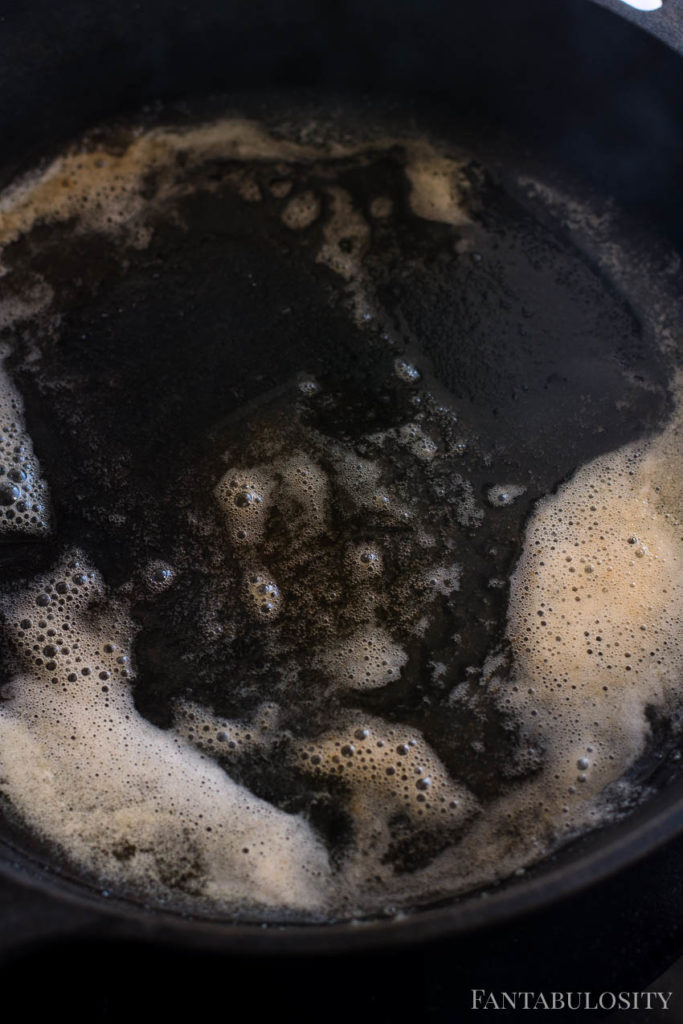 So when recipe testing for my new, Fabulously Fast Dinners cookbook, I made a browned-butter chicken recipe that soon became a family favorite, and made it's way in to the cookbook for everyone else to enjoy.
Chicken Recipe for Kids
Since then, I've found myself making the browned butter chicken a LOT, but I found myself cutting up the chicken before I cooked it, so it was easier for my kids to eat.
This then lead me to THIS recipe, Salt and Pepper Chicken Bites. So yes, pretty much the same recipe, just prepped and cooked a little different.
Chicken Bites are Perfect for a Party Too!
What else do I love about this chicken recipe? It is SUPER easy to make and serve at a party.
With the endless amounts of appetizer recipes out there that consist of dips, cheeses, veggie trays, etc. sometimes it's really nice to have a protein option that you can serve alongside those.
You can serve the chicken bites alone with toothpicks, or guests can dip them in their favorite dipping sauce like a homemade copycat Chick-fil-A sauce recipe!
Chicken Bites Recipe
First, you can find the entire recipe and printable recipe card at the bottom of this post.
However I'm more a visual person and I love to see the cooking process as I go, so you'll find a lot of that here on Fantabulosity for sure!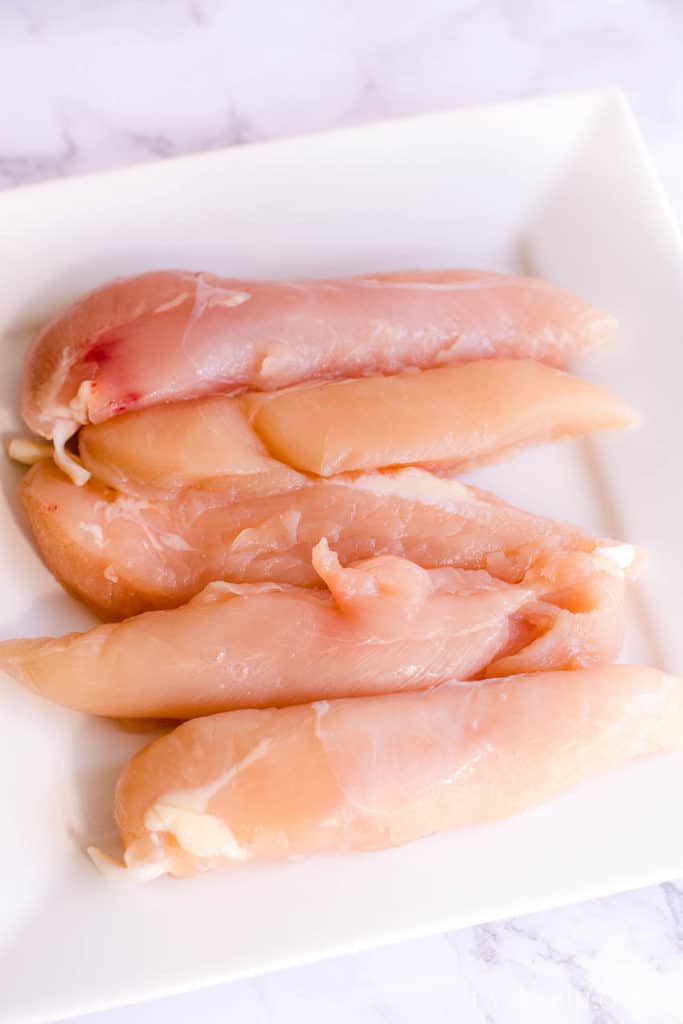 Boneless Chicken Breasts or Tenderloins
Chicken breasts or tenderloins are a staple on my weekly grocery list. I'm a sucker for boneless chicken recipes, so it's crucial that I always have them on hand.
So whether you have one of these on hand, or prefer a certain cut, either type will do for this recipe!
Slice and Cut Chicken
Cut your chicken in to bite-size pieces. (When making this for my kids, I make sure they're small enough for them to make tiny bites.)
For parties or when making them for just my husband and I, I'll cut them in to about 1/2 inch to 1 inch chunks.
Season Chicken Breasts
Next, salt and pepper the chicken, and don't be shy.
As I've mentioned in a lot of my other recipes, kosher salt and peppercorn medley are my go-to's when it comes to salt and pepper.
There's just something about the two, especially combined with browned butter, that makes my tastebuds ignite! To me, it's MUCH better than regular table salt and black pepper.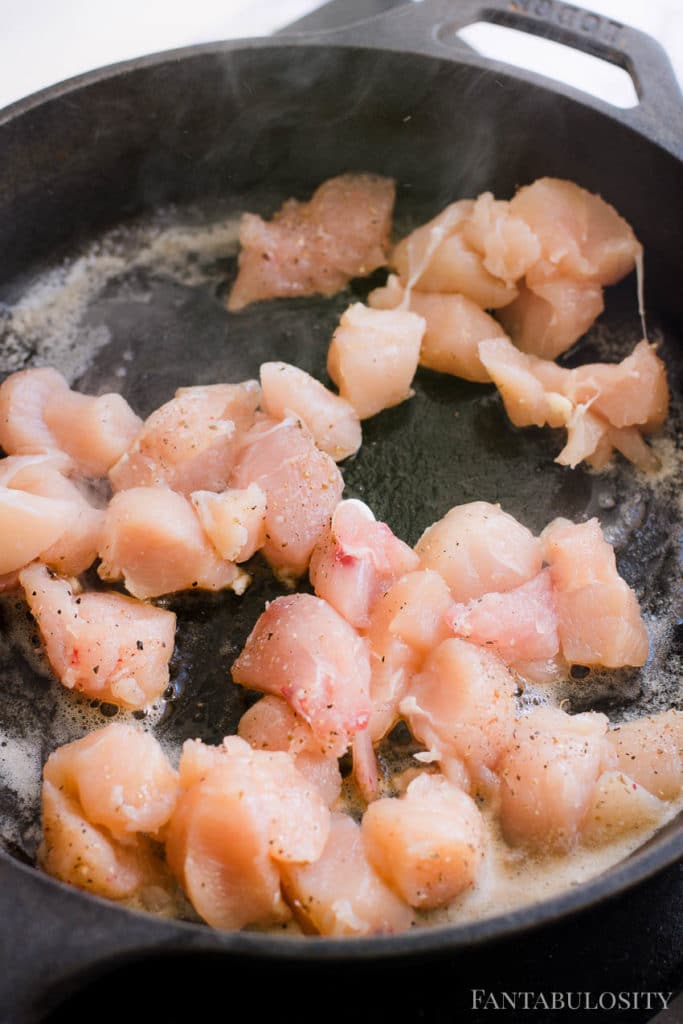 Once you've browned your butter in a skillet (over medium-high heat), add in your chicken bites.
Healthy Chicken Bites
Now depending on what you're considering "healthy" at this point, may determine how you make these chicken bites.
On keto? Then the butter, salt and pepper will work just fine!
Cutting out fats? Then consider replacing the butter with olive oil. Just know that the browned butter flavor will be lost, so you may want to add additional spices to help with the flavor.
My Favorite Spices?
I adore garlic pepper seasoning on just about anything. Feel free to use other spices like curry, cumin, garlic powder, a chicken seasoning, chili powder for heat, etc. Have fun, and experiment with cooking the chicken in the spices and sprinkling on after it is cooked!
How Long to Cook Chicken in a Skillet
I toss the chicken frequently for the first minute or two, just to try and help it cook through… but then when the butter has mostly cooked down, I love to leave the chicken sitting for a minute or two to allow the chicken drippings and flavor to cook on to the chicken bites, giving it a slight crispy brown texture. (THIS is where the flavor is at. Without this, it will taste just like plain ole chicken with salt and pepper.)
I'm also a firm believer that the cast iron skillet plays a BIG roll in this too. So if you don't have one, I highly highly recommend you get one! Shop my favorites HERE!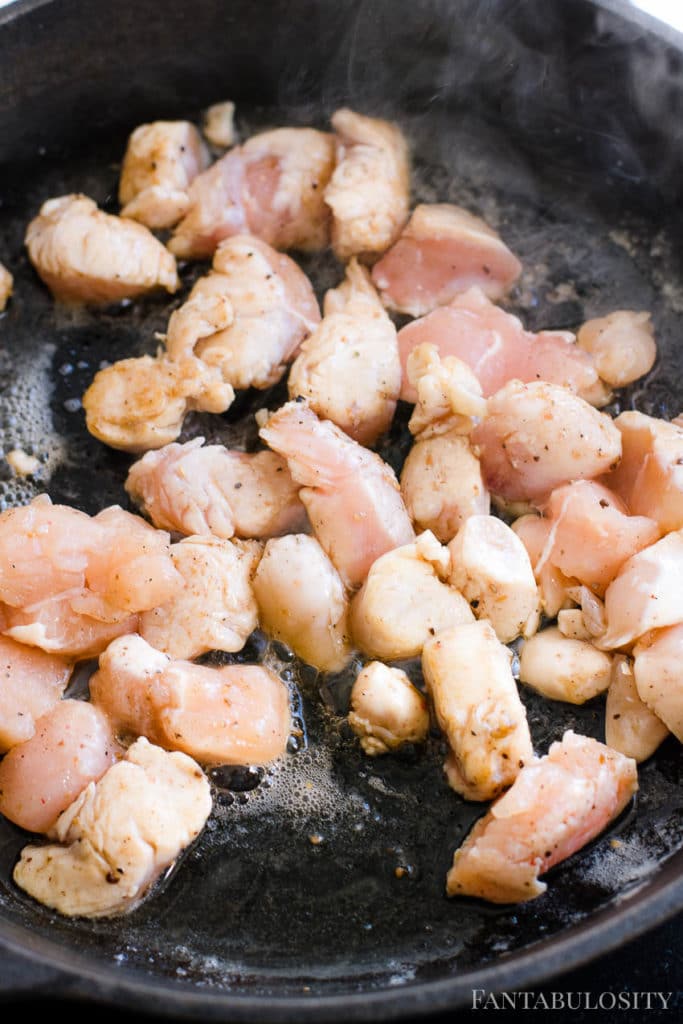 When cooking the chicken bites, it takes anywhere from 5-6 minutes for the chicken to cook through.
This time could be different for you if you have bigger chunks or a skillet that's not as hot as mine of course.
TIP: What I love about cutting the chicken into bite-size pieces, is that I can cut the pieces in half a little more while they cook, if I need to see if the middles are done.
Browned Butter Chicken Bites
Once the chicken pieces have cooked through, transfer them (don't forget the little bit of cooked on chicken pieces in the pan) to a dish and let sit for a minute or two, so the juice really trap inside!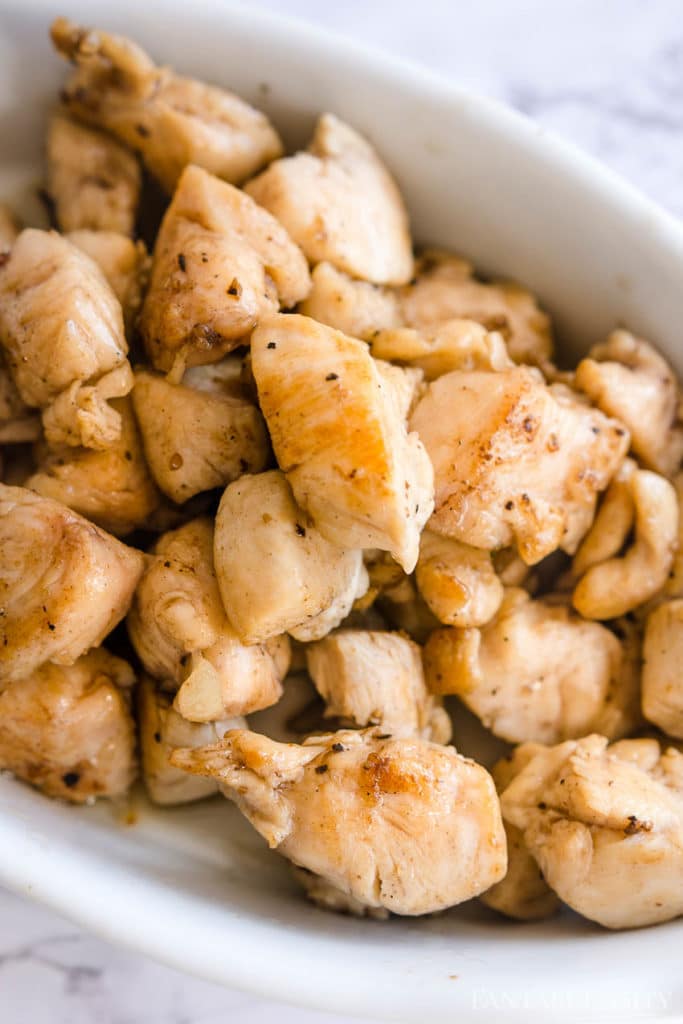 I kid you not, my boys RAVE over these chicken bites each time I make them.
I'm still trying to figure out how my teeny tiny 5 year old, ate 5 chicken tenderloins the day I made these and took the photos for this blog post.
Would he have eaten more? Yep. But I ran out because I used the rest to make my white chicken chili recipe that my husband had been craving.
Sprinkle with Salt
When cooking with salt and pepper, a lot of times the salt and pepper can fall off of the food during the cooking process.
So although I add salt and pepper to the chicken before cooking, I also love to sprinkle on a little more kosher salt while it's resting. This makes a BIG difference.
Just be careful not to put too much salt in and on your chicken. You can always add more, but it's hard to take it away.
If you love easy chicken recipes, then you're also going to love this Sticky Chicken on a Stick!
Want More Stove Top Recipes?
📖 Recipe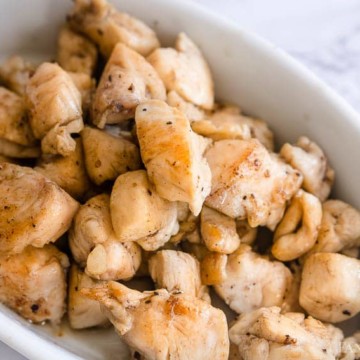 Salt & Pepper Chicken Bites
Chicken Bites – These little morsels are so easy and use everyday ingredients like butter, salt and pepper… but FULL of flavor!
Ingredients
8

chicken tenderloins

trimmed of any fat/skin

2

tablespoon

salted butter

1

teaspoon

kosher salt

or to taste, divided

.5

teaspoon

peppercorn medley

or to taste
Instructions
Cut chicken tenderloin into small, bite-size pieces

Season chicken with 1/2 teaspoon salt and 1/2 teaspoon peppercorn medley, and toss to make sure it's evenly seasoned.

Melt butter in a pan over medium-high heat (I prefer cooking in a cast iron skillet) until it begins to turn a slight brown.

Place chicken pieces in hot butter/skillet and let cook for about one minute, until the undersides turn a beautiful golden brown.

Flip the pieces over and continue cooking for another minute or two, until the inside is cooked. (Don't feel like you have to flip one at a time. Just grab your fish turner or spatula, and flip a bunch at once)

Once chicken has cooked through, remove from skillet and place chicken in serving bowl/plate and sprinkle with remaining kosher salt.

Let rest for a minute or two to allow the juices to really soak in!
Nutrition
Serving:
2
tenderloins
|
Calories:
166
kcal
|
Protein:
21
g
|
Fat:
8
g
|
Saturated Fat:
4
g
|
Cholesterol:
79
mg
|
Sodium:
748
mg
|
Potassium:
370
mg
|
Vitamin A:
205
IU
|
Vitamin C:
1.2
mg
|
Calcium:
5
mg
|
Iron:
0.4
mg
Nutritional information is based on third-party calculations and should be considered estimates. Actual nutritional content will vary with brands used, measuring methods, portion sizes and more.
Need Side Dishes for Chicken?
If you need something to serve alongside your chicken, I HIGHLY recommend these reader favorites…
We absolutely LOVE salads around here, and have even been coined as having the BEST side salad recipe. Browse our salads by clicking the link below!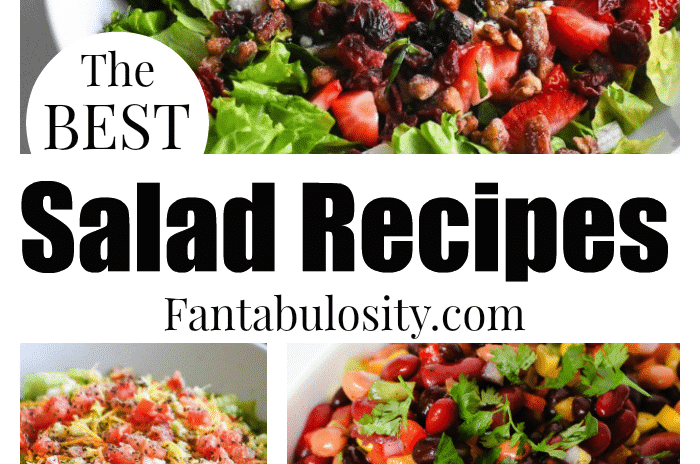 I've gathered all of the healthy side dish recipes so they're in one place and ready for you! Click the image below to snag them!
Pin this image below to remember it the next time you need it!