This donut burger (or sometimes called the Luther Burger) is made with buttered and toasted glazed donuts (Krispy Kreme or your favorite kind), a beef patty, cheese, and bacon, to give you the most delicious, burger recipe you've ever had.
Quick Overview: Cook your burger patties your favorite way (ours is baking hamburgers in the oven) top with cheese, cooked bacon, and build cheeseburger using the buttery toasted glazed donuts as the buns. (Cook time depends on which burger cooking method you choose! See below!)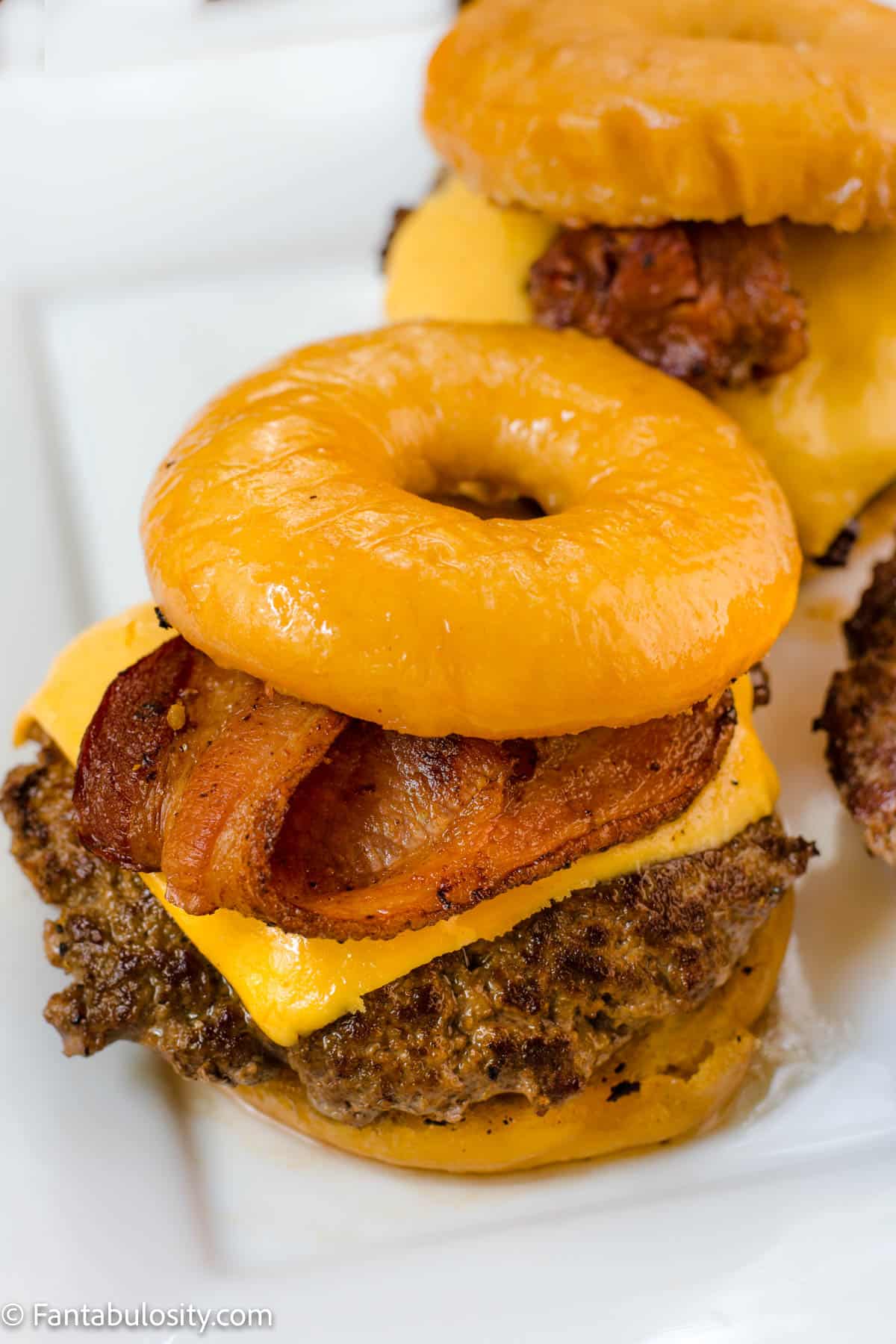 Grab the paper towels! It's a sticky, juicy, and glorious burger recipe with the butter, bacon (and bacon grease) sweet donuts, and more that gives this so much flavor!
Inspired by the waffle burger, this sweet and salty combo is a family favorite! The sweetness of the "bun" combined with the savory flavor in everything else, is incredible! I believe that's also why these cheeseburger sliders have become such a popular recipe too!
What is a Luther Burger?
According to Wikipedia, the Luther Burger is a hamburger using glazed donuts as the bun. But honestly, when I saw it for the first time, I just called it a donut burger and KNEW I had to have it.
Who created the Luther Burger and where did it come from?
Word has it that it originated from a pub called, "Mulligan's" in Decatur, Georgia, and was named after R&B singer Luther Vandross.
What kind of donut do you use to make a donut burger?
So many think a glazed donut is the best donut to use for this recipe but you can use any kind you like! You can use a glazed from Krispy Kreme or something else fun like a blueberry cake doughnut, or even a chocolate iced donut from your favorite bakery! Have fun with it!
Jump to:
How do you make a donut burger?
Although the most popular way to make doughnut cheeseburgers is with glazed donuts, melted cheese and cooked bacon, you can add traditional hamburger toppings if you like as well!
Slice your donuts in half, to make a top and bottom bun, spread butter on the "insides" of the donut buns and toast in a skillet.
Cook your burger patty, cook the bacon, melt the cheese, and you have a burger at home that you'd normally only see at something like a food truck or state fairs!
See the full ingredients list, instructions and recipe card, below!
Ingredients
If you have leftover donuts from the bakery, you may have all of the ingredients on hand to whip up this special treat! Or, make a quick trip to the bakery, donut shop or grocery story to grab these beauties!
You'll need:
glazed donuts (some love using Krispy Kreme donuts)
hamburger patties (or one pound of ground beef)
sliced american or cheddar cheese
strips of bacon (thick cut bacon is best!)
salt
black pepper
See the recipe card below for quantities.
What can I use instead of donuts?
Love the idea of donuts for buns but need a substitution? Try the waffle burger" or create a "cake burger" (by baking mini cakes in a donut baking sheet) or a "cookie burger", "pancake burger", and the list goes on!
Instructions
Although you can cook your burger patties any which way you prefer, the process for making donut burgers is simple!
How to Cook Burger Patties
No matter which method you prefer… we love seasoning the burger patties with salt and pepper. (As long as they're thawed. If frozen, it's best to cook a little first to thaw them out so the seasonings will stick to the burgers.)
Burger Cook Method:
The following ways to cook burgers are all easy ways and great for making burgers to make your donut burgers:
Once seasoned with salt and pepper (or your favorite seasonings) you can cook them your preferred way. (See instructions below for a simple skillet method.)
Over medium heat, cook burger patties for 3-5 minutes on each side or until the juices run clear.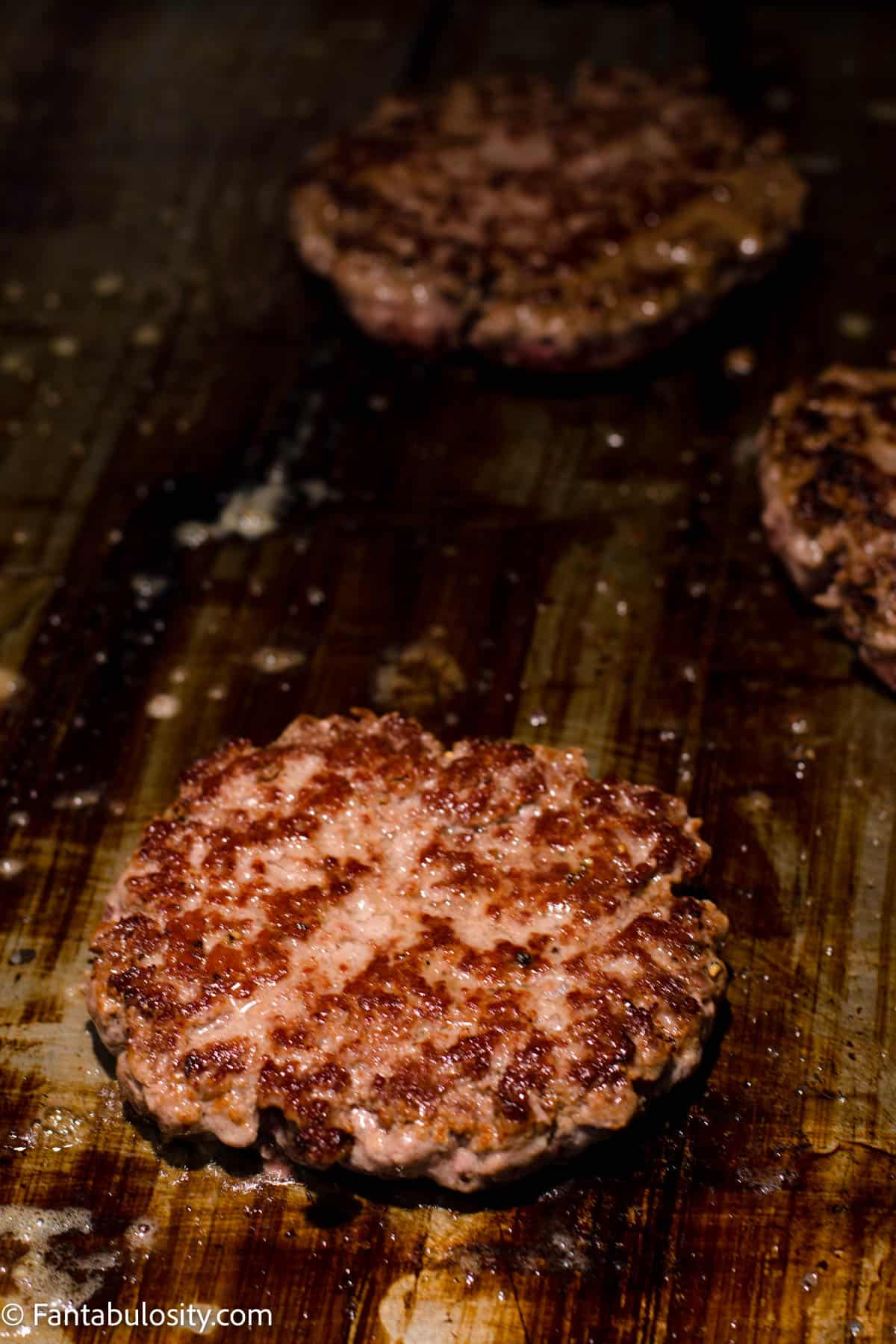 What Kind of Cheese to Use
If you prefer cheese on your doughnut burger, you can use any cheese you prefer. Here are our favorites to use:
american cheese
cheddar
pepper jack cheese
colby jack
Place a slice of cheese on each burger until melted.
How to Cook the Bacon
If you choose to have bacon on your donut burger, you can cook the bacon with your favorite method. We prefer to cook bacon in the air fryer or in the oven. (You can even cook turkey bacon in the oven.) However, you can cook bacon in a skillet or even cook it in the microwave as well!
Want to really kick things up a notch? Consider making this smoked candied bacon for a flavor that will change your life!
Once cooked, set aside and keep warm.
How to toast the glazed donuts
Using a bread knife, carefully slice the donuts in half, to make a top and bottom bun out of one donut.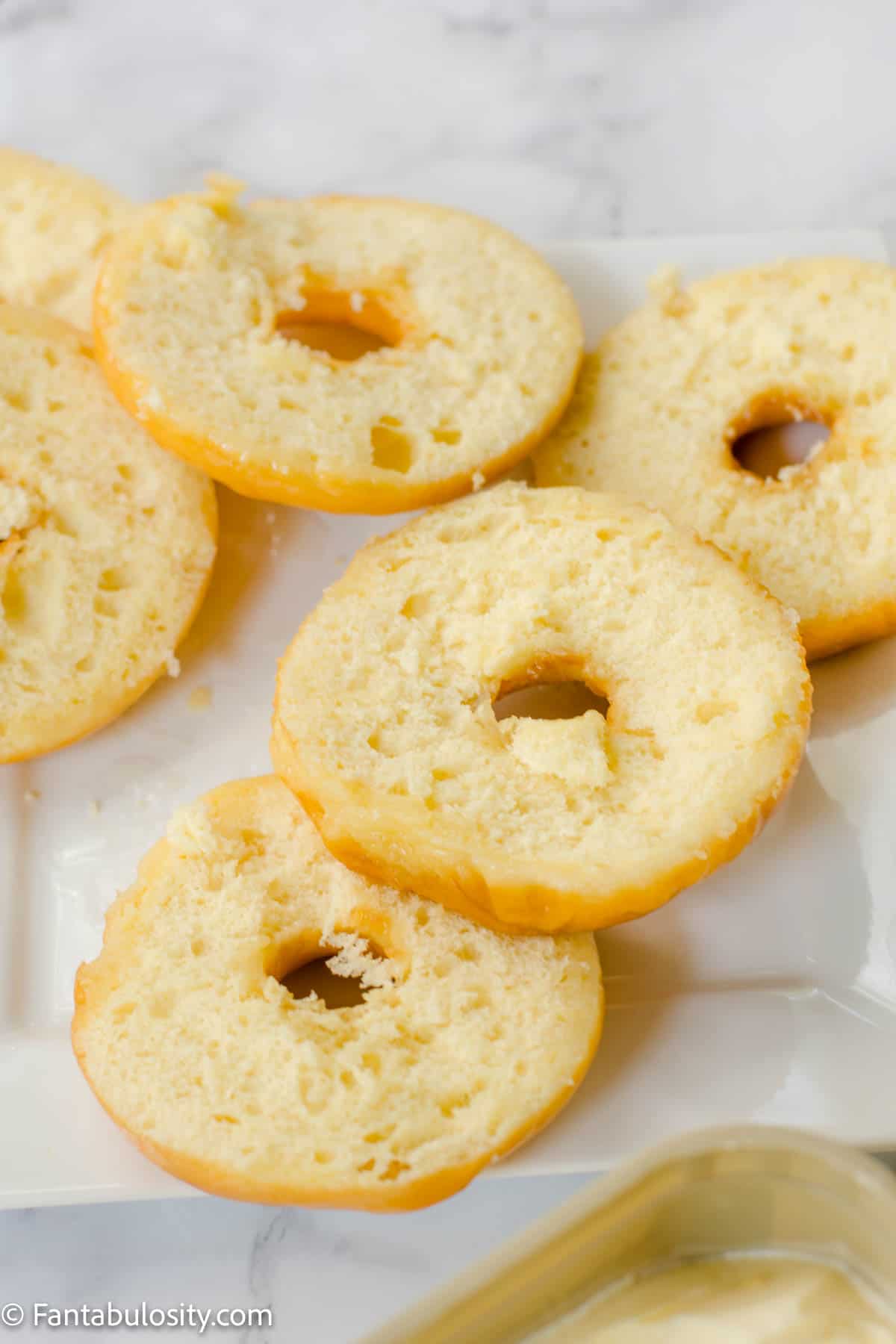 Although you can simply use the sliced donuts as they are, I really recommend spreading butter on the inside of the donuts and then placing them in a skillet and toasting them, to warm them up with a little extra butter taste.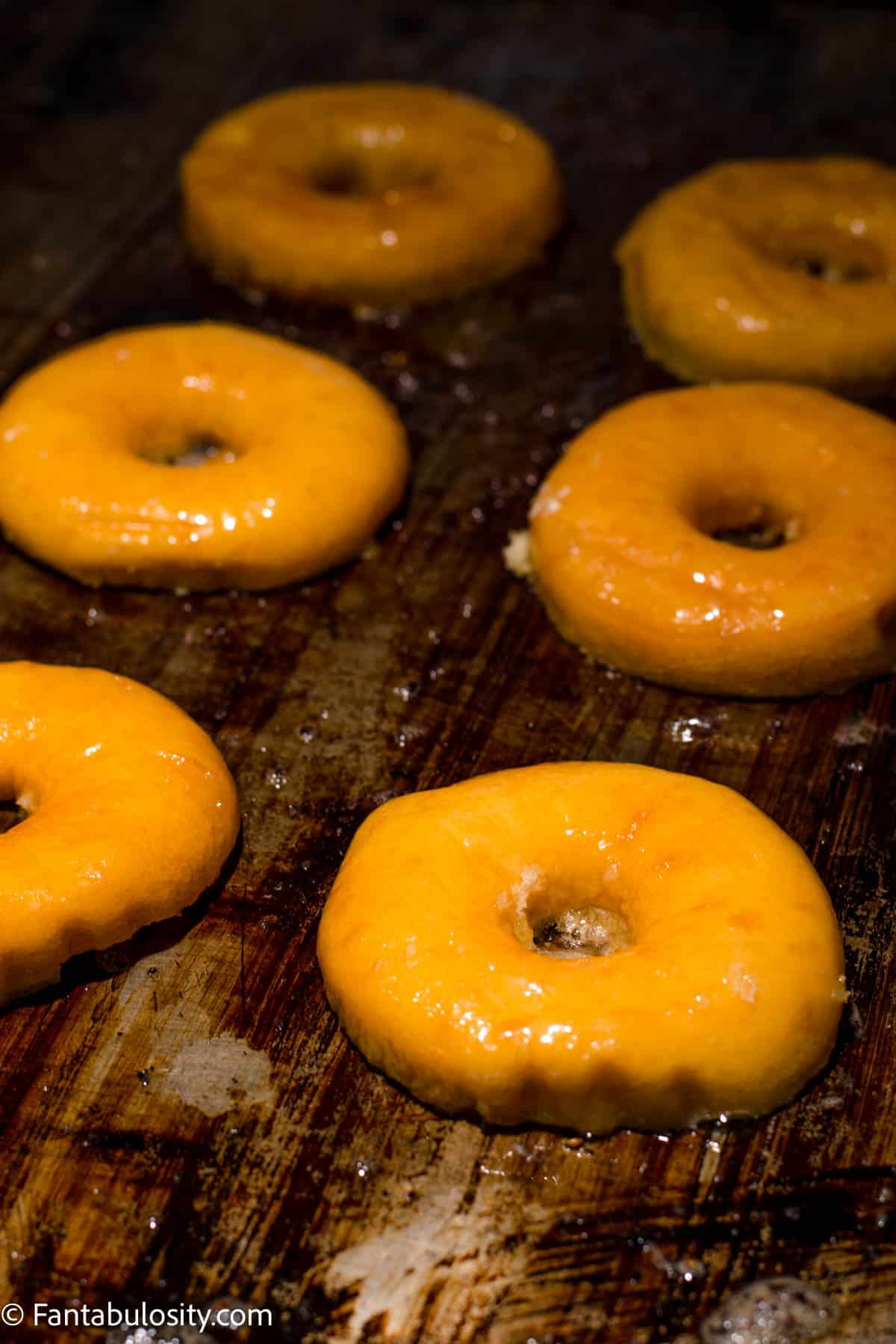 The buttered donuts will only need to cook over low-medium heat for a few minutes (2-3 minutes) or just enough give the buttered side a golden color.
How to build a donut burger
Take the warm glazed donuts, and top one half of the donut (buttered side up) with the meat patty and a slice or two of cooked bacon.
Then, take the other half of the donut and place on top of the burger, buttered side down.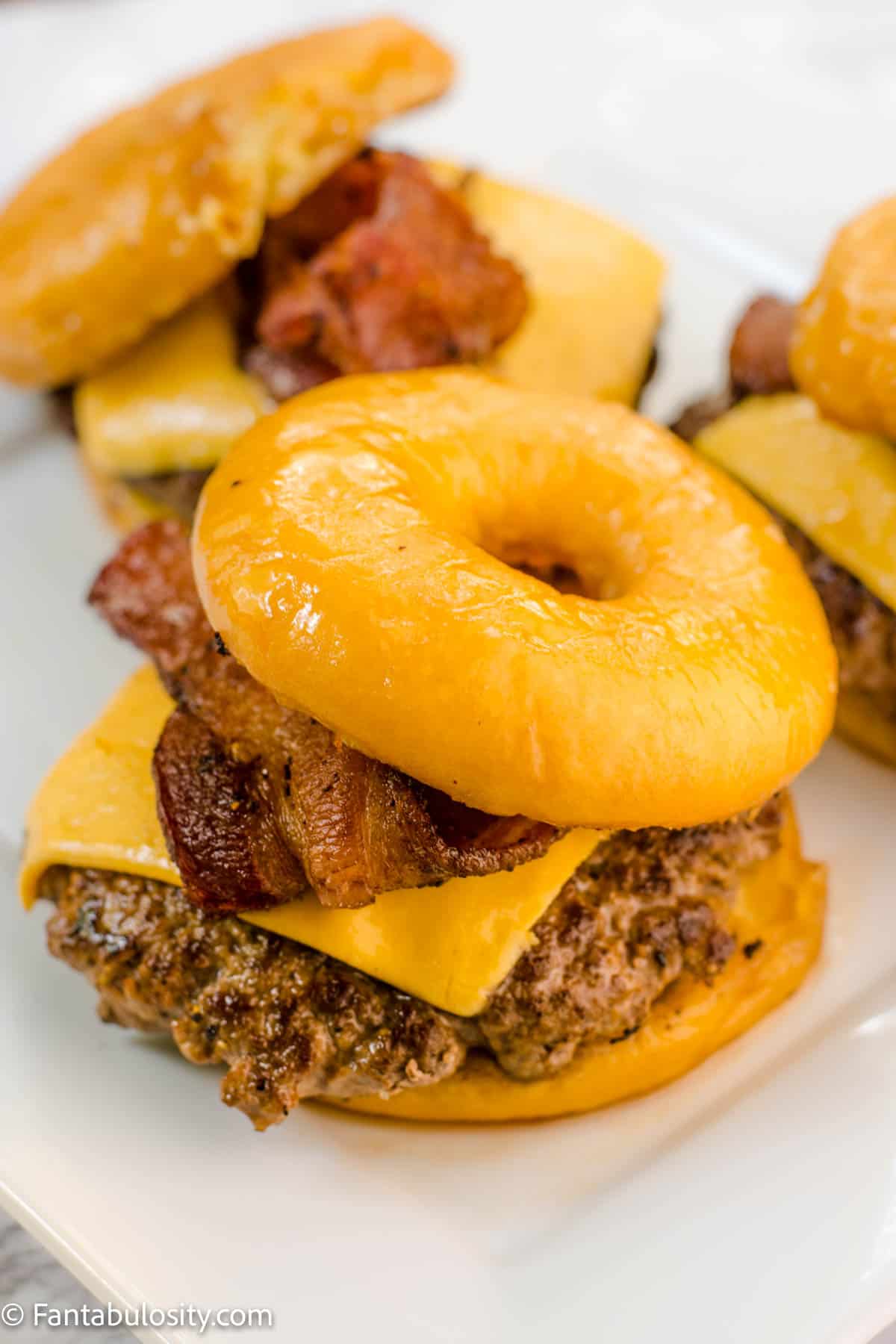 Additional Burger Toppings
If you'd like to add other toppings, we've gathered traditional burger toppings ideas, as well as additional fun toppings for a donut butter! Feel free to add your favorite condiments or these as well:
fried egg
sriracha
hot sauce
maple syrup
sausage patties
lettuce
onion
jalapenos
peanut butter
potato chips
mustard
honey mustard
ketchup
Storage
If you have leftover ingredients, it's best to store the items separately and reheat them individually, and then build the burger.
Our favorite way to reheat burgers and bacon is with the air fryer. But only reheating the toasted donuts on a skillet again is recommended.
What to serve with donut burgers
If serving this burger for breakfast, they're amazing with hash brown patties or air fryer breakfast potatoes and
If serving this for lunch or main course, this burger recipe goes amazing with potato wedges or sweet potato fries.
More Recipes You'll Love
If you love this recipe, you'll also love this bacon brioche sandwich, these sausage and crescent roll breakfast dippers, and this baked turkey burger recipe!
📖 Recipe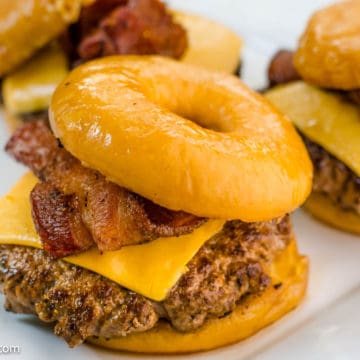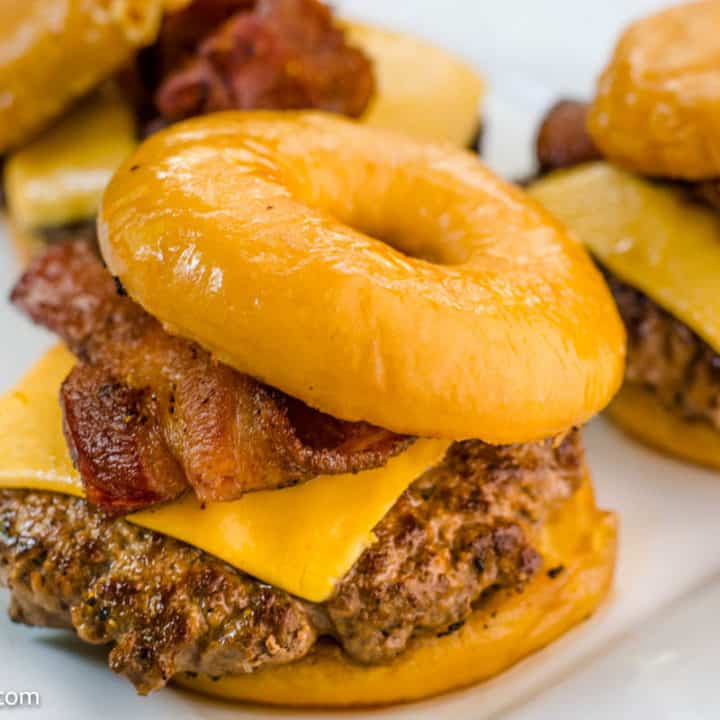 Buttery Glazed Donut Burger
This donut burger (or sometimes called the Luther Burger) is made with buttered and toasted glazed donuts (Krispy Kreme or your favorite kind), a beef patty, cheese, and bacon, to give you the most delicious, burger recipe you've ever had.
Ingredients
1

pound

ground beef

or 3 hamburger patties

3

glazed donuts

3

slices

american cheese

or preferred cheese

3

slices

bacon

2

tablespoons

butter

spreadable butter works best

1

tablespoon

butter

optional, for cooking burgers

.5

teaspoon

salt

or preferred amount

.5

teaspoon

pepper

or preferred amount
Instructions
Prepare Burger Patties
Begin by patting out 3 burger patties, out of 1 pound of ground beef (or use 3 pre-pattied burgers)

Season burger patties with salt and pepper.
Cook Burger Patties
If cooking in a skillet (see blog post for other cook methods) over medium heat, melt 1 tablespoon of butter in a skillet large enough to hold all of your burger patties.

Place seasoned burgers in skillet and cook for 3-5 minutes and then flip. Cook for an additional 3-5 minutes or until the juices run clear.

If making cheeseburgers, melt cheese on top of cooked burgers and set aside.
Cook Bacon
If topping with bacon, cook bacon to desired doneness. (see post for favorite cook methods) If cooking bacon in same skillet, cook on low heat for 10 minutes, flip and cook other side for 5-10 minutes until fully cooked. Set aside.
Prep Donut Buns
Slice glazed donuts in half, creating a top "bun" and bottom "bun".

Spread the insides of the donuts with butter, preparing for toasting.

In a clean skillet (or simply pour out bacon grease and meat drippings out of first skillet) and place buttered-side down on skillet, over medium heat. Toast for 2-3 minutes on the buttered side until golden brown.
Assemble Donut Burger
Place cheeseburger on top of bottom bun, top with bacon and top with other glazed bun half. Repeat for remaining donut burgers. Top with additional ingredients if desired. (See blog post for more ideas.)
Nutrition
Serving:
1
burger
|
Calories:
748
kcal
|
Carbohydrates:
12
g
|
Protein:
34
g
|
Fat:
62
g
|
Saturated Fat:
28
g
|
Polyunsaturated Fat:
3
g
|
Monounsaturated Fat:
22
g
|
Trans Fat:
3
g
|
Cholesterol:
173
mg
|
Sodium:
1142
mg
|
Potassium:
487
mg
|
Fiber:
1
g
|
Sugar:
4
g
|
Vitamin A:
558
IU
|
Calcium:
253
mg
|
Iron:
3
mg
Nutritional information is based on third-party calculations and should be considered estimates. Actual nutritional content will vary with brands used, measuring methods, portion sizes and more.