Baked Turkey Burgers – Cooking turkey burgers in the oven is EASY! It locks in juices and there's less mess!

How to Cook Overview: Cook at 375° for 30 minutes or until internal temperature reaches 165°.
Have a package of ground turkey for burgers? Consider making burger sliders, using ground turkey instead!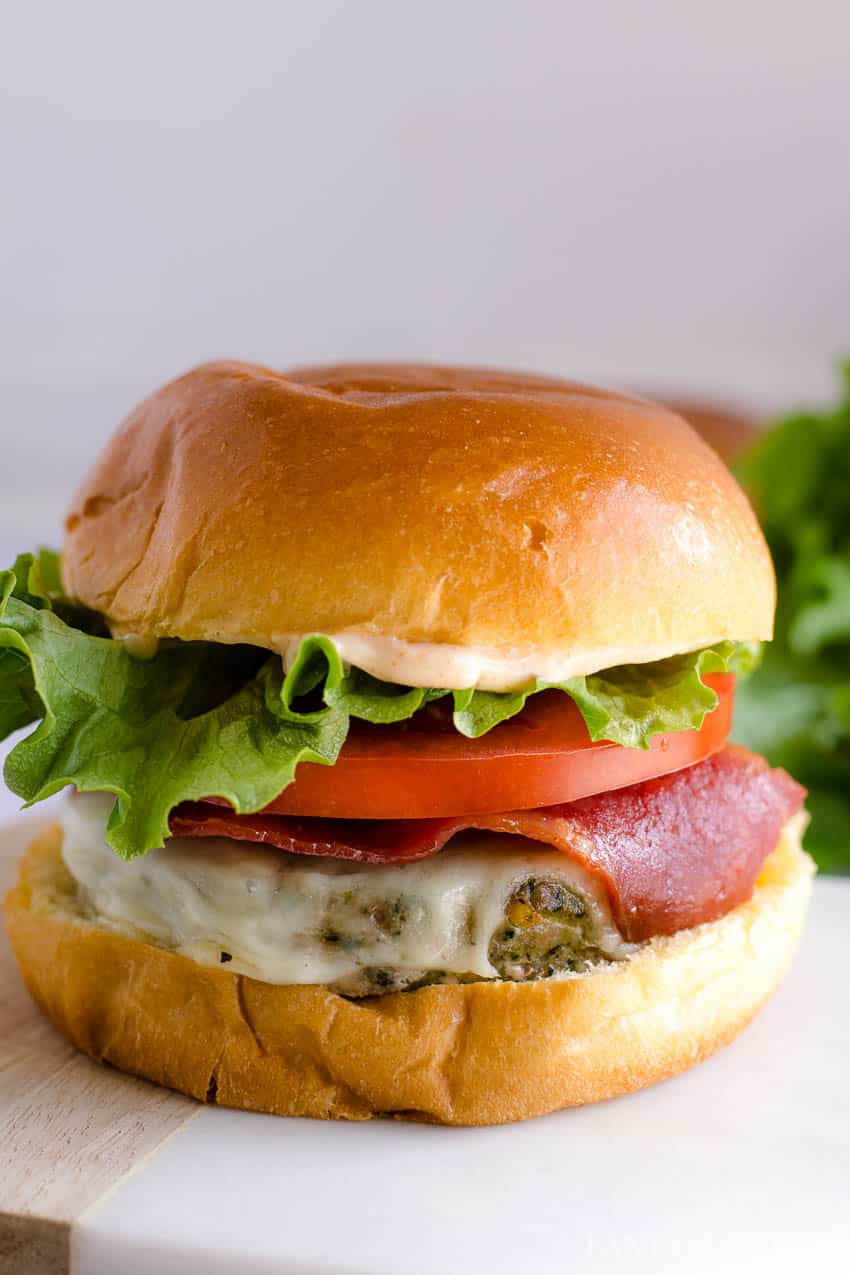 ❤️ Why you'll love these:
This recipe is incredibly easy and I even give you a quick fun flavored mayo recipe to top it with! Or, if you own an air fryer, you may want to also consider trying these air fryer turkey burgers to see which recipe you prefer!
You can find the full recipe card below with more details on how to whip up this "gourmet" tasting burger, that doesn't require a gourmet chef at all!
You'll Also Love these Oven-Baked Hamburgers, these Air Fryer Burgers, Smoked Burgers, and these electric skillet burgers.
Plain Ground Turkey or Pre-Pattied Seasoned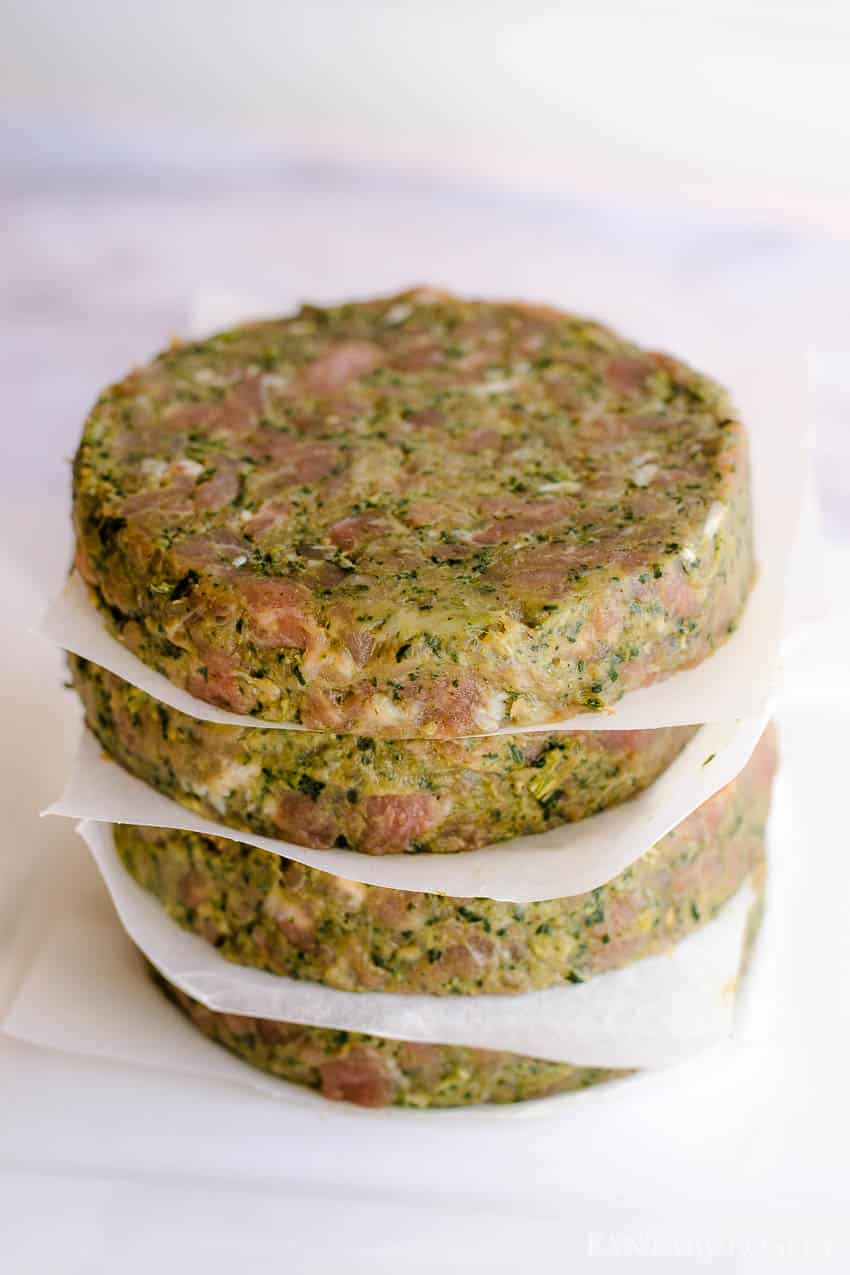 For this turkey burger recipe, I wanted to keep things super simple, so I used a pre-pattied ground turkey burger that included spinach and kale.
But you can absolutely use regular ground turkey for this! However, it's a lot of fun to mix things up from time to time, just to add some different flavors to the mix!
Making Your Own Patties: If you're making your own turkey patties, you can add the seasoning right into the ground turkey before making your patties, but I find that waiting until after I patty them out, I can taste the flavors a LOT more. But whichever way you prefer to season them is just fine!
Pre-Pattied Burgers: I love the turkey burgers (and any burgers really) that come with paper liners, because it makes separating the patties for easy seasoning and less mess. Here's how I do it…
🧑🏻‍🍳 Step by Step
For the turkey burgers, I wanted to allow the toppings and the fiesta mayo (recipe below) to season the burgers in a BIG way.
So for seasoning, I kept it simple and just used salt and pepper! (My favorites… kosher salt and peppercorn medley.)
If you're using plain ground turkey, I feel that adding salt and pepper is a MUST. Some other additional seasonings I recommend for turkey burgers are:
garlic powder
garlic pepper
a mixture of basil, oregano, parsley
onion powder
cumin
red pepper flakes
… there are many others you can experiment with, but just keep in mind what seasonings you're using, so you don't overpower the burger if you use a sauce like my fiesta mayo recipe below!
Grilled or Skillet Cooking
You can absolutely cook your turkey burgers in a skillet or grill them. I prefer the oven baked method to cut down on the mess in my kitchen, and when it's too cold outside to grill. But feel free to cook them how you like!
So let's get to what I now call, the "BEST Turkey Burger Recipe"… the Turkey Club Burger. I'll walk you through the recipe with photos in case you're a visual person, but feel free to jump to the bottom of the post where I provided a recipe card that you can print and follow the directions in one spot!
How to Bake
You'll want to start by preheating your oven to 375 degrees and lining a baking dish with a drizzle of olive oil. (Approximately 1 Tbsp.)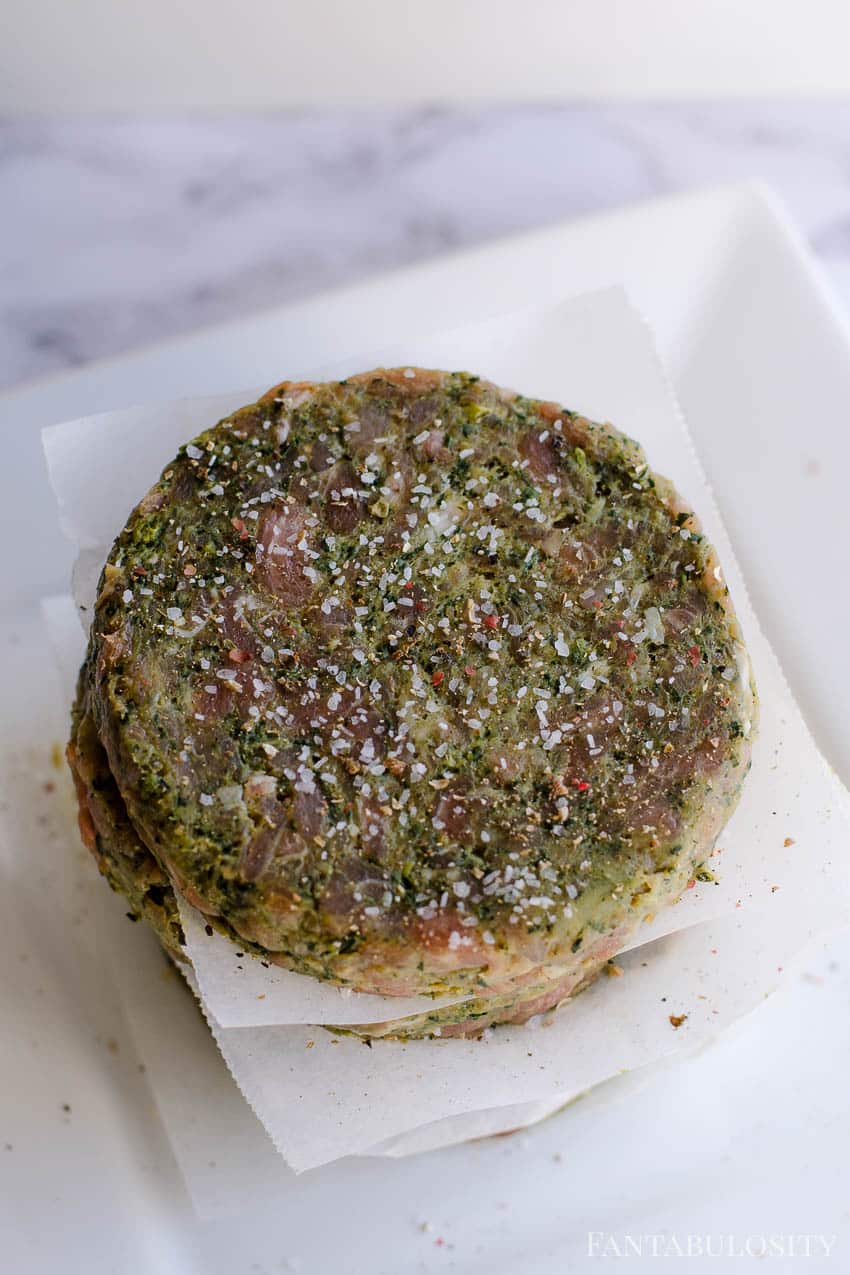 Season the top of a burger with salt and pepper or desired seasonings (if you wish), grab the paper liner and flip the burger over on to the baking dish. Peel the paper off and season the other side.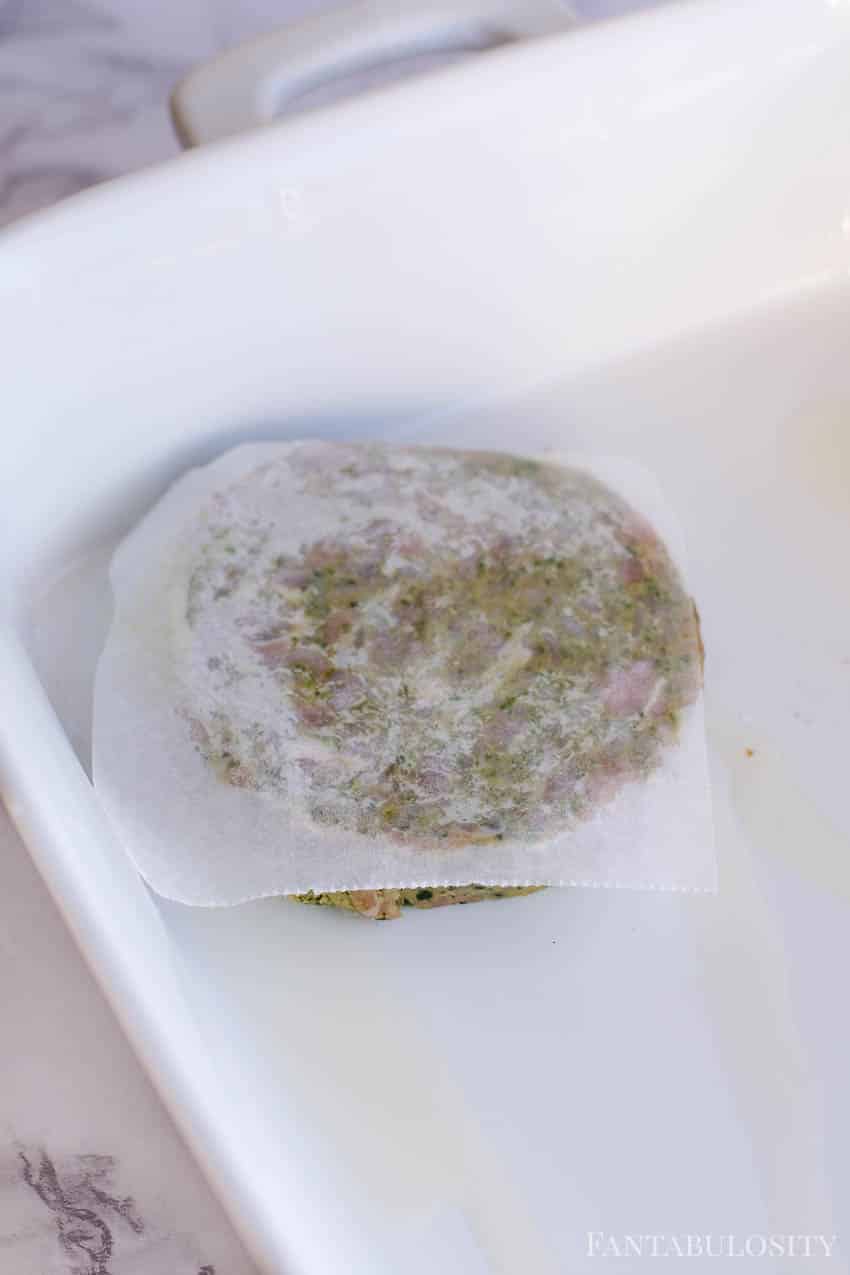 Work your way through the other patties in the same way.
The paper helps keep my hands cleaner while handling raw meat!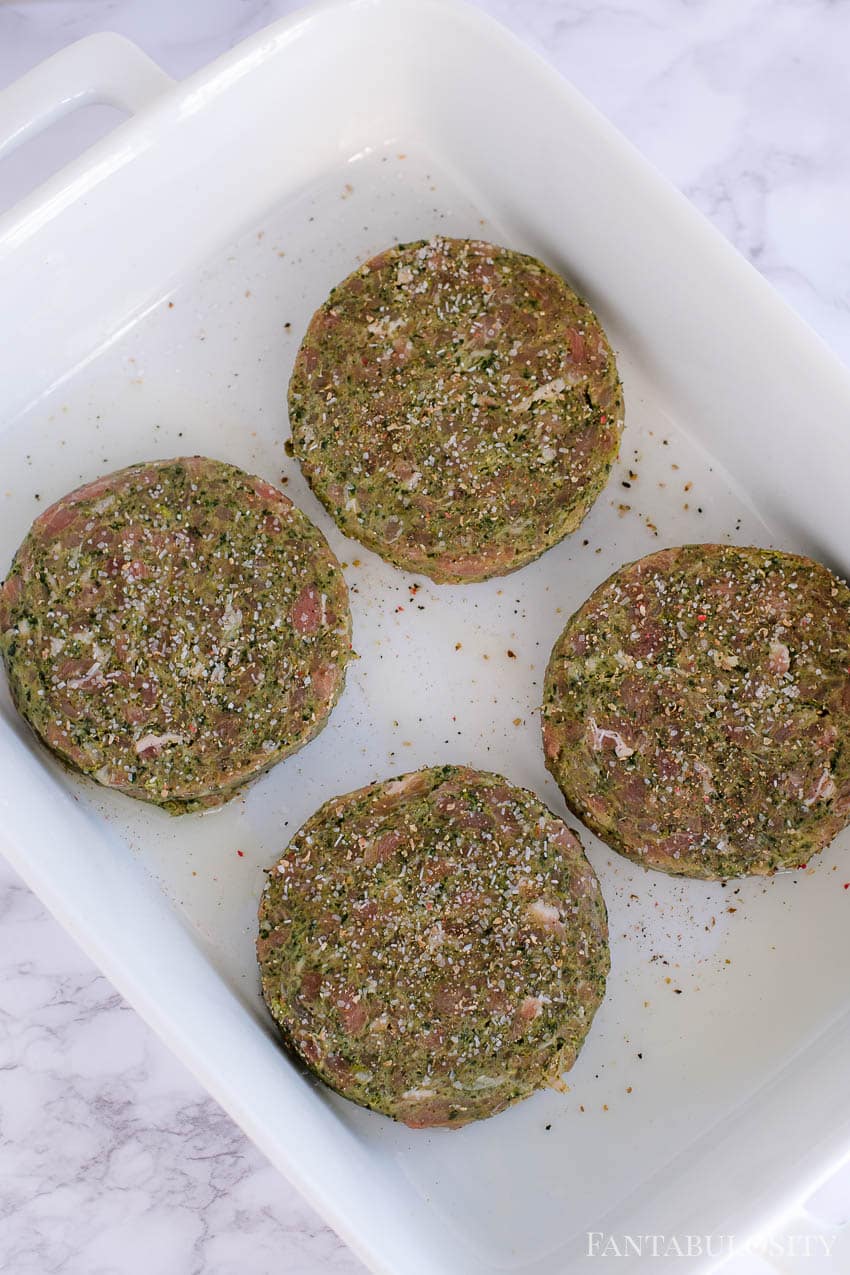 How Long to Cook Turkey Burgers in the Oven
Pop the baking dish with turkey patties into the preheated 375° oven and bake for 30 minutes, until it reaches an internal temperature of 165 degrees. We do this a lot for our burger recipes, and even use this method for our ground venison burgers!
How to Cook Turkey Bacon
One of my favorite ways to cook turkey bacon is in the skillet because of "how" I cook it.
My boys prefer crispy bacon, and with turkey bacon tending to lay flat, I like to form it while it's cooking to give it the texture that my boys are used to.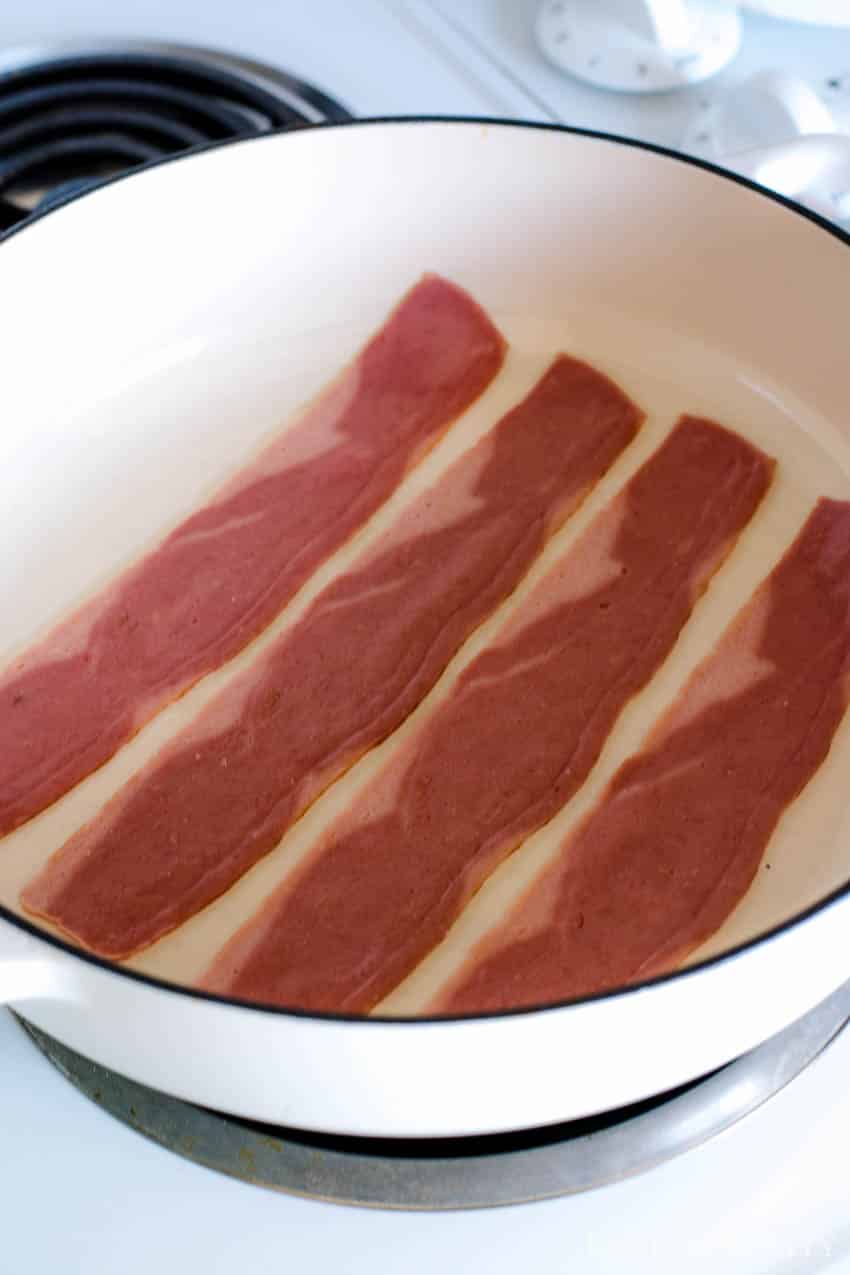 How to Make Turkey Bacon Crispy
I start by spraying my skillet with cooking spray and then line the skillet with a few pieces of turkey bacon. Then, flipping the bacon often will help crisp it up.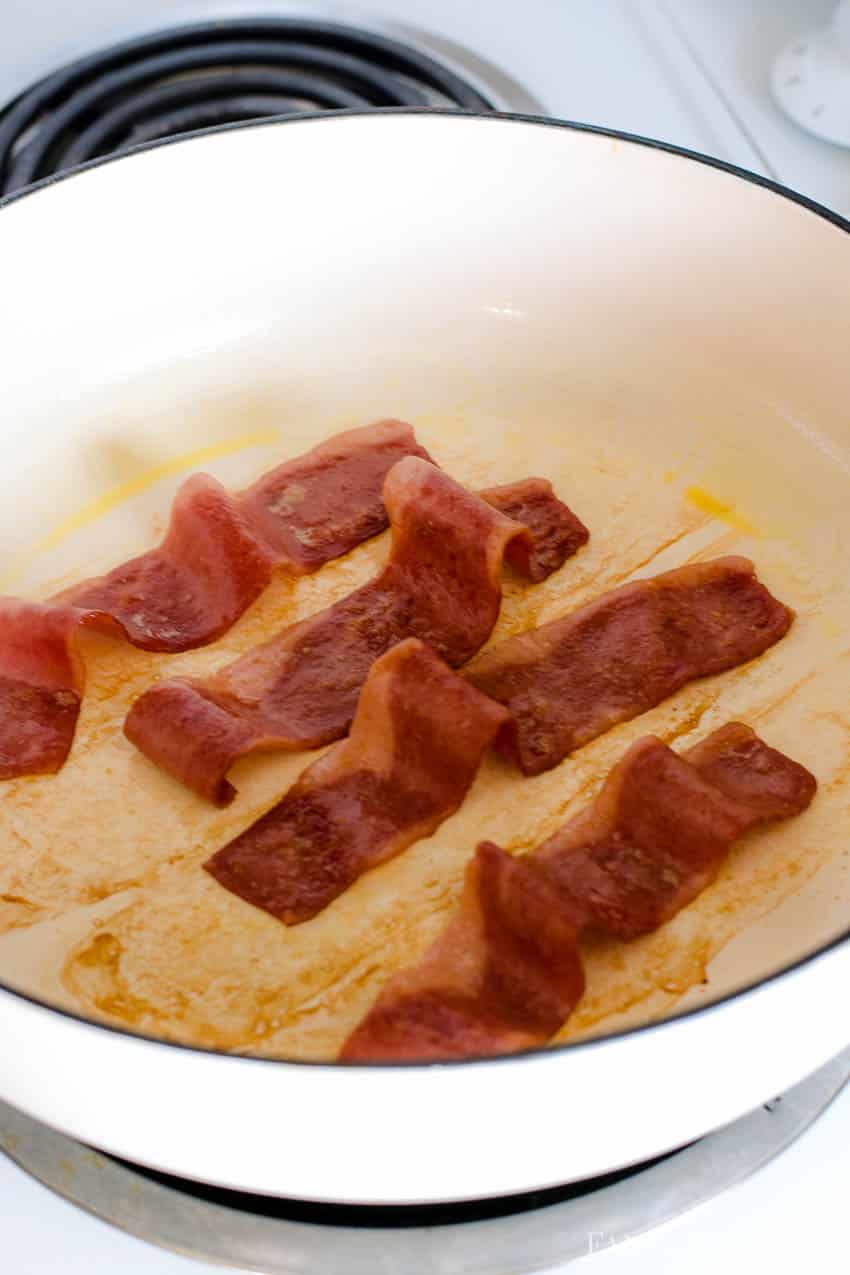 However, while it's cooking and I'm flipping, I'll also "pinch" the bacon with my tongs so it will mimic the bacon texture they're used to.
We're big texture people here if you haven't guessed.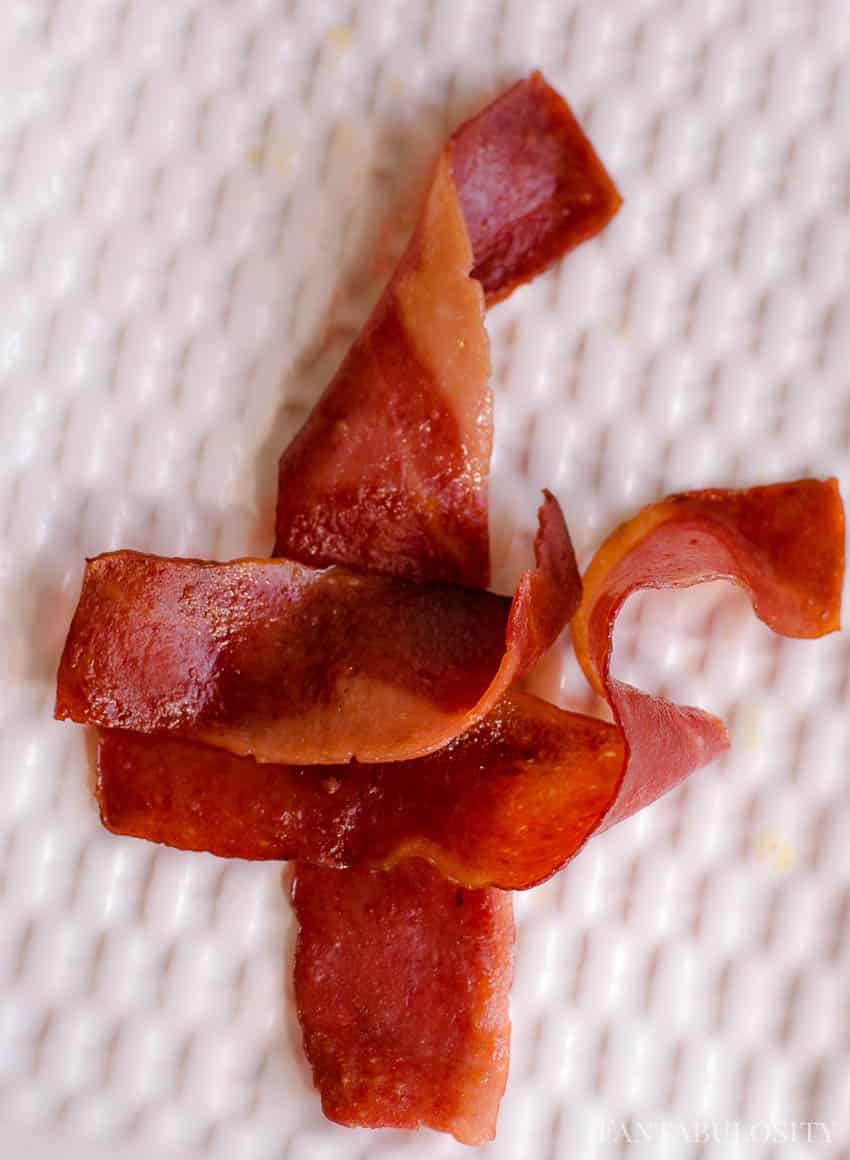 After the bacon is finished cooking, and the turkey patties are still baking, this a great time to mix up your fiesta mayo, or any sauce or aioli you plan on serving on your turkey burger club!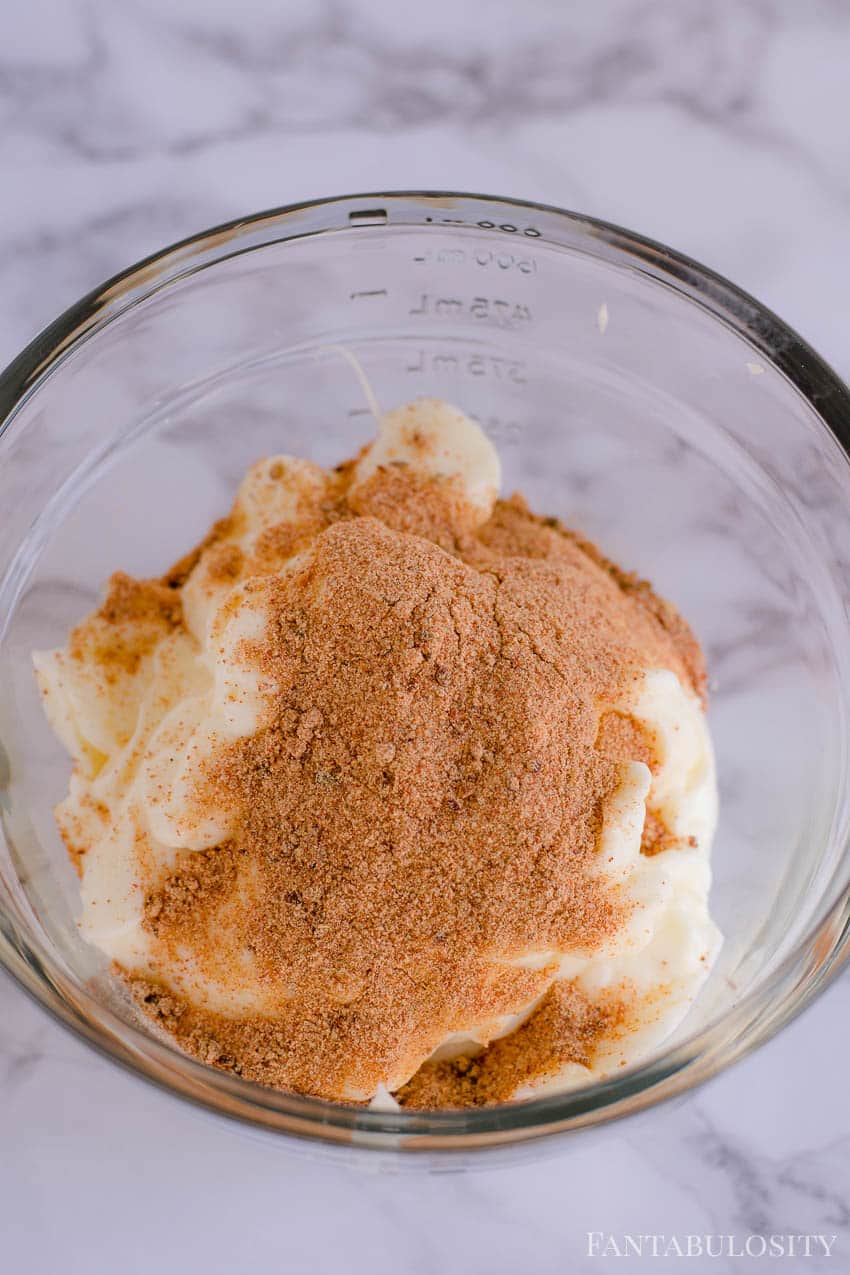 Fiesta Mayo Recipe
Using a 12 oz. container of mayo and a half a packet of Hidden Valley Fiesta Ranch Dips Mix (or similar dressing mix), mix the two together and you have a flavor of a mayo that will knock your socks off.
(Note, this will create more than you need for this recipe, so feel free to make a smaller batch.)
I learned this mayo trick from a delicious sandwich shop in my hometown, and I will forever be grateful.
TIP: If you LOVE having a sauce like this on hand, feel free to use a 30 oz. container of mayo and a full packet of the dressing mix.
Topping Ideas for Baked Turkey Burgers
For this baked turkey club burger recipe, I'm using toppings like the bacon that you saw above, and the following extras:
brick cheese
tomatoes
leaf lettuce
fiesta mayo
brioche buns
Once the burgers have baked for 30 minutes, pull the burgers out of the oven and top each turkey burger with a slice of cheese and place baking dish back in the oven for just seconds to allow the cheese to melt.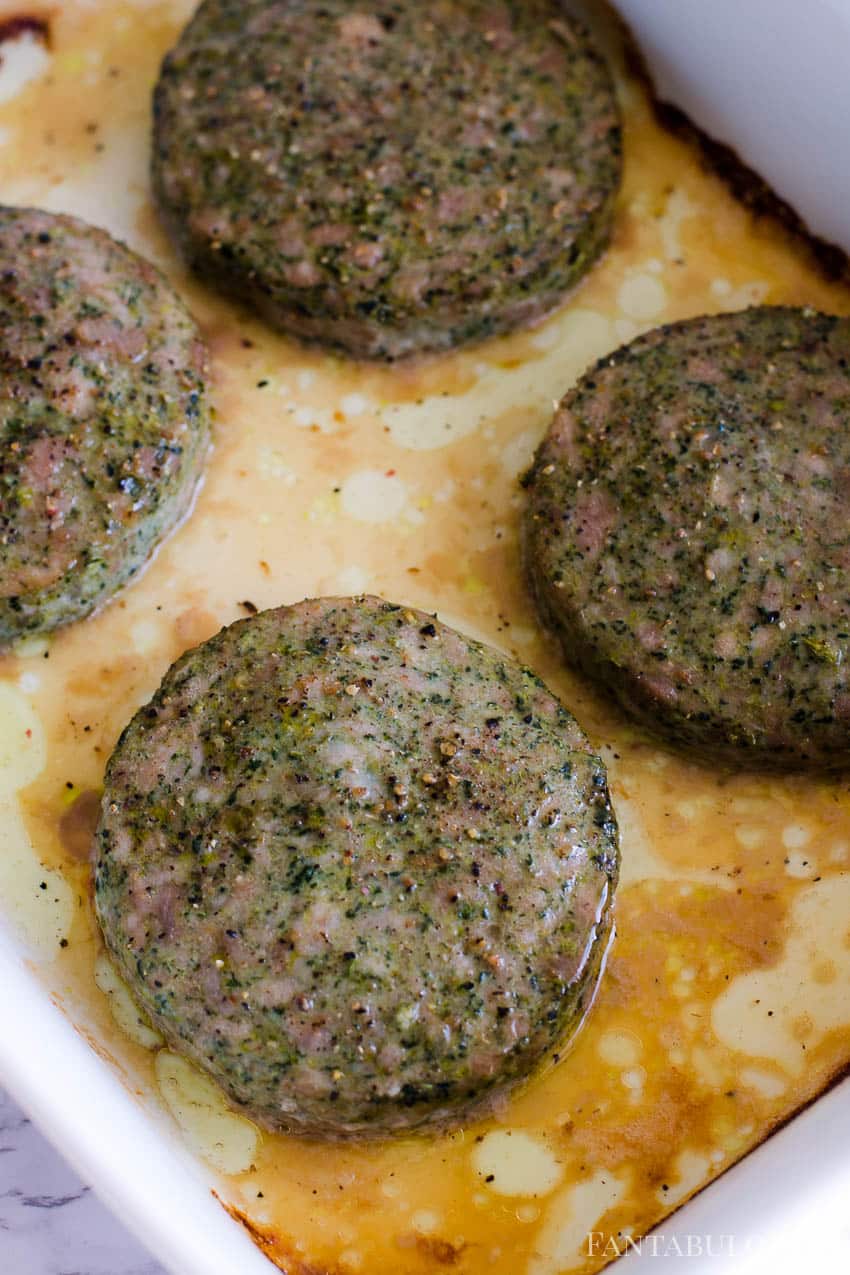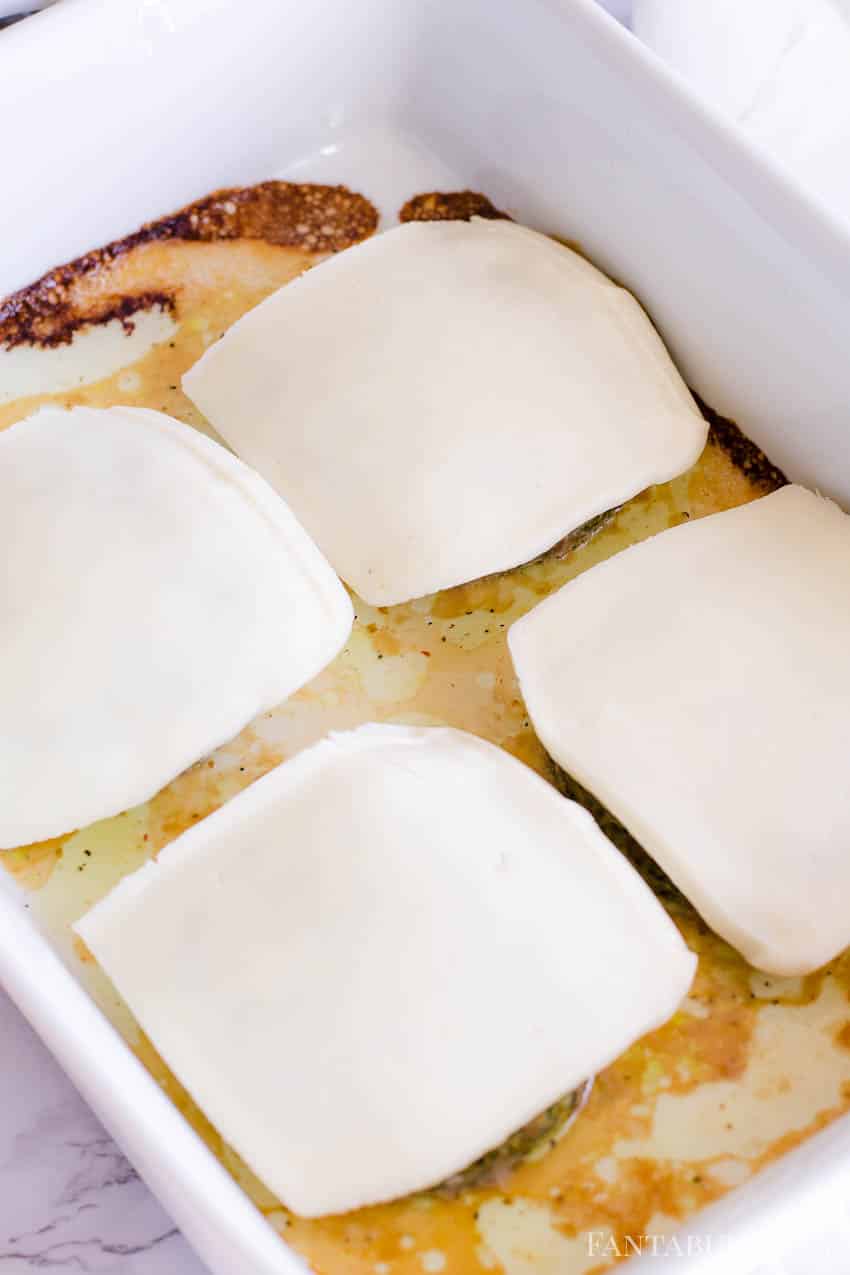 Once the cheese has melted, remove your baking dish from the oven and top your burger with what you desire!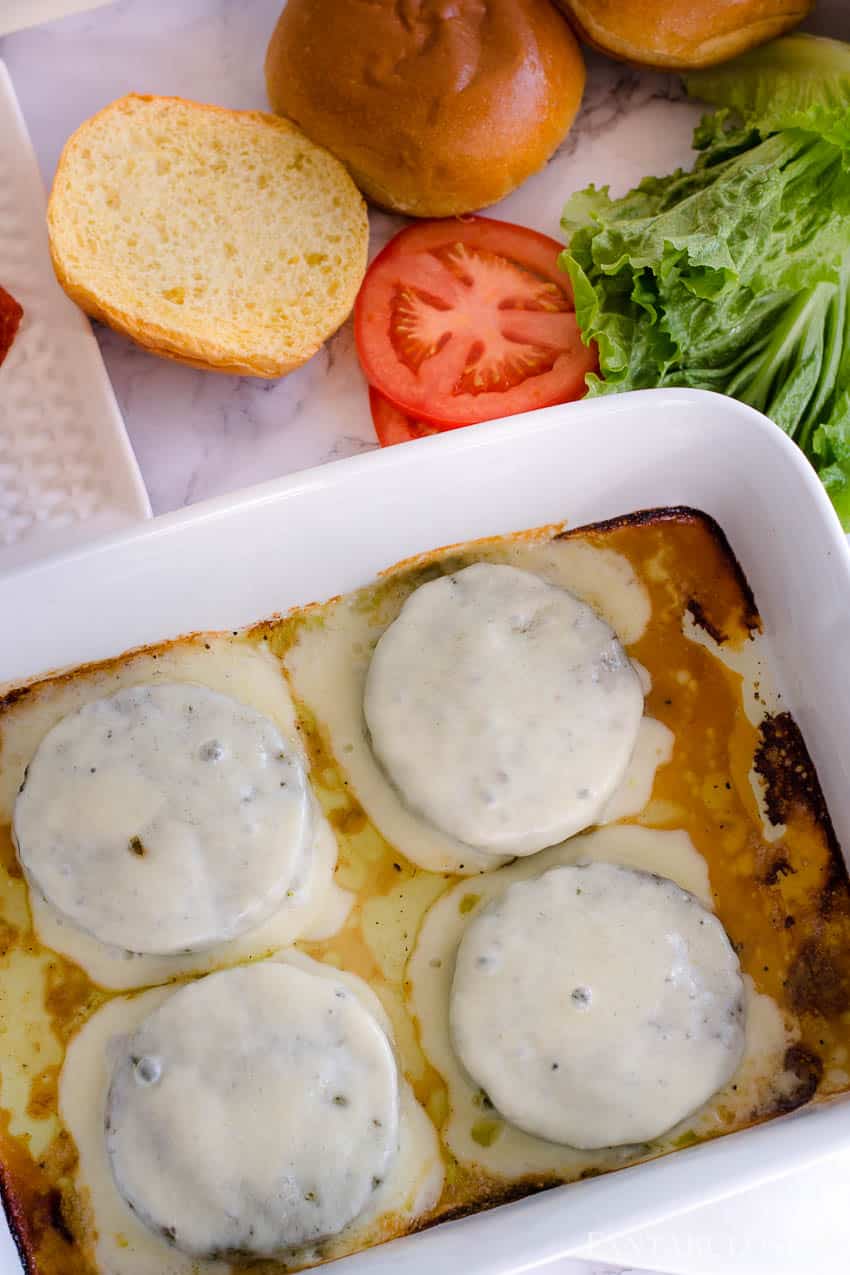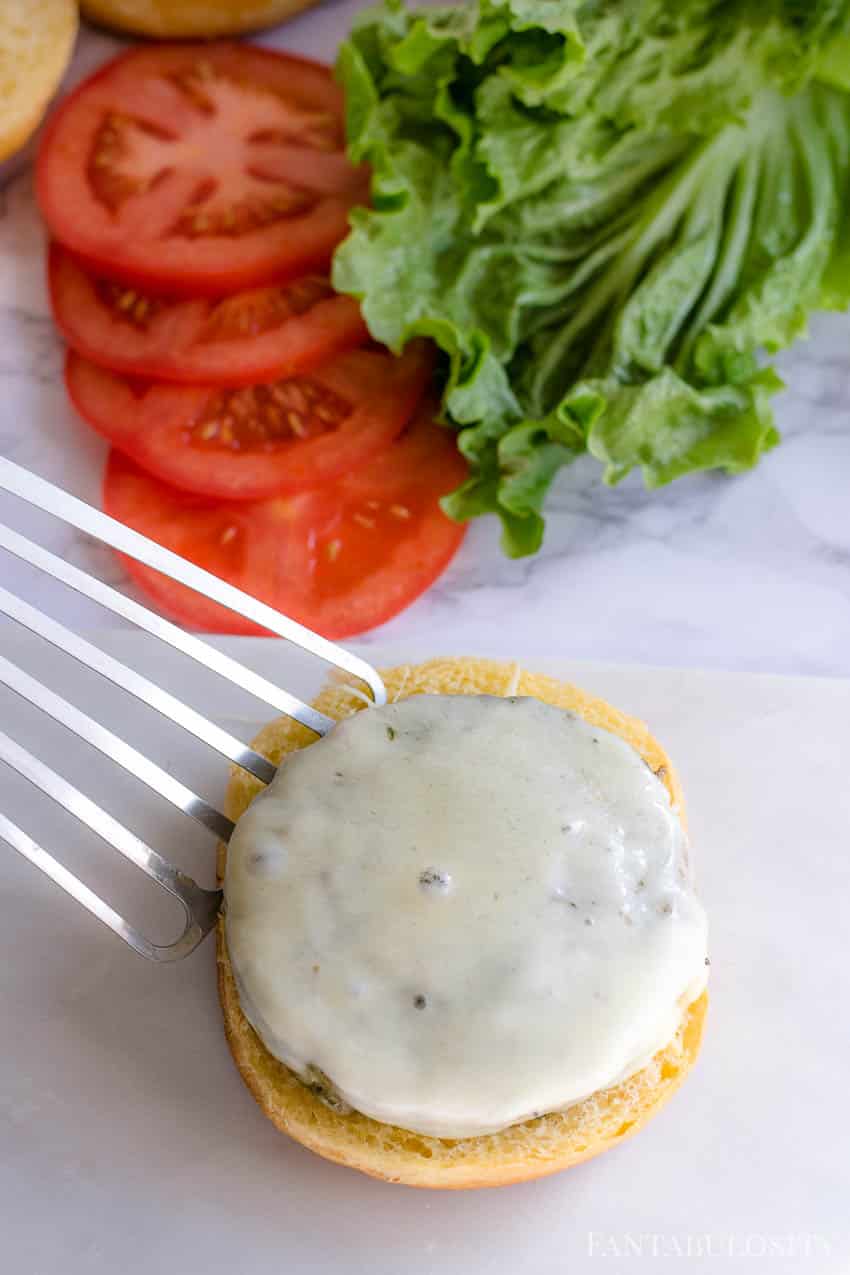 Like, turkey bacon…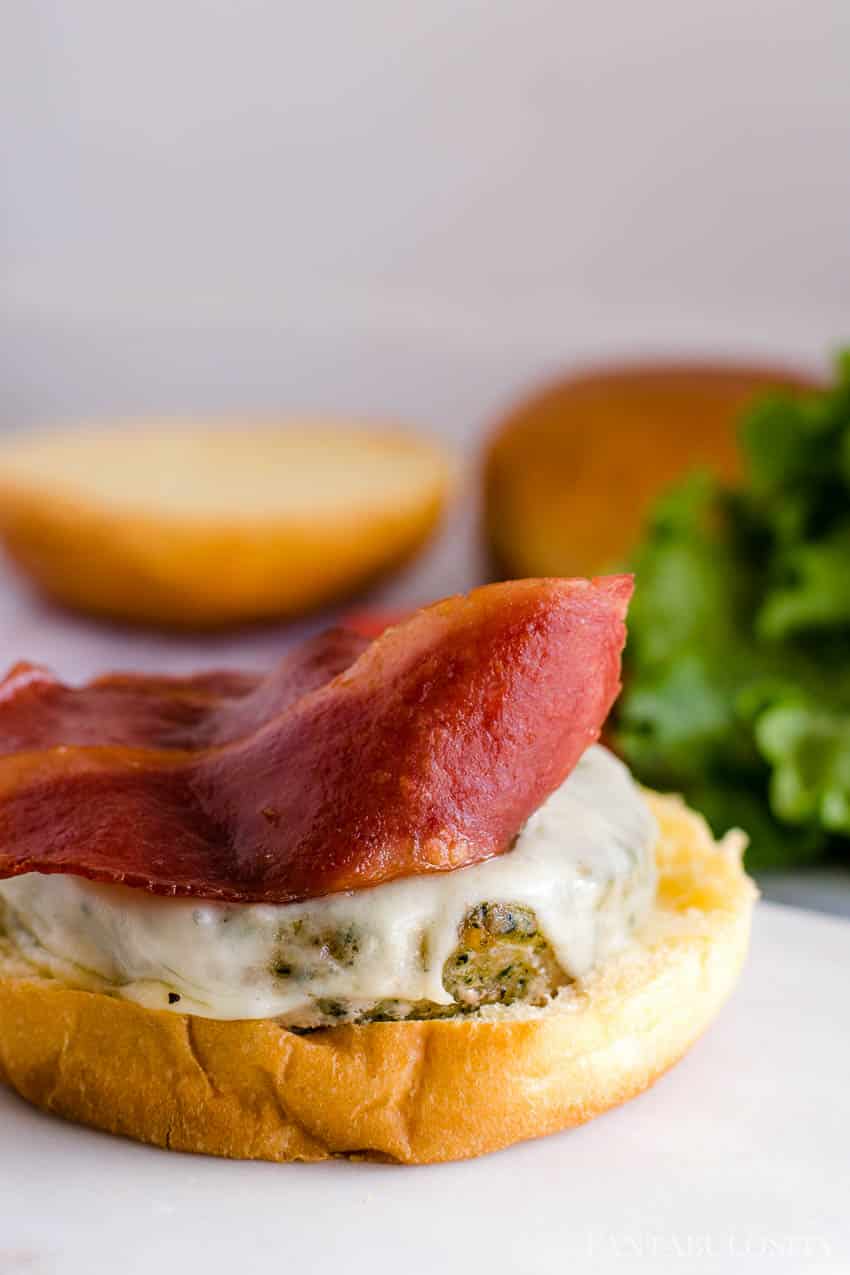 tomato…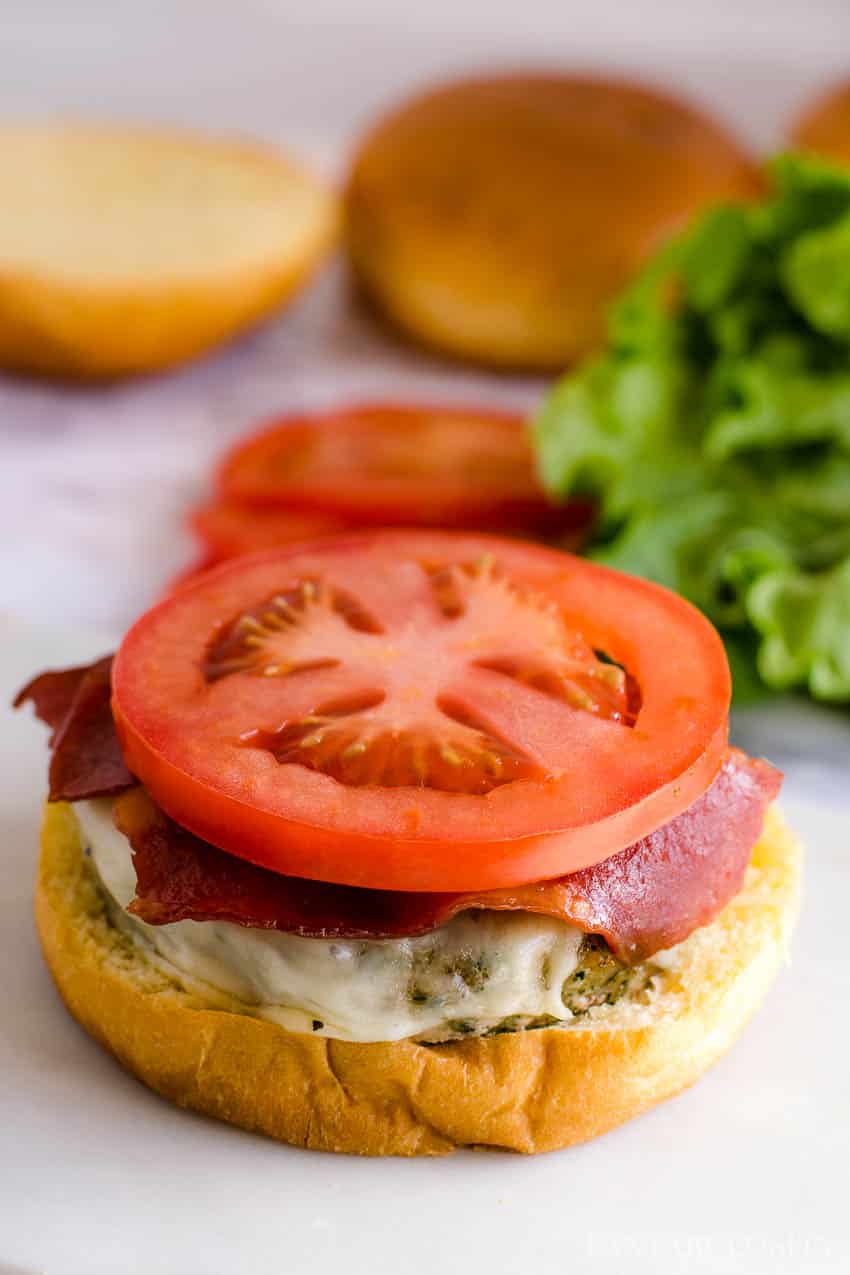 leaf lettuce…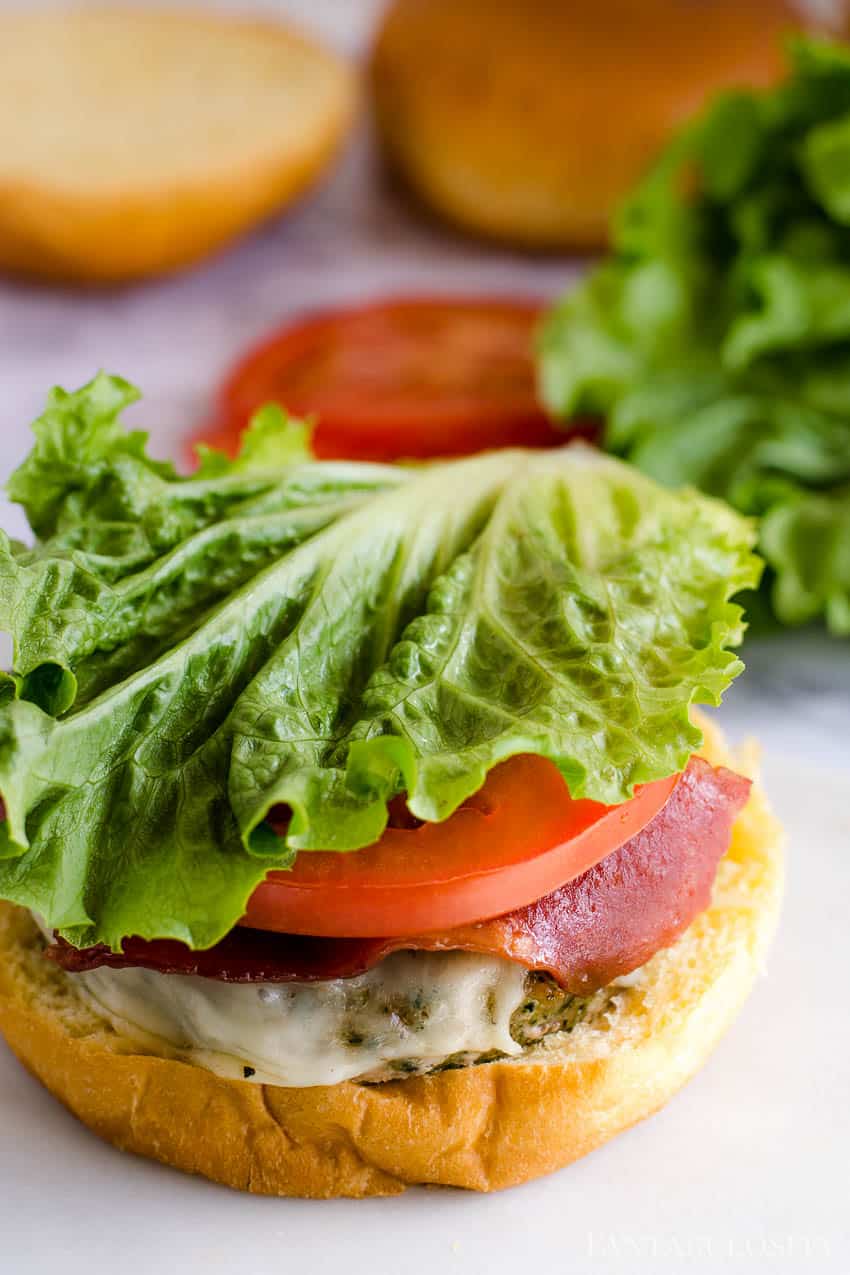 fiesta mayo (or similar sauce)…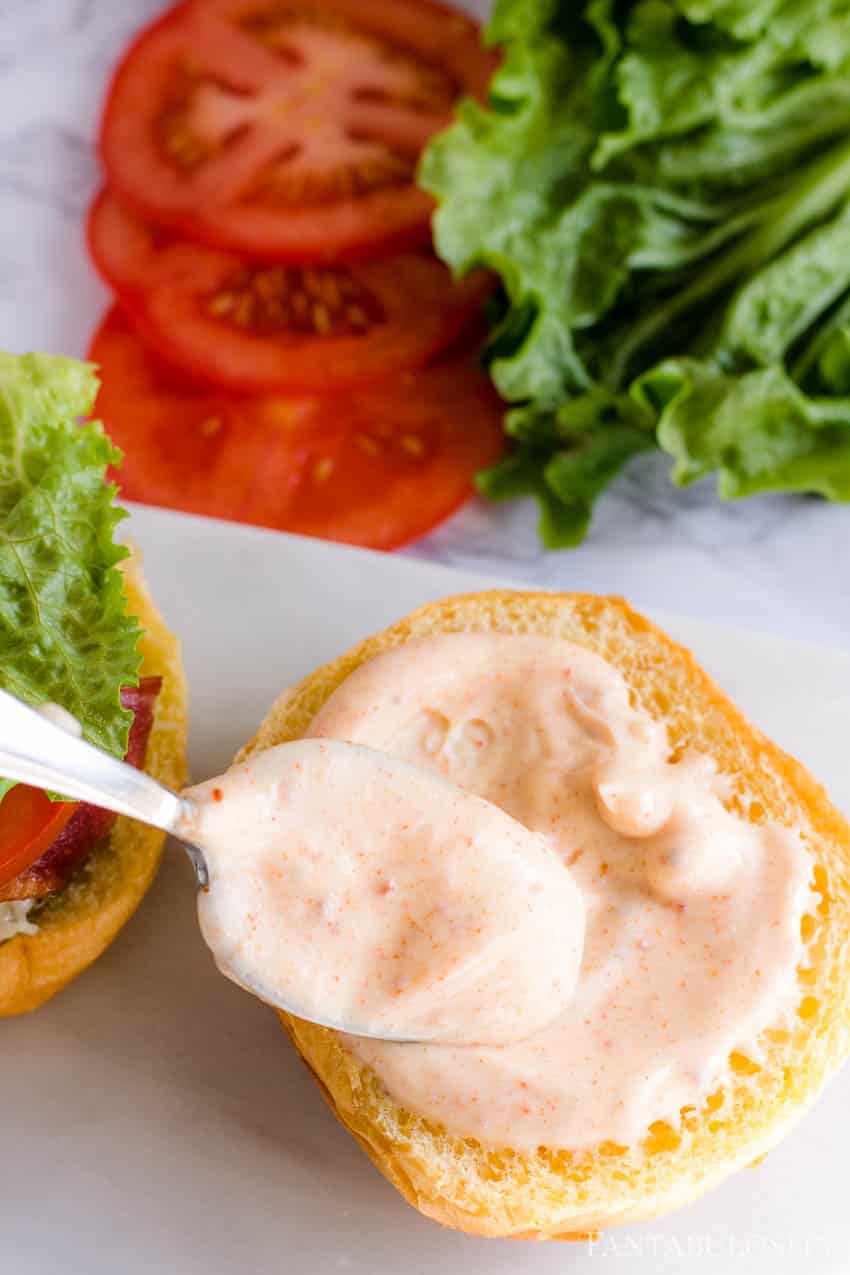 then top with a brioche bun, and enjoy!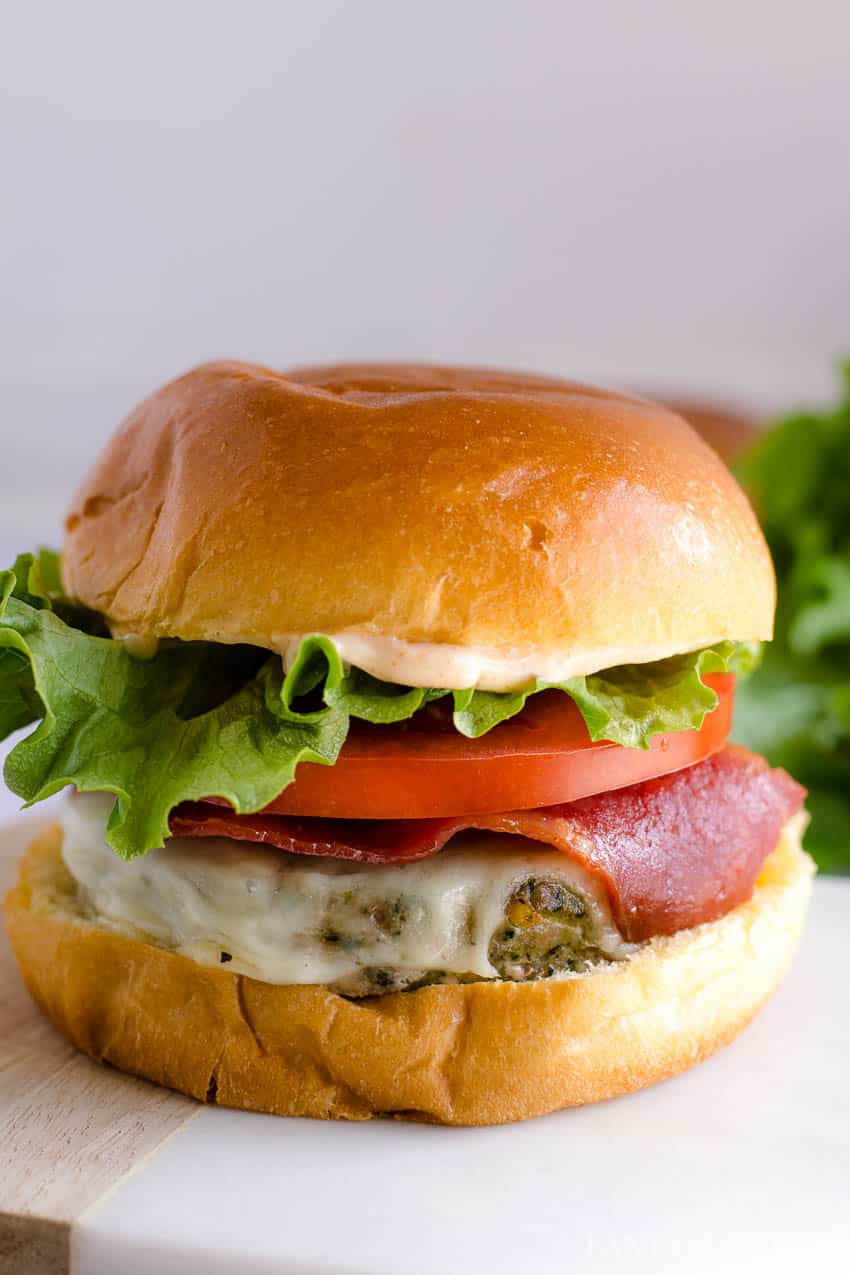 …and I mean it, I have a feeling that you WILL enjoy these as much as we did!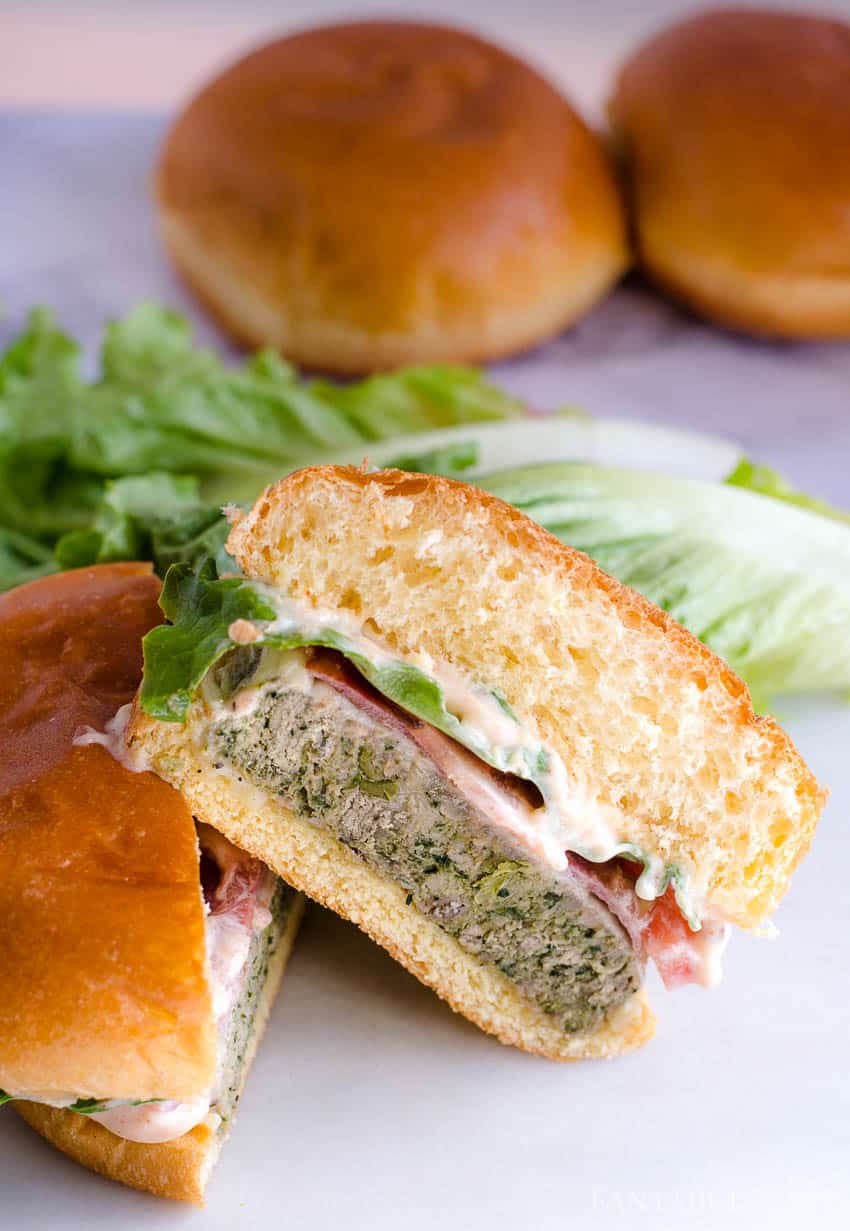 Related Recipes
If you loved making this recipe in the oven, then you'll also love these hot ham and cheese sandwiches!
📖 Recipe
Baked Turkey Burgers Recipe
Baked Turkey Burgers – Cooking turkey burgers in the oven is EASY! It locks in juices and there's less mess!
Ingredients
4

Turkey Patties or 1 lb. ground turkey, formed in to 4 patties

plain or choice of flavored

salt

to taste

pepper

to taste

4

slices

cheese

I used "brick cheese"

4

brioche or hamburger buns

4

slices

tomato

4

lettuce leaves

4

slices

bacon

4

tablespoon

fiesta mayo

recipe in post, or choice of sauce
Instructions
Begin by preheating your oven to 375 degrees.

Line a baking dish (big enough to fit 4 turkey patties without touching) with olive oil

Season both sides of turkey patties with salt and pepper if you wish, and place them in baking dish. Bake for 30 minutes.

White turkey patties are baking, fry your turkey bacon in a skillet. See above for tips for frying bacon!

This is also a good time to mix up your fiesta mayo (or other condiment/sauce you wish to make).

When turkey burgers have reached 30 minutes, the internal temperature of each burger should be 165 degrees, before consuming.

If turkey burgers are to 165, place one slice of cheese on each burger and place back in the oven for seconds (or a few minutes) to allow the cheese to melt.

Remove burgers from oven and build turkey club by stacking on a brioche bun, bacon, lettuce, tomato and fiesta mayo! Enjoy!
Notes
Please keep in mind that the nutritional information provided below is just a rough estimate and variations can occur depending on the specific ingredients used. 
You can use pre-pattied burgers or patty out your own! For 4 burgers, you'll need at least 1 lb. of ground turkey.
Feel free to use pre-seasoned or regular turkey burgers for this recipe.
Nutrition
Serving:
4
people
|
Calories:
871
kcal
|
Carbohydrates:
41
g
|
Protein:
49
g
|
Fat:
54
g
|
Saturated Fat:
22
g
|
Cholesterol:
300
mg
|
Sodium:
1108
mg
|
Potassium:
193
mg
|
Sugar:
1
g
|
Vitamin A:
3135
IU
|
Vitamin C:
8
mg
|
Calcium:
288
mg
|
Iron:
3.1
mg
Nutritional information is based on third-party calculations and should be considered estimates. Actual nutritional content will vary with brands used, measuring methods, portion sizes and more.
Did You Make This?
Snap a pic and hashtag it #Fantabulosity — I love to see your creations on Instagram, Facebook, and Twitter!
How Will YOU Fix Your Turkey Burgers?
I'd love to hear if you've tried these, will try and what you think of them! Drop a note in the comments below to let me know!
Sides to go with Turkey Burgers
Need a side dish for your turkey burgers? Then you'll love these:
More Oven-Baked Recipes
Pin this Image to Remember It: