Air Fryer Burgers: In 10 minutes you'll have juicy burgers that will make you wonder why you ever cooked them on the stove!
Air Fryer Burgers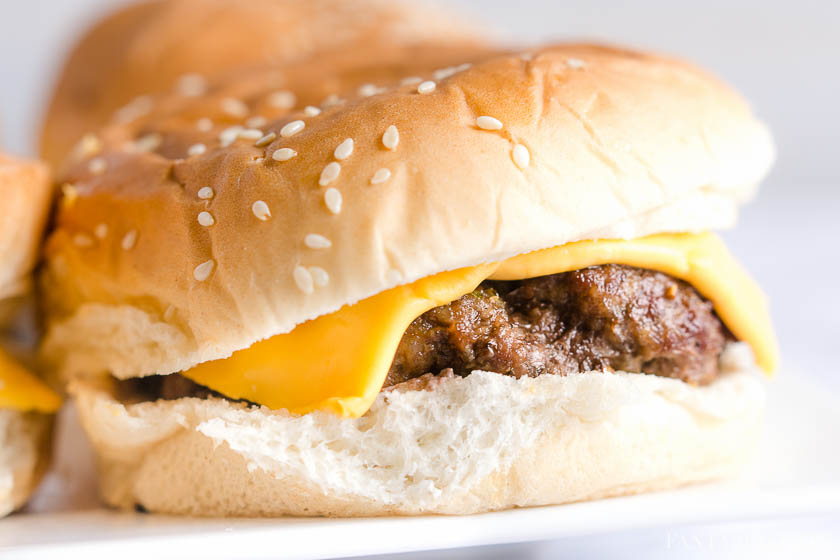 "Can you cook a hamburger in the air fryer?"
Why yes you can, and you may wonder why you waited so long to try it, now that you're about to find out just how easy it is and how good the hamburgers (or cheeseburgers) are when they're done!
Now don't get me wrong, hamburgers in the oven are also a favorite way to cook them, and I do cook them that way when my air fryer is tied up cooking french fries or potato wedges. But I think the air fryer is my all-time favorite way to cook hamburgers now.
You'll also love:
How to Cook Burgers in the Air Fryer
If you're starting with a pound of ground beef, patty out 4 burgers (or 3 larger patties) and place on a plate to season.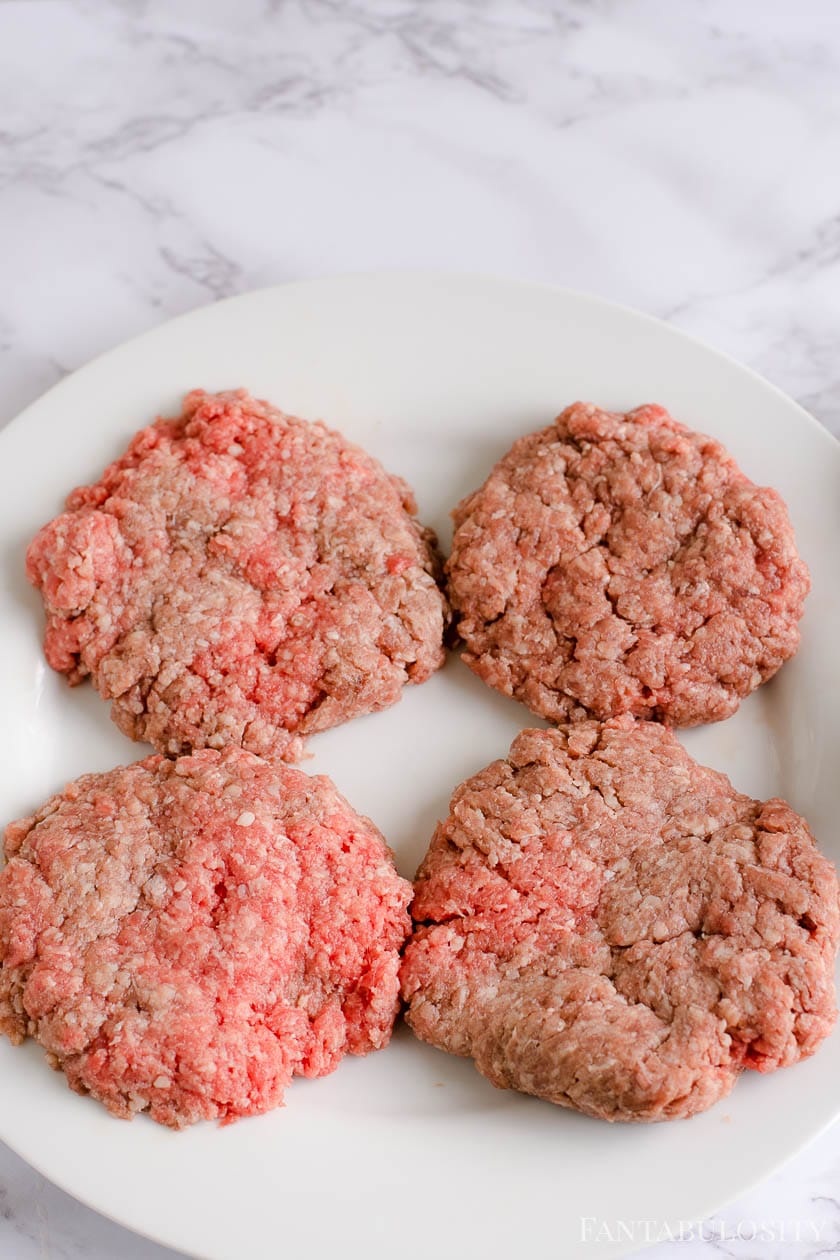 Season one side of the burgers with salt and pepper, to taste. (We prefer to use kosher salt and peppercorn medley, however table salt/Himalayan salt or ground black pepper will do!)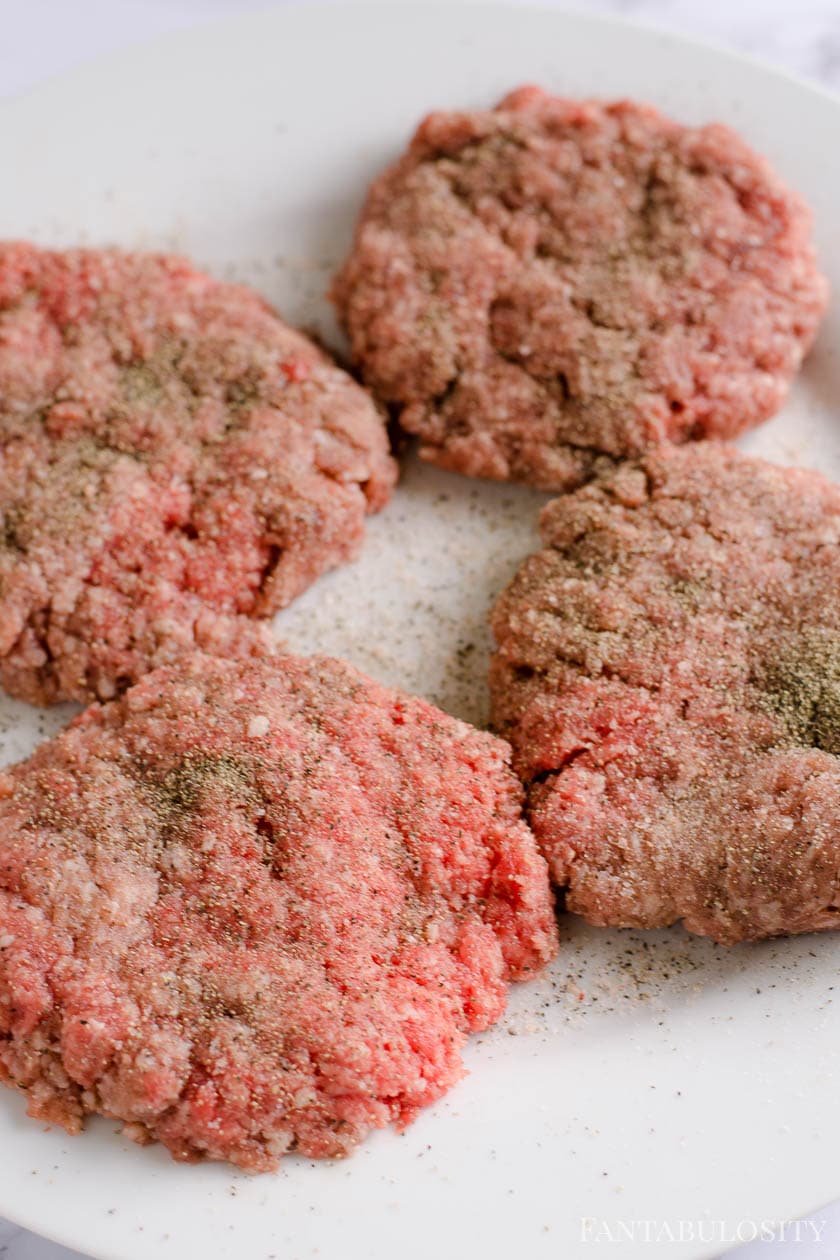 Place the burgers in the air fryer basket (our Chefman air fryer is non-stick so no cooking spray is required), seasoned side down.
Then, season the top-facing side of the patties with salt and pepper as well.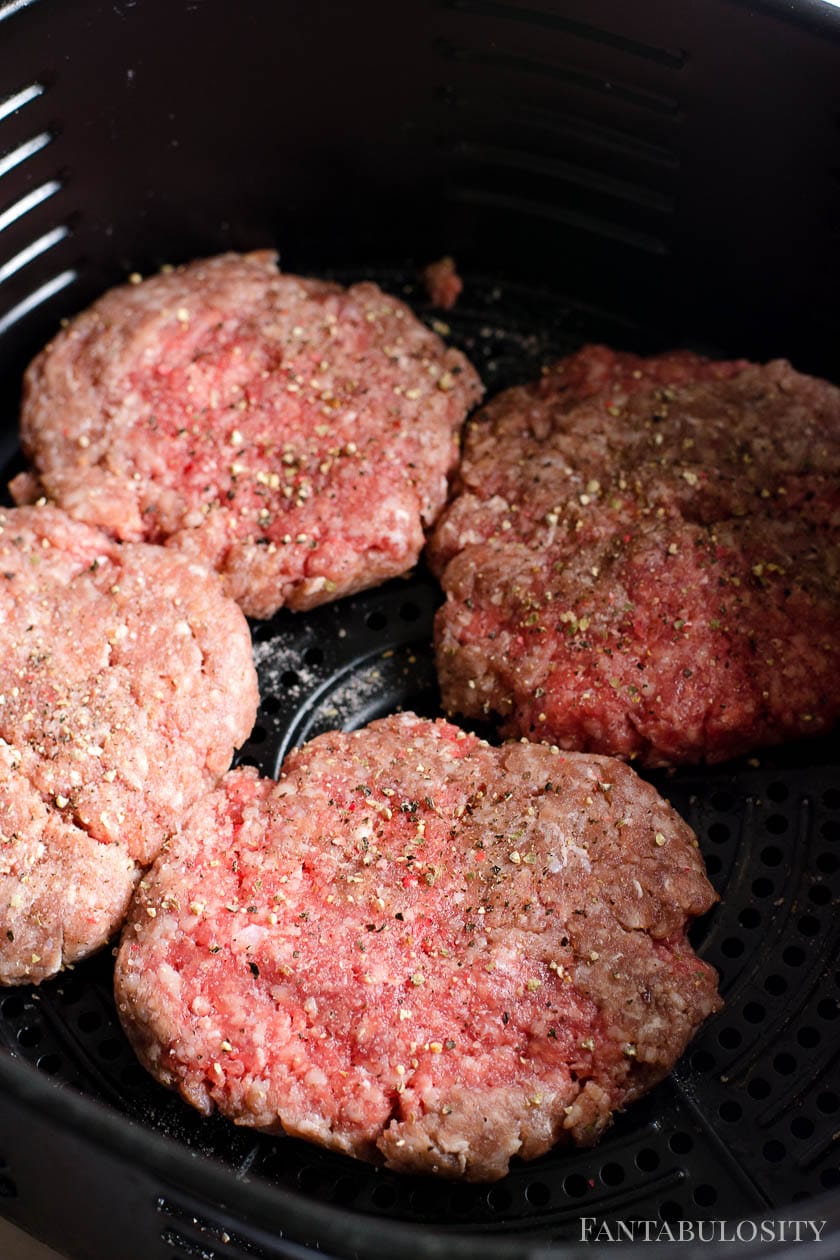 How long does it take to cook a hamburger in an air fryer?
Each air fryer can be different, but with our Chefman air fryer, we love our burgers cooked at 400 degrees for about 10 minutes. You may find that yours needs to cook a little longer or not as long.
Do I need to flip the burgers?
We find in our air fryer that we don't need to flip the burgers! However, this may vary depending on the type of fryer you're using.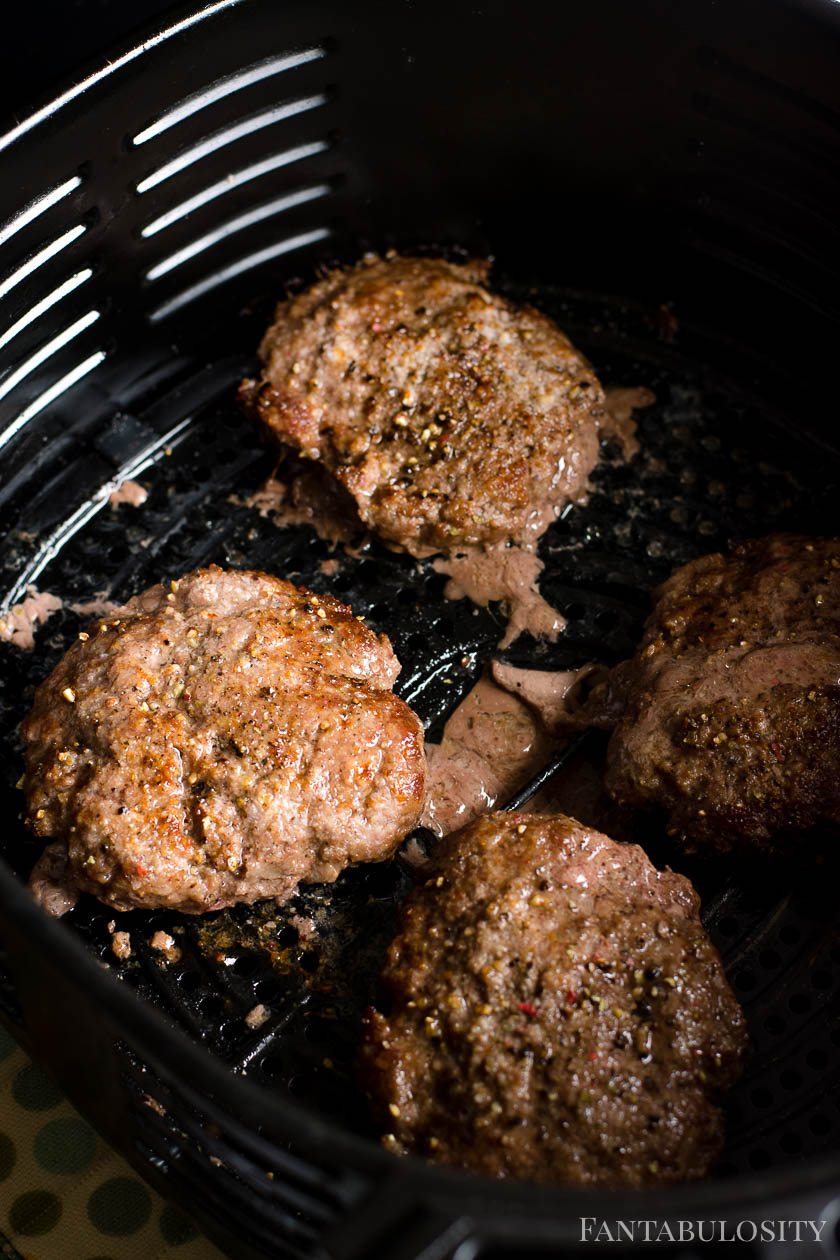 Toast and Steam the Burgers
One of our favorite things to do with burgers is to remove the burgers after cooking and build the burger with cheese and a bun.
After assembling the burgers, we place them back in the air fryer (if it's still warm) and let them sit for about a minute. (We do NOT turn the air fryer on because it can make the buns/cheese fly around. So we just let the heat from the previous cooking session, melt the cheese and toast the bun!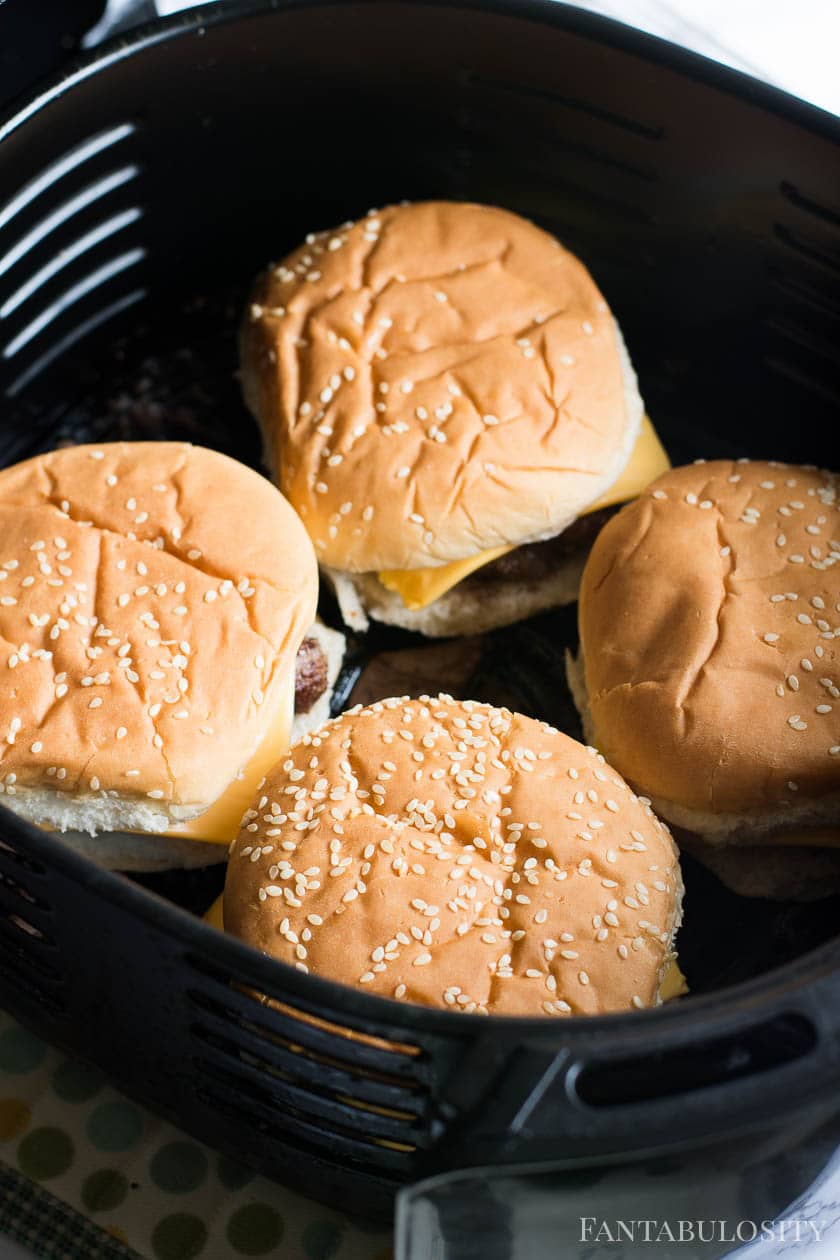 What should the internal temperature for hamburgers be?
Some like a little pink left in their hamburgers, but we prefer our burgers to be fully cooked. (Not well done and dry, but at least with no pink showing.)
But the internal temperature of burgers should reach at least 160°.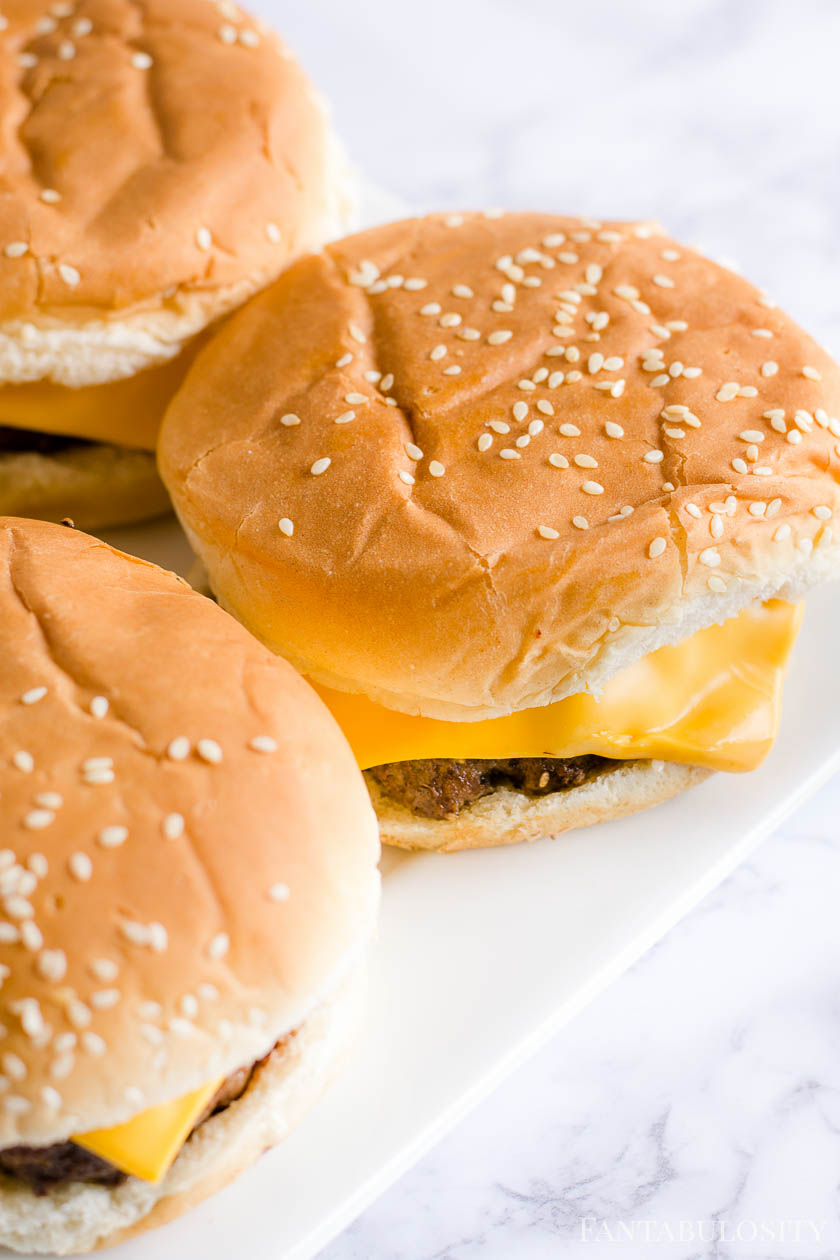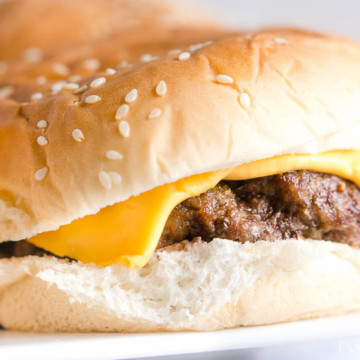 Air Fryer Burgers
Air Fryer Burgers: In 10 minutes you'll have juicy burgers that will make you wonder why you ever cooked them on the stove!
Ingredients
4

hamburger patties

salt

to taste

pepper

to taste

4

hamburger buns

4

slices

cheese

optional
Instructions
Season both sides of hamburger patties with desired amount of salt and pepper.

Place burgers inside of air fryer, making sure not to overlap the burgers. (We don't use non-stick spray due to the air fryer having a non-stick coating.)

Set air fryer temperature to 400° and the timer to 10 minutes.

OPTIONAL: Once the timer is up, assemble burgers on to buns with a slice of cheese and place back in to the warm air fryer for an additional minute to steam and toast the burgers. (Do not turn the air fryer on, as it may cause the buns and cheese to blow around and not melt/toast together.)
Nutrition
Serving:
1
burger
Calories:
463
kcal
Carbohydrates:
22
g
Protein:
28
g
Fat:
29
g
Saturated Fat:
13
g
Cholesterol:
89
mg
Sodium:
473
mg
Potassium:
386
mg
Fiber:
1
g
Sugar:
3
g
Vitamin A:
281
IU
Vitamin C:
1
mg
Calcium:
284
mg
Iron:
4
mg
What to Serve as a Side Dish with Burgers?
Well, we're HUGE fans of this side salad recipe because it goes with EVERYTHING! But here are a few other side dish recipes that we think go really well with burgers:
Bacon Ranch Pasta Salad – whip up the bacon in the air fryer before the burgers and add it to this pasta salad and to the burgers!
Grab some chips and dip them in this guacamole recipe that is a Fantabulosity favorite!
Garlic roasted broccoli is a healthy side dish option that is super easy and can cook in the oven while the burgers are cooking in the air fryer!
Frozen Air Fryer Burgers
If your burgers are frozen, you can still cook them in the air fryer. However, (depending on the thickness) I would reduce the temperature of the air fryer from 400° to 375° and cook for about 15 minutes, checking to see if they're cooked through, to an internal temp of 160°.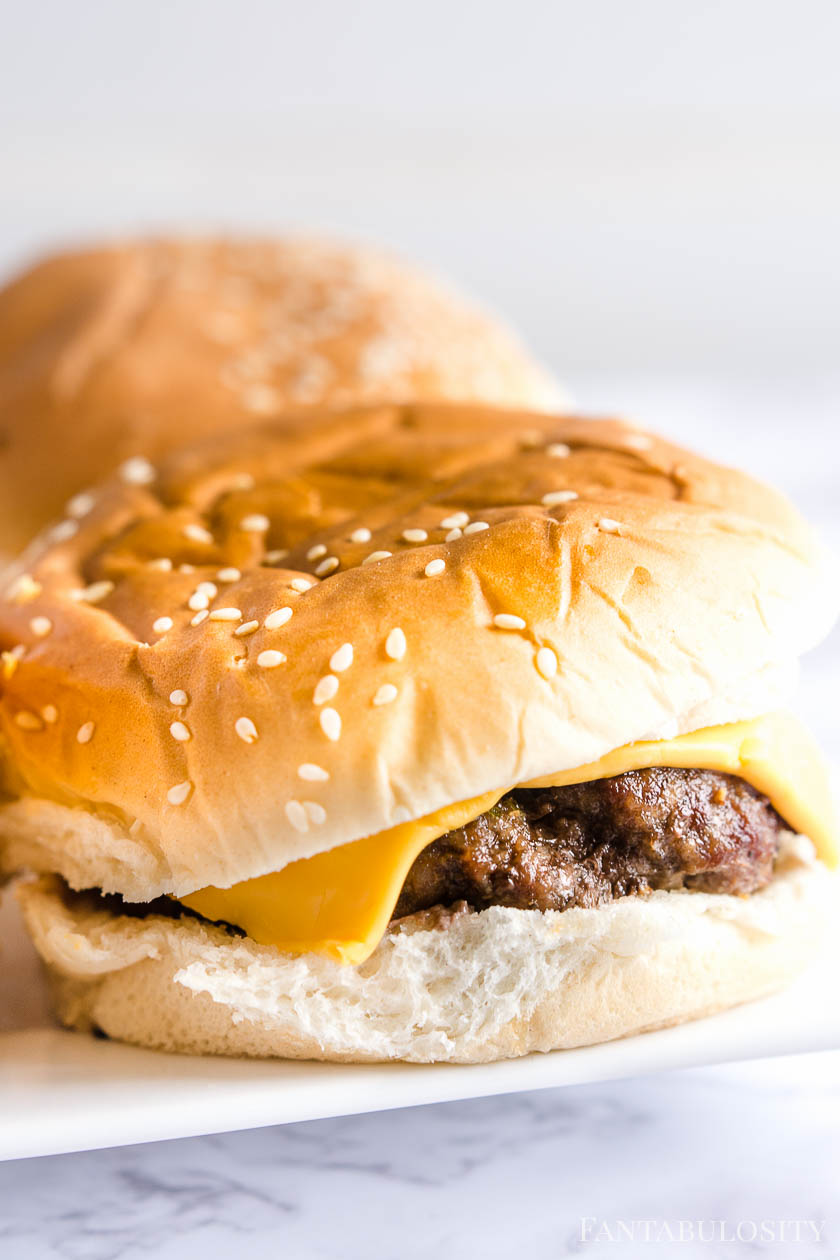 Love Easy Dinner Ideas?
If you struggle with coming up with dinner ideas that your family will love, while making sure you don't spend a ton of time in the kitchen… then make sure to get your hands on the NEW Fabulously Fast Dinners Cookbook where I give you easy main dish recipes and pair each one with a side dish recipe!