Air Fryer Brats: Cooking brats in the air fryer is an easy way to cook them and it leaves them with a golden, outer edge crisp with a juicy flavor!

Brats only take about 10 minutes in a 400° air fryer so dinner or lunch is on the table in a flash!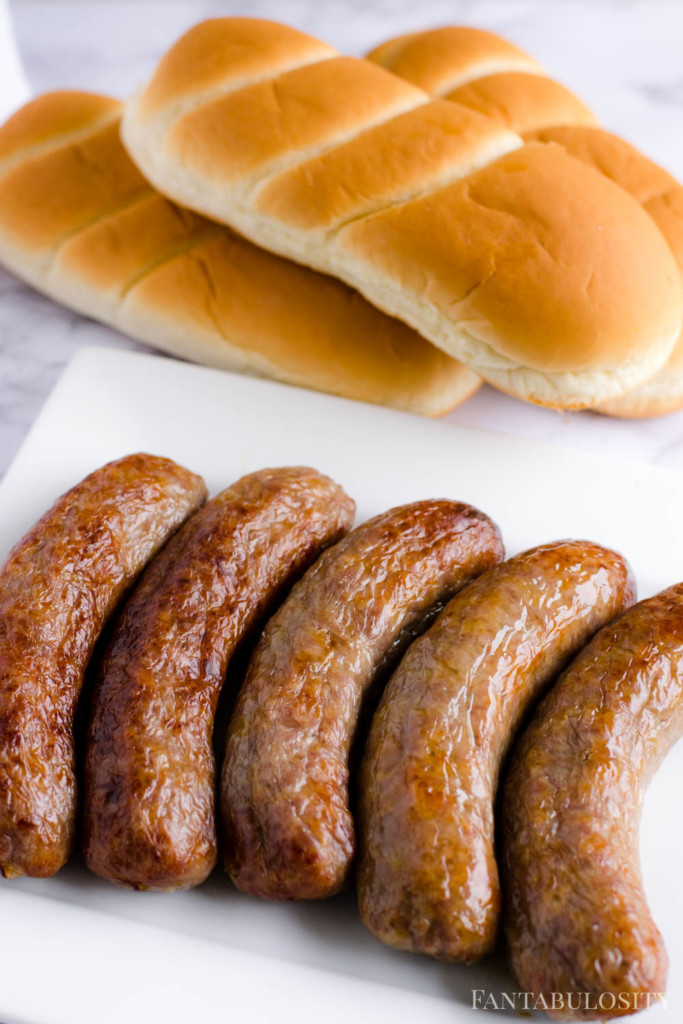 Jump to:
Why You'll Want to Cook Brats in the Air Fryer
Sure, cooking brats in the oven is easy. But for some reason, using the air fryer almost feels easier… and perhaps it's because you don't have to heat up the entire oven just for a small batch of brats.
And honestly, I almost feel silly calling this a "recipe" since it's so stinking easy. You open the package of brats, you put them in the air fryer and then you eat them. That's it!
But… it IS helpful to know how long to cook brats in the air fryer and what temperature to cook brats, AND to see what kinds of toppings you can have for brats… so I decided it was necessary to go ahead and create this "recipe".
Cooking Raw Brats in the Air Fryer
Now for this recipe, I'm using raw, or uncooked, brats from the grocery store.
Can you reheat pre-cooked or leftover sausages (brats)? You bet… it won't take as long, but it's definitely the way I re-heat them. For some reason, it's so much better in the air fryer!
Now, if you ask me, my favorite brats are the flavored brats… and I'm talking the brats that you can't get at the grocery store. I love finding hole in the wall butcher shops to see if they offer out-of-the-box flavors in uncooked brats like: chipotle brats, maple & brown sugar, and pb&j (ok… so I'm still holding out on finding that flavor, if it is a thing.)
More Air Fryer Recipes You'll Love:
How to Cook Brats in the Air Fryer
Depending on your air fryer model, some say to preheat before cooking. But let's get real… I'm cooking brats… not a gourmet soufflé. So I just place them in the basket and get to cooking.
How long do you cook brats in the air fryer?
When I don't preheat my air fryer, I like to cook them at 400° for about 10 minutes. (Or until the internal temperature reaches 160°.)
NOTE: If you preheat your air fryer, your cook time may not be as long.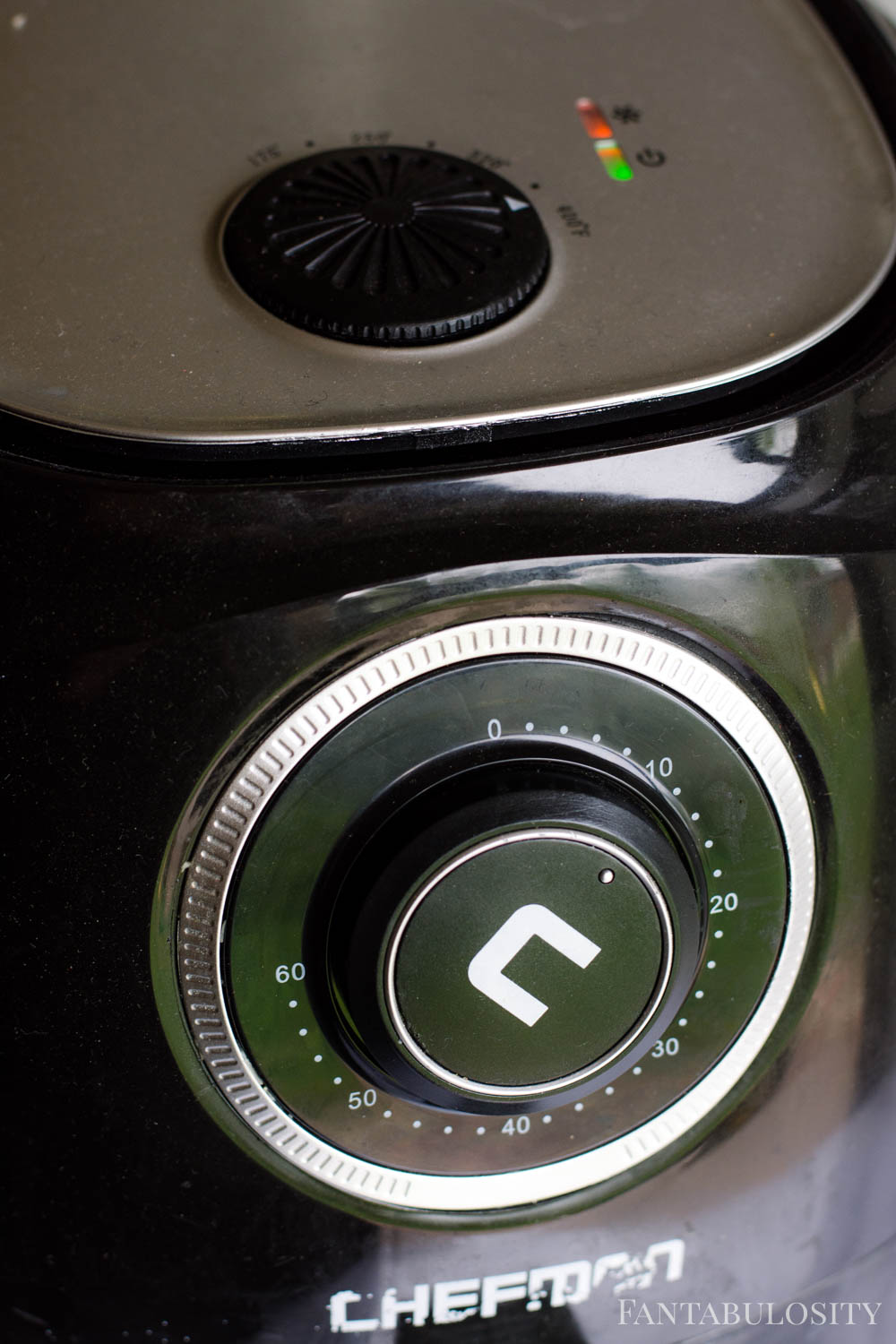 "Do I Have to Flip Brats in the Air Fryer?"
You don't have to but if you can, it does help it cook through more evenly. But I'll say… my Chefman air fryer is a boss and it rarely fails me if I forget to flip. But for those who use an air fryer/toaster oven combo… it may be more ideal to flip the brats after 5 minutes.
Johnsonville Brats
Johnsonville is the standard in our house unless we visit a butcher shop and get a fun, local flavor.
Johnsonville has a lot of different flavors of brats and sausages that we like to rotate through, like:
Irish O'Garlic
Hot & Spicy
Cheddar & Bacon
… and more flavors that you can see on their website!
But for today's recipe, we're sticking with the Original brats. Honestly, it's what my kiddos prefer so I save these for them and then my husband and I branch out on the fun flavors.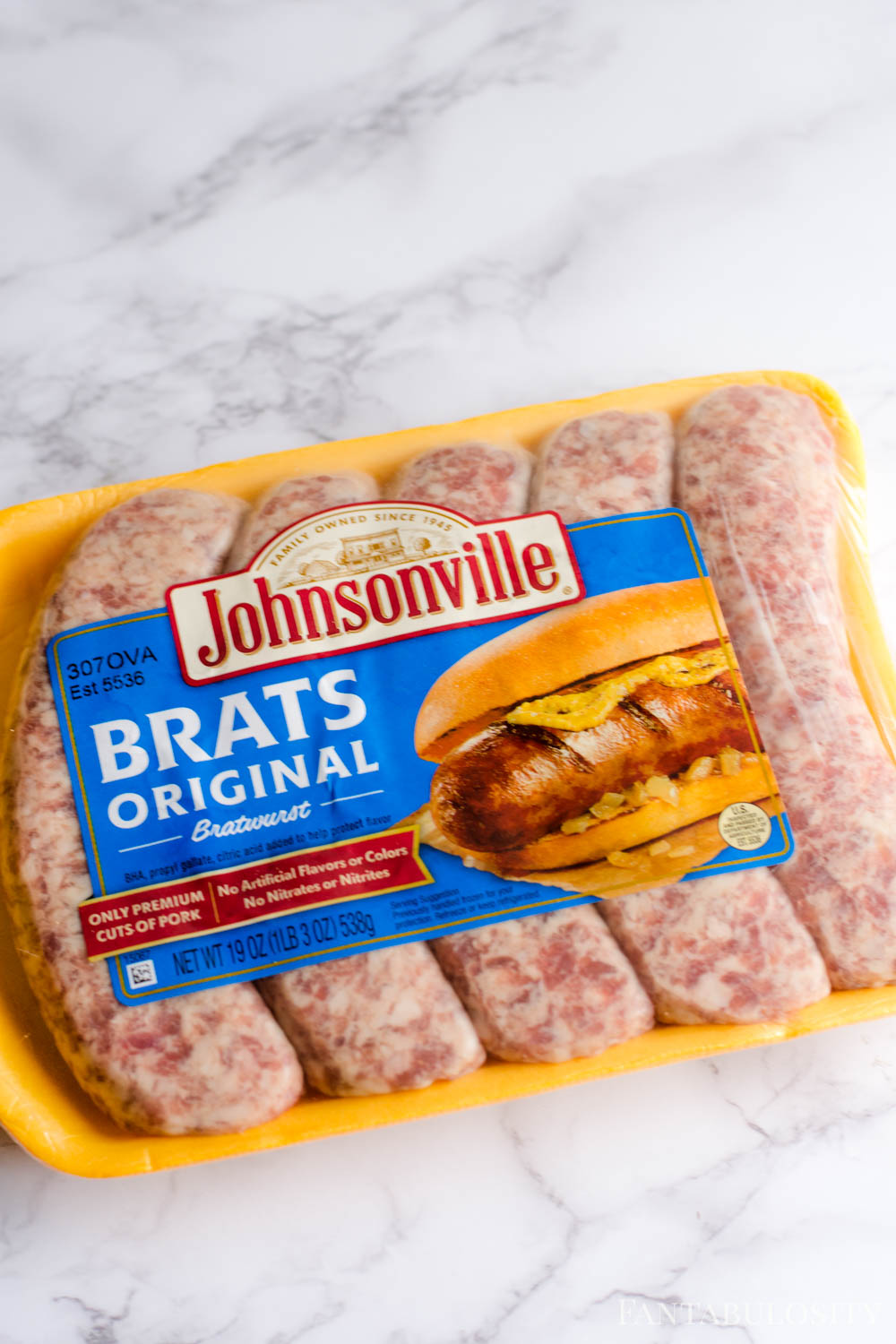 "Do I Need to use cooking spray for the air fryer?"
Most air fryer manuals say not to us cooking spray on the baskets because it can damage the coating… so I never spray mine. And for brats, I never have a problem with them sticking.
But if you do have problems with food sticking, you can try using parchment paper! This may mess with the texture of foods frying (since air won't be able to freely circulate like it does without it) but it's worth a try!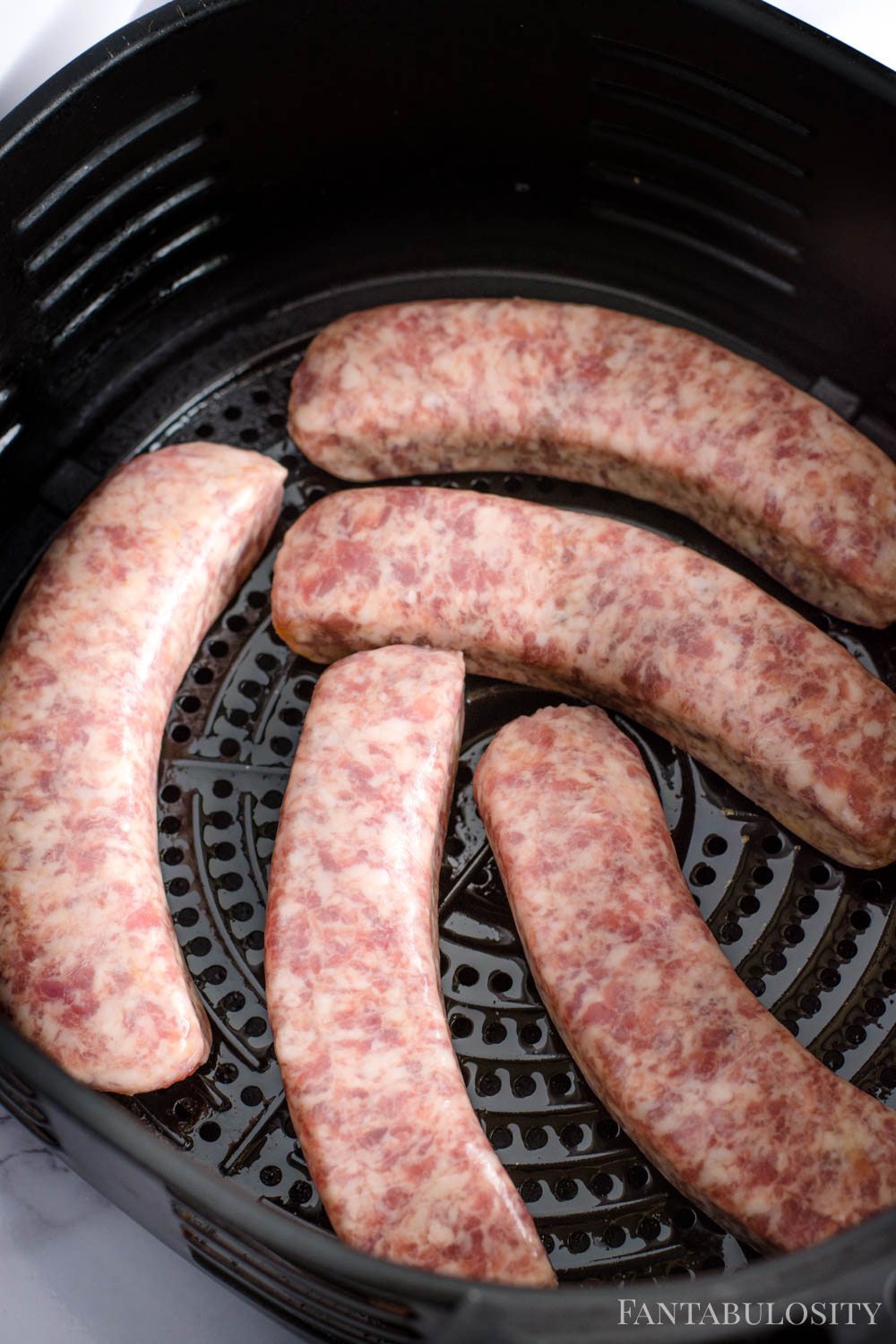 Look at those beauties after 10 minutes! They're plump, juicy and ready to fall on to a brat bun with your favorite toppings!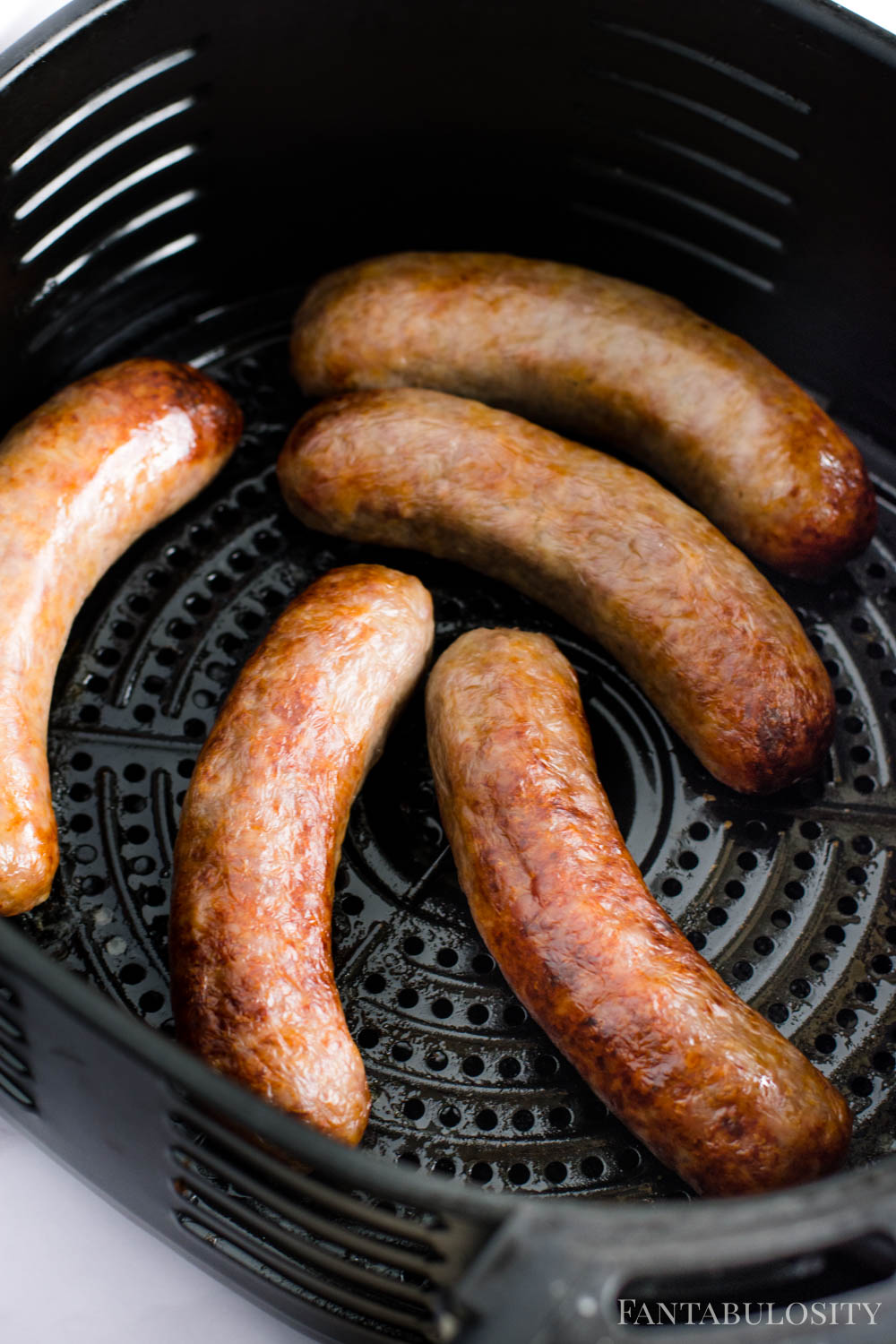 Tips for Cooking Brats
I absolutely LOVE making a package (or two) of brats on a Sunday evening so we can eat them all week for lunch or a last-minute dinner idea.

Granted… it only takes 10 minutes to cook them from raw, but my boys and husband see cooked brats in the fridge and for some reason, they think it's easier to grab and go!

If eating brats on a bun isn't your style, or if you're trying to do low-carb or keto, eating them plain, and slicing them in to small circles is a great way to eat them. Dip them in a fun sauce like horseradish mustard, bbq sauce or a butter-garlic aioli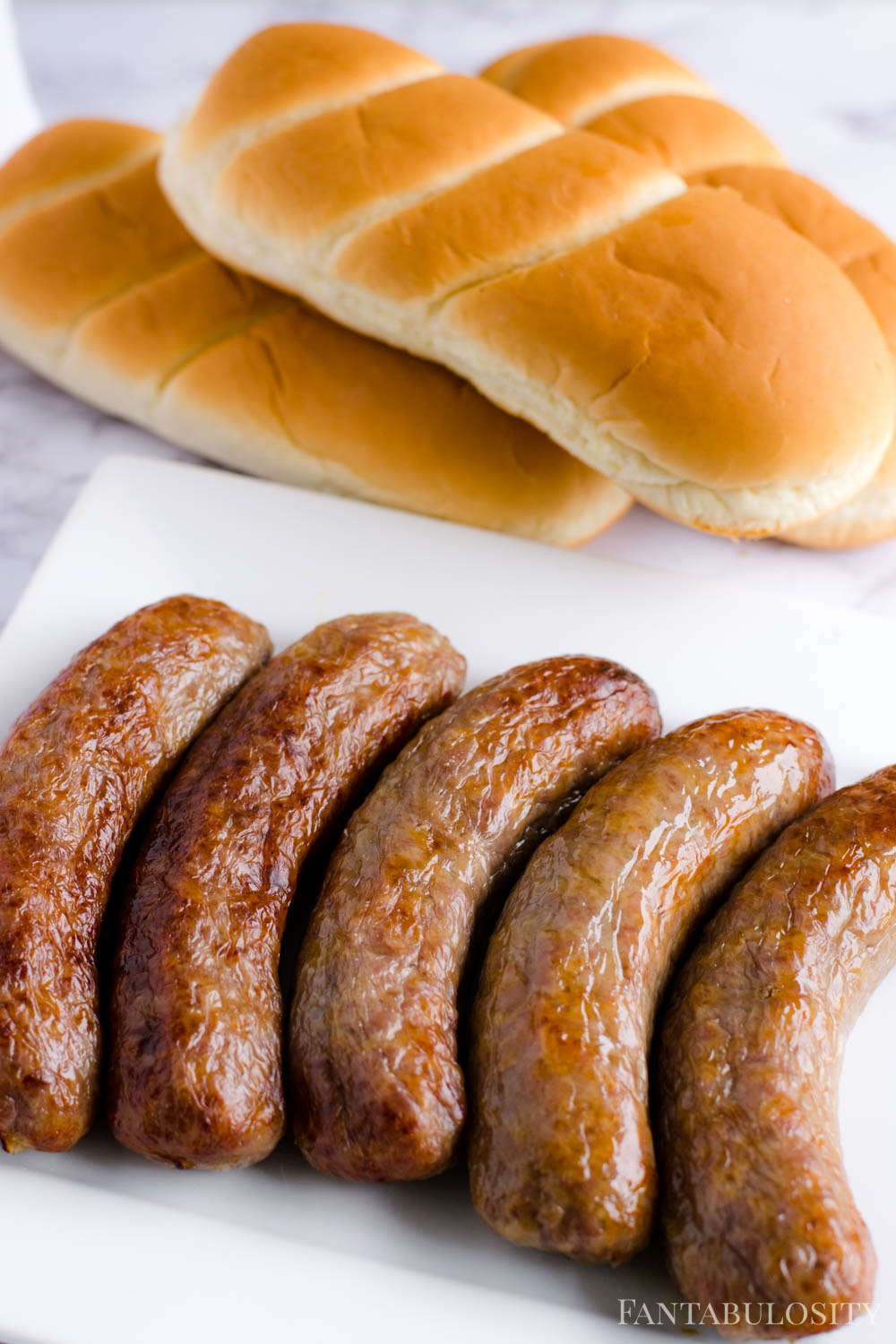 Bratwurst Topping Ideas
Gonna be honest with this one… when I was taking photos for this post, I didn't have any of my favorite toppings for brats on hand.
But you know what, this is a post about how to cook brats in the air fryer anyway… not "brat topping ideas".
However, I'm going to go out on a limb here (a very short one) and say that you'd like some ideas to fancy up your brat life… amiright? So I'll give you some of our favorite toppings to solidify your brat making experience here.
Brat (and Sausage) Toppings:
Sauerkraut (Fun fact: I ate 3 foot-long brats with sauerkraut on them at a Cardinals baseball game 15 years ago and I wasn't miserable and could have gone for a 4th.)
Onions (Get fancy and saute onions in butter for a punch of flavor that will have the neighbor's husband running over to see what that glorious smell is – so close the windows so that doesn't happen. Who needs more men begging for dinner?)
Peppers – (See above note. Saute… close the windows.)
Spicy Mustard
BBQ Sauce
Jalapenos
Nacho Cheese
Pizza Sauce (and add mozzarella cheese for a pizza brat/dog)
Crumbled bacon
Mac & Cheese
…. and see my Hot Dog Bar for more fun ideas!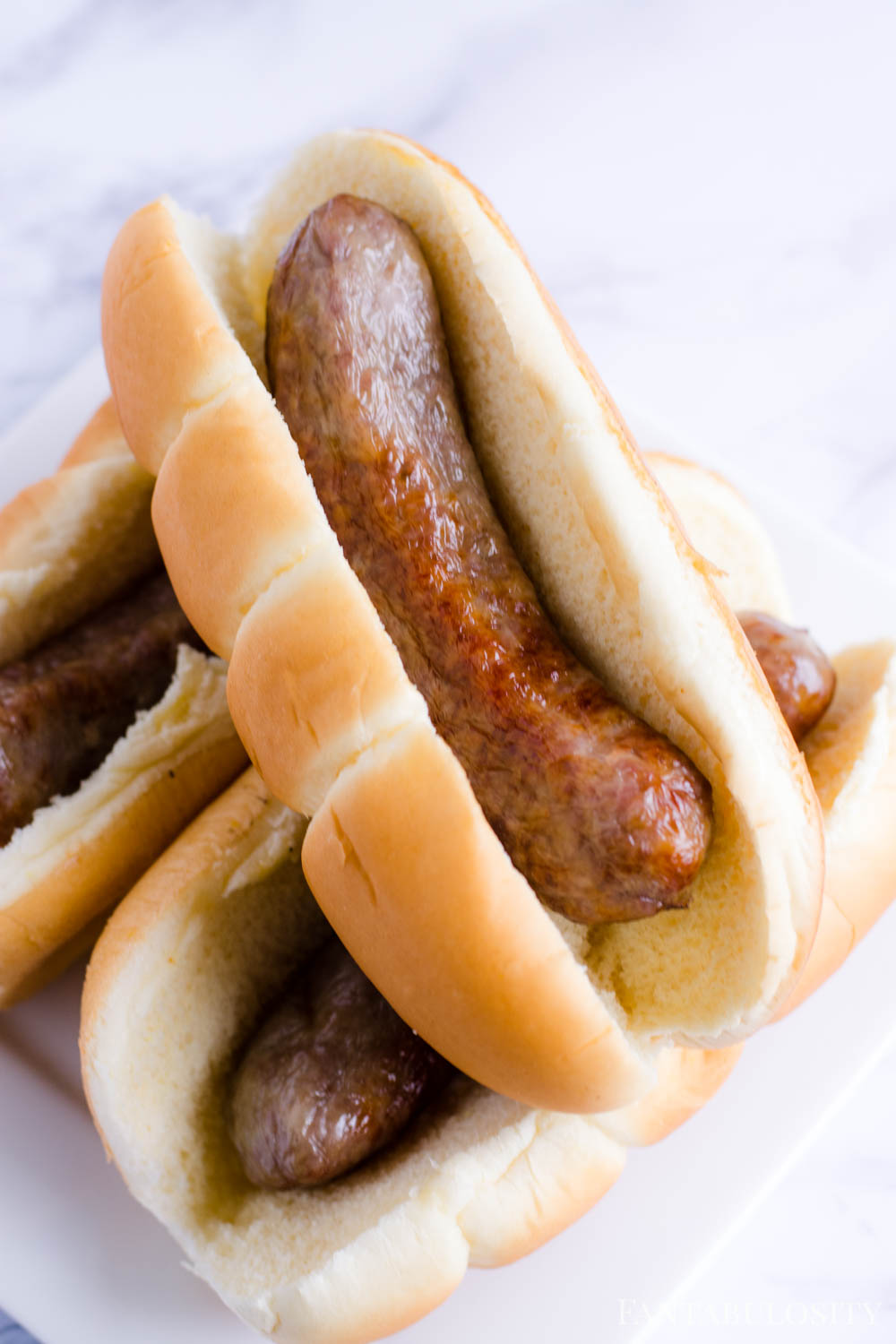 Easy Air Fryer Brats
Air Fryer Brats: Cooking raw brats only takes about 10 minutes in a 400° air fryer, creating juicy brats and it gets dinner on the table in a flash!
Ingredients
5

brats

raw, uncooked

Toppings Desired

See post for ideas!
Instructions
Place brats in a single layer in the fryer basket.

Cook at 400° for 10 minutes (flip half way through) or until internal temperature of brats reach 160°. (See notes.)
Notes
Air fryers can vary with cook times and temperatures, depending on the brand and style. It's always best to test and watch the food you're cooking carefully to make sure yours doesn't cook faster/stronger than what mine may.
Also, make sure to check the internal temperature of the brats to make sure they reach 160° before consuming.
Make a package (or two) of brats at a time and leave them in the refrigerator for an easy to reheat snack, lunch or dinner.
If eating brats on a bun isn't your style, or if you're trying to do low-carb or keto, eating them plain, and slicing them in to small circles is a great way to eat them. Dip them in a fun sauce like horseradish mustard, bbq sauce, or a butter-garlic aioli
Nutrition
Serving:
1
brat
|
Calories:
220
kcal
|
Carbohydrates:
2
g
|
Protein:
9
g
|
Fat:
19
g
|
Saturated Fat:
7
g
|
Cholesterol:
49
mg
|
Sodium:
558
mg
|
Potassium:
230
mg
|
Calcium:
18
mg
|
Iron:
1
mg
Nutritional information is based on third-party calculations and should be considered estimates. Actual nutritional content will vary with brands used, measuring methods, portion sizes and more.
If you enjoyed this post, be sure to follow me on Instagram, Facebook, Pinterest and YouTube! Share a photo of your recipe and use the hashtag #Fantabulosity so I can find it and follow along!
Love Easy Recipes?
If you love easy recipes then you'll want to check out the current favorites here: