Cooking brats in the oven is SO easy and a great way to have dinner on the table in a flash! Tips for how long to cook, what to serve with them and more!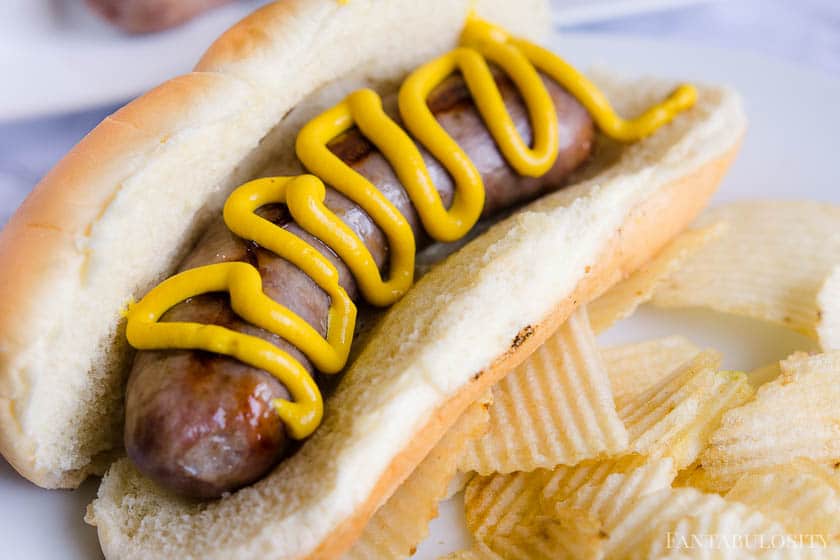 Cooking Brats in the Oven
We absolutely love having brats for lunch or as a fast dinner idea. They've even become a staple in our house when we have guests visiting or staying with us.
They're just one of those things that require very little thought and usually, everyone loves them, so they're a "no-brainer" when it comes to feeding a large group.
Now, don't get me wrong… a brat on the grill is superb. But when it's raining or there's 10 ft. of snow on the ground, this gal's not going outside to use the grill.
Plus, sometimes I just don't feel like using the grill and the oven sounds like a better idea. Or sometimes, even cooking brats in the air fryer in only 10 minutes is my favorite!
So the other day, I grabbed a pack of brat out of the fridge for a last-minute dinner and decided I wanted to try them in the oven and I am SOOO glad that I did.
In only MINUTES, I had brats on the table for my boys and they loved them and I want to share with you just how easy they are to do!
How to Cook Brats in the Oven
Scroll down to the bottom of this post to see the full printable recipe card with ingredients and instructions!
First, you can cook whatever flavor of brats that you prefer!
We love mixing things up and grabbing new flavors from the butcher shop from time to time.
However, I tend to keep brats in the freezer, like these beer brats, below, from Walmart for those unexpected group dinners or when we need something quick and easy.
Grease a Baking Dish
In a baking dish big enough to fit all of the brats you're planning to bake, grease with non-stick cooking spray.
Place the brats in the dish, making sure they're not on top of one another, or preferably, not even touching. (To allow all sides of the brats to cook.)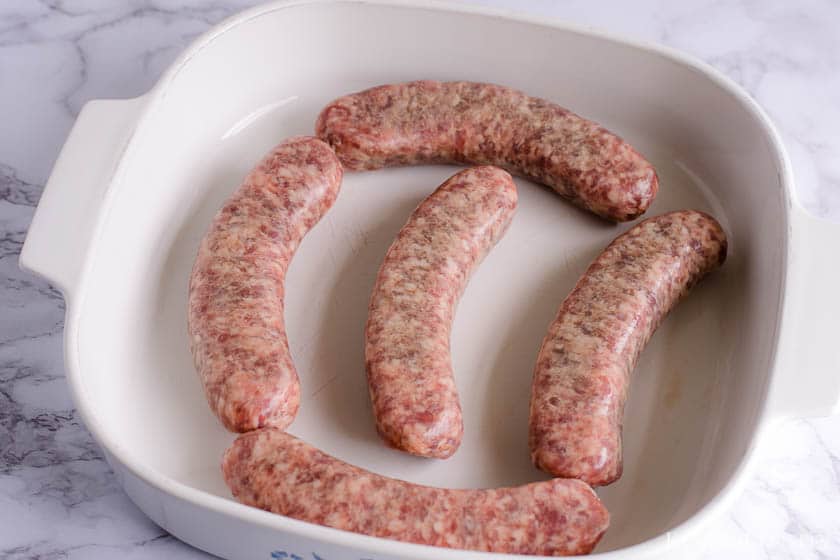 How Long to Cook Brats in the Oven
When your oven has preheated, place the baking dish/brats in the oven and bake at 400 for 10 minutes.
After the 10 minutes, turn the brats over and bake for another 6 minutes.
After the 6 minutes, feel free to turn the oven to broil and allow the brats to sit under the hot heat for about another minute to gain that "grill-like" brat.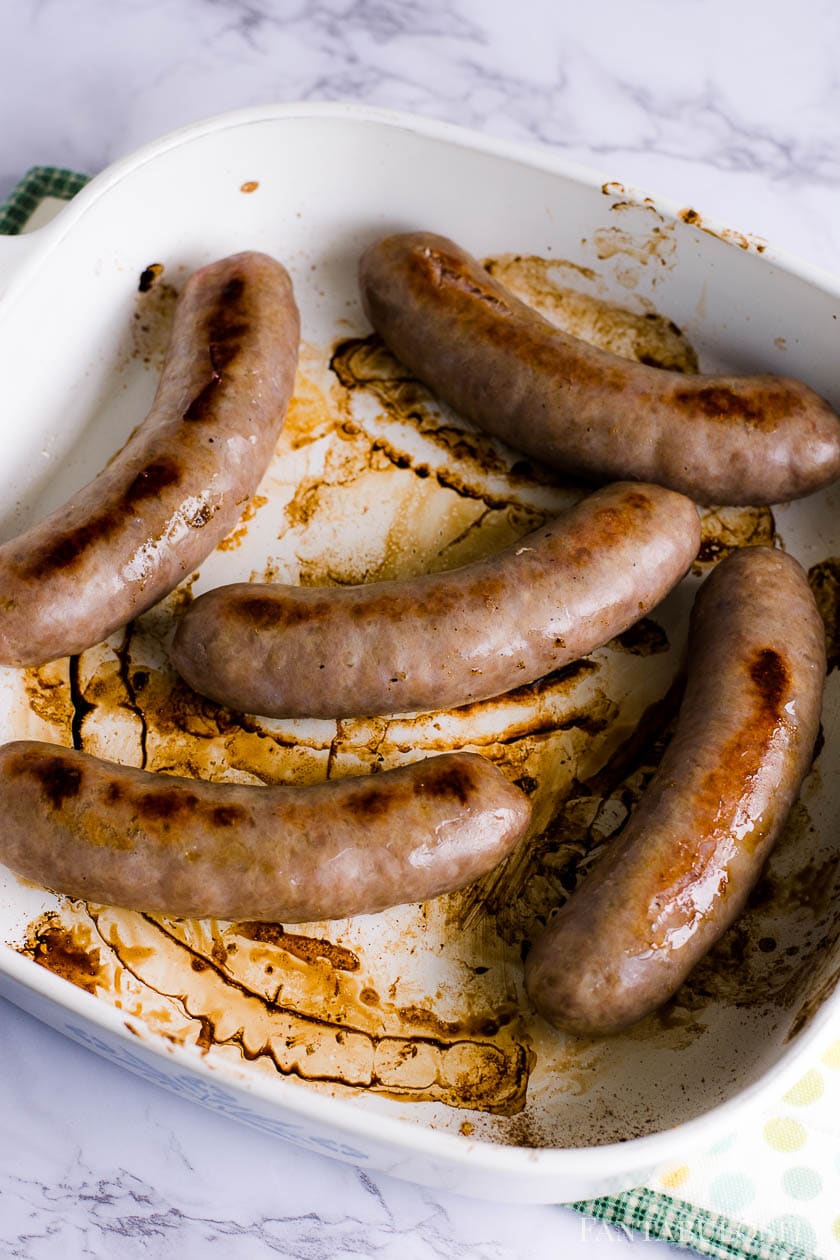 Internal Temperature Needs to Reach 160°
When the brats have cooked for the 16-17 minutes, check the internal temperature of the brats to make sure they have reached a temperature of 160°.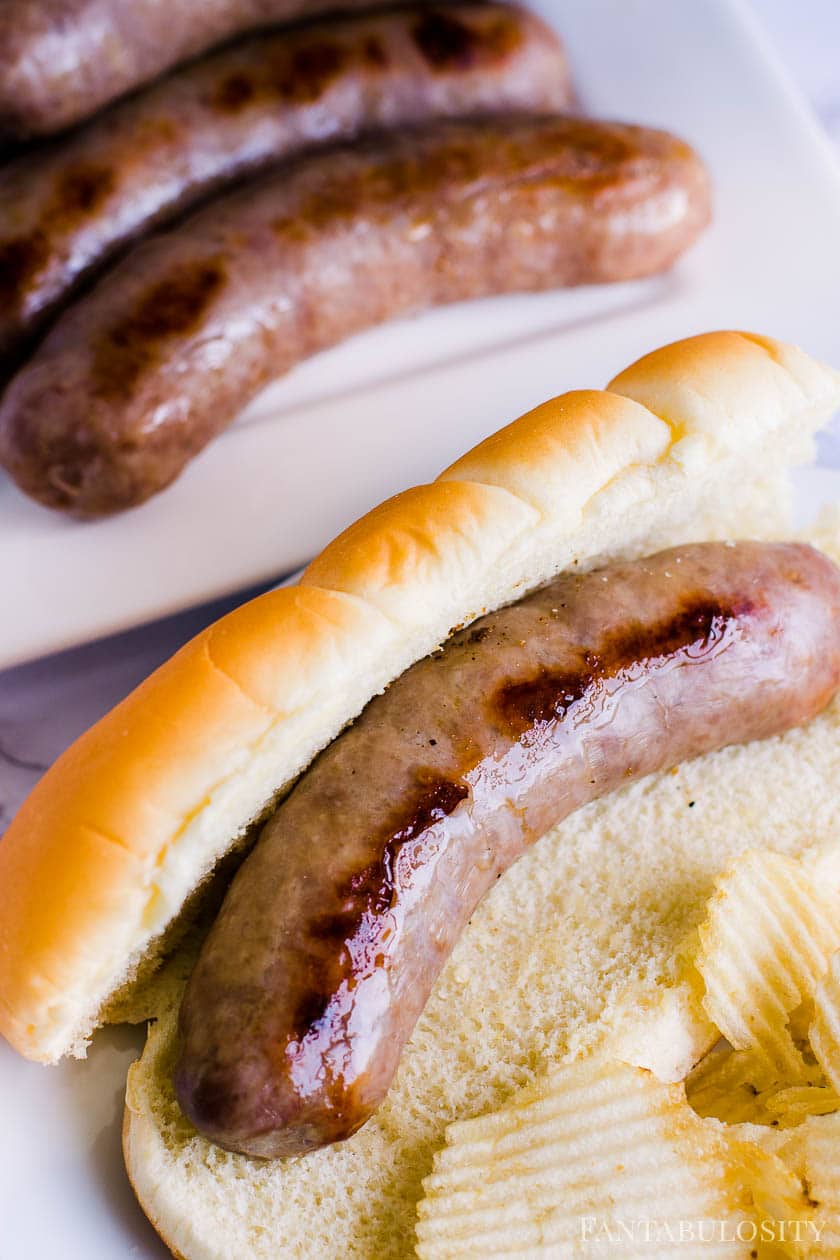 Brat Toppings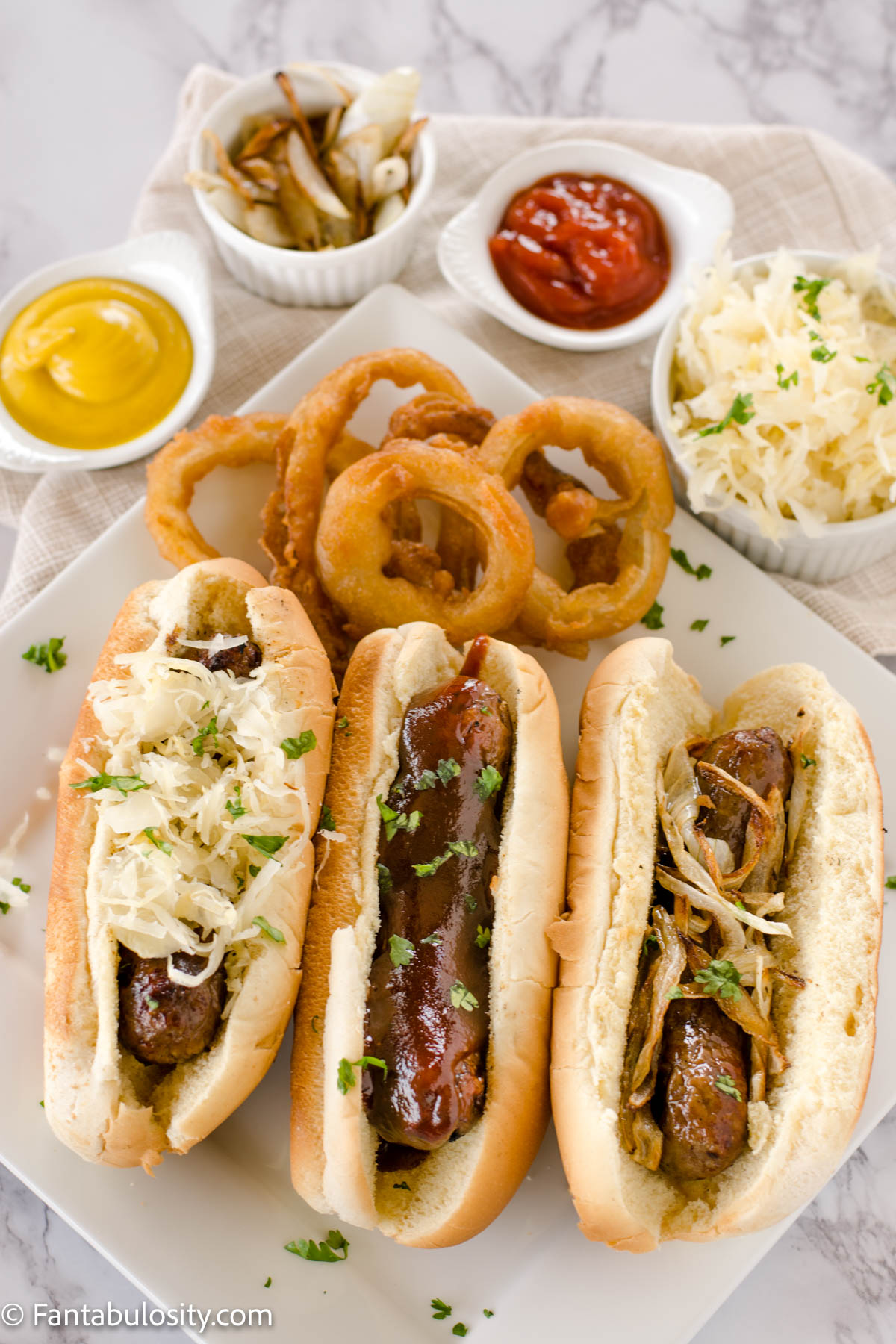 I'm going to have a hard time passing up plain ole mustard on a brat. (As you can see below.)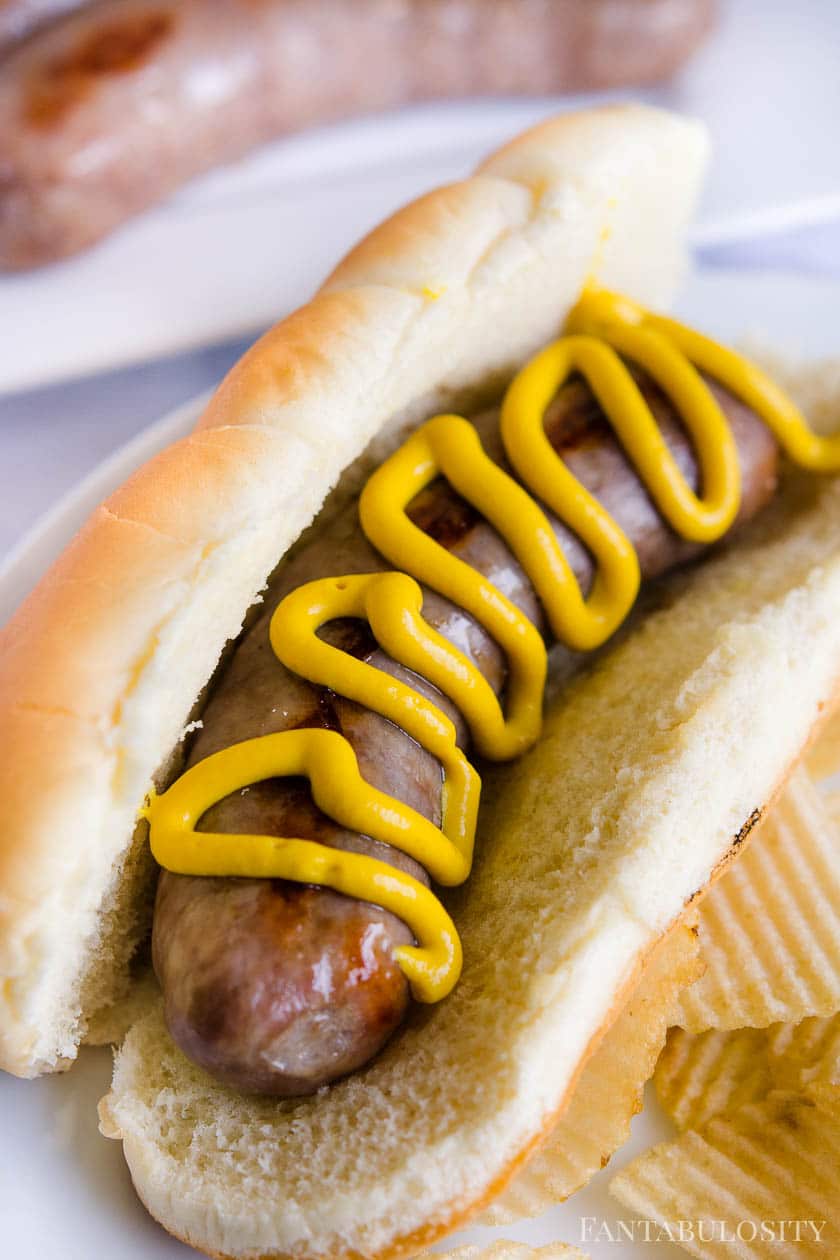 BUT… I do love to adventure out at times and try something new. Here are my top favorites and make sure to check out my hot dog topping ideas to get even more ideas for your own brats!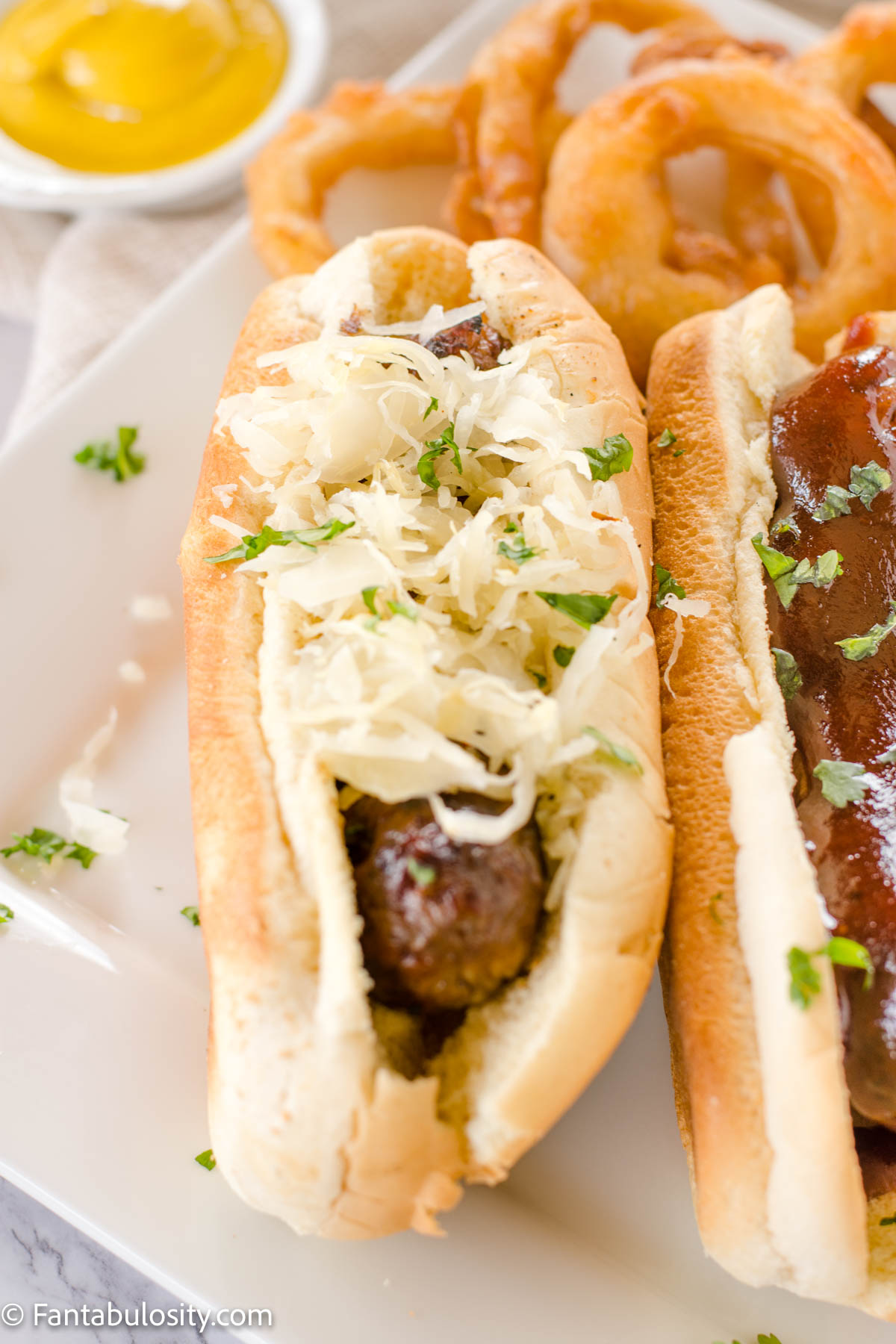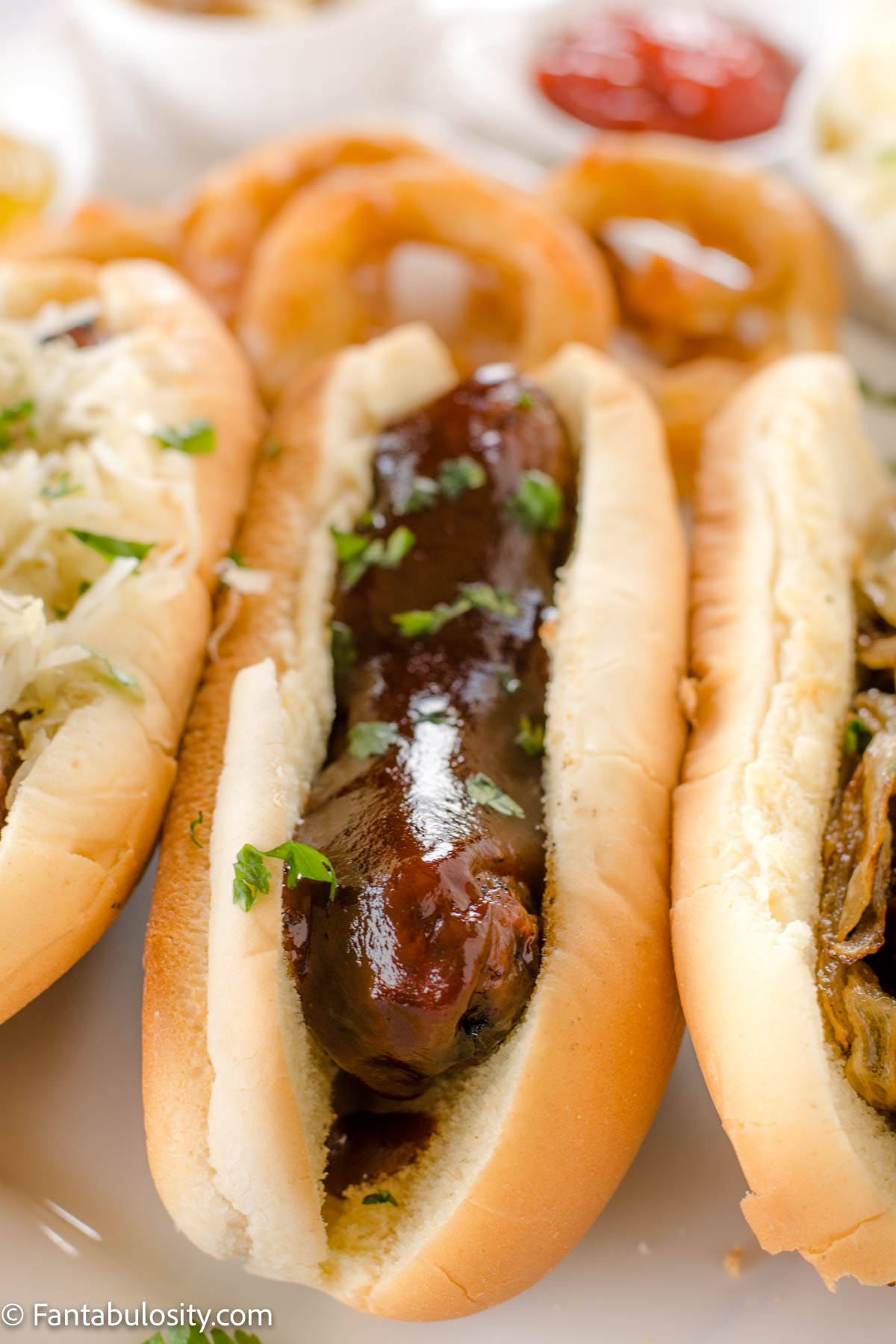 Relish
Queso
Grilled Peppers
Grilled Onions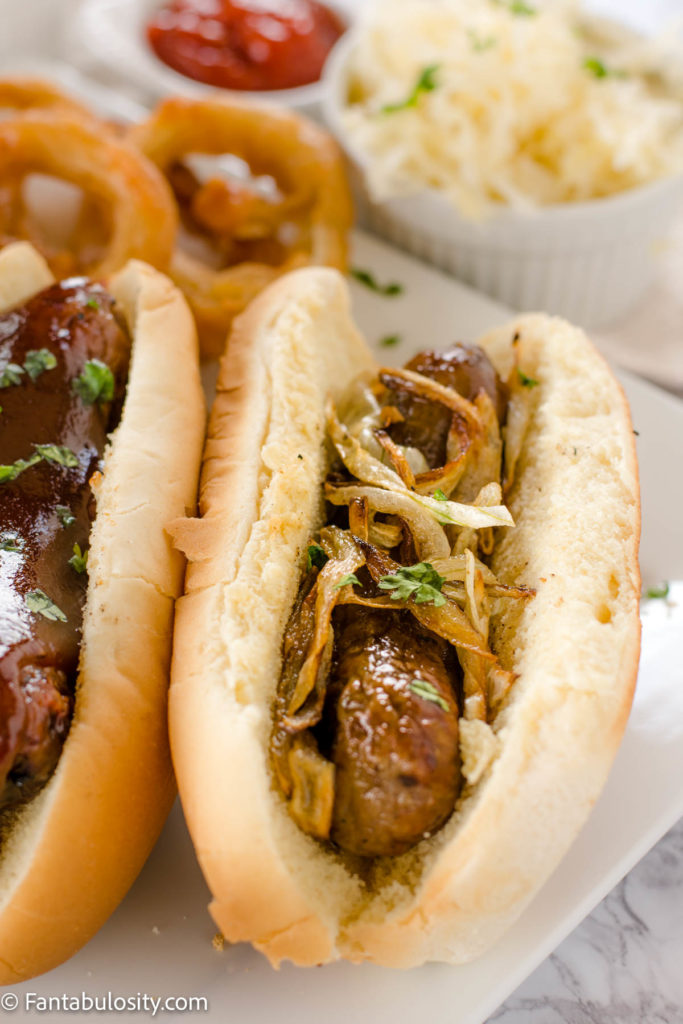 TIP: Having a party? Have a "Brat Bar"!
What to Serve as a Side Dish with Brats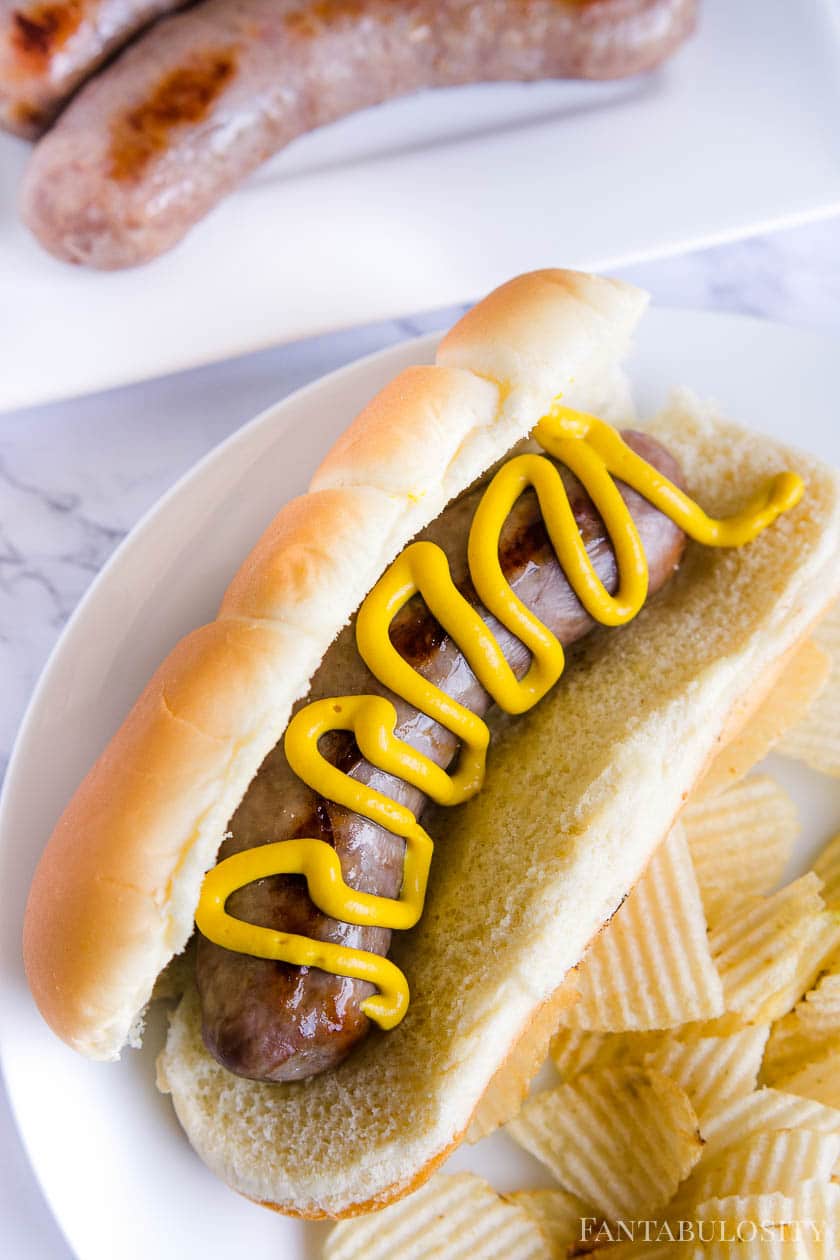 Keeping it simple? Grab some of these easy side dishes:
Brats in the Oven
Cooking brats in the oven is SO easy and a great way to have dinner on the table in a flash! Tips for how long to cook, what to serve with them and more!
Ingredients
5

bratwursts

bbq sauce

optional, or favorite toppings! See ideas in post!
Instructions
Preheat your oven to 400°.

Place brats in a greased baking pan, making sure the brats are not overlapping.

Bake for 10 minutes and then turn the brats.

Bake for 6 more minutes. (Optional… broil for 1 more minute to really give a little crisp/char texture.)

When brats are finished, make sure the internal temperature is 160°.

Top with your favorite toppings. See ideas below!
Notes
Broil the brats for one minute if desired to give it more of a "crisp" outer layer!
Nutrition
Serving:
1
brat
|
Calories:
220
kcal
|
Carbohydrates:
2
g
|
Protein:
9
g
|
Fat:
19
g
|
Saturated Fat:
7
g
|
Cholesterol:
49
mg
|
Sodium:
558
mg
|
Potassium:
230
mg
|
Calcium:
18
mg
|
Iron:
1
mg