Kielbasa and Cabbage in the Instant Pot: A quick and easy sausage and cabbage recipe that only takes 4 minutes in the pressure cooker.
With my husband doing low carb again, I decided to whip up a favorite low carb recipe of ours the other night… with a twist… by cooking it in the Instant Pot. (But if you're looking to make healthier choices, you may also love this skinny Mexican skillet recipe that also uses sausage!)
I truly didn't think that cooking kielbasa and cabbage could get any easier, but the Instant Pot made me a believer with this recipe as well.
If you love cooking with the Instant Pot, then you'll also love our favorite Instant Pot Pot Roast recipe and the Cheeseburger Macaroni that our kids adore.
Quick Kielbasa and Cabbage Recipe
When I set out to make this recipe, I knew I wanted to keep it as simple as it could be, and hoped that the few flavors I did use, would result in a TON of flavor… and I was RIGHT! We also add kielbasa to this slow cooker sausage casserole, and it has so much flavor!
Now, although it's also quick to make sausage and cabbage on the stovetop, using the Instant Pot not only made it faster, but I believe it trapped in flavors that I don't get when cooking on an open stovetop.
Plus, the fact that this can be cooked FAST (as in 4 minutes fast) I knew it was a recipe I needed to share with all of you quick and easy dinner recipe lovers!
How to Make Kielbasa and Cabbage
You can find the full recipe and printable recipe card at the bottom of this post, but I'd love to walk you through with steps/photos for extra tips too!
Cabbage
Wash and chop up a head of cabbage, discarding the core. If you aren't sure how to core a cabbage, I found a great how-to core a cabbage video tutorial for you that will help, even if you don't have the type of cabbage I'm using in this post.
Although, I did core mine a little different than they did. It just depends on what tickles your fancy.
Chop up your cabbage into bitesize pieces and set aside.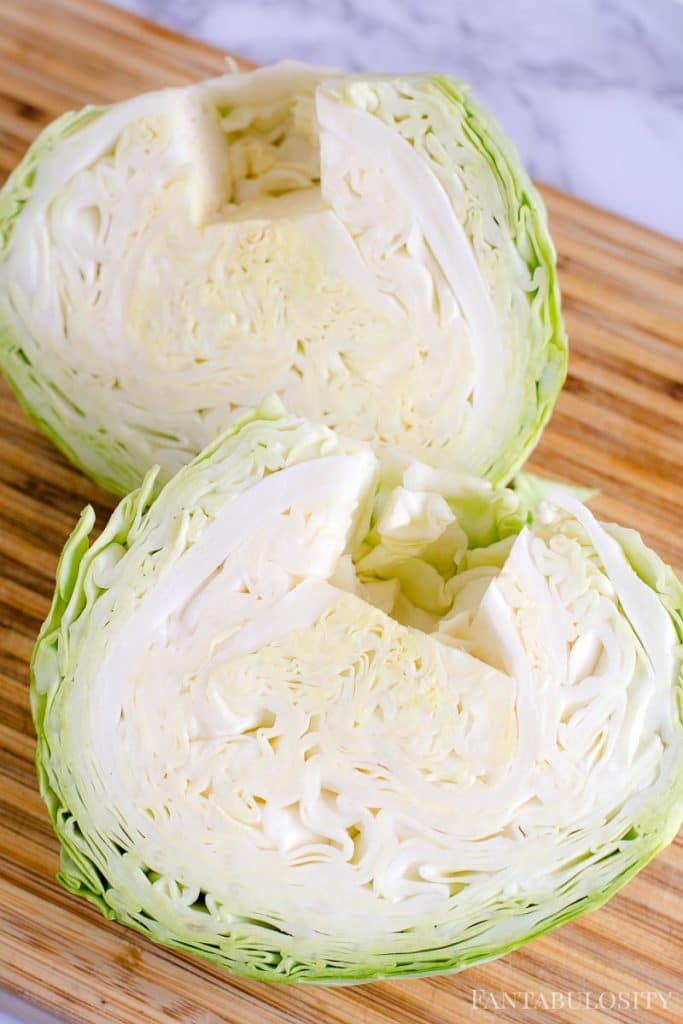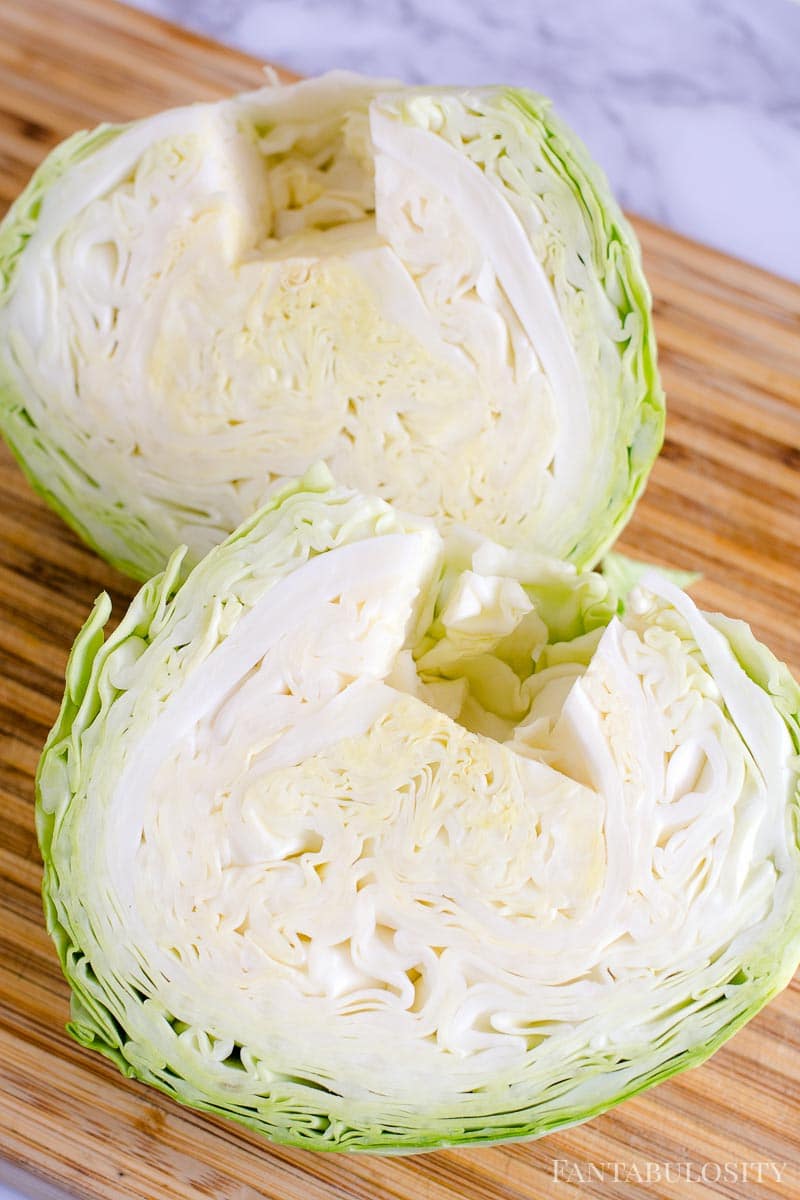 Chicken Broth
You can use regular store-bought chicken broth, homemade chicken broth or even make this instant chicken broth base that I've started using… because my mom did.
That woman is a queen of cooking, so I always love to take notes in her kitchen!
Kielbasa (Smoked Sausage)
Now for this recipe, I like to switch things up for the kielbasa at times, and grab a fun new smoked sausage if it's on sale or a new flavor!
I normally use kielbasa (hence the reason this is the recipe for kielbasa and cabbage) but when I bought the ingredients to take the photos this time, I couldn't resist the andouille smoked sausage.
Andouille tends to have a spicy kick to it, so if you have young eaters or those who aren't fans of some "kick" then you'll want to stick to kielbasa, polish sausage or regular smoked sausage.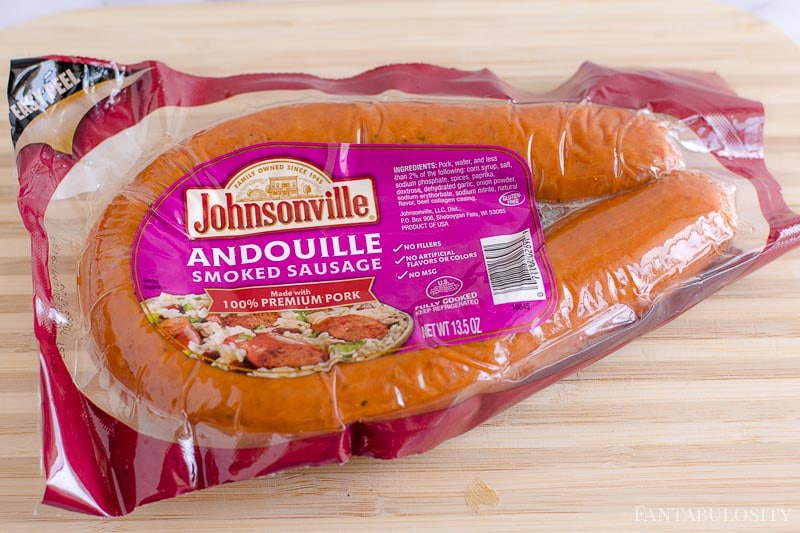 Chop your kielbasa in to small, bite-size pieces and set aside!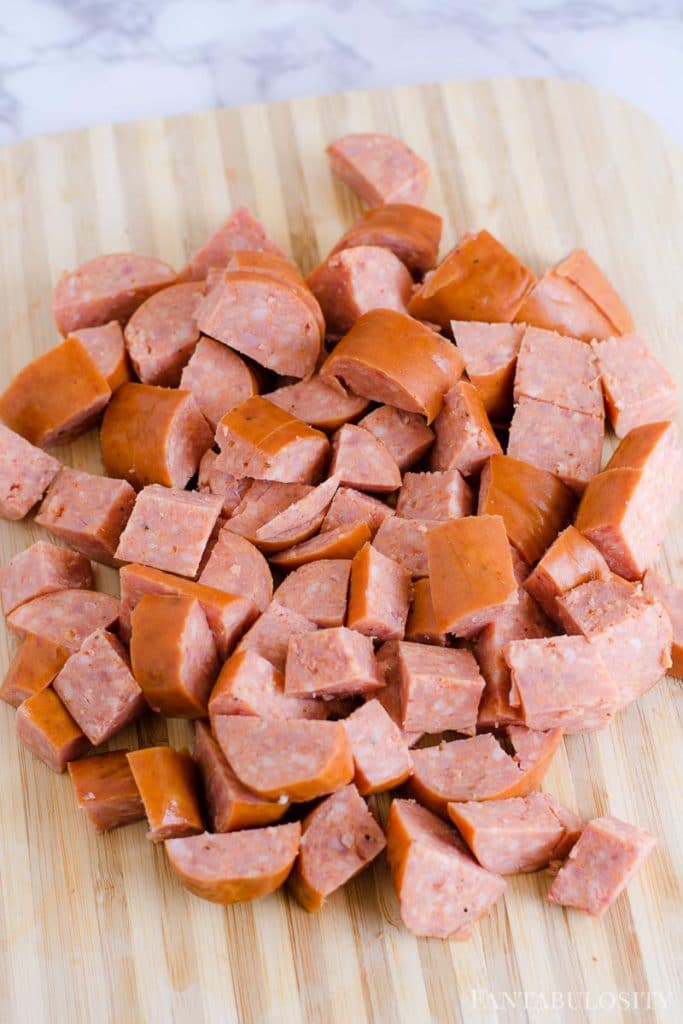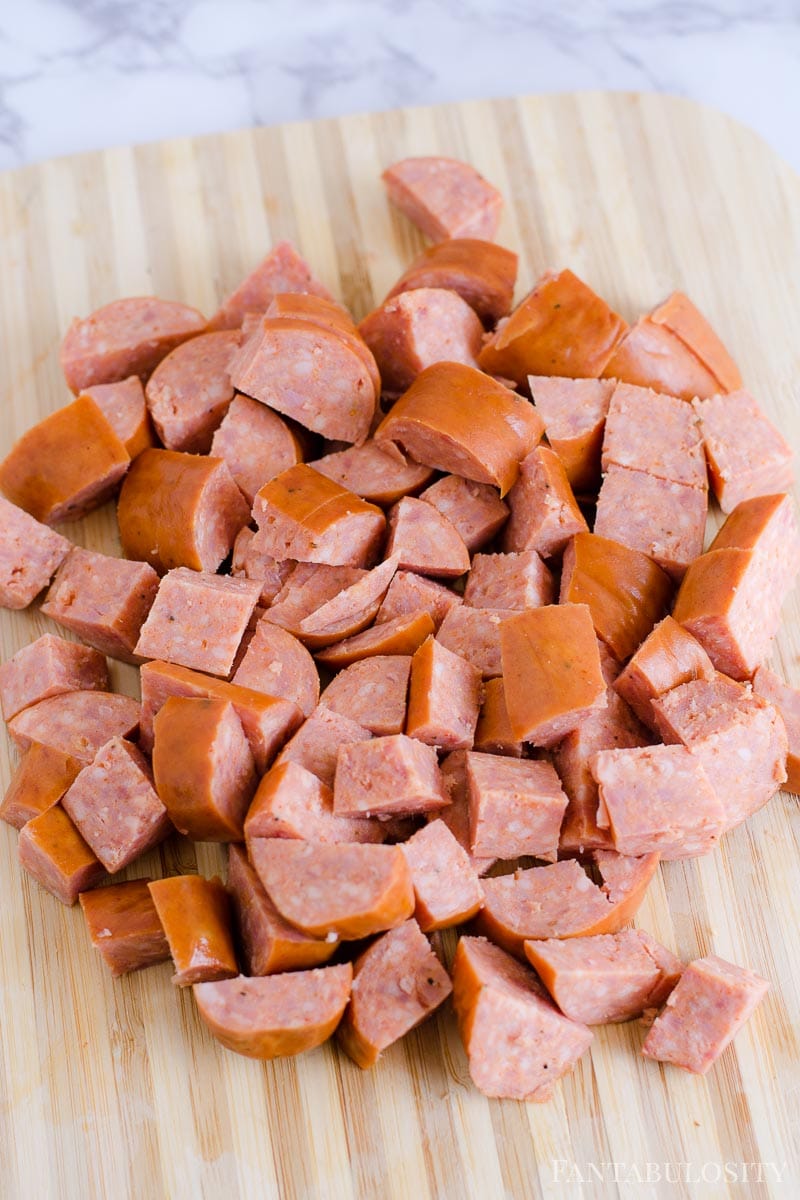 Butter
In the Instant Pot, pot… pour your chicken broth and add a stick of sliced butter.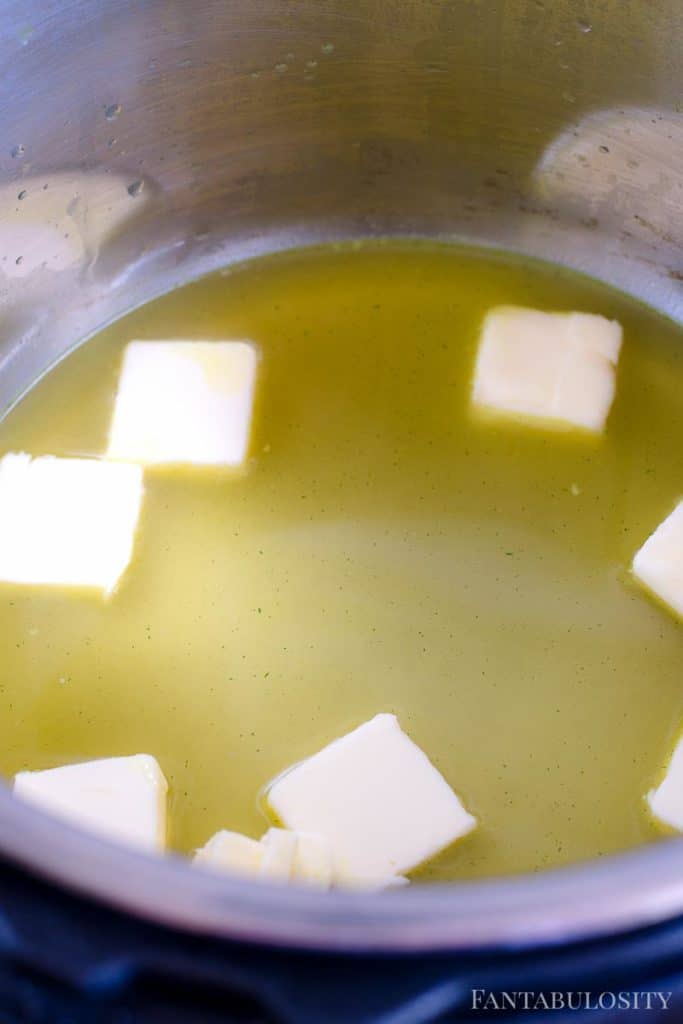 Next, pour your cabbage in to the pot, making sure to leave enough room for the sausage and enough room for the lid to screw on.
If you have a really large cabbage, it could result in too much cabbage for the pot, so eyeing it is best.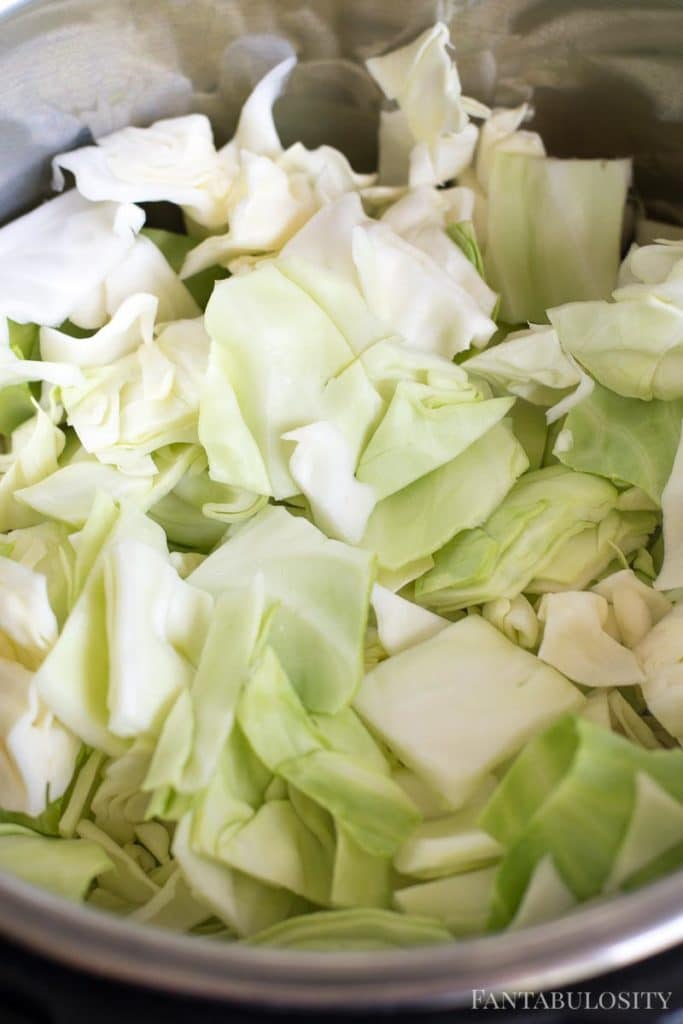 Layer on the kielbasa, again, making sure there's enough room for the lid to screw on. Ideally, you don't want to stuff the pot so full that the food is touching the lid. So filling the pot to about the level I have here below will work!
TIP: Placing the kielbasa or smoked sausage on top is KEY! During the cooking process, the juices from the meat drip down in to the cabbage for ultimate flavor!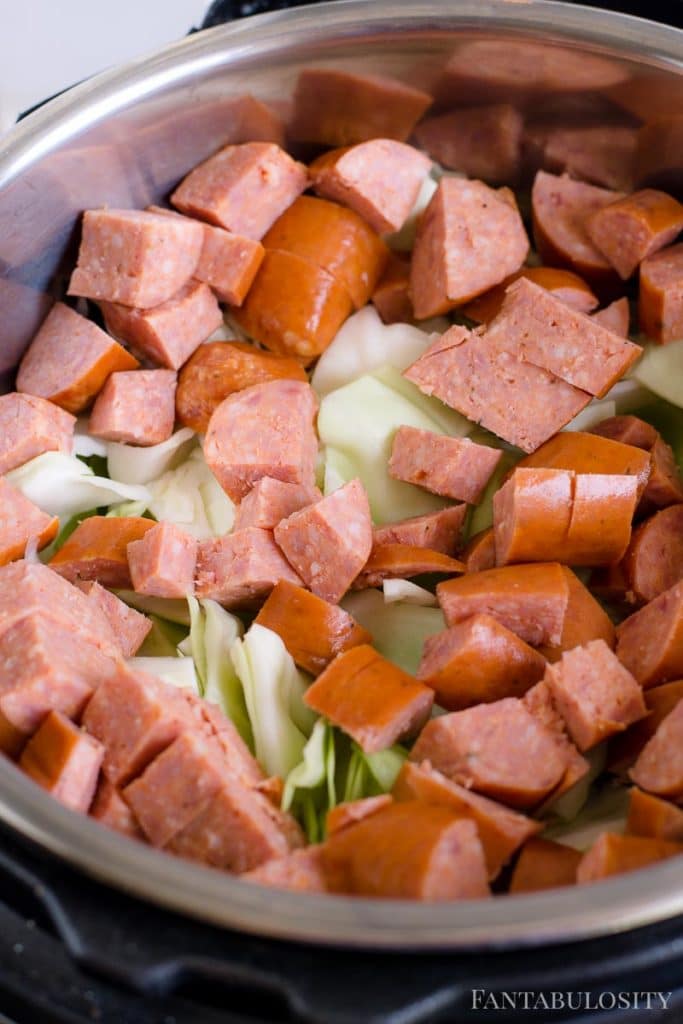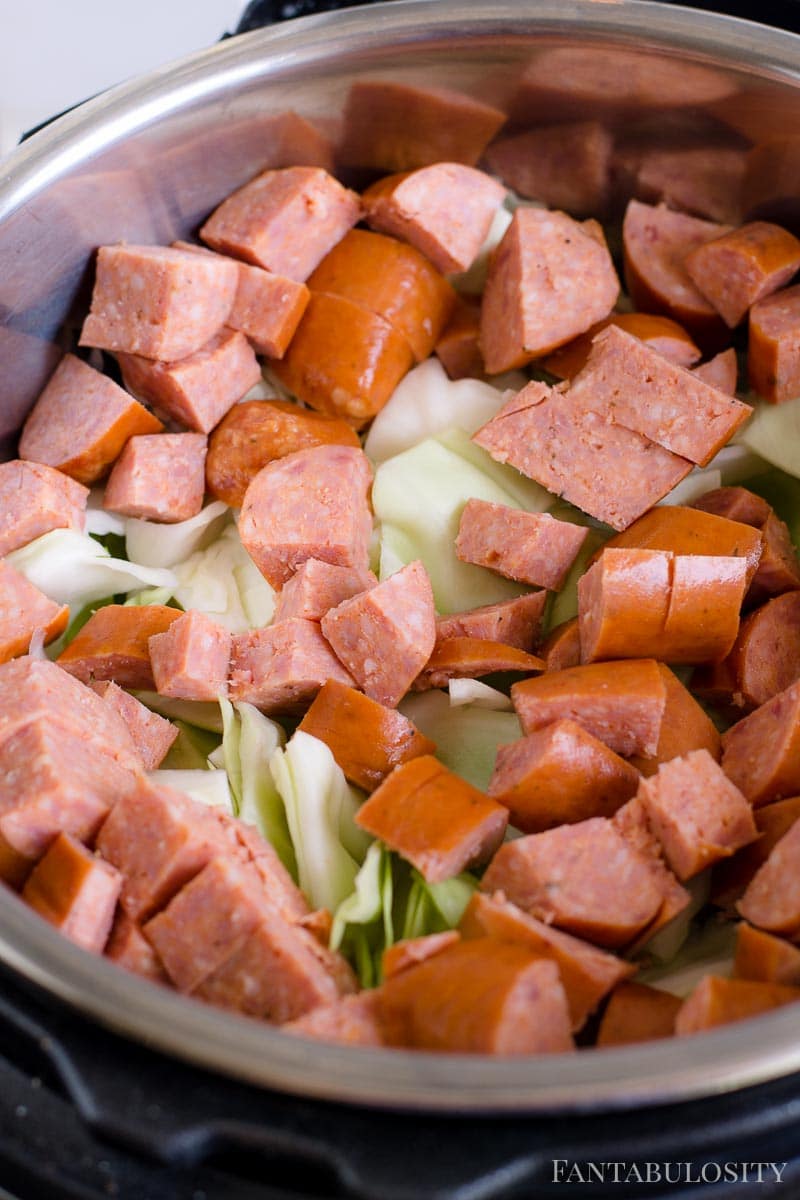 How Long to Cook Kielbasa and Cabbage in the Instant Pot
You ready for the hard part? Place the lid on, turn the nozzle to seal, pressure cook on high, and turn the timer to 4 minutes.
(Four minutes gives the cabbage a nice texture of cooked, but not soggy! However, if you prefer a super soft cabbage, you may want to do another minute.)
Not hard at all, right?
When the timer goes off, you want to "quick-release" the pressure, but turning the nozzle to "vent"! NOTE: This can burn your hand, so take precaution and use a dish towel or my all-time favorite heat resistant gloves for this!
Do NOT remove the lid of the Instant Pot until the float valve goes down!
Once you take the lid off, soak in the smells of dinnertime!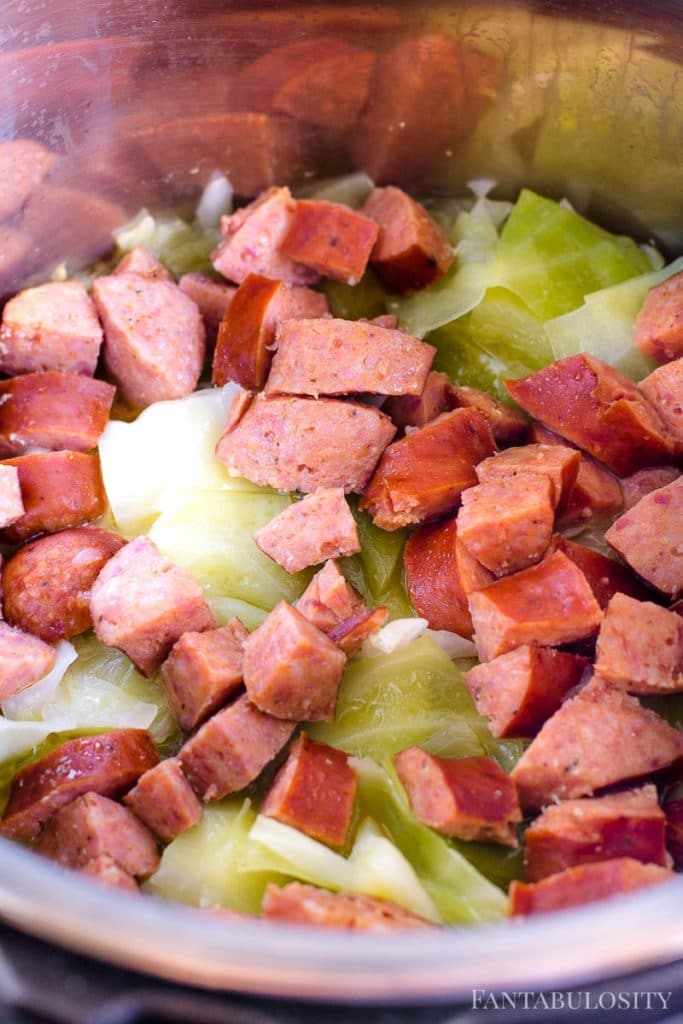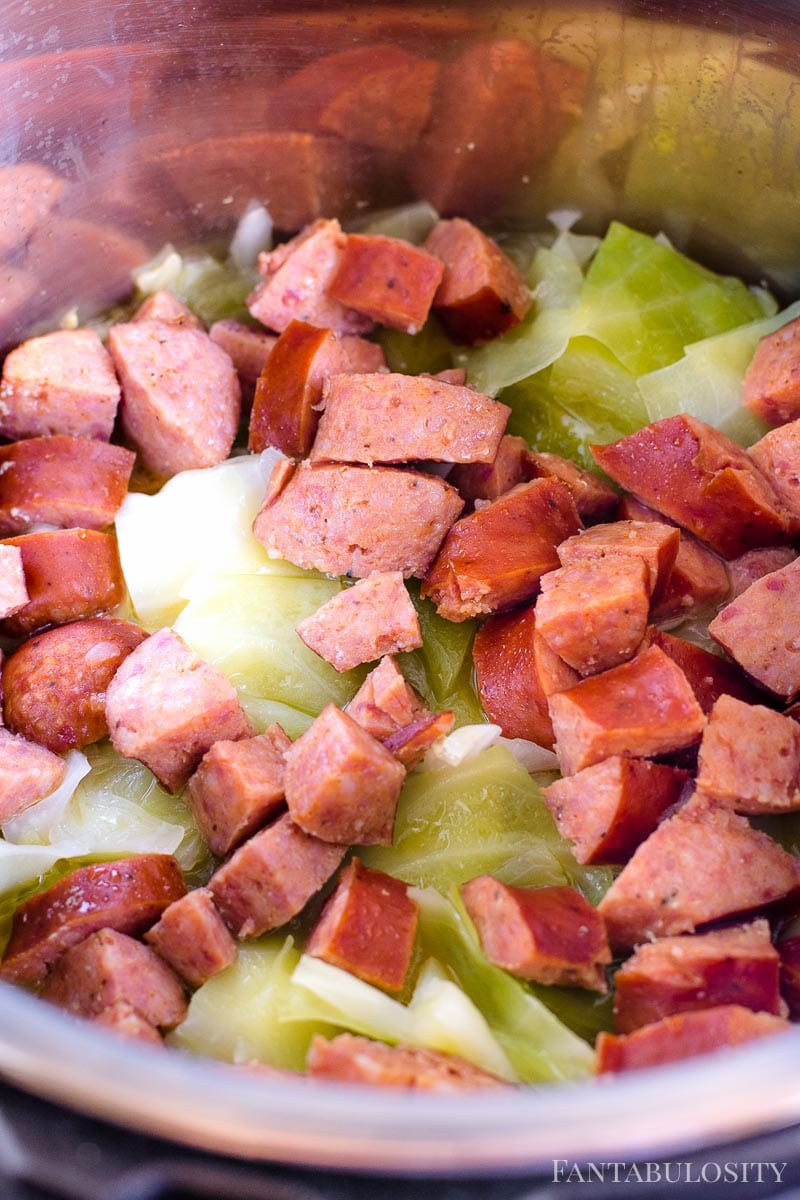 Salt and Pepper (Optional)
The kielbasa will have salt in it, so you may not need as much salt as you'd normally want, so salt and pepper to taste!
We use this Himalayan salt (it's our all-time favorite now because it's fine grain and lasts for a really long time) and regular ground black pepper for this recipe.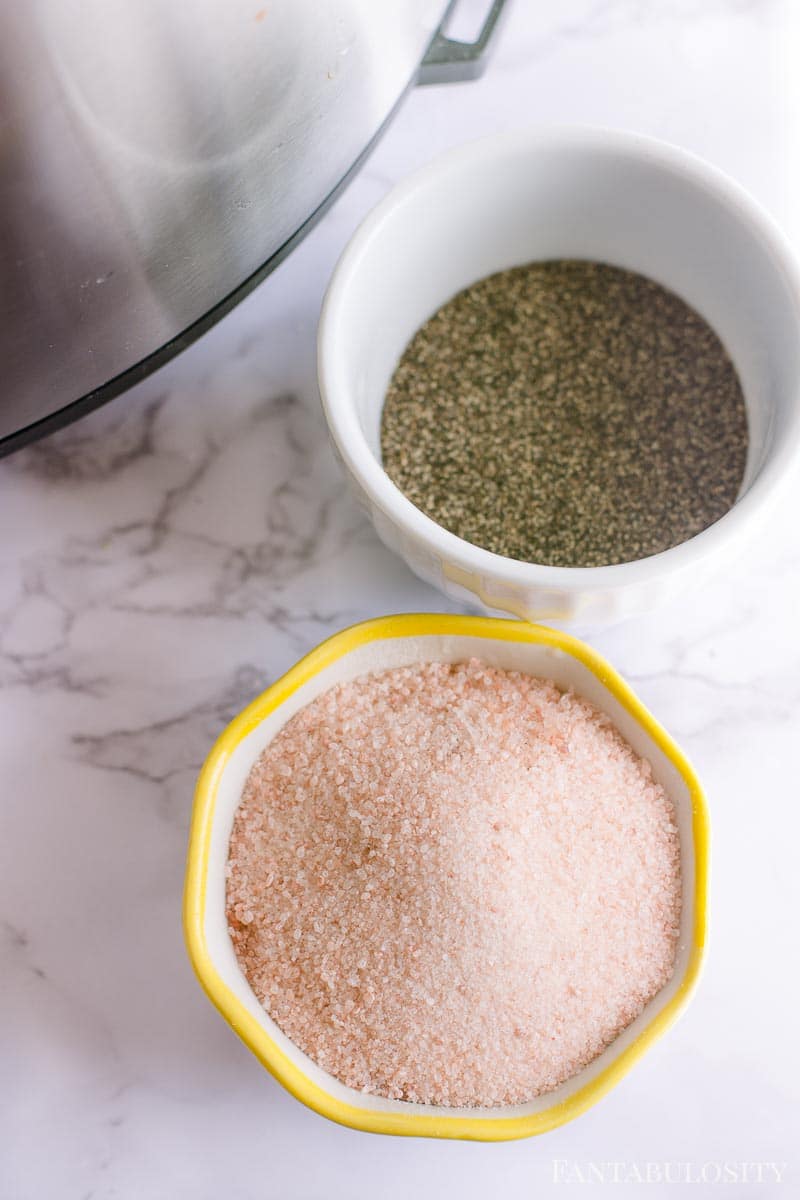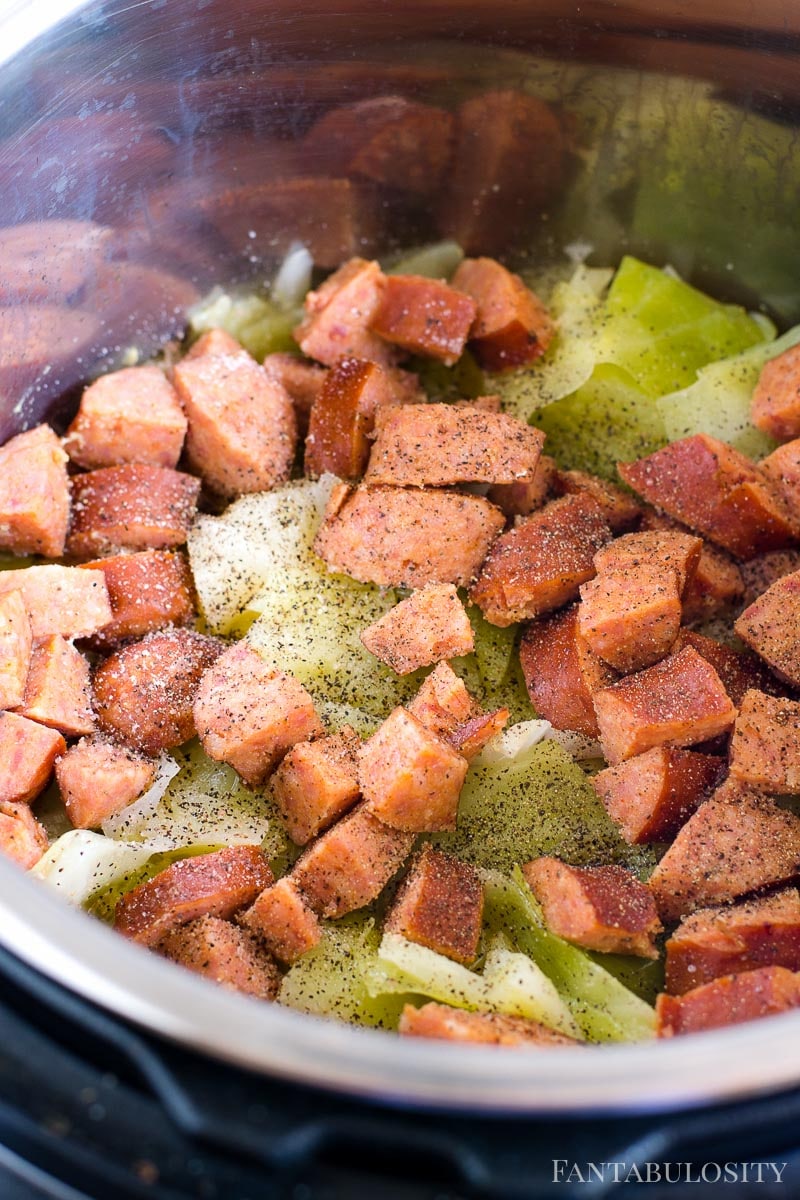 Mix together the kielbasa, cabbage, and spices and it's ready to serve/eat!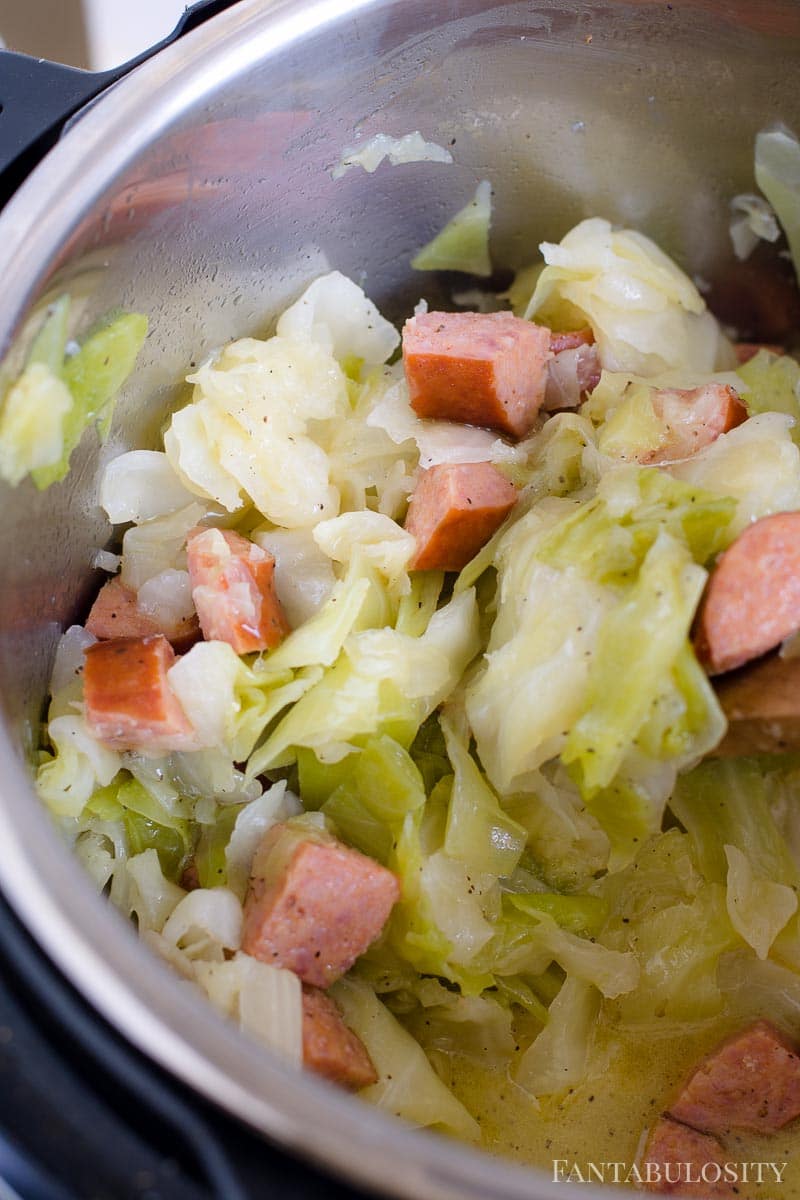 What do you Serve with Kielbasa and Cabbage?
You can keep it really easy and serve this alone (since you're getting your protein, fats, and veggies) but if you're like me, I like to have something else to go along with every main dish recipe… which is why I paired all of that for you in my cookbook!
Side Dishes for Kielbasa and Cabbage
Frozen Store-Bought Garlic Toast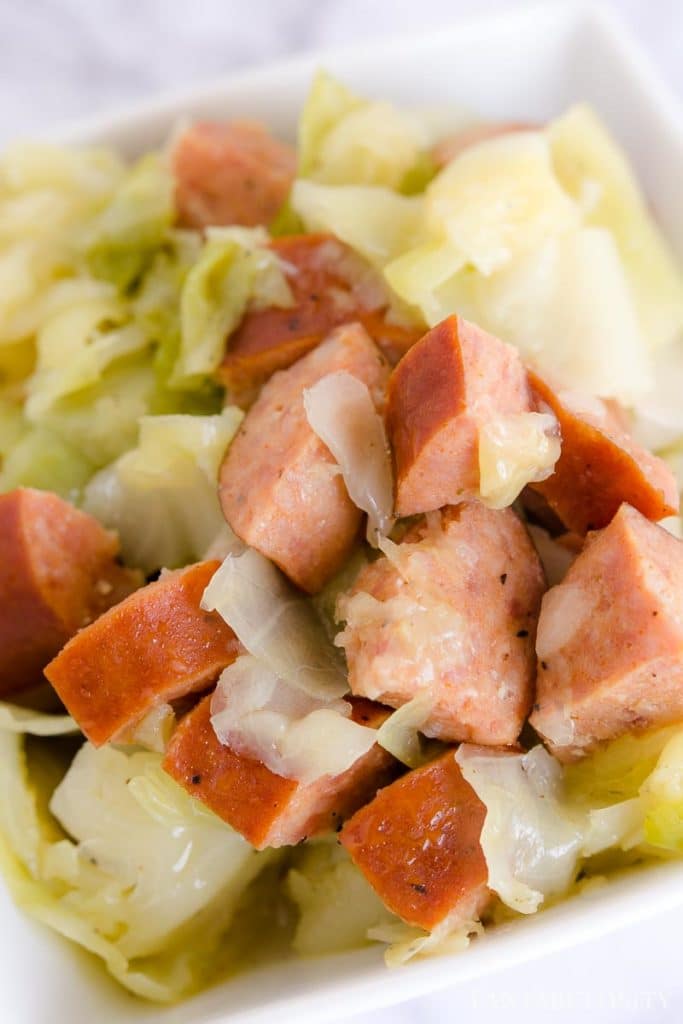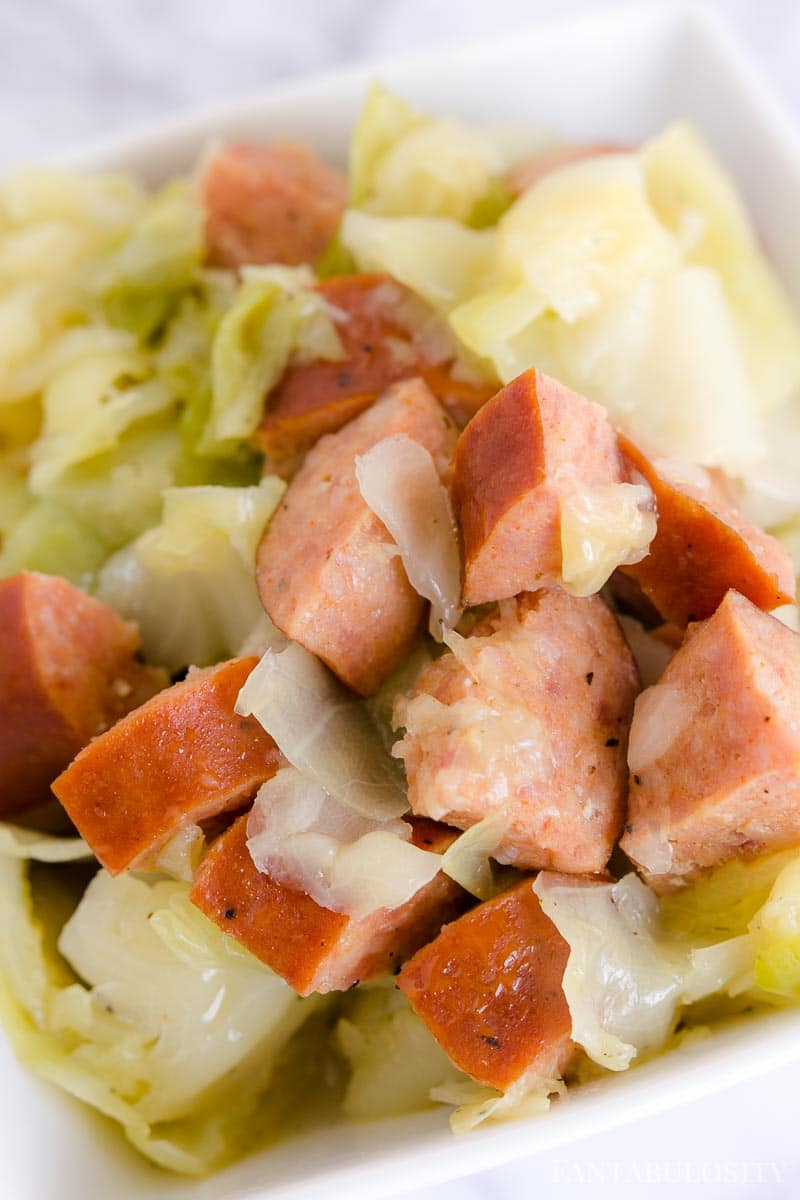 How to Store Leftover Kielbasa and Cabbage
This kielbasa and cabbage recipe does do pretty well, leftover. Know that the cabbage may get a little softer after reheating, but that's why I also like having a crisper cabbage… to allow for leftovers!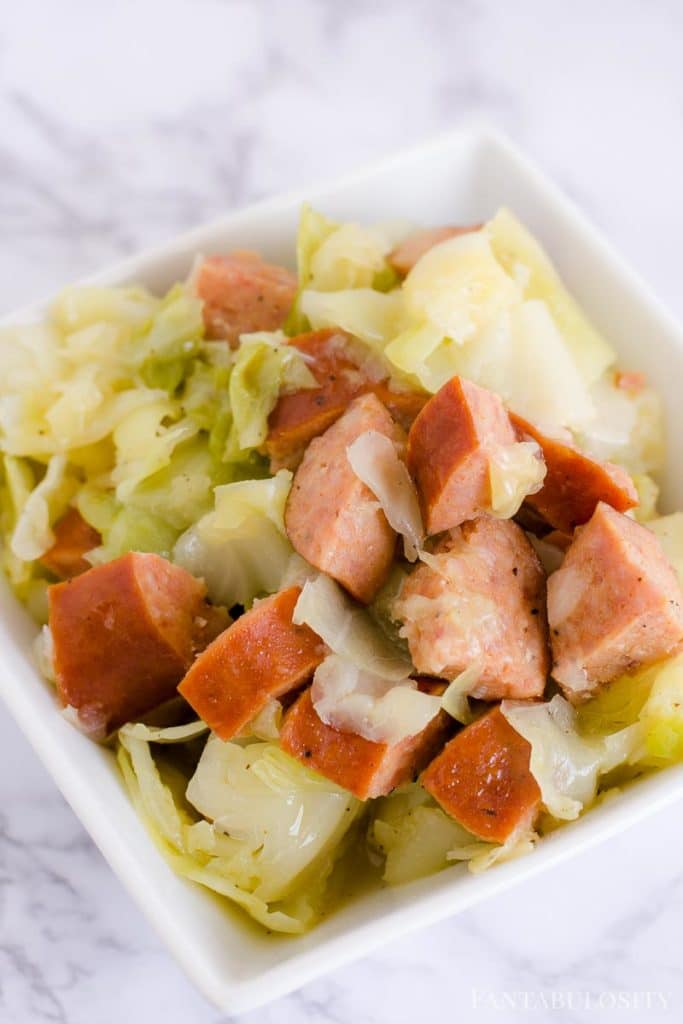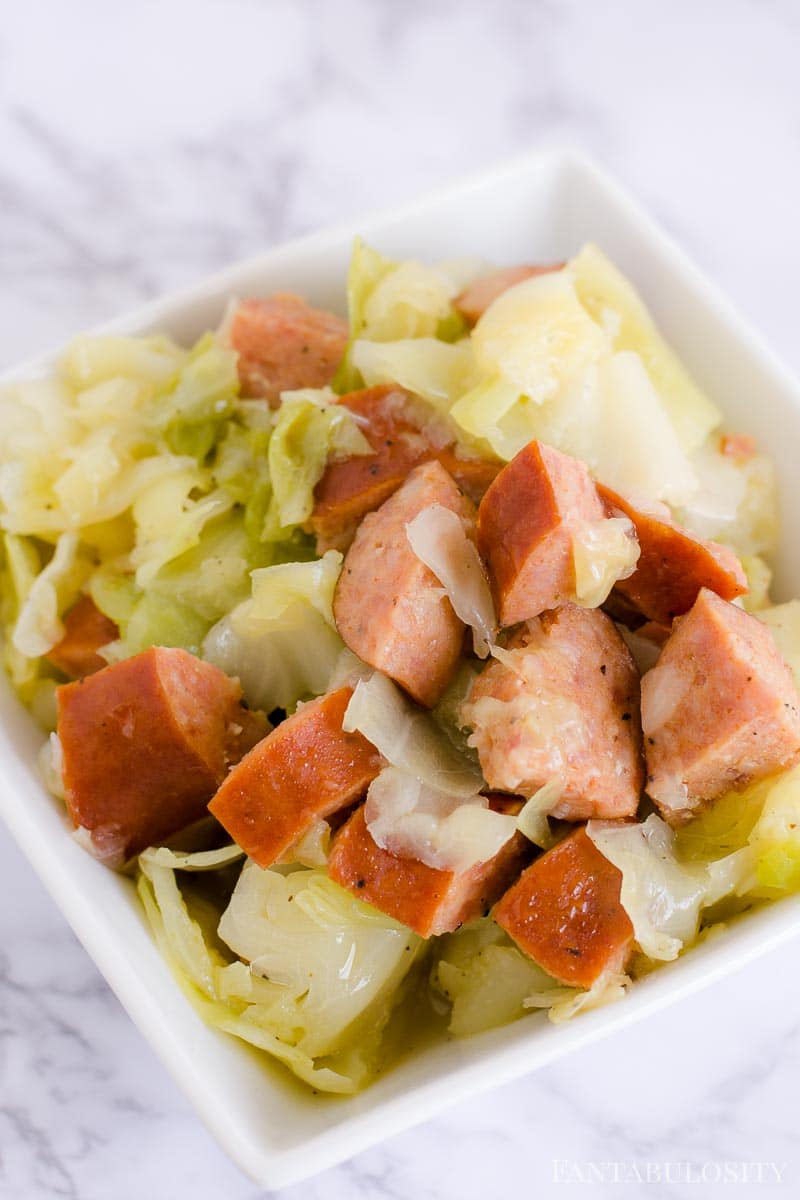 📖 Recipe
Kielbasa and Cabbage in the Instant Pot
Kielbasa and Cabbage in the Instant Pot: A quick and easy sausage and cabbage recipe that only takes 4 minutes in the pressure cooker.
Ingredients
1

head of cabbage

cored and chopped

1

13.5 oz

kielbasa

or smoked, polish sausage (more than 13.5 is ok!)

.5

cup

salted butter

sliced

1

cup

chicken broth

salt

to taste

pepper

to taste
Instructions
Chop up cabbage in one 1 inch pieces. Set aside.

Cut up kielbasa in to 1/2 in – 1 in. pieces. Set aside.

Add chicken broth to the instant pot, and cut up a stick of butter in to slices and add to chicken broth.

Add in chopped cabbage, making sure to leave enough room for kielbasa.

Top with kielbasa, leaving enough room for the lid, and so the sausage does not touch the lid! No need to stir.

(As the kielbasa cooks, the drippings will cook down in to the cabbage.)

Put the lid on, and turn the dial to "seal" and pressure cook on "high". Set the timer to 4 minutes.

When the timer ends, safely turn the vent to release the pressure (I use these heat resistant gloves). When the float valve goes down, it's safe to remove the lid.

Sprinkle salt and pepper to taste (I used about 1 teaspoon salt and 1/2 teaspoon black pepper) and stir.

Serve immediately or remove from Instant Pot insert, so the cabbage stops cooking and doesn't get mushy!
Nutrition
Serving:
2
cups
|
Calories:
264
kcal
|
Carbohydrates:
13
g
|
Protein:
3
g
|
Fat:
23
g
|
Saturated Fat:
15
g
|
Cholesterol:
61
mg
|
Sodium:
461
mg
|
Potassium:
433
mg
|
Fiber:
6
g
|
Sugar:
7
g
|
Vitamin A:
932
IU
|
Vitamin C:
87
mg
|
Calcium:
101
mg
|
Iron:
1
mg
Nutritional information is based on third-party calculations and should be considered estimates. Actual nutritional content will vary with brands used, measuring methods, portion sizes and more.