Food Bar Ideas: When it comes to party planning, setting up a food bar can be the overall theme and is an easy way to feed your guests!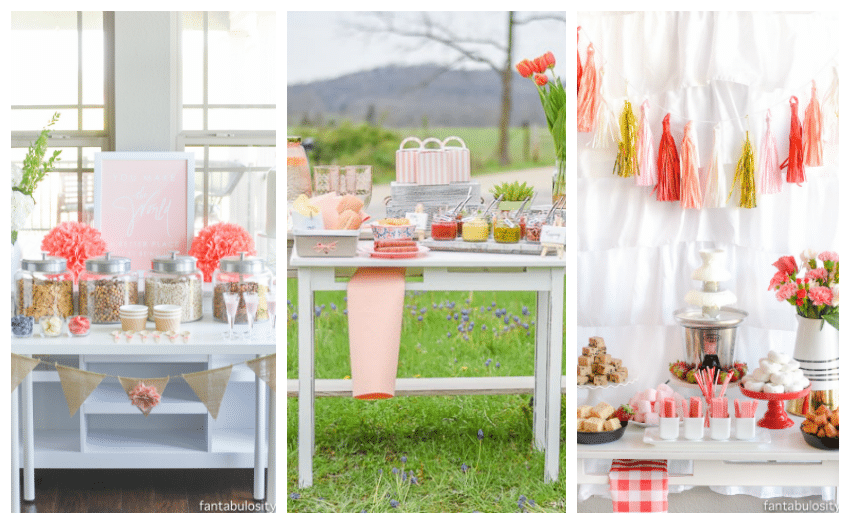 Food Bar Ideas
I'm a sucker for a good food bar at a party. I've thrown a LOT of parties in my lifetime, and usually the first thing that I think about is a party theme.
Friend, if you're having a hard time coming up of a theme for your next party, it can be as simple as deciding what food bar you want to have. Your food bar can BE the theme!
Do you or the guest of honor have a favorite food item? Odds are, you can create the whole party theme around that. Here are a few food bar ideas, and a collection of my favorites to get ideas from, for your very own party!
Savory Food Bars Ideas
Pizza Bar (Make bagel pizzas or even Texas Toast Pizzas for individual servings!)
Baked Potato Bar (Especially with this shrimp baked potato as an option!)
Salsa Bar (Make your own with this salsa recipe!)
Salad Bar
Pancake Bar
Waffle Bar
Biscuit Bar
Chili Bar
Fajita Bar
Popcorn Bar
Ramen Bar
Veggie Bar
Sushi Bar
Omelet Bar
Crostini Bar
French Fry Bar
Chicken Wing Bar
Sweet & Dessert Food Bar Ideas
S'mores Bar
Pudding Bar
Waffle Bar
Pancake Bar
Biscuit Bar
Pie Bar
Donut Bar
Candy Bar
Fruit Bar
Candy Apple Bar
Crepe Bar
Drink Bar Ideas
Hot Cocoa Bar
Champagne Bar
Mimosa Bar
Italian Soda Bar
Apple Cider Bar
Smoothie Bar
Martini Bar
Margarita Bar
Bloody Mary Bar
Lemonade Bar
Root Beer Float Bar
Spa Water Bar
Vodka Bar
Food Bar Party Ideas
Now that you have a TON of food bar ideas, here are my favorite parties that feature food bars, so you can get more ideas for your own get-together!
Kids AND adults love a good ole hot dog bar. Planning a bonfire? Let guests roast their hot dogs and head over to the toppings table to make it their own creation.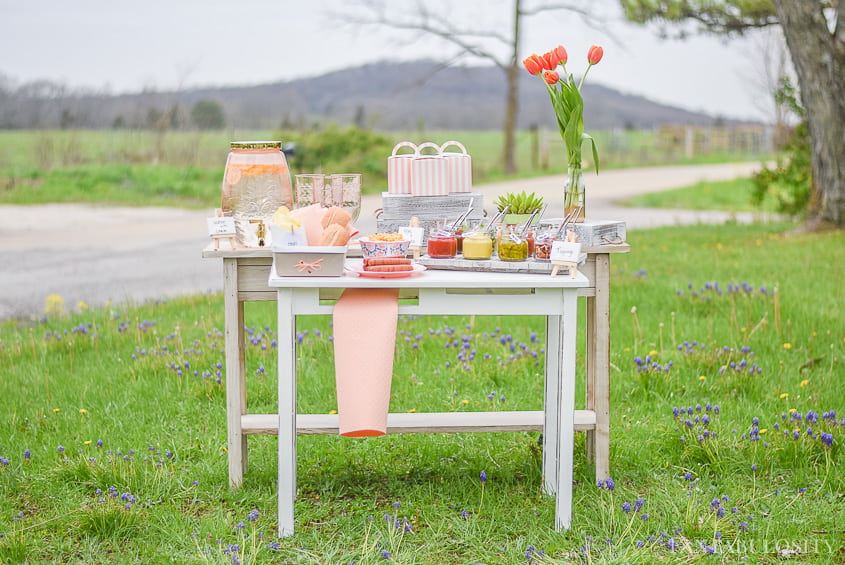 When throwing my son's second birthday party, I knew a nacho bar was the perfect option. A party full of adults called for something where they could come and go, and snack as they pleased!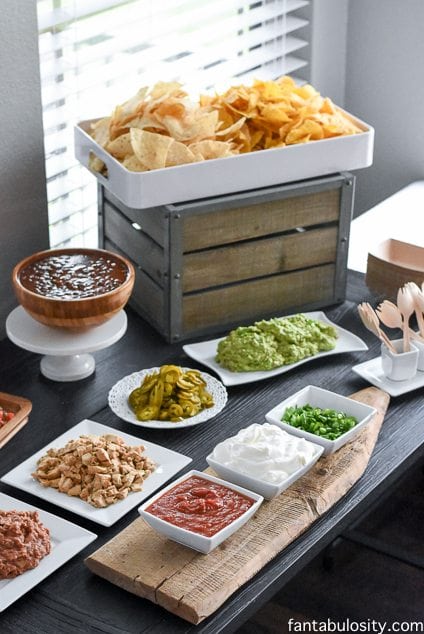 Cinco de Mayo or bust! (Or any other time you want to host a taco bar of course!) Maybe you want to throw a party for on Tuesday, just because you love tacos! Don't forget to send me an invite please!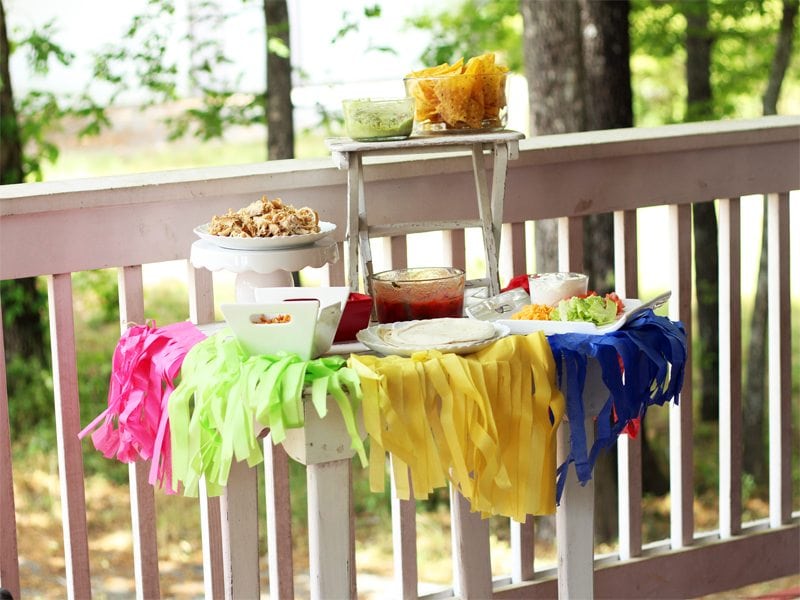 A low key girls brunch makes the perfect setting for this coffee bar party idea! Different flavors of coffees, creamers and pastries MAKES this a party your gal pals will remember!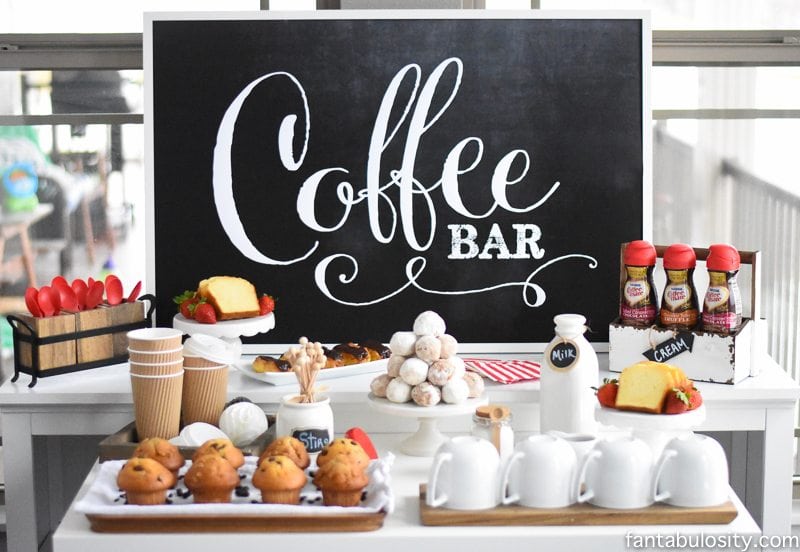 I just don't think it gets easier than a cereal bar. Whether it's a morning party or a late night snacking station, a cereal bar is going to be a HIT.
Chocolate lovers unite with this chocolate bar. An assortment of chocolate candies can fill your table, and even offer hot chocolate as a beverage to match!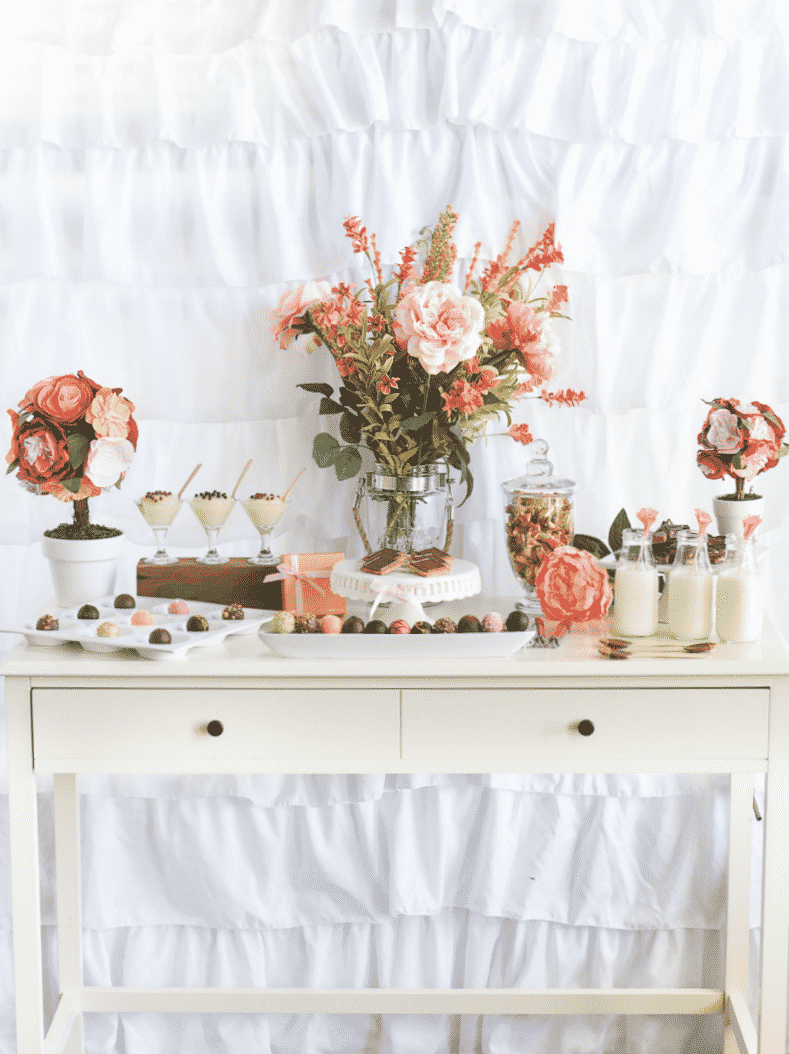 Want to spiff up your chocolate bar? Add a chocolate fountain and serve all the goodies for your guests to dip and go!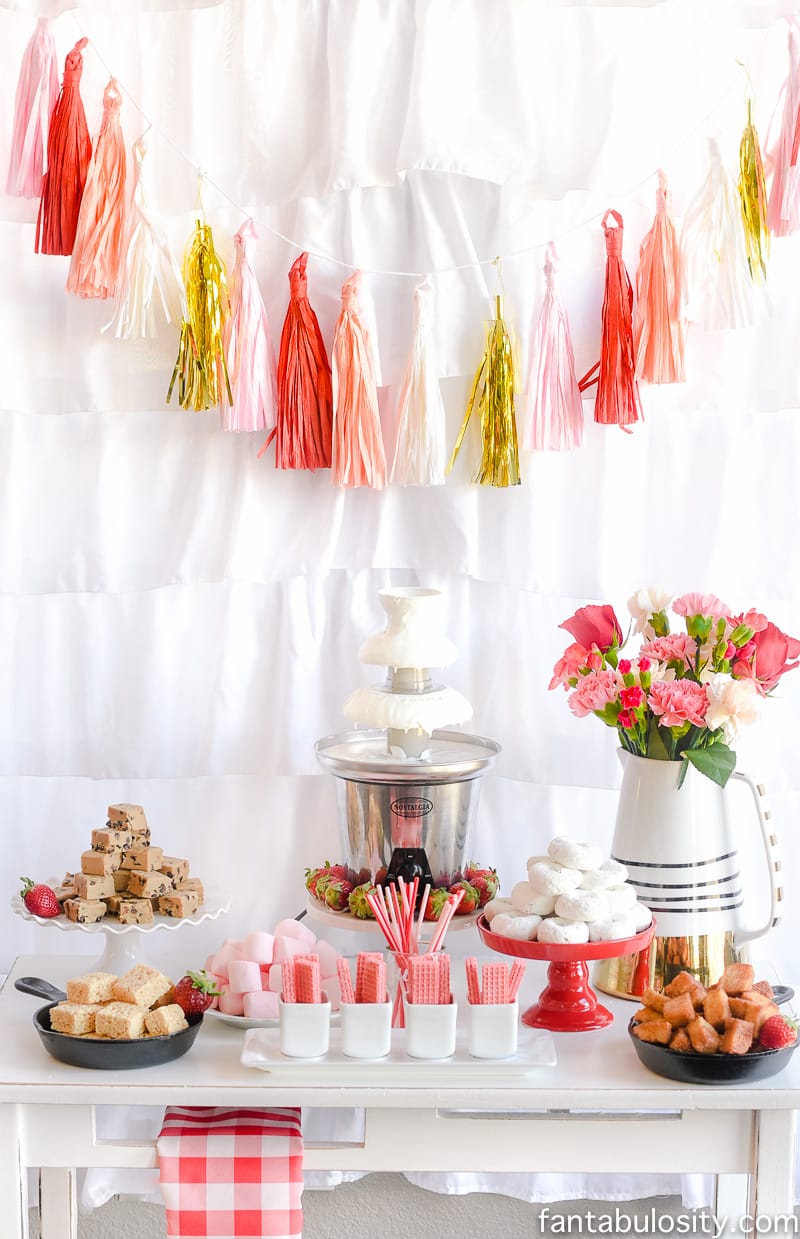 Hosting a brunch? I love the idea of a bagel bar because guests can pick out of an assortment of bagel flavors AND cream cheese, jellies and butter flavors!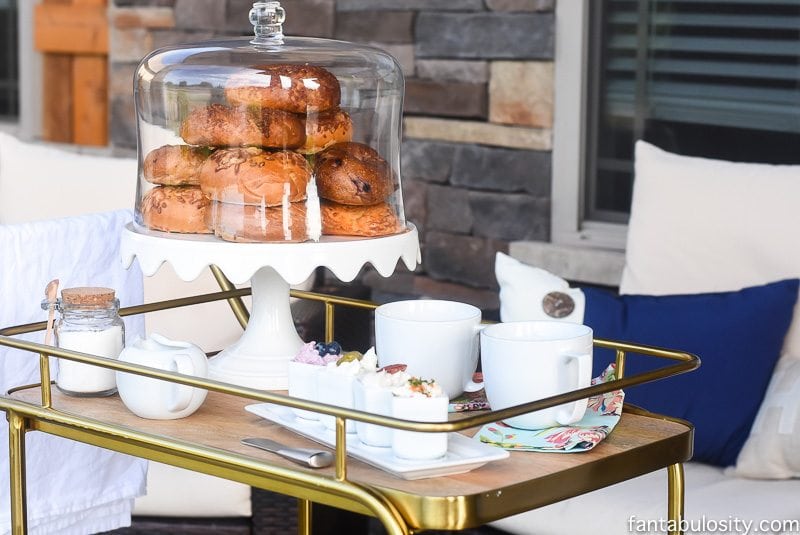 If you're hosting for kids, you better believe they're going to love fixin' up their own yogurt and pudding cups!
I also love the option of a yogurt bar for a bridal or baby shower, with the options of classy toppings like fruit, nuts, and drizzles.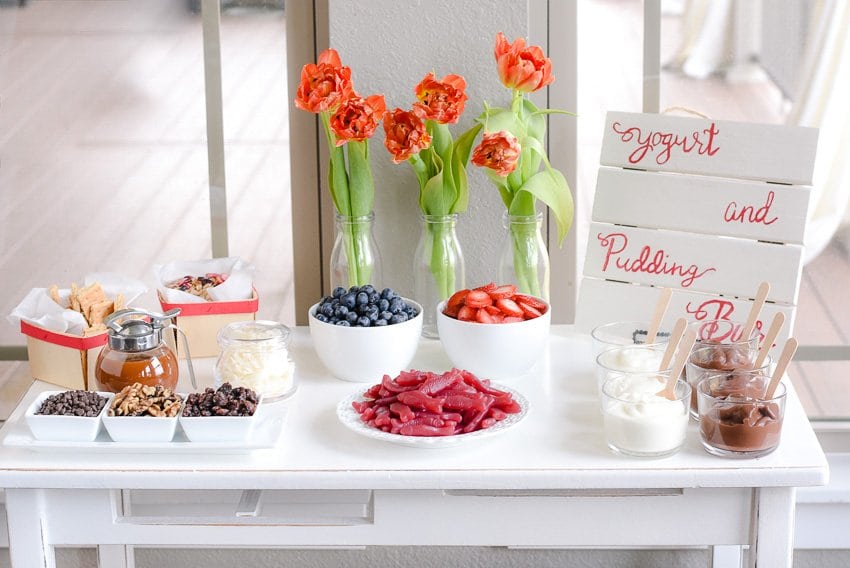 What party is complete without dips!? So why not create a dip food station!? Offer an assortment of dips with dippers like chips, veggies, crackers, pita bread and more!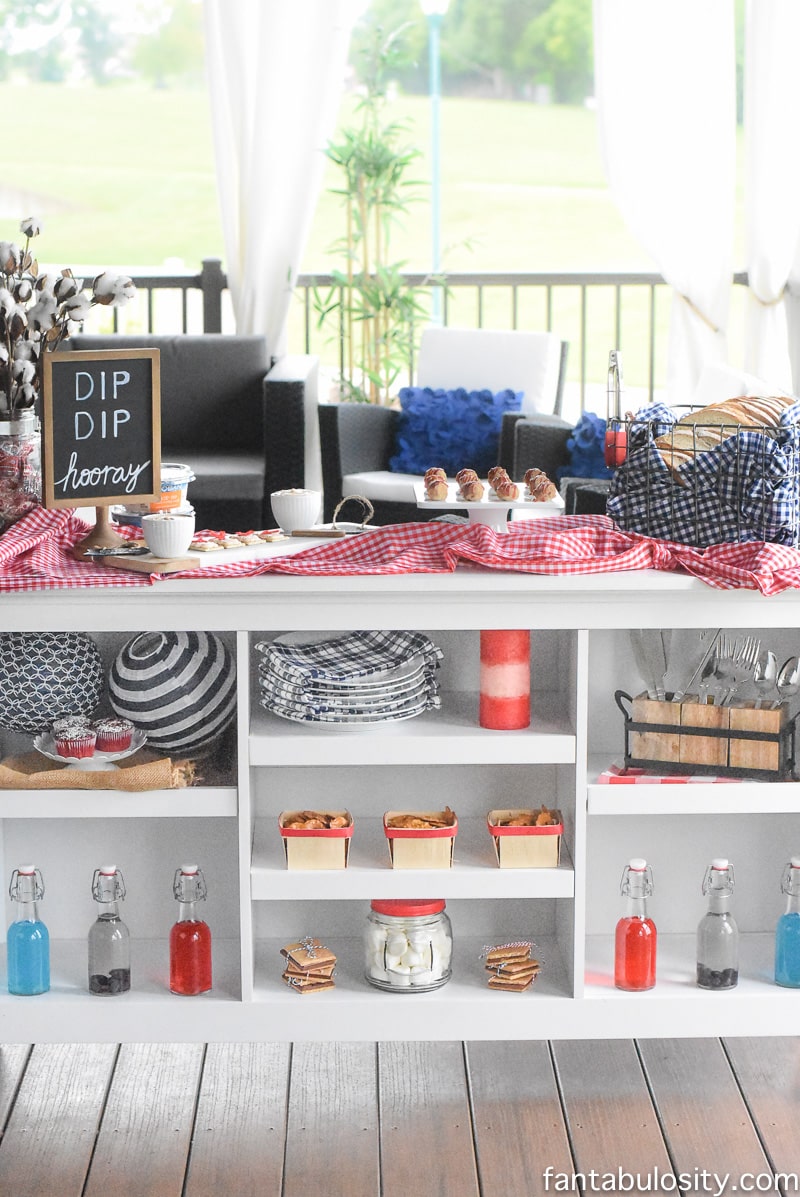 Looking to offer something "out-of-the-box" and healthier than your typical food bar? A fresh juice bar is IT! Set out your juicer with fresh veggies and fruit to let your guests experiment and juice their own juices!
A warm comforting option during the colder months is a hot chocolate bar like a Bride on a Budget styled!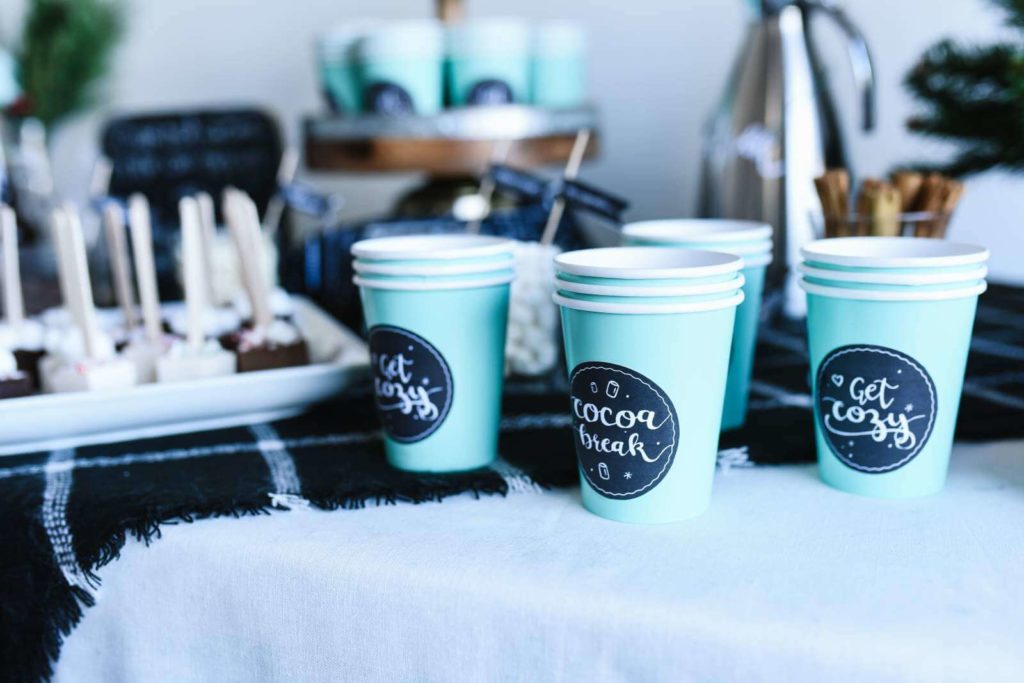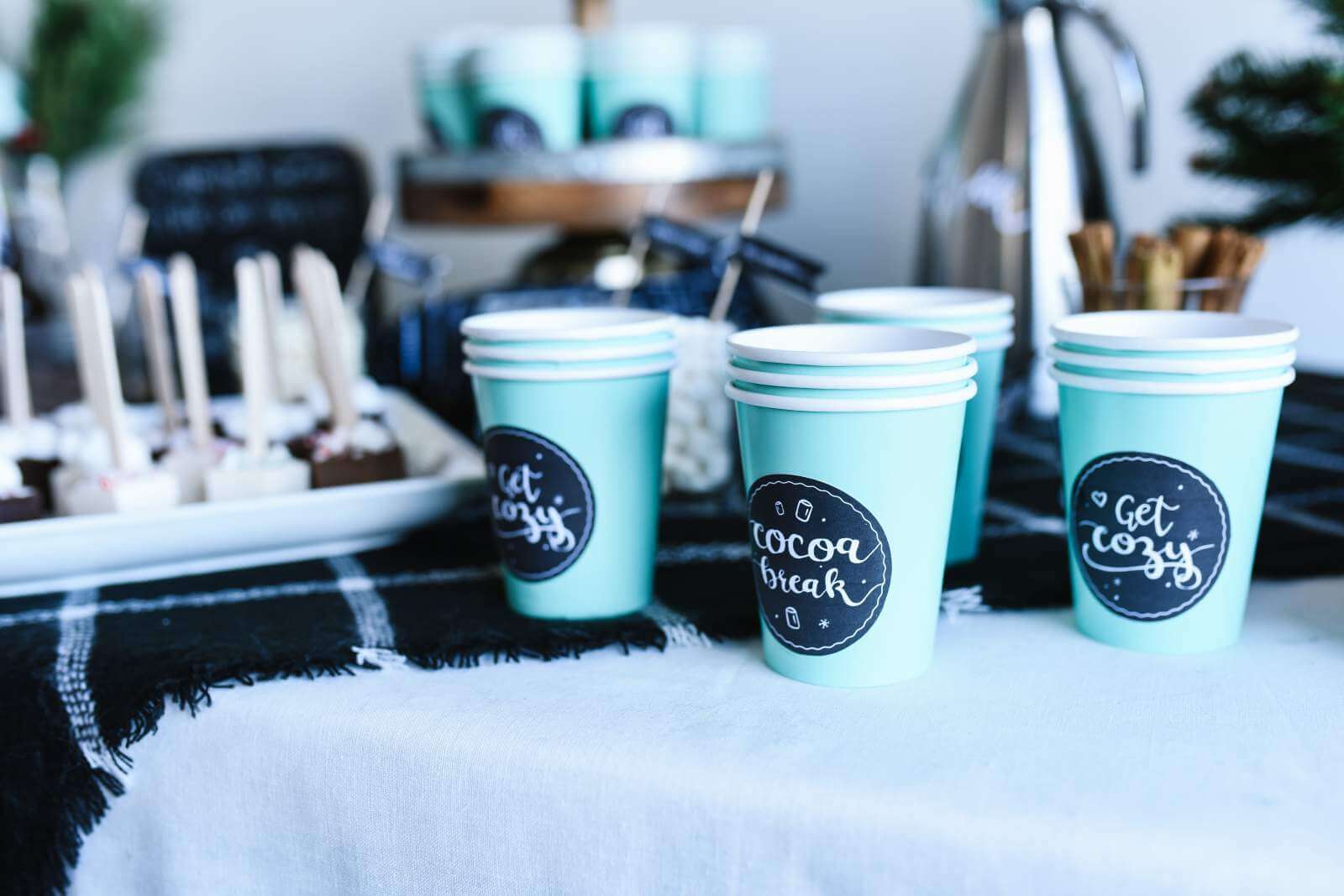 Plowing Through Life had a great idea to create this baked potato bar. How easy is this!?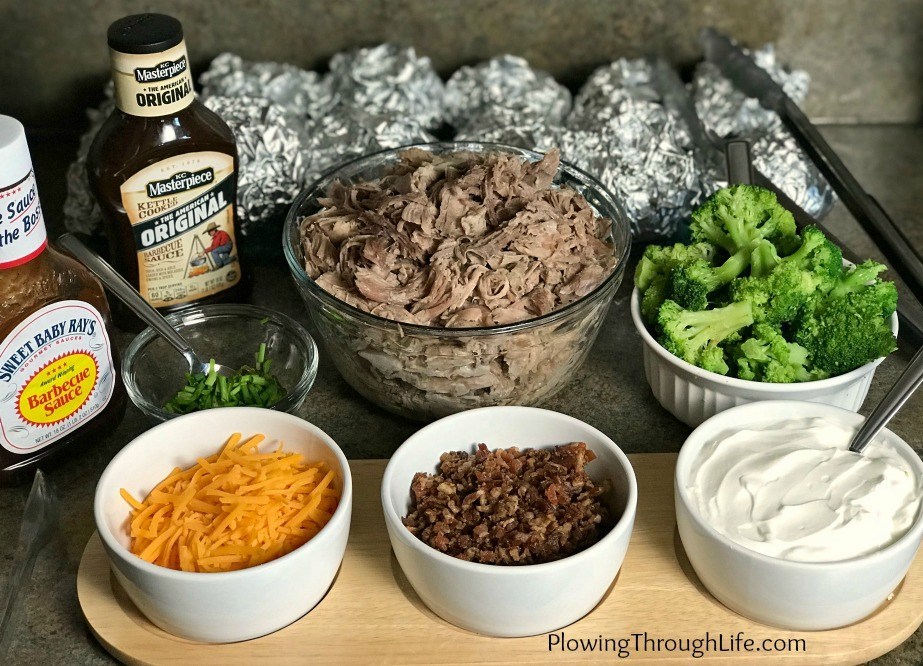 There are salad bars in restaurants EVERYWHERE! Why can't we have one in our own homes, for parties!? We can! Love this idea from Spa Bettie.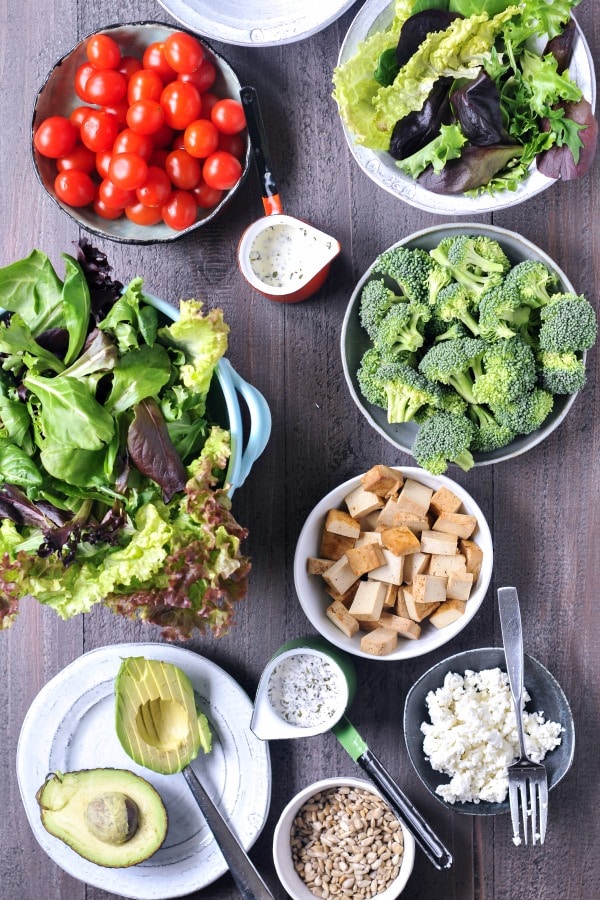 Oh mylanta. How I'd LOVE to host or even attend a party with a pancake bar. I love what Neighbor Food did with this!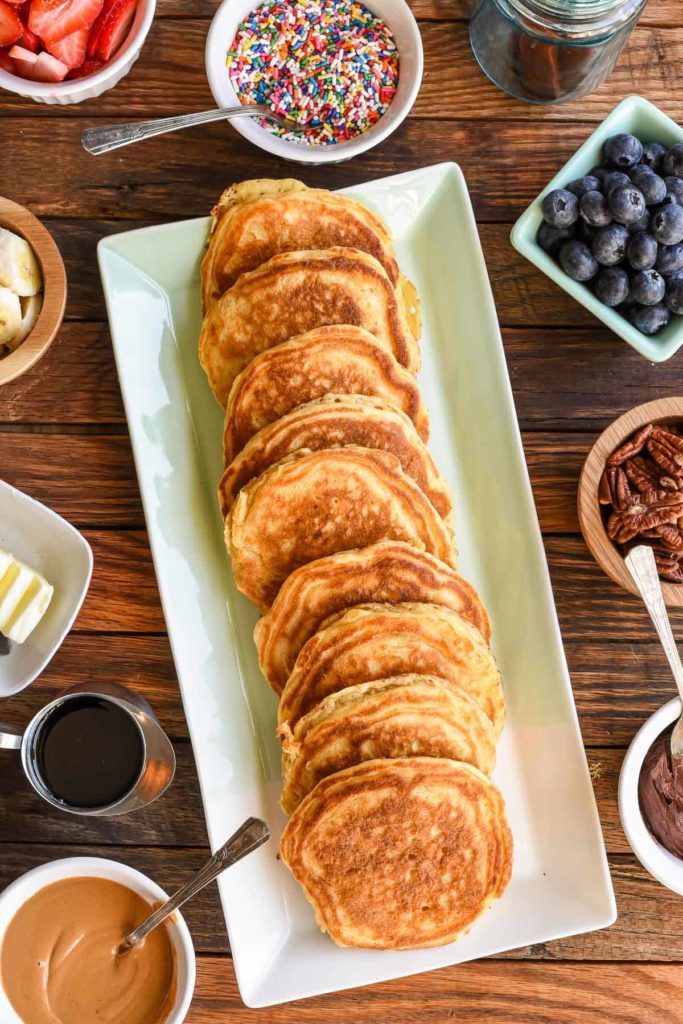 Ok, so I could make myself sick if I attended a party with a waffle bar. The toppings ideas are endless and they'd definitely be endless if I was making a waffle from it! How cute is this one from Frog Prince Paperie!?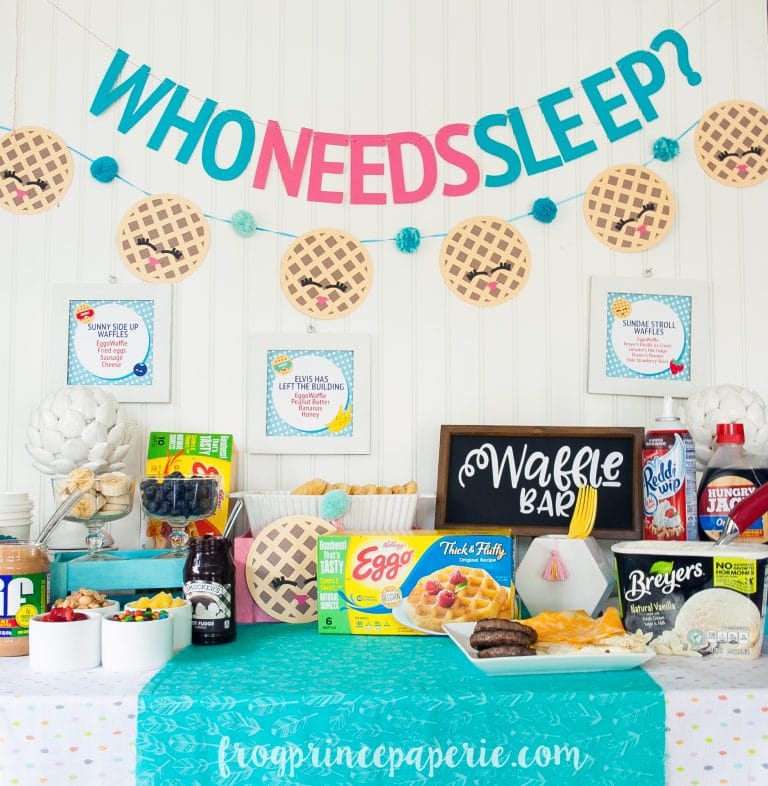 Ok, why haven't I hosted a biscuit bar party yet! Savory, sweet… what a treat from Shrimp Salad Circus!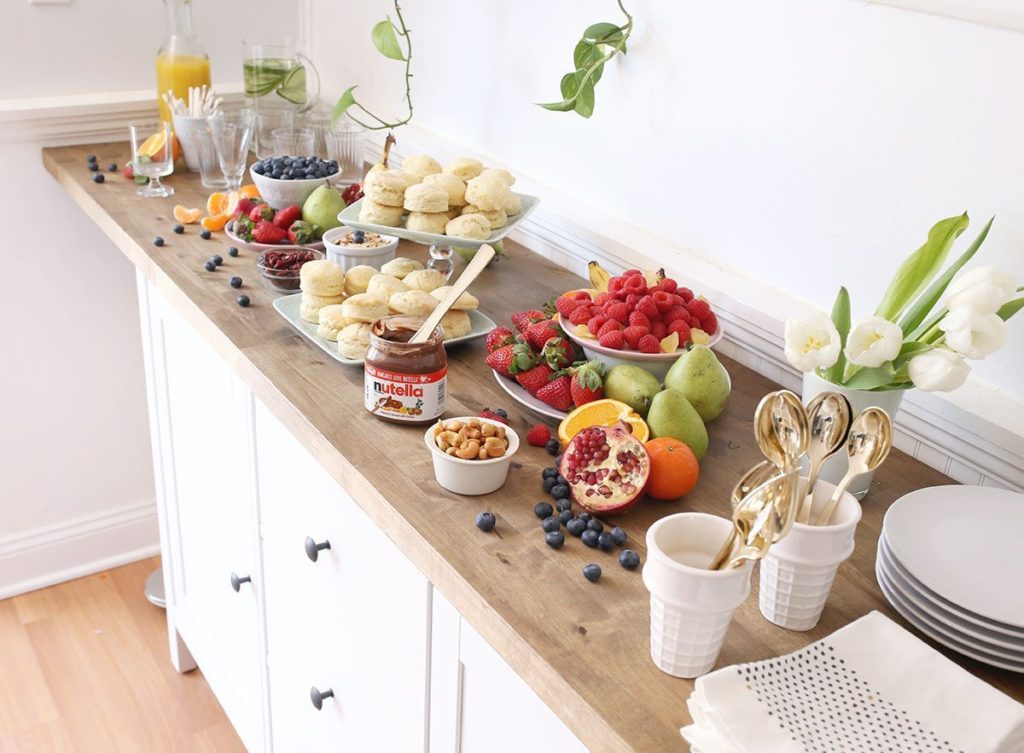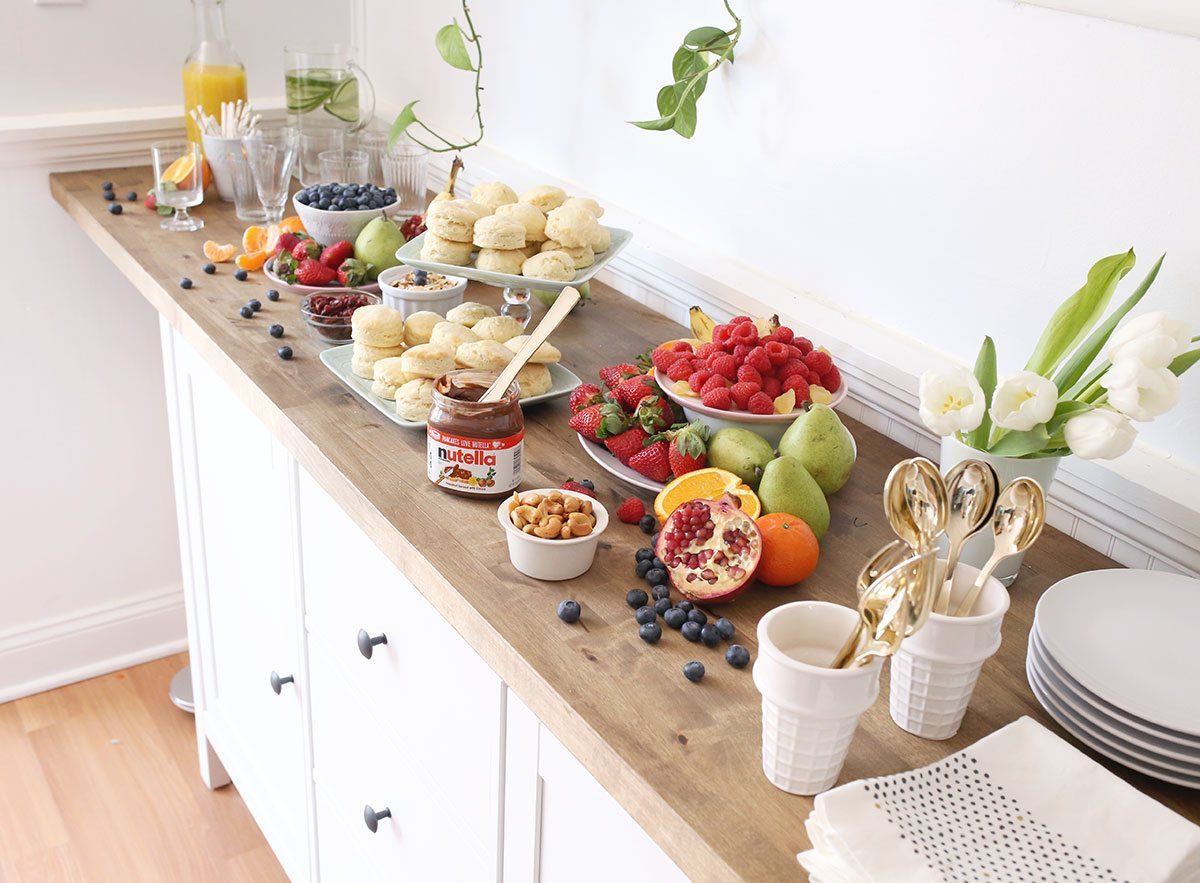 Tidy Mom's Italian Soda Bar is making me SWOON! I love this idea so much and can you even imagine how much fun this would be!?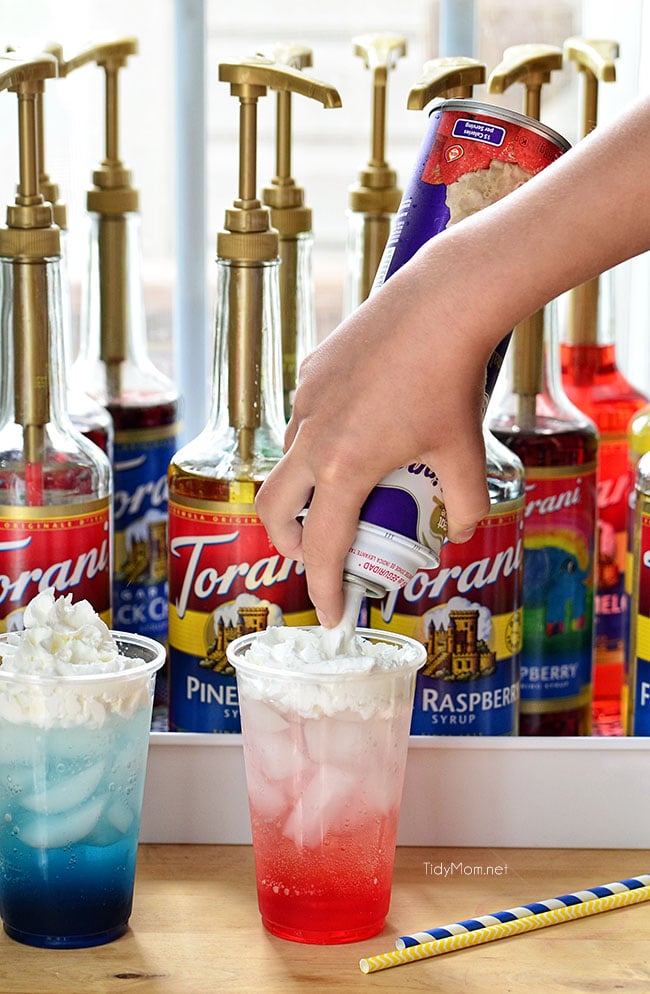 How easy a salsa bar could be, right? And what a great way to experiment and test out new salsa flavors!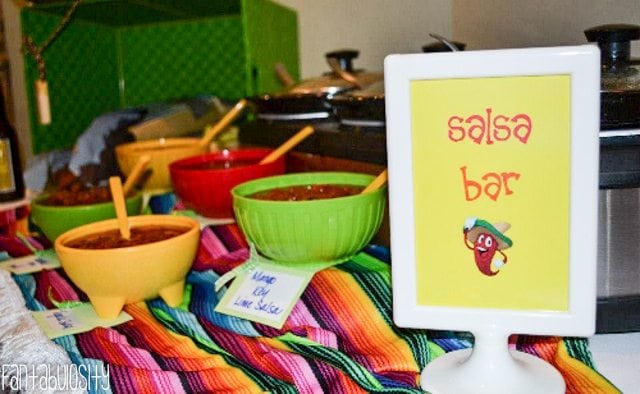 Get in my belly! I know my kids would adore having this at a party!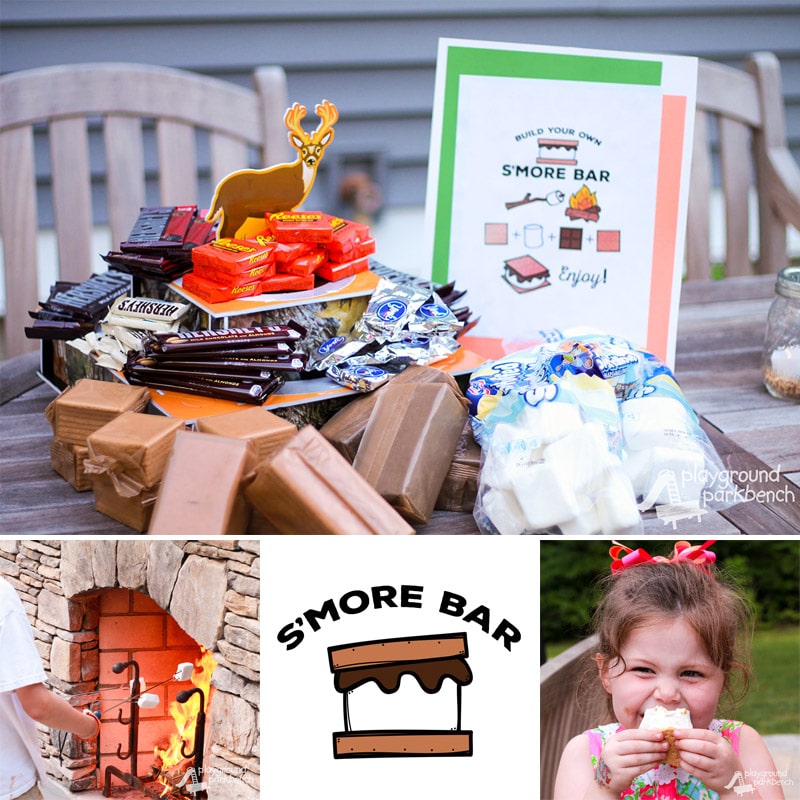 I love a good crepe, and being able to experiment with fillings and toppings would be to die for with a crepe bar like on Ashlee Marie!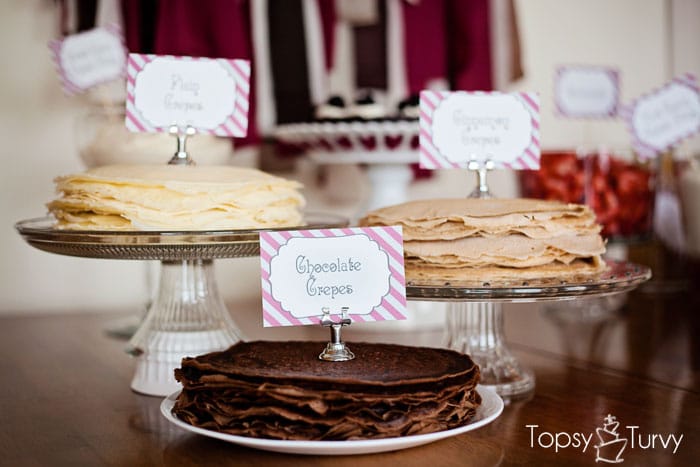 What!? How fun is this kebab party idea from Gluesticks?! From savory to sweet, guests will have fun customizing their own kebabs!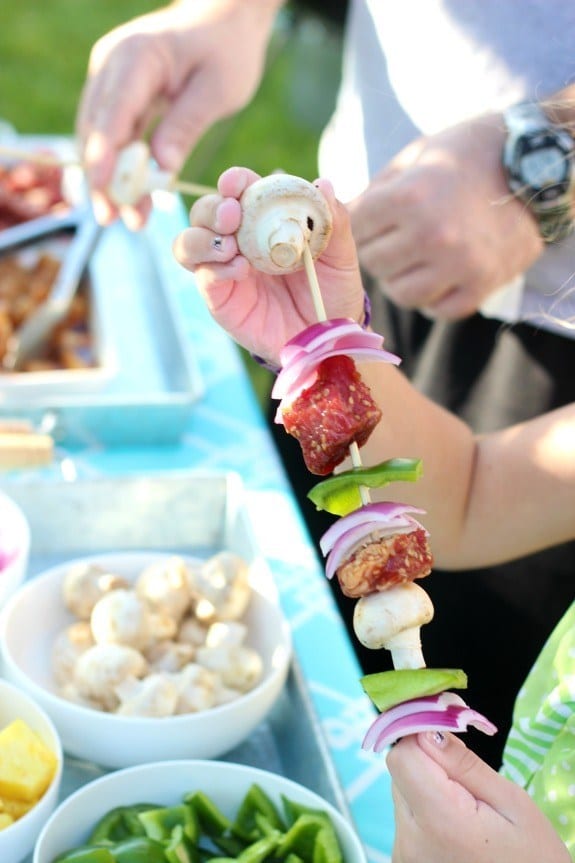 More Food Bar Ideas
Alright, what am I forgetting!? Is there a favorite food item that you'd like to see turned in to a food bar? I'd love to hear it so I can consider it for my next party! Drop your ideas in the comments below!
BEST Party Supplies Websites
Since you're thinking about your party, you might as well go ahead and think about the items you'll need for this shindig you're throwing!
Here are my favorite party supplies stores to get everything from decor, to food trays, adorable cups and so much more!