This post has been sponsored by Huhtamaki, Inc. makers of the Chinet® brand. All thoughts and opinions are my own.
Burger Bar Ideas: Toppings ideas and a food bar that you and your guests will love at your next party! Plus, a free "Burger Bar" printable for your table!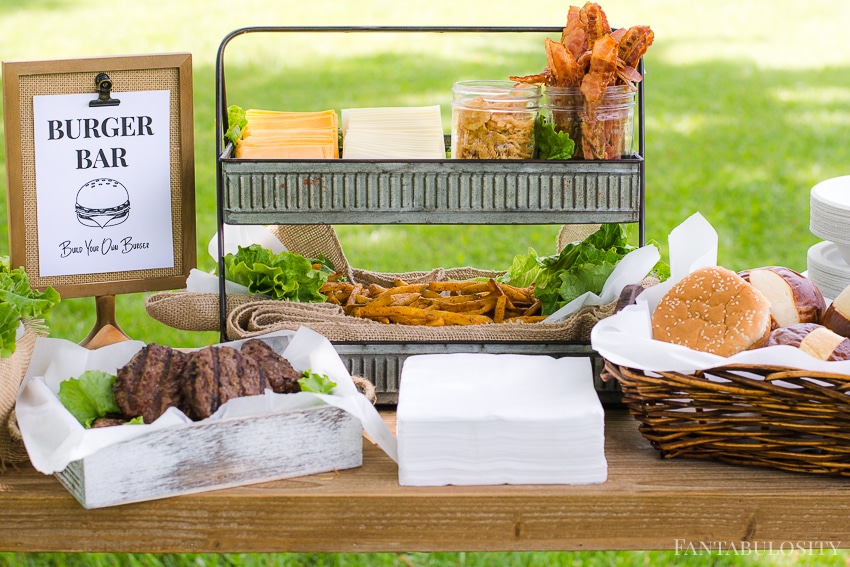 Burger Bar Ideas
A burger bar has been a food bar on my "wish list" for hosting for quite some time.
So when my cheeseburger lovin' son's birthday rolled around, I KNEW it was the perfect time, and now, I'm sharing it with you today so you'll have my favorite tips and ideas to host your own!
Have guests that aren't eating red meat? Serve these crispy chicken burgers on your burger bar instead!
Burger Bar Free Printable Sign
All food bars should have a sign, right?! I love creating food labels or signs for parties and this one was no exception.
But today, I'm sharing this free burger bar sign printable with you too, so you can save it and have your very own!
Save your free "Burger Bar" sign here!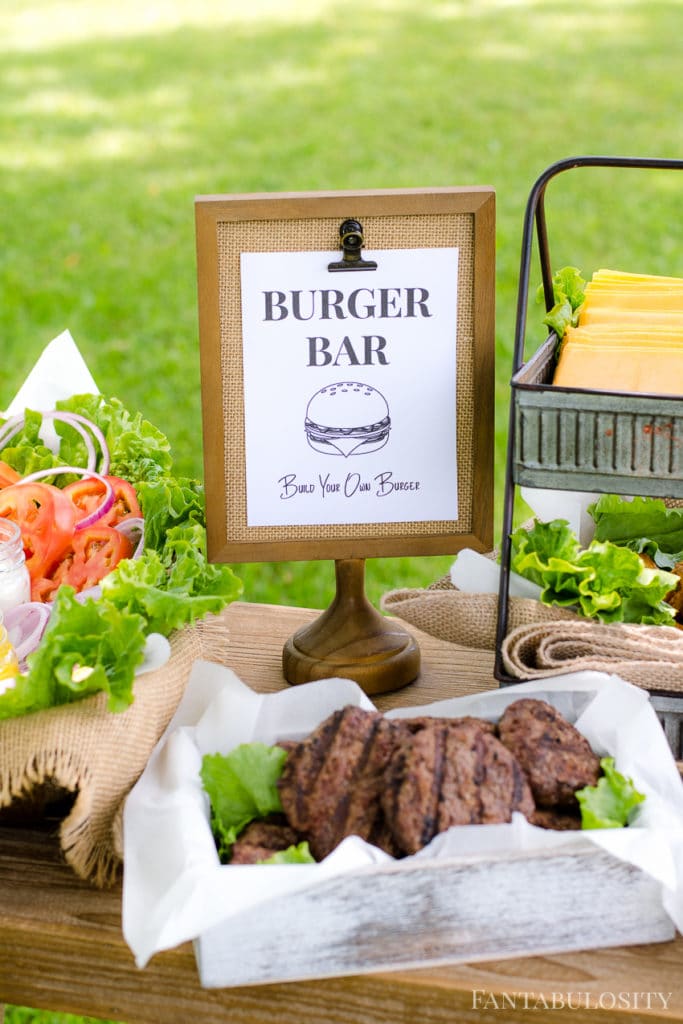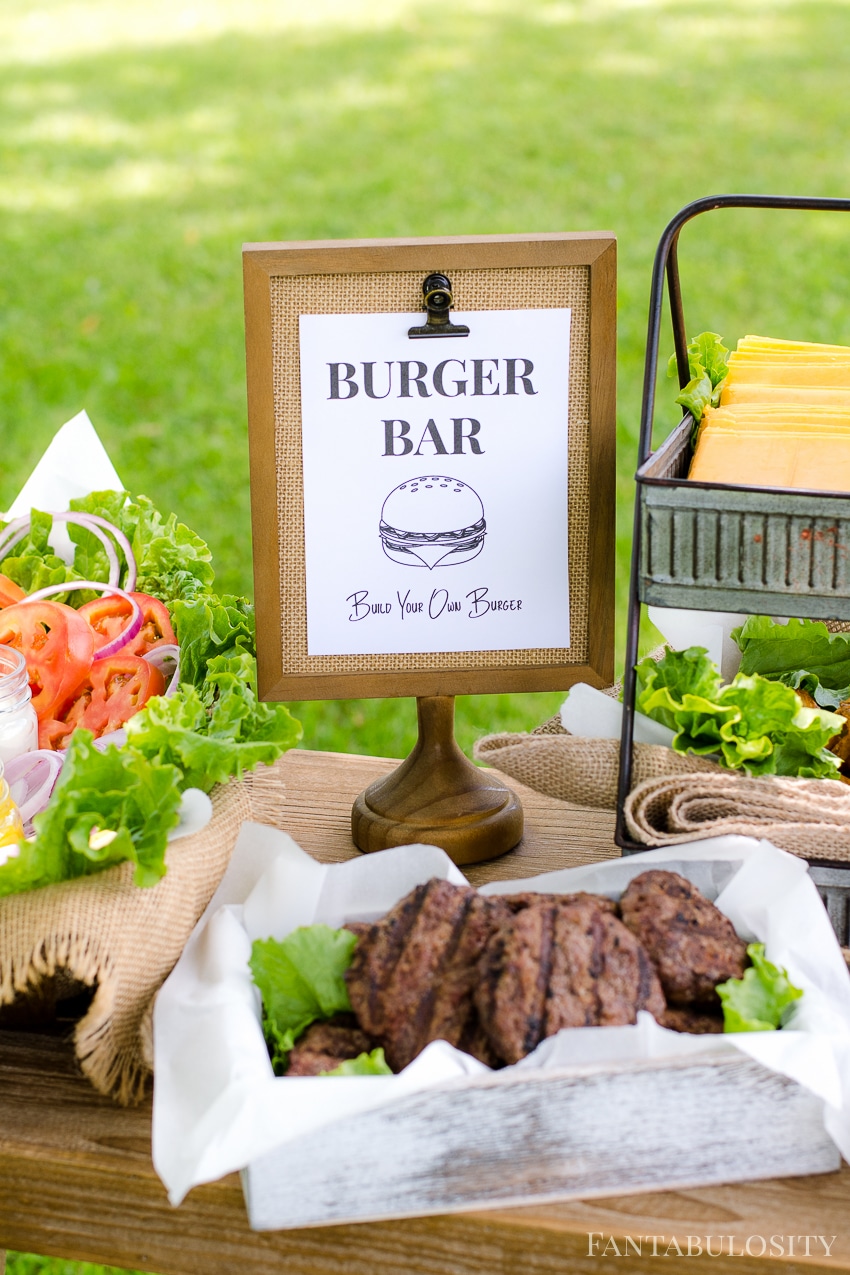 Burgers for the Burger Bar
It goes without saying, but burgers are needed for your burger bar.
What I love about burgers for a food bar? They're easy to make ahead of time if needed!
Grill, bake burger or cook burgers on the stove before party time, and keep them warm in the oven while you set up the rest of the toppings!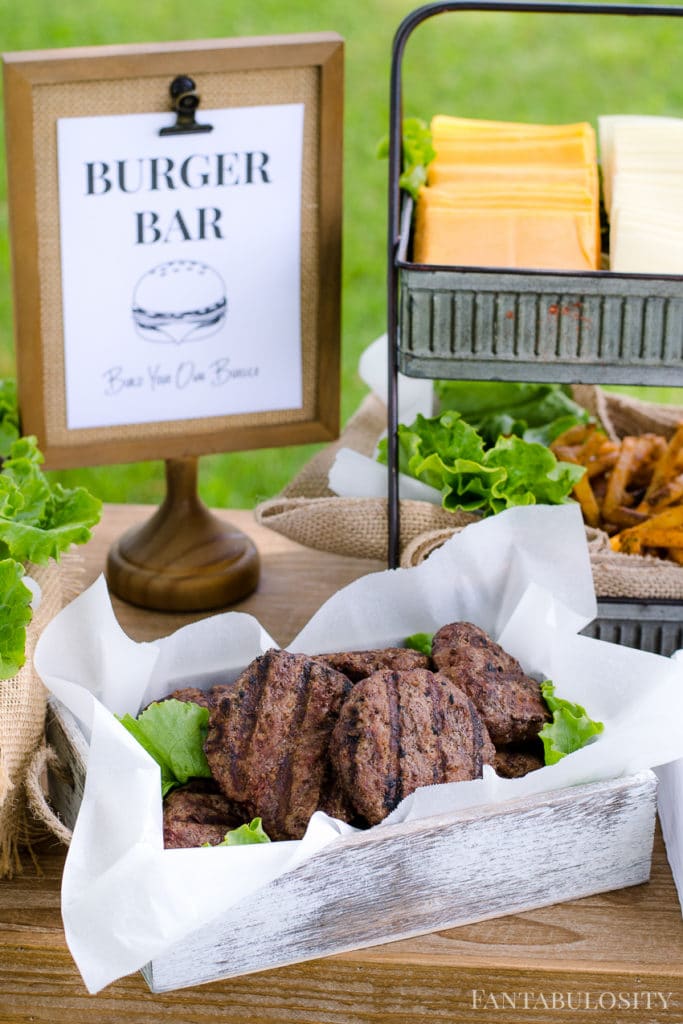 Burger Toppings Ideas
Deciding on toppings was one of my favorite steps to planning this burger bar. The ideas are endless, and it's the perfect time to experiment with fun, new toppings.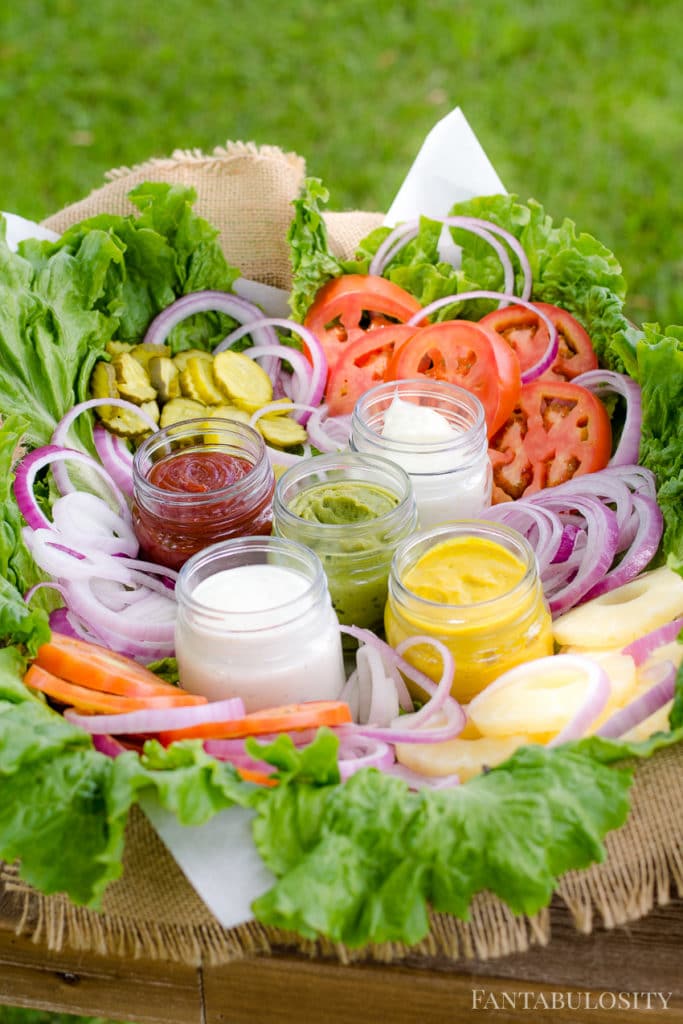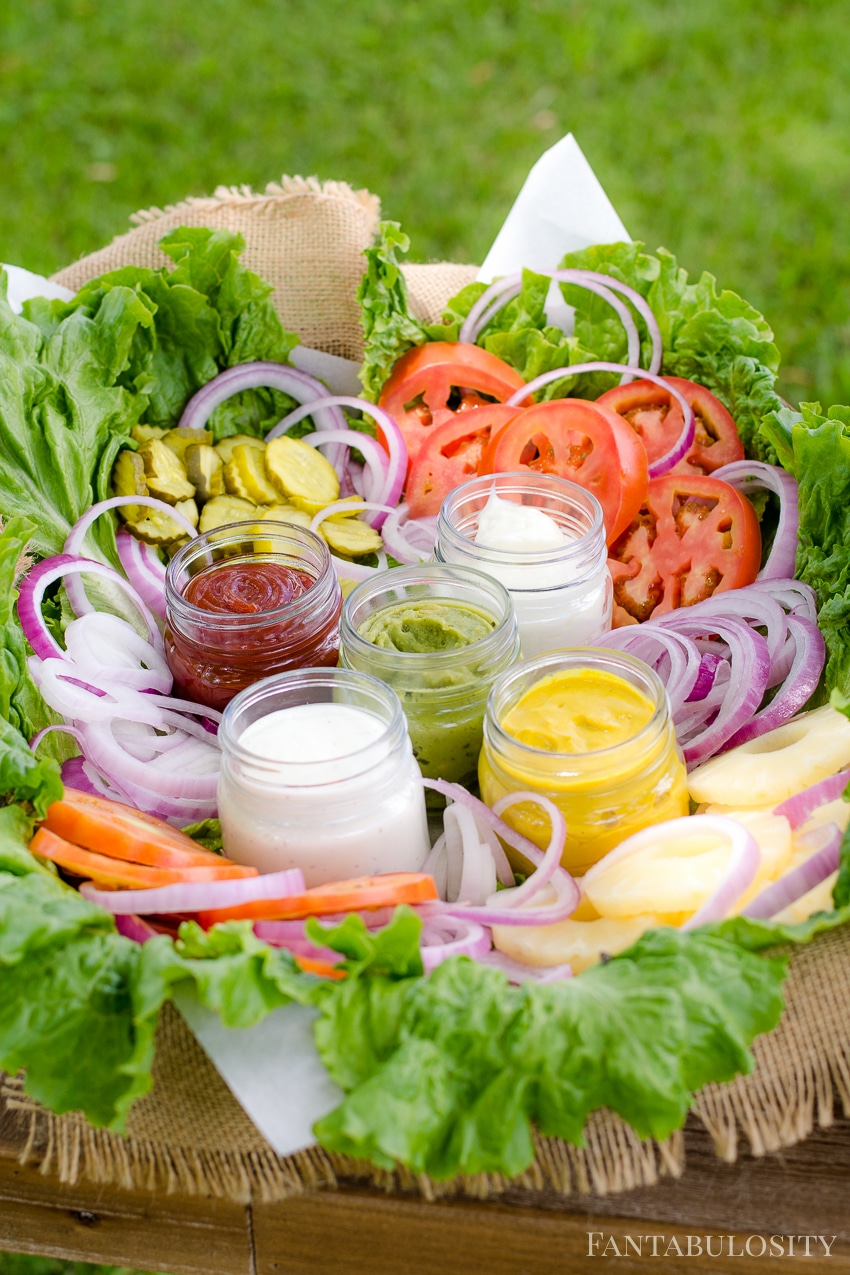 Here is a list of traditional toppings for burgers, along with some of my favorite out-of-the-box ideas if you have guests who love to create and taste-test!
Burger Bar Ideas for Your Next Party
The options are endless when it comes to burger toppings! From classic toppings such as ketchup and mustard to shaking things up by using items such as taco sauce and guacamole!
ketchup
Ketchup can be a staple burger topping but it's also fun to add some kick to your burger by using a spicy ketchup sauce if you can take the heat!
mustard
Who doesn't love mustard on a big ole juicy burger!? Regular mustard is always a favorite to offer at a party but feel free to add others to the mix, such as hot mustard, honey mustard, horseradish mustard and more!
mayo
Love miracle whip or mayo? That's the question of the century! Offering one or the other is a safe bet but it can also be fun to offer a fiesta mayo or "fancy sauce" using a mixture of mayo & ketchup!
ranch dressing
We're HUGE fans of ranch dressing, especially the buttermilk restaurant style. However, making a jalapeno ranch dressing to serve on top of burgers is HARD to beat!
bbq sauce
BBQ sauce isn't just for pork steaks! Slather that juicy sauce all over your burgers, whether it's on the grill while they're cooking to get a "sticky" texture or pour it over the top of a cooked burger for extra flavor!
guacamole
If you've never tried guacamole on a burger, I'm afraid to say you're missing out! The flavor combo of the two is a powerhouse!
lettuce (leaf, spinach or romaine)
That crispy, crunchy texture of a lettuce leaf on a burger is absolutely delicious! Using leaf lettuce is our favorite because of the bright color and texture, however, romaine, spinach or head lettuce is definitely acceptable!
onions (red, yellow, white or green)
I don't know about you but a crips onion on a burger screams summertime. Red, yellow, white, or even green onions can pack a punch in the flavor department!
tomatoes
Vine-ripened tomatoes can add a juicy texture to an already juicy burger! Remember...don't refrigerate your tomatoes if you can help it! Refrigerating them can really reduce the flavor.
pickles
Hamburger dills, bread and butter, and spicy pickles are just a few pickled cucumbers that seem to top the list when it comes to burger toppings!
cheeses
Sliced, shredded or cheese sauce... it's all a must on a burger if you ask me!
Some fun cheeses to consider for burgers toppings are:
sliced American
sliced pepper jack
shredded cheddar
sliced swiss
havarti
queso
pineapple
Pineapple on pizza? Or pineapple on a burger? How about BOTH! Top your burger with a fresh slice of pineapple or even toss it on the grill first to give it a little more flavor!
fried onions
Fried onions aren't just for green bean casserole anymore! They can give the added crunch you're looking for!
hot sauce
If you can handle the heat, pour on your favorite hot sauce to give a juicy burger a "buffalo chicken" feel!
spice blends & mixes
There are endless amounts of spices and blends you can top your burgers with; either while they cook or to sprinkle on after.
Some of our favorites are:
lemon pepper
garlic pepper
greek seasoning
bbq seasoning
garlic powder
Italian dressing mix
fried egg
An over-easy egg (or fried egg if you're not a fan of runny yolk) can turn a regular burger in to a breakfast (or fun dinner) that you'll NEVER forget!
potato chips
Potato chips aren't just a side dish anymore! Toss on your favorites under the bun and feel the "CRUNCH" that no other topping will give you! Here are some fun potato chip topping ideas:
regular potato chips
Doritos (like we use in the Dorito casserole)
Funyuns
Chili Cheese Fritos
Sour Cream & Onion
jalapenos
If you love spicy, topping your burger with fresh jalapenos or even pickled or fried/breaded jalapenos are a game-changer in the burger world!
taco sauce
Who says Tuesday is only for tacos? I think a taco burger makes a lot of sense to switch things up during the week! Not only does adding taco sauce to a burger make it delicious, adding taco toppings to a burger can REALLY blow your tastebuds' mind!
pizza sauce
Have you heard of a pizza burger? It's true... it exists and it's a must-try for sure! Add pizza sauce to your burger, along with a little mozzarella cheese and if you're feeling frisky, add some pepperoni or your other favorite pizza toppings to the burger!
How to Style a Burger Bar
One of my favorite party styling hacks is to use items that you already have around the house.
However, for this party, I did make a trip to the store and snagged a few items because a lot of my home decor is in storage from a recent move.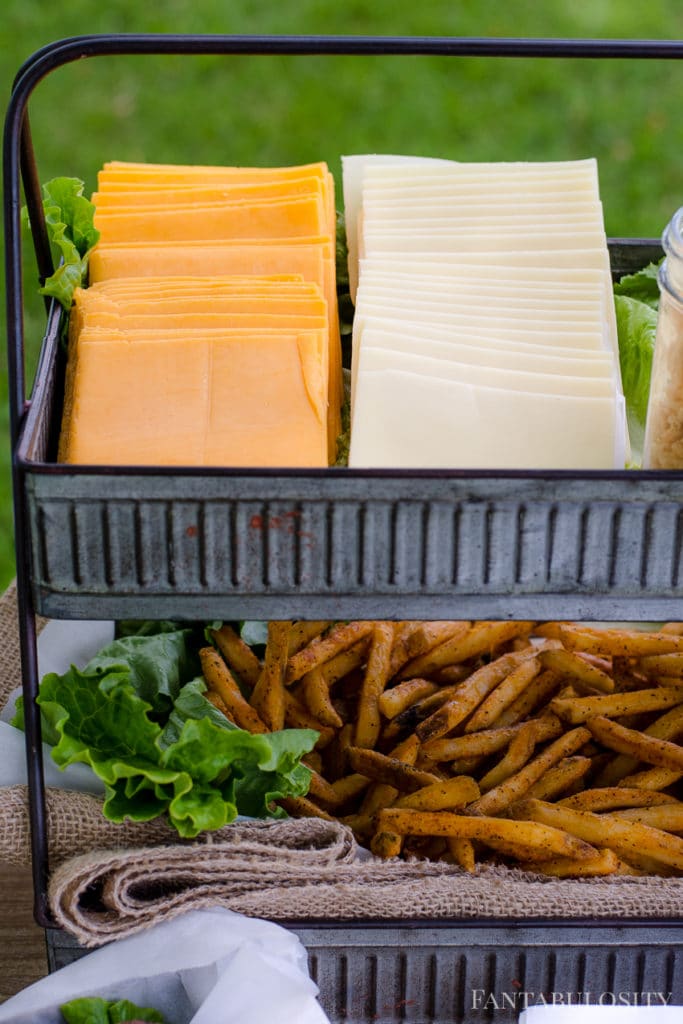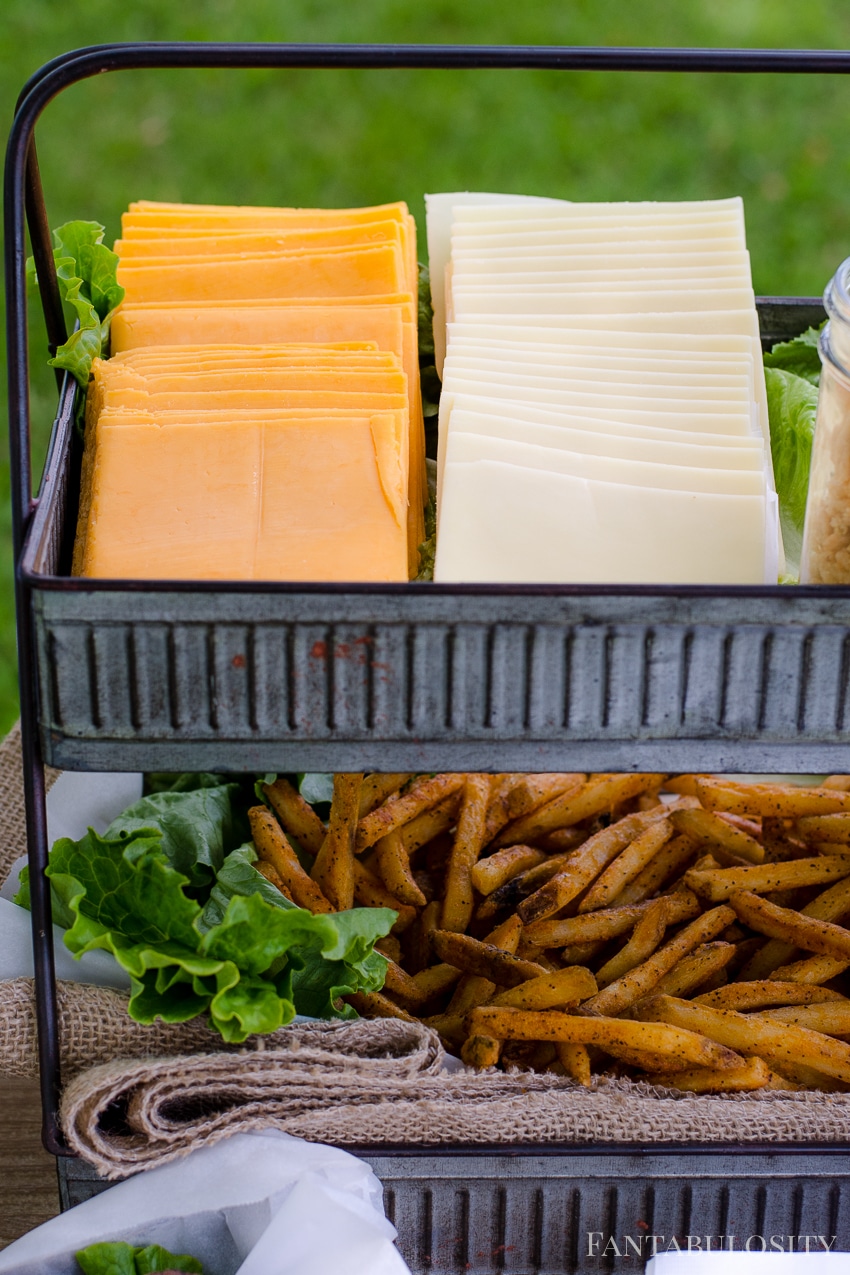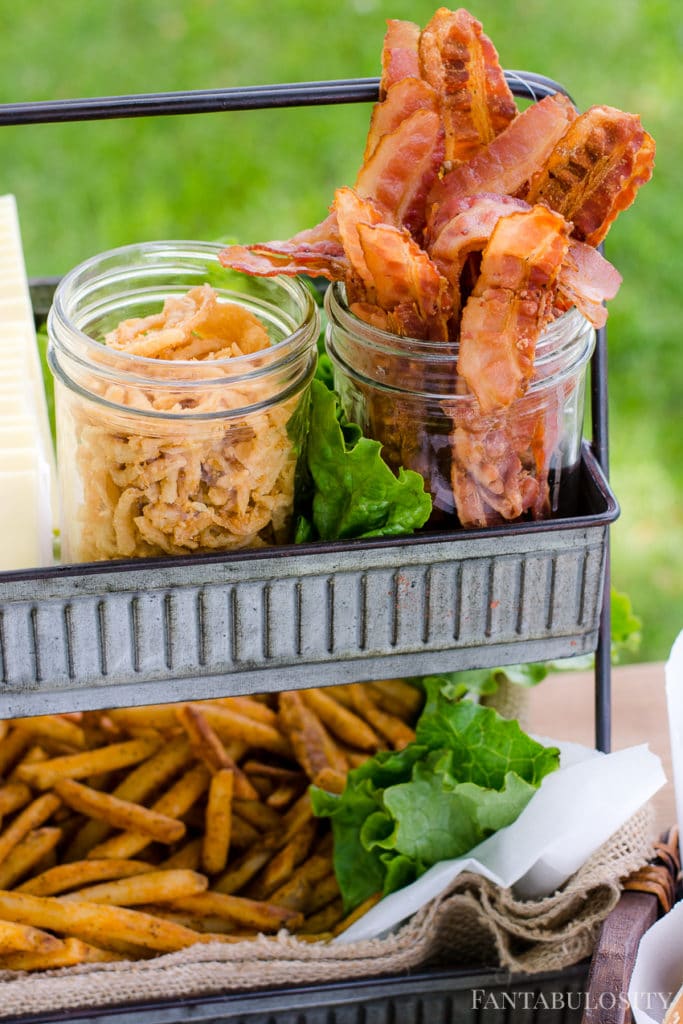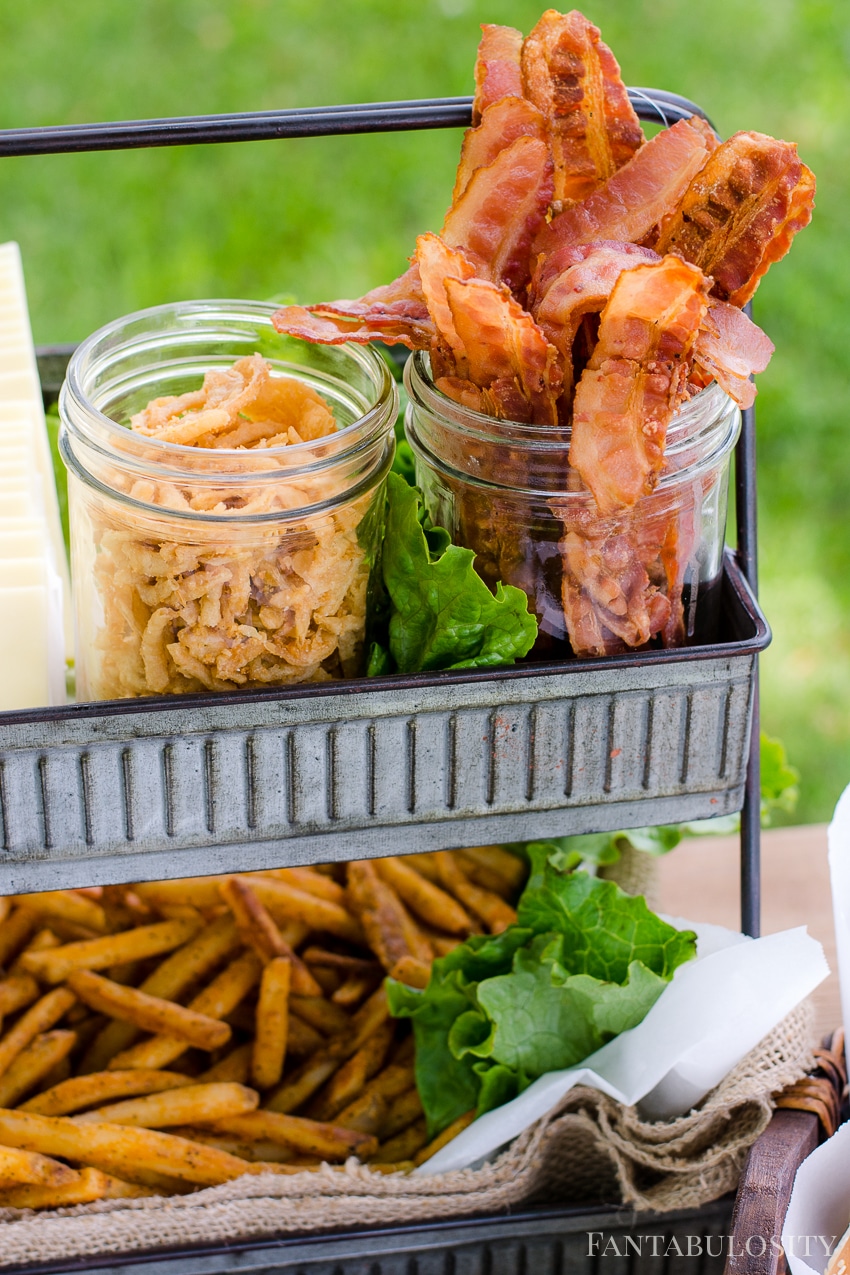 So, before you head to the store to buy items that you won't use any other time, "shop" your house to see if you can find things like:
baskets
trays
storage containers
jars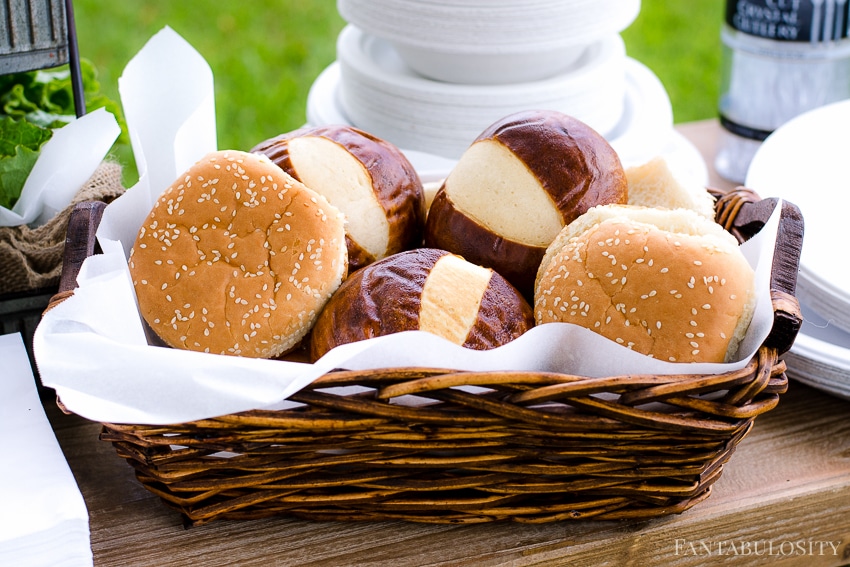 Burger Side Dishes
Although a burger bar is full of goodness already, I wanted to offer an easy side dish to serve alongside the burgers.
French fries are my kiddo's favorite, so french fries it was!
Other side dish ideas for you:
potato chips
pasta salads
raw veggies
dips
fruit trays or kebabs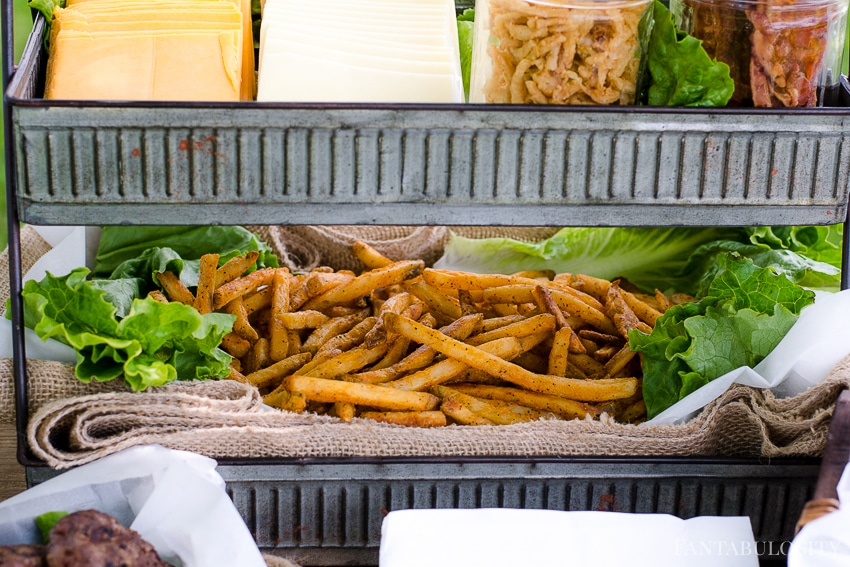 Why Food Bars are the BEST for Parties
With different taste buds, planning a menu for a party can be stressful.
Will they like this? But what about the people who don't? Are they allergic?
…and the list of worries can go on.
With food bars, leave the food creation up to your guests! This way, they get to choose what they put on their plate and what to serve it with!
Plus, food bars are easy to set up and most ingredients can be made beforehand, leaving more time for you, the host, to mingle and relax!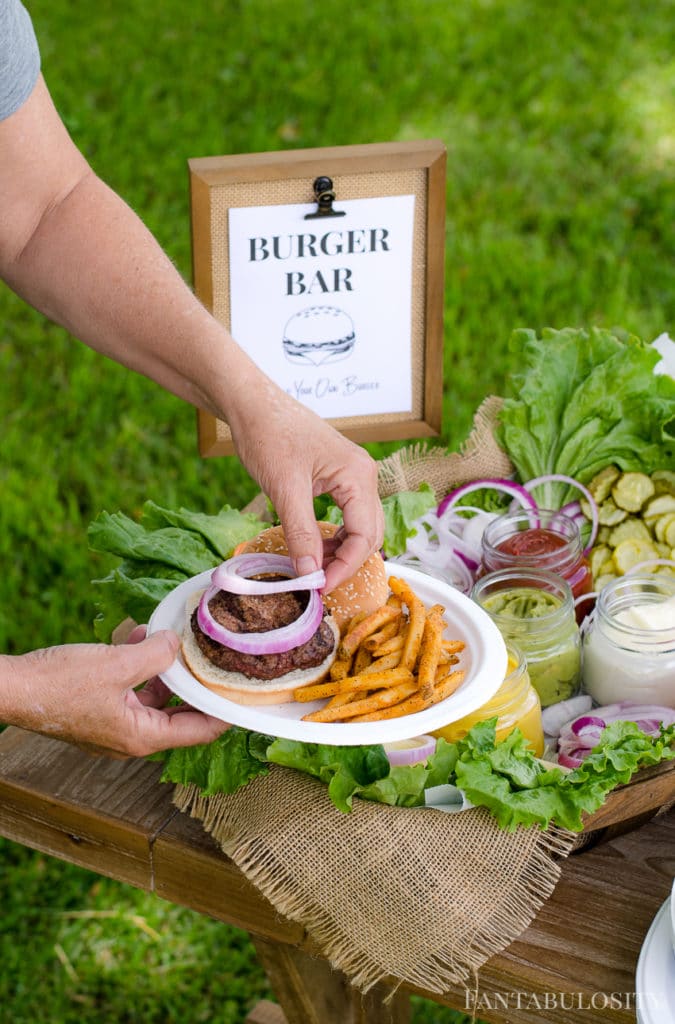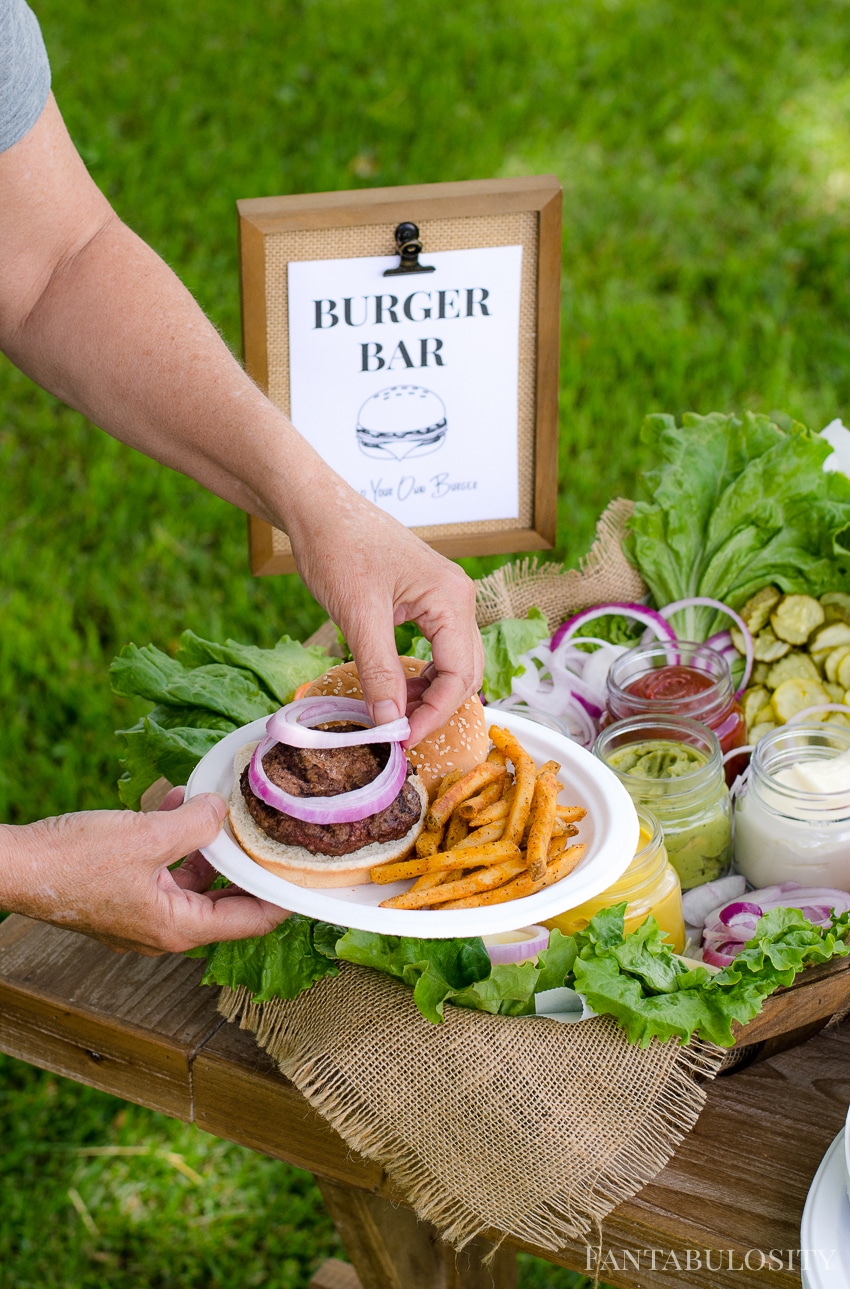 Outdoor Backyard BBQ
There are MANY perks when it comes to outdoor entertaining.
Find a shady tree, some lawn chairs, (maybe some water toys for the kids), grab a table and fill it with your favorite foods!
Your guests will love the relaxed atmosphere and the ease of coming and going… while kiddos run around (without tearing up the inside of your house) and the adults can catch up with friends!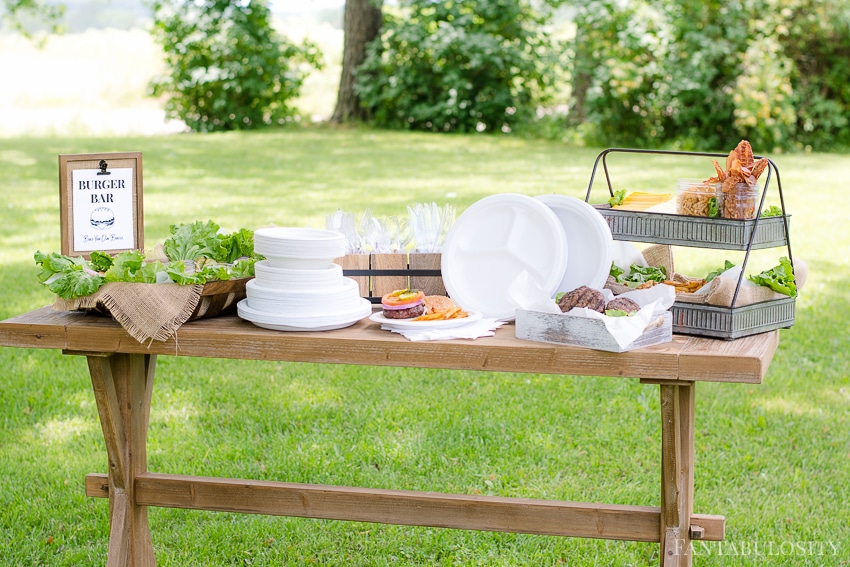 What is YOUR Favorite Food Bar?
I have a few other food bar ideas up my sleeve (baked potato, s'mores, waffle bars) but I'd love to hear what ideas you have. I may just have to put that on my list!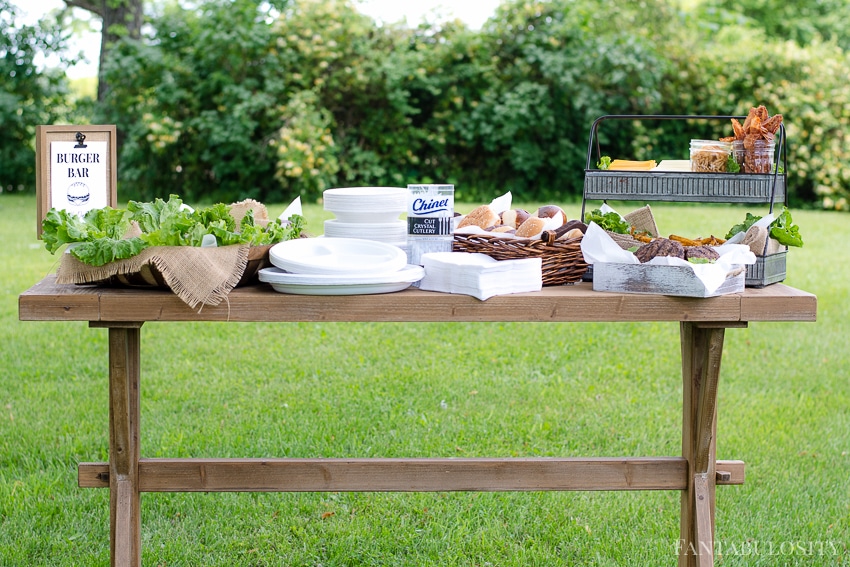 Grab the Chinet Classic White line and host your own backyard BBQ today! For more ideas and inspiration, visit MyChinet.com!