Simple Taco Bar Party Ideas: A great and easy way to feed your guests for any event! With different toppings available, guests can make theirs exactly how they want it! Put together these simple taco bar party ideas for Cinco de Mayo, fiesta or any gathering.
Hi! My name is Bethany from Southern Couture and I'm so glad to be here on Fantabulosity today! It is my pleasure to throw this fiesta for you!
Taco Bar Ideas for any Party
These simple taco bar party ideas are not just for Cinco de Mayo but a perfect food bar idea for any family game night, birthday parties or a fun in-home dinner to change things up a bit.
Plus, if you have a lot of leftover taco meat… that's not such a bad thing. There's a great list of ways to use leftover taco meat if you make too much!
Combine a Taco Bar with a Nacho Bar Party like Jessica styled below, and you'll be the hit of the town with your guests: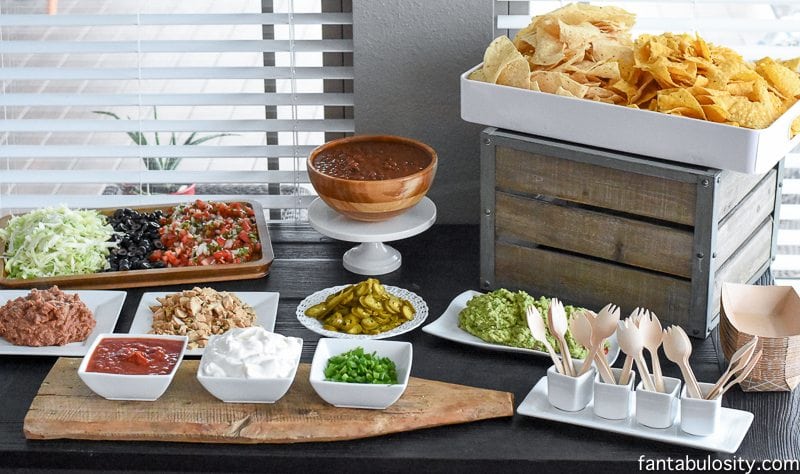 Taco Bar Topping Ideas
Note from Jessica: "I've actually created a free printable that you can print off, in case it would be easier for you to take it with you to the store while you're shopping for ingredients! You can save it right here, or you can just check out the list of topping ideas below!"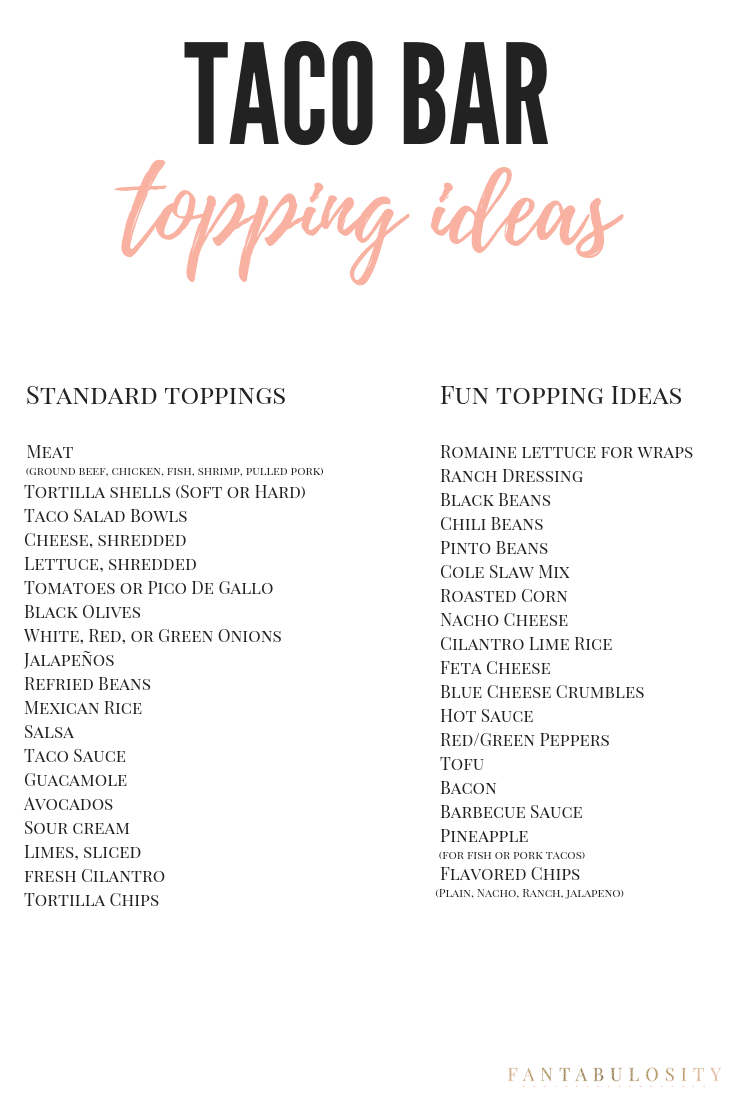 Here's the list in case you would rather copy & paste them into your grocery shopping list! 🙂 Want an easier way to make your grocery shopping list each week? Then you HAVE to check out my FREE grocery shopping list printable that's in my private printable library that you can get access to HERE! It's a sanity saver!
But First, Tacos!
UPDATE: I found "But First, Tacos!" balloons while browsing online and I HAD to share them with you in case you want to spiff up your taco bar with these…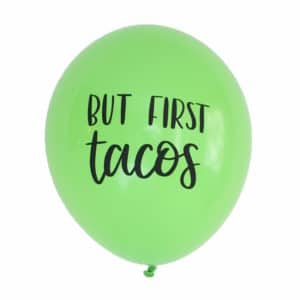 Standard Toppings for your Taco Bar:
Meat of choice (ground beef, chicken, fish, shrimp, pulled pork)
Tortilla shells (Soft or Hard)
Taco Salad Bowls
Cheese, shredded
Lettuce, shredded
Tomatoes or Pico (get the best recipe here!)
Black Olives
White or Green Onions
Jalapenos
Refried Beans
Mexican Rice
Salsa
Taco Sauce
Guacamole (easy and favorite recipe here!)
Avocados
Sour cream
Limes, sliced
Cilantro
Tortilla Chips
Fun – Out of the Box Taco Topping Ideas:
Romaine lettuce for wraps
Ranch Dressing
Black Beans
Chili Beans
Pinto Beans
Cole Slaw Mix
Roasted Corn
Nacho Cheese
Cilantro Lime Rice
Feta Cheese
Blue Cheese Crumbles
Hot Sauce
Red/Green Peppers
Tofu
Bacon
Barbecue Sauce
Pineapple
Taco Bar Decorating and Styling Ideas
Simple Taco Bar Set-Up
I usually just start with an empty table and start building from there with a tablecloth or no tablecloth depending on how I feel. For this party, I decided on no tablecloth and to keep it simple. With the temps warming up, I moved it outdoors on our back porch for a little more fun.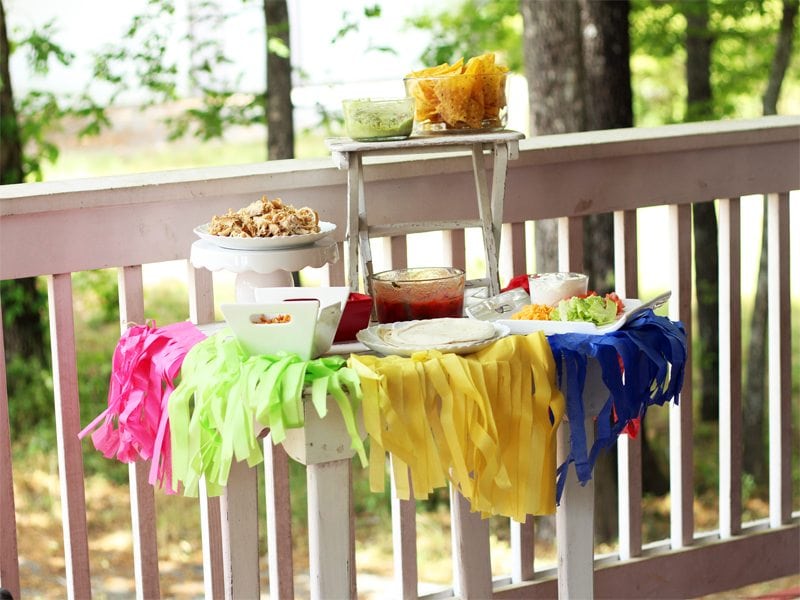 Move It & Label It
I start placing all of my ingredients into different serving dishes and then place them on the table moving things around until I'm happy with the results.
To label each item (even though we know what everything is, it's just more fun), you could also place chalkboard stickers on the table beside each dish and then write with a chalk marker what each one is.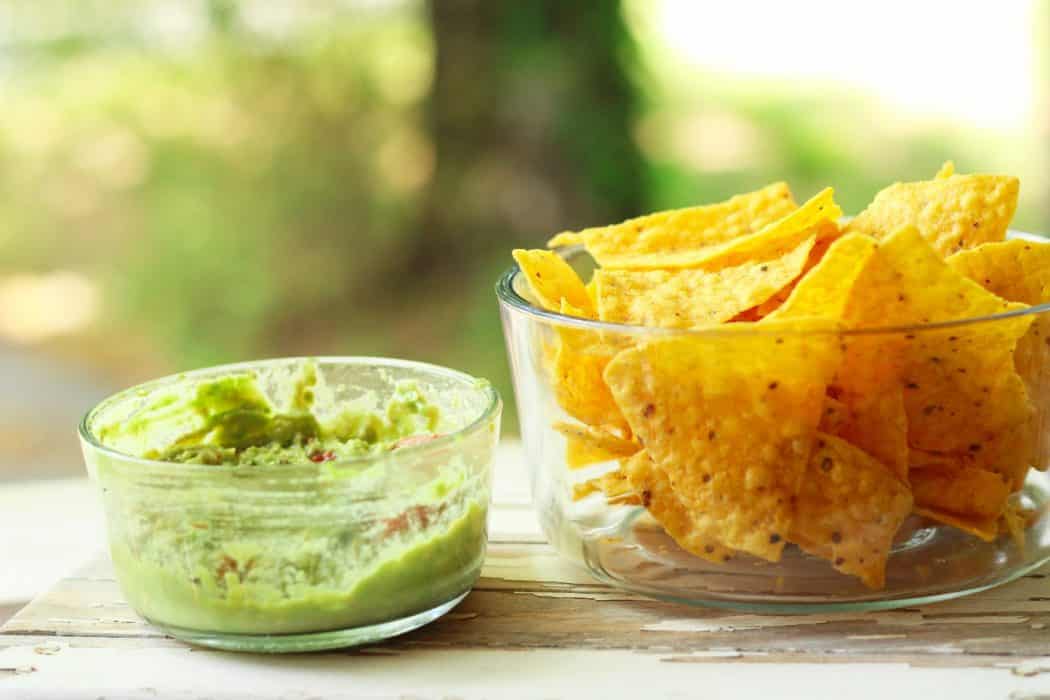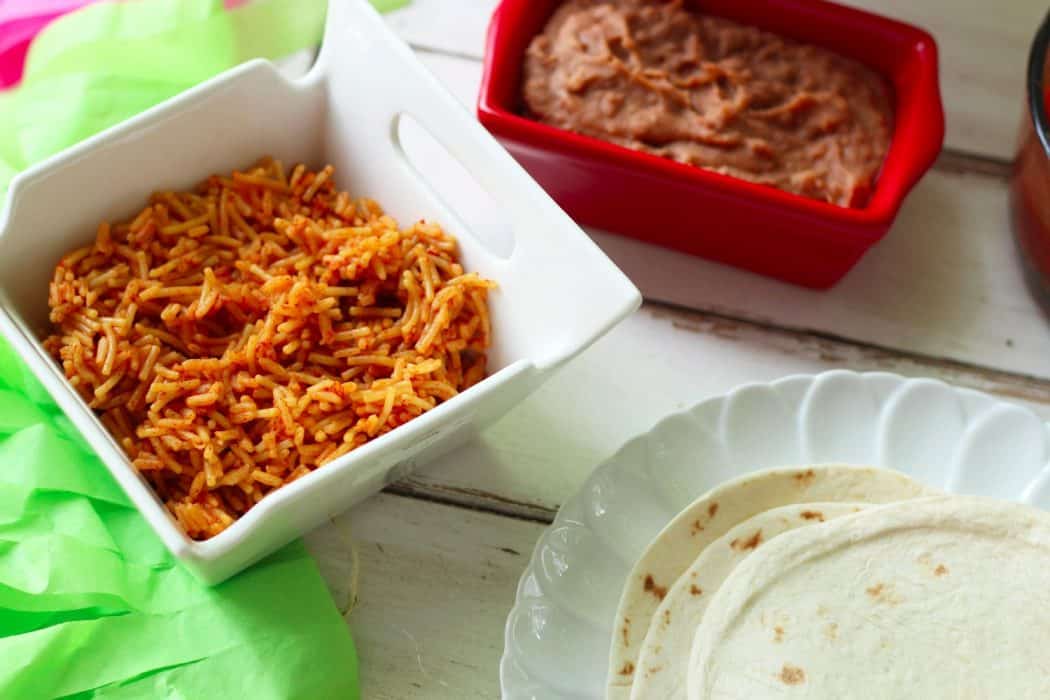 Different Heights:
Be sure to add different heights on your table as well for not only looks but also to make it easier when guests are trying to reach for all the deliciousness.
Would you like to use cake stands for this? I know, I love them too. Shop some of the CUTEST cake stands and serving dishes at my favorite online party store HERE!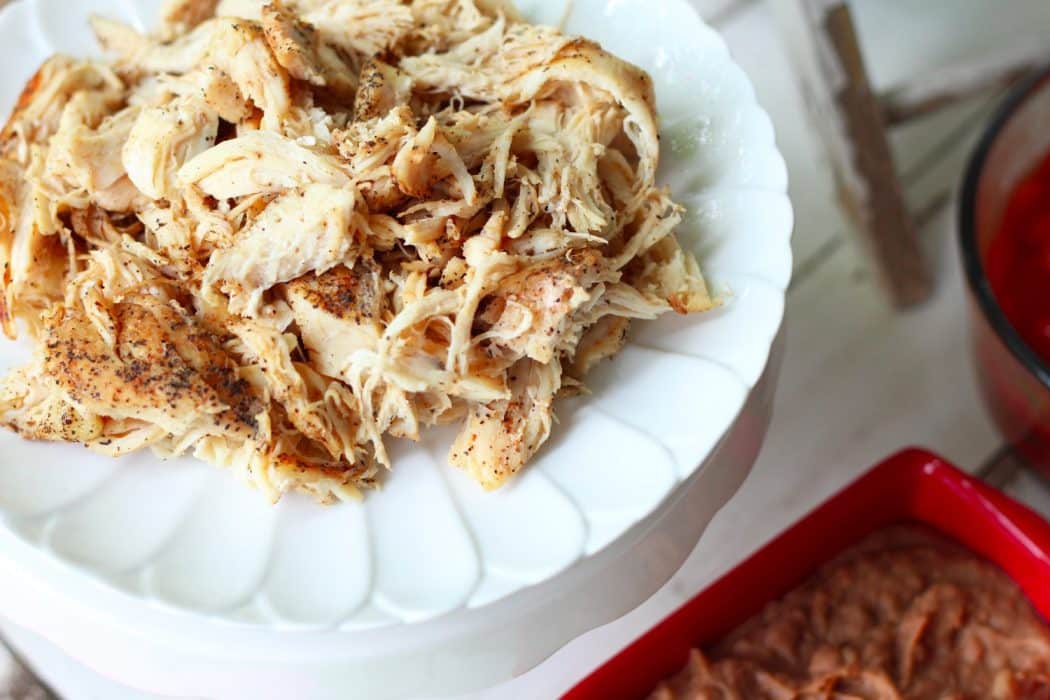 Pops of Color:
To really add a pop of color, try making sombrero decorations made from terra cotta pots and pom-poms or even some tissue paper banners that are perfect for a fiesta.
You can find them on my blog where I shared my Cinco de Mayo Party: Decorations and Recipes. I hung some of the tissue paper banners around the table for some extra color.
Fiesta Decorations
To make things SUPER easy, you can shop the cutest fiesta decorations HERE: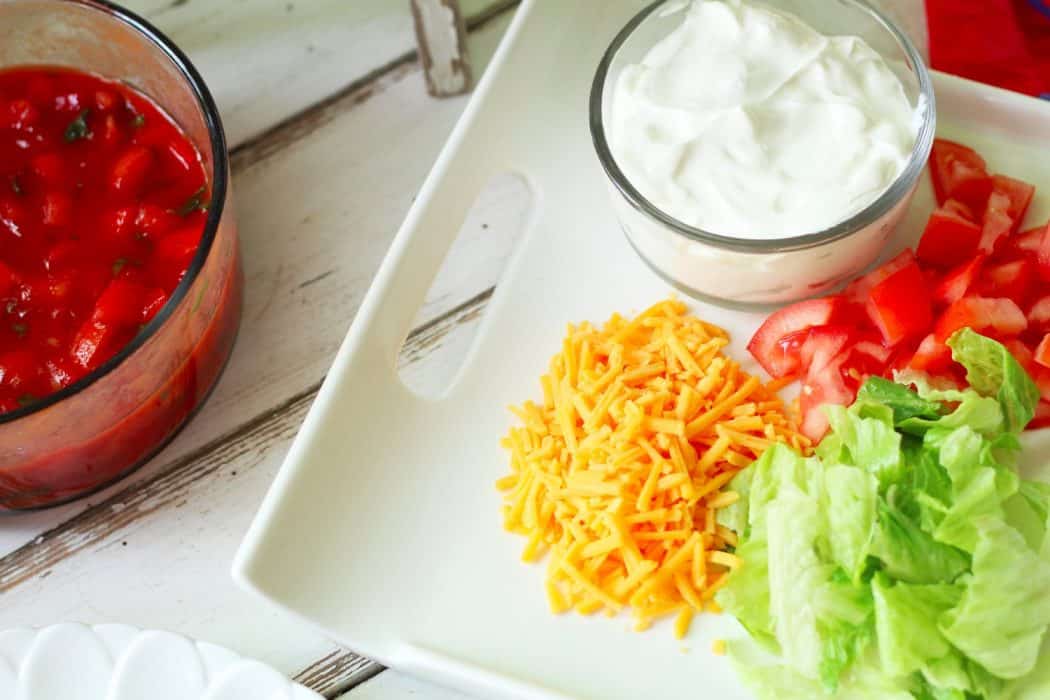 Premade = Easy
And if that isn't enough goodness, the great news about a taco bar is that you can usually just buy everything you already need premade to make your life so much simpler and just place it in serving trays if you are pressed for time.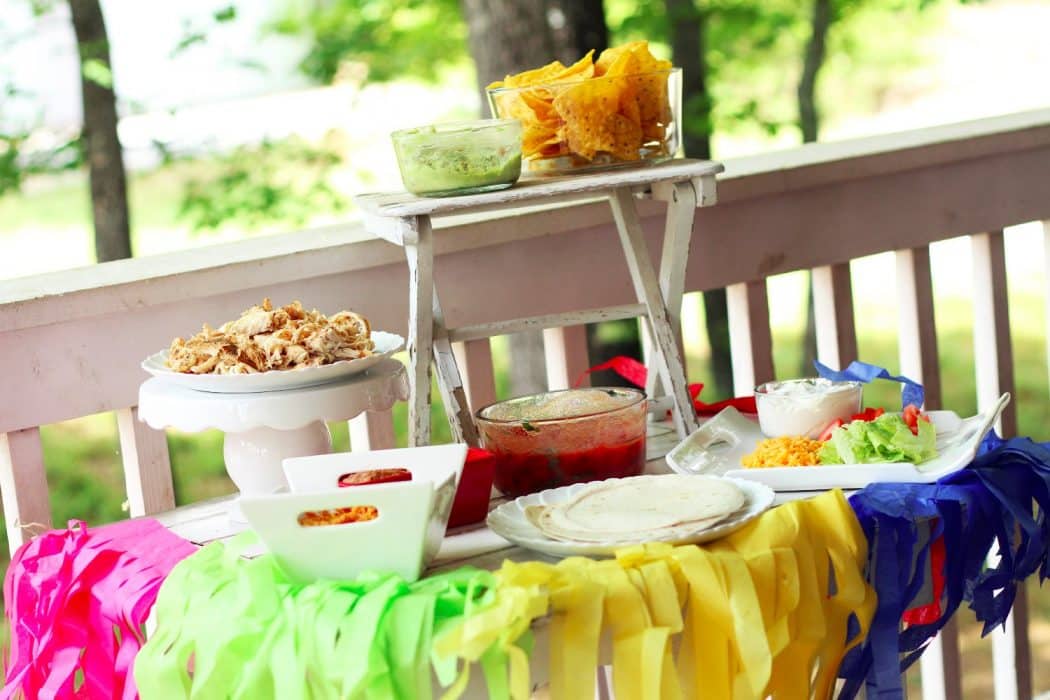 A Couple "Must-Know" Taco Recipes
If you're looking for something else that's easy to serve next to a taco bar, we love these easy crock pot enchiladas!
Salsa Recipe:
For my salsa, I love a good homemade salsa recipe. I actually shared my go-to homemade restaurant style salsa recipe on the blog last week. It has a special ingredient that just makes it over the top.
Guacamole Recipe:
I recommend Jessica has the best guacamole recipe. It is delicious and so easy to make. I highly recommend it!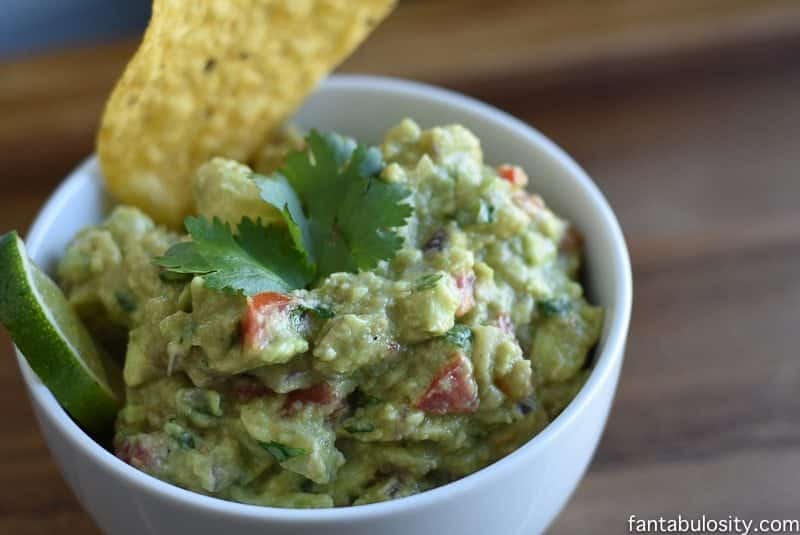 3 Bean Salad – Mexican Style
Serve on the side, or serve on the taco bar so guests can pile this Mexican 3 Bean Salad on as a topping!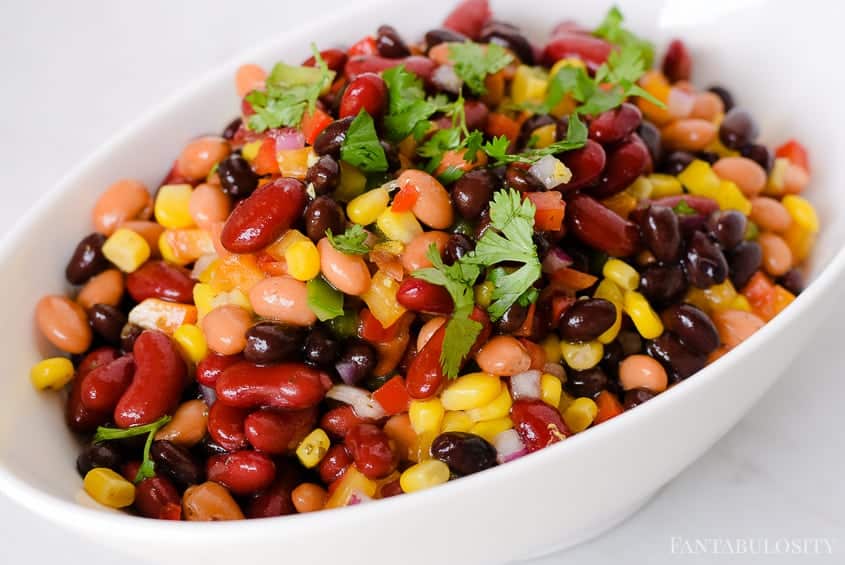 Then just for fun…
If you're hosting friends, I think it would be super fun to wear this shirt that I found on Etsy, yes?!
Thanks so much for having me over for this fiesta and I hope you enjoy your Cinco de Mayo! Be sure to eat an extra taco for me too.
Want More Party Food Ideas?
Then you won't want to miss my favorite party posts and especially my easy party appetizers post where I share my favorites!
Connect with Southern Couture
Facebook // Pinterest // Instagram // Twitter