Easy Fried Mushrooms Recipe: Whether in a pan or deep fried, these sliced mushrooms are quick and easy to make as an appetizer or side dish!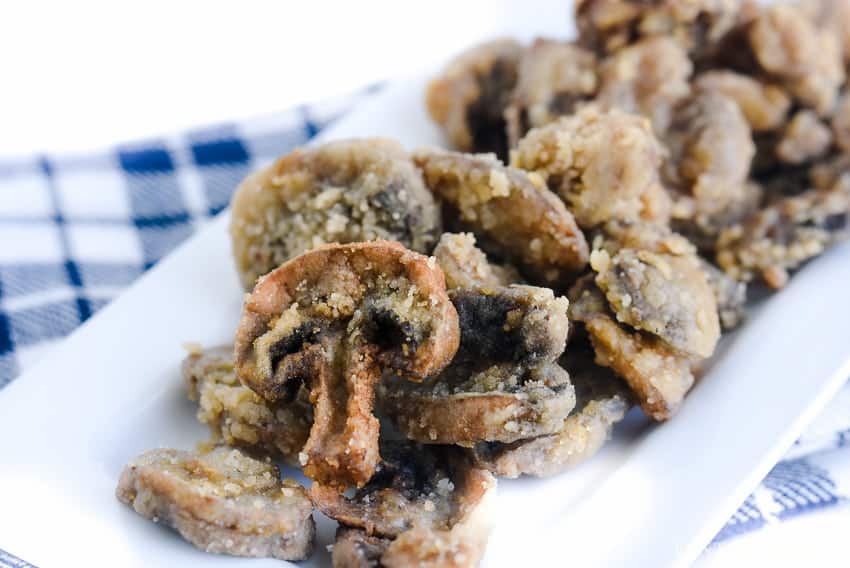 Easy Fried Mushrooms Recipe
I truly don't know what I'd do without my parents. I know, I know, this post is about a fried mushroom recipe, but a gal has to praise her parents every chance she gets when they're as good as mine.
When I'm having a bad day or celebrating a special occasion, I usually get the phone call,
What are you doing tomorrow night?
I've known them long enough that I know it means they want to cook and feed us something GOOD! (Have I mentioned that "food is love?"  Well it comes honest from my parents.)
A few months ago, the phone call was made, and we were invited down for my FAVORITE meal ever.  Fried deer meat, (get that recipe HERE) mashed potatoes and white gravy.  Then my dad added in a little extra surprise… fried mushrooms.
Holy moly.  When I watched him make them, I realized I had been missing out on a delicious side dish, because I thought they would be hard to make.
Easy Side Dish Recipe
To my surprise, they're possibly one of the easiest fried side dishes ever.  So when I asked him how to make them, and what spice(s) he used for the breading… I was HOOKED when he told me all that it was.
That's it?
So I picked up a carton of sliced mushrooms the next time I was at the store, and whipped these up for you all, so you can make them too!
Yes, seasoned salt, flour, oil, and mushrooms. That's it.  The seasoned salt was super tasty in the flour breading and made a big difference.
Full Fried Mushrooms Recipe Below
You more than likely have the ingredients on hand to make this super easy breading! 
How to Wash Mushrooms
Did you know you're not supposed to soak mushrooms? They'll absorb water, and you sure don't want that for taste/frying.
Just wipe or lightly rinse with cool water and pat dry. (Better yet, if you have time, wash them early and let air dry after you pat dry too… just so there is little chance of any water remaining on the mushrooms.)
Mmmm… looks at those tasty little fried morsels.
Fried Mushrooms Recipe
Fried mushrooms recipe that is easy to make and you probably already have the ingredients on hand!
Ingredients
1

8-ounce package

sliced mushrooms

cleaned

1

cup

flour

1

Tablespoon

seasoned salt

vegetable or canola oil

enough to create an inch or more of oil in pan if pan frying, or enough for your deep fryer requirements.
Instructions
Combine flour and seasoned salt in large bowl or zip-top bag.

Pour mushrooms into flour/salt mixture and stir or shake to coat.

Heat oil in the pan over medium heat if pan frying. If deep frying, heat oil to 375.

When oil is heated through (to test if oil is ready, sprinkle a pinch of flour in oil. If sizzles, it's ready.)

Place mushrooms in oil, and fry for 2-3 minutes, (flipping if necessary) until they turn to a golden brown.

If deep frying, fry for 2-3 minutes or until golden brown.

Remove from oil and drain on a plate topped with paper towels to soak up excess oil.

Serve warm!
Nutrition Facts
Fried Mushrooms Recipe
Amount Per Serving (1 serving (1/4 recipe))
Calories 160
Calories from Fat 45
% Daily Value*
Total Fat 5g 8%
Sodium 1744mg 73%
Potassium 33mg 1%
Total Carbohydrates 23g 8%
Protein 3g 6%
* Percent Daily Values are based on a 2000 calorie diet.
Thinking "Inside" the Box
Until I saw my dad do this, I never even thought to purchase sliced mushrooms in the store, and fry them.  I had always just thought "inside of the box" and thought I had to wait until we stumbled upon wild mushrooms (not the poisonous ones of course) before we were able to eat these tasty little things.  (Face-palm.)
More Side Dish Recipes
Hopefully you can add this side dish or appetizer to your quick and easy… slightly homemade favorite recipes! See more quick and easy recipes in our archives HERE! It's one of our favorite steak sides too!