Pizza Bagels: A kid-friendly, quick and easy recipe that's perfect for new cooks in the kitchen or to make for a fast lunch or dinner!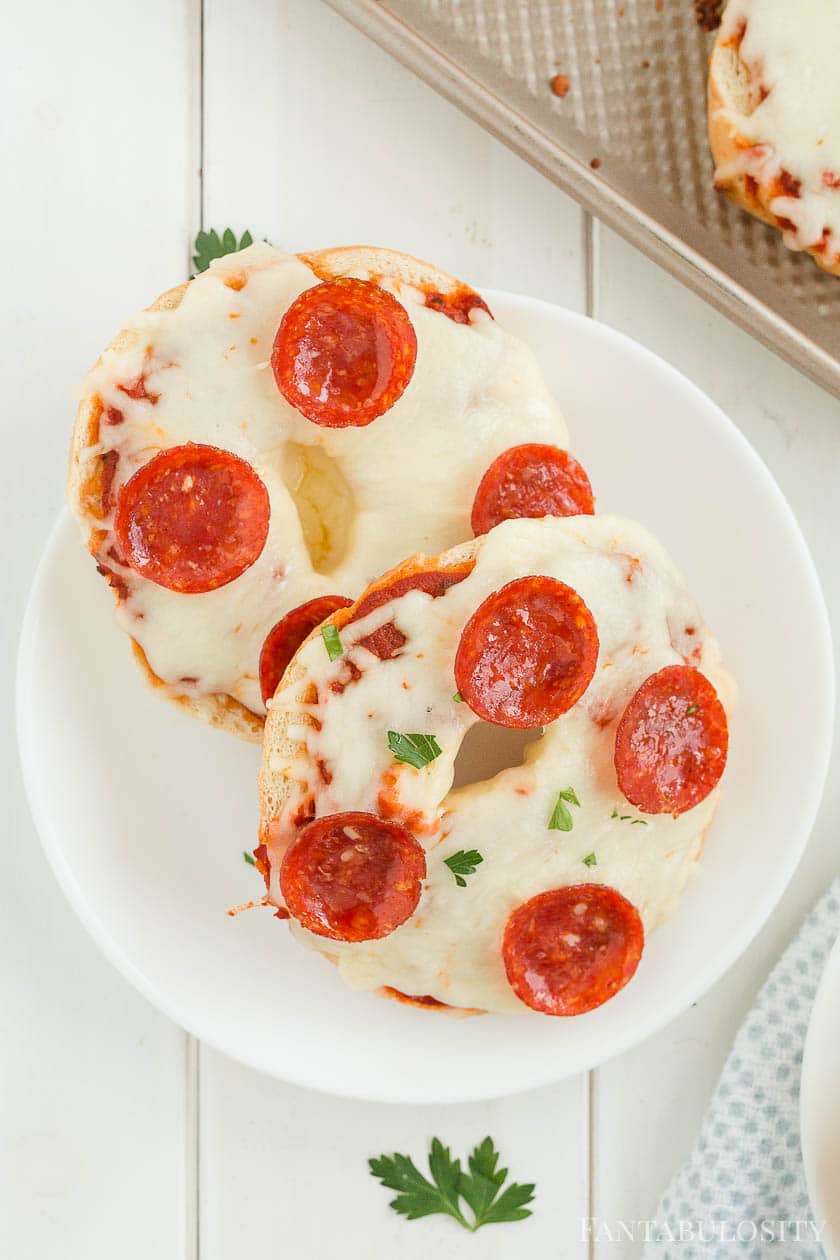 Pizza Bagels
I'll never forget that when I first started staying home by myself as a kiddo, I would look in the fridge, over and over again, hoping something new would show up.
(Unfortunately, I still do this as an adult.)
All I knew was that I was hungry… and if I wanted to eat something, I was going to have to combine something other than milk and Cheerios.
So I was faced with two things:
I didn't really know how to cook anything yet.
I was home by myself, so whatever I did make, I didn't want to make a ton of it.
Then, one day, I got creative, and it was the perfect quick & easy recipe I was looking for, that I could make by myself, and it didn't have a lot of wasteful leftovers.
So, I ended up making these ALL of the time because it seemed as if we always had the ingredients on hand, and it didn't make a huge mess in the kitchen.
More easy recipes you'll love:
If you're looking for a quick and easy recipe to feed your family or if you're running out of ideas that your teenager can make while they're home alone, you'll want to save this recipe for SURE!
How to Make Pizza Bagels
First, using a nonstick cookie sheet or a sheet of aluminum foil (yes, that's right, no clean up if you use aluminum foil because you can just throw the aluminum foil away when you're done! Woot!)
If the bagels are not sliced yet, go ahead and slice them. Next, lay them out face-up on your baking sheet and spoon the tomato sauce on to the bagels, and spread to fully cover the tops.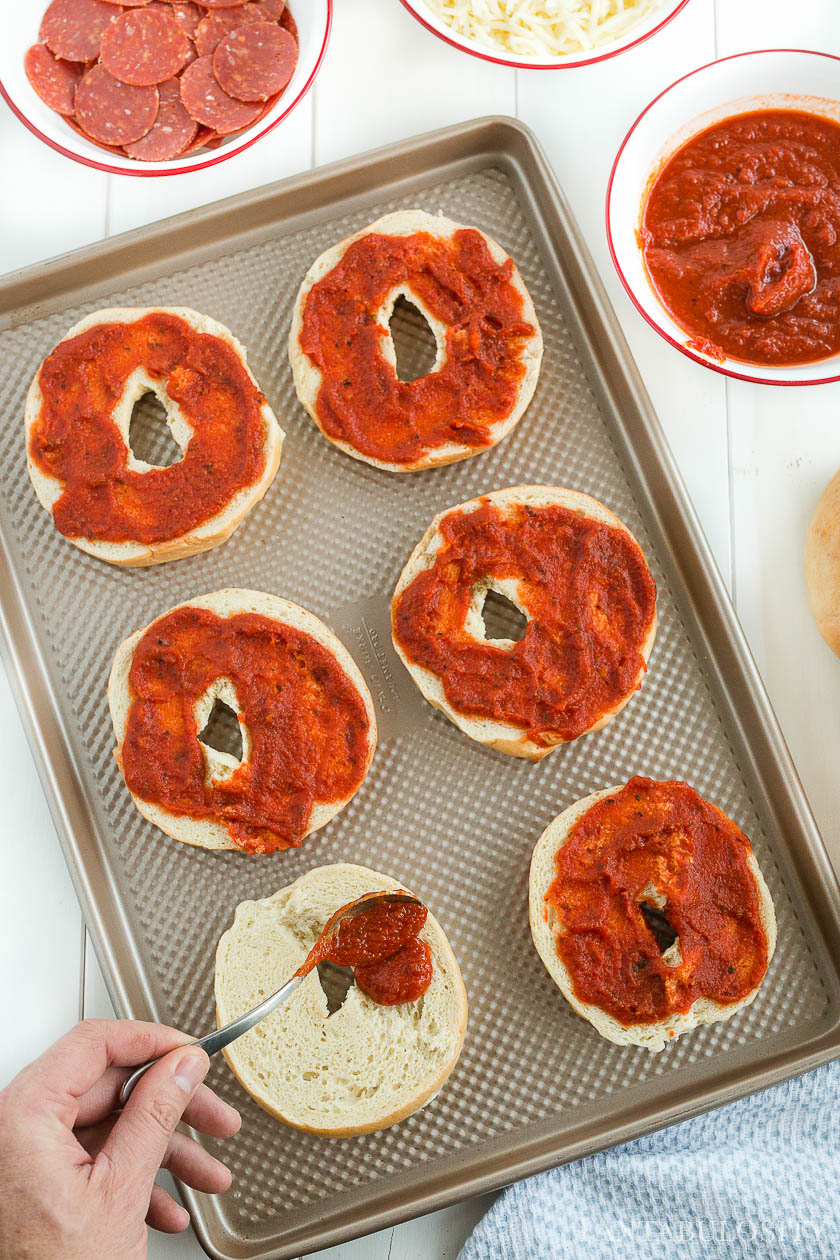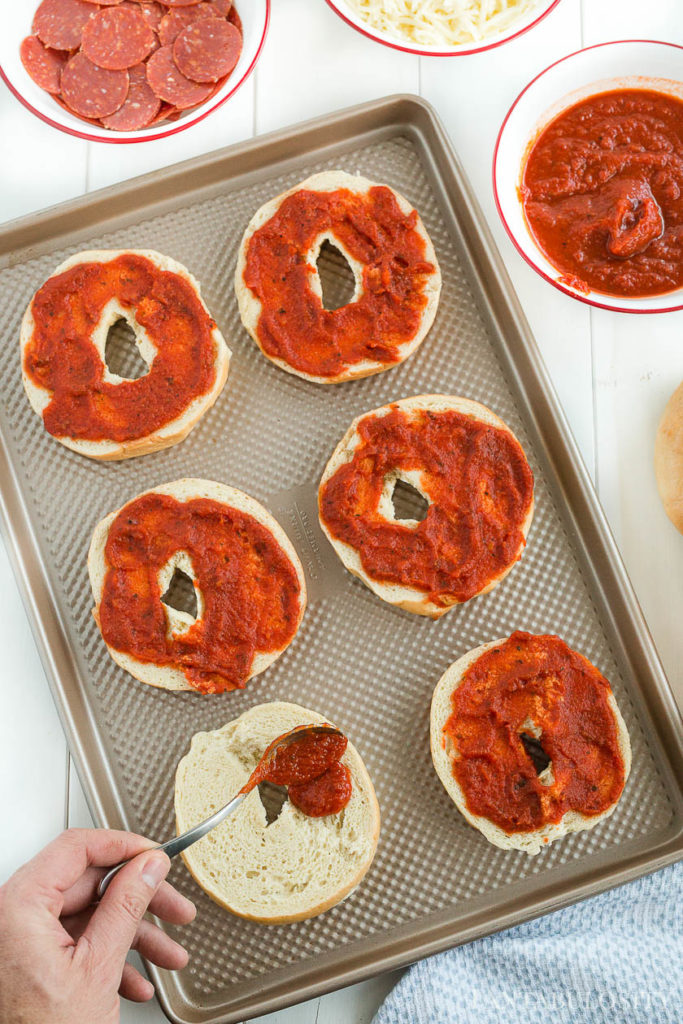 Sprinkle your cheese over the bagels. As much as you want.
(To be honest, I like to sprinkle on a LOT because it will fall through the middle and melt and turn a little brown… and then I peel it off of the baking sheet and have a bite of glorious cheese.)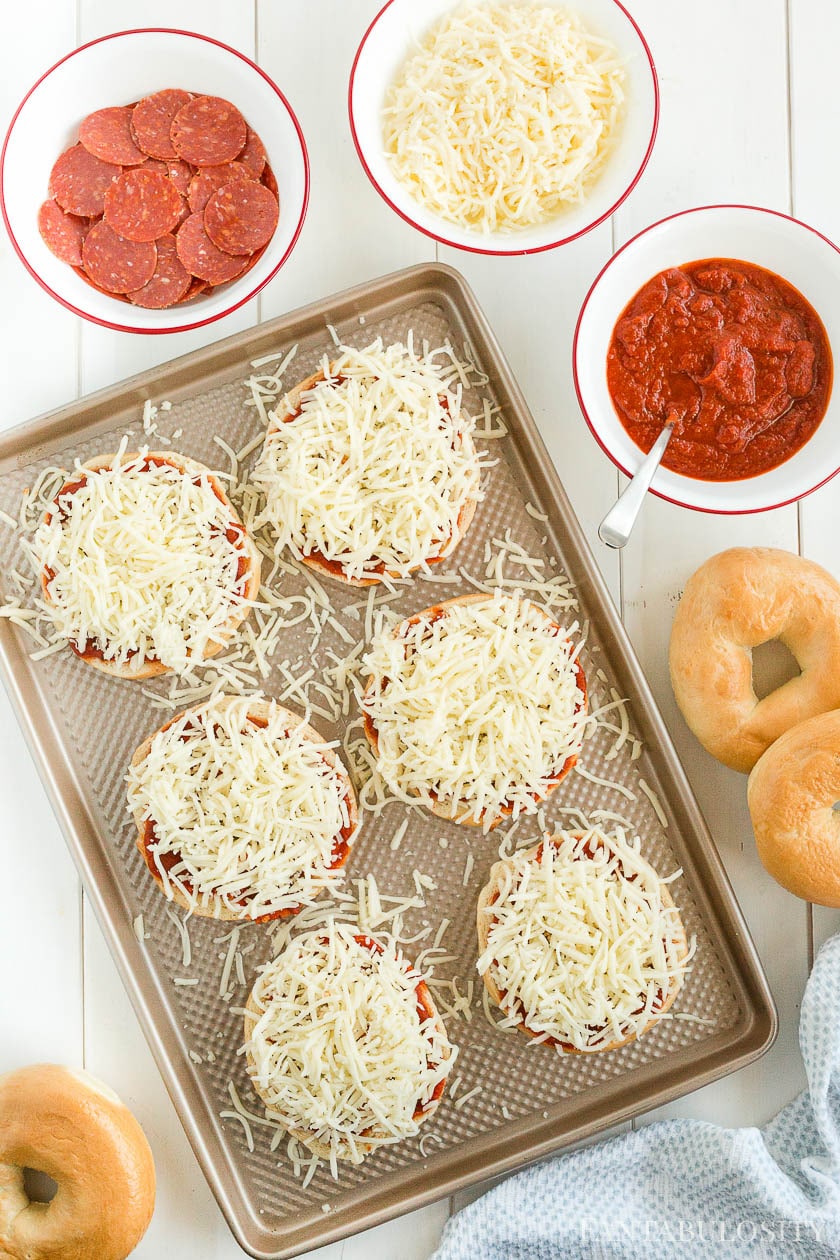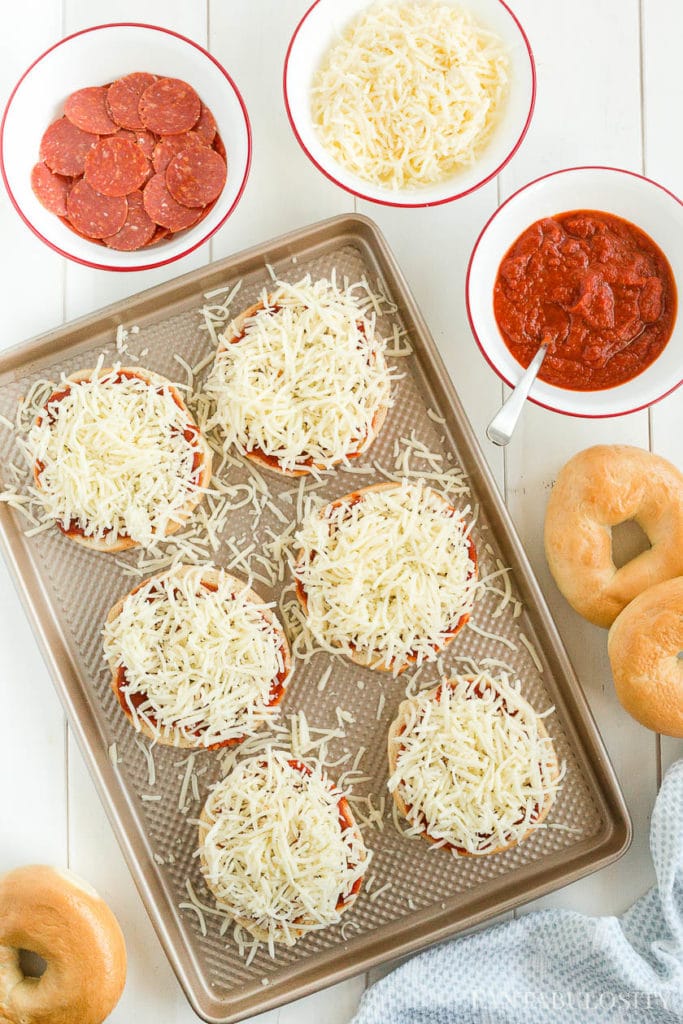 Sprinkle on your toppings or leave some with just "cheese" for those like it simple!
Topping Suggestions:
sausage
bacon
peppers
red onion
ham
hamburger
parmesan cheese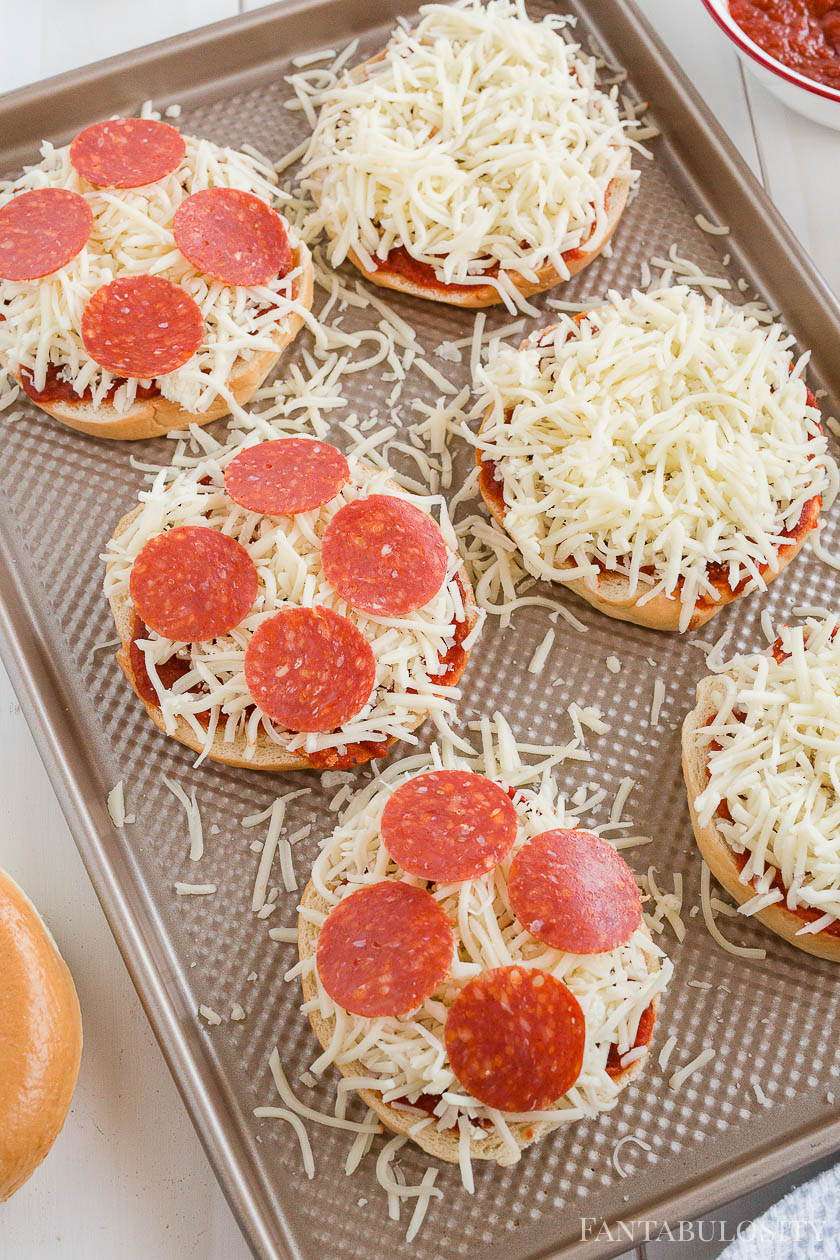 I usually only do pepperoni, and I leave a few "cheese," pizzas for my youngest who's not a huge fan of pepperoni.
This is where you can also sprinkle on fun spices and seasonings if you want.
Bake at 350°
Once your oven has preheated place the baking sheet on the middle rack of the oven and bake at 350 degrees for about 10 minutes!
In a flash, they're done and ready to devour.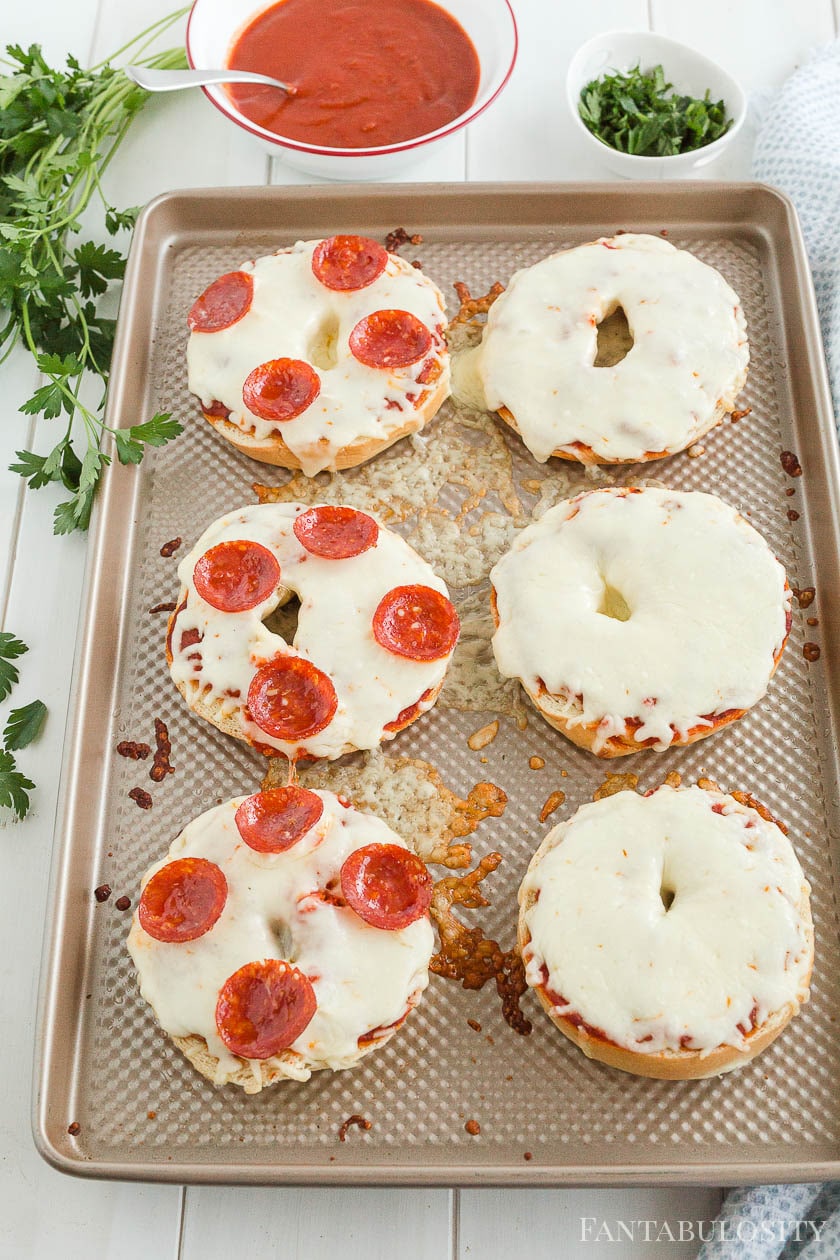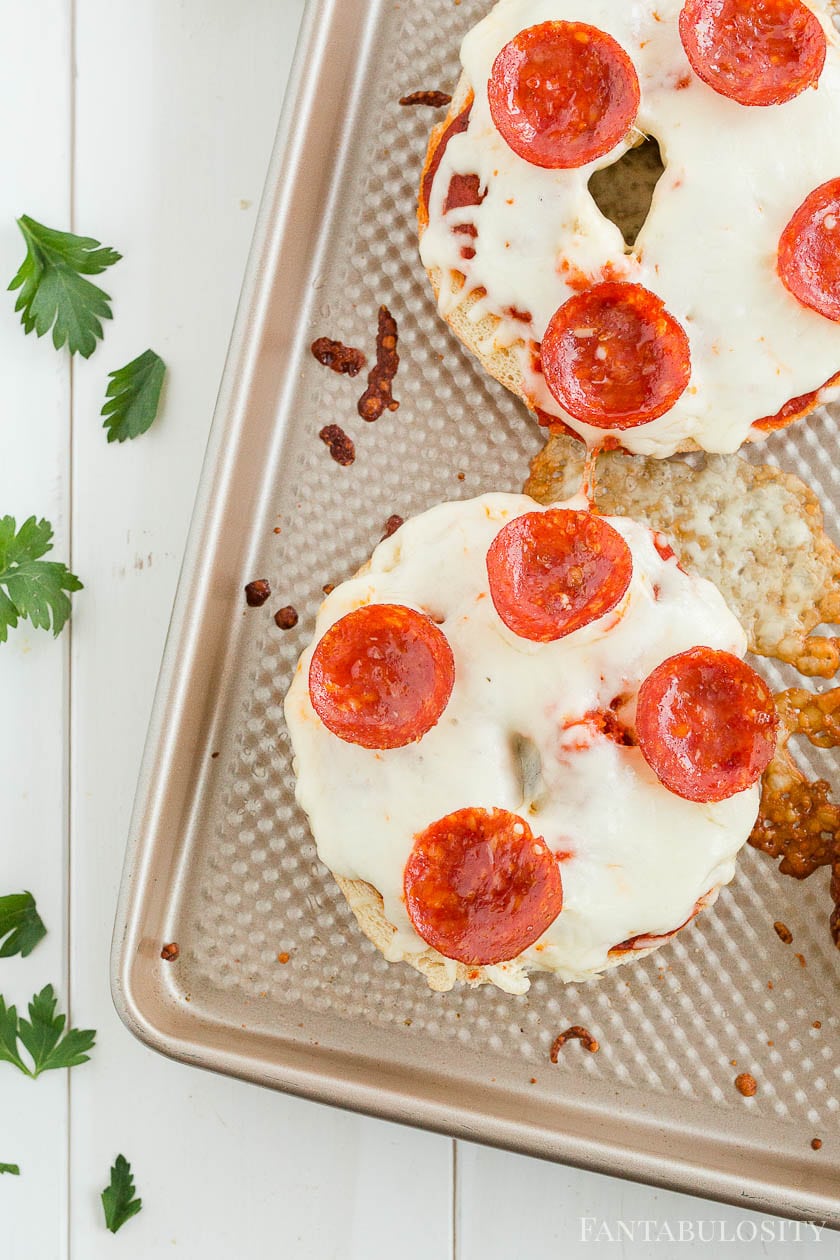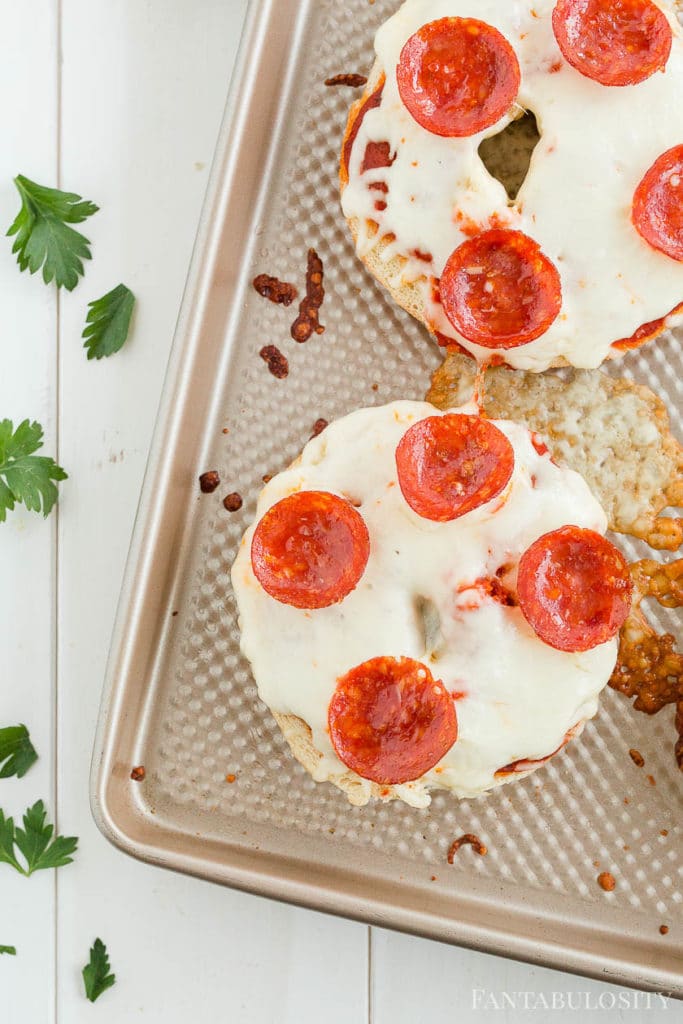 Talk about the best recipe for a rushed weeknight meal.
Throw these bagel pizzas together in a flash, and you've fed your family dinner in a snap. Plus… it's pizza, so of course, your kids will love it!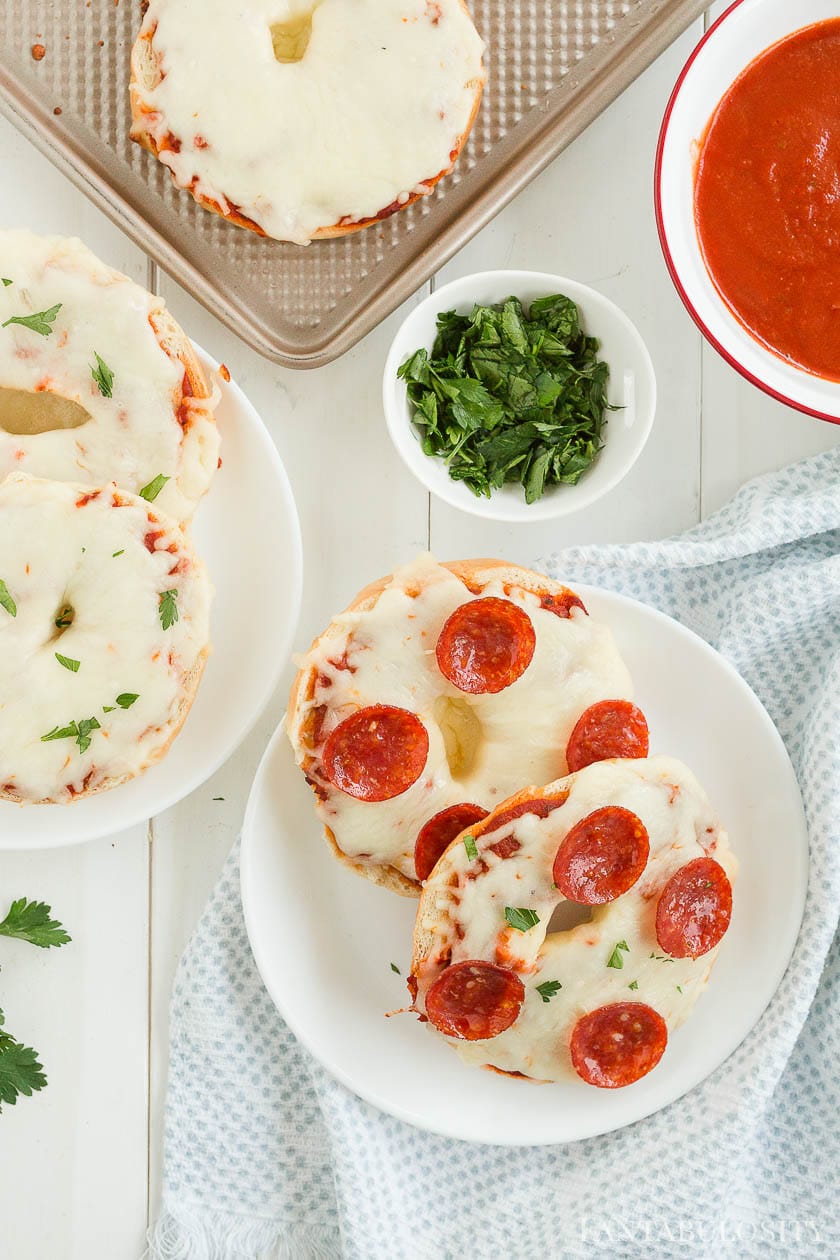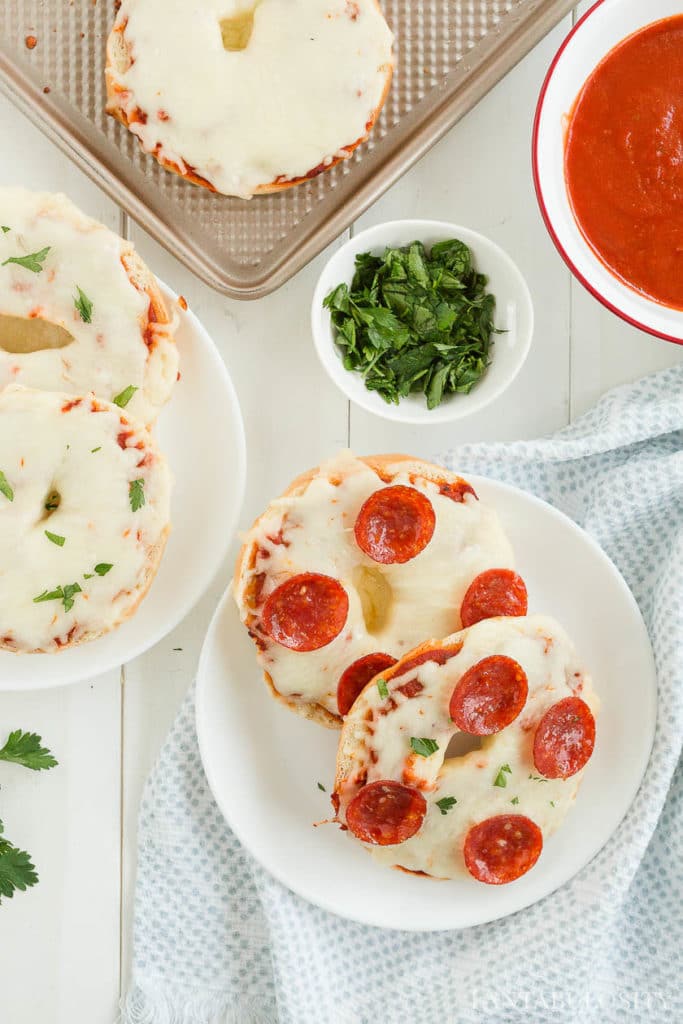 My Favorite Thing About This Bagel Pizza Recipe:
15 minutes and it's time for dinner.
The round bagels are perfect for little hands. Those huge triangle pieces from the pizza delivery place are hard for those little hands to hold!
Topping options are endless!
Extra tip: If your kiddos' hands are itty bitty, use kitchen shears to cut the bagel pizzas into small bite-size pieces. Heck with trying to use a fork, pizza cutter, or hands. Kitchen shears are my best friend! Or, grab the mini bagels and make them bite-size!
Quick & Easy Bagel Pizzas Recipe
These pizza bagels are the perfect quick dinner recipe and are great for the pickiest eaters! Pizza night made easy with this recipe.
Ingredients
4

bagels

I buy them in the refrigerated section because they stay fresh longer

1

cup

tomato sauce

can substitute with pizza sauce

1-1/2

cup

shredded mozzarella cheese
Toppings (optional):
pepperoni

can substitute with bacon or sausage
Instructions
Preheat the over to 350 degrees F.

Slice the bagels horizontally, in half, and lay them open faced on a sheet of aluminum foil.

Spoon sauce onto the tops of the bagels. I usually do a thin layer, because I don't like a lot of sauce. But you can make them as saucy as you want!

Sprinkle a layer of cheese on top of the bagels.

Add any additional pizza toppings on the bagels, and spices if you prefer!

Bake the pizzas for 10 minutes, or until cheese is melted.
Notes
If you prefer a little "browner," top, broil at the end of the cooking time for just a few seconds! Keep an eye on them so they don't burn!
Nutrition
Serving:
1
pizza bagel
Calories:
172
kcal
Carbohydrates:
29
g
Protein:
7
g
Fat:
2
g
Saturated Fat:
1
g
Cholesterol:
5
mg
Sodium:
484
mg
Potassium:
159
mg
Fiber:
1
g
Sugar:
1
g
Vitamin A:
180
IU
Vitamin C:
2.1
mg
Calcium:
49
mg
Iron:
1.1
mg
I hope this recipe eases your menu planning! Let me know how they were!
If you struggle with coming up with dinner ideas that your family will love, while making sure you don't spend a ton of time in the kitchen… then make sure to get your hands on the NEW Fabulously Fast Dinners Cookbook where I give you easy main dish recipes and pair each one with a side dish recipe!
Pin it to Remember it: