Steak Bites: With only 4 ingredients you can have the most tender and juicy steak bites that will leave so many begging for the recipe!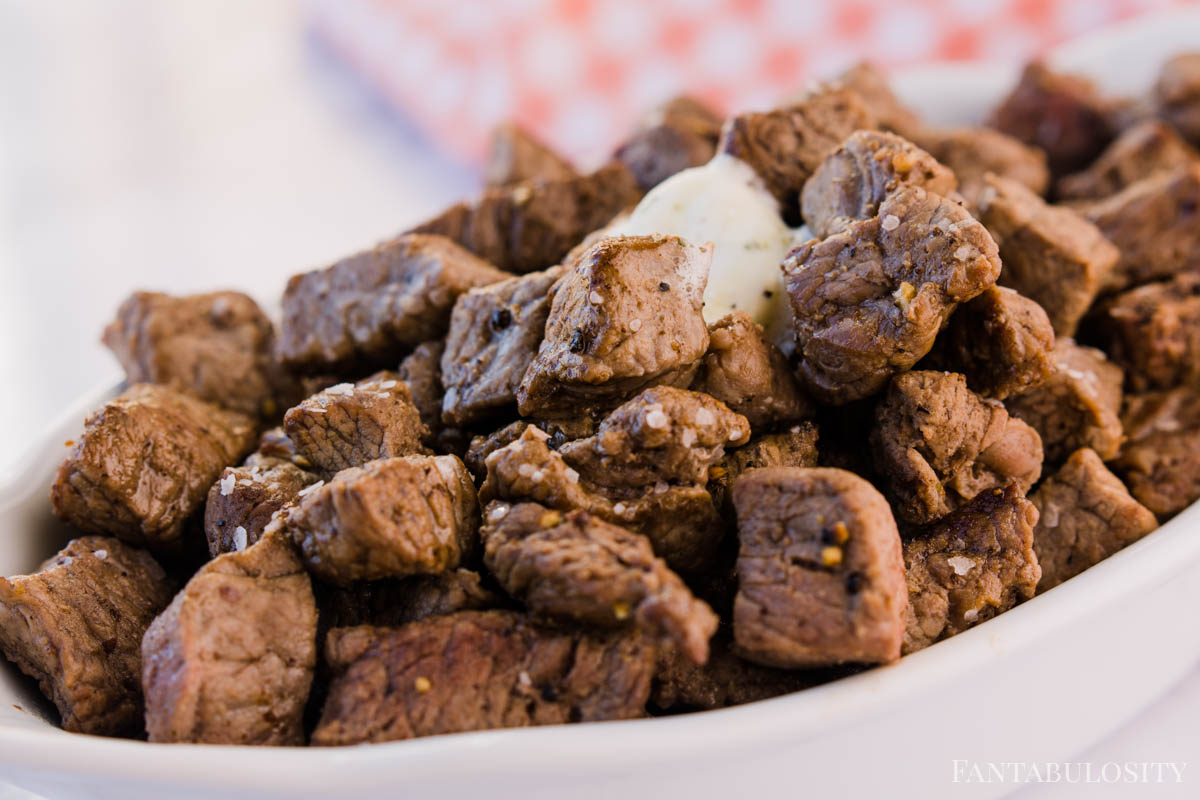 The BEST Steak Bites
I've been known to call a handful of some of the recipes on the blog, "the BEST" and that's truly because that's how we feel about them.
Now don't get me wrong, we love all the recipes on here (or I wouldn't share them with you) but there are a few that are borderline "life-changing" and this is one of them.
More of the "BEST" Recipes that you'll love:
But let me just tell you… the recipe for steak bites that you just landed on, are so delicious that we have them at least once a week, make them when guests come over and even have others begging for the recipe.
I've been making these for a few years now and haven't put them on the blog until now because, well, I usually make them when I only have a few minutes to throw something together and they're cooked so quickly that I'm usually done before I even think to get my camera out. But… I managed to remember the other day and now I'm super excited to be able to share them with you!
Jump to:
How to Make Steak Bites
It only takes 4 ingredients for these steak bites and I would almost bet that you already have them on hand.
(But if you don't, get my free grocery shopping template and highlight the items you need so you can grab them the next time you're shopping.)
You'll Need:
butter (salted preferred but unsalted is just fine too)
sirloin steak (with the bones/gristle removed)
kosher salt (feel free to use table salt but kosher is so good for this!)
pepper (we use peppercorn medley)
Cut Sirloin Steak in to 1-inch Cubes
Usually, our sirloin steaks come in about 1.5 lb. packages but your store/butcher may package them different. So for the sake of this recipe, I'll assume your steak is about 1.5 lbs. but know that this recipe is forgiving so if you have a little less or a little more, it's ok!
Cut the sirloin in to about 1-inch pieces and cut off the bone and any white/gristle that you see. (This is key. You don't want a chewy steak bite. But don't be hard on yourself… a little is just fine, as you can see in my sirloin below.)
Season the Steak
Sprinkle salt and pepper on the steak. (I usually just sprinkle it on the top instead of mixing it to make sure it gets all over it but you can do that if you prefer!)
Using a Cast Iron Skillet
Do you have to use a cast-iron skillet for this recipe? No. I've used other non-stick pans before (our cast irons were in storage when we moved to Montana) and it just didn't give the same flavor as a cast-iron. They were good… but not the "THE BEST" like they are with our cast iron skillets.
Brown the Butter
Using about 2 tablespoons of butter, melt in a cast-iron over medium-high heat until it starts to brown.
Cook on Medium-High Heat
When the butter has browned, it's time to add the steak! CAUTION: this butter and skillet are HOT so it should sizzle when the meat is added.
TIP: I usually stand back and scrape all of the steak off of the cutting board at once with my fish turner spatula JUST in case it splashed a little hot butter out when added.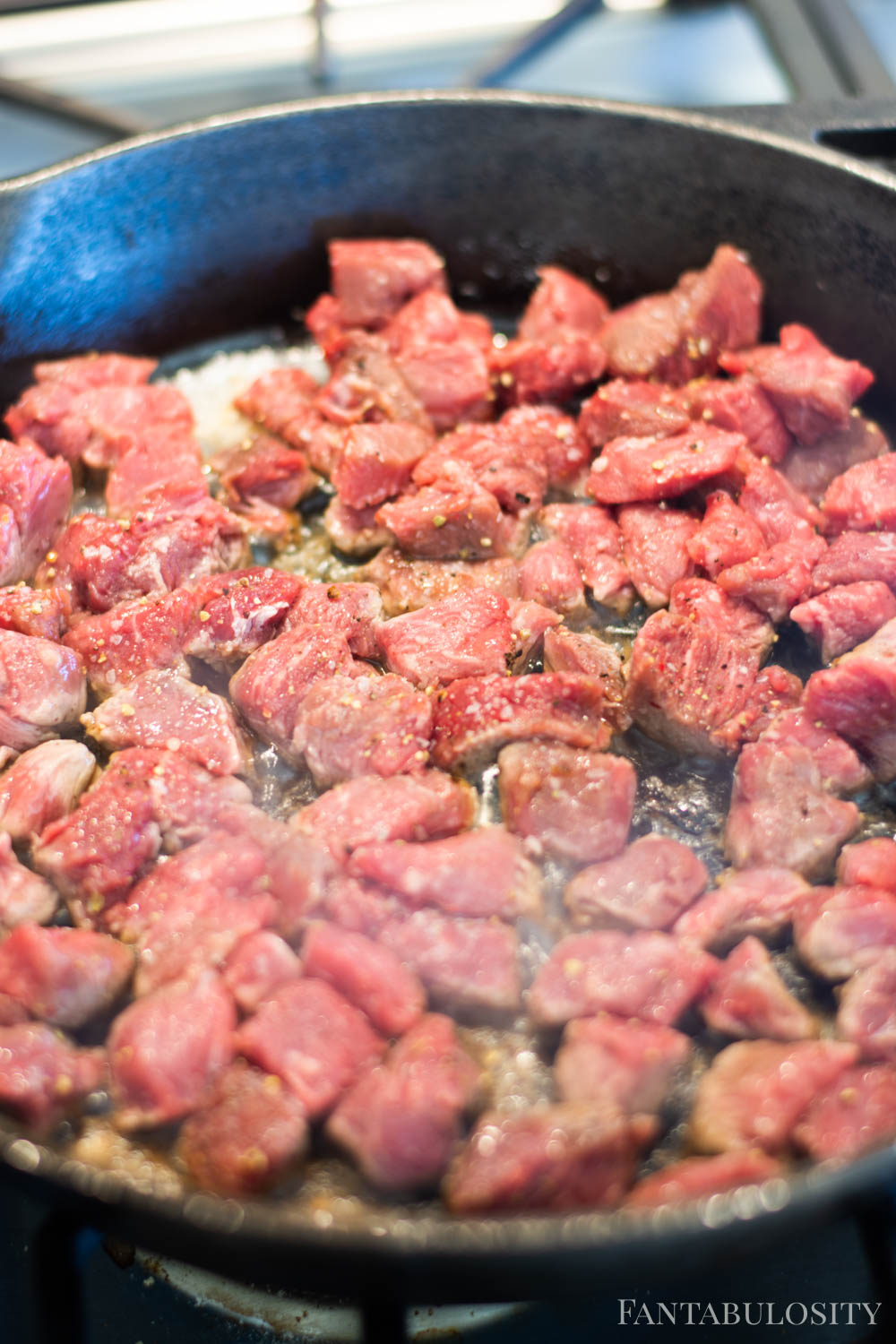 Cook on one side for 30 seconds…
It doesn't take long for the steak to get a nice sear in a cast iron (usually about 30 seconds for me) so when you notice the underside of the steak getting that "sear" look, it's time to flip.
I usually use my fish turner to flip over quite a few at a time but then go through and flip over any individual pieces that you see that still need to be flipped.
Cook on other side for 30 seconds.
Cook on the other side for an additional 30 seconds, or until you see the sear (on at least a few pieces) and then remove from the skillet and place in a serving dish.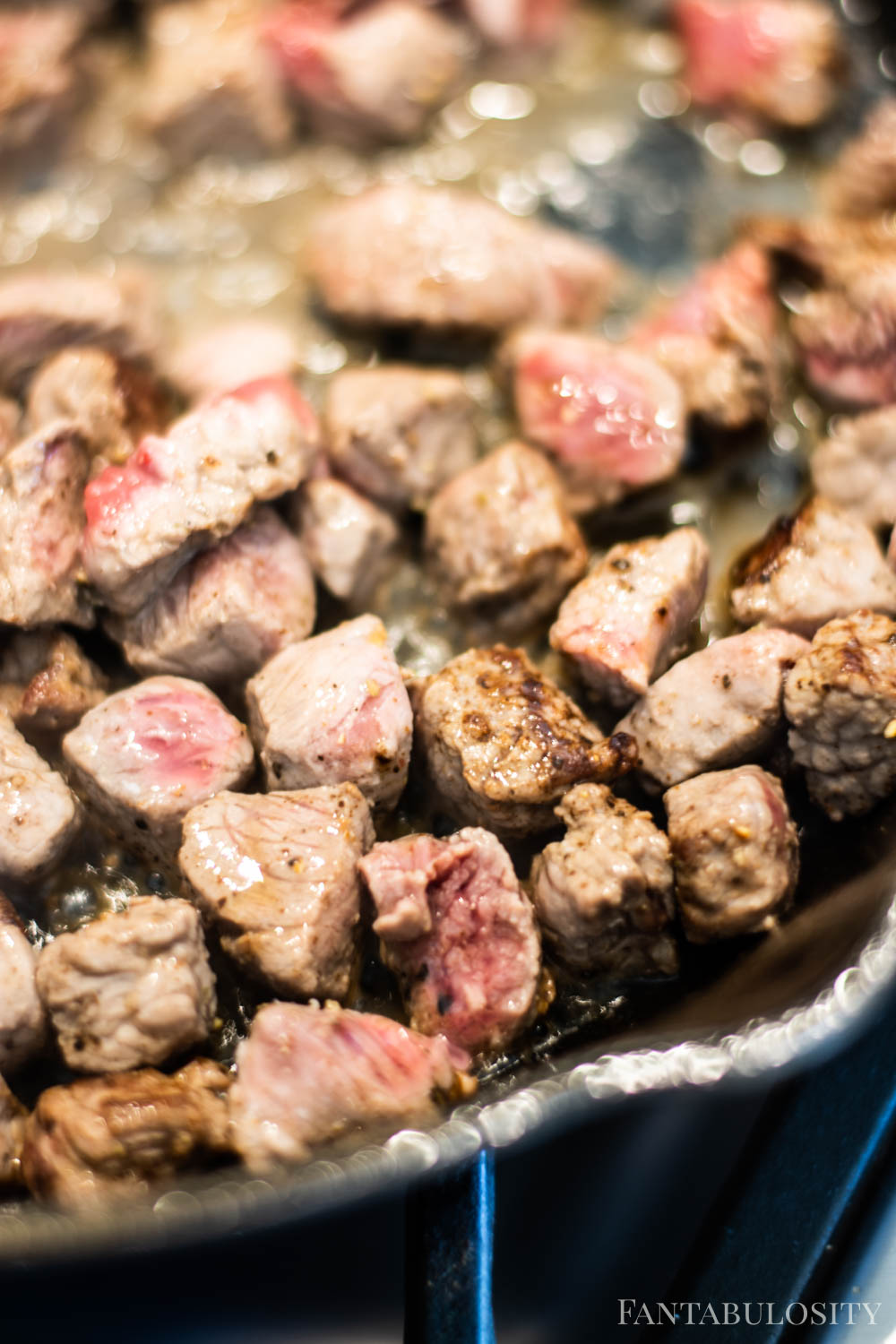 We like our steak bites about "medium" so know that when you're removing your steak bites from the skillet, some may still look a little red but they'll also continue to cook in the serving dish.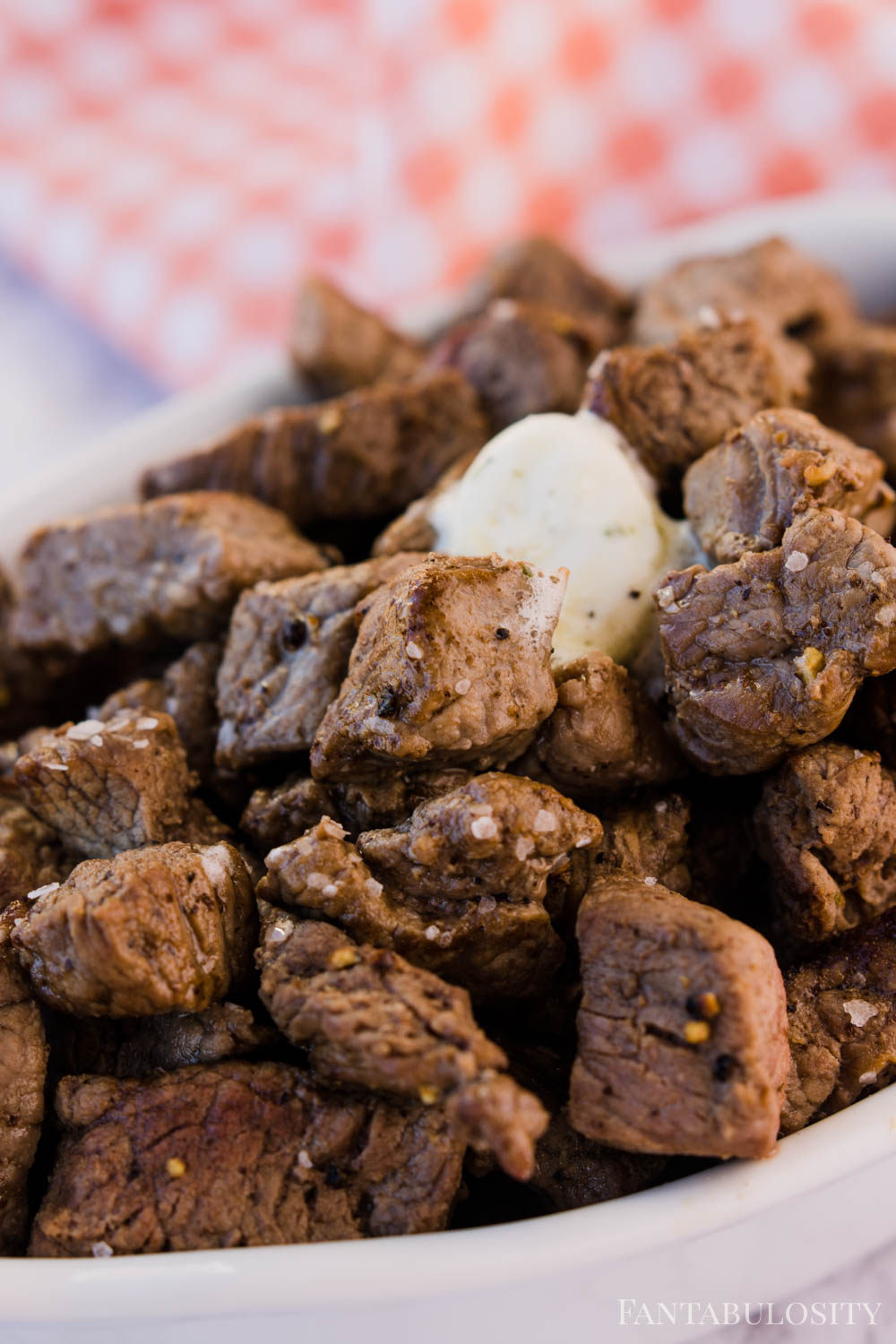 Sprinkle Additional Kosher Salt (Optional)
When the steak bites are in the serving dish and still warm, I like to sprinkle on a little additional salt to allow it to "melt" in to the resting steak. It's definitely optional and depends on how much you put on the steak prior to cooking… but there is something delicious about fresh salt on a juicy steak.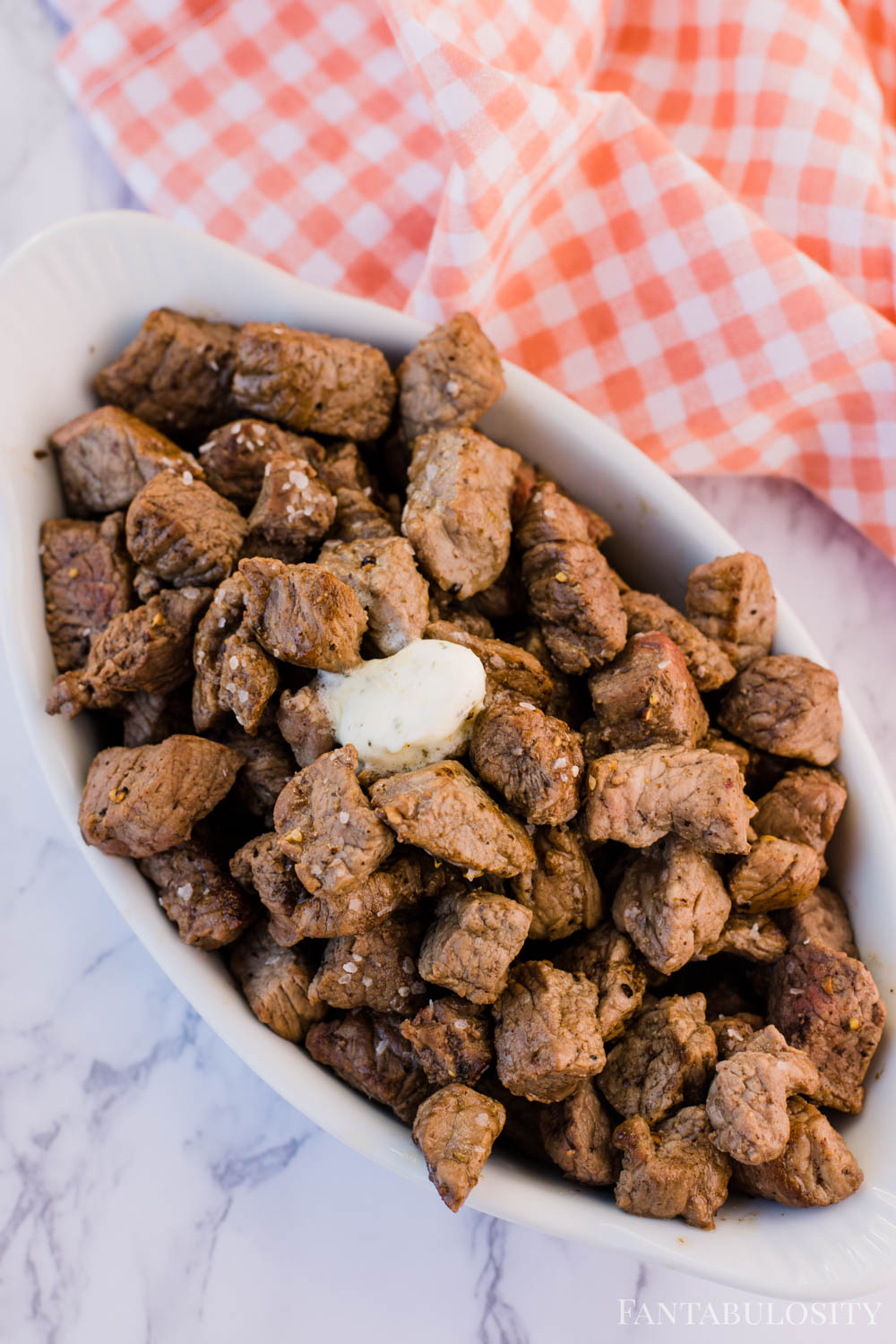 Garlic Butter Steak Bites
The day I made the steak bites to take photos, I wanted to "jazz" up the photos a bit and use my favorite garlic butter and I have to say… the pieces of steak right under that butter were insanely delicious. So that little garnish may appear on our steak bites from now on.
How to Make Garlic Butter
For our garlic butter, I combine:
1 cup butter (softened)
1/2 teaspoon finely chopped basil (fresh or dried)
1 tablespoon minced garlic
1/4 cup parmesan cheese
1 tbsp. garlic salt
Mix together ingredients and place on top of steaks after cooked!
Sides to Serve with Steak Bites
At times, we love having steak bites as an appetizer but we'll usually have this as a main course alongside our favorite side dishes like:
More Steak Recipes You'll Love:
If you have a freezer full of beef like we usually do, you may be looking for more ways to cook it! If you have beef, these cube steaks in the Crock Pot are hard to beat!
If you enjoyed this post, be sure to follow me on Instagram, Facebook, Pinterest and YouTube! Share a photo of your recipe and use the hashtag #Fantabulosity so I can find it and follow along!
📖 Recipe
Steak Bites
Steak Bites: With only 4 ingredients you can have the most tender and juicy steak bites that will leave so many begging for the recipe!
Ingredients
1

lb

sirloin

bones/whites removed

2

tablespoon

butter

1

teaspoon

kosher salt

1/2

teaspoon

pepper

cracked peppercorn medley is our favorite!

garlic butter

optional, see notes for recipe
Instructions
If your sirloin needs trimmed, remove the bone and cut off all of the white/gristle. Cut steak in to 1 inch cubes and season with salt and pepper.

In a cast iron (preferred, but can use regular skillet too — see notes in post), melt butter over medium-high heat until butter starts to turn brown.

As soon as butter turns brown, place sirloin in the skillet. The skillet/butter should be hot enough that it sizzles when the meat is added. This is GOOD! The steak is getting it's "sear" that is so flavorful and MAKES this recipe so good!

After about 30-60 seconds, check to see if underside of at least one piece is brown (with sear). If it is, flip over all of the pieces so the other side can cook and get the "sear".

Cook for another 30-seconds (or until "sear" shows) and quickly remove from skillet in to serving dish.

Let the steak rest for a minute, sprinkle on additional kosher salt, if desired, to allow the meat to finish cooking and soak in that flavor. Serve immediately!
Notes
See blog post for additional tips on seasoning, and making these the BEST steak bites!
For optional garlic butter, I use:
1 cup butter (softened)
1/2 teaspoon finely chopped basil (fresh or dried)
1 tablespoon minced garlic
1/4 cup parmesan cheese
1 tbsp. garlic salt
Mix together ingredients and place on top of steaks after cooked!
Nutrition
Serving:
0.25
lb
|
Calories:
205
kcal
|
Carbohydrates:
1
g
|
Protein:
25
g
|
Fat:
11
g
|
Saturated Fat:
6
g
|
Cholesterol:
84
mg
|
Sodium:
697
mg
|
Potassium:
388
mg
|
Fiber:
1
g
|
Sugar:
1
g
|
Vitamin A:
177
IU
|
Calcium:
32
mg
|
Iron:
2
mg
Nutritional information is based on third-party calculations and should be considered estimates. Actual nutritional content will vary with brands used, measuring methods, portion sizes and more.