I'm so happy to offer you this free grocery shopping printable.  But I MUST tell you about a new and improved FREE shopping list, first.  (Just in case you'd rather have this one.)
NEW Grocery Shopping List Available… I've created a NEW "freebie," grocery shopping list. It's an EDITABLE grocery shopping list download, and you get full access when you sign up for the Fantabulosity newsletter!  (What does that mean?  It means you may get an email from me, from time to time, with ONLY the best goodies.  Aaaaand…. we become BFF.  I only share the goods things with my BFF's.) 🙂
Now, if you just want to use my free version that's not editable,  you can still download it below!
FREE Grocery Shopping List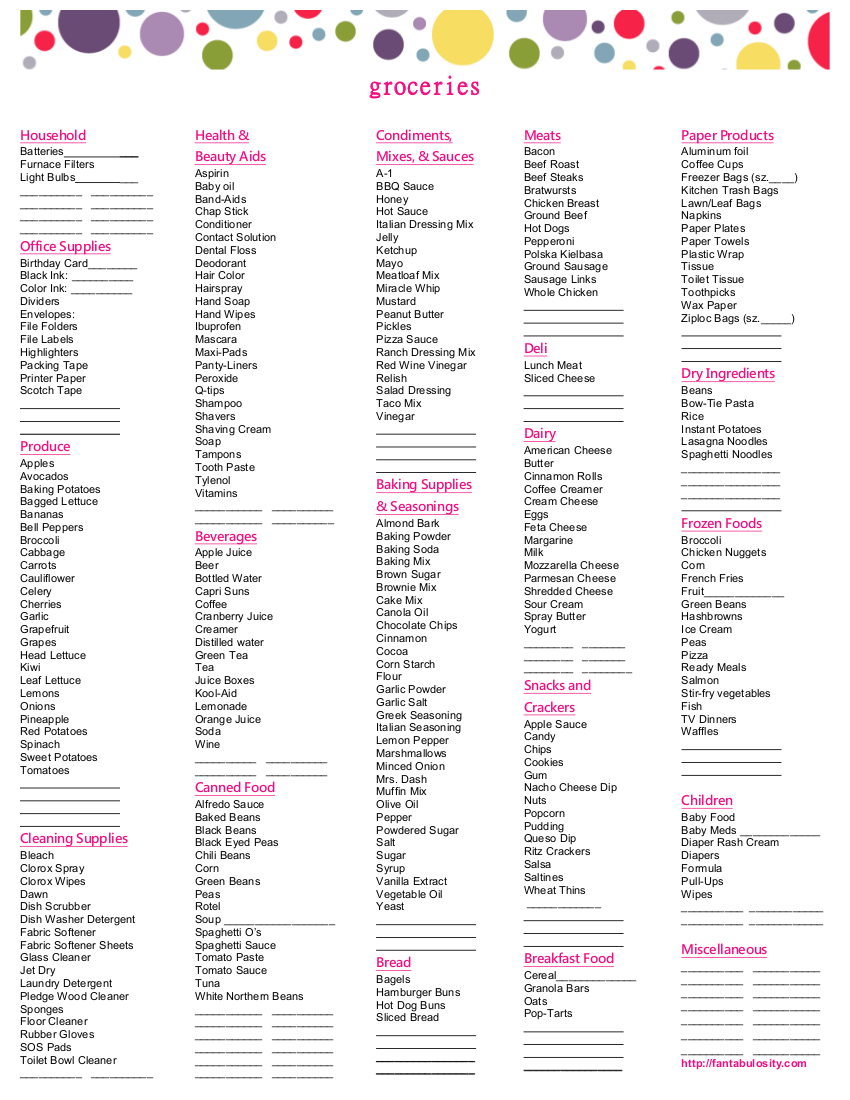 Alright friends.  I hate grocery shopping as much as you do.  Yes, sometimes if I get out of the house without the kids to go grocery shopping, it may feel a little like a vacation… but still… I DESPISE grocery shopping.
Well… my mom is a GENIUS!  For probably close to 10 years, she's been using something that has changed her (and my) daunting grocery shopping trips.  When I launched Fantabulosity, I knew I had to share this with you all, so you could benefit from it as well.  Any mom, or heck… any busy gal could use some help in the organizational department, right?
How to Use It:
She created a master copy of a grocery shopping list.  It has all of the typical items she needs when grocery shopping, and when she's fumbling around in the kitchen and realizes she's out of the yellow spread, she grabs a highlighter and highlights "butter." Then… when she's ready to hit the store, she grabs her list and goes out the door.  (She even went to the extent of putting everything in order of the store isles at the store she typically shops at.  I told you… she's brilliant!  So if you use the editable grocery list version, you can arrange your columns in the order of your store too!)
Now, even though she's MY "mommy," her and I don't need the same items at the grocery store, so I had to delete and add my own items to my master copy.   So keeping that in mind, when I was creating one for you, I added common items that may be your "basics," because you won't need the same type of items that I or even your neighbor will.
PLUS… there are added blank lines at the bottom of each category for "write-in's" that you may only need once in a great while, and for those things that I didn't include on the list that you need.
Okie Dokie!  Download this version here —–> : Fantabulosity Shopping List Organziation Tool
If you're a list lovin' chick-a-doo like I am… don't forget to check out my other lists that I've created for my sanity:
Newborn (baby) Travel Packing List
List of iPad Apps for Toddlers