Grocery Shopping List Template: This adorable and free printable will help you organize your grocery shopping to make things so much easier!
Post Originally Published in August 2013 – Updated in November 2020
---
So I don't like grocery shopping as much as you do. Yes, sometimes if I get out of the house without the kids to go grocery shopping, it may feel a little like a vacation… but still… I DESPISE grocery shopping.
And now that grocery pick-up and delivery is a thing, my grocery shopping life is SO much easier. BUT…
Grocery Shopping List Template
Are you ready for me to make your grocery shopping life easier even if you do grocery pick-up and/or delivery? Welcome to my FREE GROCERY SHOPPING LIST TEMPLATE!
Get this free grocery shopping list right away, when you join my email list!
How to Use my Grocery Shopping Master List: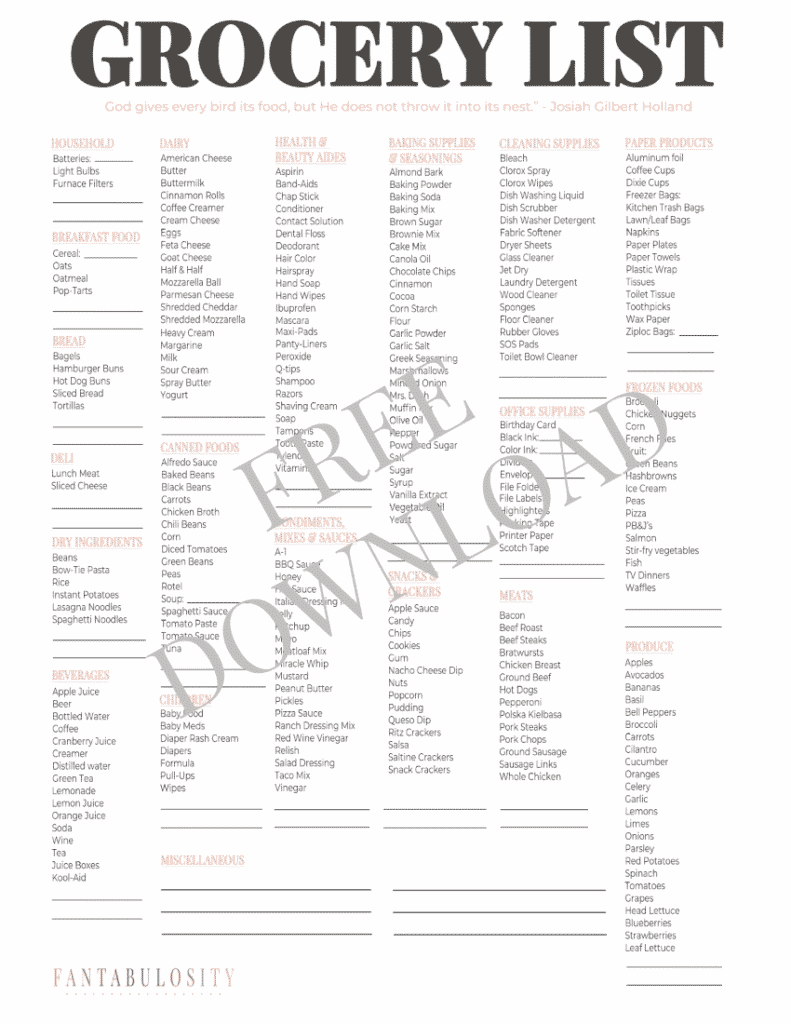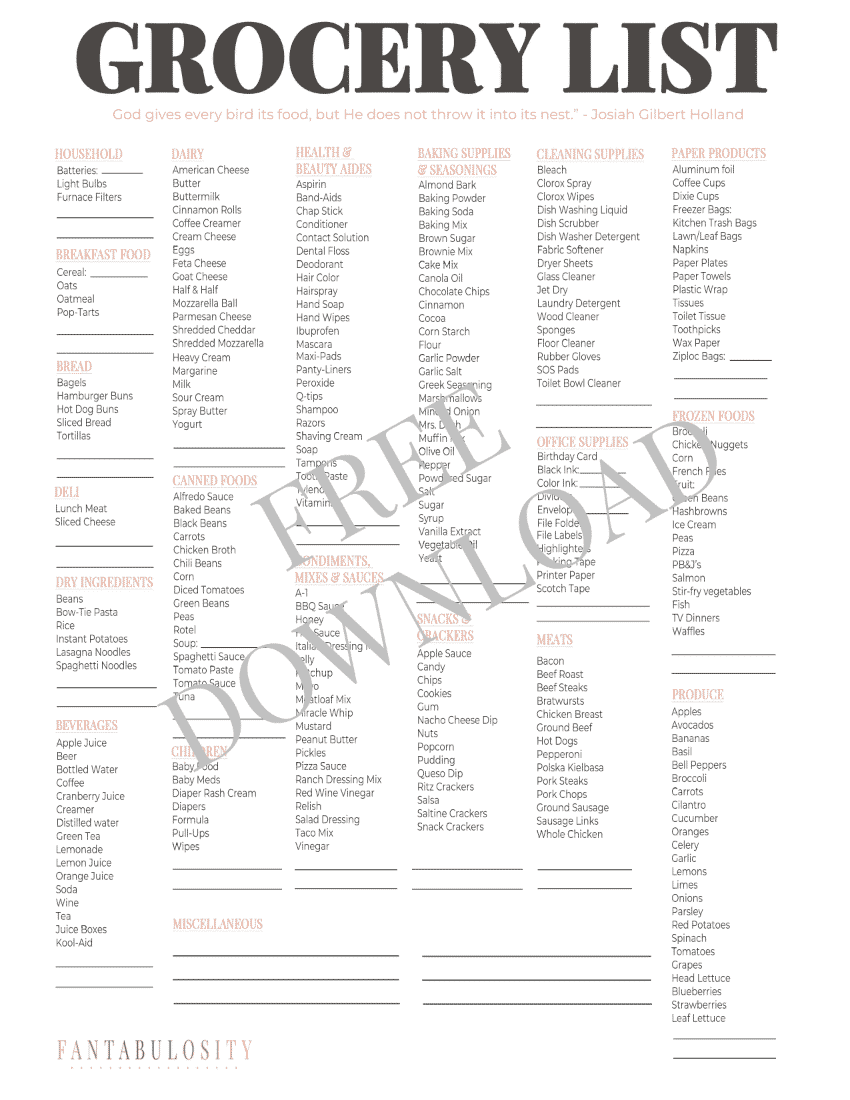 For probably close to 15 years, my mom has been using something that has changed her (and my) daunting grocery shopping trips.
She created a master copy of a grocery shopping list, and after taking hers and adding a little pink and "fantabulosity flair", I'm sharing this version with you!
How to Use the Grocery List Template:
Simply select and print.
Hang it on the refrigerator door (or wherever your central station is).
Highlight the items with a highlighter as needed, as you run out or think of them.
Take the list with you to the store when you're ready.
Grab your highlighted items at the store, and you're all set!
Print, again and again, to keep the same system going!
Common Grocery Items
Wondering if this list has common grocery items on it? YES! This list was created with everyday staples with a "family" in mind.
This list has the main categories you're used to shopping for like,
Household
Breakfast Food
Bread
Deli
Dry Ingredients
Beverages
Dairy
Canned Foods
Children
Frozen Foods
Baking Goods
Spices
…and so much more!
With individual items under each category like:
butter
milk
cake mix
bread
shredded cheese
salt
pepper
cereal
pop tarts
light bulbs
paper towels
…and so many more everyday items you need!
My Favorite Ways to Grocery Shop:
I'm a BIG fan of Walmart Grocery Pickup and Instacart Delivery.
With two little boys at home… loading up and heading to the grocery store to spend an hour saying "no" to cookies, toys and fruit snacks… doesn't really sound like a ton of fun.
So when Walmart grocery pickup and Instacart came to my hometown, I immediately fell in love.
I can easily place my order online and either head down the street to pick up my groceries, or they show up on my doorstep a few hours later with what I need!
List for Online Grocery Ordering
I STILL use this grocery shopping list, even though I'm ordering online.
I keep the grocery list handy throughout the week, and still mark up the items I need, as I realize we need them.
But the difference from going to the store, is I simply sit down on my couch while my favorite tv show is on, and I order away by what my list says I need!
Looking for More Printables?
Have a specific printable you'd love to see here? Let me know in the comments below. I'm a bit of a printable junkie, so if I know what you want… it will more than likely go on my list to create.