Letter to Santa Template: A free printable template that makes writing a letter to Santa Clause easy, cute and fun for kids for the holiday season for their Christmas wish list.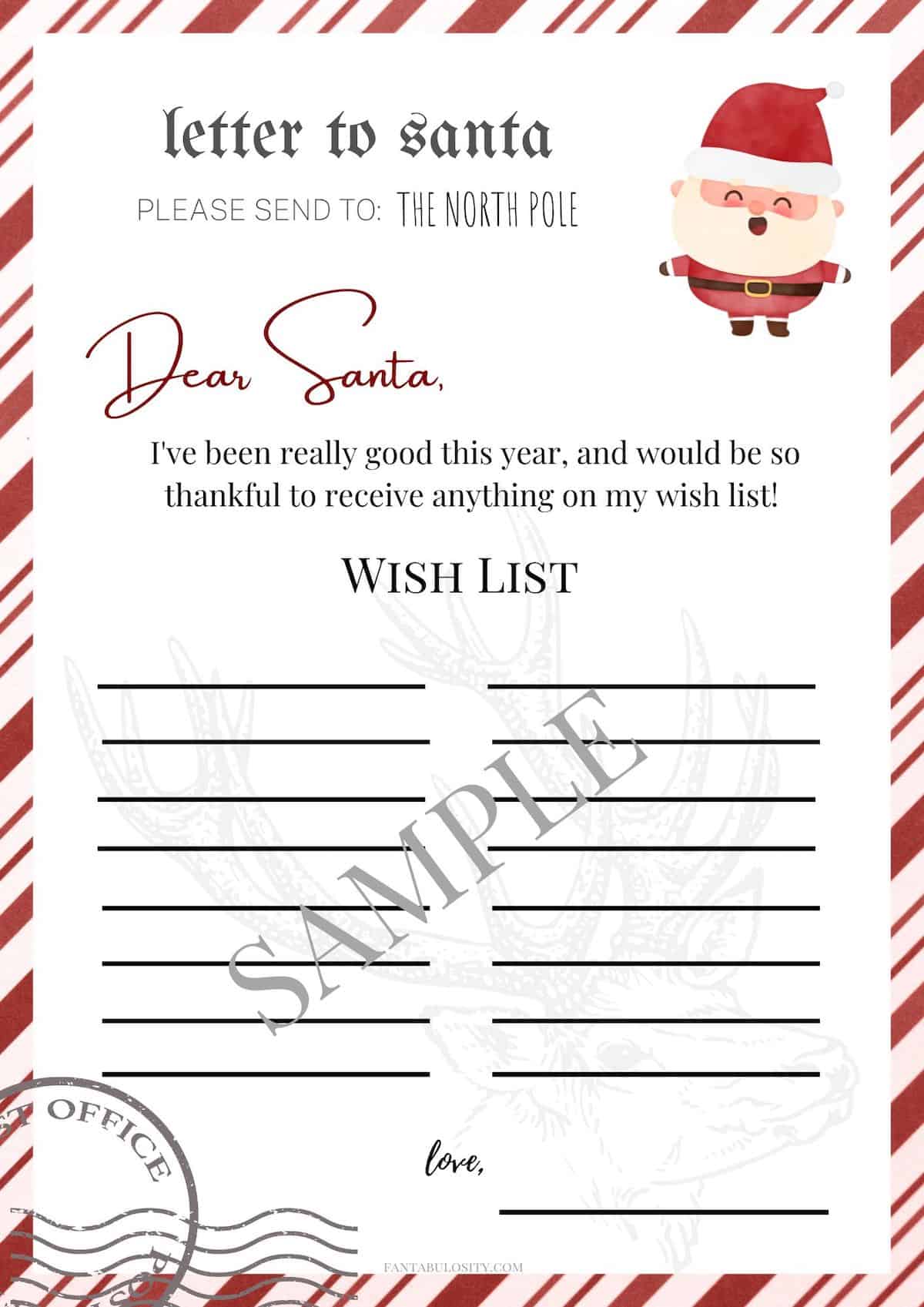 Santa Letter Printable
Writing letters to Santa Claus is one of our FAVORITE holiday activities every year, along with making these Pecan Snowball Cookies! (It's also a fun thing to do when there has been really good behavior.)
When the time of year rolls around, I print out this blank letter so they can start jotting down their Christmas wishes so we can keep track of them, early on! It's even a fun list for older kids to keep track of their wishes too.
So to add a little fun to the Christmas tradition, I LOVE having this free printable letter to Santa template that we can print off, over and over every year for the kiddos to fill out. It's a simple letter, that's easy for kids to fill out, (or easy for you to help younger children fill out) and a super cute letter at that!
Each kiddo can fill out their own letter, every year, so make sure to save this to your Pinterest account!
Tip: If you want to, take a photo or save a copy of the Christmas letter and put it in their memory books each year. It's such a great way to look back at the last year or previous years.
How to Mail a Letter to Santa
After the letter(s) have been filled out and they're ready, I absolutely love how the United States Post Office provides instructions on how to mail a letter to Santa! (You can also check your local library to see if they offer a drop-off location for letters!)
They give the address of where to mail it to, and more details, making it extra special for kids at Christmas time! (Don't forget to include your full name and return address!)
More Printables You'll Love:
But first, if you're looking for printables to help make the Christmas season even easier, make sure to take a look at our Christmas Bucket List printable, this Christmas scavenger hunt, and this Christmas Gift List free download, too!
Or, if you love making your own printables, see how you can design your own birthday invitations and printables in Canva!
How to Access Your Free Printable "Letter to Santa" Template:
It's easy! Just grab your free letter here:
More Christmas-Related Posts You'll Love
If you're feeling crafty, you'll love making these DIY "Let it Snow" Christmas ornaments too!
Looking for more Christmas ideas? Then you'll love some of our favorite holiday activities, treats, Christmas crafts, decorations, parties and more…like:
Merry Christmas! I'm so appreciative of you for visiting Fantabulosity today!