Christmas Bucket List Printable: A fun way to come up with new ideas for the holiday season with this free printable!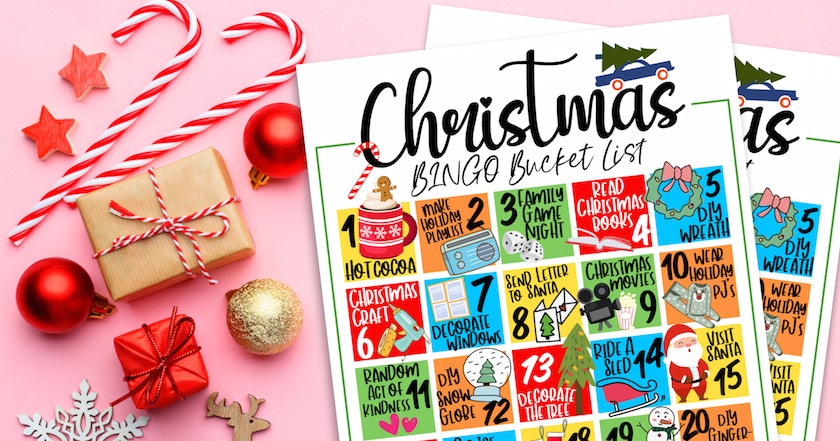 Christmas Bucket List Ideas
I am such a sucker for Christmas and holiday traditions.
The hot cocoa, decorations, Christmas music, and the list goes on. But I wasn't always this way… especially during the hard times that we went through but after going through so much trauma, the holiday season makes me giddy!
So watch out… we're going to tackle this year's Christmas bucket list pretty hard and this bucket list is going to come in super handy and I thought you'd like it too!
Christmas Bingo
Now, you can use this printable (access it at the bottom of this post) as just a guide for your holiday season, giving you something festive to do each day as a count-down but if you want to add a little extra fun (hence the "bingo" verbiage) get a few families/friends together and see who can bingo first!
Have every person (family/group) chip in money, gift card, small prizes, etc. and whoever "bingo's" first, wins the goodies!
TIP: Make sure that one of the rules is to take a photo of each activity to show proof that it was actually done! Plus… some of the activities could be super easy to do, so maybe add a little extra rule saying that they can only "bingo" after completing 15 or so.
For a bigger list of Christmas and holiday activities, make sure to scroll on down to read them below!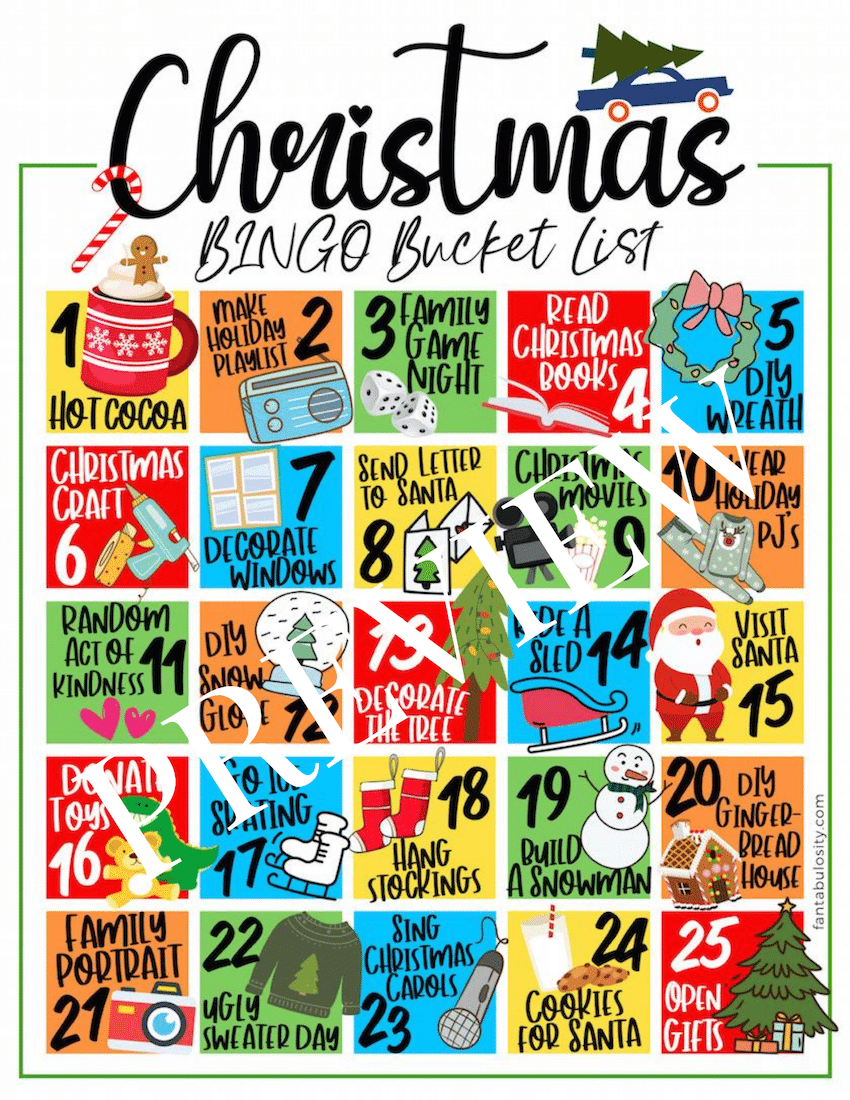 Christmas Bucket List
For more of a "bucket list" approach, simply perform one of the Christmas activities and mark it off with a fun "dobber" when complete. For instance, you could grab some of those super cute, glittery pom-poms and glue it on each item that you complete.
Or, use something like Christmas candy like gumdrops or the green, silver, and red Hershey kisses!
List of Christmas Traditions and Ideas
Now, in case a printable is not your thing, here's a quick list of ideas that you can do this holiday season. The first 25 ideas you'll find on the printable and the additional 25 are extra ideas you can incorporate in to your holiday season just for fun too!
Hot Cocoa
Make Holiday Playlist
Family Game Night
Read Christmas Books
Make a DIY Christmas Wreath
Make a Christmas Craft
Decorate Windows
Send Letter to Santa
Christmas Movies
Wear Holiday PJ's
Perform Random Acts of Kindness
Make a DIY Snow Globe
Decorate the Christmas Tree
Ride a Sled
Visit Santa
Donate Toys
Go Ice Skating
Hang Stockings
Build a Snowman
Make a Gingerbread House
Take a Family Portrait
Ugly Sweater Day
Sing Christmas Carols
Make Cookies for Santa
Exchange Gifts

More Christmas Activity Ideas NOT on the Christmas Bucket List Printable:
Send out Christmas Cards
Make Cards and Color Coloring Pages for Nursing Home Residents
Drive Around and Look at Christmas Lights
Make an Advent Calendar
Ride a Horse and Carriage
Feed the Homeless
Put up Christmas Lights on the Outside of the House
Go to Church
Host a Christmas Party
Kiss Under the Mistletoe
Ring the Bell for Charity
Make Snowflakes Out of Paper
Polar Express Experience
Drink Eggnog
Make Popcorn Garland
Secret Santa (gift exchange at work, friends, family)
Eat Candy Canes
Go Shopping at the Mall
Make Gift for Delivery Drivers
Cut Down a Christmas Tree
Go to a Christmas Show (Musical, Ballet)
Roast Chestnuts on Open Fire
Gift Wrapping Girls Night with Friends
Cookie Swap
Attend a Christmas Festival
More Christmas Ideas for Your Holiday Season:
If you loved this list of ideas, then you'll also love the other Christmas related party ideas and activities you'll find here on the blog:
How to Host a Favorite Things Party
See how to throw the ultimate holiday party (favorite things party) with your closest gal pals!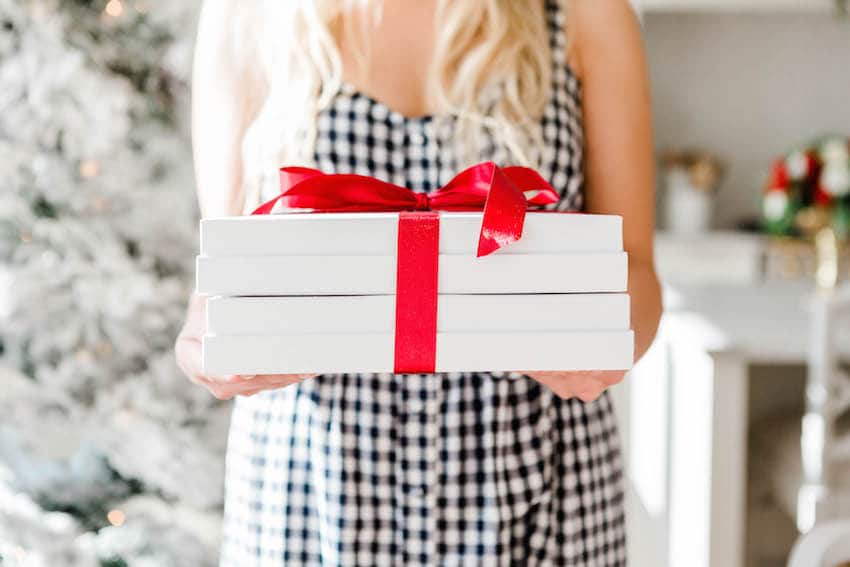 Winter Cupcakes
Make this super cute dessert, even by grabbing vanilla store-bought cupcakes! See the how-to to make winter cupcakes here!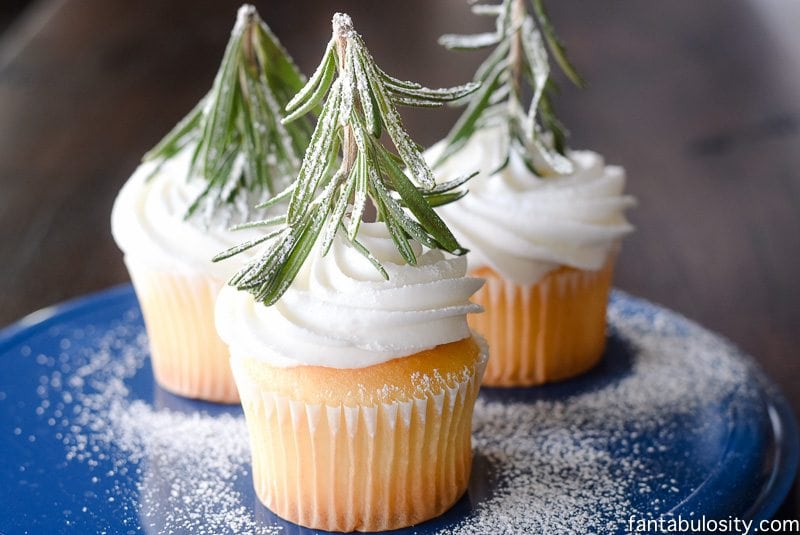 White Christmas Party
Using all-white decor, foods, plates, and more… made this party one of the easiest parties to style! See the ideas for a white Christmas party here!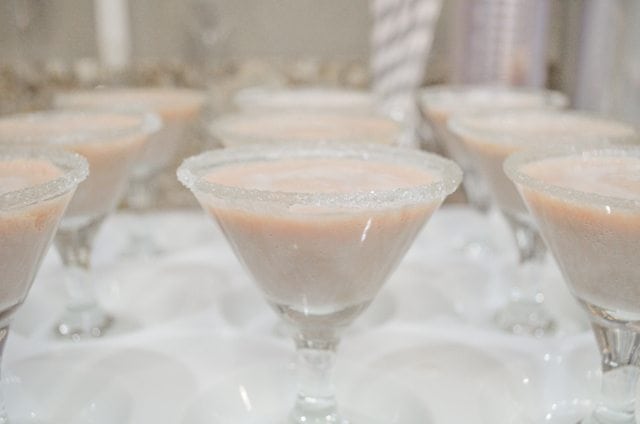 How to Access Your Free Christmas Bucket List Printable…
I hope you love this printable bucket list (bingo) printable! You can grab it with the button below: