An All-White White Christmas Party: Classic, white decorations and party foods, made styling this party incredibly easy and a perfect match to the white snow falling!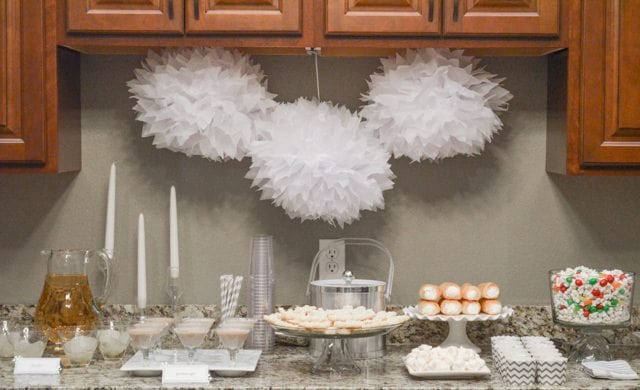 I planned an all white Christmas party for our closest friends, and it was a BLAST. We were honored to have Santa Claus come visit with the kiddos, adults were able to have a Christmas "beverage," and it was a weeknight filled with fun and laughter. A great way to get a "break," in the middle of a stressful workweek, and at one of the busiest times of year.
All White Christmas Party
Gift Giving from Santa
Each parent brought a wrapped gift with their child's name on it, and dropped it in the gift "container," that I provided on the front porch. When Santa came to visit, he brought the big container in with them, and distributed the gifts to each child. It was an absolute success, and the kids were totally shocked. (For an even bigger surprise, we didn't tell the kiddos that Santa was coming for a visit. The looks on their faces were priceless when they saw Santa walk in the door!)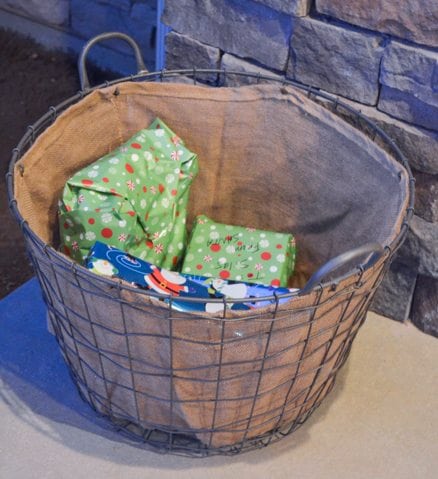 White Party Decorations
I absolutely loved the view that our guests had, when they were walking up the sidewalk, to the front door. They could see the goodies from a mile away, and they couldn't wait to get inside and see what kind of scrumptious items were waiting for them.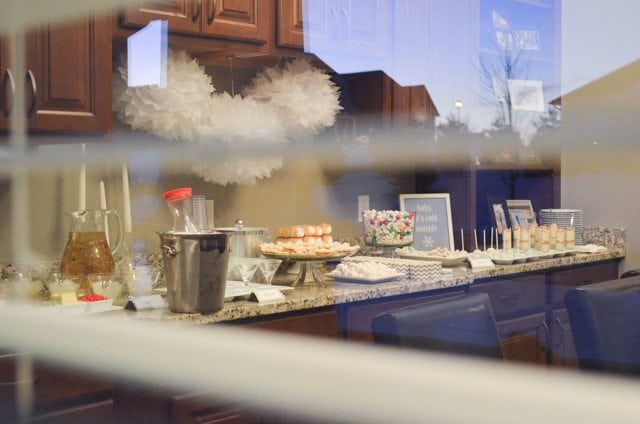 If you followed my home tour, you know that when we were building, I REALLY REALLY, wanted a dining room that had a "buffet," area for entertaining. I have to say, it has come in super handy. (Only problem is… even as big as it is, I still seem to fill it up on the amount of food I serve. Oh well!)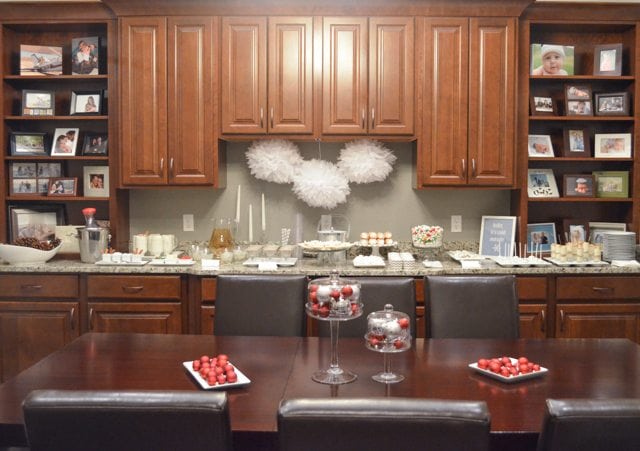 Before I started planning for the party, I had no idea how easy it was to throw an "all-white," party. White is EVERYWHERE! When it comes to food… options are even more endless. (It also didn't hurt that I already had an obsession with white serve ware, so I had that part covered.)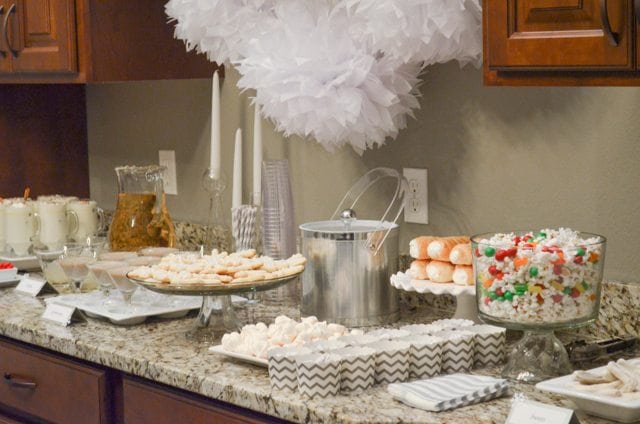 Food Tents
When I was browsing Etsy, planning for the party, I found the PERFECT food tents, and I had to have 'em. Absolutely adorable snowflake food tents, from Trim & Tinsel, were just what I needed.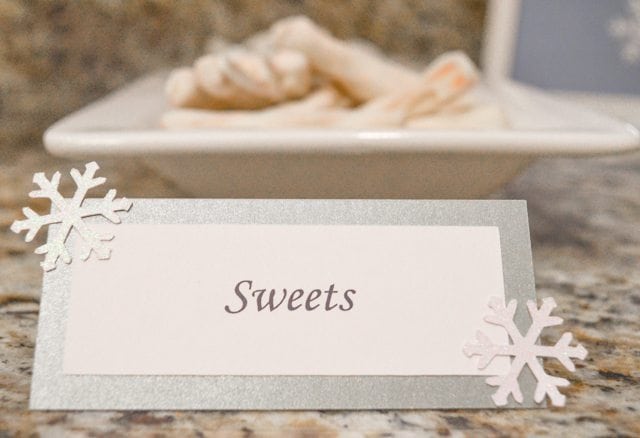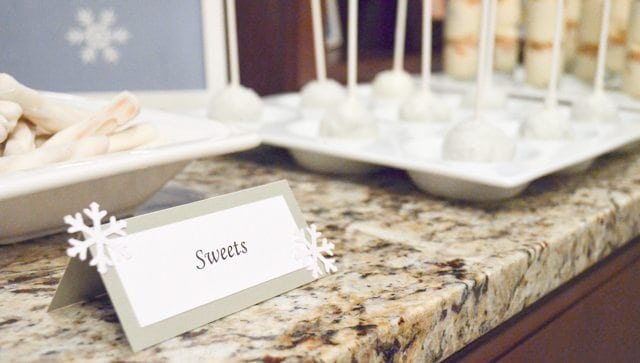 White Hot Chocolate – Build Your Own
Mmmm… I can still taste it. White Hot Chocolate was served with all kinds of garnishes. I made the hot chocolate in my crockpot earlier in the day, and pre-poured it, right before the guests arrived. It was delish.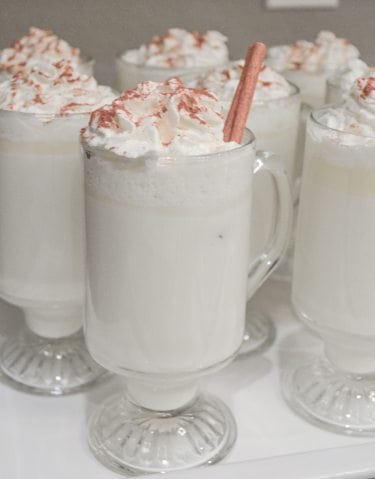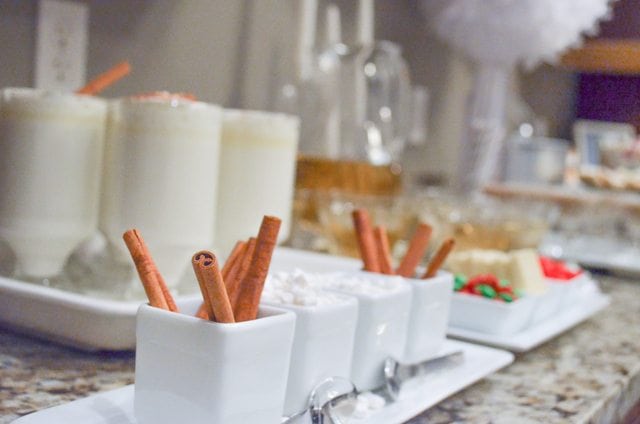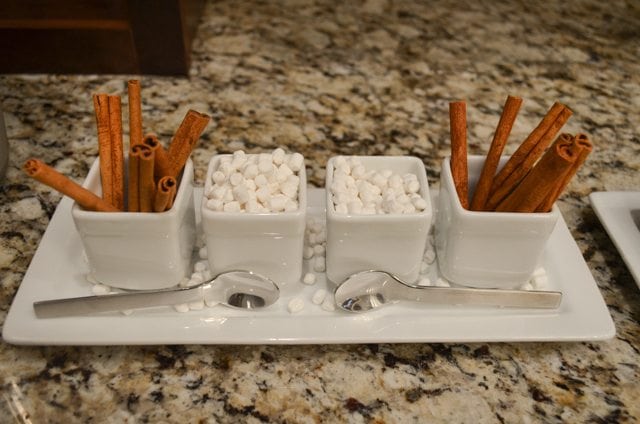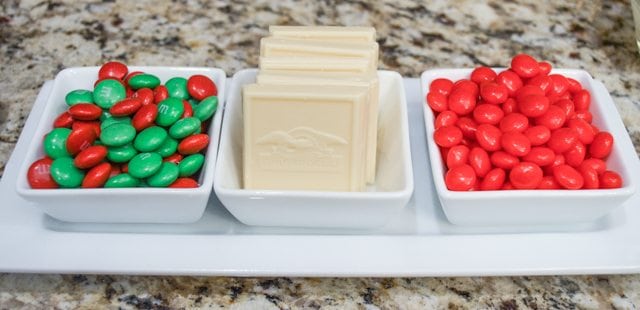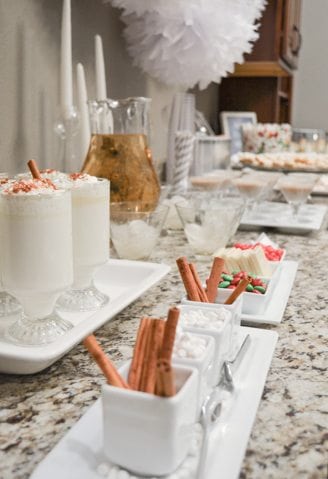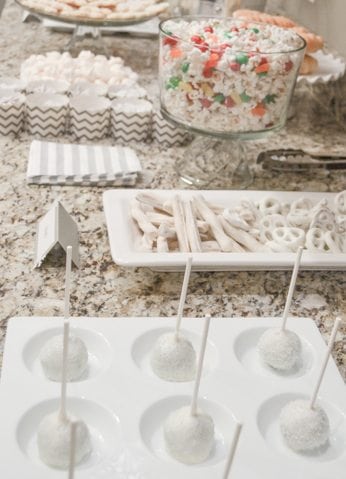 White Signature Cocktails
If you're an adult, you can almost guarantee I'll have a signature cocktail waiting for you at any party that I throw. It's a great excuse to try a new drink, and you can have some fun with it.
For this party, I found a drink recipe that included RumChata, and I sugar coated the rim of the miniature tasting glass. The drink was unbelievably sweet, so a mini martini glass was the perfect size to serve it in.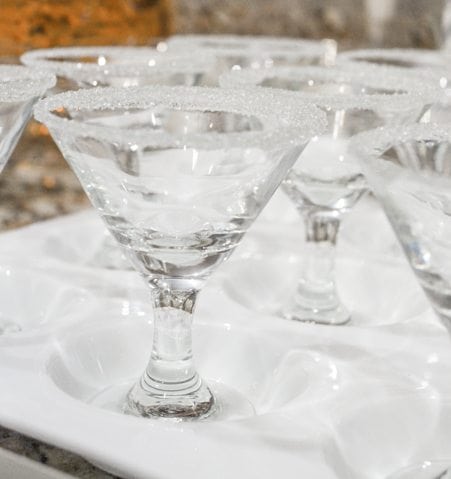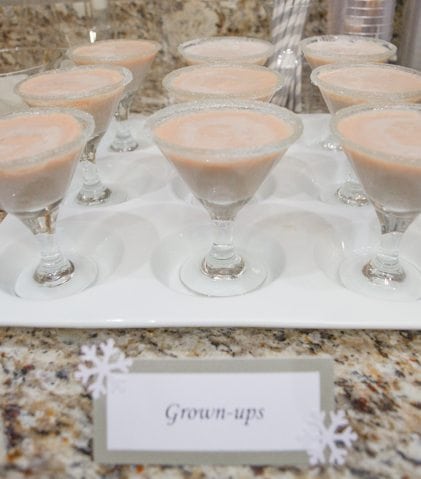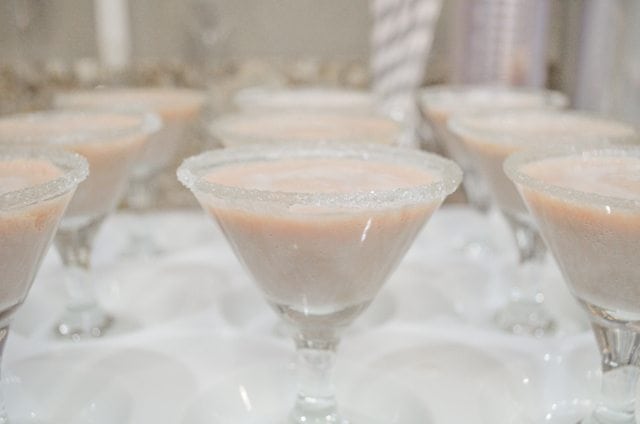 Sugar Cookies
This was my first year making sugar cookies. I know, I know. I was 30 years old, and had never made sugar cookies at Christmas time. So… I ordered a snowflake cookie cutter, grabbed a white icing pen… and went to work. Ok, now I know why you all make sugar cookies and decorate them at Christmas. It was so fun, and they were so tasty! Get my favorite Sugar Cookie recipe HERE!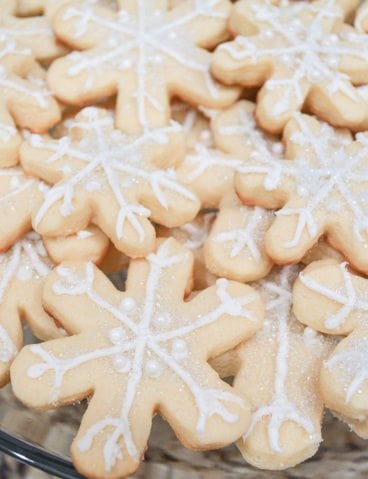 Store Bought Desserts
About a week before the party, I kept my eye open for anything "white." I was so surprised to see how many fun foods were "white!" The meringues below, were totally store bought… and added a great touch to the party.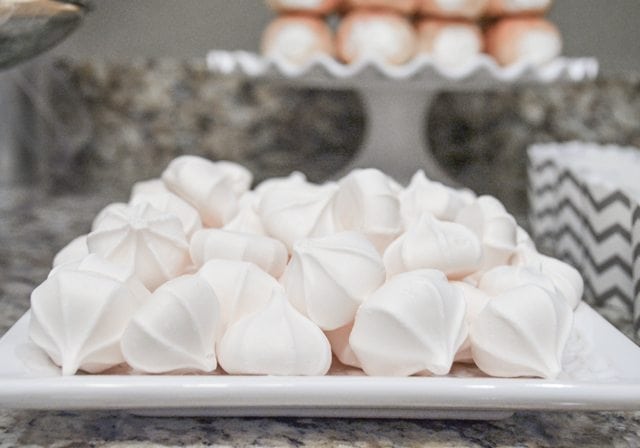 Yep. These were store bought too. Cream puffs!? Yeah… thinking about throwing another "white," party so I can have these again. Holy Moly.
Store bought "puppy chow," was divided in to small baking cups, and the kids thought it was made JUST for them! Take and GO!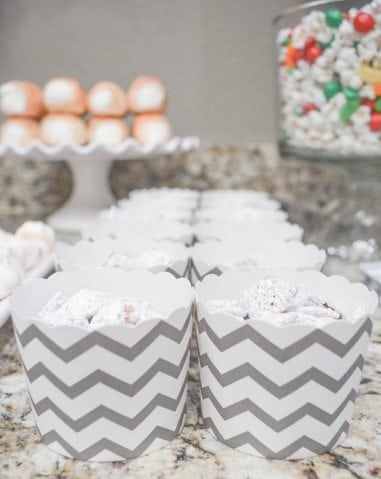 Candy + Popcorn = A Hit!
Ok, who knew popcorn would be such a hit at a party? Everyone loves popcorn! Throw a little candy in it, and they'll go NUTS! (Mmm…you could add some nuts too. I bet that would be excellent!)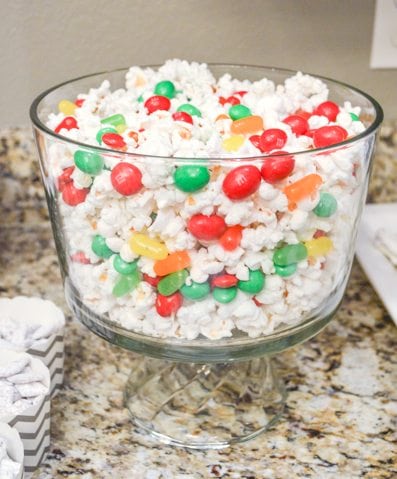 Oreo Pops
I had never made Oreo balls either, and I thought covering them with white chocolate and white glittery sprinkles, would make a perfect dessert option. Because really… we were lacking in the "sweets," department, I'm sure.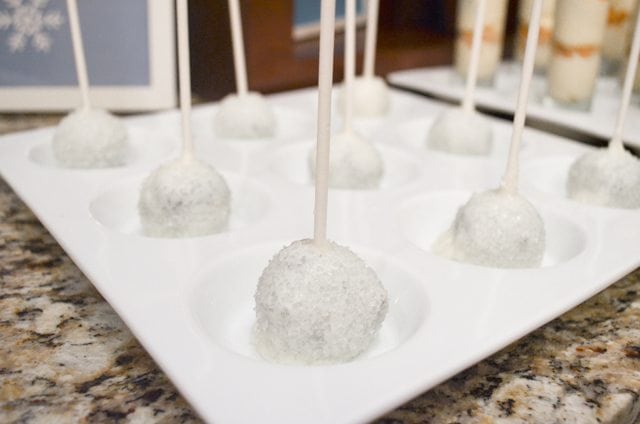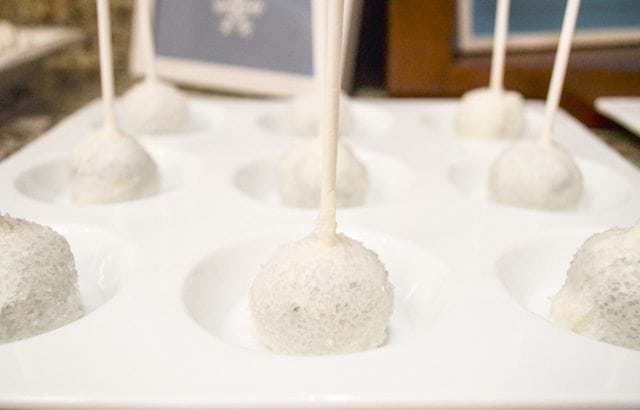 Mini Cheesecake Trifles
Well ok. Ready for my secret? Yep… bought a tub of cheesecake filling at the store, filled my tasting shooters and topped it with crushed graham crackers. Whew! Whole thing took 5 minutes. By FAR the most loved dessert at the party.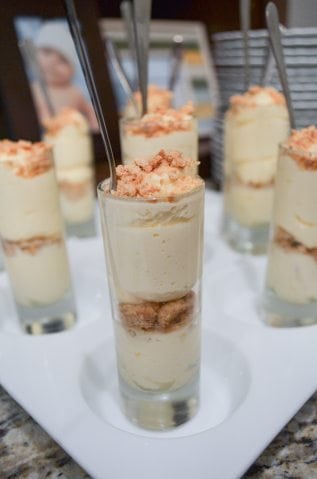 There you have it! Throw a party, and make the color scheme ALL white. It was unbelievably easy, and was a classy Christmas party theme idea by far.
Have you seen the Christmas Play Date party that I hosted? Now THAT was fun too. See that party here: Christmas Play Date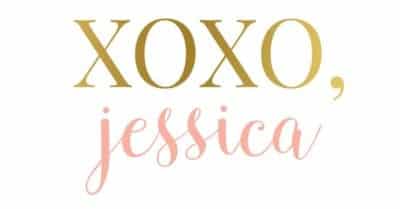 Pin this image to remember:
Pin the image below to remember when you're planning your next Christmas party!