I had always wanted to host a Christmas Play Date, and as soon as my oldest was old enough to interact with others, I started the planning process. 🙂
The Christmas play date consisted of sweets, treats, and a lot of fun!
Snowman Christmas Party Playdate
Printables
The fantabulous Snowman printables are from Amanda's Parties To Go! I try to always use printables for a party, because it can add a lot of "BAM" to your party details, and it's very inexpensive. This party was no exception. The printables totally set the tone for the playdate.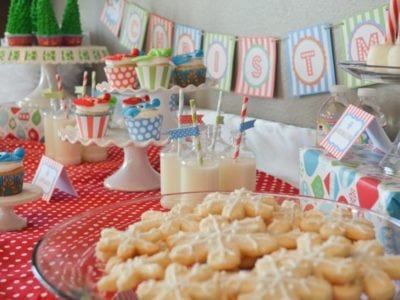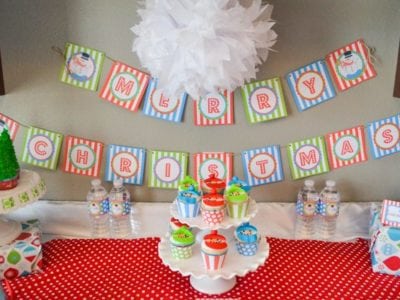 Invitations
The party theme stemmed from the adorable invitations I found at Cakes and Kids Designs. I changed the wording just a bit, and it worked like a charm. (Note: I "blurred" out my address on this picture, because I didn't think everyone needed to know exactly everything about me. 🙂 But rest assured, the invites came out flawless!)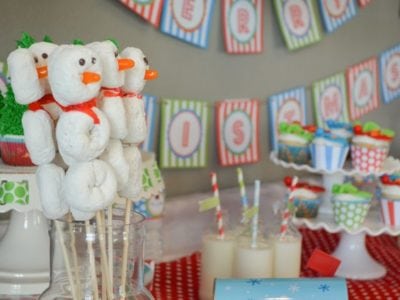 Donut Snowmen
Oh the donut snowmen! These were so simple to make, and they turned out soooo stinkin' cute.
I put 3 white powdered donuts on a skewer, wrapped a fruit roll-up around the "neck." I added an orange "Mike & Ike" candy for the nose, and mini chocolate chips for the eyes. **I did add a little white frosting to hold the "nose" in, so it wouldn't fall out.
Sugar Cookies
Get my favorite Sugar Cookie Recipe for Cutouts!
I ALMOST paid someone to make the snowflake sugar cookies. Then I found super cheap snowflake cookie cutters online, and thought to myself, "Oh why not give it a try. If they look horrible, I'll just do without. The kiddos would have enough sweets to go through anyhow." To my surprise, the recipe I used, and the cookie cutters I used, worked out great! I will forever make these around the Christmas season.
Glistening Marshmallows
White chocolate covered marshmallows should be referred to as "A Heavenly Sugar Rush." These were so easy to make, and they added a great touch to the dessert table. (It did take me quite a while to find peppermint sticks in the store though! Who knew these would be so hard to find!)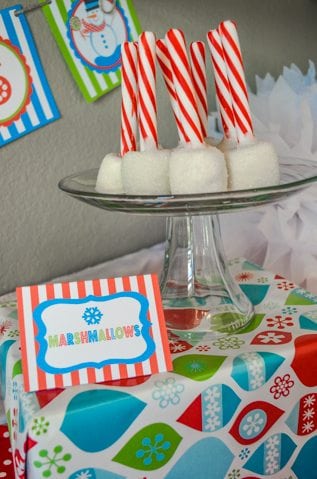 For some added décor, it's always fun to add water bottle labels to your water that you have for your guests!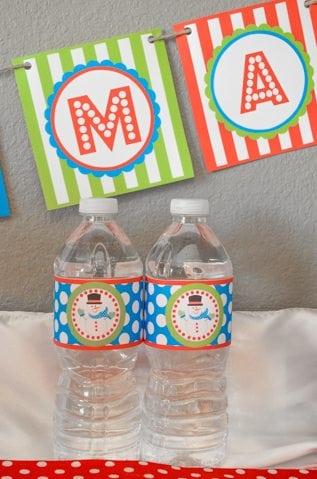 Cupcake Toppers
Oh my… where do I even begin? I'll never forget the day I opened up the snowman cupcake toppers in the mail. I was blown AWAY at how adorable these were. No way in the world did I think they'd ever look as good as they did on Cherry Bay Cakes, Etsy Shop. You wouldn't BELIEVE the compliments I received on these, and I will now FOREVER order from Cherry Bay Cakes, when I'm having a party. Amazing customer service, and an amazing product. Can you believe these were edible AND delicious too? Dead Serious.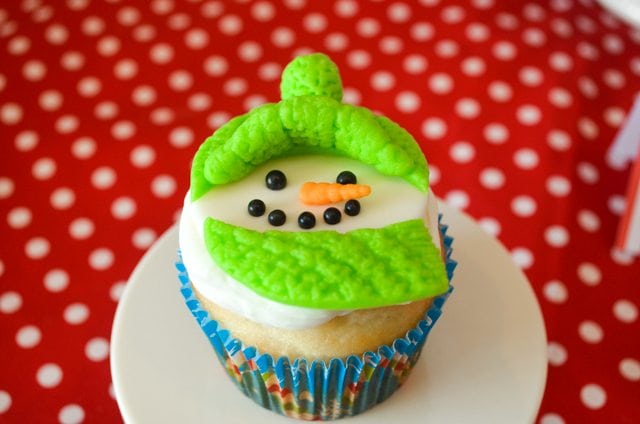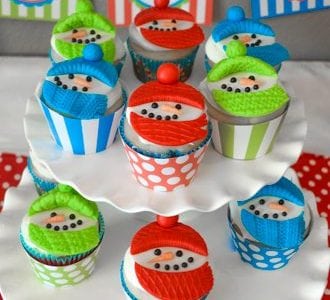 I had a few peppermint sticks leftover from the white chocolate covered marshmallows, so I snuck them in on the dessert table, in an adorable little snowman tin I picked up at Walmart.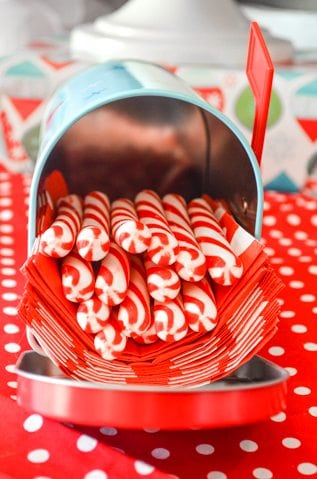 Christmas Tree Cone Cupcakes
Gosh, another favorite of mine from the playdate… The Christmas Tree Cone Cupcake.
I bought small sugar cones, covered them in the "ready to decorate" green frosting, and they made the perfect little Christmas trees. I put a little frosting on the top of the cupcake, and sat the trees right on top!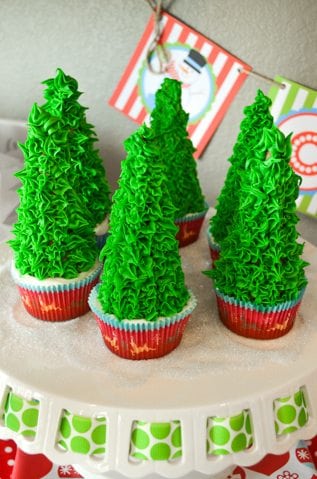 Yep, not gonna lie. I totally bought these at the grocery store the day before the playdate. They looked amazing and looked like they were meant for a snowy play date. (I sprinkled a little powdered sugar on top to give it a little more of a "wintery" look.)
I had so much fun trying to think of fun "wintery" names to call the snacks and goodies. White chocolate covered pretzels were a shoo-in for "icicles."
Would you believe that the popcorn was the biggest "hit" as far as snacks for this party? Everyone loves popcorn! I added party color matching candies in to the mix, and it was a sweet & salty demanding goody.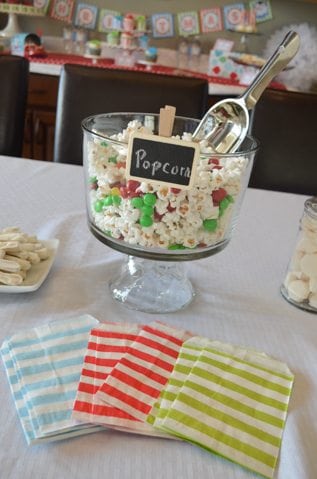 Spiffy Mocktails
Here we go again. Quite possibly one of my favorites about this play date. I wanted the mommas to have a little something too since the kiddos were getting all of the fun. However, about 80% of our guests were "expecting," so I kept it non-alcoholic, but trust me… they were still amazing. Lemonade, cranberries, raspberries, and sprigs of mint made such a refreshing mocktail.
Favors
I couldn't let the little guys' and gals' leave empty-handed. Each guest received Christmas goodies to play with for when they got home.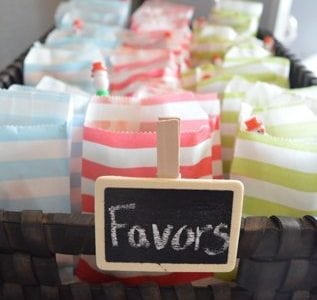 Photo Booth
I thought it would be totally fun to have a Christmas photo booth at our playdate. I encouraged mommy's to get in with their kiddos, and we snapped away! This is my little guy and I, sportin' some serious photo props. 🙂

Pin it to remember: