DIY Gift Idea: Sangria for Friends. So easy to put together, and the drink dispenser can be used again and again! Perfect for housewarming, Christmas gift, or a Just Because!
Hey you! I'm so glad that you're here. If this is your first time here, you're going to find tons of simple and easy recipes, home decor, and so much more around here! Start browsing Fantabulosity!
Idea and blog post published here originally in 2015. It has since been updated with more tips and ideas, including a video tutorial!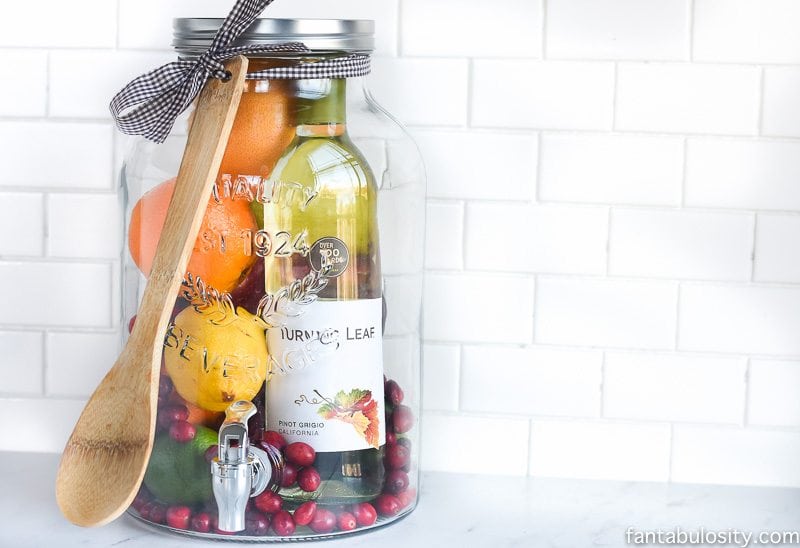 DIY Gift Idea: Sangria for Friends
Ok, so I LOVE a good gift idea, especially when it involves a drink dispenser. I've been known to create a housewarming gift with a drink dispenser, or fill it with my favorite punch recipe! Needless to say, I own about 10 drink dispensers, and I've become,
the girl to call when you need one.
…or so I hear from my family and friends.
So when I'm looking to create a gift for my friends, or even a sister, a housewarming, or a "just because," reason, I typically try to think of a way to gift a drink dispenser and fill it with something super fun! Like… sangria ingredients!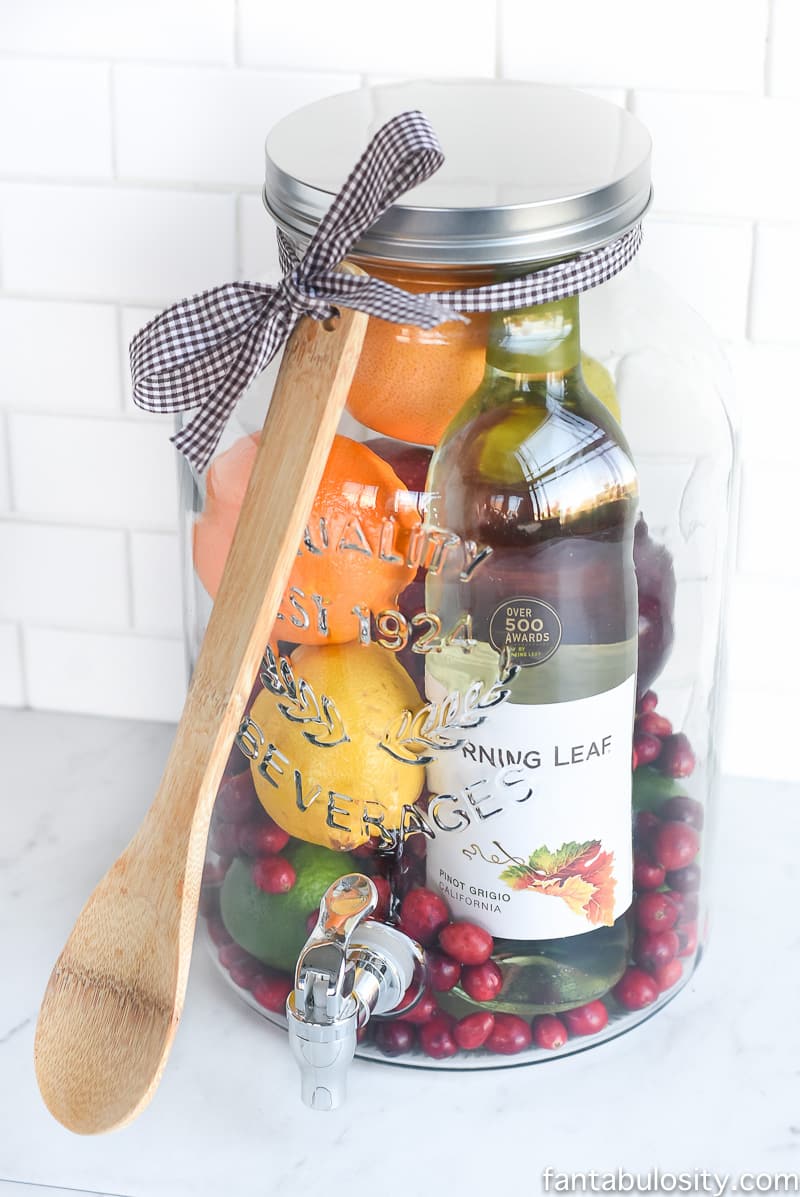 DIY Gift Idea Tutorial:
Simply buy a drink dispenser (this drink dispenser is similar to the one I used – Just make sure to get a 2-gallon drink dispenser and try to get a taller one, so the wine bottle will fit – even though some wine bottles are taller than others), and fill it with a bottle of wine (red or white) and different varieties of fruit.
TIP: Measure the inside of your dispenser before buying your bottle of wine, so you can make sure the lid will close. If it's too tall, it's will still be ok… you just may need to send the lid separately.
Grab a wooden spoon and tie it on with pretty ribbon, and you're set.
A lot of sangria recipes include a juice or a soda, and World Market also has the cutest mixers you can add to this gift too! See them here: Juices/Sodas
You all, I'm all about things being simple and easy. This gift idea falls directly into both of those categories and man alive, what a "WOW," factor it has when you hand it over to someone. Let's just play out the story in our heads, shall we?
Ah! A drink dispenser! Wait… Wine?! Sangria ingredients?! We can make this right now! We can serve it right now! I can use the drink dispenser later too!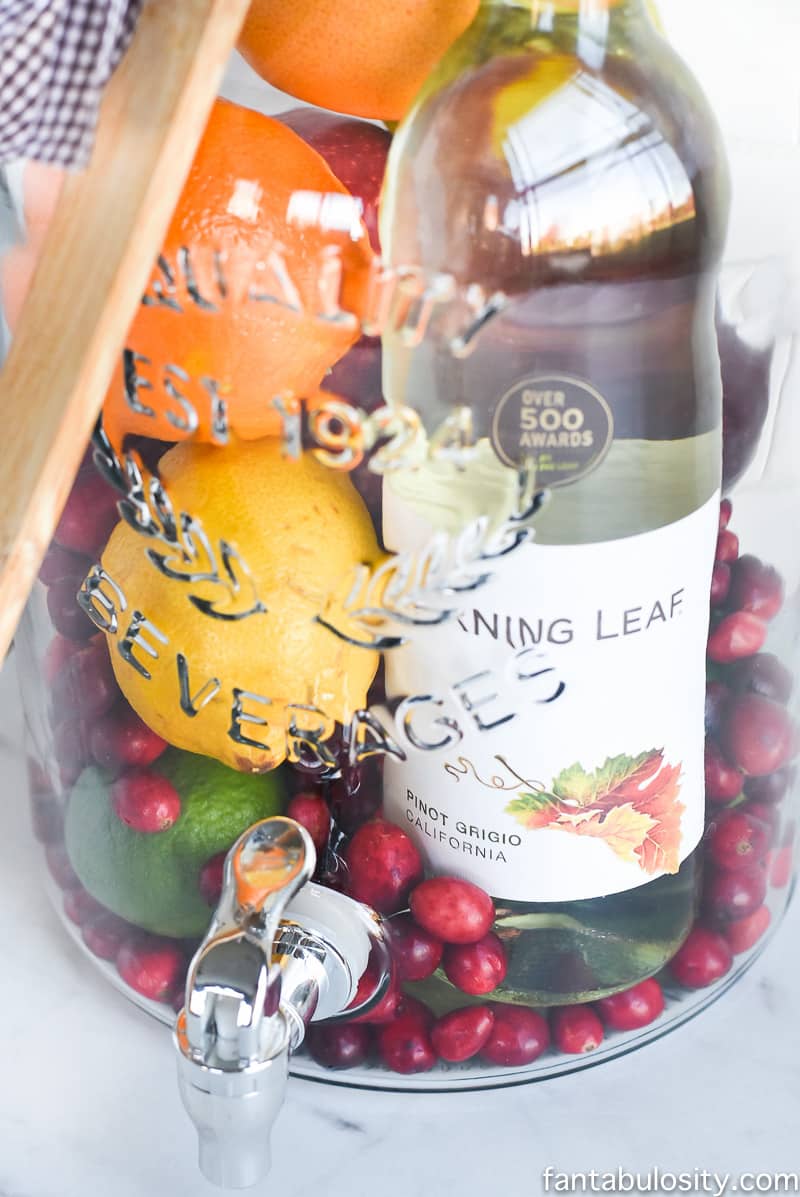 Gift Tags for DIY Gifts
Right?! You can even get super creative and create your own gift tag on PicMonkey to attach to the ribbon and wooden spoon, for an even bigger touch.
Maybe come up with something clever using the word sangria in place of a common everyday word. OR… provide them with a sangria recipe right on the tag, that matches the ingredients that you put in the drink dispenser. Omg, now THAT would be cute!!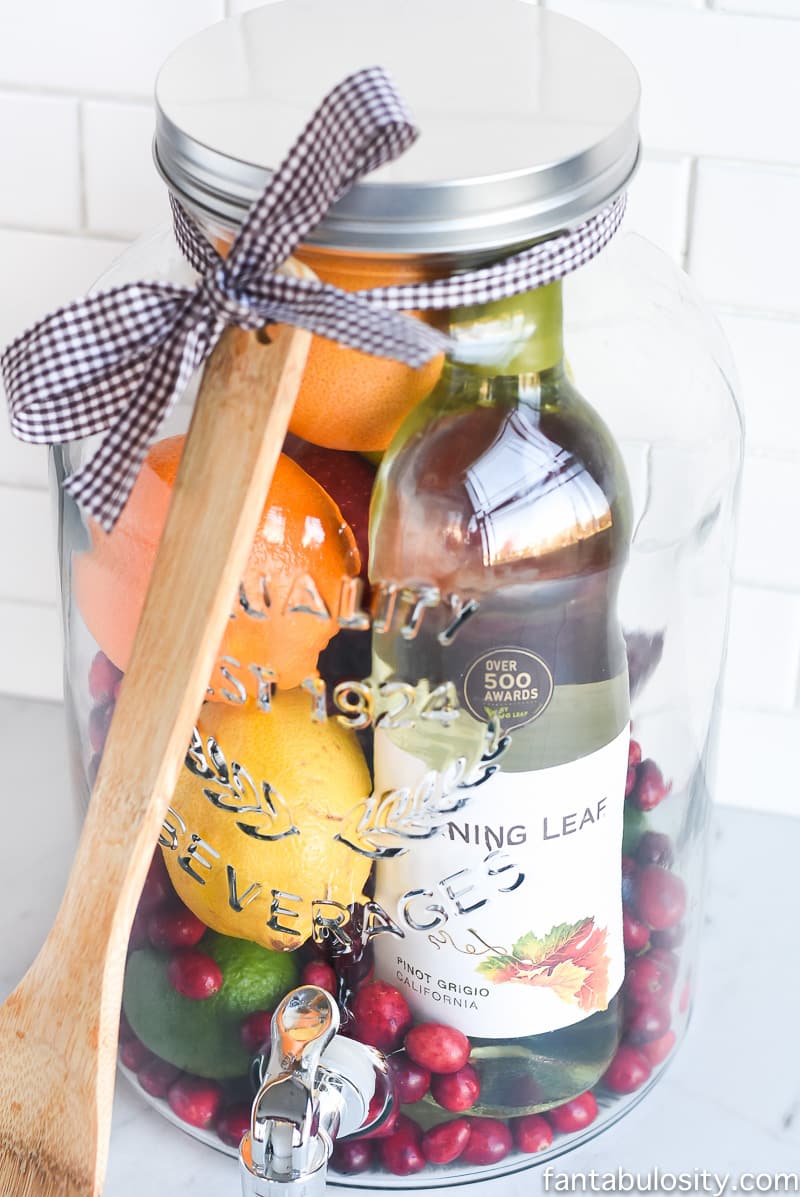 Items You'll Need to Make this DIY Sangria Gift Kit
bottle of wine (make sure it's not too tall for the dispenser lid)
Fruit (limes, cranberries, oranges, lemons)
Other Varieties for Sangria Gifts
I've made this gift idea a lot over the years and for different seasons. You'll also love this summer version I made: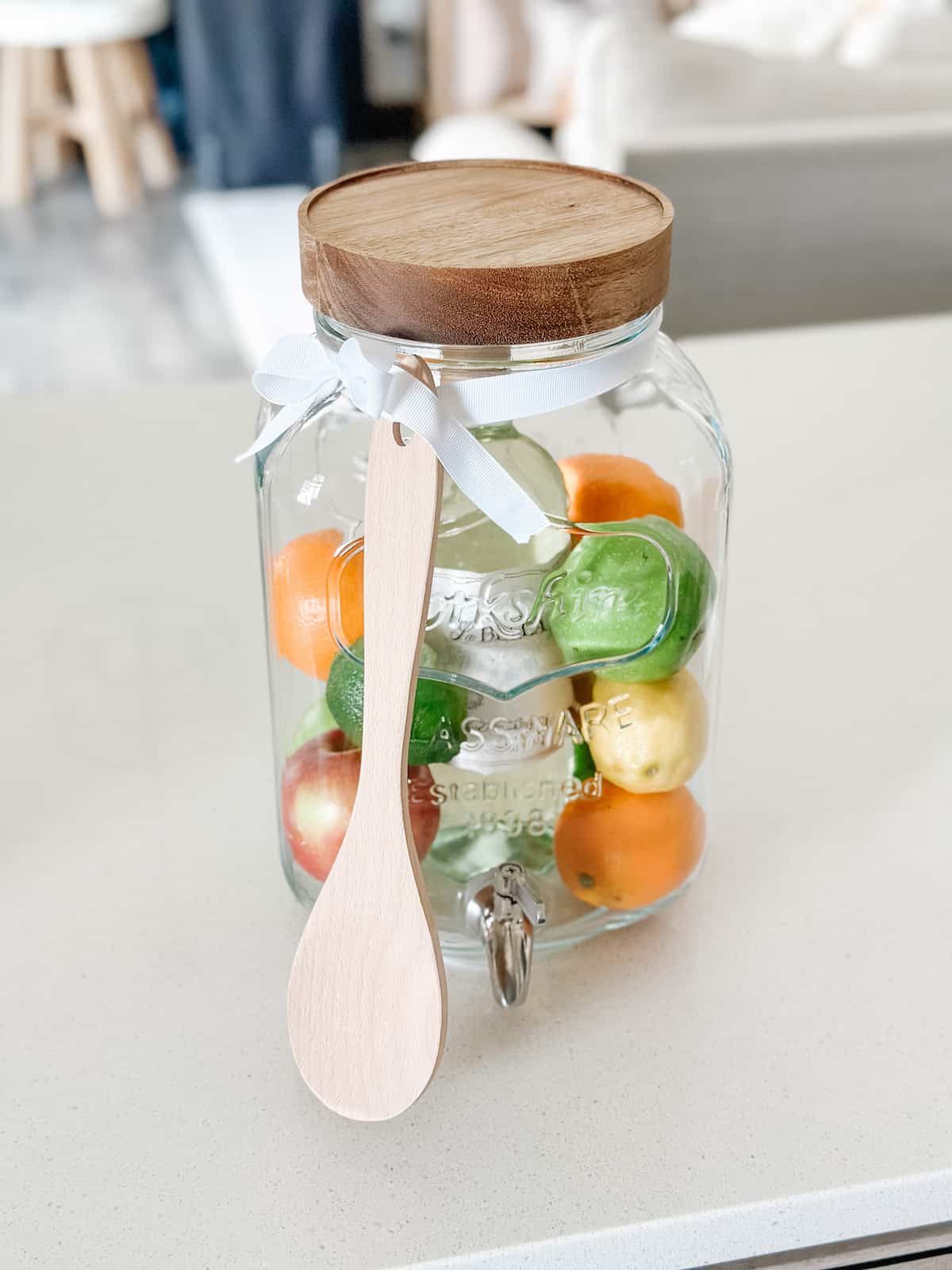 Yield: 1 Gift
DIY Sangria Kit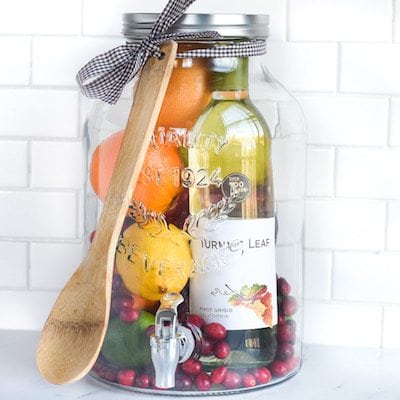 DIY Gift Idea: Sangria for Friends. So easy to put together, and the drink dispenser can be used again and again! Perfect for housewarming, Christmas gift, or a Just Because!
Materials
Instructions
Place wine bottle in drink dispenser.
Next, begin to slide fruit around the wine to fill the space.
Place lid on dispenser.
Tie ribbon around (or if there's a whole in the handle, slide it through) to secure the ribbon to the spoon.
Tie the ribbon around the top of the dispenser.
If desired, create a gift tag to also attach to the ribbon and spoon.
If you're making this as a Christmas gift, how cute would it be to also give someone these cornflake wreaths with this gift? (Snacks and drinks… such a great combo!)
More DIY Gift Ideas & Gift Baskets
If a sangria gift doesn't quite tickle your fancy, you can see some of the other easy gift ideas that I have, such as these DIY Beverage Toppers and this Sunshine Gift Basket!
No matter what you decide to give, have fun!!! There's nothing better than putting a smile on someone's face.
Love Easy Recipes and Decorating Your Home?
Remember, if this is your first time here, hang around and check out some of our favorite simple and easy recipes, and home decor posts, and SO much more!