Indulge your sweet tooth with this easy-to-make, delectable White Chocolate Crockpot Candy. Crafted with a mix of white chocolate, crunchy peanuts, and an almond bark, it's a treat that will impress with a little chocolate and nutty crunchiness.
The best part? You can prepare this mouthwatering dessert recipe in your slow cooker with simple ingredients. Whether you're prepping for a party, need a last-minute gift, or simply craving something sweet, this White Chocolate Crock Pot Candy is a 5-star rating crowd-pleaser.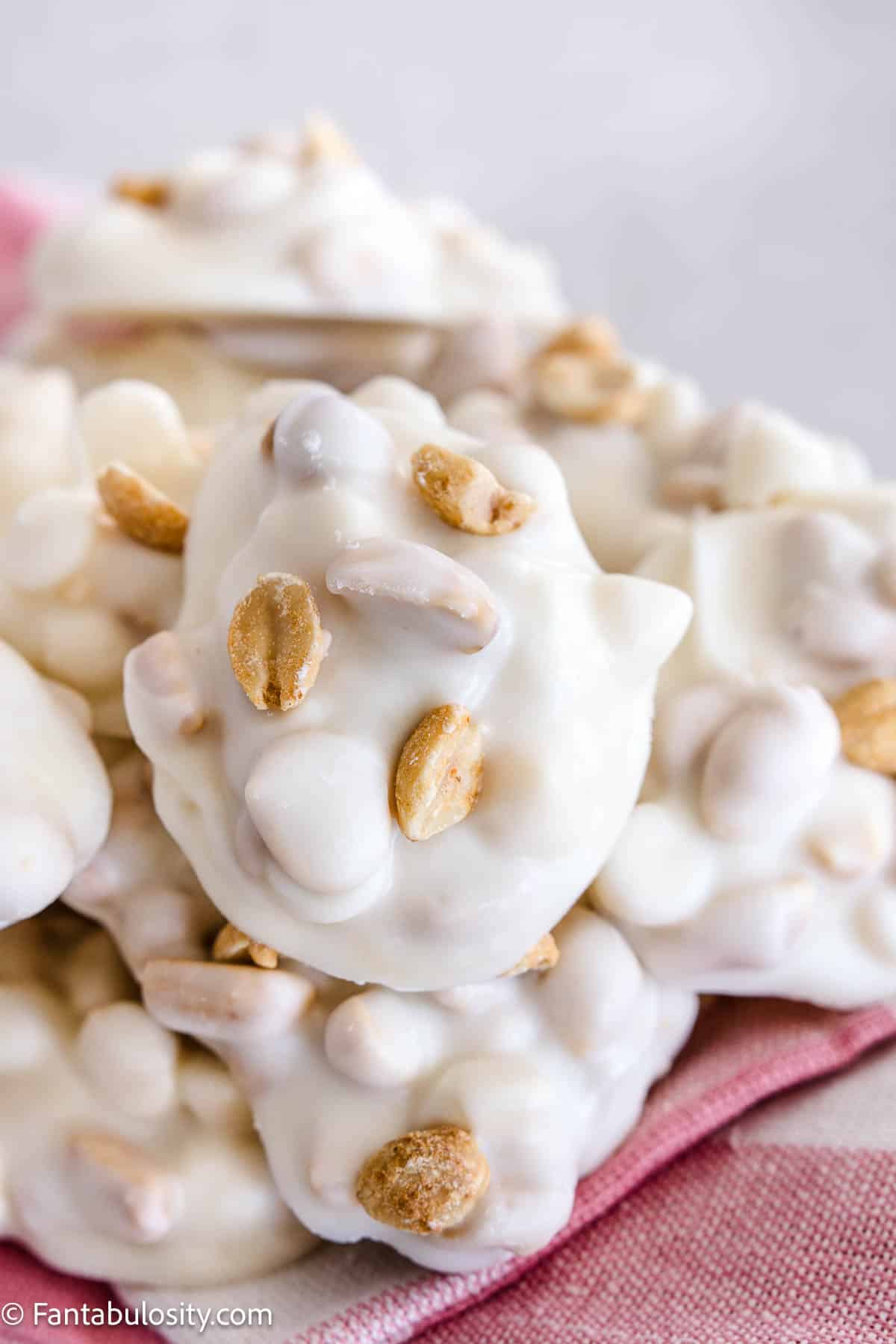 If you want to grab some more candy recipes that you can make at home, then check out this Candy Cane Pie as the classic Christmas option. Or, for something for the fall, try these Candy Corn Rice Krispie Treats as a fun way to make homemade sweet treats.
Jump to:
Crock Pot Candy Video
❤️ Why You'll Love This Recipe
It uses a few ingredients: We used just three ingredients to make this simple treat.
Easy to personalize: You can easily switch out ingredients and use the same basic process for your favorite type of chocolate.
Crock pot recipe: There's no need for a lot of pans or other equipment; you only need your slow cooker for this dish.
🧾 Ingredients Needed
I've highlighted a couple of ingredients below with some relevant notes. Aside from this, the ingredients needed are pretty basic.
Almond bark – We used white almond bark for this recipe
Chocolate – Keeping with the white theme, we also used white chocolate chips in the dish.
Peanuts – Make sure you use plain peanuts rather than salted peanuts or ones with a coating on them.
📖 Substitutions
Sometimes substitutions are necessary because of ingredients that are unavailable or needed for dietary restrictions. Here are some suggestions that can help:
Almond bark: If you can't find white almond bark, substitute it with candy melts. They melt smoothly and have a similar flavor profile.
White Chocolate: If you're not a fan of white chocolate, you can swap it with milk chocolate or dark chocolate chips. The cooking process remains the same; only the taste will vary.
Peanuts: If you have a peanut allergy, use your favorite nuts like almonds, cashews, or pecans. Alternatively, for a nut-free option, try crisped rice cereal for a similar crunchy texture.
📖 Variations
Spiced Crock Pot Candy: Add a teaspoon of cinnamon or pumpkin spice to the mix to provide a warm, spiced twist to the candy.
Tropical Crock Pot Candy: Substitute peanuts with a cup of shredded coconut and a half cup of chopped dried pineapple to create a tropical flavor profile for your taste buds.
Choco-Mint Crock Pot Candy: Add a few drops of mint extract to the mix and substitute milk chocolate for white chocolate to create a refreshing choco-mint flavor.
Rocky Road Crock Pot Candy: Add a cup of mini marshmallows and substitute the peanuts with chopped almonds to create a rocky road style candy. Ensure to stir in the marshmallows after the chocolate has melted to prevent them from melting.
Choco-Nut Crock Pot Candy: Use a variety of nuts – almonds, cashews, and hazelnuts – instead of just peanuts for a mixed nut version. This variation gives a different crunch with every bite.
👩🏻‍🍳 How to Make White Chocolate Crock Pot Candy
This slow cooker candy recipe is broken into 2 components:
melt the ingredients
remove from the slow cooker and allow to harden
*Be sure to see the recipe card below for the full ingredients list & instructions!*
STEP 1: Melt the ingredients. Melt chocolate for one hour on low. (Image 1-2)
Step 2: Stir in peanuts into melted chocolate. (Image 3-4)
STEP 3: Divide out melted chocolate. Dollop a spoonful onto a parchment-lined baking sheet.
STEP 4: Leave to set. Allow it to cool and harden.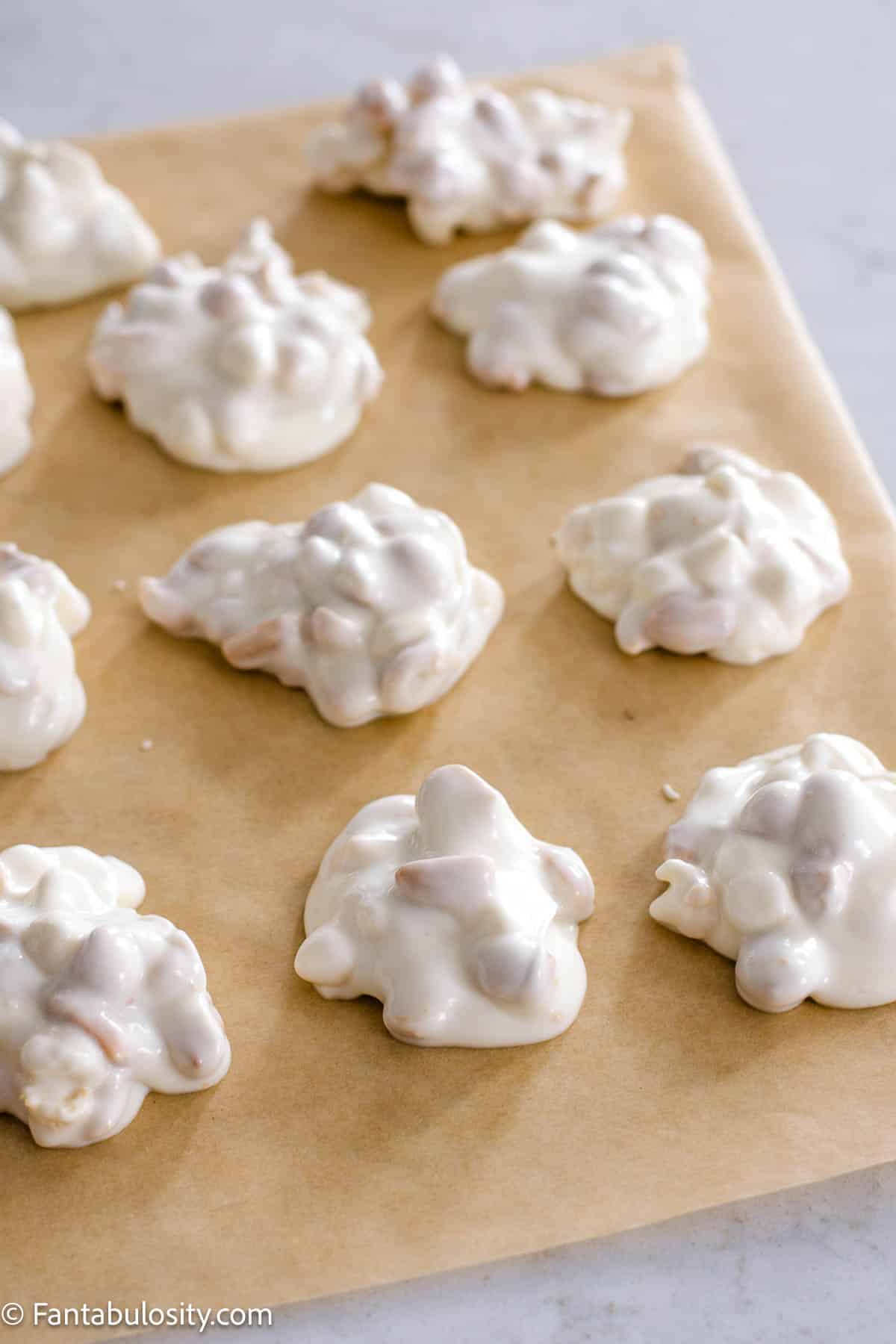 💭 Recipe Pro Tips
Stir occasionally: While the chocolate is melting, stir it occasionally to ensure all the pieces melt evenly and avoid burning.
Size of the candy: You can control the size of your candy pieces by the amount you scoop onto your parchment paper. For smaller, bite-sized pieces, use a smaller spoon.
Ingredient quality: For the best flavor, use high-quality white chocolate. Cheap chocolate can often leave a waxy taste.
Add peanuts: You can also spread more chopped peanuts on the top before the candy hardens.
📋 Recipe FAQs
Why didn't my chocolate chips melt?
It's perfectly fine if some of your chocolate chips didn't fully melt – some people prefer the added texture. You could extend the melting time slightly beyond an hour if you'd like them to melt more. However, be aware that stirring can cause the chocolate to splash onto the sides of the pot, where it can burn, especially if the mixture is thin. To avoid this, refrain from stirring the mixture often.
What is almond bark used for?
Almond bark is a versatile ingredient commonly used in baking and candy making. It is made from almond oil and sugar, giving it a smooth texture and rich flavor. Almond bark can be found in both white and chocolate varieties, making it perfect for creating different types of desserts. It can also be used as a coating for fruits or nuts or melted to create decorative drizzles on baked goods. 
Is almond bark the same as white chocolate chips?
While almond bark and white chocolate chips can be used in candy-making, some critical differences exist. Almond bark, contrary to its name, doesn't actually contain almonds. It's a vegetable oil-based product with a smooth, creamy texture that is ideal for melting and coating.

On the other hand, white chocolate chips are made from cocoa butter, sugar, and milk solids. They offer a rich, creamy flavor, but their melting properties differ from almond bark. So, while they can be used interchangeably in some recipes, the final taste and texture may vary.
How long does it take for almond bark to harden?
It typically takes around 15-20 minutes for almond bark to harden at room temperature. However, if you're using it in a recipe like this White Chocolate Crock Pot Candy, it will take longer to harden as the mixture is still warm when you spoon it out onto parchment paper. You can speed up the process by placing the candy in the fridge or freezer for a few minutes. 
🍽 What to Serve with White Chocolate Crock Pot Candy
White Chocolate Crock Pot Candy is a versatile treat that can be served in various ways. It pairs well with a hot beverage like coffee or tea, offering a delightful contrast of temperatures. You could serve it alongside other sweet treats such as fruit tarts or cheesecake for a dessert spread.
This candy also makes for a delicious addition to a DIY dessert grazing board, combined with fresh fruits, assorted cheeses, and a selection of cookies. During the holiday season, serve it with mulled wine or eggnog for a festive treat.
❄️ Storage
You can conveniently store any leftover White Chocolate Crock Pot Candy in an airtight container. Keep it at room temperature, and it will stay fresh for up to two weeks. If you prefer, you can also store it in the refrigerator, which will last for about a month.
As for freezing, yes, you can freeze this candy. Pack the candy in freezer-friendly containers or zip-top freezer bags, ensuring to squeeze out any excess air to prevent freezer burn. The candy can be stored in the freezer for up to 3 months.
When you're ready to enjoy it, allow it to thaw at room temperature before serving. Freezing and thawing will not compromise the texture or flavor of the candy, making it a great option for making ahead of time for holidays or events.
🍫 More Chocolate Recipes You'll Love
Don't stop at these crock pot white chocolate candy treats; try these new recipes for chocolate, too! Start with the Pink Chocolate Covered Strawberries, which are perfect at any time of the year when fresh strawberries are available. Then, for a more seasonal treat, try some Mint Chocolate Brownies for a solid chocolate dessert.
Did you make this? I'd be so grateful if you left a "star" rating below to let me know what you thought! Then, the next time you need a quick and easy recipe, come back to Fantabulosity to browse all of my easy recipes!
📖 Recipe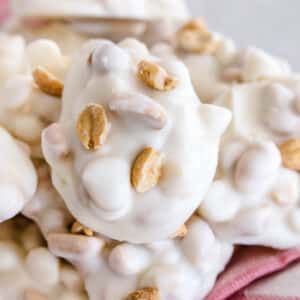 White Chocolate Crock Pot Candy
This white chocolate crock pot candy uses only a few ingredients, and just take a few minutes to dry and harden, and you're ready for a fun snack!
Ingredients
1

lb

Almond Bark

1

cup

White Chocolate Chips

1

cup

Salted Peanuts
Instructions
Add almond bark and chocolate chips to slow cooker and melt for one hour on low.

Quickly dollop out a spoonful on to parchment paper.

If desired, sprinkle more peanuts on top before the chocolate hardens.
Nutrition
Serving:
1
candy
|
Calories:
148
kcal
|
Carbohydrates:
18
g
|
Protein:
0.4
g
|
Fat:
8
g
|
Saturated Fat:
7
g
|
Polyunsaturated Fat:
0.1
g
|
Monounsaturated Fat:
1
g
|
Cholesterol:
2
mg
|
Sodium:
12
mg
|
Potassium:
21
mg
|
Fiber:
0.01
g
|
Sugar:
18
g
|
Vitamin A:
2
IU
|
Vitamin C:
0.04
mg
|
Calcium:
15
mg
|
Iron:
0.02
mg
Nutritional information is based on third-party calculations and should be considered estimates. Actual nutritional content will vary with brands used, measuring methods, portion sizes and more.