A Little Box of Sunshine Gift Ideas: A sunshine box is a fun gift to not only give, but to put together! Go on a hunt for all things yellow, and surprise someone special with the gift basket!
By FAR, my favorite "go-to," gift right now.
I couldn't WAIT to share my Box of Sunshine gift ideas with you. Why? Because not only is this gift absolutely fabulous for ANYONE that you know, I had a blast shopping for it!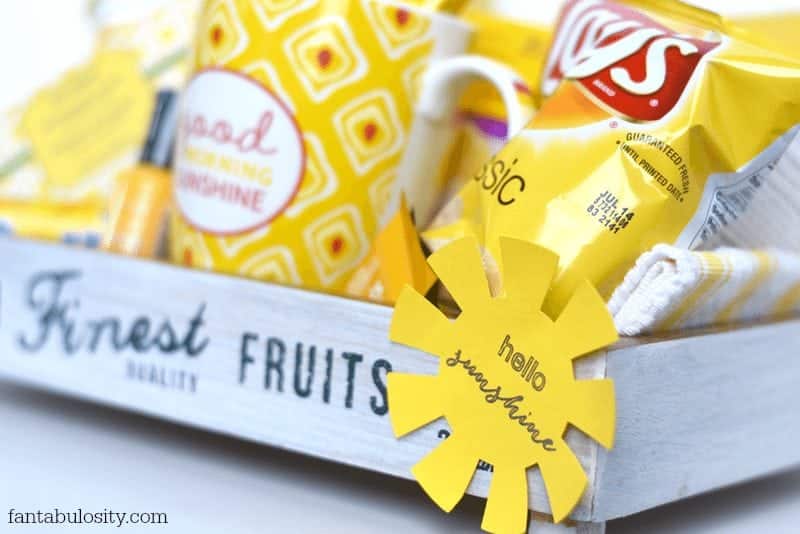 What is a Sunshine Box?
A care package created with items that are the color "yellow" to bring the color of "sunshine" to someone's day!
How to Make a Sunshine Box?
You can choose to make it many different ways but they typically are made using boxes, baskets, gift bags or even mason jars!
What do you put in a box of sunshine?
Items that are yellow! For example, gum, candy, lotion, candles, stationery, perfume, snacks, and whatever else you think he/she will love! See below for a long list of ideas that are yellow!
Little Box of Sunshine
When you're on a scavenger hunt through the store, looking for "yellow," it just makes shopping a bit more fun. (But like I need "more fun" when shopping.)
When I saw the original idea on Pinterest, ahem, we should totally follow each other by the way —> My Pinterest, I fell in love. BUT… I noticed that most of them were only for people that needed "cheering up."
I thought, "Well, I'd love to receive one of those sunshine boxes, as a 'just because,' 'thank you,' or a 'birthday gift." I mean… wouldn't you? So… I just made the tags to say, "Hello Sunshine," instead of "You are my sunshine," or "Let me Brighten up your day."
Two Gift Basket Ideas
 So let me tell you what I did with these two Boxes of Sunshine gifts…
After years of creating gift baskets… I've learned one simple trick that can really "MAKE," the gift basket look fabulous. I'll tell you the secret at the end of this post…
I had a couple of people to "thank," and I just knew that they would LOVE LOVE LOVE, something like this. Even though they are two different people, who love different things, they'd BOTH love something like this sunshine gift box.
A BIG "thank you."
Someone that works in my husband's office did an amazing job on a project recently, and he wanted to "thank them," in a BIG way. So although the sunshine gift box can run on the "affordable gift," side… I could easily add something to it. Stay tuned for what that was below…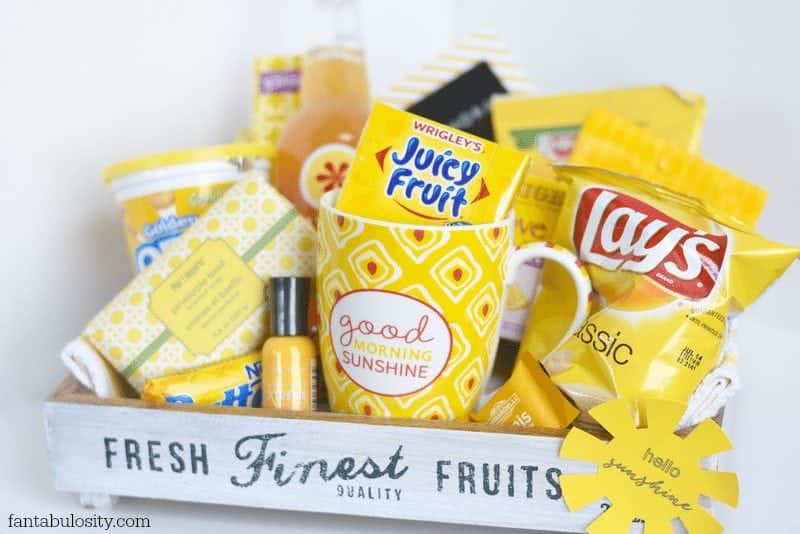 Here's how I put this one together, and what I put in it:
Wooden Crate: I bought this at H&M, and although I don't think they have it anymore, they have some SUPER cute other boxes and bins in their "home," section. (Shop them here)
Crate Contents:
Ghirardelli Milk Chocolate & Caramel Squares
"Good Morning Sunshine," Mug from Pier 1
Juicy Fruit Gum
Yellow Nail Polish (I bought mine off of Amazon)
Butterfinger Candy Bar
Bar of Soap from Pier 1
Golden Oreos
Izze Sparkling Peach Soda
Kleenex's
Personalized Stationery
Keebler Cookies
Peanut M&M's
"I Love Lemon," tea
Small bag of Lay's potato chips
Sephora gift card (that I attached to yellow scrapbook paper)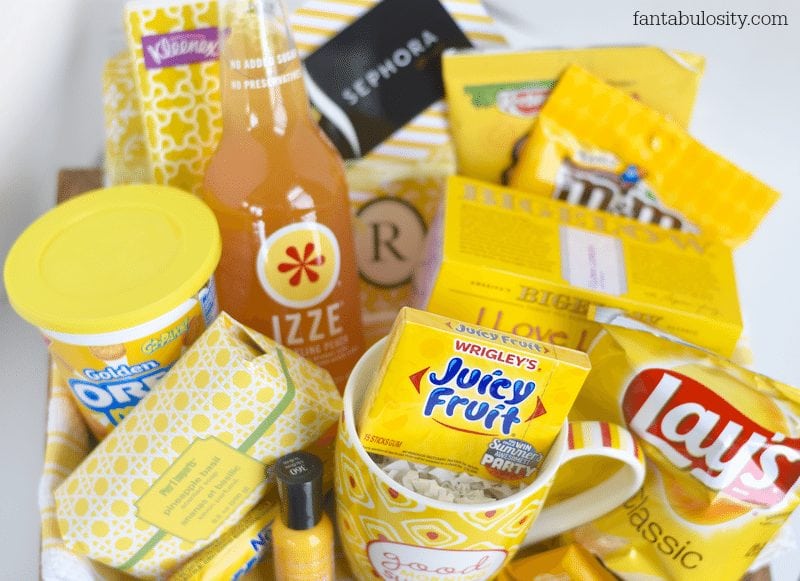 Arranging the Gift Basket:
I lined the box with the dishtowel, and just arranged the goodies the best way I could, so each item was showing. This took a little "stuffing," and "fill," per-say, to lift items "up," and keep them tilted to one side.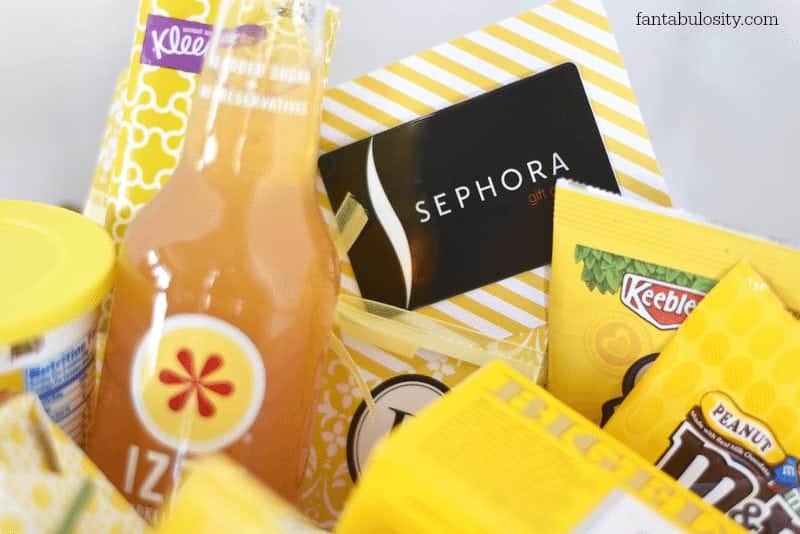 How I added the "BIG," thank you: So I needed to add a little more "thanks," to really show her how thankful we were for her hard work.
To add some "umph," to this gift, I simply found a gift card to somewhere that I knew she'd like, (The Sephora gift card), and simply just "up'd" the value of the gift by making it the value that we wanted to spend on her gift. Since it was "black," I taped it to a yellow piece of scrapbook paper. (I also attached the receipt showing the balance of the gift card, to the back of the scrapbook paper, in case she runs in to any trouble at the store, trying to redeem it.)
A little personal touch…
To add a little more "thought," to the gift, adding personalized stationery, is the perfect touch. See that "R," back there in the back? Yeah.. that's the stationary.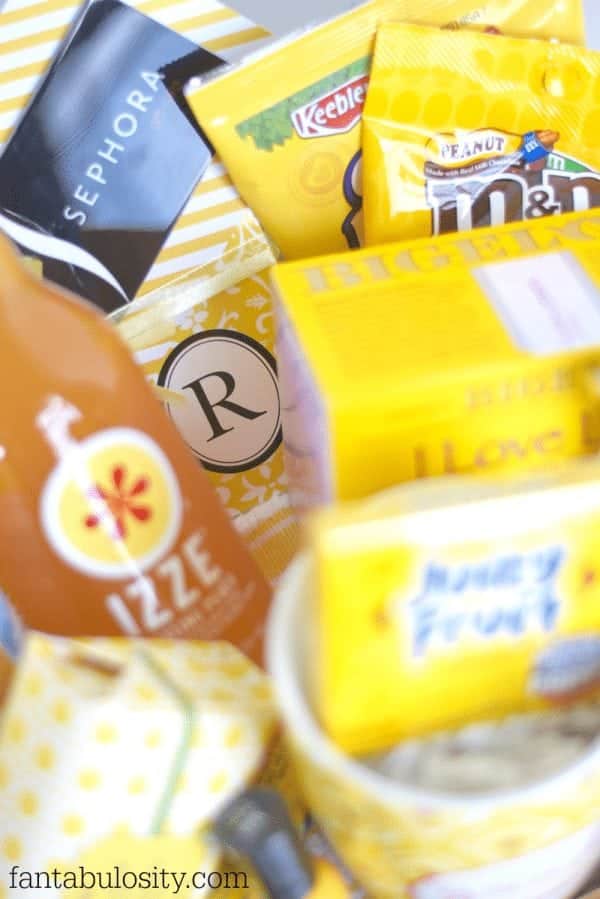 Gift Tag Free Printable: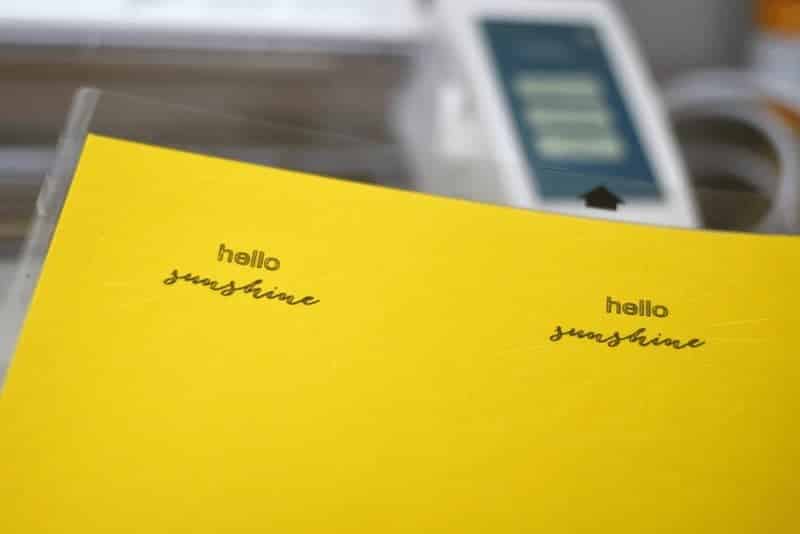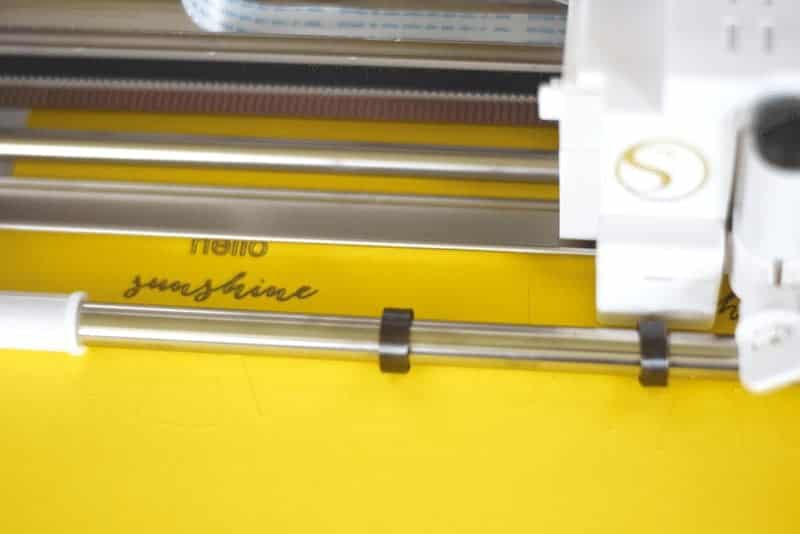 Gift Tag: I actually used my silhouette machine for the tags on these sunshine boxes, but realized that not everyone has one. So to help you all out, I created a little something below for you, and you can simply just "cut," it out. 🙂
Get the free printable here: "Hello Sunshine"  Then, just tape it on the crate/basket/box, and you're good to go!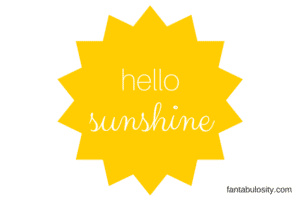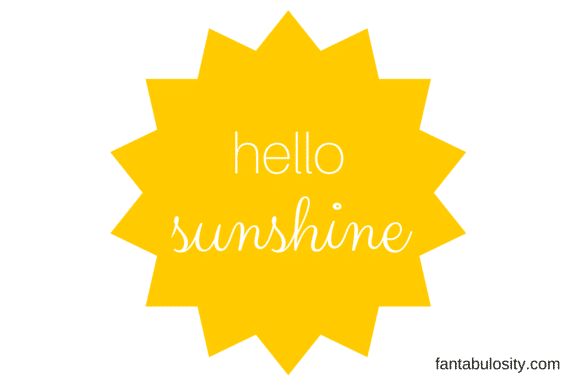 A Pail of Sunshine:
A bit smaller, as a simple "thank you."
We had a friend help us out the other day, just out of the kindness of her heart. She doesn't realize it, but she came to our rescue, for sure. So to let her know that it didn't go unnoticed, I wanted to do a little something for her. A box of sunshine was a must.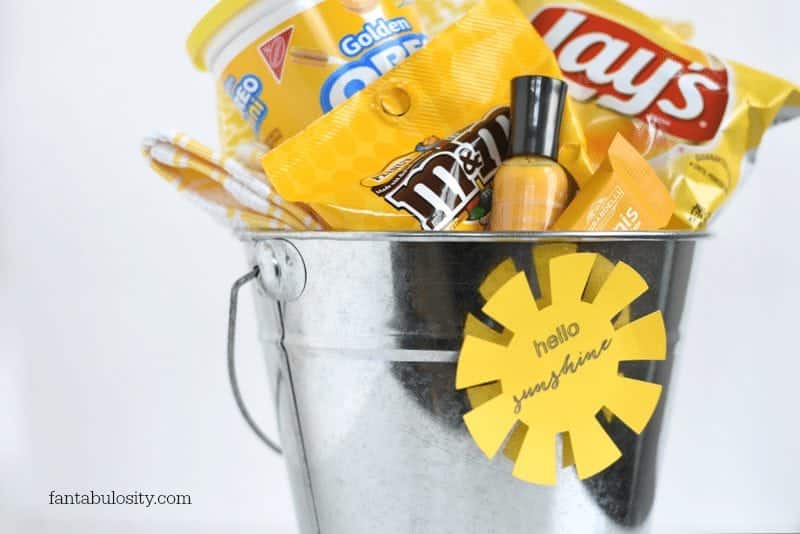 This gift had almost all of the contents as the one above, but the pail just wasn't big enough for everything. Or it would have…
Oddly enough, this person had the same initial that I used for the other one above, so I had to order an "R," for that one too. Talk about craziness…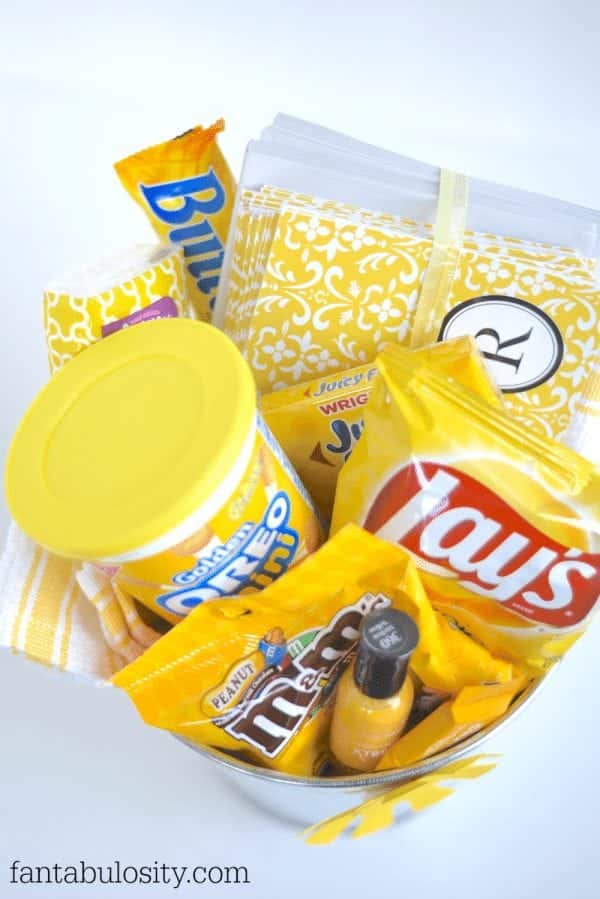 Big Tip Reveal: How to Make a Gift Basket look fabulous:
Did you notice that I took almost everything that I could, out of its packaging? The stationery for instance, came with the cards open, laying flat, wrapped in plastic wrap. Yuck! I opened the package, folded the cards, and tied them with a ribbon.
The mug came in a clear, plastic box. Yuck. I took that out.
So… long story short… take everything that you can, out of its packaging. It will make a HUGE difference in the overall "look," of the gift.
Ahhhh… it feels so good to finally share this Box of Sunshine gift idea with you all. There's nothing I love more than sharing "fab," things with you. I just know some of you out there will find this idea helpful, and the perfect gift giving idea for your next "gifting," reason. 🙂
Pin them for Later: