Baby Gift Basket Idea: For a boy or girl, this present will be perfect for the baby shower or just to give to the mom to be!
Recently, our friends had a baby (eeeeek… she's so precious) and I wanted to put together a little something for them to show them a little love. And since I love sharing gift ideas with you, I knew I had to share this one too!
Now if you missed my "Box of Sunshine," gift idea, or the "Happy Pops Day," basket, don't forget to go check those out. Hint: You'll find my secret to making gift baskets look fabulous, in my "Box of Sunshine," post!
Baby Gift Basket
When I'm putting together a gift basket for a new baby, I love using YELLOW! Why? Well, because yellow is so bright and cheery and this way it works for either a boy or a girl.
Plus, if they have another kiddo, they can use the yellow for the next baby that comes along too!

Didn't this turn out just adorable? Not because of me… but because EVERYTHING "baby," is just adorable.
Best Baskets for Gift Baskets:
I bought this basket a LOOONG time ago, for just this kind of thing. I love buying these, 3 or 4 at a time, to have on hand for gift giving. But I can't even tell you where I got it. However, here are some of my favorite baskets:
What to Put in a Baby Gift Basket?
Well you can put just about anything you like in a gift basket, but here are the items you'll find in this one:
Size 2 Diapers (To grow in to. I stacked these in to the bottom, to "lift," the other goodies, "up.")
Receiving blankets – I rolled two in the back, and rolled one, for the front center, so the "owl" would add a little centerpiece
Snack cup (my favorite baby-snack must-have.
Teether (in the plastic case)
Baby shampoo/body wash
Rubber Ducky (because everyone needs one of those.)
Book
Sippy cup
Gift Basket Tip:
When building a gift basket, always try to stick with one "main," color.
In this one, I decided to go with yellow. Of course there's a little orange and pink in there too… but the big "wow," is the yellow. I do this because then it all looks a little more uniform, rather than all over the place.
Free Printable Gift Tag: "Welcome Baby"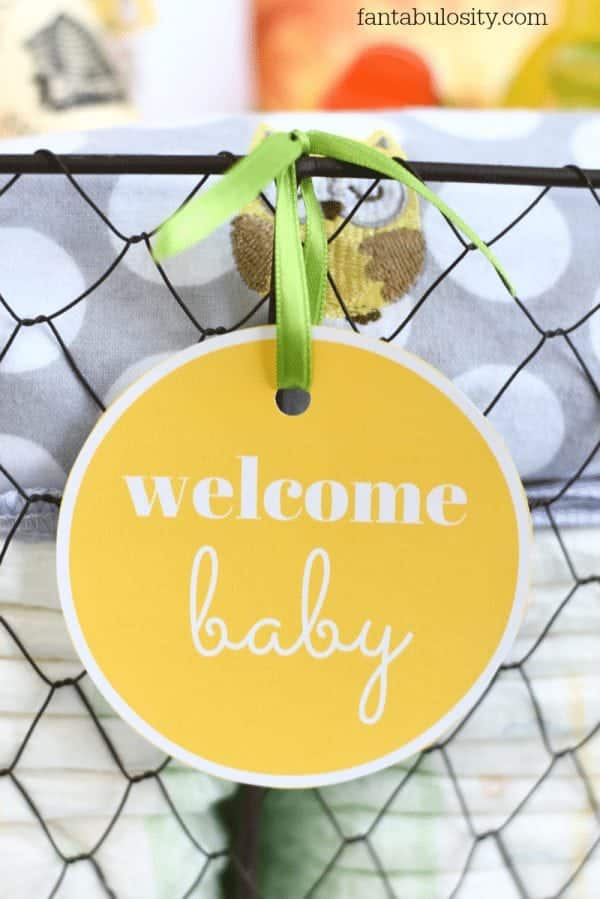 I have a fun surprise for you, to make your gift basket making a little easier!
When I designed my gift tag for this gift basket, I wanted to make it available to you, so you could use it.
Just print it, and cut it. You can either tape it on to your basket, or punch a hole in it like I did, and tie it with a ribbon. Get it here:
I hope you have fun getting creative and building your New Baby Gift Basket! As always, let me know if you have any questions! I love hearing from you!
Until next time,
XO!
You'll Also Love:
New baby? How about making a care package for the new parents? Get my ideas and tips HERE!
Sangria Gift
What new mom and dad wouldn't love a sangria kit to take the edge off of the really stressful days?! Get the DIY tutorial HERE!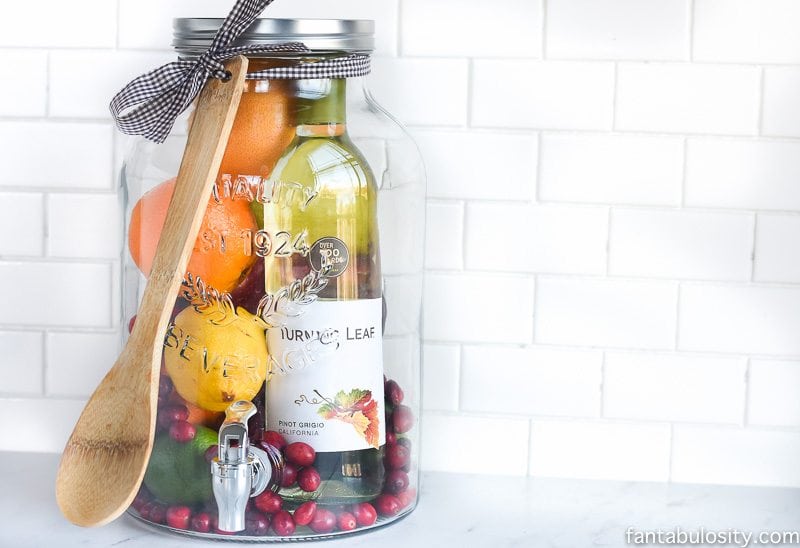 Pin it for Later!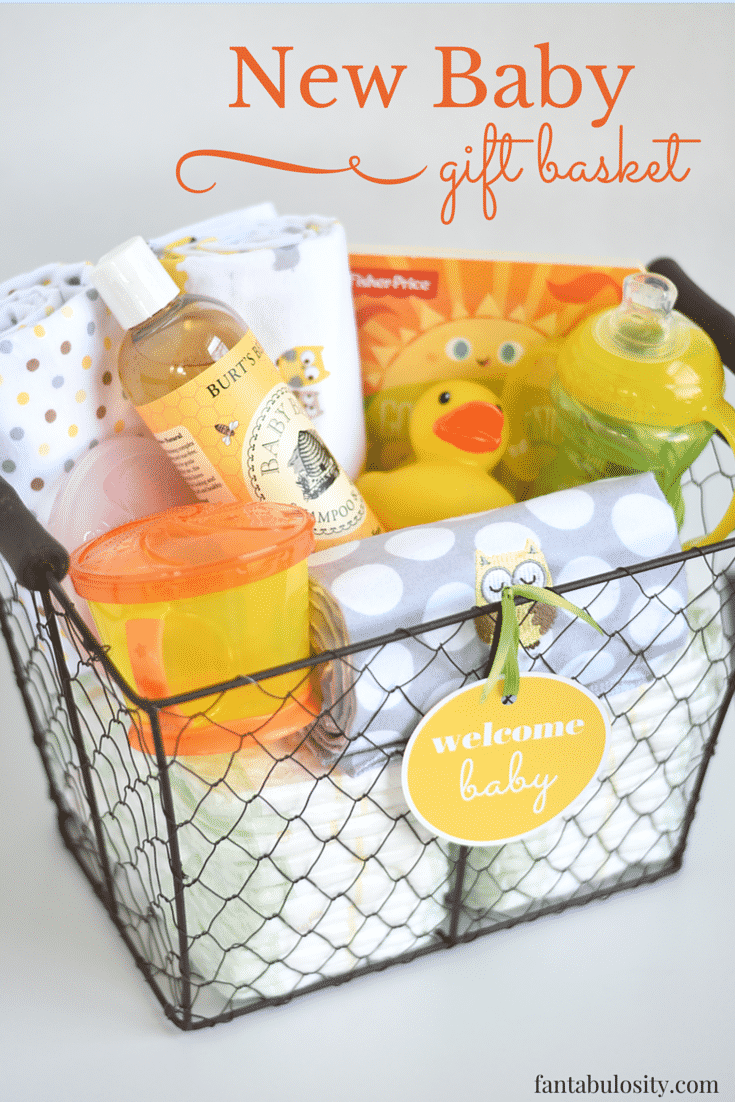 More Gift Ideas
If you love making gift baskets or gifts in general, then you'll LOVE browsing the gift archives for new ideas!
Hosting a Baby Shower?
If you're the one with hosting duty, don't miss the CUTEST ideas for baby showers and new moms here: