Free Printable Baby Shower Advice Cards: "Late Night Wishes…" for the Mom to be! Free printable for a new mom, or a multiple-time mom!
I recently helped cohost a baby shower for a dear friend who was expecting her second little bundle of joy. With the mindset of keeping it laid back and casual, we decided to keep everything low key, and do a little something that would be meaningful… rather than play baby shower games.
Free Printable Baby Shower Advice Cards Instead of Games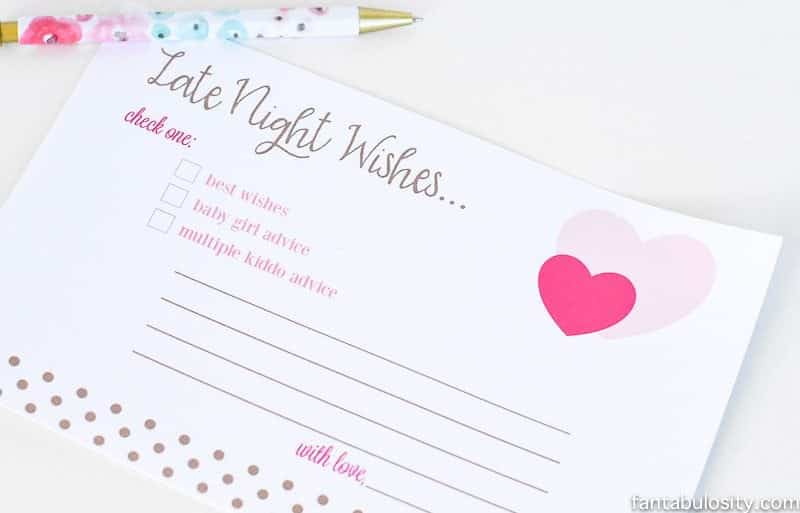 The idea of each guest writing a little note to the mommy, came to mind. So… since I love creating things like birthday invitations in Canva, I had been toying with the idea of creating a printable for each guest to use, rather than just a blank sheet of paper, and the Baby Shower Advice Printables, were born.
An Advice Card for Everyone!
When it came to topics to "write," about, I wanted to give each guest a starting point, so they would't have the pressure of having to get creative, starting from scratch. Since some guests weren't mommies yet, I wanted them to be able to give "best wishes." Then, there were mommies there, who had little girls at home, so they may have been able to offer "baby girl," advice. Lastly, since this mommy was going to be a second-time mommy, the mommies of multiples were able to give "Multiple Kiddo Advice."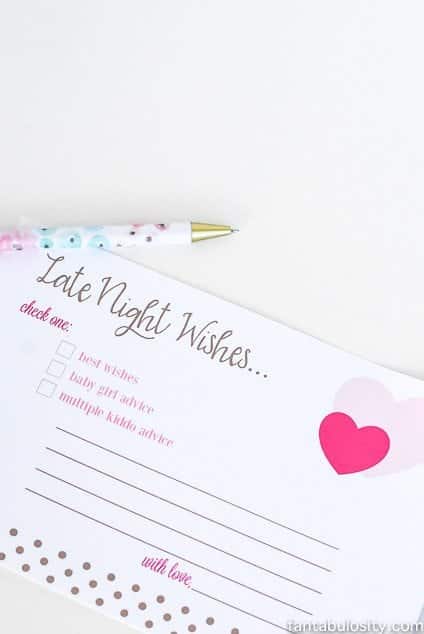 When each guest finished filling out their cards, I provided a small burlap favor bag, to slip their card in to. Then the mommy was able to take her little advice cards home, and could pull them out, one by one, during a late night feeding, when she was needing a little advice or encouragement.
Just select the image of the item that you want and it will open up in to a PDF for you to save/print!
Free Baby Shower Printables: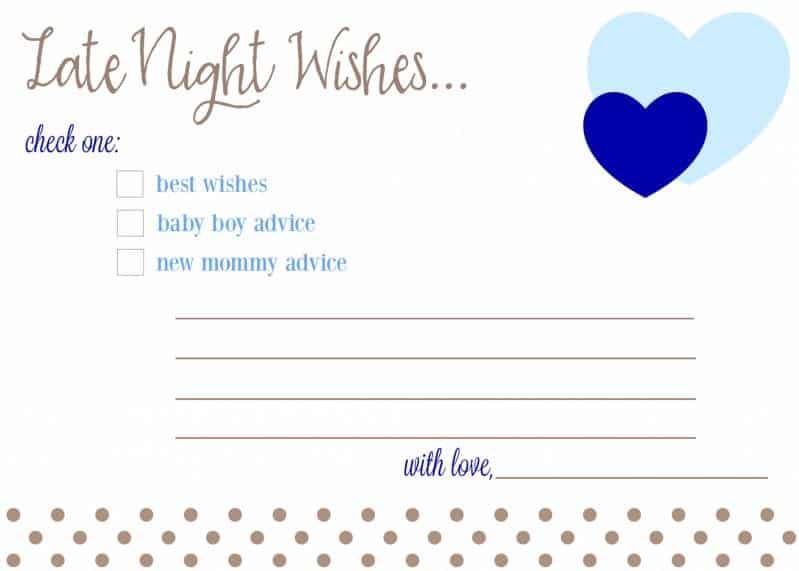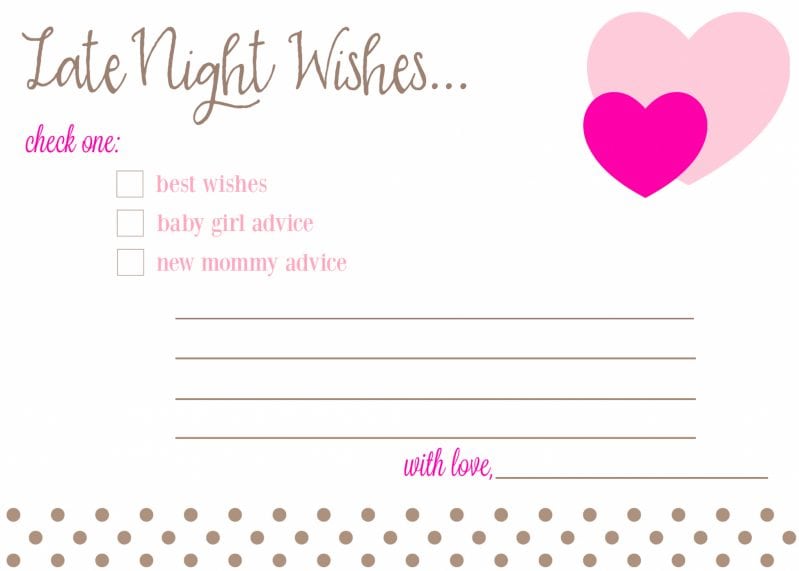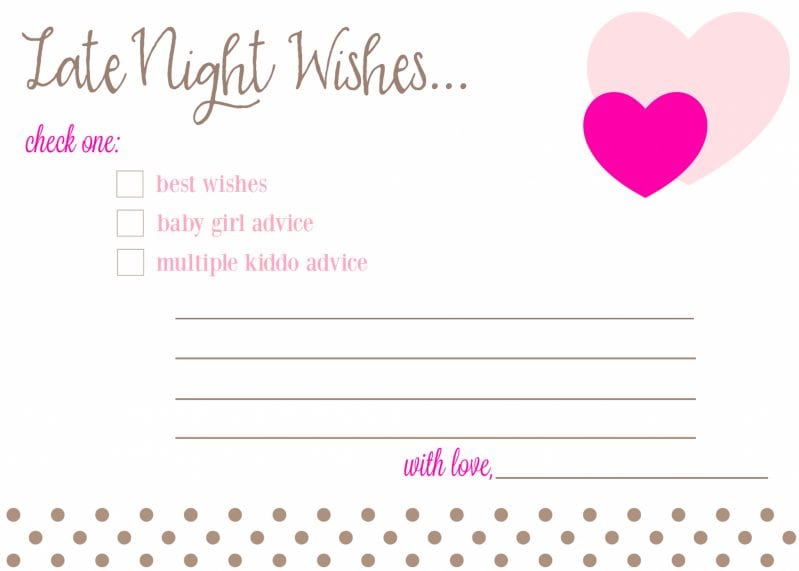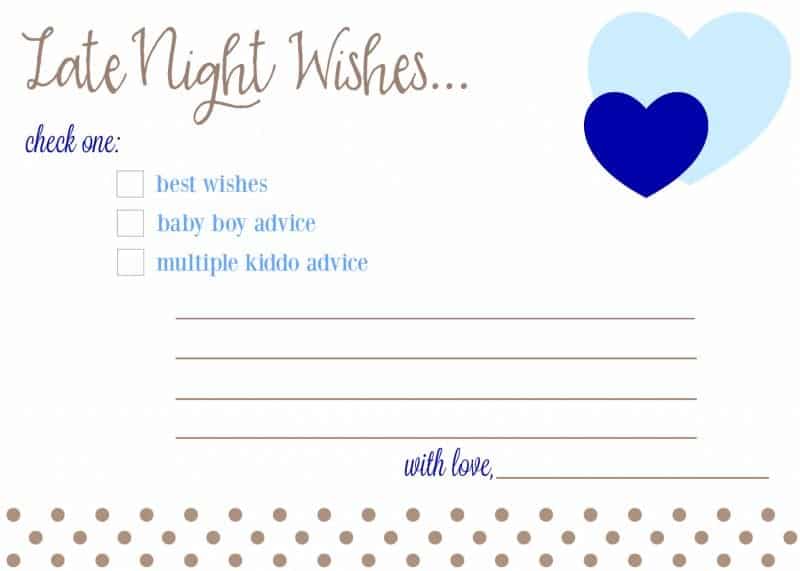 Printing Details:
I simply printed my cards, as a 5×7. You could print them smaller/bigger, just change your printer settings!
Extra Note:
To go a step further for the mommy of honor, you could find a super cute container or basket like this, to put all of the advice cards in, that would look adorable on the dresser or nightstand in the nursery. (Something to match the room decor.)
I hope you enjoy these baby shower advice cards. I know I would have LOVED to have them, when I had my babies!
"Pin" this image below, to remember for the next baby shower you host!