Sympathy Gift Basket Idea: Sending necessities to those who've recently lost someone, so they don't have to worry about having things on hand for guests. Sympathy Gift Basket Idea for bereavement, grieving, funeral, and condolence.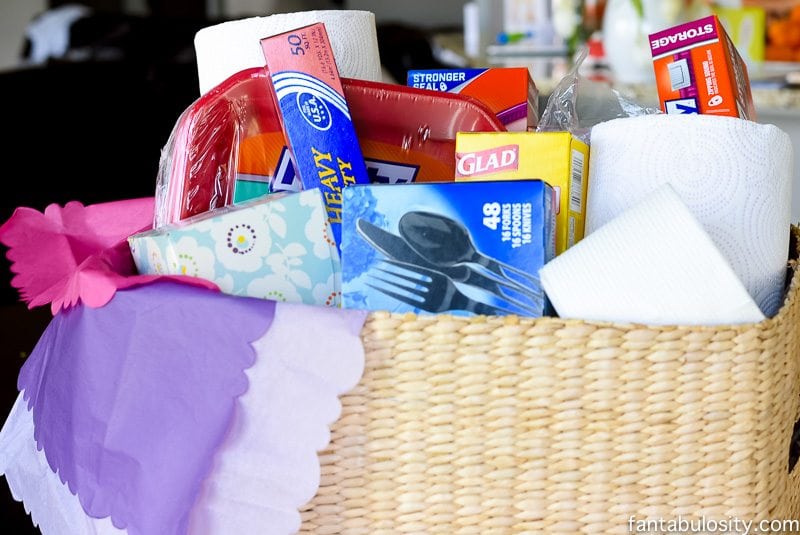 I'll never forget when Karen, a sweet, sweet friend of ours, sent over a gift basket FULL of necessities, when we tragically lost my husband's father. During that time of grief, condolence, and incredibly busy time, the last thing we were thinking about, was heading to the store to stock up on paper goods.
Instead, we were spending time with those that we love, and greeting out of town guests. We were insanely blessed with fabulous comfort food, flowers, and other sympathy and remembrance gifts. But with all of the food, and guests in my in-laws home, we found a major need for paper goods, and everyday necessities. That was… until our friend Karen came over. She had a basket overflowing with everything we needed, to get back the next few days.
It was from that moment on, that I knew, when someone was going through a tragic change in their life, I would create what our friend Karen created that day. A sympathy gift basket.
Sympathy Gift Basket Idea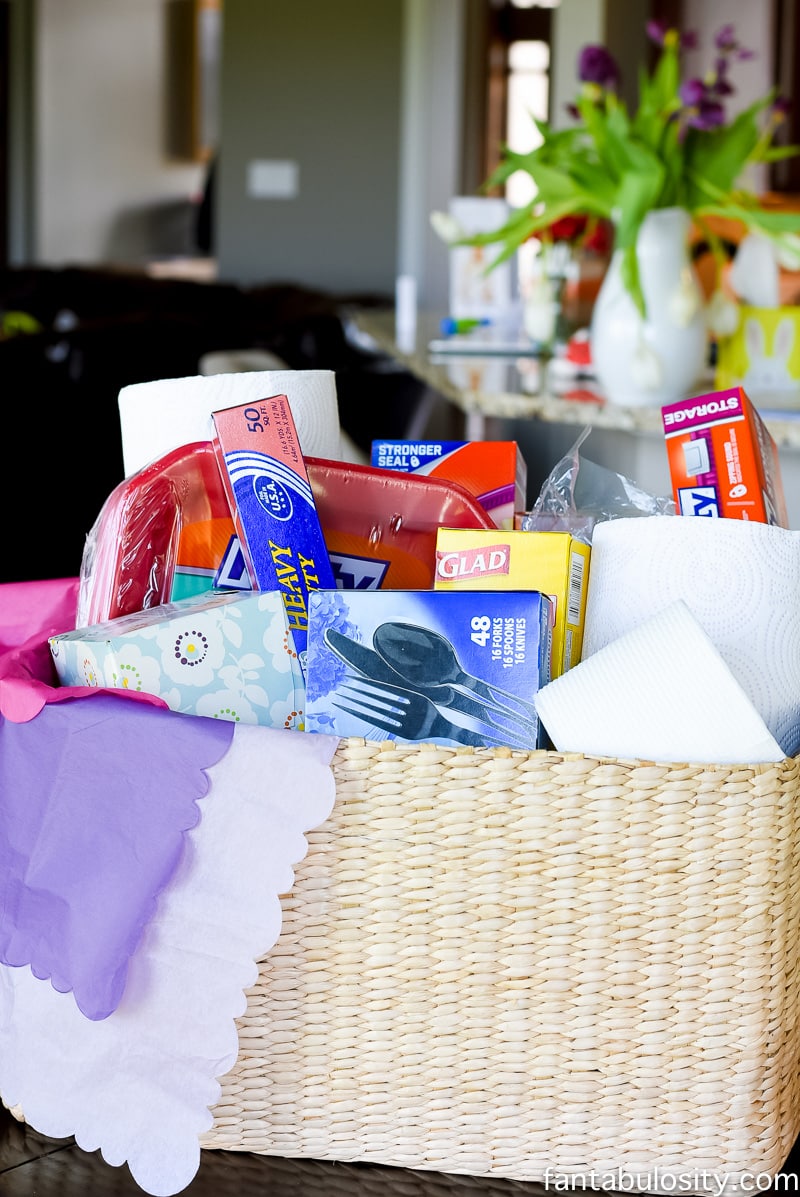 If you're looking for a grieving gift basket idea, although it may not have the incredible appearance of beautiful flowers, I assure you, this gift will provide a feeling of relief for those in need.
Sympathy Gift Baskets – Content Ideas:
There are no "right," or "wrong," items for this gift basket, but just keep in mind when you're shopping around, to look for things that will come in handy for those that will be spending a lot of time at home; eating, resting, hosting, etc.
Also keep in mind that the family may not be at home when you drop off the gift. So staying away from perishable items is ideal, in case you need to leave the gift basket on the doorstep.
Consider these suggestions:
Facial Tissues
Disposable Silverware
Paper Plates
Trash Bags
Zip-top Bags
Paper Towels
Toilet Paper
Aluminum Foil
Plastic Wrap
Sweet note/card
How to Send This to Someone Far Away…
I recently had a reader leave a comment about this gift idea, saying they wanted to send a sympathy gift basket to someone who lives far away. What she did, was ordered everything she wanted to include, from Amazon Pantry, and had it shipped to them that way. I thought that was an amazing idea!! Thank you so much for offering this brilliant idea! Shop items like this in Amazon Pantry HERE !
When I created this gift basket for a friend, I loved how the recipient could use the basket for something else later if need be. But you could easily use a gift bag instead.
If you are planning to create a gift basket, keep in mind my favorite suggestions that I told you when I created the "Box of Sunshine Gift Idea," for making a gift basket look more appealing.
Gift Giving:
Not Home: If they're not home when you deliver, simply place the basket in a place (out of weather), that you suspect they'll see it upon arrival. (Keep in mind, that THEY have a lot of things on their mind, so texting/calling them just to tell them you've dropped a gift off, may be more bothersome than simply thinking outside of the box, and placing it in a safe location where they don't have to "work," to find it. Besides, you want them to find it/use it, as soon as possible because the food and guests start arriving almost immediately.) Don't forget a sweet card/note explaining how you hope the contents of the gift helps make their next few days a little easier, without having to worry about everyday items.
Home: If they are home when you arrive, simple explain to them how you hope the gift basket will make the next few days easier with out of town guests, and an abundance of food that will more than likely be arriving. If you have a close relationship, you may even consider putting away the items that you brought, to help ease the load a little more.
Although food and flowers are extremely thoughtful, and SO appreciated during a time of loss, you may consider this type of sympathy gift, instead of what you can almost count on a lot of others bringing to them.
A Small Gift Idea:
If you're looking to do something a bit smaller, yet BIG with thoughtfulness, this lunch box gift is something you could do as a small gesture, when a friend may not even want to think about eating.