Best Friend Birthday Gifts: DIY gift basket ideas, favorite places to shop and favorite birthday gift ideas for your best friend!
I'm a sucker for good gift ideas, so when I have a friend that has a birthday coming up, and I'm on top of my game (or what at least feels like it) I LOVE creating the "perfect" gift for her.
However, sometimes, life happens and I forget… life catches up with me and I'm stuck looking for a quick gift to buy online for her.
Best Friend Birthday Gifts
But no matter what, it's the thought that counts, and I truly believe that. Honestly, if she's a true friend, you may not get her anyting at all and she'll still love you dearly.
That my friends is the type of friend I want and have in my tribe of gal pals.
Gift Ideas for Her | To Make and/or To Buy
Alright, so now that we're ready to get to the cutest gift ideas for her, I'm going to show you my favorites and DIY gift ideas that I love to gift to my best friends when I have time and I'm feeling creative…
Then, we'll go over what you can buy online for those "oops" last minute moments, or if you just don't feel like DIY'ing or crafting anything!
To DIY…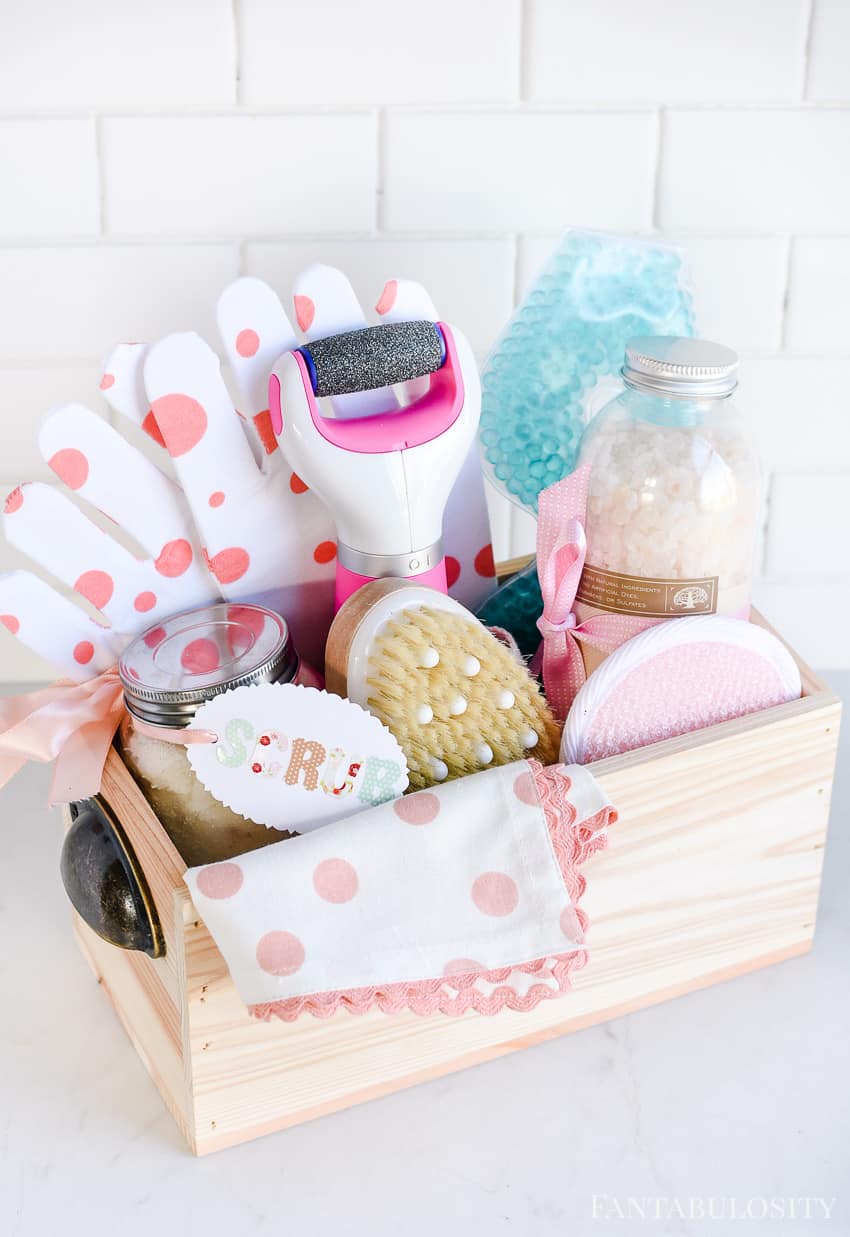 Ok, first… can you EVER go wrong with a gift that's full of things to help you feel like you're at a spa?
I don't think so.
However, she may struggle with finding the time to use these items if she's a busy gal. But if that's the case, one-up this gift and offer to babysit her kiddos so she can have a night off to use these goodies for her birthday!
In this gift you'll find things like:
Tip: Don't just buy these items and throw them into a bag. Take what you can out of the packages and place them in a cute little $2 box from Hobby Lobby or Walmart and arrange them for an adorable presentation!
See the full spa-at-home gift idea details HERE!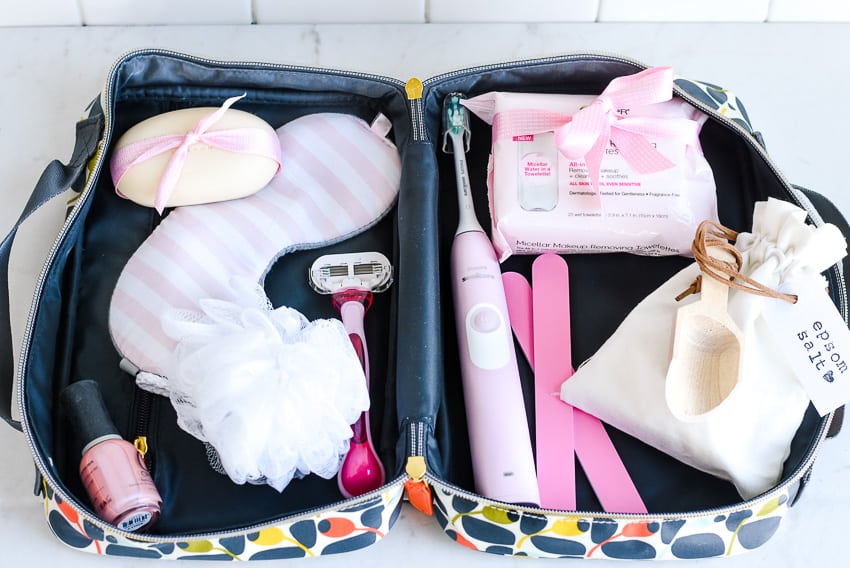 With a similar take on the spa at home gift idea, this overnight self care kit can take things to a whole other level.
Send her away for a night with her husband, or alone in a hotel where she can catch up on sleep and self care!
Grab a make-up bag (a gift that keeps on giving and sometimes the same price as a stinking gift bag these days) and fill it with items she may love to use while staying overnight!
Get all the details of my overnight self care kit HERE!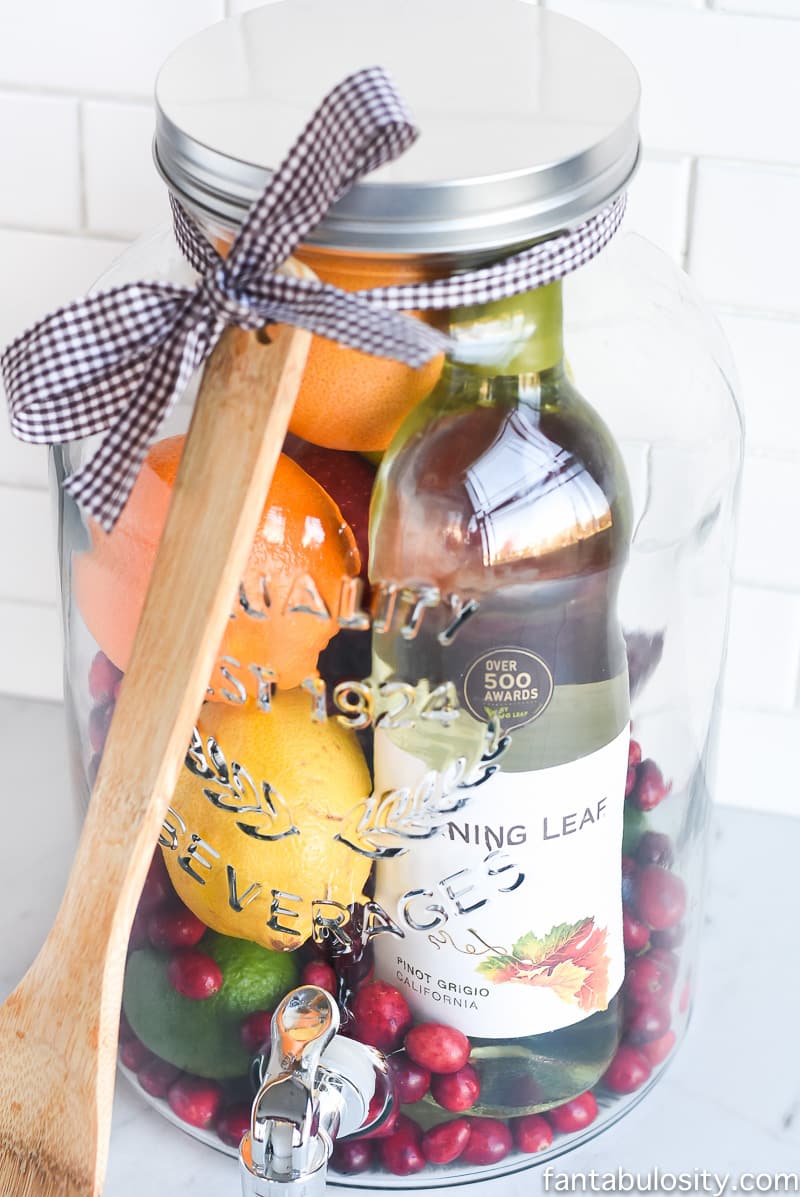 An INSANELY popular gift idea is my DIY Sangria Kit. When I whipped this up for my sister, I didn't realize just how popular this gift would turn out to be on Pinterest!
I'm a big fan (if you hadn't guessed already) of using items that the recipient can reuse as a "gift bag" instead of spending a ton of money of a paper/plastic bag that they'll just toss in the trash.
This drink dispenser serves as a gift "basket" and it's something she can reuse over and over again!
Fill it with the ingredients to make a fun sangria and you two can whip up a batch and sip on it that evening!
Get all of the details and my favorite places to buy the items to make this DIY Sangria gift idea HERE!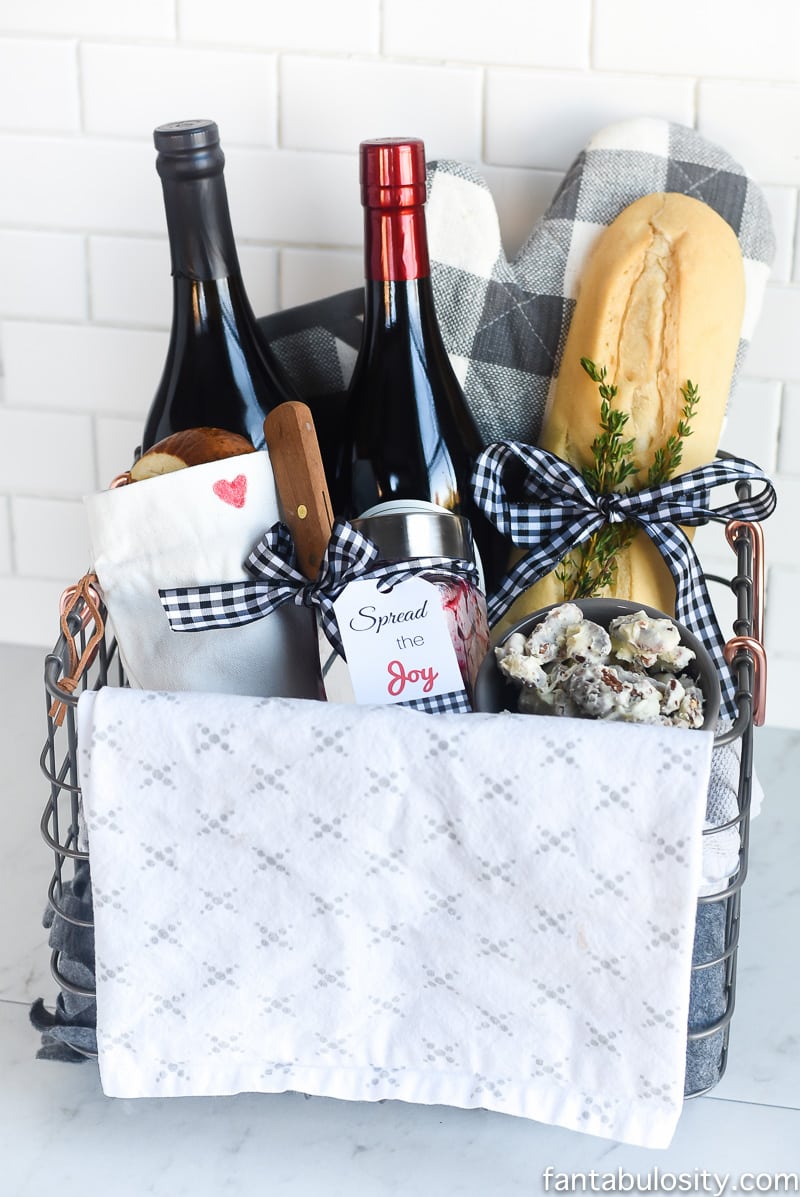 My friends know my love for food. So odds are, my friends love food too. So when a gift comes in food-form, you're speaking my love language.
Although I created this gift idea for a housewarming gift, it works perfectly for the food-lover or chef. Bread, cooking linens, fancy balsamic and olive oil and even a homemade spread!
TIP: Using a wire basket allows the overall gift to look "bigger" and she can see all that's she's getting without having to dig in to it!
Plus, a wire basket like this doubles as home decor! Again, a gift that keeps on giving. My favorite!
Get all of the details for this gift basket HERE!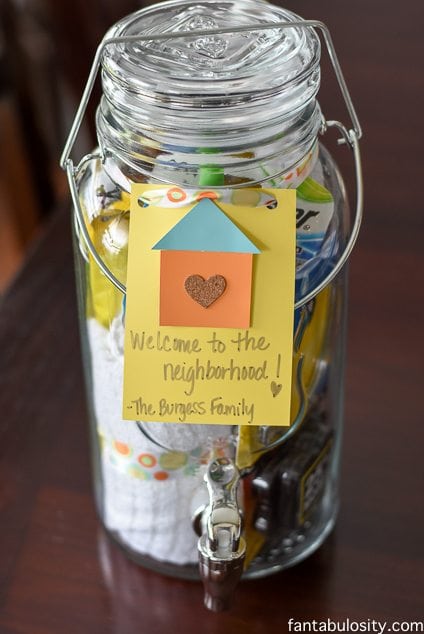 Did your best friend just move in to a new house? We've moved more times than I can count, so having someone gift items that I may be running out of or forgetting to purchase every time a make a trip to the store… feels golden.
Plus, filling a drink dispenser with the household items is a great way for the new home owner to later fill it with lemonade or her favorite cocktail to serve her guests when they come over to take a peek at the new place!
See the items I put inside this housewarming gift for our new neighbors!
To say this gift idea has gone viral online, is an understatement.
So I feel it's definitely note-worthy of a great gift idea for your best friend!
Not to mention, this gift is SUPER fun to shop for, when you're all eyes for anything yellow.
You don't realize how many yellow things there are in a store, until you start looking specifically for them!
See what yellow items I included in my sunshine gift basket, to get ideas for your own!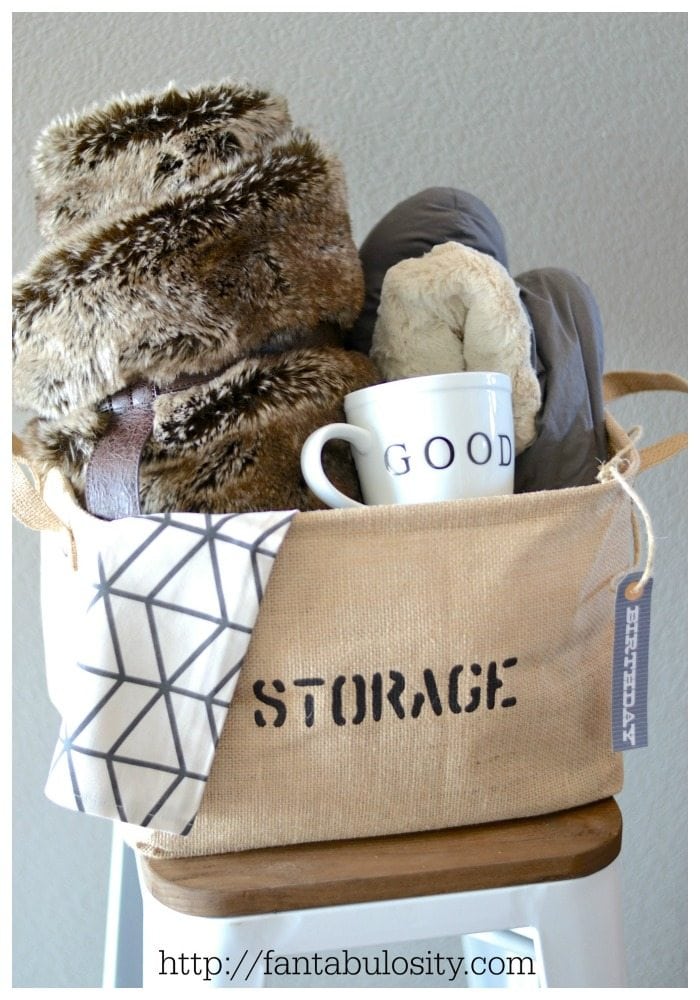 What best friend wouldn't love a cozy "take it easy" themed gift basket?
A warm blanket, fuzzy slippers, a new coffee mug and maybe throw in a magazine for good measure.
See how I assembled this "take it easy" gift basket idea, to get ideas for your own!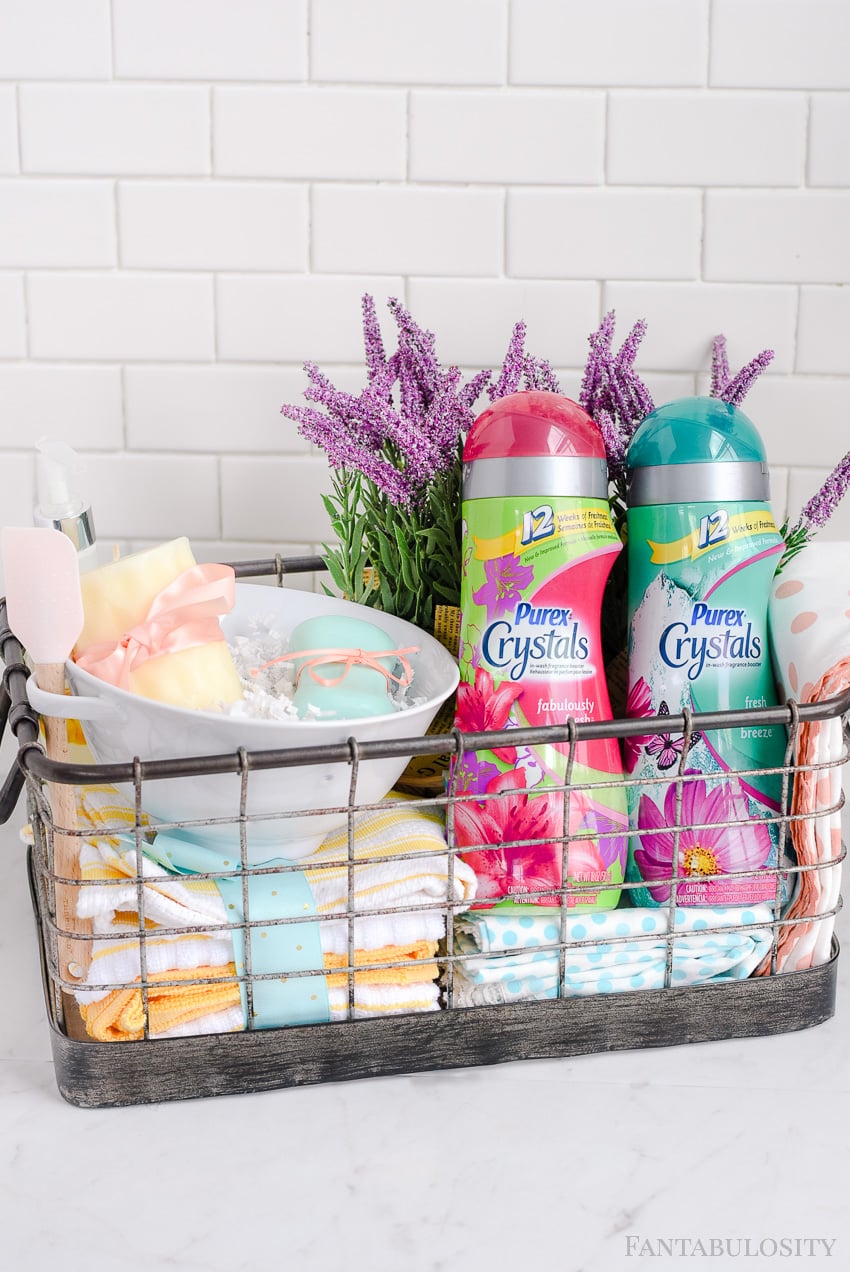 I believe that almost any gift can work for a birthday present.
I have SO many more gift ideas here on the blog that you can browse through to get ideas for that special best friend in your life.
Remember, think outside the box… what can they REALLY use… and how can you make it better when it comes to assembling it. (i.e. fun containers, baskets, etc.)
Here are more gift ideas for all occasions to remember for later or to brainstorm more DIY ideas!
Favorite Gifts to Buy Best Friend
So those moments we forgot, ran out of time, or just NOT in the mood to be creative with gift baskets??? I've got you covered. I've been there too.
Since products are ever-evolving, selling out and changing, I'm sharing my favorite places to look FIRST when it comes to buying birthday gifts for my best friends.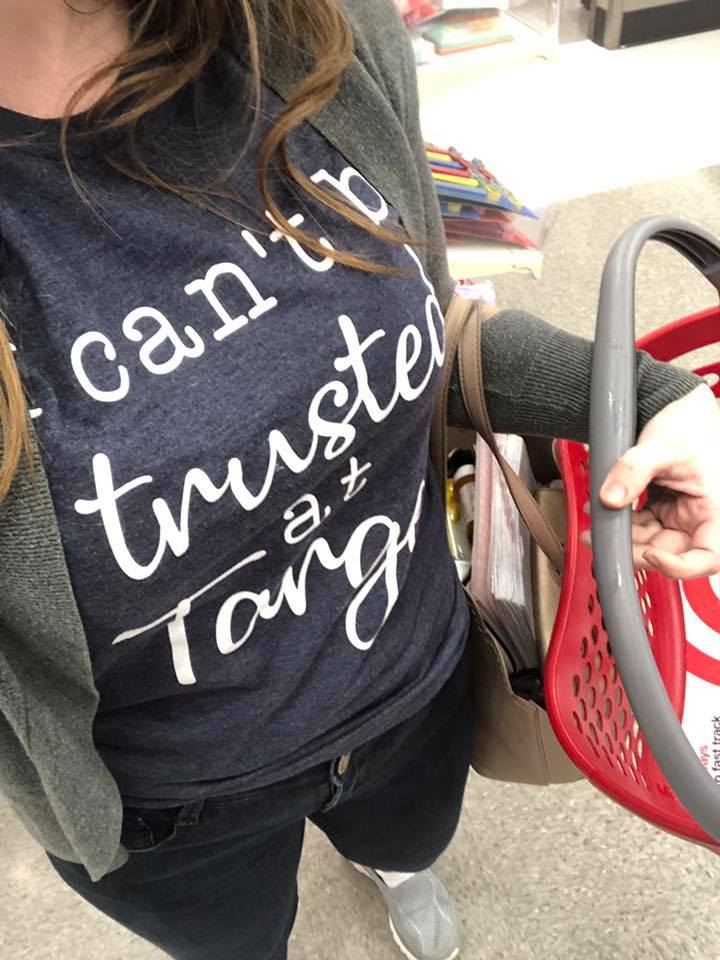 If you don't like Target, I'm not sure we can be friends. Ok, totally kidding… but you can NEVER go wrong with picking up something in the "home" and/or "beauty" section at Target.
Fun kitchen utensils, dish towels, plates, coffee mug, cake stands
Bookshelf decor, wall hangings
Pillows, baskets, throw blankets
Notebooks, journals, planners
Face masks, makeup, makeup bags
Nail polish, pedicure sets, foot soaks
Hair masks, hair tools, hair accessories
Then of course, don't forget to hit up the dollar spot for something fun to garnish the gift with, like a fun notepad or car cell phone holder!
Friend, if you've never shopped H&M's "Home" section on their website… you are missing OUT.
It's not only a wonderful place to buy baskets to make gift baskets with, they have the most adorable items to gift someone.
Blankets, baskets, home decor, pillows, and the list goes on. It's affordable, trendy and something that your friend probably doesn't already have 50 of because it's like a hidden secret that so many don't even know about!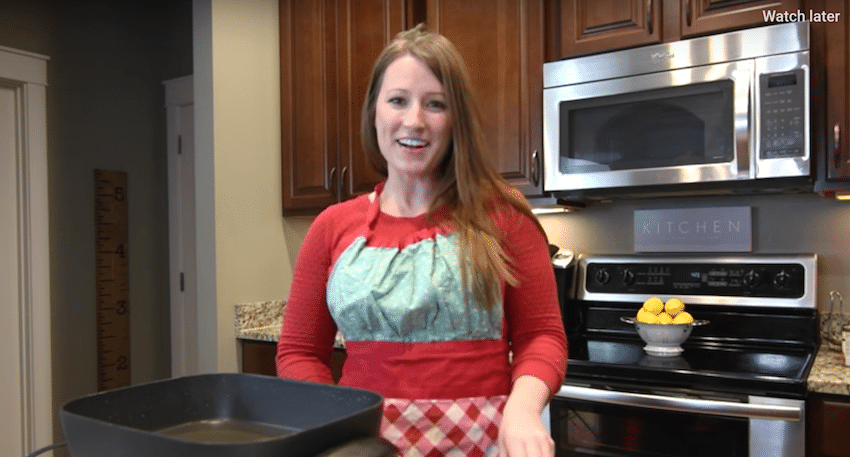 Even if your best friend doesn't cook that often, I can't help but think that she'd LOVE one of these aprons. I myself, have way too many of these because they're THAT cute.
There's something about putting on an adorable apron on when it's time to make dinner. Kind of like how buying new workout clothes motivates you to workout?
Get her one of these so she can feel great when it's time to tackle the kitchen.
Charming Charlie has been my favorite place to get wallets, jewelry and purses for the last couple of years.
But each time I go online, I see that they have the CUTEST gift ideas. (You know, the things that we don't want to spend money on for ourselves, but the adorable things that we'd love to have!?)
So if your best friend is a fashionista, snagging a bag, wallet or jewelry from Charming Charlie is a great place to do so! But they also have cute gifty items like pens, books, and perfume that would make perfect gifts!
Other Gift Ideas for Your Best Friend
In case you're still at a loss of what to get your best friend, here are a few great ideas that I've loved gifting to my friends:
Homemade Food (cookies, cakes, brownies, jams, jellies, extracts)
A daily/monthly planner
Book
Magazine subscription
Online classes at Udemy (i.e. cooking, photography, sewing)
Gift certificate for a pedicure, manicure, massage at a local salon
Floral arrangement (Check to see if they offer a monthly/quarterly delivery service for a gift that keeps on giving.)
Suprise dinner with closest girlfriends
Wine subscription
House cleaning service (unless she could be easily offended, thinking you were saying her house was dirty. Eeeek.)
Drop off bagels and flavored cream cheeses from local coffee shop on her doorstep to start her birthday off with a bang!
DNA/Family history search
I could go on and on with ideas, because I absolutely love brainstorming and thinking of new ways to gift someone I love and care about.
So if you didn't see something that will work for you and your best friend, let me know in the comments below! I'll see if I can think of something for you!
Love Birthday Ideas?
Then you'll LOVE how we celebrate birthdays and all sorts of occasions around here! Browse our parties!
Pin the image below to remember it for later!