A Hostess Bread Basket Gift Idea is incredibly thoughtful, and something that the hostess can put out that evening to let guests enjoy, or even at a later date!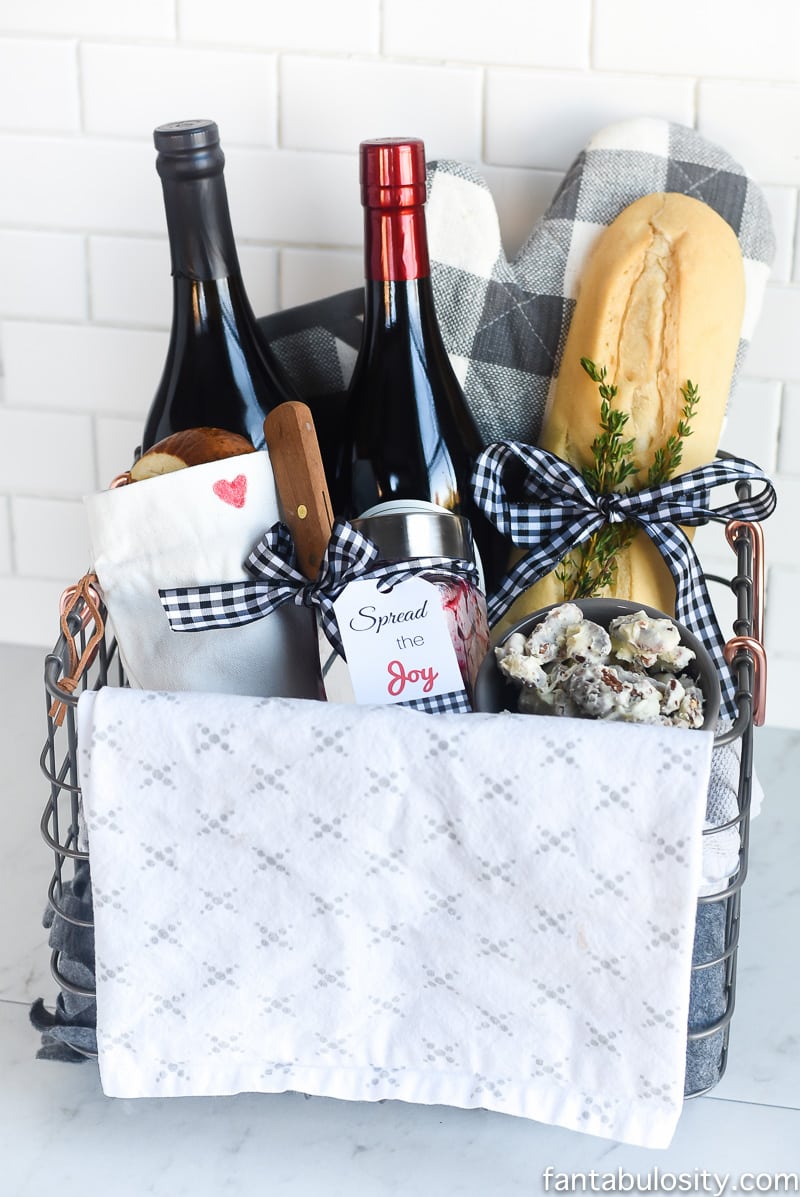 Hostess Bread Basket Gift Idea
If you've dug in to the blog much at all, you may have seen the Sunshine Gift Basket, New Baby Gift Basket and the Relaxation Gift Basket that I created for a few people in my life. I absolutely adore building gift baskets, and thinking a little outside of the box when creating them.
When we made the White Chocolate Spiced Pecans, and the Homemade Blackberry Butter the other day, I looked at the two and realized how cute a gift basket those two combined with a few other items would be.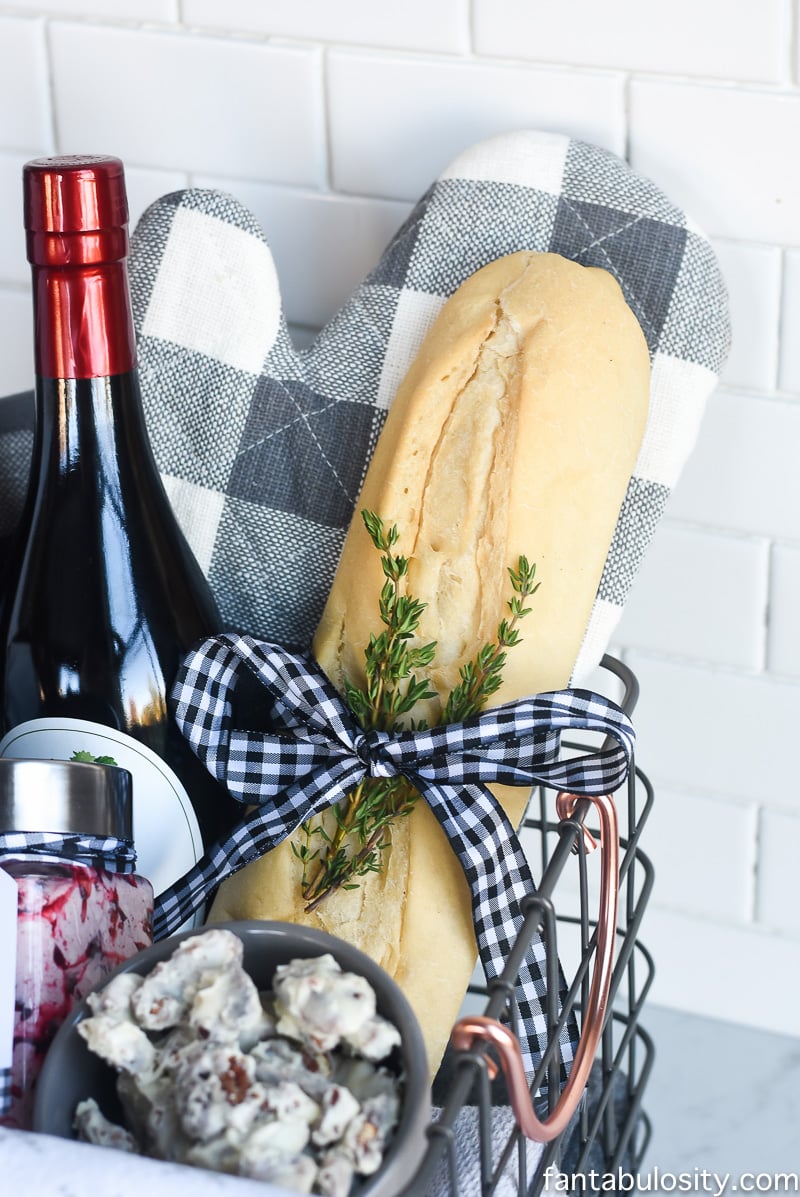 How to Style a Bread Basket Gift
I chose a see-through basket for this gift, because I LOVE for the host or hostess to be able to see everything inside of it, right away if they want.
Take as many items as you can, and unpack them from any store bought packaging if possible.
Drape a dish-towel over the front of the basket, to add a "pop" of color or pattern to the gift. This also hides any items, and kind of acts as "tissue paper," in a gift!
I like to use items inside the basket to give them a "lift," so they tower over the rim of the basket. This gives it more of a "wow," factor when handing it over. To do this, I inserted more dishtowels, and added those as part of the gift. You could vary easily use some sort of "fill," if you don't want to spend the money on additional hand/dish towels.
Adding small details to some of the items can make a gift-basket a little more personal. For instance, tying a sprig of thyme to the bread loaf using a cute ribbon, and then stamping a red heart that coordinated well with the "joy," on the free printable gift tag around the homemade butter, adding details that were incredibly easy, but really added to the "look."
If giving homemade butter or jam as part of the gift, you can print my free "Spread the Joy," gift tags here!
Free Printable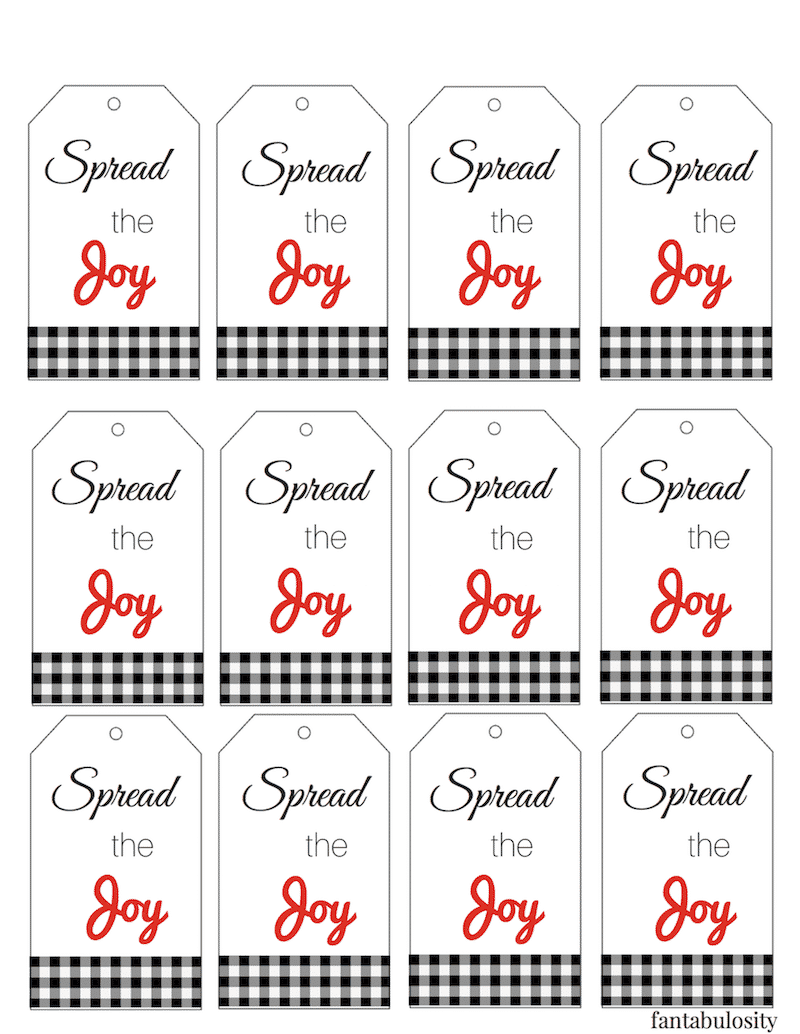 Two different types of bread
Also recently purchasing pretzel buns, I added those to the basket by placing a few inside a white muslin bag. I thought a second type of bread in the basket would be a fun touch, and the muslin bag just added to the cuteness. With a little heart stamp, we simple used red ink, and added the small detail.
I so hope you enjoy this gift idea! It was super easy to assemble, and can make your host/hostess smile!