Take it Easy Relaxation Gift Basket Idea for Men or Women: This simple gift idea is perfect for any man or woman for ANY occasion! Who wouldn't love a basket with an excuse to relax!
My sister's birthday was in December, and she's one of those, "My birthday is around Christmas, so everyone forgets about it," kinda people. Do you know someone like this too? 😉
This year, I'm pretty excited about her gift. Not only was it so EASY… not only is it a concoction of things for relaxing…not only is it gender neutral and perfect for those men & women that are hard to shop for in your lives… IT'S something that can be used over and over again!
Relaxation Gift Basket Idea for Men or Women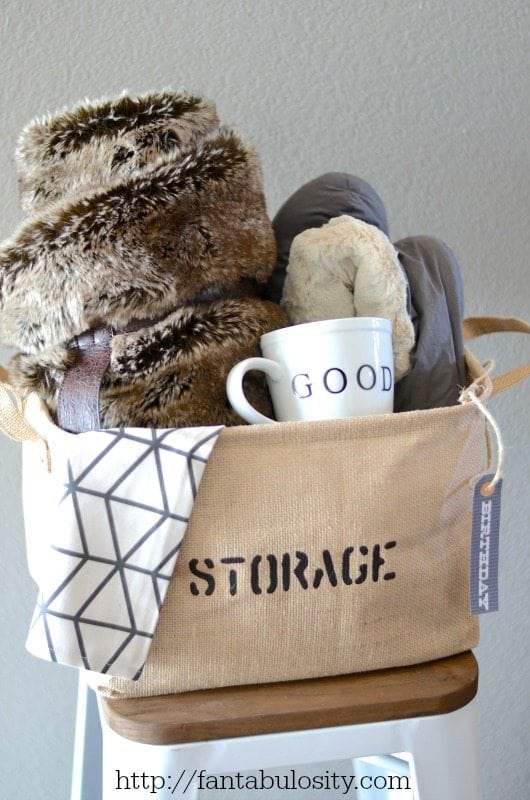 What's Included?
I've done a little research for you, and found similar items to create this gift basket idea for men OR women, at the bottom of this post! So all you have to do is go snag them, and put them in the canvas basket when it comes in!
Fur Throw:
Well I found this one at Restoration Hardware the other day, (here's a similar fur throw) along with "down" slippers (get similar slippers).  I'm telling ya…it's like slipping your foot in to a little slice-o-Heaven.
Coffee Mug & Tea Towel:
Then I added in the "Good Morning," coffee mug from World Market
. I also added a little tea towel from H&M, just for a little pizzazz, and in case she makes a little spill while sippin' her coffee. Oh … coffee. That would be a really nice little addition to this gift basket too. 😉
Storage Tote:
Now we can't forget about the adorable "storage," tote that I found at H&M Home, to put it all in!
This gift basket idea is spot-on for any other kind of event that you'll need a gift for.
How about:
Now no worries. You don't have to have this same tote, blanket, coffee cup, or slippers. Just find any container, and throw any kind of patterns/colors together. But I did find similar items below that would work perfect to create this gift…