Valentine Sunglasses: Such a fun classroom idea for Valentine's Day that's a great alternative to sugar and sweets!
If you're like me, I'm always trying to think of a way to create non-candy-related items for my son's school treats, for classroom parties. They get SOOO much candy at school parties, and we are literally struggling on a daily basis at home afterward, explaining to my son why he can't sit and just eat… and eat… and eat… candy.
So one year, I was determined to come up with Valentine's Day treat idea, that his classmates would love but wouldn't be just another sugary treat!
Valentine Sunglasses
Perfect for everyone in the classroom, you can buy little heart-shaped sunglasses, usually as party-favors, very affordably!
Then, you can simply secure one of the little free printables I've provided below!
Now, you have a classroom valentine treat that the kiddos will love that's not full of sugar.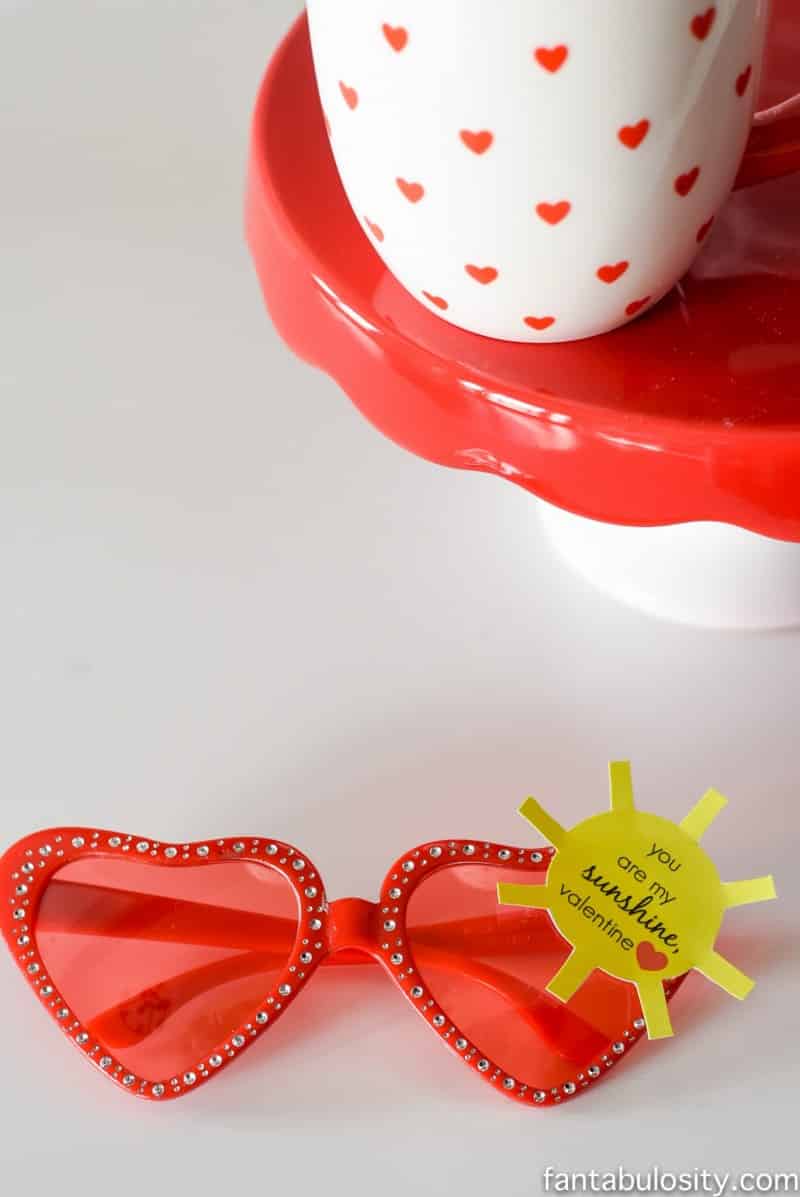 Free Printable Options
When I first made these Valentine's, I loved the idea of having the "sun" as the free printable tag to attach to the sunglasses.
However, I'll be totally real…
Cutting out all of those little suns, with the little rays… can be a bit tedious. Possible, doable, but tedious.
So I wanted to create a second option for you, that would be easier to cut out and is just as cute!
Sun Printable
Such an adorable free printable tag and if you don't mind cutting around all of the sun rays, you can get this sun printable tag here!
Heart-Shaped Printable
A much easier tag to cut out, these heart-shaped tags include the same message, with that "yellow" pop of color that looks adorable to tie in the color of the sun! You can get the heart-shaped tag here!
How to Assemble Sunglasses
You can either tie the tag on the sunglasses with adorable bakers twine, or you could even grab "glue dots," and stick the tag on the sunglasses that way!
Tape will work as well, it just didn't stick as well as I'd like when I tried it.
More Valentine's Day Ideas
While you're on the hunt for Valentine's Day ideas, you'll also love this "Booking it Over Here to Tell You…" valentine's idea and the "You're the Apple of my Eye" Valentine idea! Unless you don't mind the sweets, then you'll also love this Valentine's snack mix!
Yield: 12
"You Are my Sunshine, Valentine" Classroom Valentines
Heart-shaped sunglasses with free printable tag, for a classroom Valentine's Day idea!
Materials
heart-shaped sunglasses
free printable tags
glue dots
Instructions
Purchase as many heart-shaped sunglasses as you need.
Print off the free printable tag of your choice. (See blog post for options and link to download.)
Cut out each tag (sun or the heart) and simply secure each tag on to a pair of sunglasses! (We prefer using glue-dots but can also use string to tie them on.)