Cookie Decorating for Beginners: with Royal Icing. Sharing tips and tricks on how to make cookie decorating easier, with royal icing!
I've always been a fan of sugar cookies, but I only became intrigued with actually decorating them with royal icing when I saw all of the super fun cookie decorating videos on my Facebook feed.
Fill up your cookie recipe box with some of my favorite cookie recipes like my no-bake cookies, sugar cookies with Nutella, ice cream cone sugar cookie cut-outs and if you're on the hunt for Christmas cookies, then don't miss the 20 Easy Christmas Cookie Recipes!
Cookie Decorating for Beginners with Royal Icing
I had made the decision that I was going to attempt it, and I knew going into it, that my cookies wouldn't look near as good as their's, but I didn't mind.
I just wanted the satisfaction that I could decorate a cookie with royal icing.
Come to find out, there are a lot of you out there, just like me, who are dying to attempt this, but aren't sure where to start! This is where I hope I can come in to help, and you can laugh at my mistakes and "first attempts," along the way.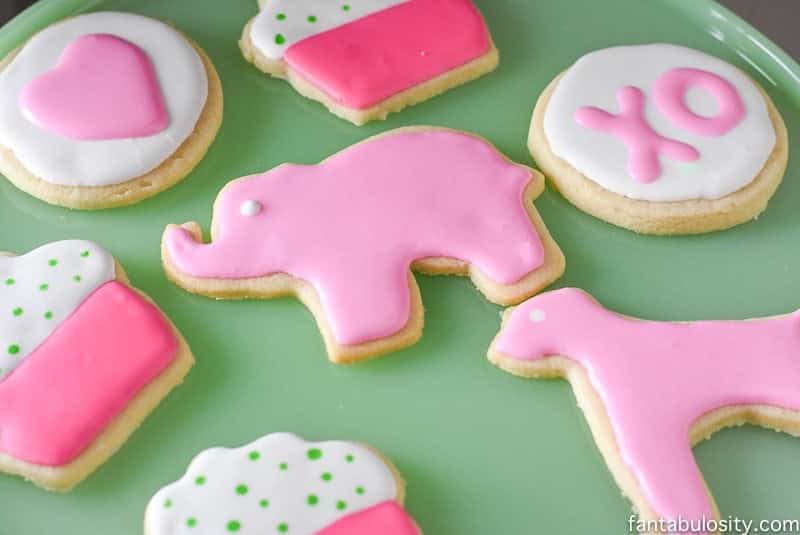 A full list of products that I use to decorate cookies is at the end of this post…
Christmas Cookie Royal Icing Decorating
The pink & green cookies that you're going to see here in this post, are actually my second attempt in decorating cookies. The first time I gave it a "go," was on the Christmas cookies below… and all that did was begin my cookie decorating obsession.
Although they are SO far from perfect, they were so fun to make, addicting, and super therapeutic!
You can see in the above photo, that my little snowman is cracking, and my royal icing on the stocking isn't a smooth flat surface like I'd like. This will iron out in the future cookie decorating attempts, I hope!
Holiday and Party Cookie Decorating
For the sake of this post to help you see that a beginner like myself can do it (not perfect, but do it at least!), I wanted to use the new elephant, dog and cupcake cookie cutters that I found and had to have!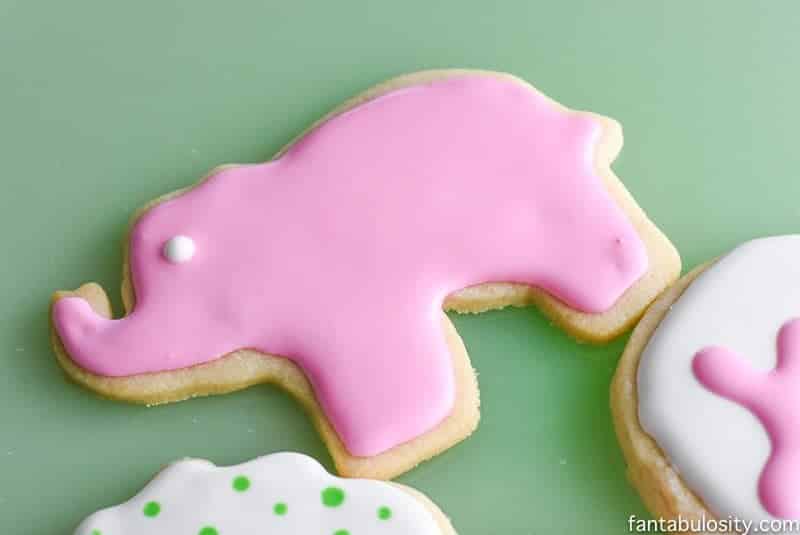 This little guy would be fun for a baby shower, zoo birthday party, or I even squeezed him in for a Valentine's Day treat. ESPECIALLY if you're throwing a baking-themed birthday party like I helped style for my niece!
The dog cracks me up, to be honest. After I finished decorating him, I realized he looked just like the "Pink," Victoria Secret dog.
Hmm… I wonder if they'll hire me to make little cookies for all of their store? Haha…doubt it.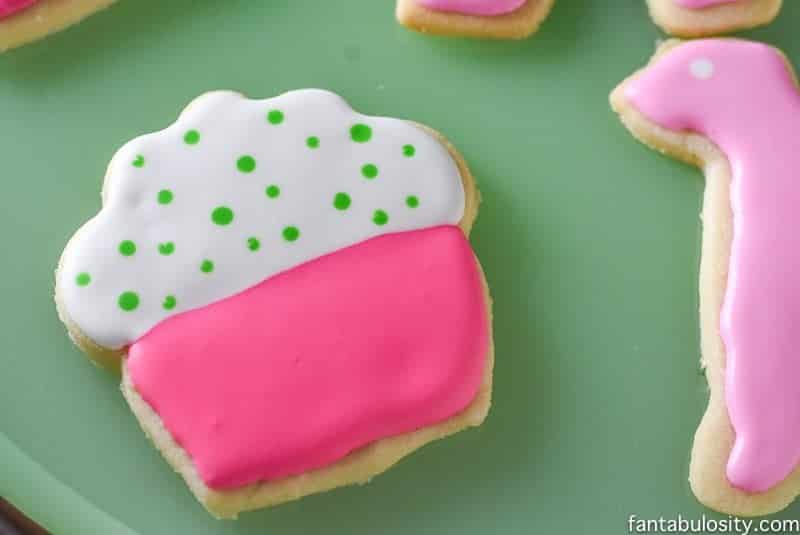 What is Needed to Start Decorating Cookies?
First, you'll need a cut-out sugar cookie recipe that will hold it's shape after baking, and one that tastes good too is a bonus.
Royal Icing for Cookies
Soooo many of you have asked what royal icing recipe I use. THIS my friends is the "secret weapon," I have been talking about.
If you're like me, royal icing seemed SO intimidating. I thought there was NO way I'd be able to make an icing that slid so perfect across a cookie. The only icing I knew of, and was semi-comfortable with, was frosting in a little plastic tub from the store.
Until now…
Royal Icing Mix:
All of you professional cookie decorator's out there… I can hear you laughing at me hysterically. Why?
1. Because I had no idea there was even a "Royal Icing Mix," that existed.
2. Because I use a "mix," instead of making my own.
Buy the Royal Icing Mix here: Wilton Royal Icing
Well, I'm here to say, that I'm PLEASANTLY surprised with how easy this has made my cookie decorating hobby.
Not only is it easy, but delicious!!!
I am blown away, that all I have to do is throw the mix in my Kitchenaid Mixer, and add WATER. Yes, WATER!
The Wilton icing mix, is a favorite of mine, as I've tried a couple of other brands. It's easy to work with, and the taste is hard to beat.
I also use Wilton Icing Colors, to mix into the royal icing mix. There are an abundant supply of colors to choose from, and that gets me ALL excited, thinking about the different colors of cookies that I can make.
A basic starter kit of tips, like my Wilton Master Decorating Tip Set, is what I started with, and are so handy to have. I'm able to play around with a ton of different tips and get to experiment with which ones do what. I currently use Wilton Tip #2, or similar, to make a lot of my cookies. It's a fine point, that allows me to trace around the outside edges of the cookies.
The disposable Wilton Disposable Piping Bags are my fave. I'm not a fan of cleanup, so when I'm able to just toss the bags in the trash when I'm done… it makes clean-up a lot easier.
Other Fun Cookie Decorating Supplies
But then some of the cookie decorating supplies below are FUN to use, but of course not required for all cookies. It depends on what you want, and how you want to decorate them. But these are a few ideas to get you started!
Favorite Baking Tools for Cookies
Cookie Decorating FAQ's
Even as an experienced baker, sometimes questions come up. For instance, how many ounces are in a gallon? I have to remind myself of this often, and there's no shame in that!
So here are some of the frequently asked questions about cookie decorating are:
How long will decorated sugar cookies last?
Your decorated sugar cookies should last a few days in a sealed, air-tight container.
How do you store decorated sugar cookies?
In an air-tight container, but place a piece of wax paper between each layer for best results.
How do you host a cookie decorating party?
Bake the cut-out cookies a day in advance (or a few days in advance and freeze them!) so guests can have fun decorating, rather than wait on the cookies to bake!
OR… have each guest bring their own cookies to decorate!

Supply decorating items such as royal icing, frosting, sprinkles, edible glitter, piping bags, scribers, parchment paper to decorate on, and cute to-go baking boxes for their creations! See my other parties for more inspiration!
How to Decorate Cookies Video Tutorial
I've compiled a super QUICK video, to show you how I decorate cookies, as a beginner. One minute and 45 seconds, sums up little quick tips and tricks that I use, to make the cookies I've always dreamed of making.
Cookie Decorating Tip:
As you'll see in the video, I outline the cookies first, and then fill the centers and spread out any bubbles or space as needed. Then if you want to decorate will multiple colors on the same cookie, make sure you let the first color dry before adding the next or it will leak in to the other color(s).
Don't Be Intimidated:
I SO hope this helped you tackle your "cookie decorating," desire. Mostly, if you were intimidated by all of those professionals, decorating cookies… I hope this has given you the confidence to give it a whirl!
We all have to start somewhere. The best part??? You don't have to share photos of your first and second attempts like I decided to, if you don't want to. But I would LOVE to see your creations!
Share them on the Fantabulosity Facebook book page!
Cut Out Sugar Cookie Recipe for Decorating:
Remember, if you need a good sugar cookie recipe that holds it's shape and tastes delish too… you should try the BEST Sugar Cookie recipe I've used for a few years now!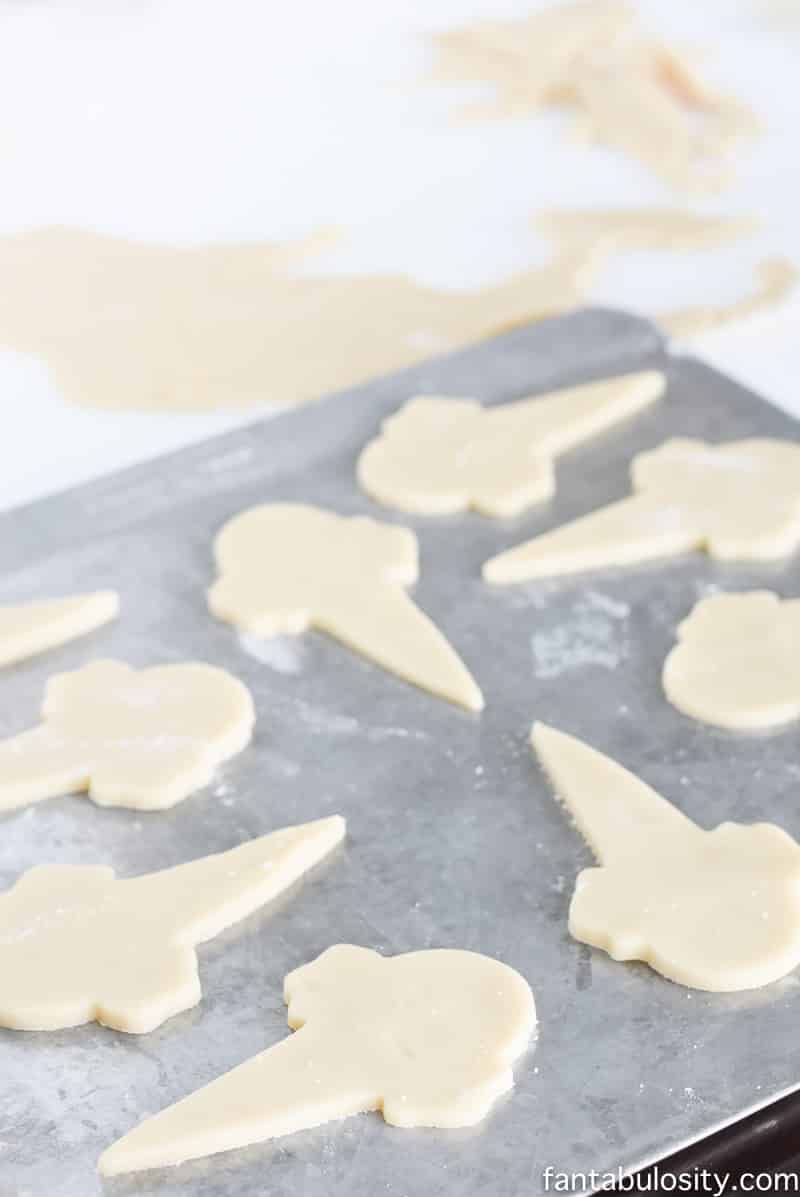 Or want to decorate your sugar cookies without royal icing? Maybe a mix of both? We LOVE these sugar cookie sandwiches that are filled with strawberry buttercream frosting!
Baking for the Holidays?
If you're baking and love easy dessert recipes, then you'll LOVE: