Easy Christmas Cookie Recipes: Best of the best, cookies for the cookiest time of year! Perfect to serve Santa or to take to that holiday gathering!
What is it about Christmas, that makes me think that I can, and NEED to make every stinking Christmas cookie out there?
But instead of spending a million hours in the kitchen doing that, I think I'll just stare at these 20 Easy Christmas Cookie Recipes… AND share them with you. Less calories that way too. 😉
These are from some of my favorite food bloggers out there, and they're totally doable. The recipes below are for people like me. Good… easy… Christmas Cookies. 🙂  Have fun drooling…
Christmas Cookie Recipes
1. Melissa's Cuisine – Peppermint Chocolate Biscotti
Wouldn't these be amazing to dip into your coffee on Christmas morning?

2. Shaken Together Life – No Bake Eggnog Cookies
I absolutely love this spin on no-bake cookies! If you're an eggnog fan, you should love these!

3. Shaken Together Life – Eggnog Pudding Pies
Mini pies are one of my favorites and so easy to make. So although not really a cookie, they fit the individual serving idea, so it's cookie list worthy!
4. Recipe Girl – Crispy Molasses Cookies
Molasses makes me think of my grandma. (Or a really horrible joke that my dad likes to tell.) Either way, I'd sink my teeth in to these in a heart beat!

5. Overstuffed Life – Chewy Gluten-Free Holiday Cookies
I'm such a sucker for a chewy cookie, and the fact that these are gluten-free just makes my day!

6. Over the Big Moon – Molasses Cookies with Vanilla Glaze
A vanilla glaze? I mean, I could probably just eat the glaze right out of the bowl.

7. The Girl Who Ate Everything – Peppermint Chocolate Chip Shortbread Cookies
Why oh why are peppermint and chocolate so good together!?

8. Our Best Bites – Chocolate-Peppermint Thumbprint Cookies
It's just something about that minty flavor combined with a sweet chocolate that sets my tastebuds on cloud 9!

9. Amanda's Cookin' – Thumbprint Cookies
How sweet are these thumbprint cookies? I love the different colors, and they kind of look like some type of Christmas ornament! Perfect for the Christmas dessert table!

10. A Farm Girl's Dabbles – Dark Chocolate Espresso Shortbread Bites with Peppermint Buttercream
"Peppermint buttercream?" Oh heavens yes… sign me up for these!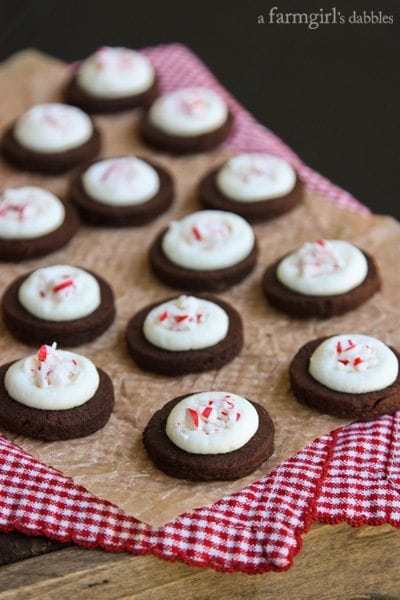 11. Shaken Together Life – Mint Chocolate No Bake Cookies
Yet another fun spin on no bake cookies with these mint chocolate nobakes!

12. "Shared Appetite's"
Chocolate Orange Truffle Crinkle Cookies
I don't know if I'm just obsessed with this amazing photo, or if I should make the cookies!? Maybe when I get done staring at this image, I'll head to the kitchen. But aren't these beautiful!?

13. Recipe Girl – Red Velvet Gooey Butter Cookies
Oh man alive… Gooey Butter Cookies are my WEAKNESS. Hence the reason I also have different types of gooey butter cookies here on the blog too! (Chocolate Caramel Gooey Butter Cookies and Strawberry Shortcake Gooey Butter Cookies)

14. Overstuffed Life – Peppermint Meltaways
These look mouthwatering and I can almost imagine what they taste like, can't you?

15. Inside Bru Crew Life – Salted Caramel Chocolate Chip Macaroons
Salted caramel and chocolate go together like a pb&j. How fun to munch on these around the Christmas table this year!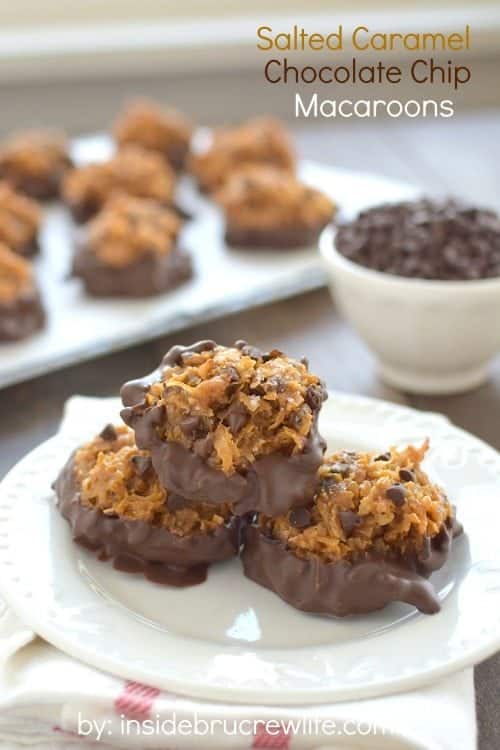 16. Our Best Bites – Candy Cane Kiss Cookies
Aw, these are so sweet! Well, sweet in taste and cute too!

17. No-Bake Nutter Butter Truffle Recipe
Although this post is FULL of Milk and Cookies party ideas, you'll find a delicious No-Bake Nutter Butter Truffle Recipe too!
18. The Girl Who Ate Everything – Candy Cane Kiss Sugar Cookie Bars
Get in my belly! Sugar cookies are a girls best friend aren't they?

19. Amanda's Cookin' – Chocolate Snow Cookies
Now THIS is the kind of snow that I like!

20. Recipe Girl – Chocolate-Peanut Butter Snowballs
For some reason snowball cookies help justify eating too many! I can just pop one in and pop the next one in without hesistating!
They all look so good, right!? Do you see your favorite Christmas cookie recipe here? Tell me. I'd love to hear what your favorite is!
Looking for more easy Christmas dessert recipes?
If you love easy cookie recipes, then I'm going to go out on a limb here and say that you love easy dessert recipes too?
Here are some of the tastiest Christmas recipes here on the blog:
Cookie Decorating for Beginners
Sugar Cookies with Nutella Frosting
Christmas Party Play Date – Has super cute dessert ideas!
Milk and Cookies Play Date – Also has adorable dessert ideas!