Free Printable Place Cards & Customizable Download "Welcome," and Thanksgiving Place Cards that are perfect for the holidays!
I couldn't be more than excited to share a little goodness with you to help make entertaining in your home this year a bit easier!  We entertain a lot in our home, and I'm always looking for ways to make a dinner party of 2, or a holiday party of 200, a little more personable.  (You may also want to take a browse at my easy Fall Dining Room Table Decor, for when we entertain!)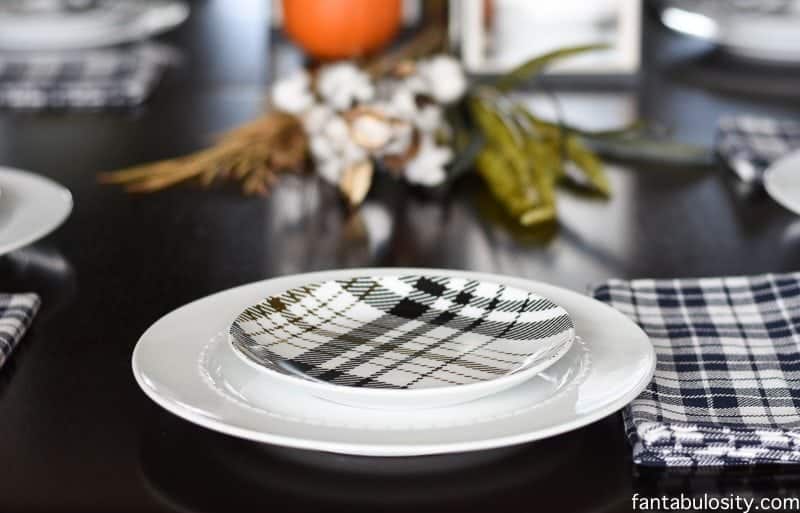 I'm not sure what it is, but when I go to someone's home, and I see my name at a place setting… I get all "giddy," inside, and I suddenly feel a little more "welcomed."
Printable Place Cards
Now listen… I hear ya on the "money-saving," techniques that we all try to accomplish during party planning and hosting.  So that's why we wanted to create something that could be created in your own home, at the last minute, and could be personalized for your guests.
• Do you have a printer?  Perfect.  You can just open this download up in Adobe Reader, click inside the center, and type in a name.  Print it on white card stock, kraft-colored card stock, or whatever your little heart desires.  (I personally think the kraft card stock looks so classy and really "pops," on white cloth napkins.)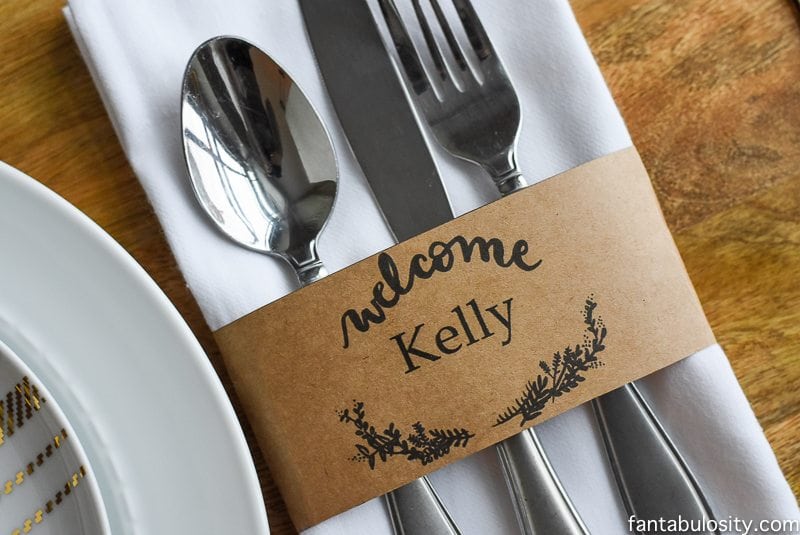 • Cut out the name card (napkin ring), and secure it around a cloth napkin.
• Place silverware in under the name card, and you're good to go!
TIP: To change the font of the name that you enter, on a MAC, click inside the box, and push "command E" and a box should pop up, allowing you to change the font.
On a PC, "Control E," should do the same.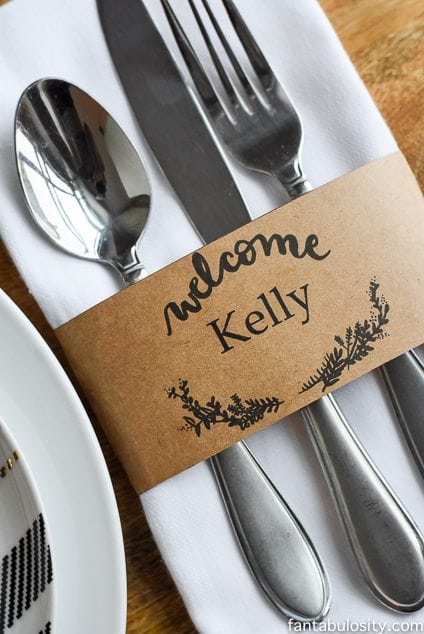 How to Secure the Name Card:
I had a little bit of time, so I decided that I wanted to punch a hole in each end of the name card, pull ribbon through the holes, creating a bow in the back (or bottom side) of the napkin.
If you're pressed for time, you could easily tape the back, or staple it!  Quick and Easy.
Holiday Place Setting
If you're planning to use these for Christmas, try adding an evergreen stem, and a few red berries, to really make it all "pop," with color!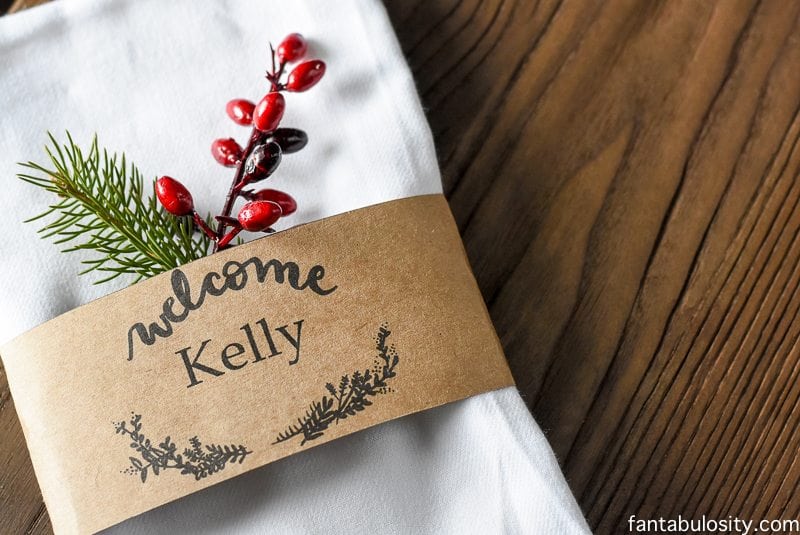 I literally just placed the stem and berries inside the place card holder.  You could tape them, glue them, etc. if you felt like you needed to secure them more!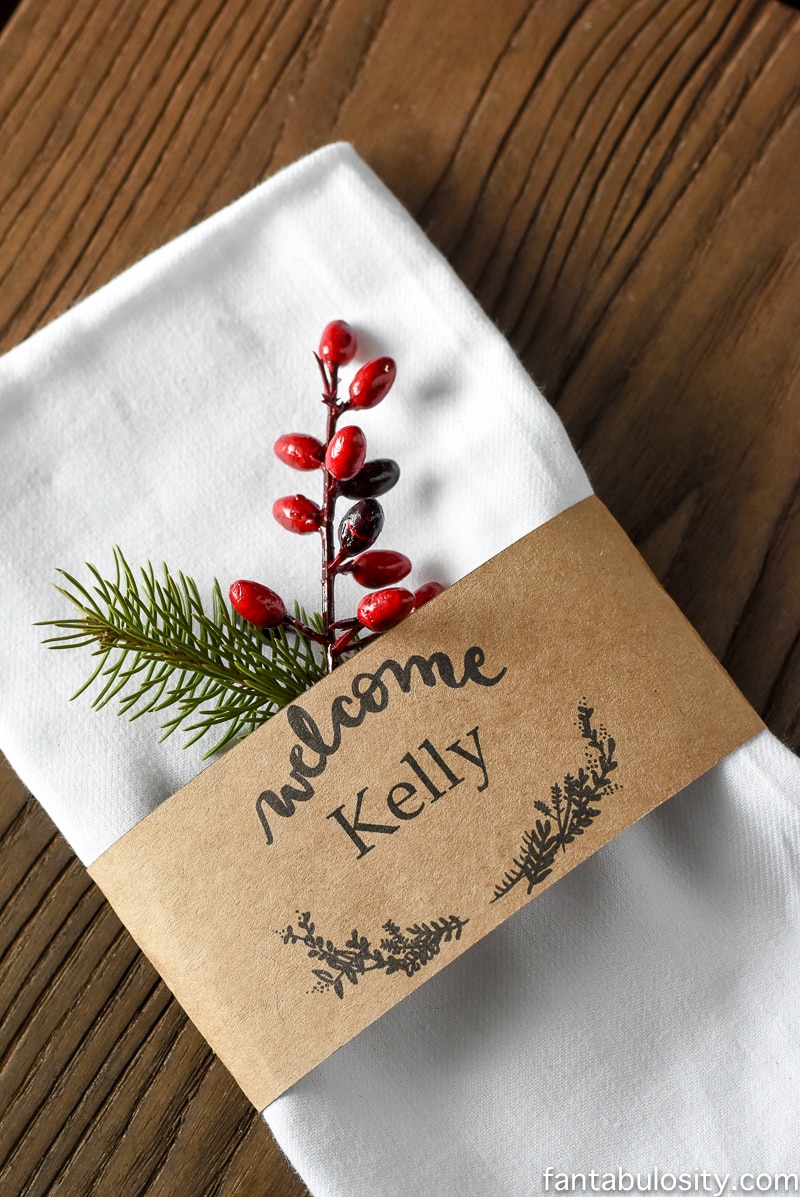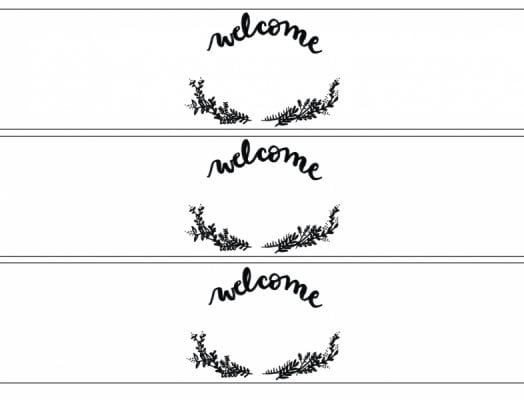 For Thanksgiving, or for a "thankful," occasion, here's a  "thankful for," place card, that you can customize and use for your dinner party!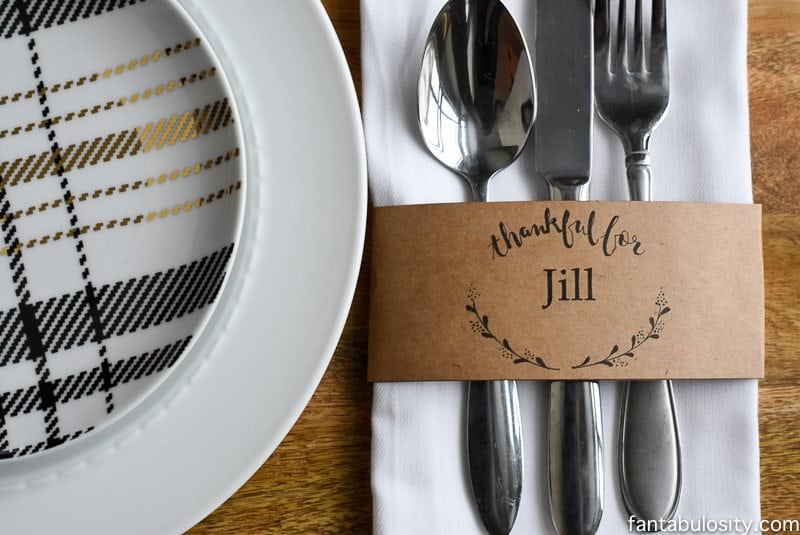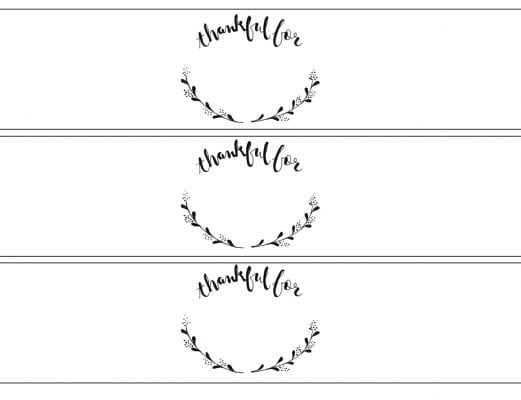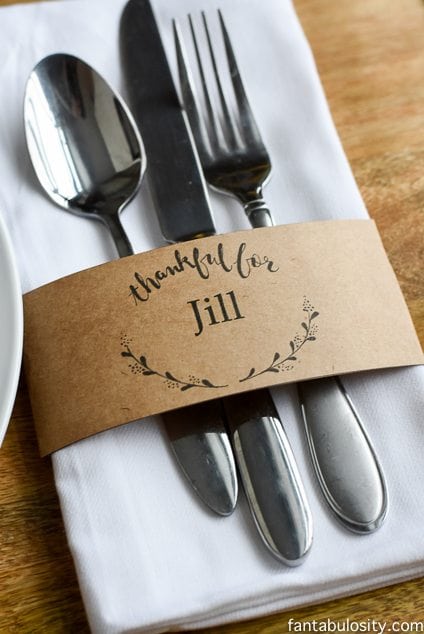 I can't WAIT to see how you've used these name cards.  Make sure to send me a photo! 🙂
DOWNLOAD YOUR PRINTABLE PLACE CARDS HERE:
PIN IT FOR LATER:
(If on desktop: Hover over the image below, and a red "pin," button will appear.  If on mobile, tap the photo once, and red "pin," button will appear.)