Thanksgiving Meal Planner Template: This free printable organizer will help keep your holiday meal planning organized!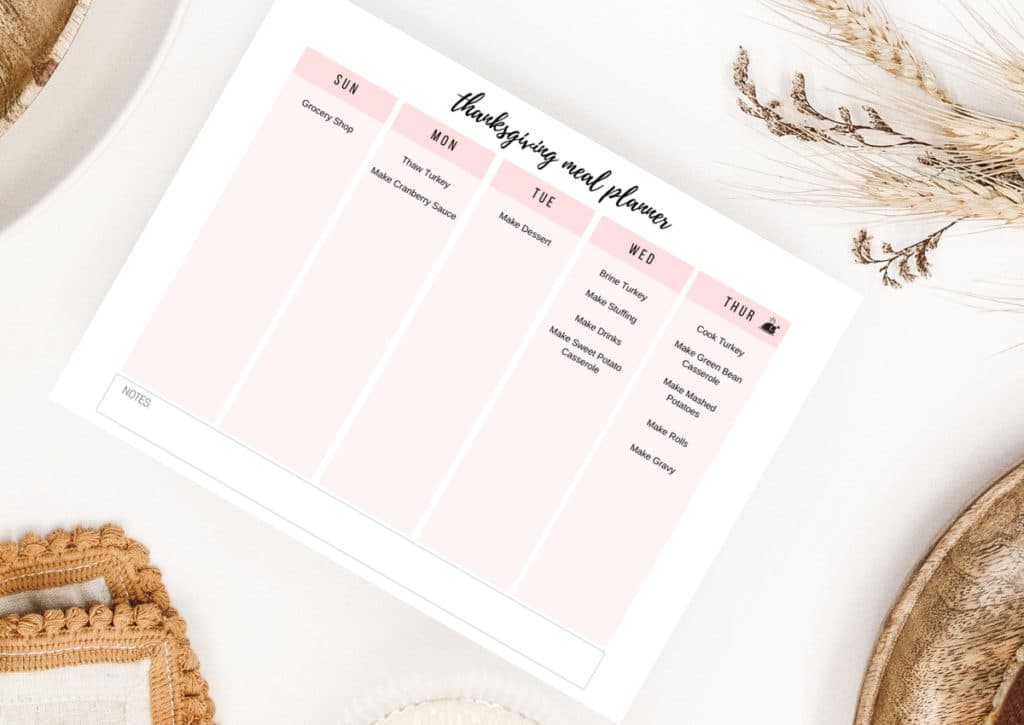 About three years ago, (I'm writing this in 2019) I had a friend reach out and say,
[I need] a planner for cooking holiday meals. Ingredients, order of cooking, something to organize 3 days of cooking. When/how/where. So you don't go "oh crap I needed one more pie crust, and whoops I forgot to cook the hashbrown casserole." It needs to be computer based so it can be printed.
So, I held on to that note from her and copy/pasted it in to my Trello account (because I'm kind of a crazy person like that, and love to have thought/ideas organized for when I need them) and I dug it out today when the creative bug hit me.
Thanksgiving Meal Planner Printable
With Thanksgiving right around the corner, I decided to put my "creative bug" to good use and finally create a Thanksgiving "schedule" template that you can print for your upcoming dinner!
I wanted to create (and still may at some point) a very thorough Thanksgiving schedule, with more suggestions, recipes, cooking tips, etc. but I thought I'd keep it simple for those of you who want something NOW!
(Because what I have swarming around in my head is a BIG deal, and would take a lot of time.)
More Thanksgiving Articles You'll Love:
3-Page Printable Meal Organizer
In this free printable, you get 3 sheets total, and I want to help walk you through how to use them and why I made two versions of the meal plan scheduler.
But, if you're ready to just get right to it, head to the pink box towards the bottom of this post where you can enter your email to get access to the entire printable library, including this Thanksgiving Meal Planner!
2 Meal Plan Scheduler Versions
To try and accommodate those of you who tend to make the Thanksgiving staples AND who tend to stray from the traditional recipes, I've created two different versions of the scheduler.
Scheduled, Suggested Items + Room for More!
With this printable sheet above, you can see that I have the most popular Thanksgiving dishes and recipes included. I've also noted when and on what days you should prepare/think about them!
Blank, Fill-in Meal Planner
With this blank meal planner below, it's for those of you who don't really stick to the traditional Thanksgiving dishes. OR, perhaps you want to use the first one, and then use this second one for overflow for extra items you'll be serving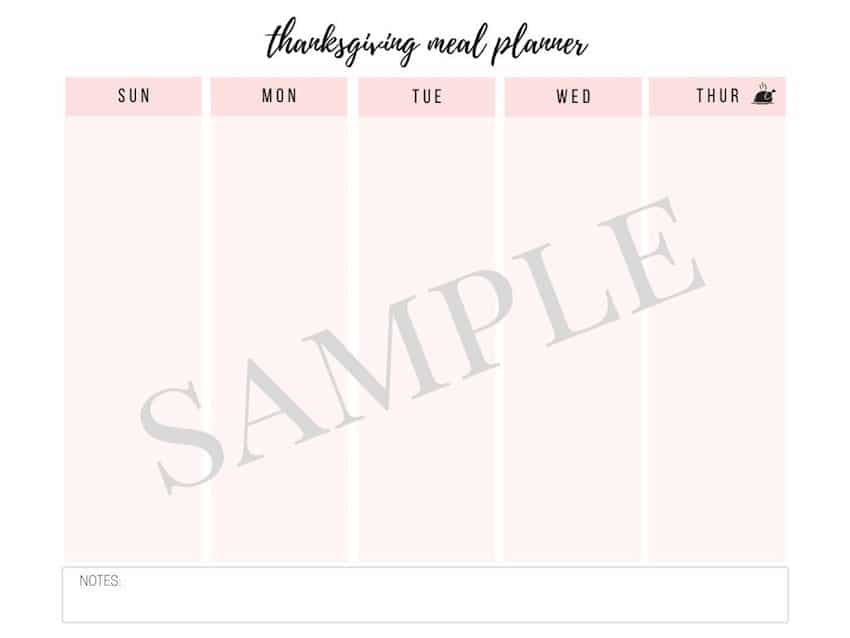 So good news… when you get this Thanksgiving meal planner, you'll get both files so you can decide to either print one or both!
Recipe Organization Printable
Along with the first two printables, you also get this 3rd recipe planner printable, so you can jot down the different ideas or recipes you plan to make for each portion of the Thanksgiving dinner!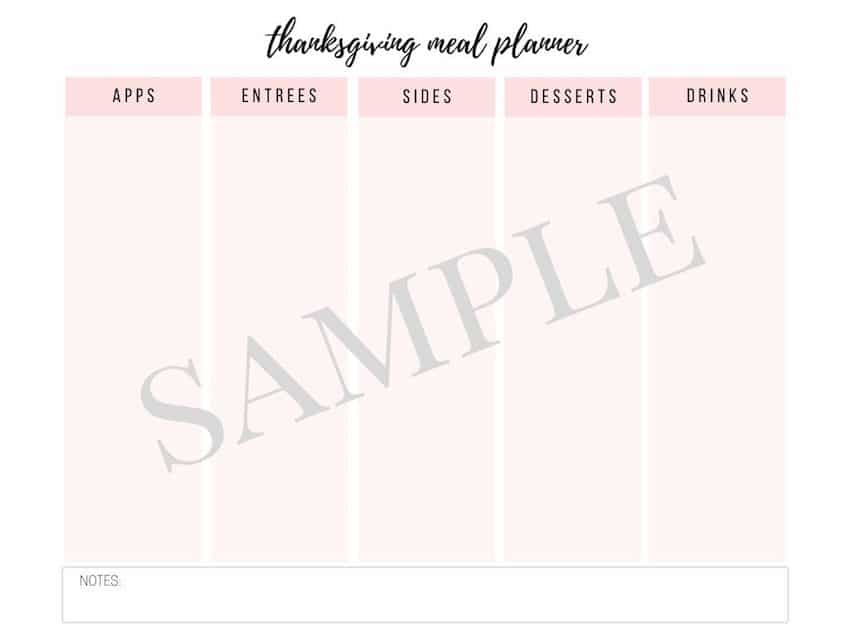 Appetizers
Entrees
Sides
Desserts
Drinks
Thanksgiving Grocery Shopping List
If this is your first time here, then you may not know about the free grocery shopping list printable that I created for you a long time ago!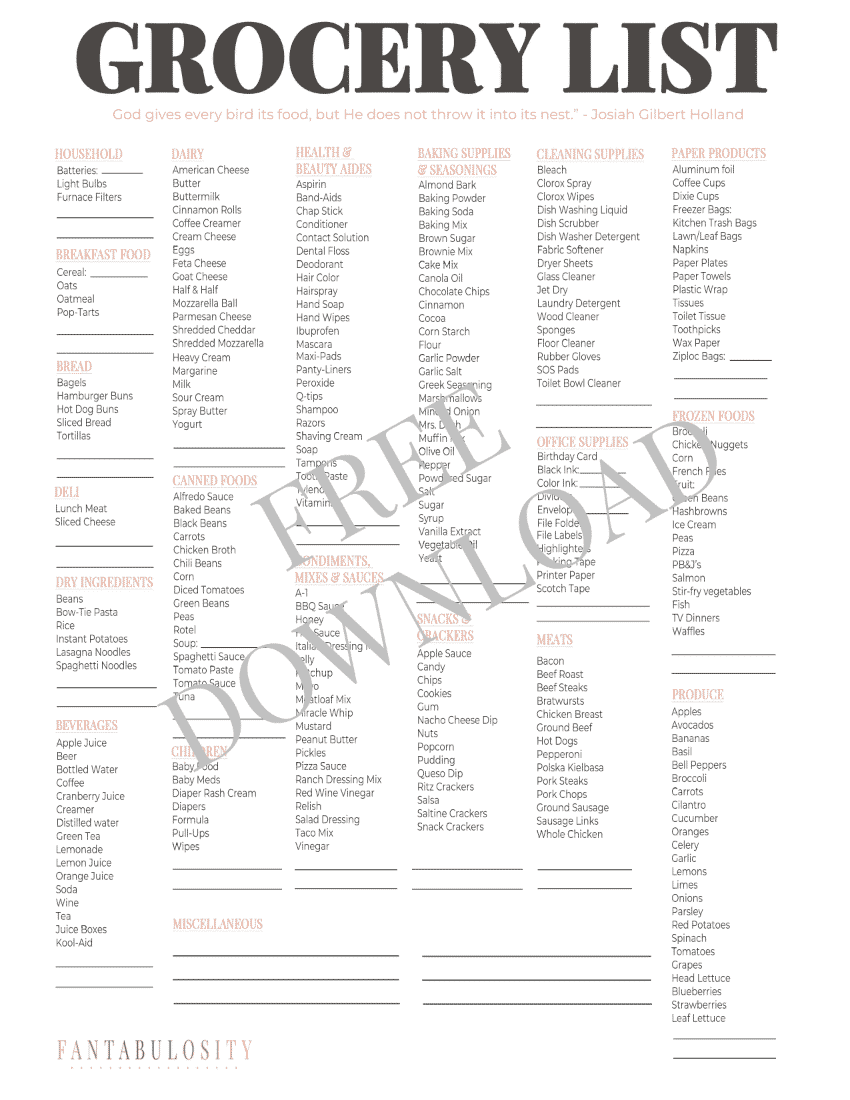 So rather than re-create a grocery list just for this meal plan, I thought I'd introduce you to my ever-so-favorite (and popular) free grocery shopping list, so that way you can use it forever and ever, rather than just for Thanksgiving!
Head here to get the grocery shopping list printable!
How to Access Your Free Thanksgiving Meal Planner…
It's simple! Just select the button below to get your printable right now!
Non-Traditional Thanksgiving Dishes
Our family hasn't really had FULL traditional, Thanksgiving food in a few years (except for the roasted turkey!) so I knew there may be more out there like us, who don't want a Thanksgiving meal planner filled with dishes that they won't use/need so I wanted to keep things simple, flexible and straight to the point!
Our Thanksgiving dinners lately have usually included items like:
Are you a big Thanksgiving tradition follower when it comes to meal planning or do you like to switch things up sometimes? I'd love to hear in the comments below!
Did You Use This?
Snap a pic and hashtag it #Fantabulosity — I love to see your creations on Instagram, Facebook, and Twitter!
Pin it for Later!