Stevia In The Raw® has sponsored this blog post and has provided product samples for this pecan pie recipe.
Pecan Pie with Stevia In The Raw®: A recipe for a favorite dessert, reducing the sugar without sacrificing the deliciousness!
When I shared the recipe for pumpkin streusel muffins with Stevia In The Raw®, I shared with you that when my son was diagnosed with epilepsy a little while back, a Ketogenic diet became common practice in our house, and I grew super familiar with zero-calorie sweeteners like Stevia In The Raw®.
But in case you're not familiar with it, Stevia In The Raw® is a zero-calorie sweetener that is made with an extract from the sweet leaves of the stevia plant and is perfect for any baking and cooking needs!
As a gal who LOVES desserts, you can guess that this is a very good thing. So, if you're a sweets gal that wants to reduce sugar and calories in her baked goods, then you've come to the right place. This pecan pie recipe is going to BLOW your mind, because not only is it delicious, but it is lower in sugar than my normal recipe!
Pecan Pie with Stevia In The Raw®
Now as a big fan of pecan pie, I'll admit… I was a little skeptical when I made this for the first time.
Could it be? Could the beloved pecan pie taste just as good with reduced sugar?
Well, I believe the words that came out of my mouth when I took a bite of it, fresh out of the oven were:
"Oh.My.Word. How is this possible?"
Then I believe I said something to my family like:
"Yeah, don't eat this. It's awful."
I was blatantly lying, so I could secretly have the whole pie to myself because it was that delicious. However, they know me too well and didn't hesitate to grab a fork and come over to take a bite right out of it too.
How to Make Pecan Pie with Stevia In The Raw®
As with almost all the recipes you'll find here, I'm going to walk you through the process with photos in case you're a visual person. You can also find the full recipe card below where you can follow along and even print out for your convenience!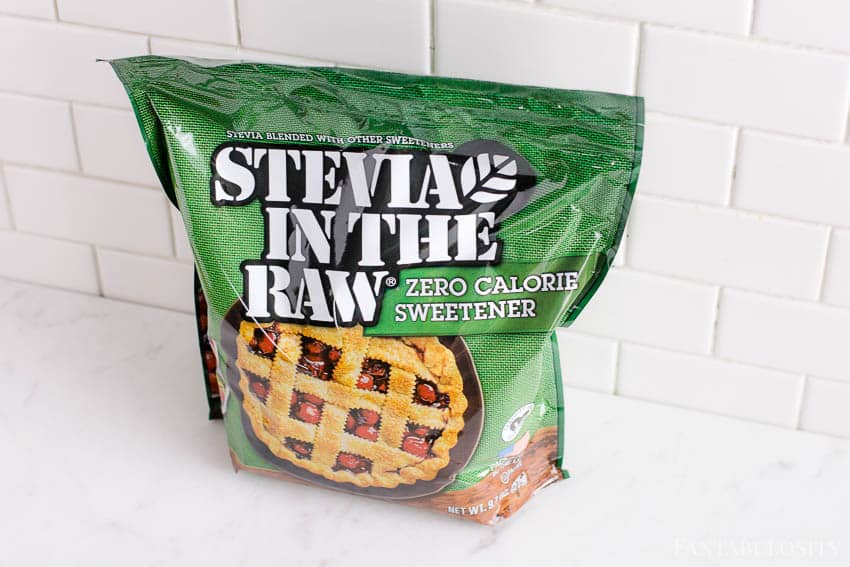 Ingredients for Pecan Pie
For this pecan pie recipe, you'll need:
Eggs
Sugar
Dark Corn Syrup
Vanilla
Cinnamon
Melted Butter
Pecans
Refrigerated Pie Crust
Preheat that oven to 350 degrees and we'll get to rolling!
Refrigerated Pie Crust
I'm a BIG fan of using refrigerated pie crusts for holiday baking (and any baking really), because honestly… I think once you find the right brand that your family loves, it's hard to tell the difference between store-bought and homemade. Plus, if it saves time in the kitchen… that's a BIG win at our house.
However, feel free to make your own homemade pie crust if that's more your style!
Begin by unrolling your pie crust and place it in a pie plate. Set aside.
(Don't worry, you don't have to be a professional crust-styler around here. I'm certainly not, because frankly…as long as it tastes good, it doesn't have to be pretty, right?)
Pecan Pie Filling
In a medium-size bowl, mix together the beaten eggs, Stevia In The Raw®, sugar, vanilla, dark corn syrup, and cinnamon.
Once that is all mixed together thoroughly, it will have that nice golden-brown color that a pecan pie filling has!
Assemble the Pie
Set the pie filling aside and grab that pie crust.
Take the chopped pecans and place those in the bottom of the pie crust.
Next, pour all the pecan pie filling into the crust, and top with the remaining "whole" pecan halves.
How Long to Bake a Pecan Pie
Carefully place the pie into your oven (on a rack that's in the middle position) and bake for 30 minutes.
However, if you're like me, (and since all ovens can bake differently) I start checking my pie at 20 minutes to make sure the crust isn't browning too much.
I would suggest covering the crust with foil to prevent over baking if your pie crust starts to turn too brown or is close to burning.
Oh heavens… can we just have a moment of silence for this beautiful pie?
Did you know that baking a pecan pie was this easy? I'm not going to lie… I thought it was MUCH harder (which I'm sure it can be if making your own pie crust) before I gave it my first run. I'm so glad I gave it a try, because now I'll volunteer to bring the pecan pie to any event!
I hope you love this pecan pie with Stevia In The Raw®. I love the fact that I can reduce the amount of sugar, but not sacrifice the taste with one of my favorite desserts!
Want to Use Stevia In The Raw® for More?
Stevia In The Raw® Bakers Bag helps simplify baking with stevia. It measures cup for cup with sugar, so it can easily be used in recipes to reduce sugar and calories with no conversion necessary (Thank goodness! Easier the better, right?)! Plus, it's formulated so that 1 cup has the same sweetness as 1 cup of Sugar.
Know what else? Up to 700 calories are saved for every cup of sugar that is replaced with Stevia In The Raw®. Now THAT'S something to get excited about!
Pro Tip:
When using Stevia In The Raw® Bakers Bag for baking recipes, it is recommended that the user replaces about half of the sugar in order to achieve the proper browning, rising and caramelizing that only sugar can provide.
📖 Recipe
Pecan Pie with Stevia In The Raw®
Pecan Pie with Stevia In The Raw®: A recipe for a favorite dessert, reducing the sugar without sacrificing the deliciousness!
Ingredients
9-inch pie unbaked refrigerated pie crust

or make your own

1.5

cups

halved pecans

1/2 cup chopped, 1 cup whole

3

eggs

beaten

.5

cup

Stevia In The Raw® Bakers Bag

.5

cup

white granulated sugar

3

tbsp.

melted butter

1

cup

dark corn syrup

1/4

teaspoon

ground cinnamon

1

tsp

vanilla extract
Instructions
If using a refrigerated pie crust, remove from refrigerator and allow crust to come to room temperature before baking.

Preheat oven to 350F degrees.

In a medium bowl, whisk together eggs, Stevia In The Raw®, sugar, melted butter, corn syrup, ground cinnamon

and

vanilla extract until thoroughly combined. Set aside.

Place the chopped pecans (.5 cup of the 1.5 cups) of the pecans into the bottom of your pie crust.

Pour the pie filling into the pie crust, and top with remaining (whole) pecan halves

Bake for 30 minutes. (Or 5-10 minutes longer if you find that your pie is not done in the middle. To check, gently jiggle the pie and if it continues to jiggle after stopping, it may need to bake a few more minutes. A gentle jiggle while shaking is normal.)
After 20 minutes, you may check to see if the crust is baking too quickly and turning too brown. If so, feel free to cover the edges with foil to prevent burning.

Remove from oven and let pie plate cool on a wire rack until it reaches room temperature.
Nutrition
Serving:
1
slice
|
Calories:
242
kcal
|
Carbohydrates:
32
g
|
Protein:
3
g
|
Fat:
13
g
|
Saturated Fat:
3
g
|
Polyunsaturated Fat:
3
g
|
Monounsaturated Fat:
6
g
|
Trans Fat:
0.1
g
|
Cholesterol:
49
mg
|
Sodium:
84
mg
|
Potassium:
80
mg
|
Fiber:
1
g
|
Sugar:
31
g
|
Vitamin A:
159
IU
|
Vitamin C:
0.1
mg
|
Calcium:
21
mg
|
Iron:
1
mg
Nutritional information is based on third-party calculations and should be considered estimates. Actual nutritional content will vary with brands used, measuring methods, portion sizes and more.