This post has been sponsored by Honeysuckle White®. All thoughts and opinions are my own.
This Creole Roasted Turkey recipe is part of a family recipe that gives an oven roasted turkey a flavor that will leave guests asking YOU for the recipe for their own Thanksgiving turkey!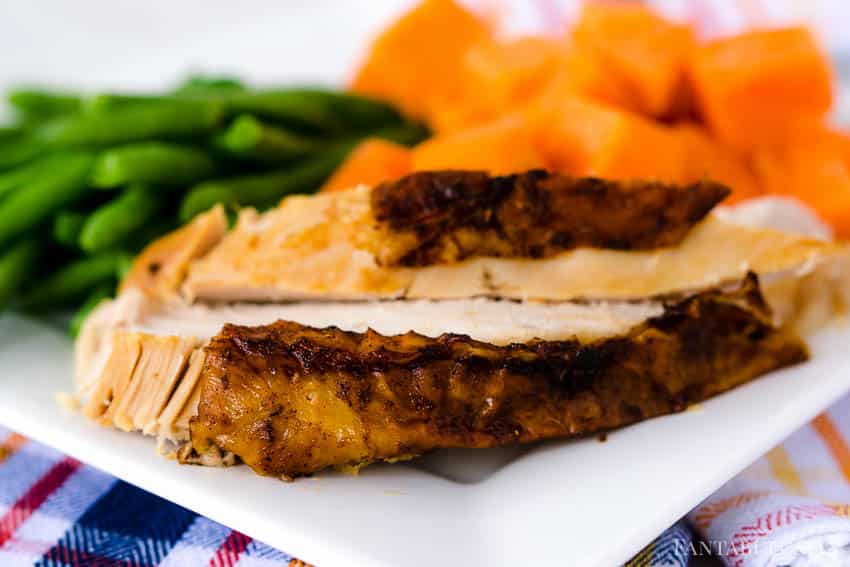 There aren't enough words to describe how excited I am to be telling you about what I was doing when I shared this photo below on Instagram with you last month! I know, I know… it's right up there with one of my fashion unboxing's, right?!
Felt Like "Home"
As a gal who grew up on a cattle farm, I JUMPED on the opportunity when I received an invite to tour Roger and Coleen Plemmons' turkey farm in Iberia, Missouri to get an inside look at one of the independent family farms that raise Honeysuckle White® turkeys.
There's quite a difference in cattle and turkey farming, but it still felt good to experience something so similar that felt like "home".
To say I was impressed is an understatement! You're only seeing a fraction of the turkeys that they raise, and the systems that they have in place for their operation would blow your mind!
So why the invite to tour a turkey farm?
Because this Thanksgiving, more consumers will be able to trace Honeysuckle White® turkeys back to the family farm where they were raised and I was given to the opportunity to see for myself how it all takes place, so I could come back here and share with you what I learned and what you should know!
Farm to Table
Friends, I know more and more of you are becoming so fond of bringing the farm to your table, and when Honeysuckle White® filled me on what they were doing this year for Thanksgiving, I knew that you deserved to know.
See the tv clip where I chatted a bit about this on Show Me St. Louis:
How to Trace Your Thanksgiving Turkey
This year, through a simple text or entering an on-package code at HoneysuckleWhite.com, consumers are able to trace their holiday turkey back to the family farm where it was raised, access the farm's location by state and county, view the family farm story, see photos from the farm and read a message from the farmer.
I mean, how amazing (and fun) is that? Honeysuckle White® is the only major turkey brand to pilot an effort to introduce consumers to the farmer who raised their holiday turkey. Last year was the first time a blockchain solution was used by a major turkey brand.
Connecting the Consumer with the Family Farm
Following a successful pilot program last year, connecting the consumer with the family farm where the turkey was raised, traceable Honeysuckle White® turkeys will be available this year in a greater quantity and in more markets. In 2018, one-third of all Honeysuckle White fresh turkeys will be traceable, whereas during the pilot program last year, only 5 percent were traceable.
The response to the program has been overwhelming. This year 147 farmers opted-in to the traceability program, and 70 were selected to participate because their turkeys were ready for the holiday season. This is a large expansion from the four farms that contributed in 2017.
So more than 200,000 traceable turkeys from Honeysuckle White® will be available to consumers this Thanksgiving, which is more than three times as many from the 60,000 turkeys that were available last year!
Food Transparency is Important to You and They Listened!
I have honestly learned so much through this whole experience, and I have to say… have gained so much respect for the Honeysuckle White® brand, knowing what I know now.
Honeysuckle White® is committed to food transparency and helping to put delicious, nutritious food on the family table.
The brand strives to help consumers understand where their food comes from and how it was produced. Through traceability, Honeysuckle White® aims to connect consumers across the country with the farmers that raise our turkeys.
So Where Do You Find One?
Fresh traceable Honeysuckle White® turkeys will be available by Thanksgiving 2018 at more than 3,500 retail stores across the Midwest and several other markets, including Denver, Nashville and Seattle.
So if you're in any of those markets, you'll definitely want to check for one (see where you can buy one near you HERE) and if you're not in one of the markets… no fear! For the first time, Honeysuckle White traceable turkeys also are available on Amazon HERE!
So are you ready to see how I used my Honeysuckle White Turkey this year?
I can't wait to show you this family recipe that my husband's aunt and uncle so kindly shared with us this year, to share with you!
Although they deep fry a turkey with this recipe in mind, I wanted to provide an oven baked recipe to fit more of the traditional approach!
Creole Roasted Turkey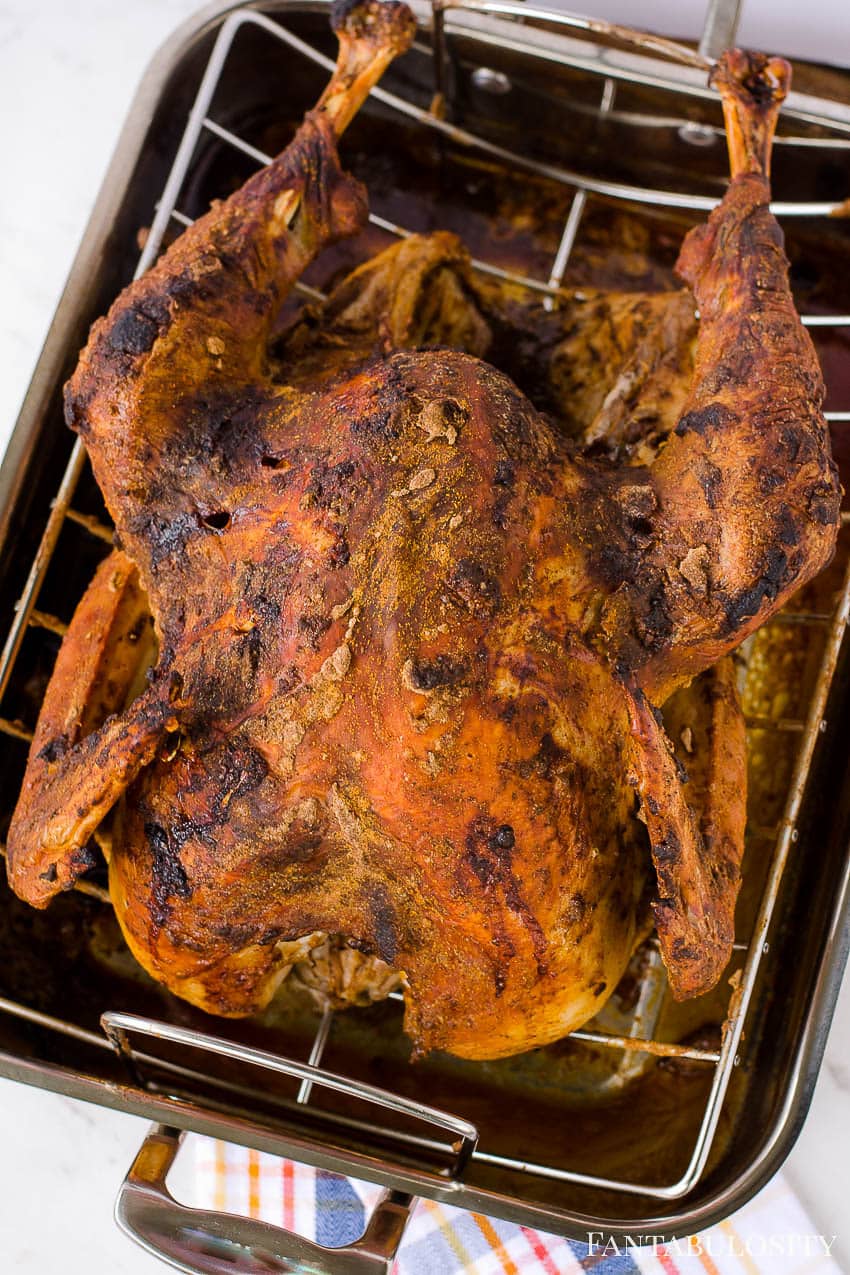 LOOK at the crispy crunchy skin on that turkey! To snag the full recipe, you can see everything that you need and even print out the recipe card at the very end of this post.
However, I'd love to walk you through with photos too in case you love getting a detailed look at how to make this recipe for your own family!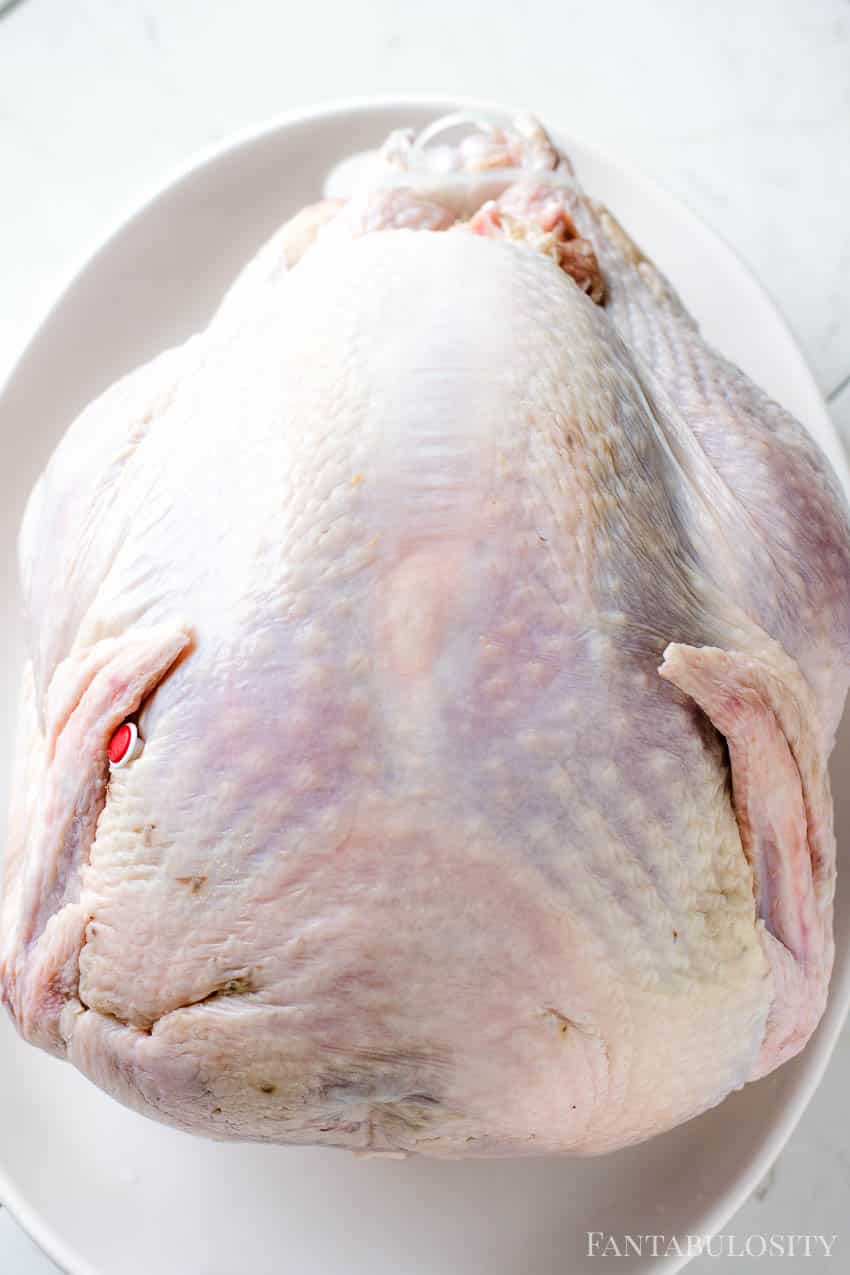 Fresh and Frozen Turkey Prep
If you've grabbed one of the Honeysuckle White fresh turkeys this year, then you won't have to worry about thawing.
However, if you need to thaw your turkey, keep in mind that you will need to allow about 24 hours for each 4 to 5 pounds of frozen turkey in the refrigerator. (If making this recipe I'm sharing below, pull the turkey out of the refrigerator and inject the marinade the night before baking if possible!)
Once Thawed:
• Cut off the plastic around the legs
• Remove the neck, cut off the tail, and remove the giblet bag from the inside.
PRO TIP: Allow turkey to become as close to room temperature before baking!
Injected Marinade Tips
Using ingredients like chicken broth, onion juice, garlic juice, liquid smoke, Worcestershire sauce, and lemon juice, from the Creole Roast Turkey recipe below…creates a flavor that packs the inside of the turkey with a flavor, making it a step you don't want to skip!
What is onion juice and garlic juice?
I had the same question when we took the first peek at the recipe from our family. Those juices are sold by the bottle in some areas, but if you struggle to find them, you can do what I did…
For the onion juice, I grabbed a juicer to extract the juices. (You may also be able to use the liquid that jarred onions rest in.)
For the garlic, I simply bought a jar of minced garlic and used the liquid that the garlic rests in, inside of the jar.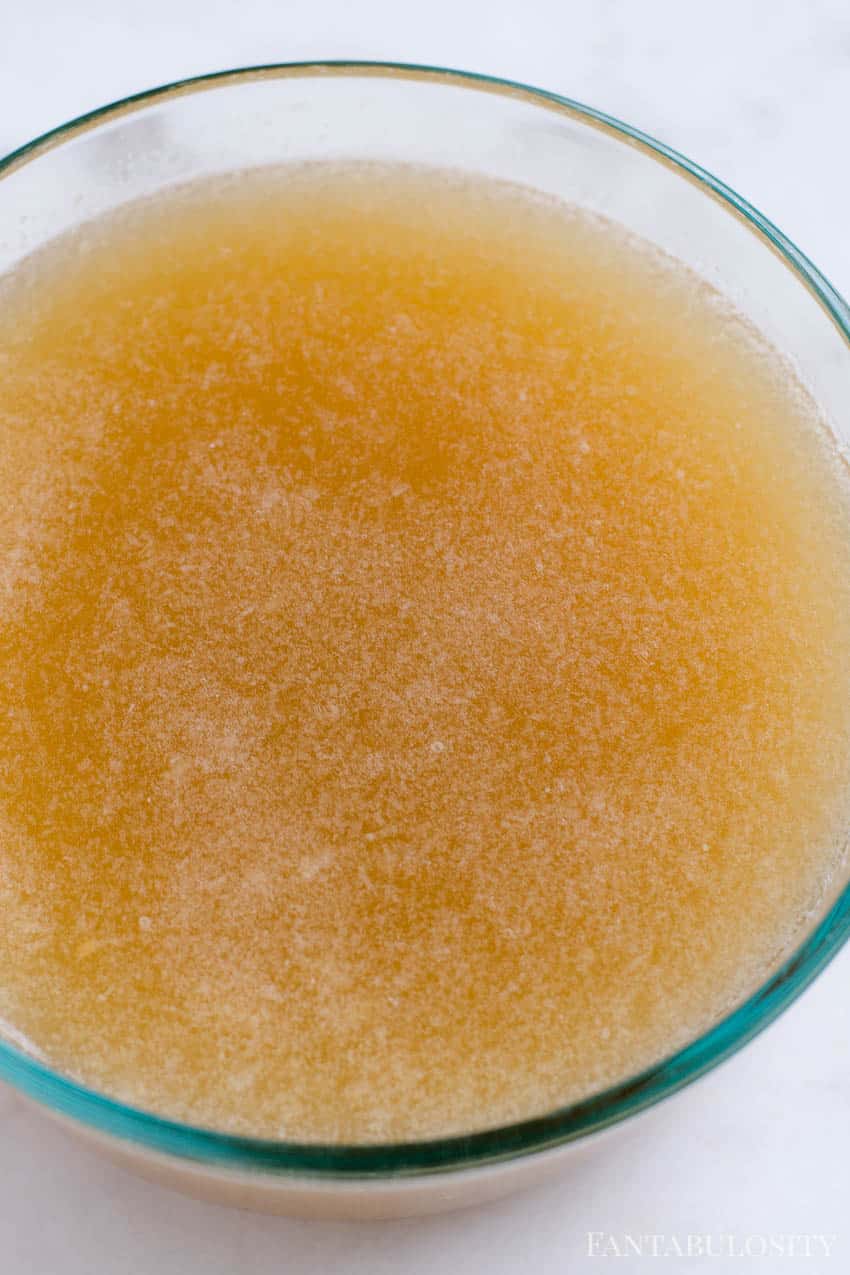 Once the marinade ingredients are mixed together, they're ready to inject into your turkey!
How to Inject a Turkey
To inject your turkey, you'll want to inject multiple areas with the marinade, especially through the breast, thighs, thick part of the wings, and legs.
Then, if injecting the night before, place your turkey back in the refrigerator the rest of the night and pull out to allow enough time for the turkey to become room temperature before baking.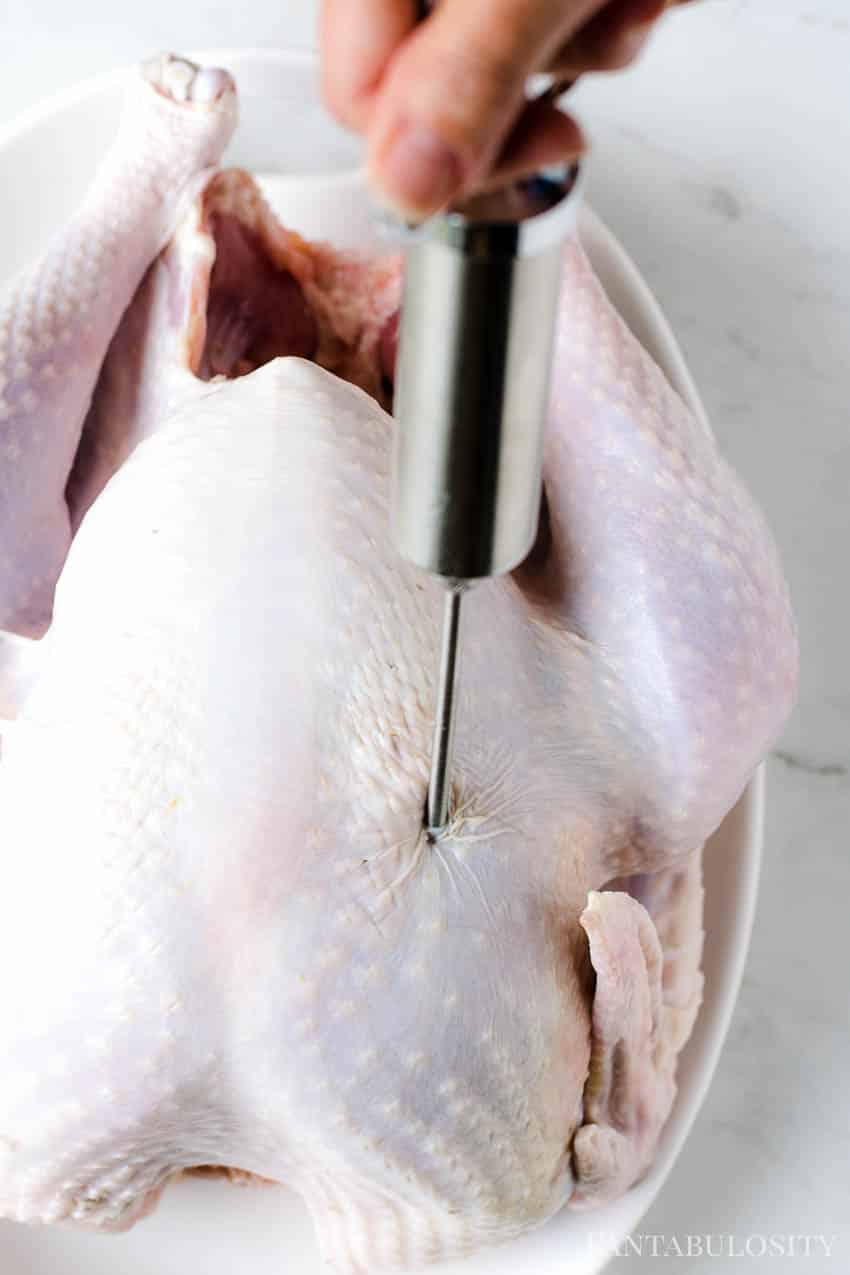 PRO TIP: Preheat oven to 475, and while preheating, you can mix up your rub!
Creole Rub
This is where the creole flavor comes in, and really gives a kick to your turkey!
Before baking, mix together the creole seasoning and mustard in a bowl.
"Rub" It On…
When evenly mixed, coat the outside of the turkey with 1/2 of rub, apply about a 1/4 under the skin around the neck, and then use the remaining rub to coat the inside walls of the turkey.
Turkey Cook Time and Temperature
Once the turkey is injected and has the rub applied, place your turkey into a turkey roaster with a roasting rack.
Bake at 475 degrees for 30 minutes, then reduce the temperature to 350 and bake until the internal temperature of the turkey reaches 165 degrees. (This was about 3 hours for us, and for our bird. Yours can differ depending on size and oven temperature!)
PRO TIP: Honeysuckle White® turkey's come with a pop-up timer. But if you plan to use your own thermometer, make sure to insert the thermometer in the thickest part of the thigh, right where the thigh meets the breast, and push it in until you feel it slide into the thigh meat. (DON'T push it all the way into the bone.)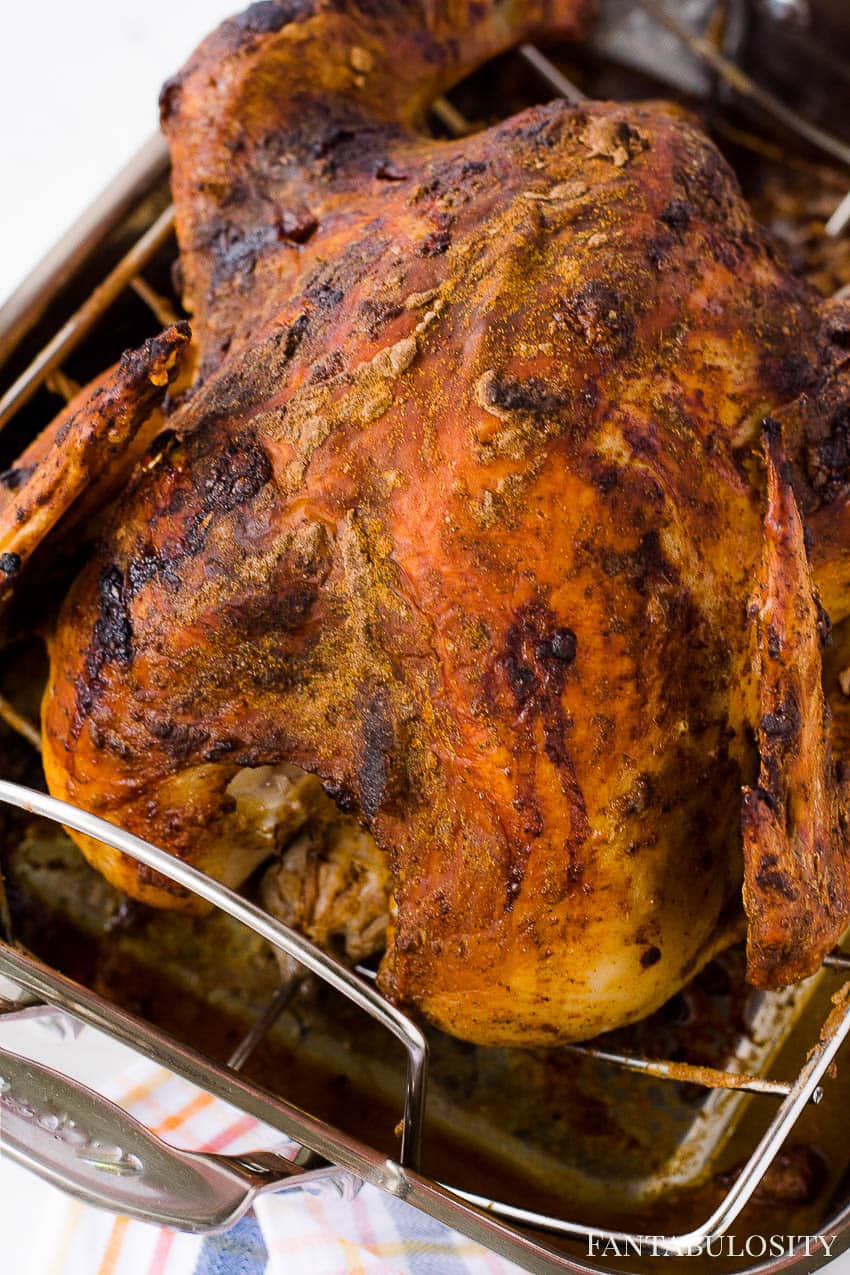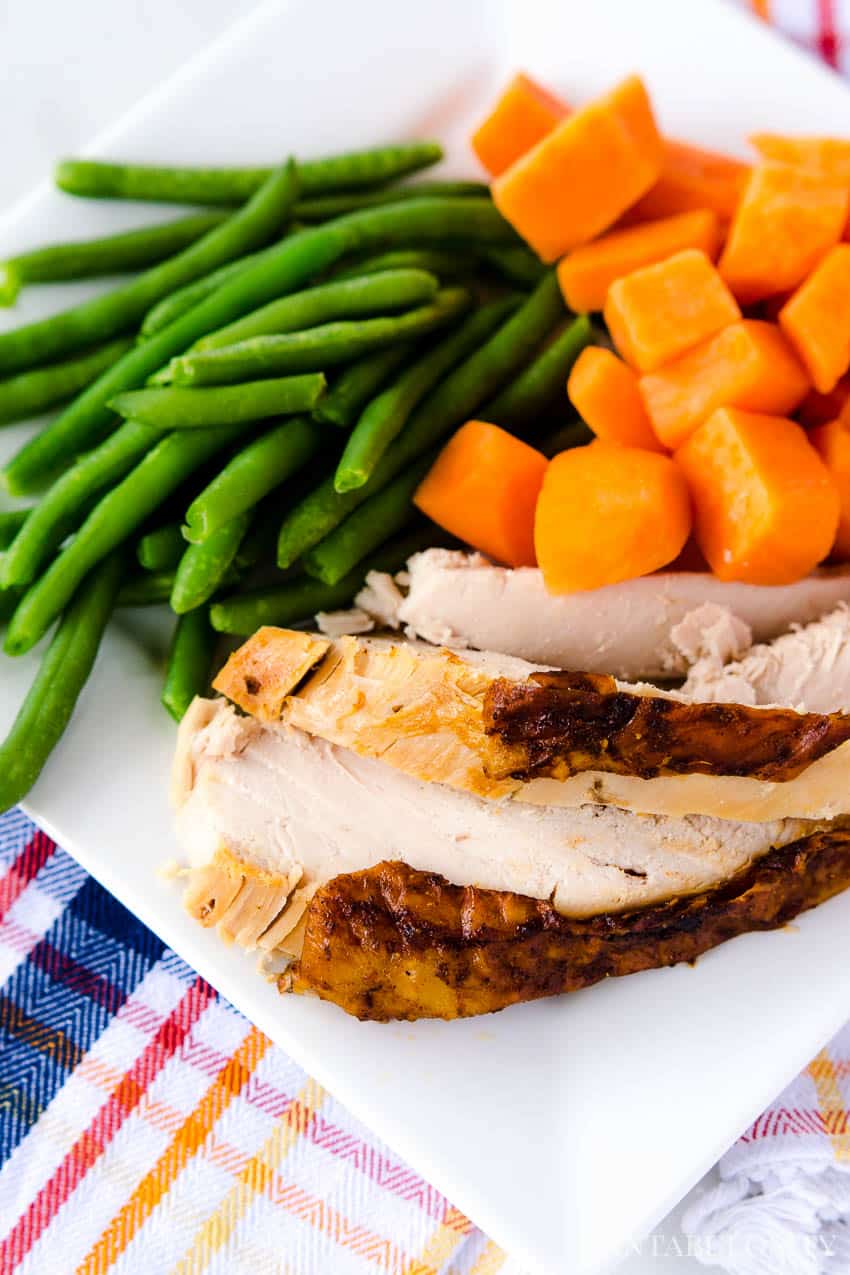 Oven Roasted Turkey – Thanksgiving Table Worthy
Now doesn't that turkey look like something you'd be proud to put on your Thanksgiving table this year?
Friends, if you're intimidated by cooking a whole turkey this year, I encourage you to try this one.
Did I enlist in my mom and dad's help with my first turkey? You bet. It's ok to learn from someone you know and trust… and once you've tried it once, it will be so much easier to make the next.
You never know, you may just be the one to be in charge of the turkey from now on because you're so good at it!
Creole Roasted Turkey
This Creole Roasted Turkey recipe is part of a family recipe that gives an oven roasted turkey a flavor that will leave guests asking YOU for the recipe for their own Thanksgiving turkey!
Total Time
3
hours
20
minutes
Ingredients
Turkey
1

Honeysuckle White® Turkey

12-14 lb turkey
Injected Marinade
14.5

oz

can chicken broth

4

oz

onion juice

bottled or homemade

2

tbsp

garlic juice

2

tbsp

liquid smoke

2

tbsp

Worcestershire sauce

juice from 1 lemon
Rub
1/3

cup

creole seasoning

4

tbsp

yellow mustard

the condiment, not the dried spice
Instructions
In medium-size bowl, mix together all ingredients for marinade.

Preferably the night before baking, inject completely thawed turkey with the marinade mixture and let sit overnight.

When ready to bake, pre-heat oven to 475 degrees.

While pre-heating, mix together "rub" (mustard and creole seasoning) in a small bowl.

Coat outside of turkey with 1/2 of rub, apply about a 1/4 under the skin around the neck, and then use the remaining rub to coat the inside walls of the turkey.

Place turkey on rack and roasting pan and bake in 475 degree oven for 30 minutes, then reduce oven temperature to 325 degrees.


Bake until internal temperature of turkey reaches the proper food and safety requirements of at least 165 degrees. (See notes in blog post for recommended thermometer placement to receive accurate temperature readings.)
Recipe Notes
Please keep in mind that the nutritional information provided below is just a rough estimate and variations can occur depending on the specific ingredients used. 
Nutrition Facts
Creole Roasted Turkey
Amount Per Serving (1 g)
Calories 317
Calories from Fat 108
% Daily Value*
Total Fat 12g 18%
Cholesterol 154mg 51%
Sodium 456mg 19%
Potassium 561mg 16%
Total Carbohydrates 2g 1%
Protein 47g 94%
* Percent Daily Values are based on a 2000 calorie diet.
My Favorite Thanksgiving Side Dish
Are you looking for side dishes to go along with your Creole Roasted Turkey?
For our Thanksgiving dinner, we ALWAYS have a salad, and when I'm assigned to bring a salad, you can almost bet that I'll be bringing along the BEST Side Salad there is! It has a secret that makes it the best, and you'll more than likely never go back to just dumping some lettuce in a bowl!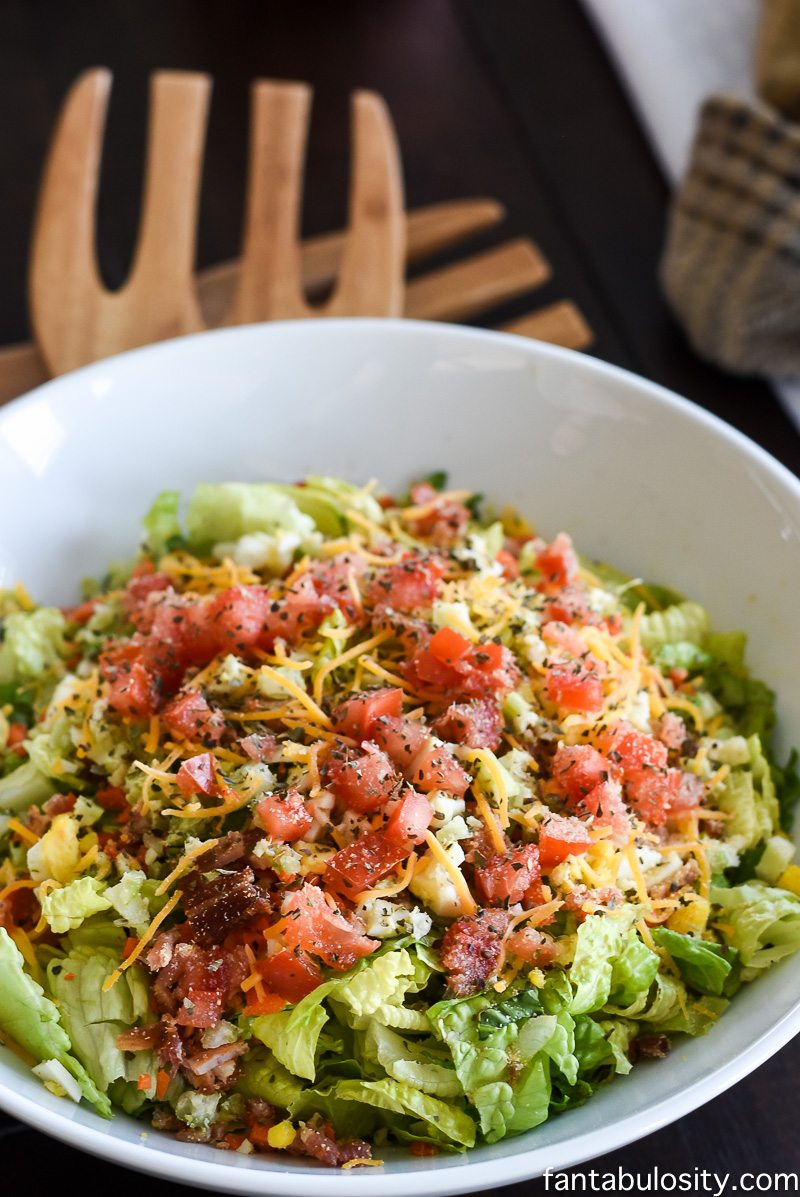 I can't thank Honeysuckle White® enough for inviting me to share in the Honeysuckle White® traceable turkey program this year. It's only one example of how Cargill is using technology like blockchain to shape the food system of the future, and I'm so happy to be a part of it!
Pin it to Remember it!