This post brought to you by General Mills cereal. The content and opinions expressed below are that of Fantabulosity!
Cereal Bar Ideas: No matter if you're looking for ideas for bridal showers, baby shower ideas,  Mother's Day ideas, or any festive breakfast or brunch party ideas… this "Pretty in Pink," cereal bar is an easy and GORGEOUS food bar and party theme to host for the special lady.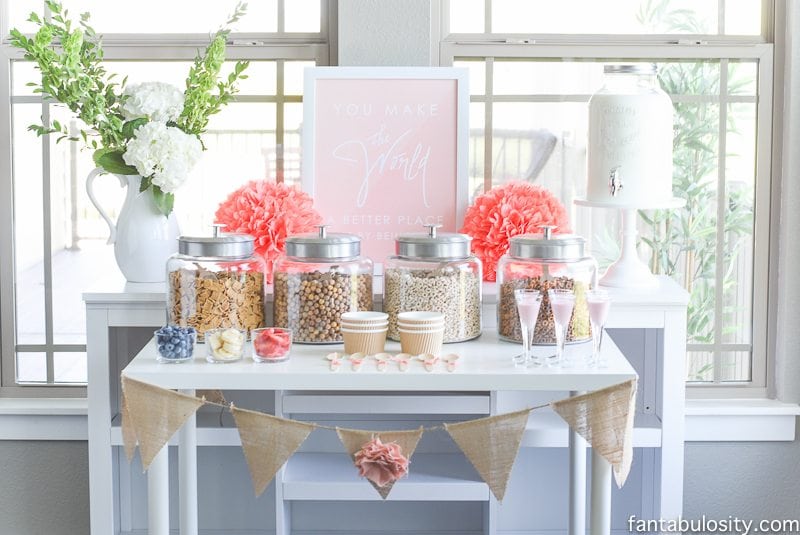 Cereal Bar Ideas
Springtime brings beautiful pastels, bright whites, and floral fun. If you're planning on hosting an event this spring, this FABULOUS party theme, may just be what you're looking for. Wanting to do a little something special for your mom for Mother's Day? Invite her over one morning, to catch-up on family-life, while surprising her with an easy DIY cereal bar, created in her honor.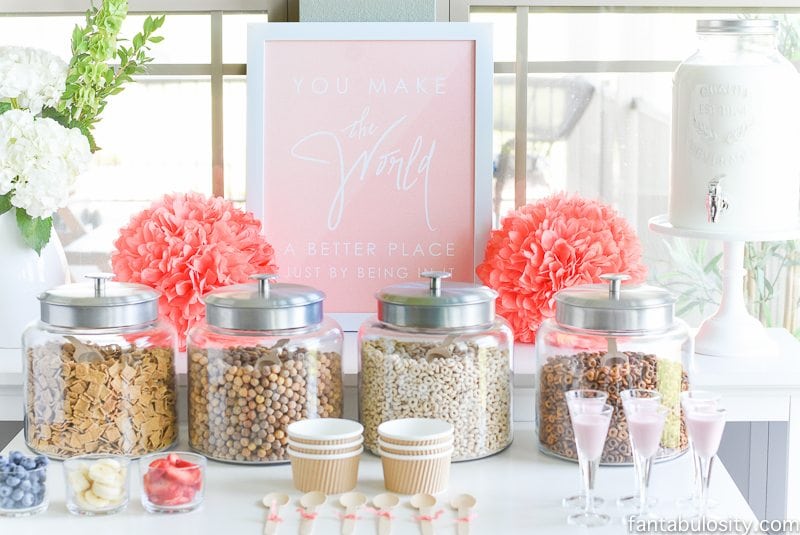 Cereals To Use:
If you're looking for a natural color palette (which is my all-time favorite color scheme), choose cereals such as I did, like:
Golden Grahams
Reese's Puffs
Frosted Cheerios
Chocolate Cheerios
…which are just a FEW of my favorite cereals from General Mills right now. Why? Did you know that General Mills has now removed artificial flavors and colors from artificial sources from more than 80% of their cereals, which also include a ton of my favorites like, Trix, Cocoa Puffs, and Fruity Cheerios! I now feel SO much better feeding my kiddos the General Mills cereals. The company is the first major cereal company to replace those artificial ingredients with natural fruit and vegetable concentrates and spice extracts.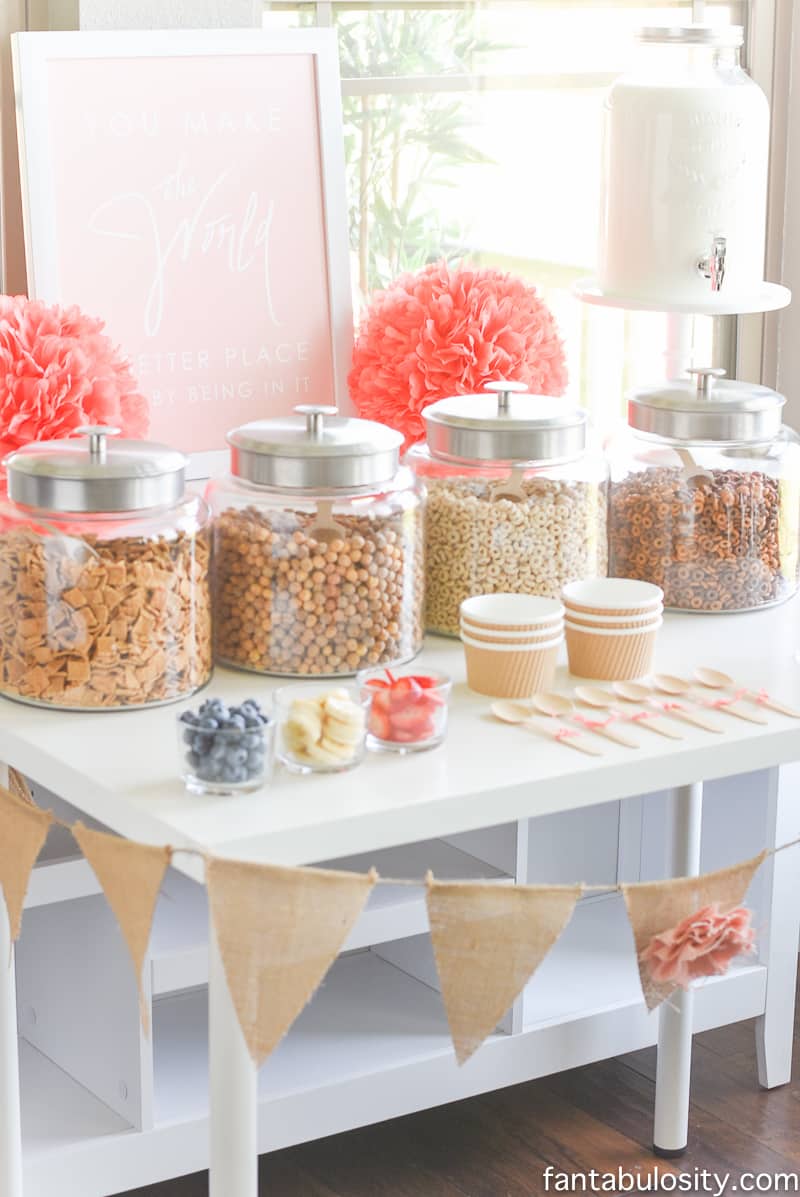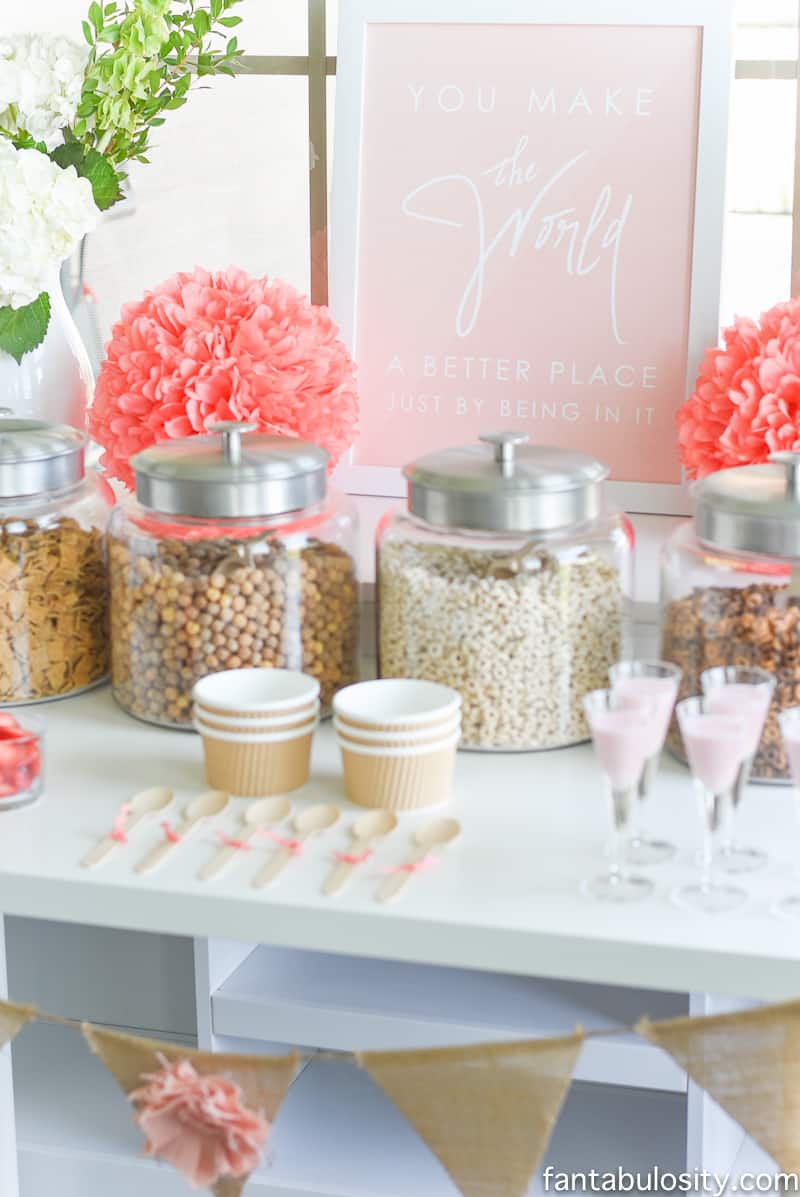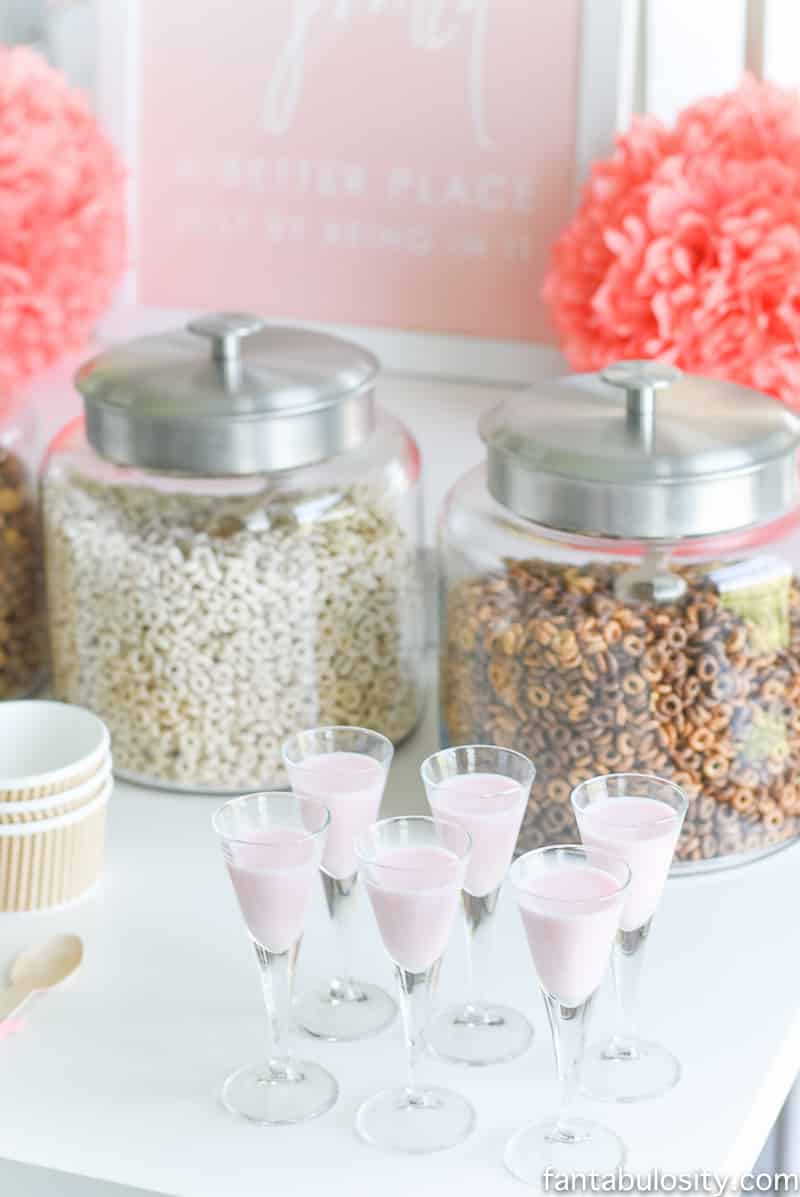 Canisters Used
For this cereal bar, I wanted a canister or jar big enough to hold quite a bit of cereal, with a big enough opening for a scoop, so I used these 1.5 gallon jars and they worked perfect!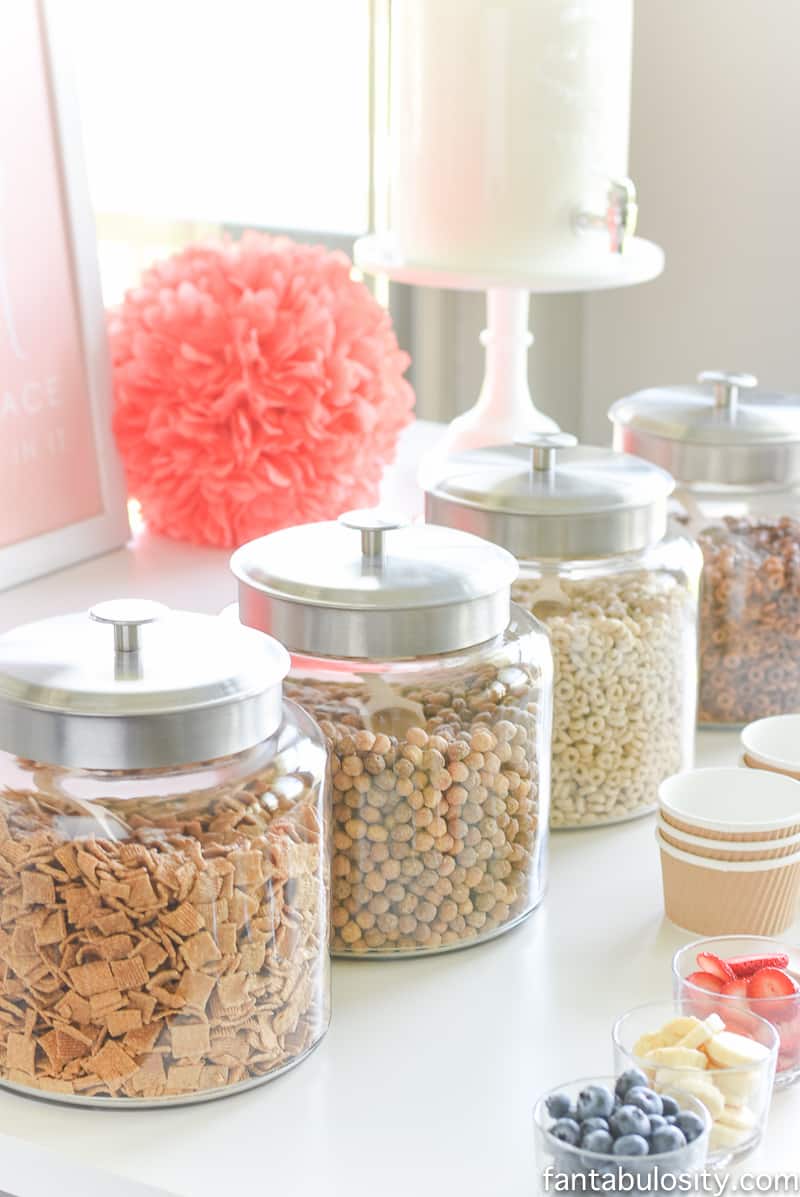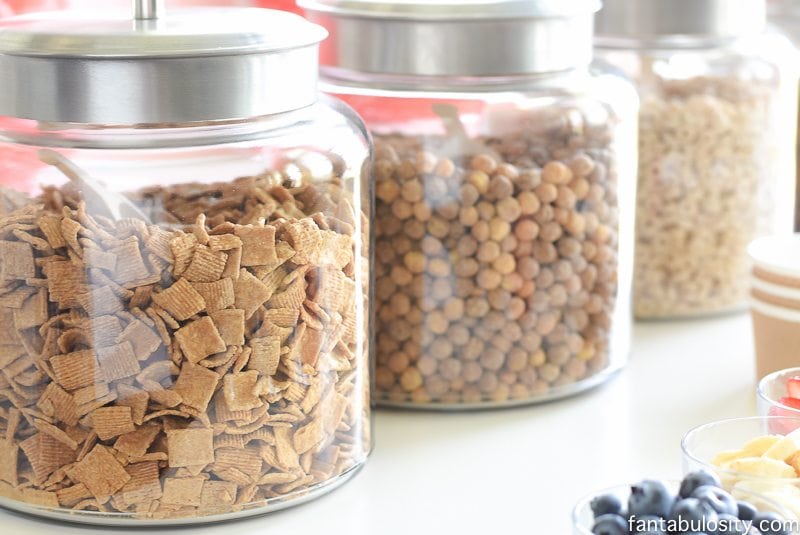 Provide additional fun and tasty cereal "toppings," for your guests to add to their individual bowls – such as fresh fruits like those pictured here, or I even like to add chopped nuts for an added crunch. It's a cereal buffet! Let them mix it up, and have fun with a few different creations!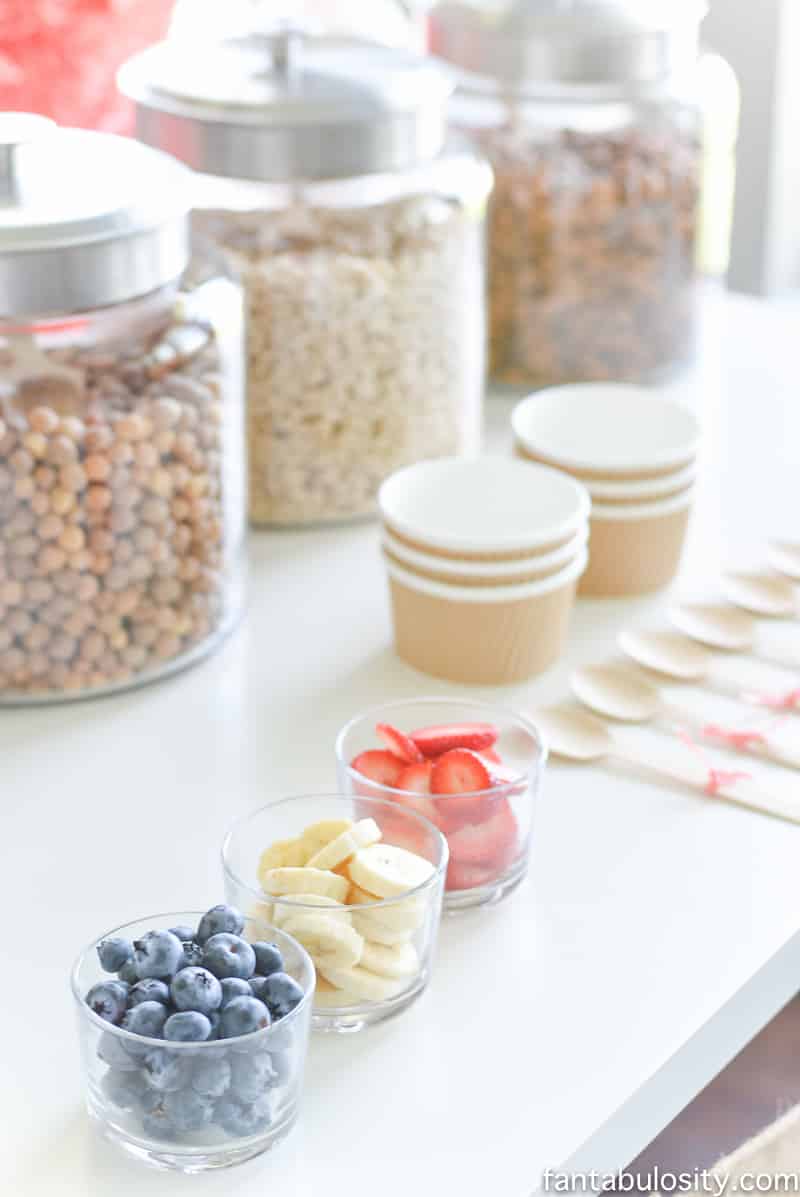 Quick Party Decor Tip: If your table needs a little "pep," just tie a ribbon around the wooden spoons! It adds the perfect touch to a simple must-have item.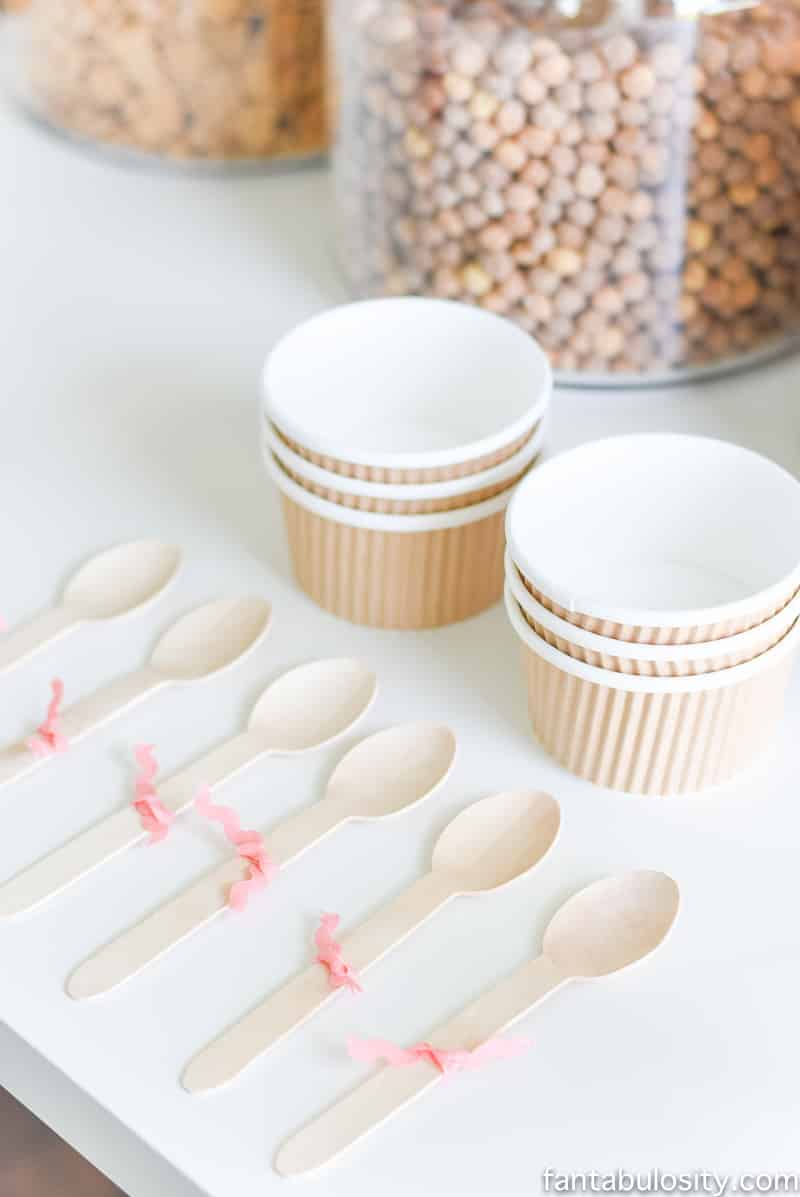 Don't just display a big store-bought gallon of milk for drinking. Make it festive and let your guests drink out of special occasion glasses! A simple beverage, all of a sudden…is darling. To find out exactly how I made this pink drink idea, you can see it here, along with a lot of other pink drink ideas, for any occasion!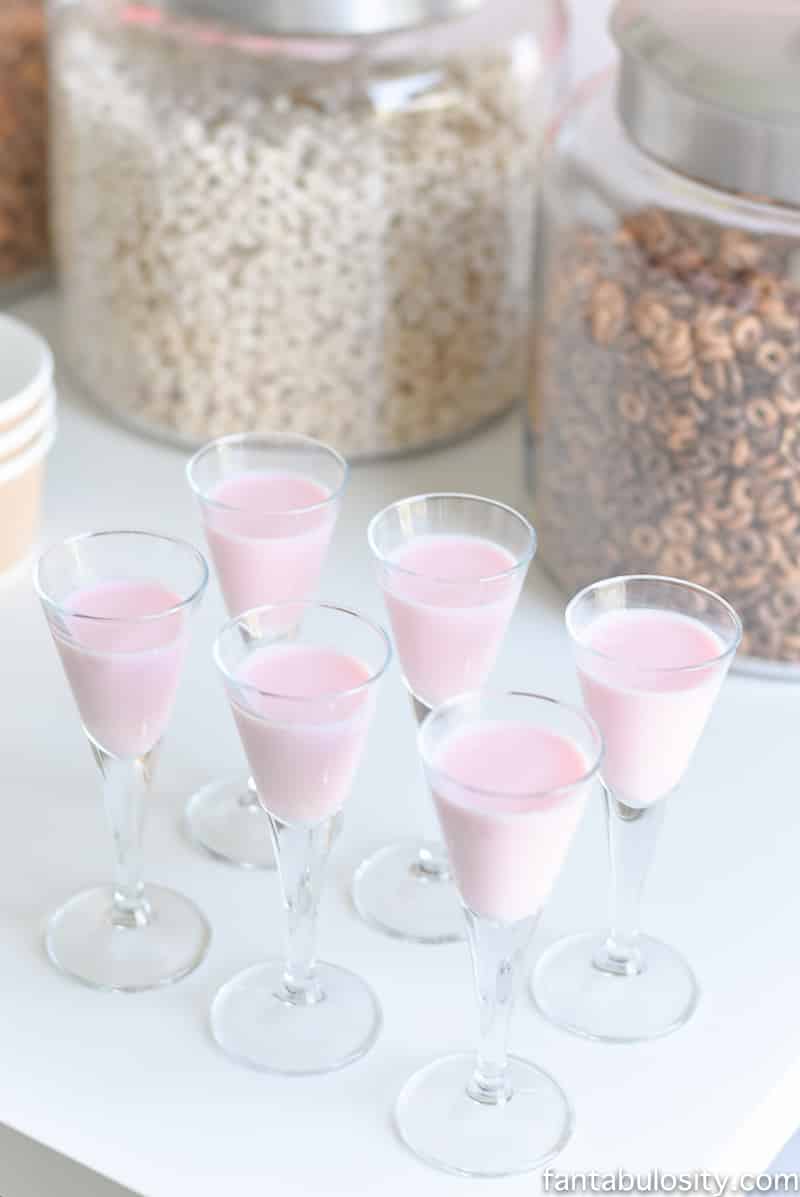 A beverage dispenser adds SO much flair to a table, no matter what party theme. Classy, clean, and easy to use.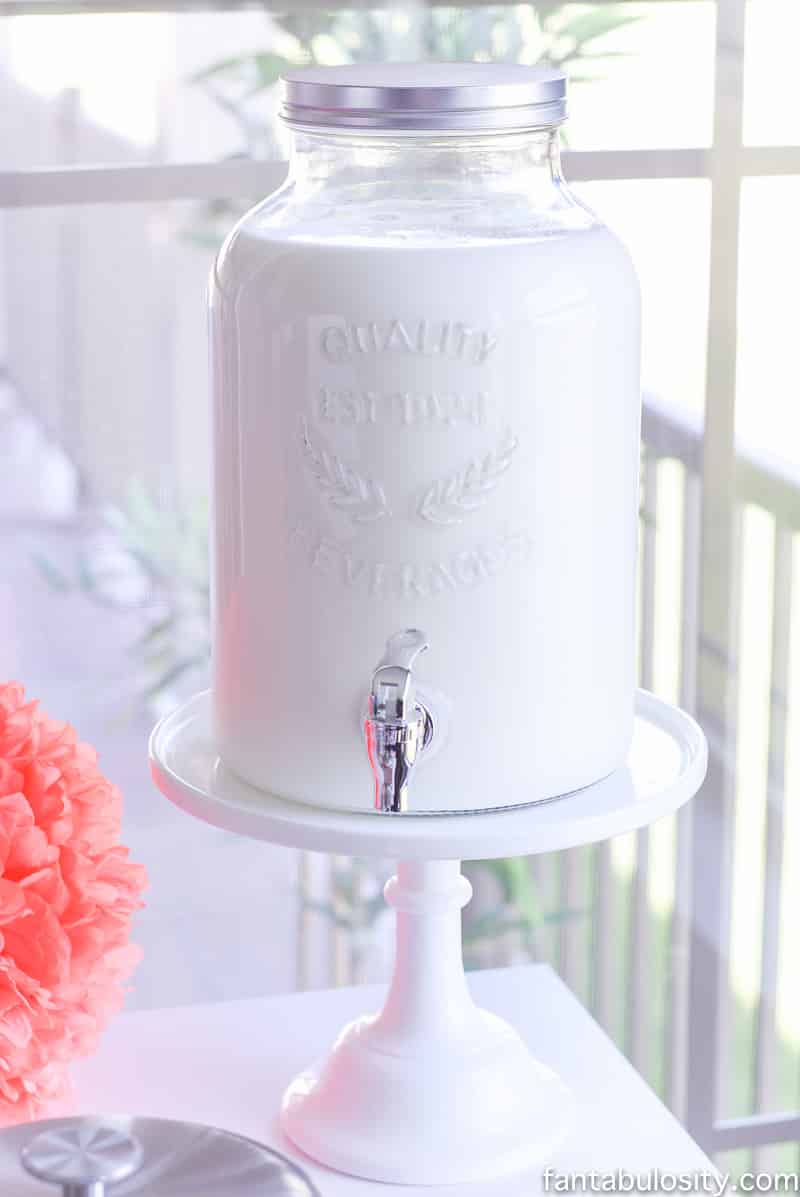 Remember to make your guest of honor feel special… display a sweet message on a sign as a beautiful way to make their heart go pitter-pat.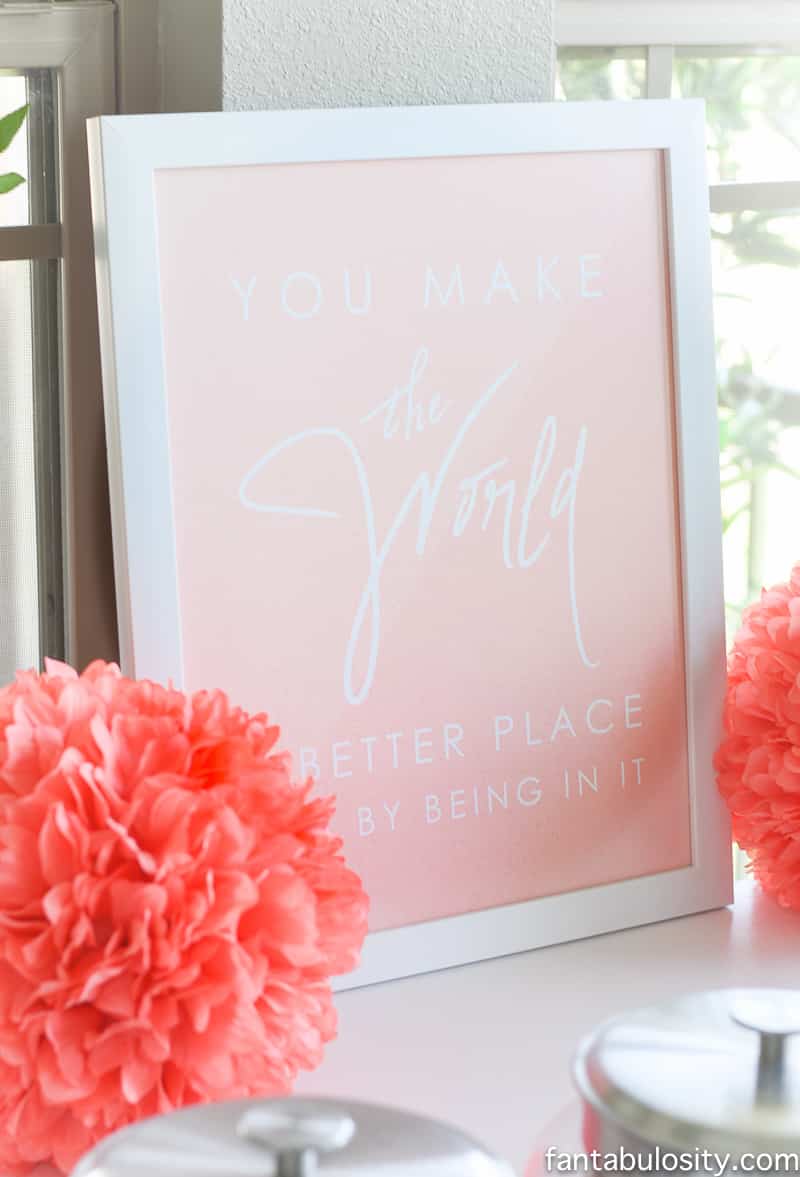 Party Secret Weapon: Fresh flowers! They decorate for themselves. Absolutely beautiful, fresh, and the guest of honor can take them home with them!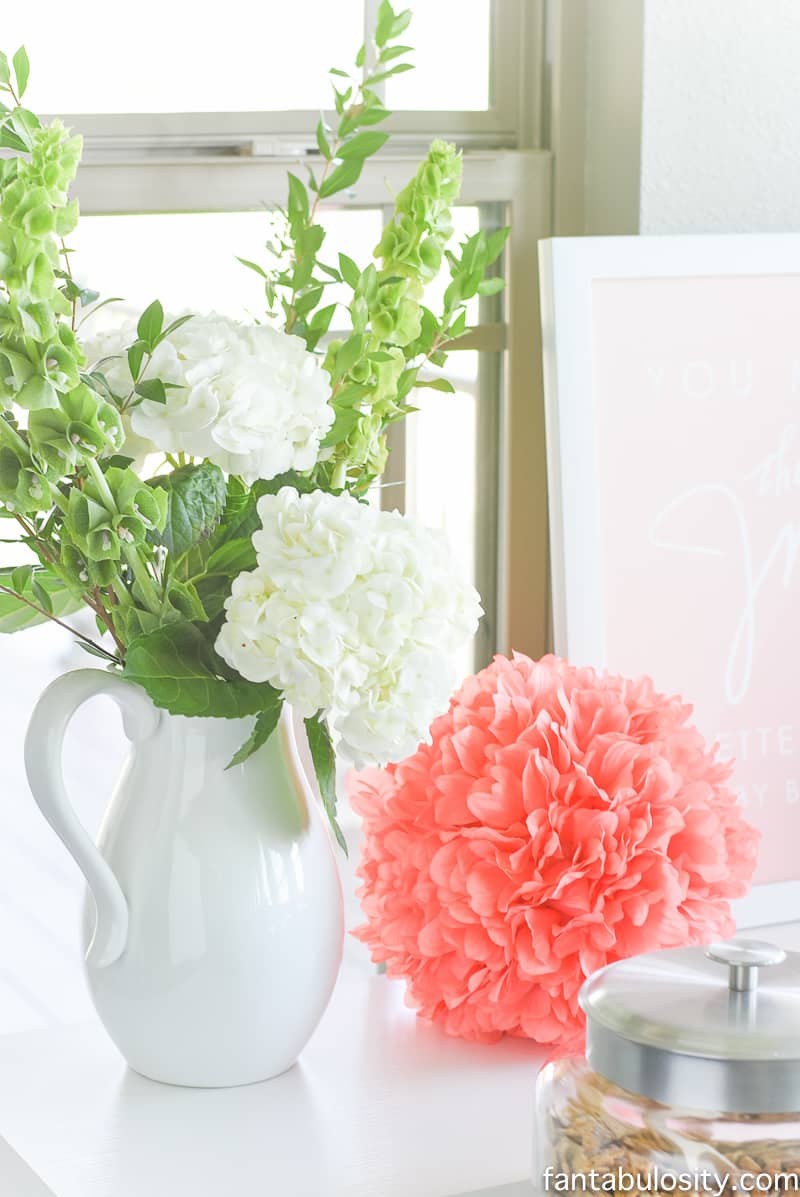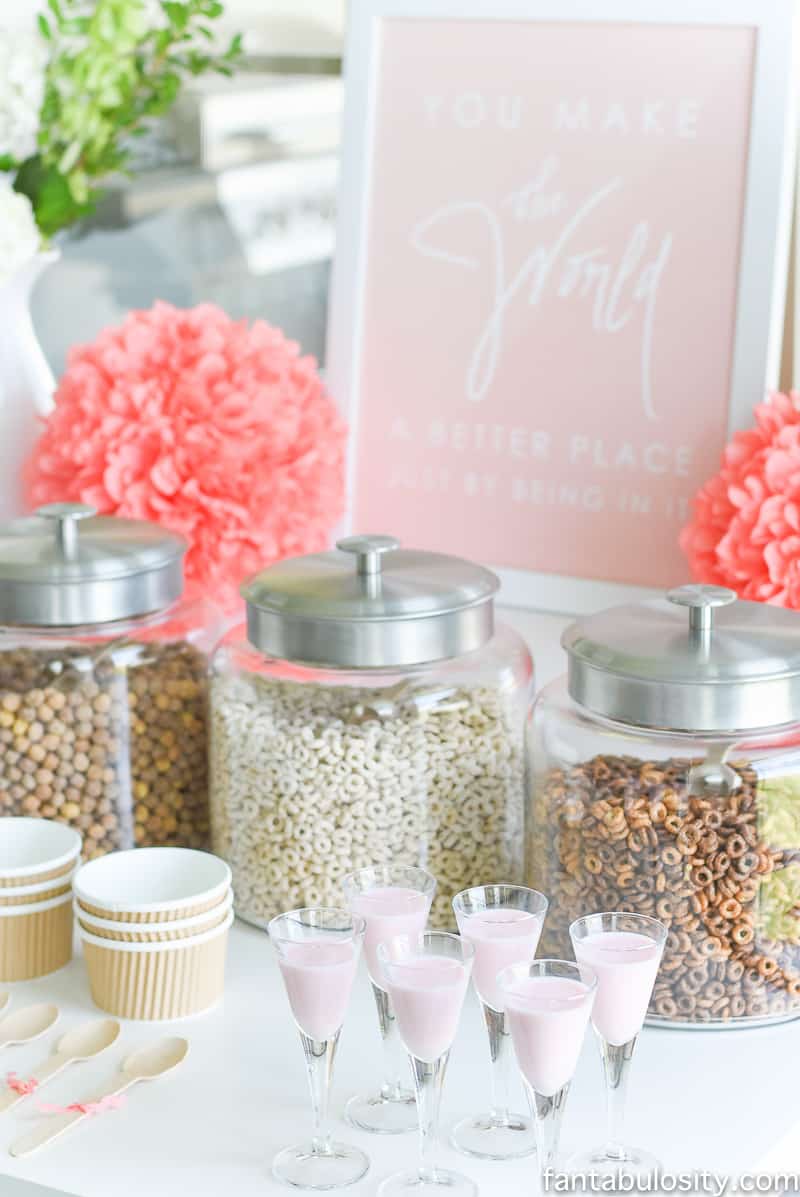 How amazing would it look to have these pink strawberries next to the drinks/cereal on this food bar, too?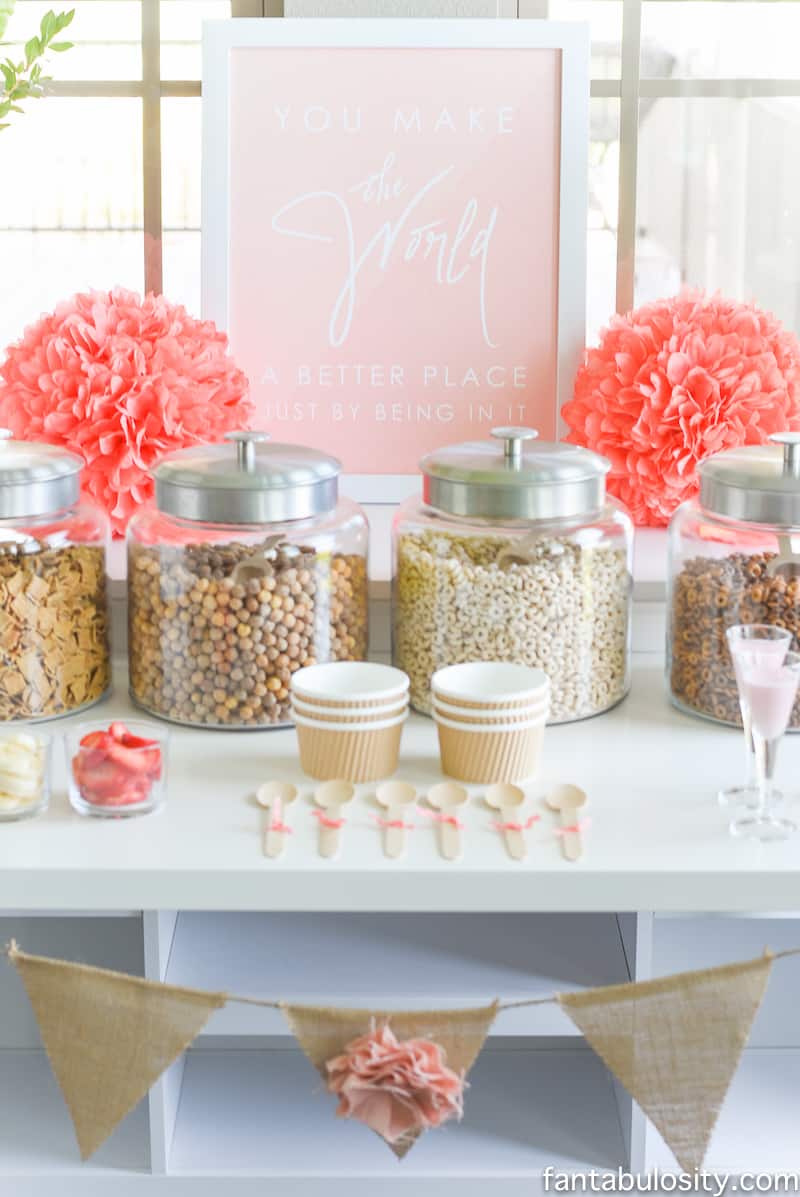 Fun To-Go Container Idea
Although I made this breakfast gift kit as a "gift" I think it would be an amazing to-go container idea for your guests to take with them!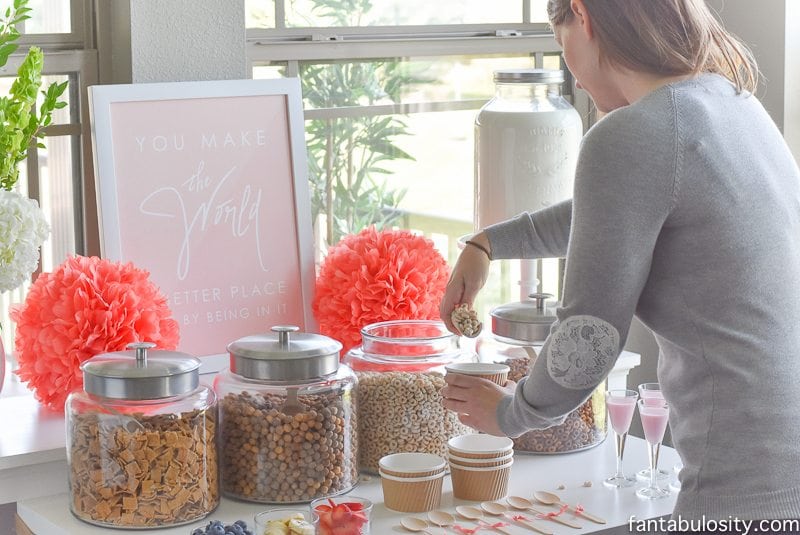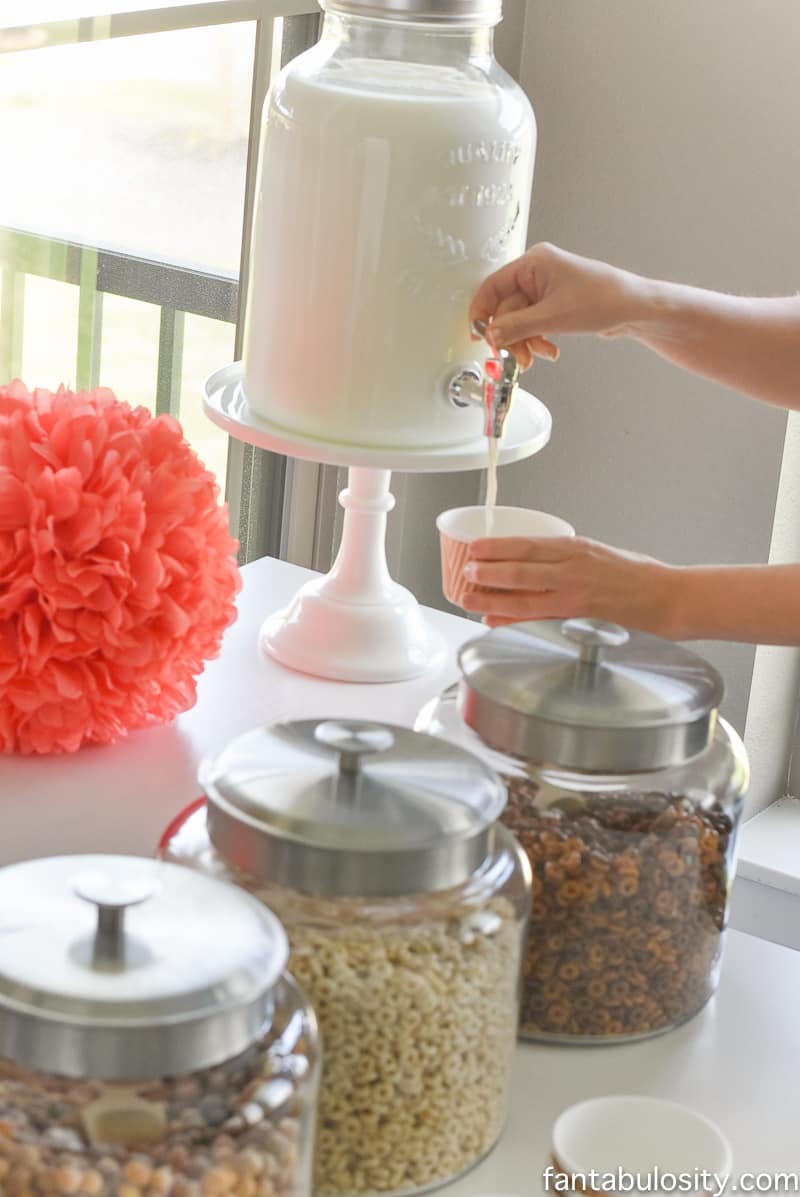 If you're not much on cooking or if time is tight, a DIY cereal bar or buffet may just be what you're looking for to make a splash at your next party!