This shop has been compensated by Collective Bias, Inc. and its advertiser. All opinions are mine alone. #EmergenCRecipes #CollectiveBias
Fresh Juice Bar Brunch: Add a simple fresh juice recipe to your brunch table when hosting for a beautiful pop of color, and a healthier option for your guests.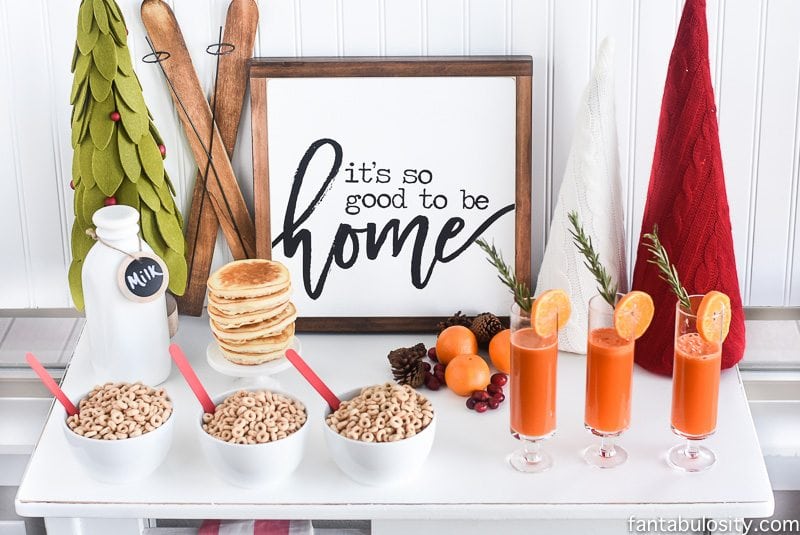 Fresh Juice Bar Brunch
For a few years now, I've been juicing fruits and vegetables for our family. (Not every day, and some times, not even every month.)
I'll go through spells where I'll do it a few times a week, especially during the Winter months when a lot of "sick-bugs," are floating around. It's a challenge to get my littles to eat raw veggies, so if I can turn them in to "juice," they're more willing.
Luckily, my husband really enjoys it when I juice as well, and I love tying it into my routine for an extra boost of immunity if possible especially during the Winter months. So when my girlfriends came over for brunch the other day, I set up a tablescape filled with some of my favorite items and my favorite fresh juice recipe. Yes, it's true… I'm one of those that likes to set up a display for just about EVERY excuse to get together. I mean, who doesn't love food bars for a get-together?
Decorating a Brunch Table with Items on Hand:
A brunch tablescape filled with pops of beautiful colors and ready-to-serve items, is the perfect combination to an easy entertaining spread. As with any party or get-together, one of my favorite party tricks is to decorate the display table with items that I already have on hand.
• Home decor
• Seasonal Decor
• Garnishes
• Linens & Fabrics
Brunch "Eats":
I served some of my favorite pancakes (that I made ahead of time, and froze for quick meals) and prepared bowls of cereal so all they'd have to do was add milk! It was one of the easiest food-prepping tasks for a get-together yet!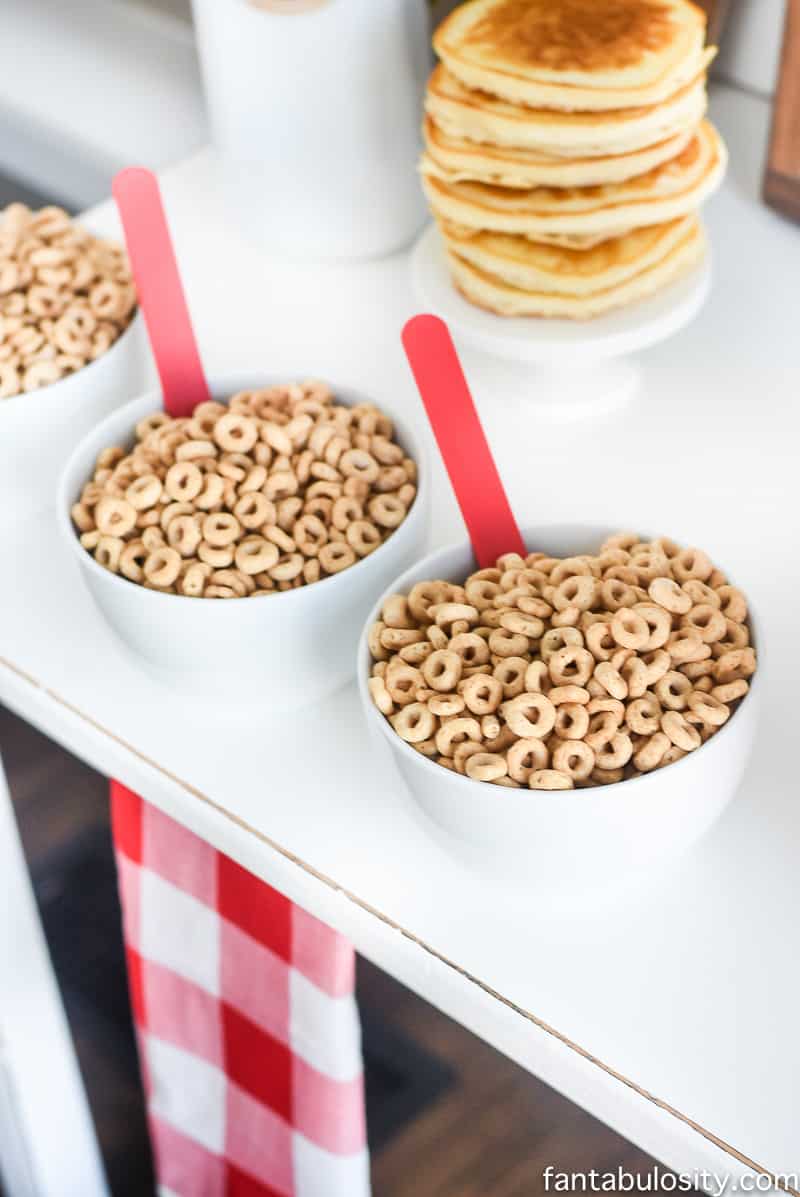 Brunch Drink:
Quite possibly one of my favorite juice recipes YET, is Carrot-Apple juice. Garnished with a sprig of rosemary and an orange slice, it looked absolutely stunning on the fresh juice bar!
For this occasion, I wanted a touch of fizziness in the fresh juice drink, so I added Emergen-C, which also provided extra vitamins for my gal pals! BONUS! Sometimes when we get together, we crowd around a cup of coffee. But this time I wanted to enhance energy naturally using Emergen-C WITHOUT caffeine, and the healthy touch of fresh juices.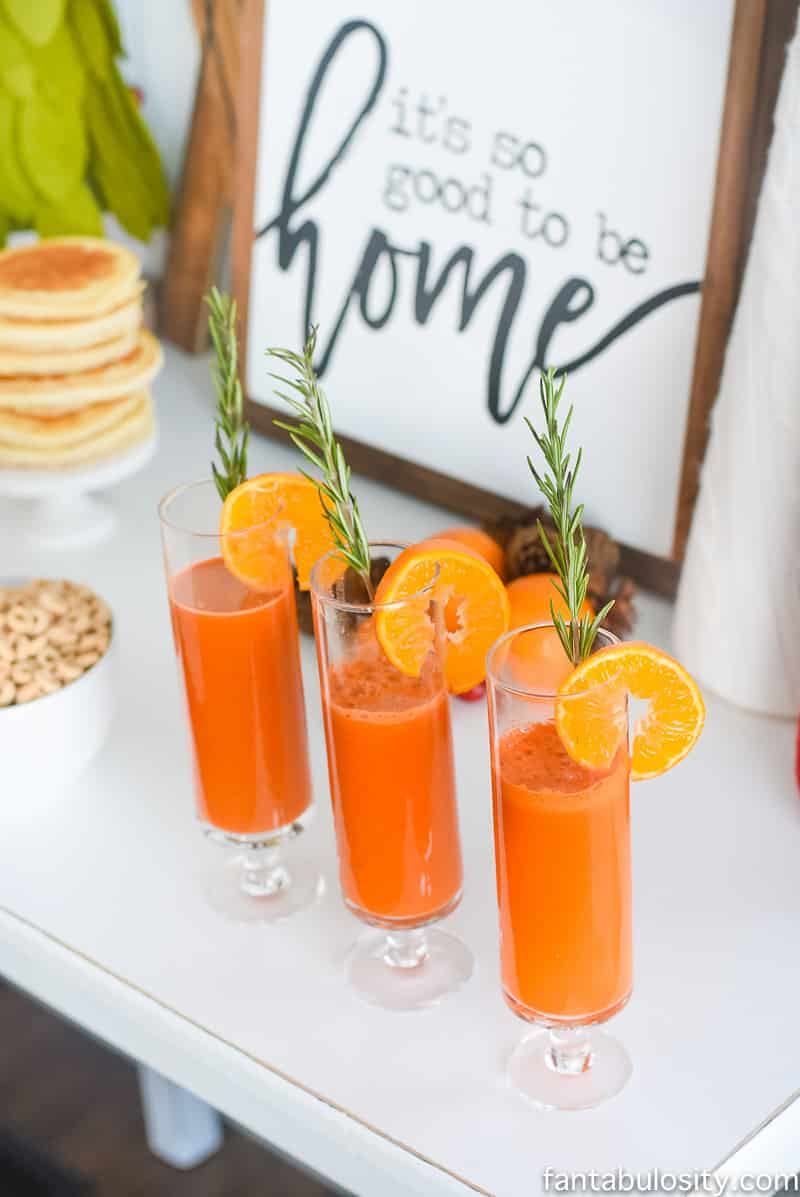 Emergen-C Carrot & Apple Recipe:
Ingredients
For a large batch of homemade fresh juice, (about 5 servings)
8 small apples
5 large carrots
Directions:
In a juicer, simply juice the apples and the carrots. Serve immediately.
Single 8 oz. serving of Emergen-C Fresh Juice:
Pour 8 oz. of fresh carrot-apple juice in glass
Stir in one package of Emergen-C, and serve.
Where to find Emergen-C
Topping off the fresh juice with a packet of Super Orange Emergen-C that I found in the vitamin isle at Walmart, gave the drink a fizzier texture, and I LOVED that aspect.
Fresh Juice Bar Options:
Make their own: With your fresh juice bar, you can really let your guests have fun, and have them pick out their own juicing ingredients, creating different combinations and flavors to try. Place fruit and vegetables on the table, in separate containers and pretty bowls; and a cute sign (think of sign like my "it's so good to be home," sign) that give the directions on how to use the juicer.
Buffet Style: For my juice bar, I wanted it more of a "buffet," style, so they could walk right up, grab & go. No thinking involved.
New Finds & Easy Win-Win's
Eeeek! I just love new fun finds and decorating party spaces. When you realize how easy it can be, to use items that you already have on hand, and find a simple way to feed your guests… it's a win-win.
Thank you SO much for coming by today, and I'd love for you to drop a line below and say "Hey!"

This statement has not been evaluated by the Food and Drug Administration. This product is not intended to diagnose, treat, cure or prevent any disease.