How to Cook Sausages in the Oven: Cooking Italian sausages or dinner links in the oven is so easy and only takes about 15 minutes! Serve your baked Italian sausages on a bun, alone or with your favorite toppings.
They're an easy way to make a main dish dinner idea that the whole family will love!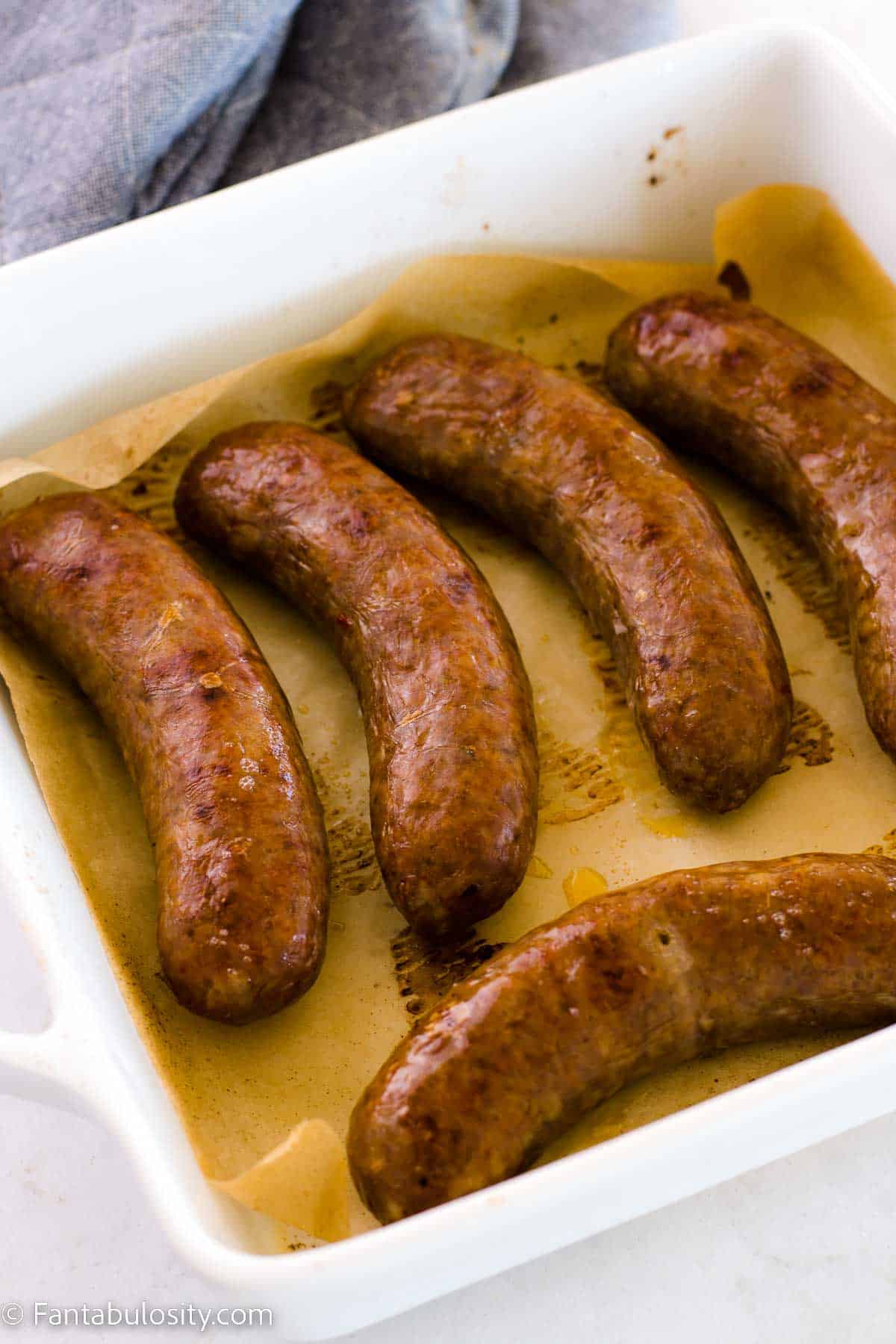 There are many different ways you can cook these larger sausages like these but we feel that baking sausages are the best way when needing something quick, and easy. We also love this method for how to cook breakfast sausage in the oven, although the oven temperature is a bit different.
We love having them alone, or even cooking them in the oven to serve in other dishes, such as pasta or even something like this sausage casserole in the slow cooker.
Jump to:
🌭 What makes bratwurst different than sausage?
All sausages are not bratwursts but bratwursts are a type of sausage. Italian sausages (like what we used here) have different flavoring than say, a bratwurst. But the two can often be interchanged easily for the cooking process.
For instance, we show how to cook brats in the oven and the method is similar to baking Italian sausages. They can also be cooked in a frying pan with onions for another easy method.
We've also made bratwursts in the air fryer, and we feel that the cooking process would be the same for dinner sausages, as well.
⭐️ Why This Method Works
We feel that cooking sausage in the oven is one of the easiest methods, for these reasons:
Set it and ALMOST, forget it: Simply place the sausages in the baking pan, and place them in the oven when pre-heated, only having to flip halfway through the cooking process.
Batch cooking: It's easy to bake a large number of sausages in the oven to eat for a few days, making meal planning easy!
Perfect for a rainy day: If it's cold or raining outside, cooking the sausages inside, in the oven, can be a great way to still enjoy them.
🧾 Types of Sausages
If you've found your way here to see how to cook the sausages you have on hand, some may differ in cook time and internal temperature recommendations.
Here are some suggestions based on what you may have:
Italian Sausage – We tend to buy mild but there are also hot and sweet Italian sausage flavors available.
Chicken Sausage (make note of internal temperature difference) – If cooking chicken sausage or turkey sausage, this can be baked in the oven as well but the internal temperature should reach 165° before eating.
Smoked Sausage – Sometimes referred to as smoked polish sausage, this type of sausage is typically purchased fully cooked, and simply needs to be heated and served, being careful not to dry it out. (Some add a layer of shallow water to the pan if cooking in the oven.)
👩🏻‍🍳 How Long to Bake Italian Sausages in the Oven
You may hear or see different temperatures and cook times for sausages. This is because some may prefer cooking the sausage at a higher temperature to achieve a crispier skin on the outside. (If doing this, make sure the internal temperature reaches 160° before eating.)
Cooking at a lower temperature may prevent the outside from getting too crisp, too quickly.
The temperature to cook sausage
Our recommendation: Cook the sausages at 425° for 12-15 minutes, making sure to turn the sausages over, at about the 6-7 minute mark. Ovens can vary so it's best to check the internal temperature of the sausages, making sure it has reached 160°.
*Be sure to see the recipe card below for the instructions all in one place.
Preheat your oven to 425° F.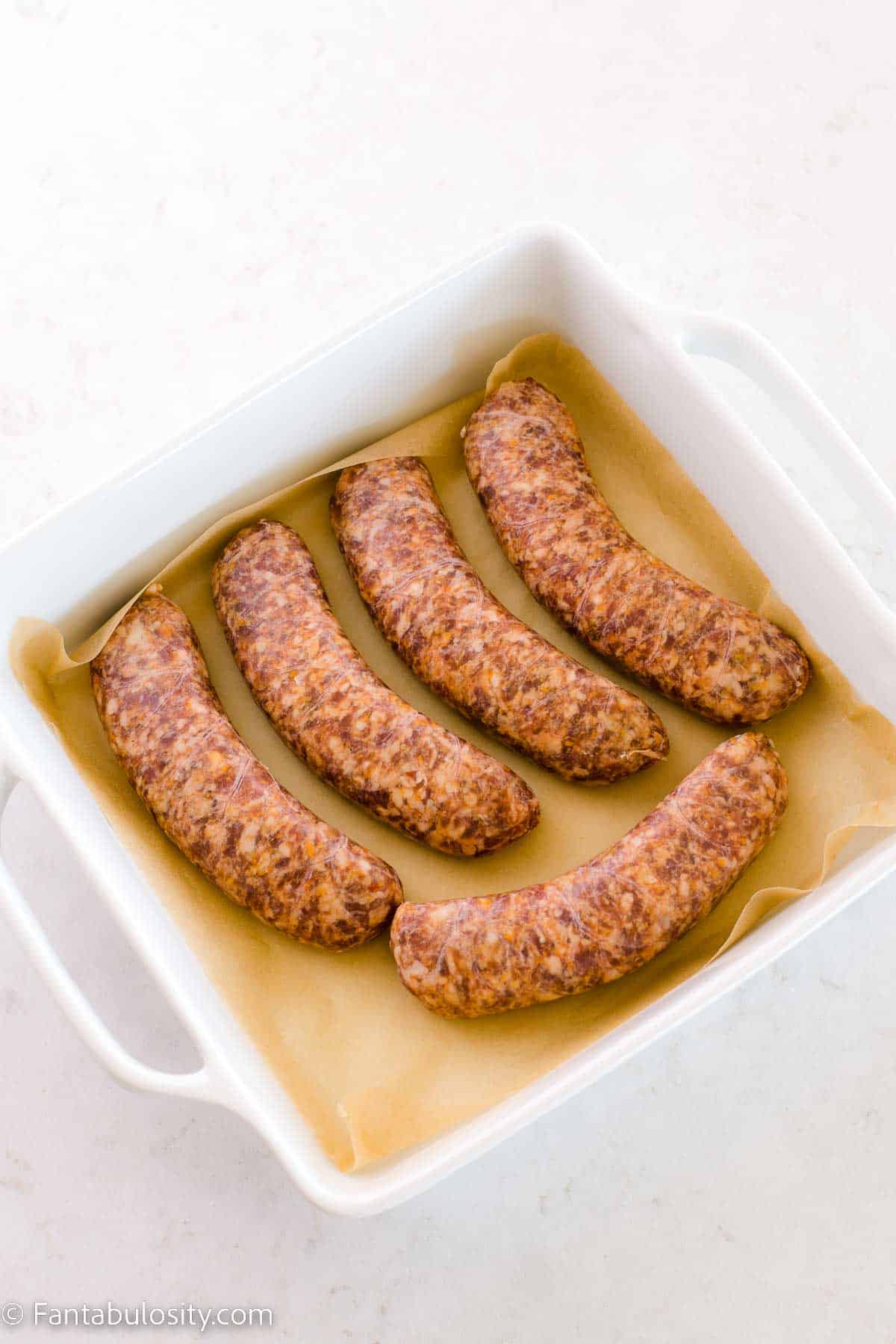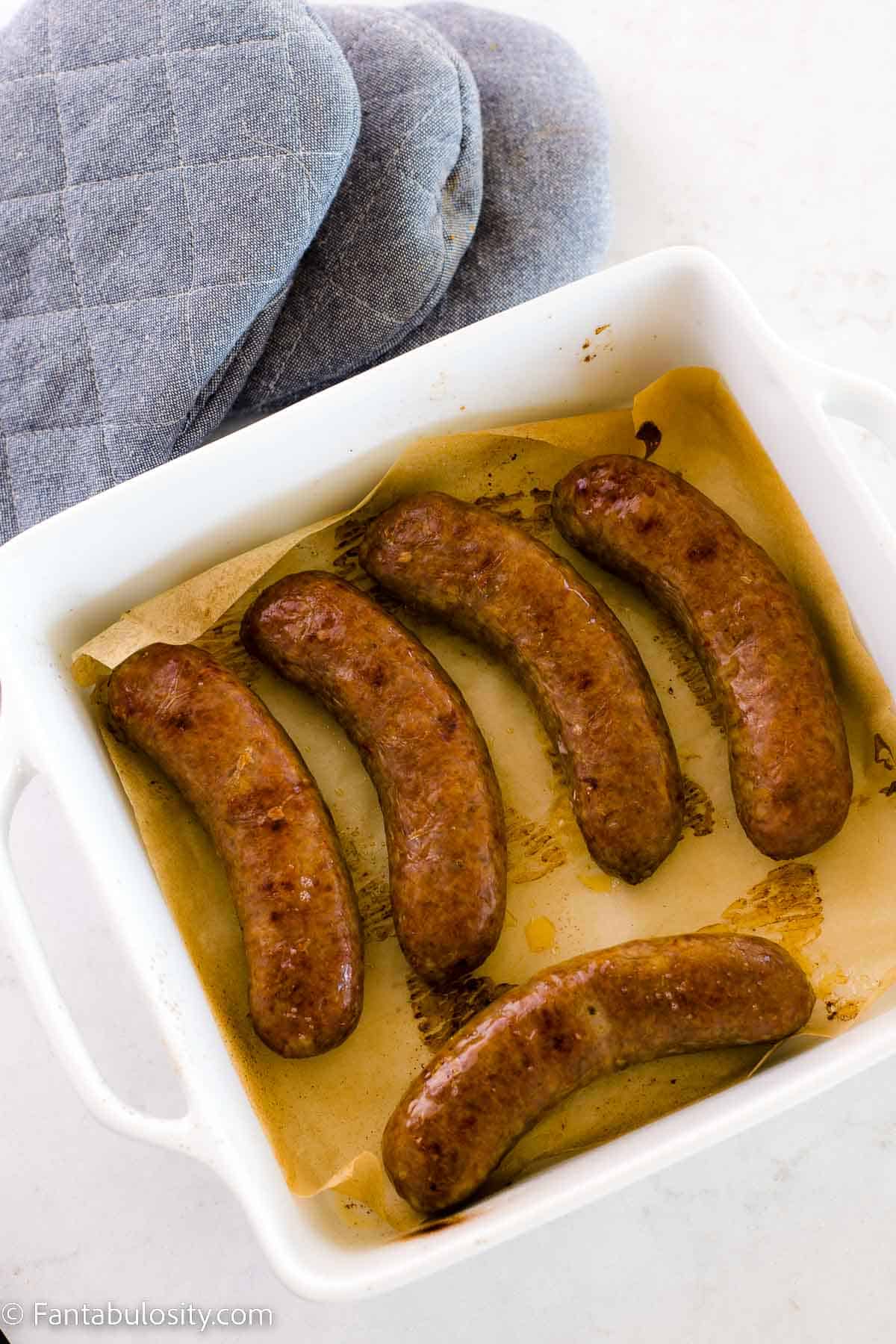 STEP 1. Place sausages in dish. Line a baking tray or dish with parchment paper and place the sausages on top, making sure they have space between each one. (Image 1). You can use aluminum foil if you prefer but I would splash a little olive oil on it if so, so the sausages do not stick.
STEP 2. Bake the sausages. Place the baking dish in to the preheated oven and cook uncovered for 12-15 minutes (flipping the sausages with tongs, have way through the cooking time) or until brown and until the internal temperature, checked with a meat thermometer, has reached 160° F.
Tip: Set the timer for about 6 minutes, so you remember to flip the sausages over.
🍳 Equipment
You'll only need a baking dish or a rimmed baking sheet for this process. (Rimmed so the juices, if any, do not leak out during the baking process.)
How to Serve Sausages
There are many different ways that you can serve dinner sausages like Italian sausage, and we've given some of our favorite ways below.
Plain sausages – You can serve sausages just by themselves. Simply slice the baked sausage and enjoy for an easy meal.
On a bun – Using a hot dog bun or brat/sausage bun, it's easy to enjoy a gameday favorite!
Favorite toppings – So many topping options for sausages but popular topping choices are mustard, stone ground mustard, caramelized onions, sauteed peppers, sauerkraut, ketchup, relish, marinara sauce, and more!
In sausage recipes – Diced sausage is great in a sheet pan dinner, pasta dishes and soups (like this 15-bean soup!). It would be delicious used in a dish like this Cabbage and Kielbasa, this Cajun Pasta, or even in this quick Alfredo Sausage Pasta.
💭 Pro Tips
Making extra. If you find sausages on sale, it's a great idea to stock up on them, and either freeze them before cooking in the oven, or you can cook them and freeze them for easier meal prep later. However, cooked sausages tend to last longer in the freezer, than raw sausages.
Crisping up the skin. If for some reason the outside skin of your sausages haven't browned as much as you'd like but the internal temperature has reached 160° if pork, and 165° if chicken, you can turn the oven to "broil" and allow the sausages to broil for 1-2 minutes to crisp up.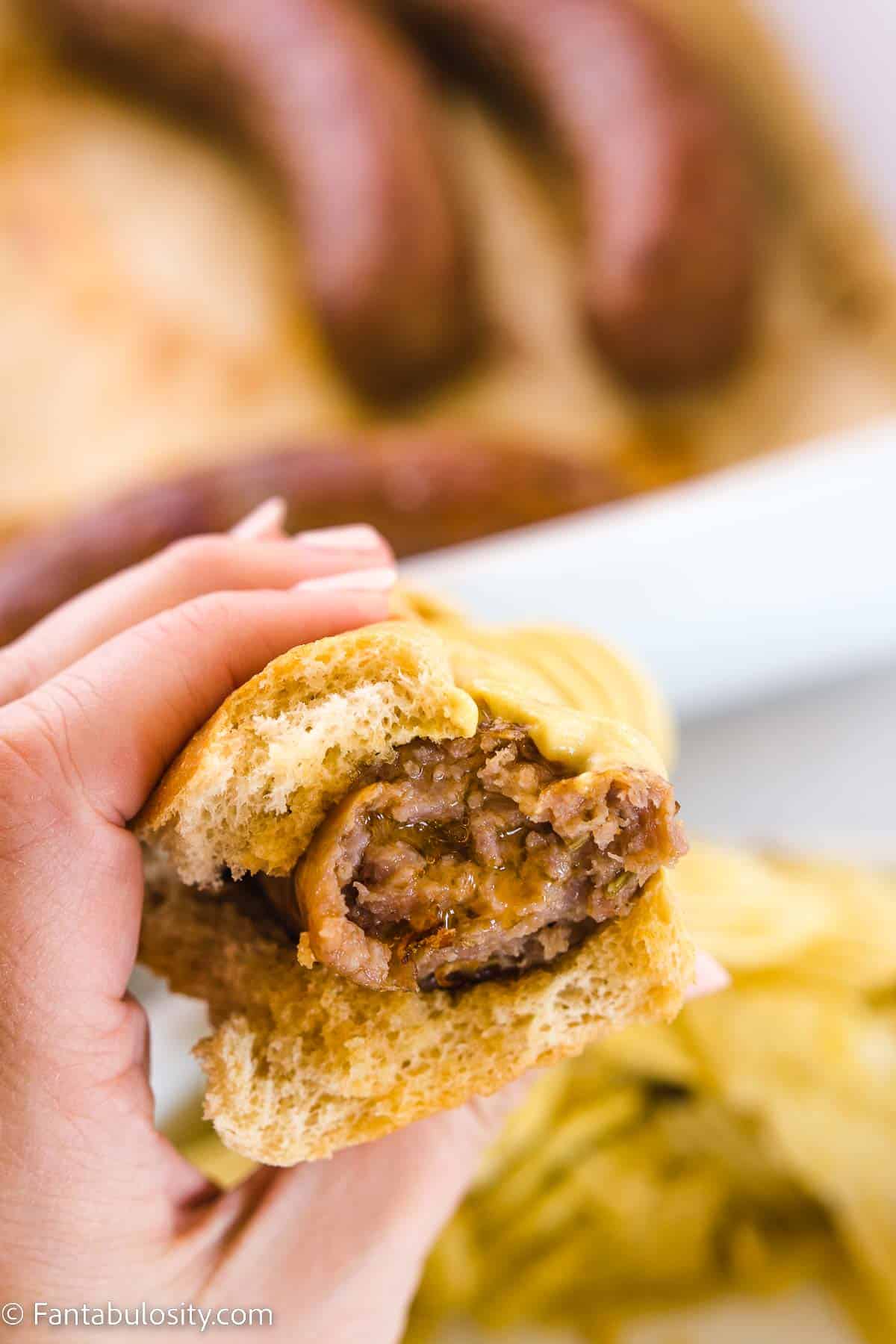 Cooking the oven-cooked sausage this way, makes the most delicious juices on the inside.
📋 Recipe FAQs
How long should you cook sausages in the oven?
You should cook pork sausages in the oven at 425° F for 12-15 minutes or until the internal temperature, checked with a meat thermometer, reaches 160 degrees F. (If chicken sausage or turkey sausage, make sure the internal temperature has reached 165°F.)
Do you bake sausage covered or uncovered?
Cooking the sausages uncovered allows the skin to develop a nice "crispy" outside, so it's best to cook them uncovered.
How do you store leftover sausages?
First, all the cooked sausages to cool, and then store in an airtight container and store in the refrigerator for 3-5 days. If freezing, store in a freezer-safe container or freezer bag for 1-2 months.
⏲ More Oven Baked Recipes
If you love using your oven to make more easy dinners or recipes, here are some of our reader's favorites:
Did you make this? I'd be so grateful if you left a review below to let me know what you thought! Then, the next time you need a quick and easy recipe, come back to Fantabulosity to browse all of my easy recipes!
📖 Recipe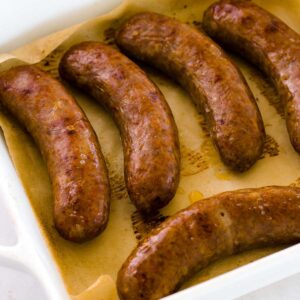 How to Cook Sausages in the Oven
This method for baked sausages is quick and it gives the skin a crispy bite with the center being juicy! Perfect for an easy dinner idea!
Ingredients
Italian sausages

or similar dinner sausage links

hot dog buns

if desired

Toppings such as: sauted onions, mustard, dijon, bbq sauce, saurkraut, etc.
Instructions
Preheat oven to 425°.

Line a baking dish (large enough to fit the sausages without crowding them) with parchment paper. (This is for easy clean-up but not required.)

Place sausages in preheated oven and cook for 12-15 minutes at 425° or until the internal temperature reaches 160°, flipping the sausages halfway through the baking process. Serve!
Notes
Tip for Crisping up the skin. If for some reason the outside skin of your sausages haven't browned at the end of the cook time or when the internal temperature of the sausage reaches 160°, you can turn the oven on the "broil" setting and allow the sausages to broil for 1-2 minutes. If cooking chicken or turkey sausages, make note that the internal temperature of the poultry sausages needs to reach 165°F.
Nutrition
Serving:
1
sausage
|
Calories:
388
kcal
|
Carbohydrates:
1
g
|
Protein:
16
g
|
Fat:
35
g
|
Saturated Fat:
13
g
|
Polyunsaturated Fat:
5
g
|
Monounsaturated Fat:
16
g
|
Cholesterol:
85
mg
|
Sodium:
819
mg
|
Potassium:
283
mg
|
Vitamin C:
2
mg
|
Calcium:
20
mg
|
Iron:
1
mg
Nutritional information is based on third-party calculations and should be considered estimates. Actual nutritional content will vary with brands used, measuring methods, portion sizes and more.