This smoked burger recipe only takes one hour on the smoker and is an easy recipe, creating the best, juiciest, smoked burgers, or cheeseburgers.
Burger recipes are one of our favorite easy dinners here because they can be customized with your favorite burger toppings, and can be made in so many different ways. You can cook burgers on the stove, air fry burgers, cook burgers in an electric skillet, and even grill burgers from frozen. Now, this burger recipe on the smoker may be your go-to during the summer months.
Originally published December 2020, updated May 2023.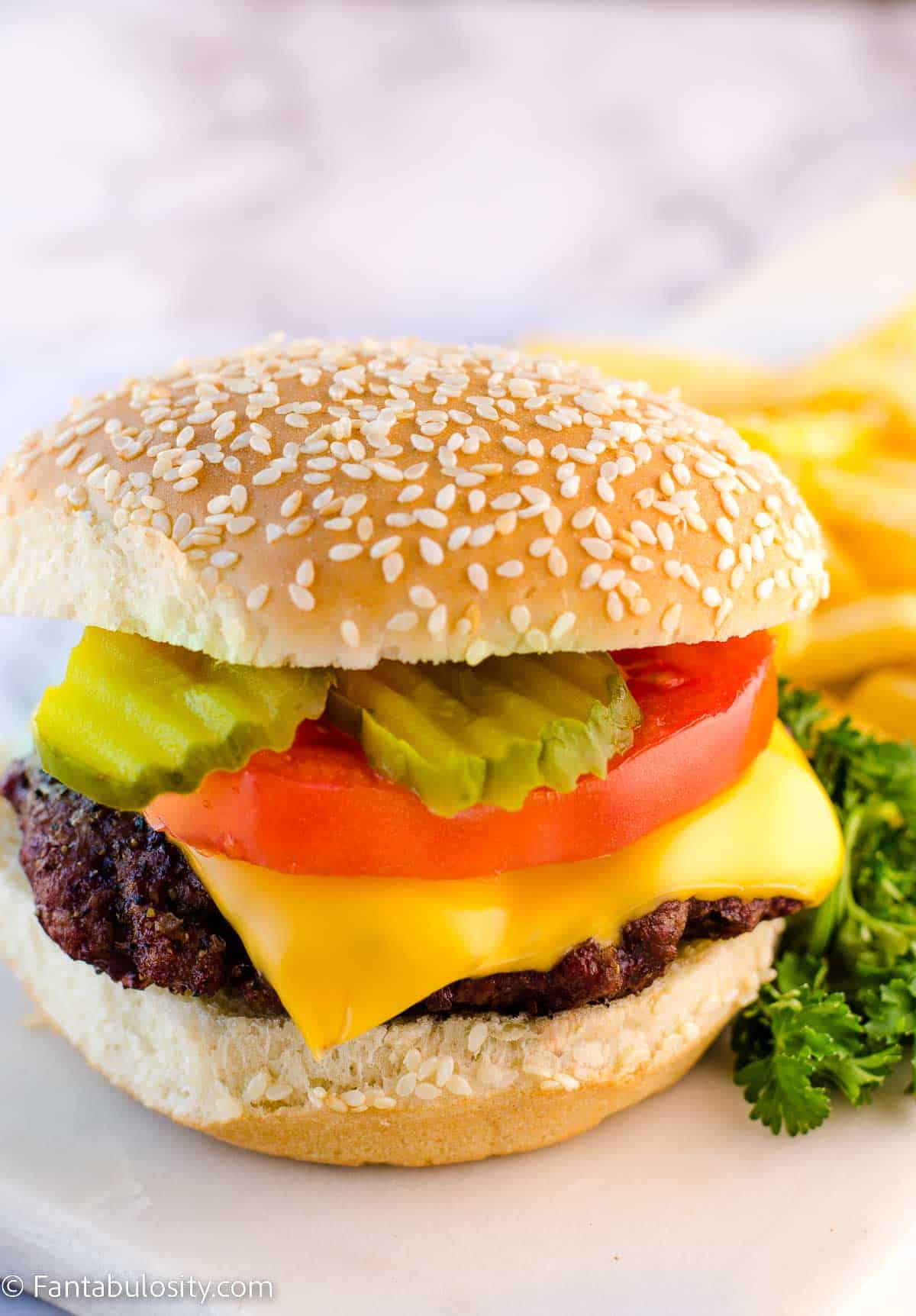 Whether you just love using your smoker or absolutely adore that smoky flavor, smoking hamburgers is a great way to cook those beef patties!
I'll be honest… I DESPISED making hamburgers for the longest time. They were dry, lacked flavor, and made a huge mess in the kitchen…until I started making hamburgers in the oven. That was the day my life was changed and since then, it has changed the lives of so many other hamburger lovers out there too!
Here's what one Fantabulosity reader said recently,
"Made burgers this way the last 2 nights. I will be making burgers this way from now on! They came out great!"

– Cammy
❤️ Why You'll Want to Make These
Once I had my oven-baked hamburger skill down, and my husband had his elk burger recipe down, I knew it was time to branch out and try my hand at smoking burgers on the pellet grill too, since we've been really having fun creating smoked meats and recipes lately!
And let me tell ya… talk about a burger with a flavor punch. That natural "smoke" flavor from the wood chips, combined with an easy salt & pepper seasoning, creates a delicious taste to go along with the crispy edges and great char flavor.
🤔 Can You Smoke Burgers?
I wondered the same thing. Short answer… yes. Long answer, keep reading:
We've been on a kick lately using our smoker so when my meal planner had "cheeseburgers" on it the other day, I wanted to shake things up a bit and throw these bad boys on the smoker for the first time to see how they did.
We had friends coming over so I was a little nervous but when they bit in to them and said they were juicy, flavorful, and "really good"… I knew we were on to something.
So I made them again the next day and had one and I have to say I was pleasantly surprised too. Now, they're on our weekly meal plan rotation!
Considering we have been smoking a LOT of different meats at 225°, I wanted to keep this recipe the same because the results of low and slow have been phenomenal… and this one is no different.
⏲ How long does it take to smoke burgers at 225°
We found that smoking the burgers (we did about 3-4 burgers per pound if that helps you determine thickness) for 1 hour was the perfect time. Now, the time can vary depending on how DONE you want your burger but for us, this was "done" and no longer had blood running through it.
However, if you don't have a lot of experience with smoking foods, keep in mind that the middle may still resemble a pink color even if it's fully cooked.
🌡 "What should the internal temperature of a hamburger be?"
If you want to get technical, you can take the internal temperature of your burgers and stop the cooking process when you're comfortable with the temp. The USDA recommends the internal temp of a hamburger reach 160°.
? What Kind of Pellets to Use for Smoked Burgers
We love experimenting with different pellets (or chips) for our smoker but we've found that hickory is always a winner for burgers. But feel free to switch things up!
✅ Do you flip burgers when smoking?
No. But feel free to do so if you're used to doing so. The pellet grill we use cooks pretty evenly so there hasn't been a need to flip them for us, which makes things easier because there's no need to babysit them for the one-hour cook time.
🔥 How to Smoke Burgers
Patty out burgers to desired thickness. For 1 lb. of ground beef I usually make 3 thick burgers but sometimes stretch it to 4.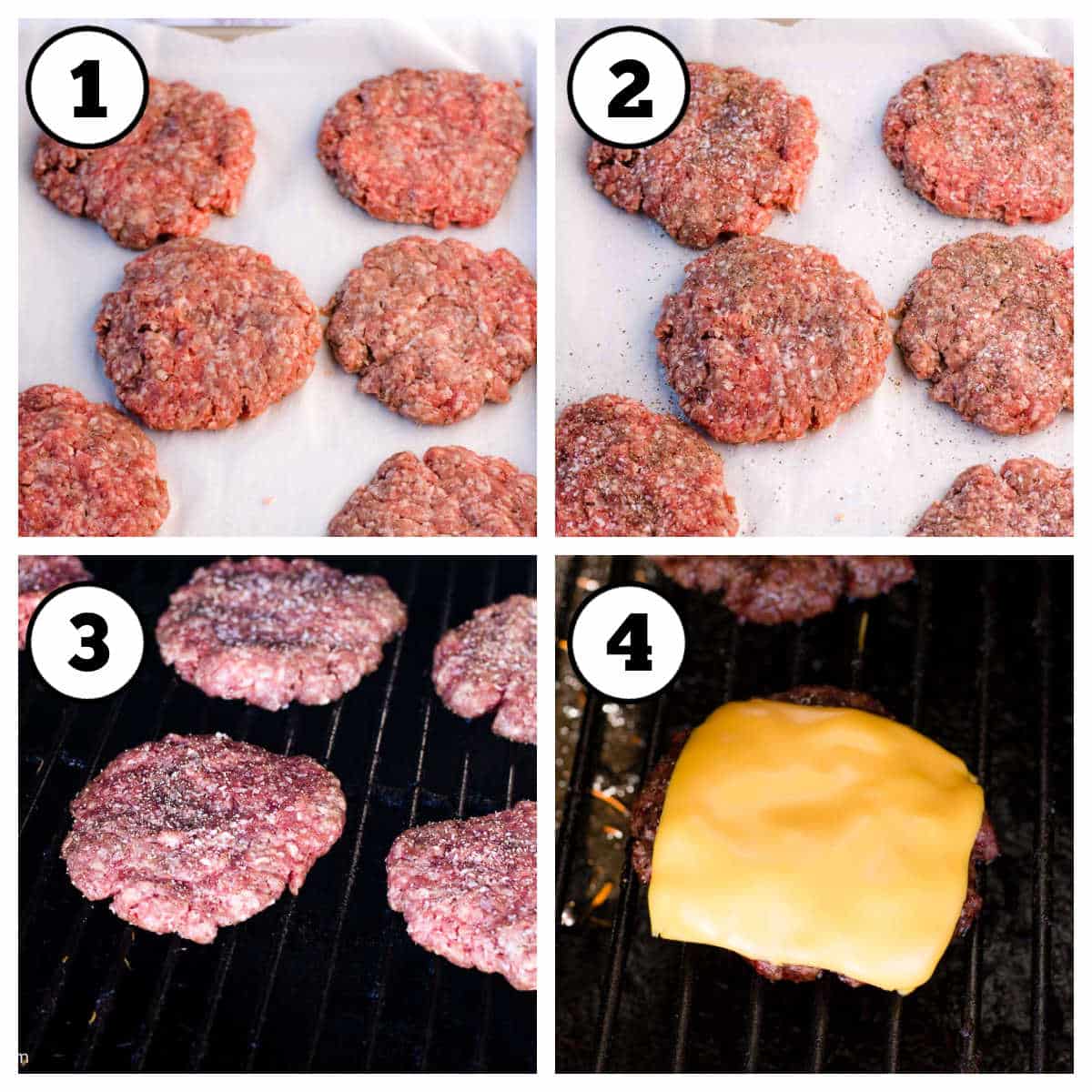 If you need to make more for your entire family or for friends, feel free to double the recipe as needed!
Also keep in mind that the thickness of burgers can make the cook time vary, especially if you want to stay away from a rare burger so extra time may be necessary if really thick patties are more your style
For the photos that you see, I used 2 lbs. of ground beef and it made 7 burgers. If you have more ground beef, you'll love these other ground beef dinner ideas.
🧂 How to Season Hamburgers
Salt and black pepper. Sure, I've tried all of my favorite ingredients… Montreal Steak Seasoning, garlic powder, Worcestershire sauce, onion powder… you name it. But I'm telling ya… there is something about just using salt and pepper, allowing the flavor of the meat (and smoke flavor in this case) to really shine through for the best results.
However, feel free to use your favorite seasoned patties recipe or combo of spices too!
I just sprinkle a little bit of salt (kosher is our favorite) and cracked peppercorn medley on the top of each patty. Use these as desired. I typically free hand it… but if you're looking for some guidance I'd say it's safe to say at least a teaspoon of KOSHER (maybe less for regular table salt), and a 1/2 teaspoon of cracked peppercorn medley (or ground black pepper).
Place burgers on the preheated smoker at 225° for one hour, or until your desired "doneness", preferably until the internal temperature reaches at least 160 degrees. No flipping needed!
🧀 Smoked Cheeseburgers
If you want to make cheeseburgers, simply lay a cheese slice (American, pepper jack cheddar cheese, or your favorite kind) on the burgers after the cook-time and let it rest (with the smoker turned off and the lid closed) for a few more minutes, for the perfect melted cheese.
Remove from the smoker and they're ready for your favorite condiments if desired!
Now, if you love cheese on a burger, these juicy lucy burgers are going to blow your mind!
💡 Tips for Juicy Burgers – Dimple in the Middle to Trap Juices
A little trick I learned from the Pioneer Woman a long time ago was to press a little dimple in to the middle of a burger patty when you're forming them in to hamburger patties. This helps traps the juices so they don't run out and go to waste.
You can see in the photo below that this one did the job!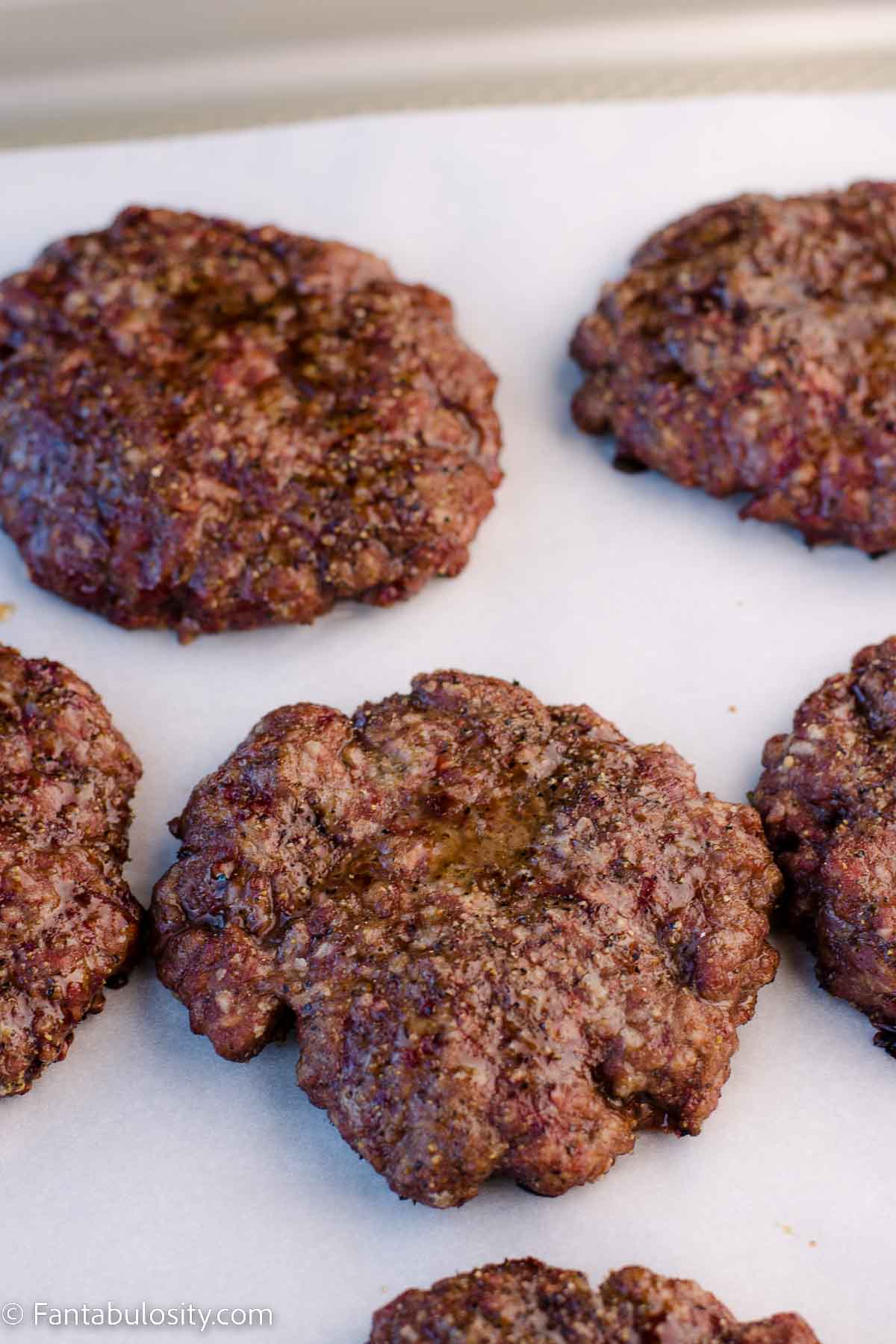 🥬 Burger Toppings
For this recipe, I kept the toppings pretty simple and just used what we had on hand: Cheese, tomato and pickles.
But if you want to get in to a heck of a lot of fun and top the burgers, here are some of our other favorite topping ideas:
Barbecue Sauce
Mustard
Ketchup
Hot Sauce
Steak Sauce
Slice of Bacon
Onion
Onion Rings (Like in this bbq burger!)
Make sure you check out an extensive list of topping ideas that I shared in "Burger Bar Ideas" post.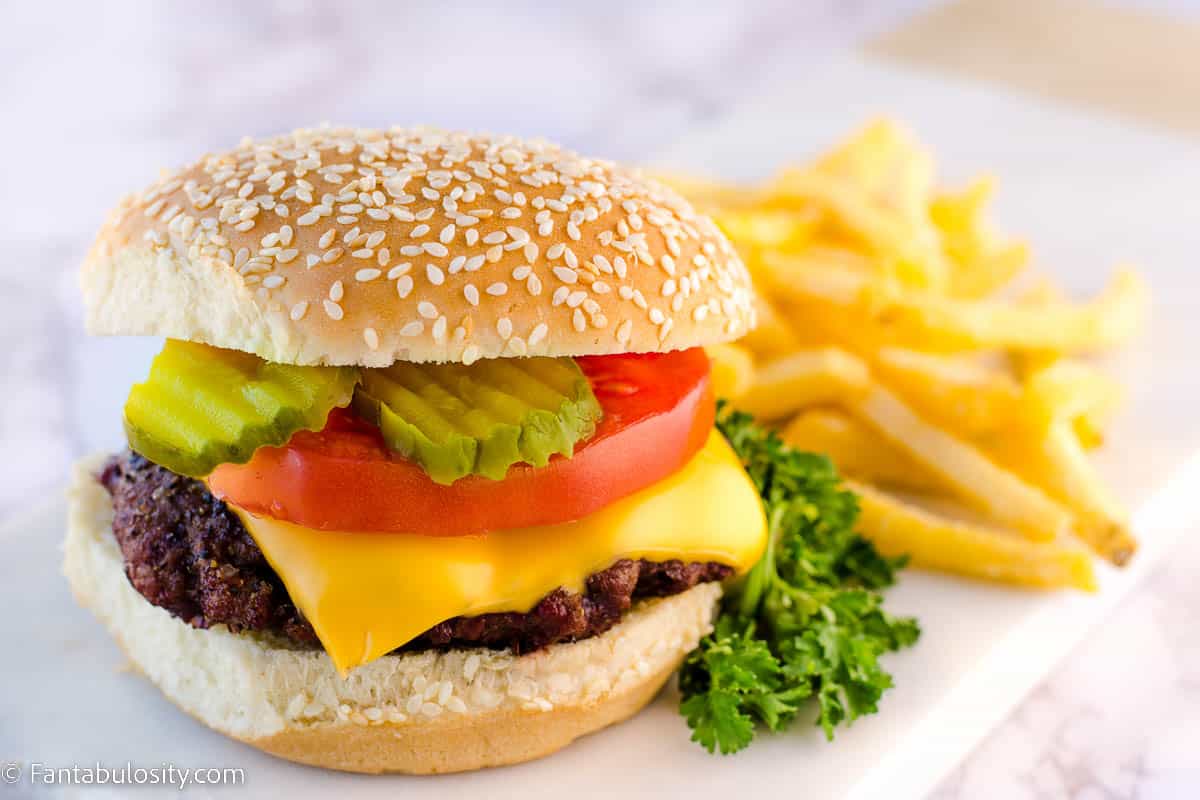 🍟 What to Serve with Smoked Burgers
If you're smoking burgers, and looking for side dishes to throw on the smoker too, you'll LOVE these smoked stuffed mushrooms!
Or if you're having a cookout, our favorite side dishes for hosting and smoking meat on the grill are:
🍔 More Hamburger Recipes You'll Love:
If you love hamburgers as much as we do, you'll also love these burger recipes:
🍽 More Smoker Recipes You'll Love:
If you're like us, if we have the smoker hot and ready, we like to throw other items on it to help meal plan for the week, like our Smoked Chicken Tenderloins and our Smoked Cornish Game Hens!
Traeger brisket is an amazing thing to make on a holiday weekend or just for fun!
Or, if you have a beef roast on hand, you'll love making this pulled beef!
Smoked Luther Burger
Ready to uplevel your smoked burger game? Top it with smoked candied bacon and use glazed donuts as buns to make Luther burgers!
Did You Make This?
Snap a pic and hashtag it #Fantabulosity — I love to see your creations on Instagram, Facebook, and Twitter!
📖 Recipe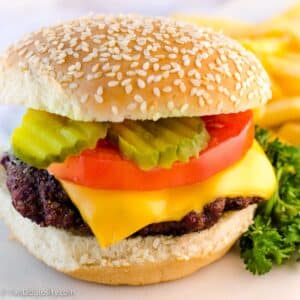 Smoked Burgers
Smoked Burgers: How & how long to cook burgers on the smoker, creating a JUICY, flavorful burger with salt & pepper and natural smoke flavor!
Ingredients
1

pound

ground beef

salt

as desired – see blog post for tips

pepper

as desired – see blog post for tips

sliced cheese

if desired
Instructions
Patty out burgers – with one pound, sometimes I make 3 thicker burgers and sometimes I make 4 thinner. Either way, the cook time will be the same.

Salt and pepper the tops of your burgers. You can salt/pepper as desired. See blog post for tips on what type of salt/pepper and how much depending on type.

Place the burgers on the smoker racks (directly, no pan needed) and cook for one hour or until the desired doneness. (USDA recommends the internal temperature of burgers should be 160°.) NOTE: No need to flip the burgers.
Notes
Tip for the Juciest Burgers – A little trick I learned from the Pioneer Woman a long time ago was to press a little dimple in to the middle of a burger patty when you're forming them in to hamburger patties. This helps traps the juices so they don't run out and go to waste.
What kind of pellets to use for the smoker?
We love experimenting with different pellets (or chips) for our smoker but we've found that hickory is always a winner for burgers. But feel free to switch things up!
Nutrition
Serving:
1
burger
|
Calories:
288
kcal
|
Protein:
19
g
|
Fat:
23
g
|
Saturated Fat:
9
g
|
Cholesterol:
81
mg
|
Sodium:
76
mg
|
Potassium:
306
mg
|
Calcium:
20
mg
|
Iron:
2
mg
Nutritional information is based on third-party calculations and should be considered estimates. Actual nutritional content will vary with brands used, measuring methods, portion sizes and more.