Breakfast Finger Food: Sausage Biscuits and Gravy Dippers – A quick and easy breakfast or brunch finger food recipe making biscuits and gravy a party food, finally!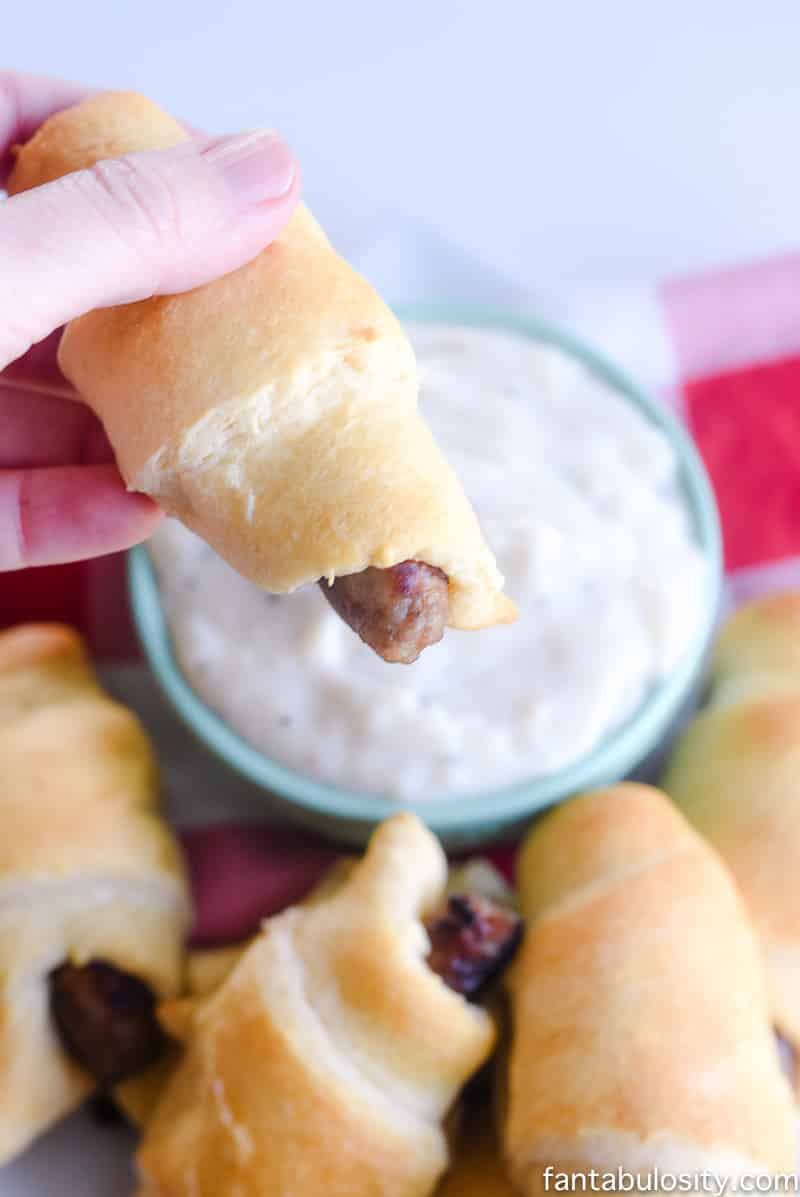 Breakfast Finger Food: Biscuits and Gravy Dippers
Three ingredients you all.  THREE! That's all it takes to make biscuits and gravy a finger food!  That is… if you even choose to have the gravy portion of this recipe.  It can be a "two," ingredient breakfast finger food if you'd rather have it without the gravy.  Full recipe towards the bottom of this post…
Quick Gravy:
Now, if you're more of a "homemade," type, rather than a "slightly homemade," type… feel free to make your own homemade gravy for this!  (I typically do, but when time is short and I'm looking for quick and easy… I'll use the packet of white gravy mix where you just add water.)
Sausage Links:
I chose to buy uncooked sausage links, and pan fry them, before rolling.  You can make it even easier if you like, and purchase the "pre-cooked" sausage links. (I'm a huge fan of the veggie sausage links that you can find in the freezer section!)
While cooking the sausage links, unroll the crescent rolls, and break the triangles apart along the seams.
Placing one sausage link on the wide end of one unrolled crescent roll, roll up the wide corner to the thin corner.
Arrange the sausage/crescent rolls on to a baking sheet, at least a couple of inches a part from each other.
Bake at 375 degrees for 11-13 minutes, or until golden brown.
Don't those little guys look scrumptious? Almost like a breakfast version of "pig in a blanket's!"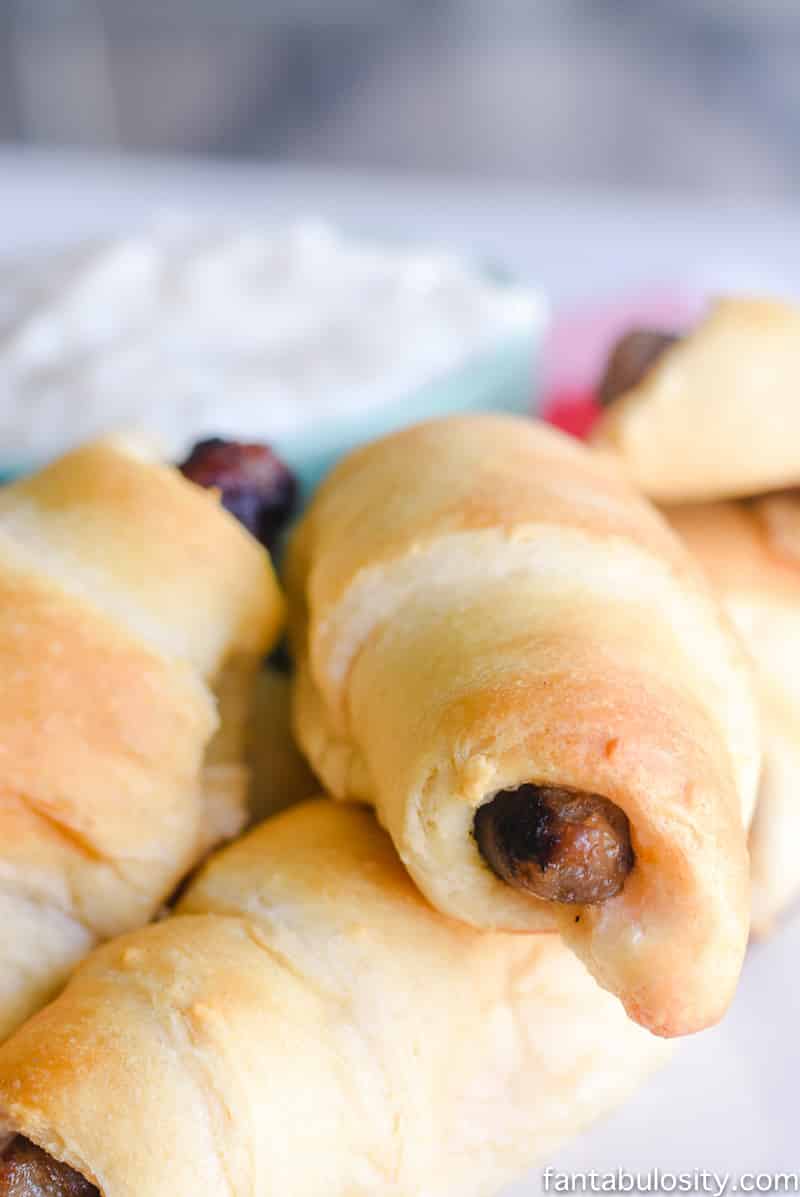 Then don't forget the gravy! When I first tried a bite of this little creation, I almost died and went to heaven.
Not only is this a new easy recipe for my recipe box, it's a WHOLE NEW way to serve "biscuits and gravy," in finger-food form, that will work incredibly well for entertaining and parties.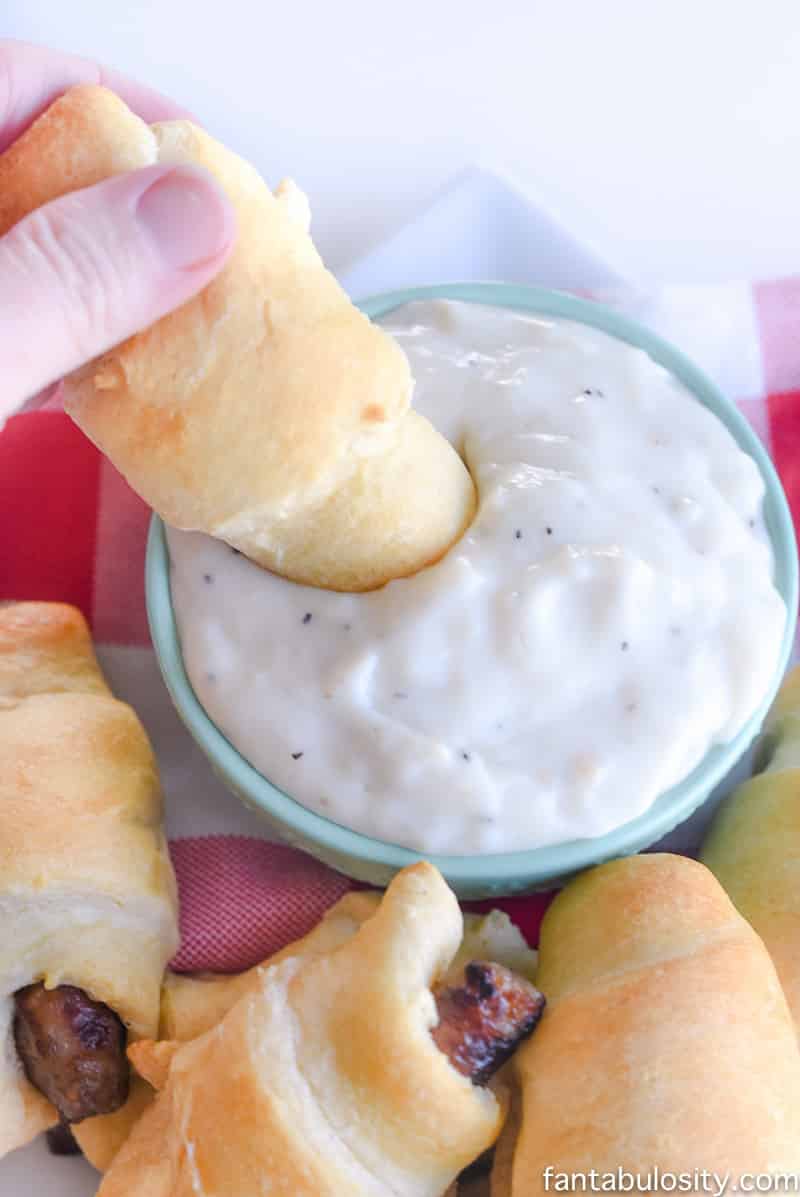 Biscuits + Gravy Dippers - Breakfast Finger Food
Ingredients
1 tube crescent rolls
8 sausage links, cooked
1 cup of White Gravy
Instructions
Preheat over to 375
Unroll crescent rolls, and break in to perforated triangles.
Place a cooked sausage link on the wide edge of a crescent roll, and roll up.
Place sausage dippers on ungreased baking sheet, at least 2 inches apart.
Bake at 375 for 11-13 minutes, or until lightly browned.
Serve alongside white gravy for dipping.
https://fantabulosity.com/breakfast-finger-food-sausage-biscuit-gravy-dippers/
If you're in to easy and quick recipes, then you'll want to browse through our latest recipes HERE!